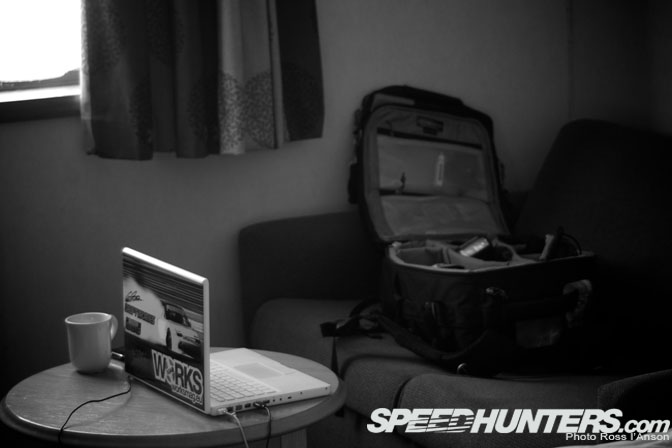 For photography month I thought i would do a 'day in the life' feature to give a little insight on a typical day preceding feature on Speedhunters.com. I have never tried to put into words the ins and out of day covering a event, some days are adrenalin pumping boxes of awesome and some are a test of will and tenacity that you just wish would end.. This is my account of BDC round 4 Donington.
BDC Round 4 for me started at 5am.Not from my usual base deep in the heart of Surrey but from a nondescript hotel room in Kings Lynn Norfolk, Awakened by the opening bars of Pink Floyds 'Time'  from the alarm,  the kettle is on and the routine begins. A  check on relevant websites to make sure no disaster has befallen the impending event followed by a final check that the Think tank contains my required equipment. My usual equipment list consists of an Nikon D300 body and back up D200 body. lens wise my bag will feature a Nikon 18-200 vr, Sigma 15-30, Nikon 50mm, Nikon 1.4 teleconvertor and in my eyes the holy grail of my lens ensemble a  Nikon 70-200 vr, as well as a selection of polarizing filters flashes and CF cards and laptop you have quite a weight on your back.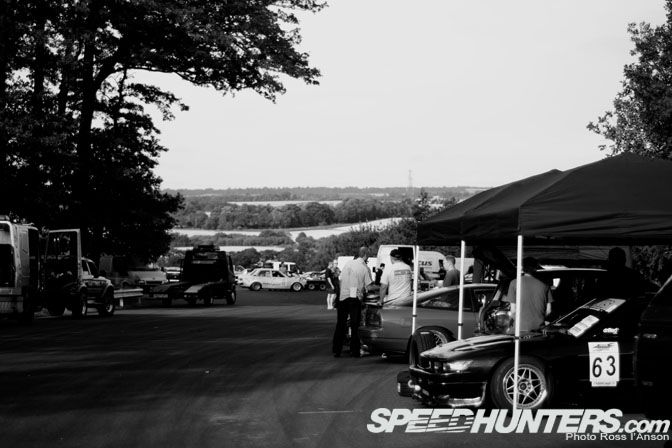 5.30am and we have Joni Mitchell on stereo singing about a conversation in a hotel bar. As i arrive at the track two hours later shes metaphorically telling me to grab every opportunity in life at the peril of been taken away in a big yellow taxi. I arrive to find a full paddock, Im late!! I like being one of the first to arrive on site to watch the stories of the day unfold and turning up to find a full paddock immediately puts me behind . Signed on and  50mm F1.8 mounted i take my first walk through the paddock..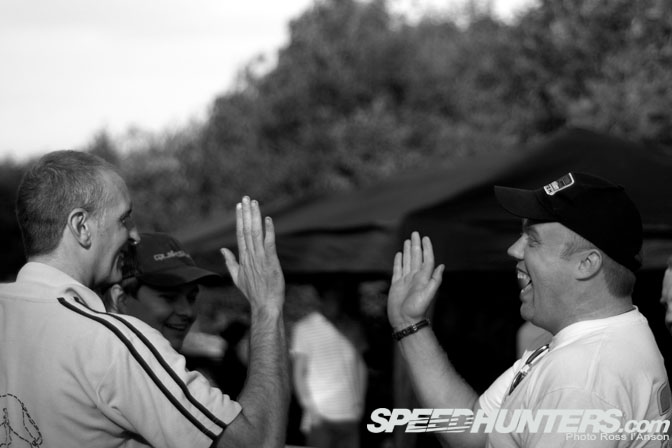 ..One great thing about being a photographer is the voyeuristic element. I can walk through a crowded paddock only be noticed if i choose to be. I don't hold any supernatural ability to make myself invisible, but sometimes can walk though a crowd of people leaving no more of an impression than a discarded burger wrapper. Cartier- Bresson talked of the 'decisive moment'. I don't claim to catch this illusive moment, but anonymity grants you a chance to catch true moments that perhaps would never have happened if the subjects were aware of the presence of a camera..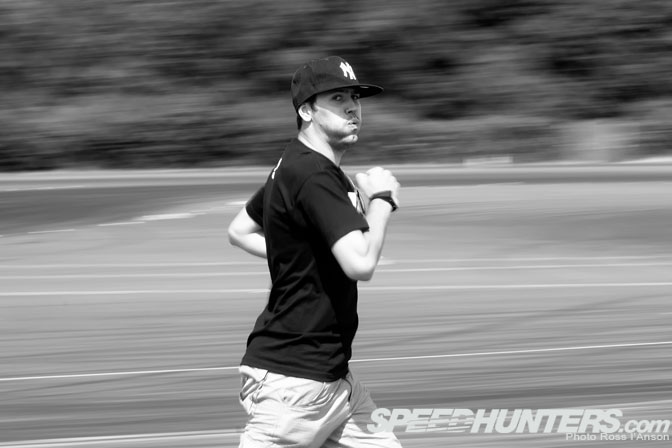 ..The next stage of my day is a walk of the track. Even at venues i have visited many times before and especially at custom made tracks I like to walk the track before the first cars roll out. This is normally a time of serenity and a chance to work out various shoot points without distraction of the unfolding event behind you. You do sometimes encounter officials doing pretty much the same thing, as BDC Judge Jordan Butters illustrates here.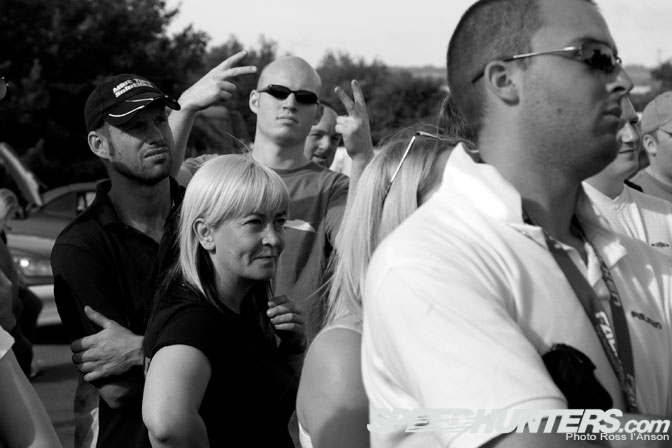 Next up it the drivers briefing, another chance to indulge in the voyeuristic nature of photography. As a student I remember seeing a old press photograph of a woman kneeling next to her dead husband, in the photograph she is cradling her husbands head as medics try to revive him after  a boat accident. As the traumatic scene unfolds a press photographer approaches and takes a shot. The resulting shot reviles the woman smiling at the camera as if she as at a wedding.. Not because of her underling callousness or misunderstanding of the gravity of the situation.It was because her perception of what you should do when somebody sticks a camera in you face is smile! In the above photograph Ben Broke-smith has noticed me pointing the camera in his direction and has chosen to 'play up' for the camera. However Belinda Challis standing in front of Ben who as also noticed me has chosen to ignore me, but that decision has left her with a unnatural expression on her face and is perhaps more noticeable than Ben playing up behind her..Different peoples perceptions as you point the camera never fail to intrigue me.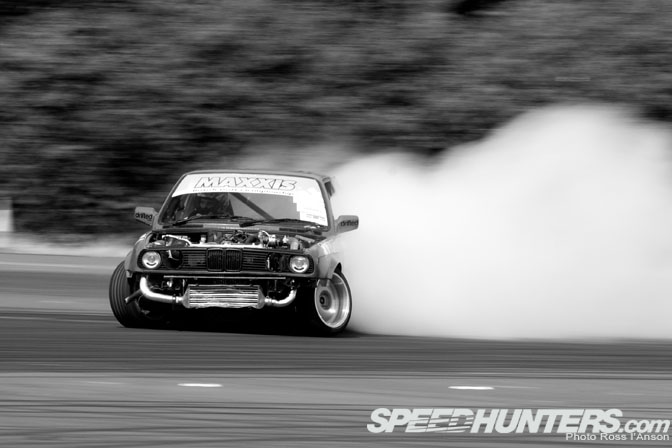 With the first driver briefing over its straight into practice. I will spend the first hour just watching the drivers getting used to the track, looking for points of interest within the tarmac like small undulations that you would not notice just by walking it. The smallest imperfection in the surface can create the most dramatic shots, be it a rise and fall that lifts a wheel or a compression that weights the car up and produces a little more smoke . All the information goes into the mental bank for use later.. In fact I take very few Photos during the first practice sessions.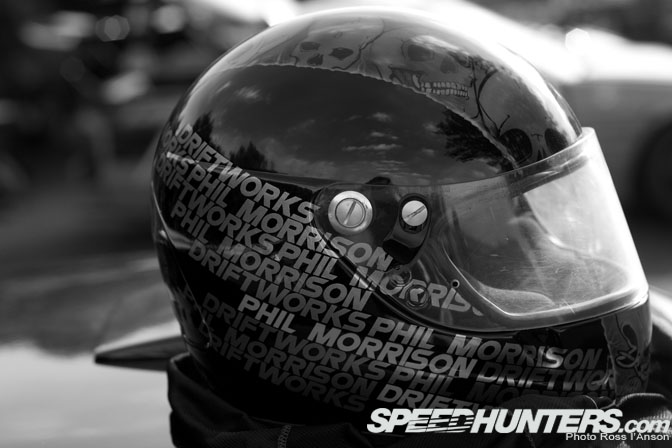 With Practice over there is normally a 30 minute break before qualifying ensues. Another walk of the paddock to catch up on any dramas that may have occurred or just to catch anything of interest I may have missed during the setting up period a few hours earlier. For example with Team Driftworks in the middle of setting up their pits I had missed Phil unveiling his newly liveried crash helmet.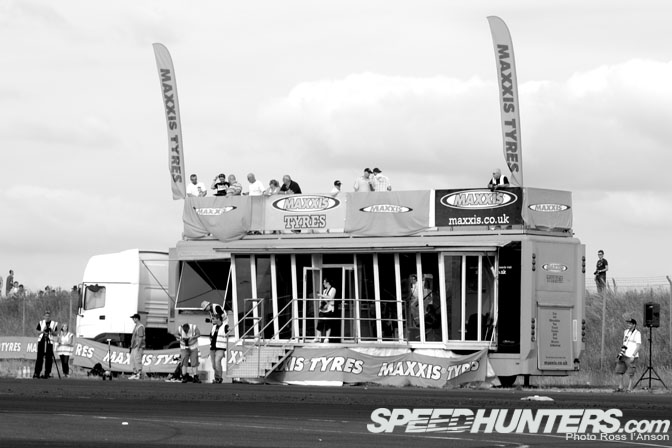 With qualifying just about to start the assembled media, judges and officials take their places on track. BDC Round 4 was a bit of a strange one as the custom track was particularly dangerous to go infield, so all the track personnel were limited to positions on and around the Maxxis BDC truck. For a photographer this is a nightmare situation! limited access usually leads to a set of very samey boring photographs and a sickening feeling that you have not quite represented the event as well as you could have. Luckily the nature of the track and the positioning of the BDC truck allowed reasonable viewpoints of most of the course and with the help of the 1.4t/c all was not lost photographically.. Although i did leave the event kicking myself that I had not hired a 400mm F2.8 lens when i had the chance a few days earlier.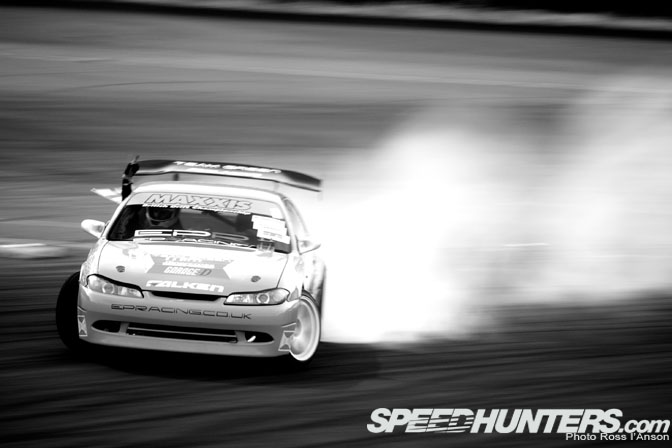 Qualifying.. BDC is split into two groups. Pro and Semi pro. So that's over 70 competing drivers all hitting the track for the mandatory 3 runs to fight it out for a place in the top 16 finals. My aim for the qualifying session is to get at least 1 good photograph of every driver in the competition. Sounds easy eh?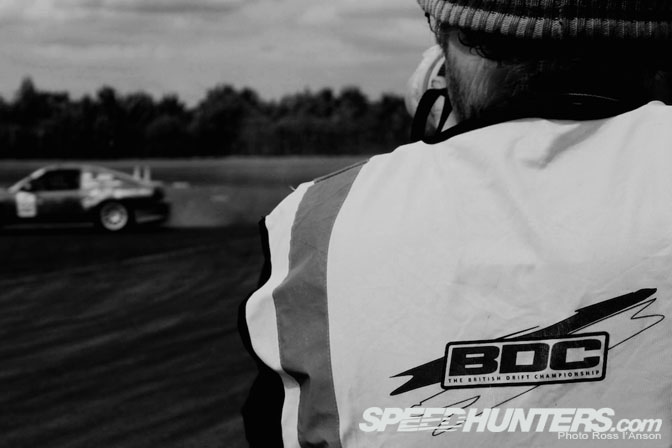 Qualifying for me is my most stressful time of the day.. Its the only
time you can guarantee that the whole field will be out on track and its
very very easy to miss somebody. For BDC round 4 I picked my shoot
point and then go though my little
routine.. Work out the most dramatic shot possible from my chosen point.
In this instance it was a tricky pan just before the transition to the
final turn. For the first run I will try to get a 'keeper' this
will consist of a fairly high shutter speed shot just to make sure that I
have it in the bag. Over the following 2 runs I will dramatically
reduce the shutter speed to try and show the drama of what is happening
on track to the best of my ability. With spins and aborted runs mixed
with bad camera work from myself its very very easy to end qualifying
with missing competitors.. Thankfully BDC Round 4 was a success and I
left with a full record of every driver.   ( Thanks to Ellie Charman for the use of the above photograph of me shooting qualifying)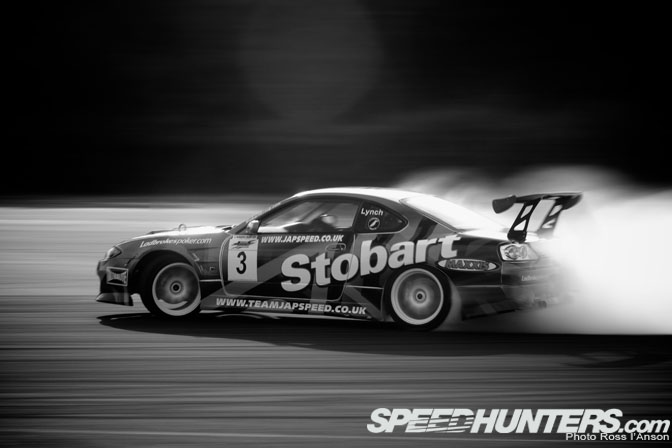 After a small break we go straight into the main event. Its a little tricky to decide where to shoot from as moving around on track is difficult and you want to be everywhere at the same time to capture every thing that's going on. A point where you can easily get both cars in the same frame does not necessarily produce the best shots of the event. I chose a fairly dull head-on position guaranteed to get both cars in frame  followed up with a high speed pan of the final turn. if you look closely at the above photograph you can just see the nose of Danny Eyels S15 in the smoke from Shane Lynches V8 S15. In hindsight it wasn't the best of choices and i did leave the event a little apprehensive of what i was going to encounter in the edit.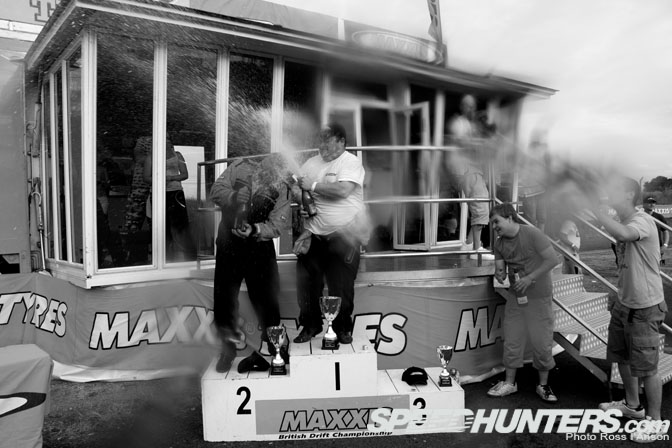 Top 16 finals over and all that remains of my day on track is the podium celebrations. This is always a tricky time, you are effectively in a scrum of media,drivers,teams and spectators and space is at a premium.  The brief is simple.. a photograph of the winners receiving the trophy's followed by the customary spraying of the champagne, how hard can that be? BDC Round 4 was a disaster for me. Just after Mark Luney stepped onto the top step, 3rd place driver Matt carter broke from the podium armed with a bottle of champagne to spray a fellow competitor.. The retaliatory jet of champagne caught me directly in the face flooding the lens and putting a end to any more shots. Gutted? not really. If you poke a tiger with a stick you have got to expect to get bitten at some point.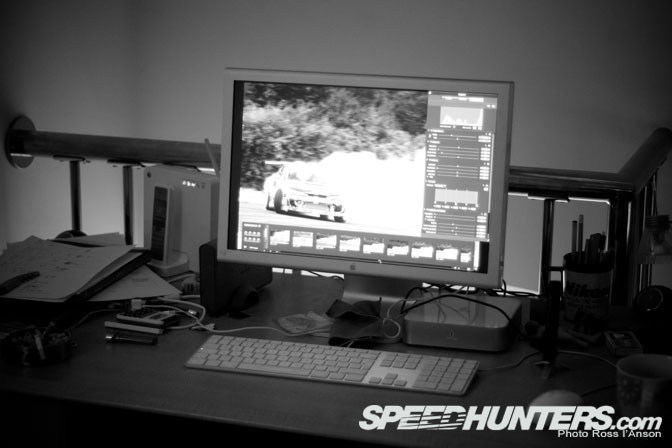 BDC Round 4 finished at 8pm so by 8.30pm was in the car selecting a traveling companion on the Ipod for the 160 mile drive back home. On arrival back to my office a few hours later first thing is to transfer all of the days images from laptop to desktop, grab a much needed shower and fire up the coffee machine. It doesn't seem to matter how long the day has been looking back on my work from a event is rejuvenating… (the gallon of coffee helps as well)  I always like to get my images sorted the same day they are taken, so l always work through the night to make sure everything is ready for the following day. In the case of BDC round 4 just as the sun is coming up im finishing the final images from the set. I then grab a few hours sleep before starting my event report for dev.speedhunters.com.
At the start of this piece I described two types of event.. the 'box of awesome' and the  'test of will and tenacity'  these two outcomes are not based on the unfolding events of a drift meeting but on my own feelings and experiences through  the day. Other than my podium disaster BDC Round 4 defiantly fell into the 'box of awesome' category.
-Ross