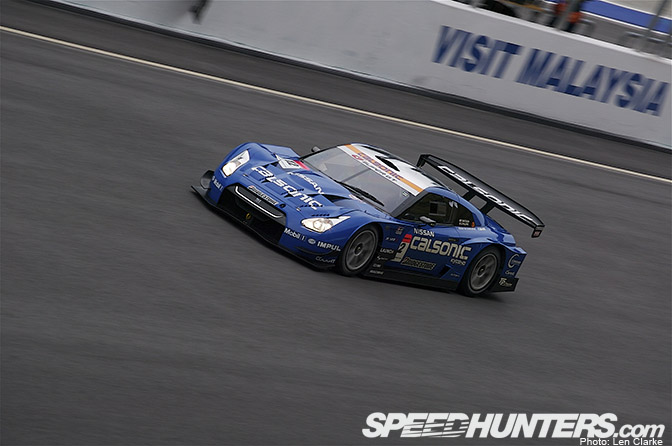 This coming weekend, the JGTC/SUPER GT makes its tenth visit to Sepang International Circuit, located on the outskirts of Kuala Lumpur.
The series first visited Malaysia in 2000, returning in 2001 for the second of two exhibition races, before the event took on full championship status in 2002. A hugely popular race for both locals and Japanese alike, it's been on the calendar ever since. The race was held at Fuji Speedway in 2003 because of the SARS scare across southeast Asia at the time.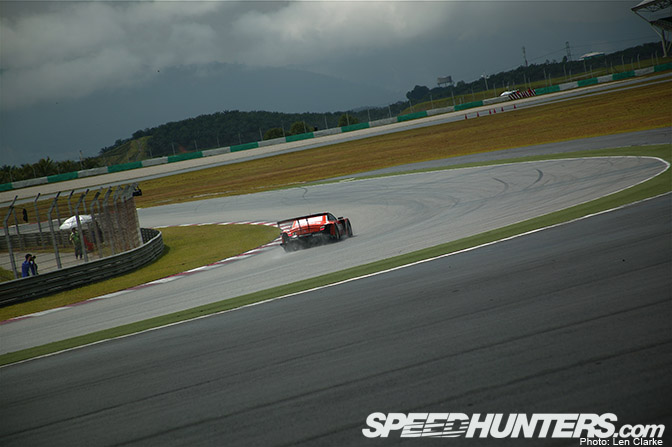 Situated just a stone's throw from the Equator, the weather is always a feature at Sepang. As if by clockwork, cloudbursts and intense showers pound the circuit every afternoon.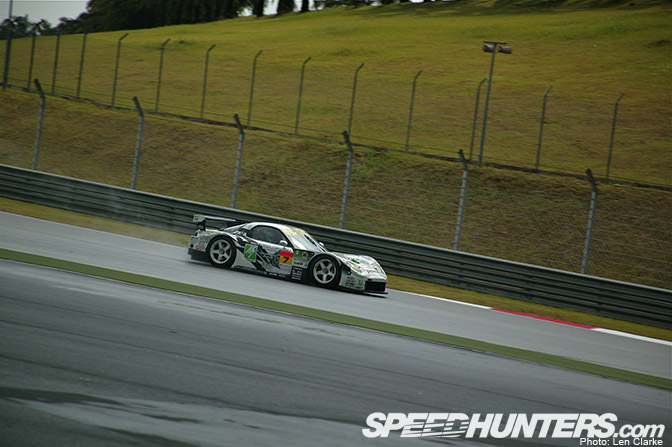 There's always some degree of wetness during official qualifying. Here's a shot of the most successful car/team at Sepang. The Re: Amemiya RX-7 has won here no fewer than three times; in 2000, 2002 and again in 2006.
 Great facilities for the fans – meaning lots of covered areas.
It's necessary because of the amount of tropical rain. 
 The arrival of the NISSAN GT-R (R35) in 2008 caused a major stir. 
 The fact there were five of the cars made fans all the happier.
But it was these guys, KONDO RACING, who stole the show, netting back-to-back Sepang victories in different cars (Fairlady Z and GT-R). Amazingly, these were also the team's first two wins. It would take until the 2009 season-opener at Okayama for KONDO to taste victory in Japan.
 The inside of the pit garages are cavernously large.
And no matter what colour the skies are, there are always sets of wets at the ready in every pit. 
 Some teams are enterprising enough to land local sponsorship for the series' only 'away' event.
 …and some teams make history, like the CUSCO RACING SUBARU IMPREZA, which took an incredibly popular victory in GT300 in 2008.
Leading to this: CUSCO RACING drivers Tetsuya Tamano and Kota Sasaki standing in the centre of the podium. Sasaki also won a pair of Aston Martin Asia Cup races in an N24 Vantage the same weekend.
 A picture of Michael Krumm taking pole position in 2008. 
 While in 2009, the remaining factory NISMO car of Satoshi Motoyama did exactly the same thing!
 2010 points-leaders (and reigning champions) Andre Lotterer and Juichi Wakisaka have scored seventh and sixth-place finishes the last two years. But as one of the strongest lineups in the series, they're always a threat.
 And last year's winners, the HASEMI MOTORSPORT GT-R of Ronnie Quintarelli and Hironobu Yasuda. 
There's no telling who'll walk away with the silverware on Sunday, but a lot of eyes will be on Honda's HSV-010 GT, a car as yet unproven at the circuit. Stay tuned for posts throughout the weekend.
 – Len Clarke