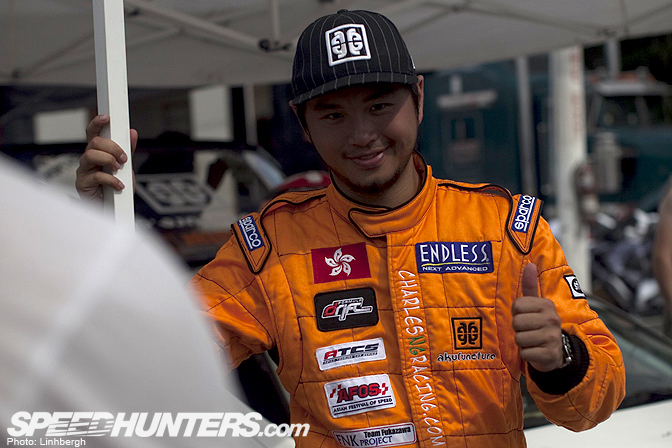 Dear Speedhunters and Fans, I am happy to announce my official guest blog on this site and I can't wait to share my experience and adventures with you all throughout my rookie season.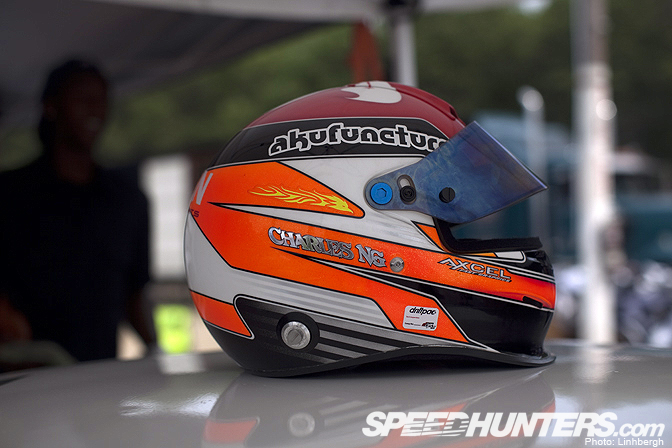 First of all, let me introduce myself since I am new here. My name is Charles Kaki NG, "Kaki" is my Chinese name and I was born and raised in Hong Kong. I started my passion in cars ever since I was a child despite there were not much space and opportunities to pursue a motorsports career in my home country. The closest that I could get was by watching races on TV and magazines and perhaps playing racing with Remote Control cars! I moved to California at the age of 19 and I got a taste of driving fast on a proper race track. I quickly moved up to being a driving instructor for many local events in exchange for free seat time. During that time, I never thought I would become a race car driver. As years went by, the people I met in the industry have recognized my skills and passion for the sport and they continuously pushed me to strive for higher.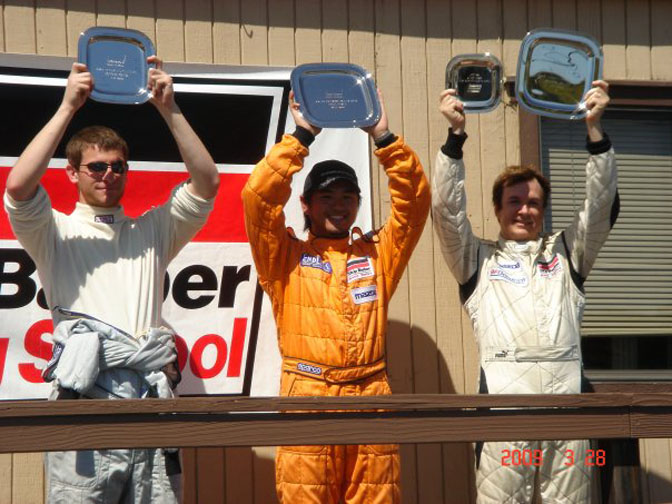 In 2008, at the age of 23, I was convinced to participate in my first race in the famous Skip Barber Racing MX-5 Cup, I won the first race, took the rookie of the race and surprised many including my buddy and fellow Formula D driver Conrad Grunewald as he was an instructor there at that time. Then I went on to winning the whole Championship the following year and receiving the title of the rookie of the year award, and I still hold the fastest lap record at Laguna Seca Raceway in the Skippy MX-5 Cup car! Thanks to Skip Barber Racing, they truly opened my door to the industry of motorsports in the USA and the rest of the world.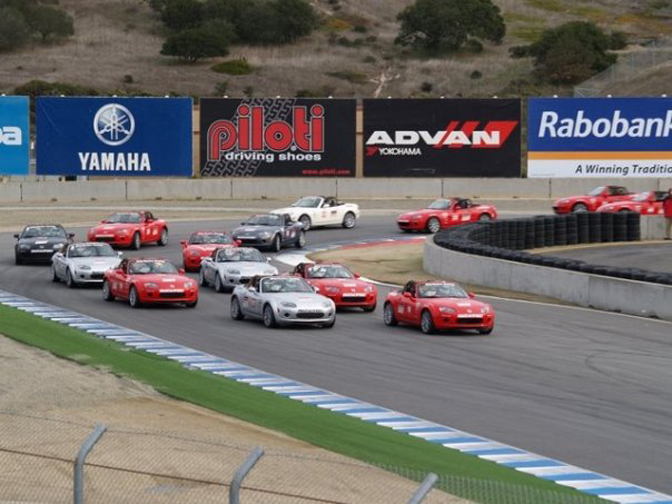 Pole Position!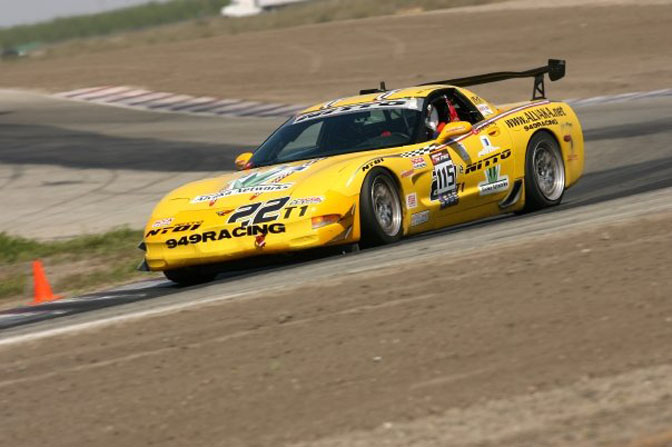 In 2009, I moved on to driving for a few teams in the Redline Time Attack Series. The most notable achievement was debuting the 949Racing/Nitto Corvette Z06 at 2009 Season Opener at Buttonwillow Raceway and taking home victory in the Modified Rear Wheel Drive Class, winning by over 3 seconds against the runner up competitor.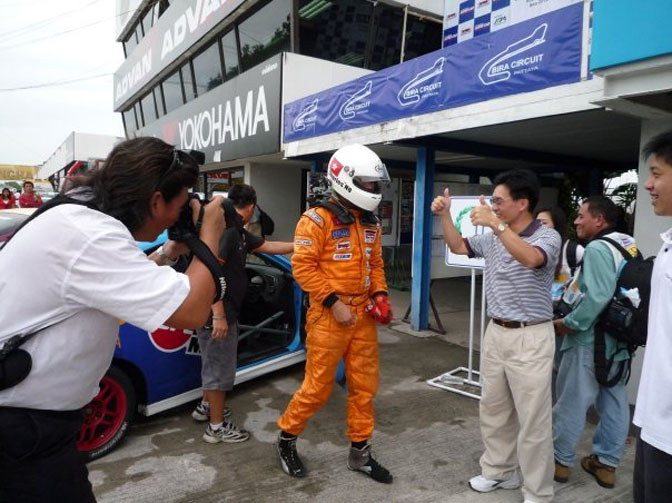 Outside of the U.S., I was invited to participate in a six hours endurance race in the street circuit of Thailand. We beat mostly higher horsepower cars with our consistent pace and team strategy alongside my teammate, we finished 4th overall in a field of 41 cars. Debuting in the Asian Touring Car Series, I took home a 2nd place in Bira International Circuit, Thailand, and that put me into a full season in 2010 for the Malaysian based racing team, G. Harry Racing Team.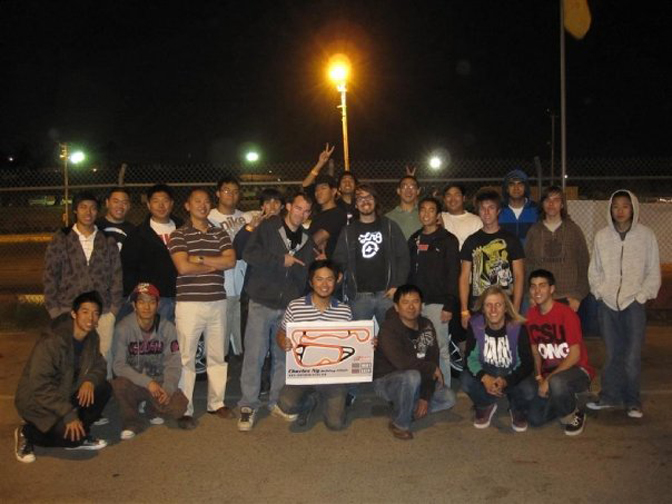 Besides racing, I held my own driving clinic at Adams Motorsport Park in Riverside, coaching students how to drive fast the proper way, especially for those who couldn't afford to go to racing schools. I still get emails today asking when I will hold another clinic, for those of you who cared, I'd say that will happen during my off season!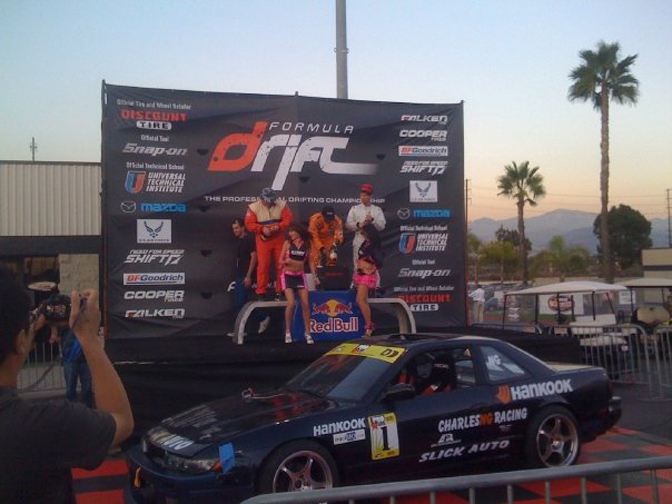 Later in 2009, with little training in drifting and some racing experience under my belt, I went on to trying out in the Pro-Am event at Irwindale. It was the last event of the year before the Pro-Am Nationals, which means I only had one chance to get invited to the finals, and it was my FIRST official drift competition in my entire life. As a competitor who did not want to lose, I somehow managed to qualify 2nd despite the turbo issues and went on to winning the whole thing. Thus I was invited to the Nationals, qualified 7th but crashed later on in the tandem battle so I had to retire, but overall it was enough to gain my Formula Drift Pro License for 2010.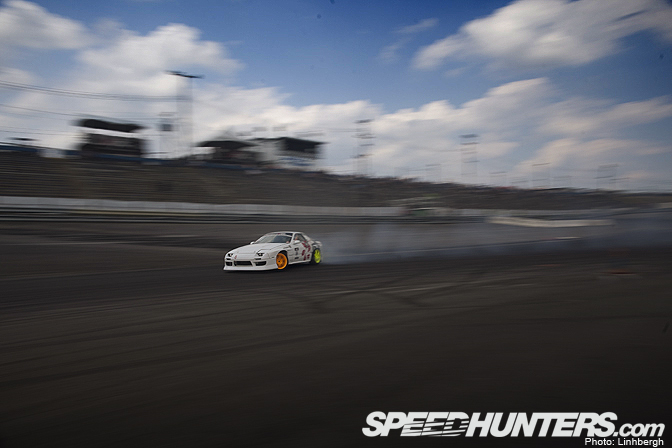 And so…there went the beginning of my drifting career in year 2010. I qualified 29th at Long Beach, 16th in Atlanta, and here goes Round 3 of Formula D USA at Wall Speedway!
Coming from a racing background, I always have enjoyed the challenge of a long course and a more flowing layout. I would categorize oval tracks to be one of them.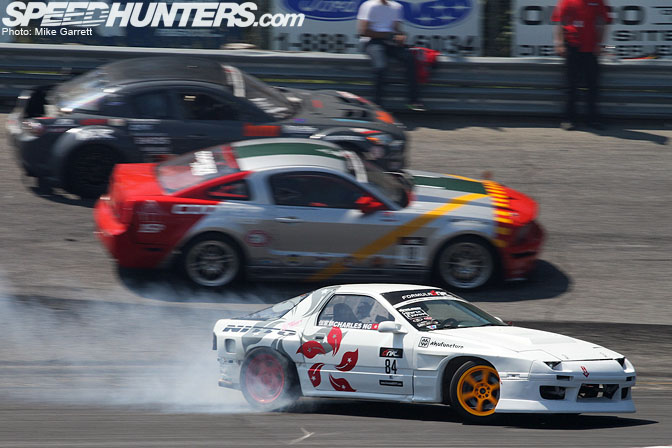 Friday Practice went very well. Wall is a smaller oval track compared to Irwindale but it has a longer duration and requires more car control to maneuver each turn on different track surfaces throughout each run.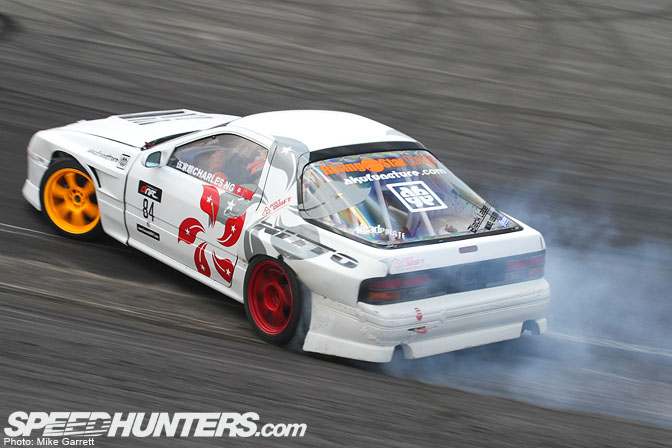 Friday Practice with the old red wheels.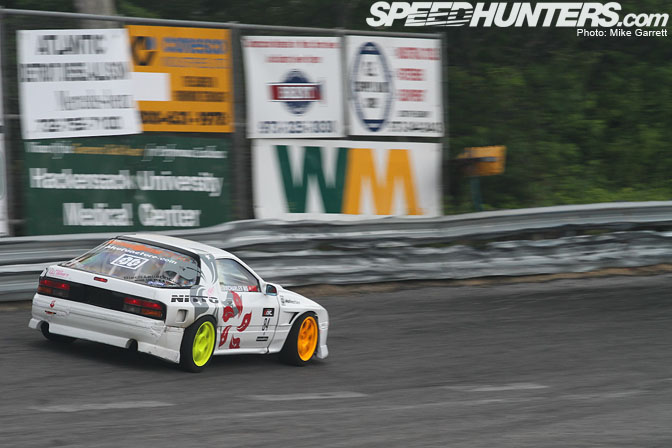 Entering the bank at a little bit below 70mph.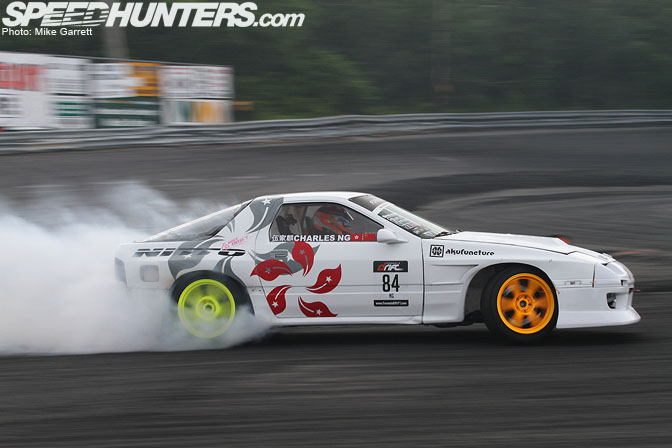 First Qualifying Run: I took it easy trying to secure a spot in the top 32 bracket, my spotter was telling me on the radio, "Charles, relax and have fun!" So I did. I initiated early at the bank, carried speed all throughout the course and hit all the marks. There were places where I wasn't all out and left some space to the clipping zones, I got a 73.
First Qualifying Run with deadly smoke.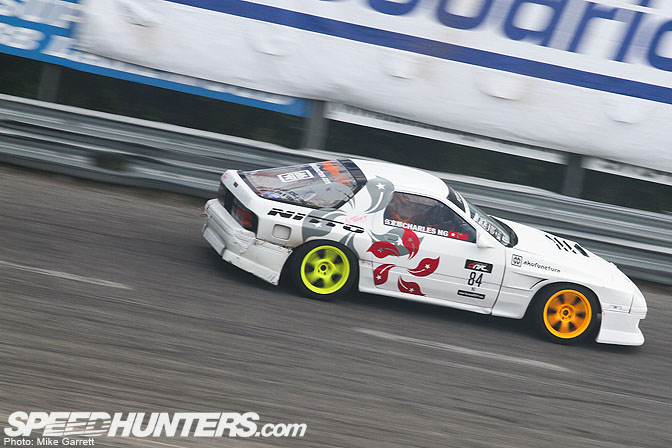 Second Qualifying Run, I was almost sure that I would secure a top 32 place from the previous qualifying run, therefore, I was determined to push it a bit harder. I gave a good thumbs up to Doug and off the starting line I went! I initiated a bit faster than the first run, carried more speed and angle through the bank, nice and high into a fast transition down into the infield, which was what the judges were requiring. I hit all the outer zones this time. After the run, I felt I got better scores than last time, it was a 83 points. That put me into 10th qualifying place.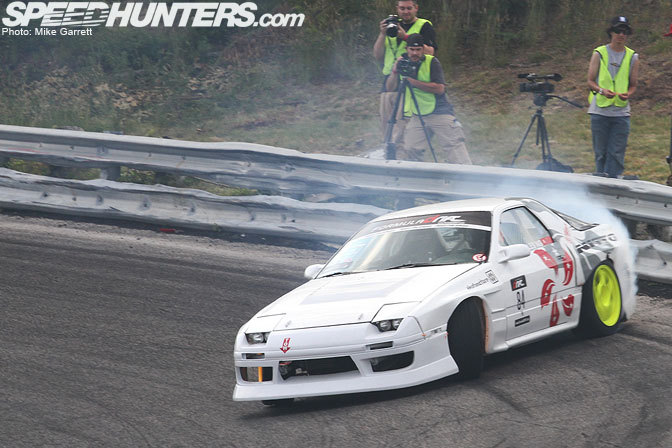 Coming closer to the wall….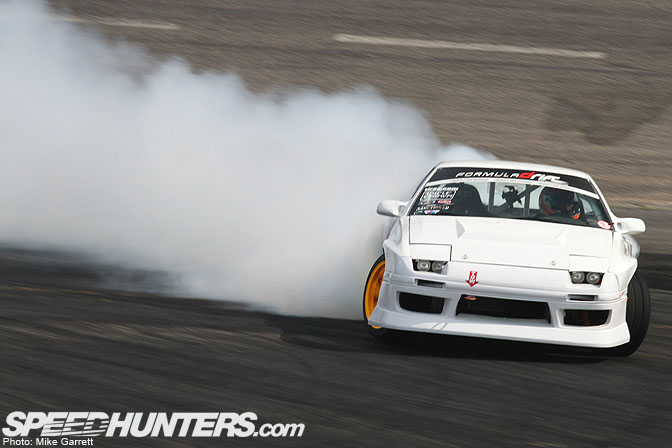 Last picture of Friday's qualifying run.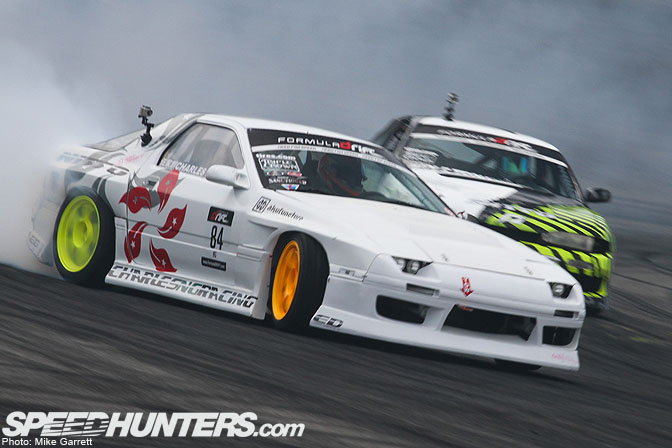 In Saturday's practice, I was confident about my line and speed. The only thing I was worried about was getting super close in tandem. So I went out to practice following and leading with different drivers, some of my favorite runs were with Essa and Powers, they are great competitors on the track and great buddies off the track.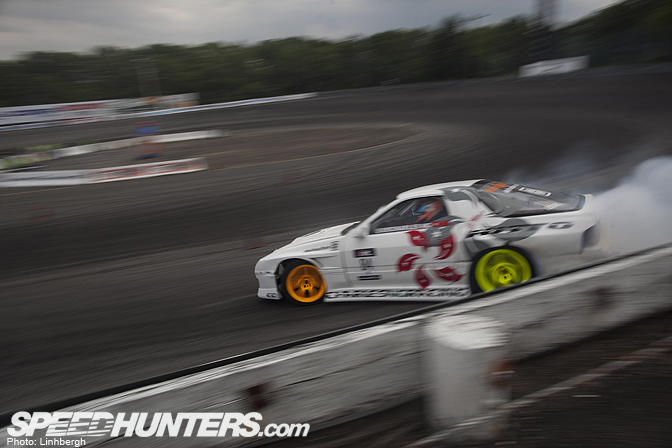 Riding the wall at 51mph.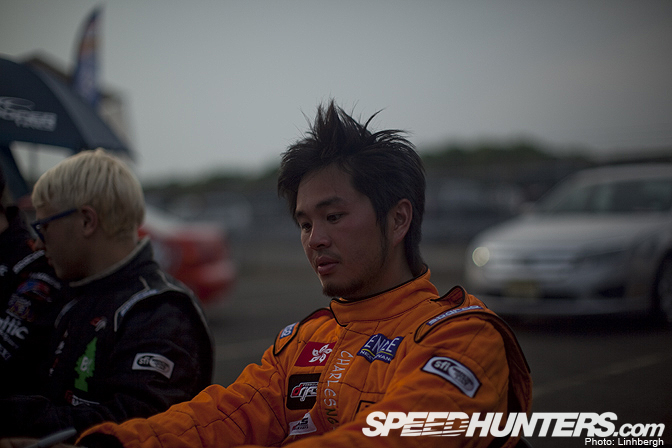 Autograph signing session after qualifying as always.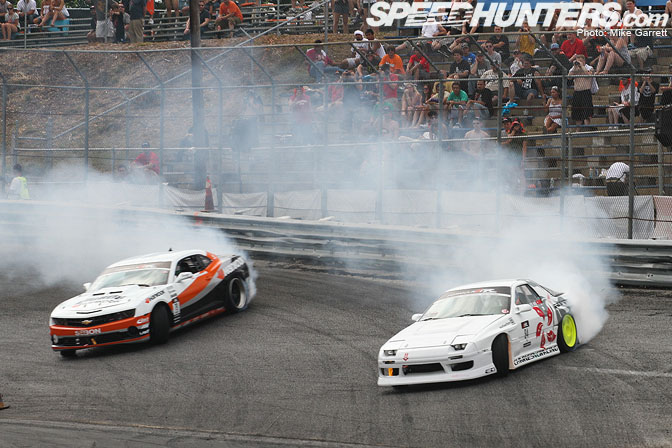 Top 32 vs Conrad was a very interesting scenario. I have known Conrad for a while since days of Skip Barber. I remember him and I used to always talk about drifting while all other drivers would be talking about grip racing. Last year I rode with him at Long Beach as passenger and this year I am up against him in Formula D! Conrad came up to me to shake my hand, as my old time mentor, he told me "Either way I am happy!" I entered 100% attack mode.
On my lead run, I took a gap on Conrad as I carried more speed into the bank. As I transition down to the infield, I was only thinking to myself, "I need to go faster!"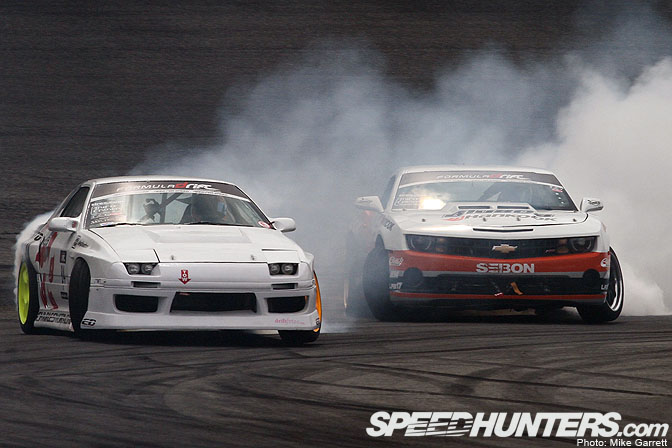 This is a very nice picture of the RX7 and Camero, makes one appreciate the variation on machinery in the world of Formula Drift.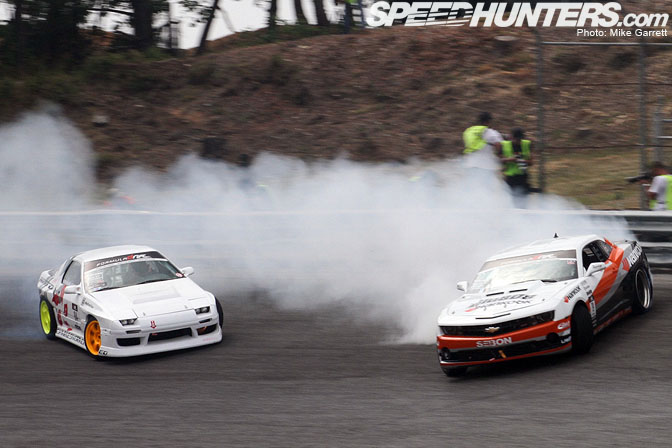 On my chase run, I was trying to stay close to Conrad 's monster by using the fast drift but lower angle technique at the bank to catch up.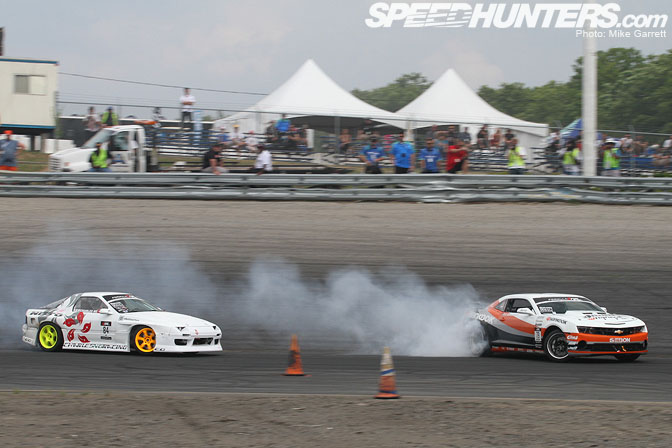 Coming off the bank into the infield, I was closing up the gap and also trying to stay out of his smoke trail!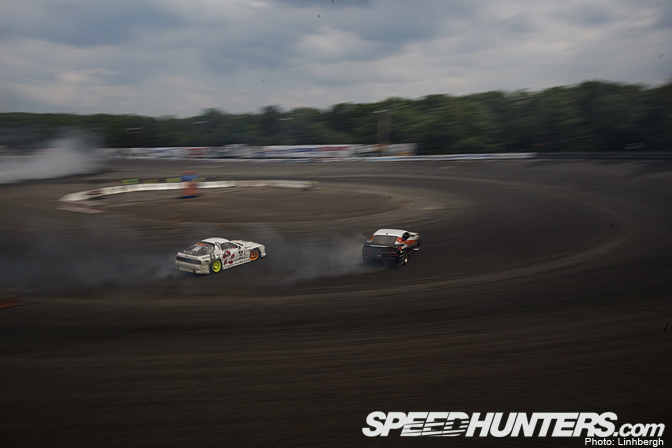 Coming into the last corner, we both ran a consistent line and both carried good speed and angle. The judges gave me a win.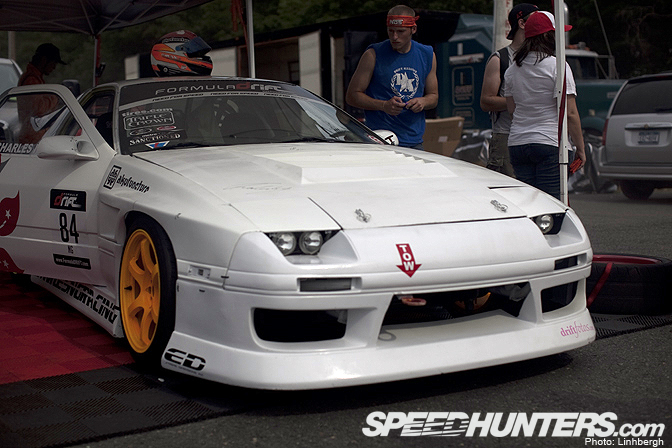 Fans checked out the car during the wait for Top 16 matches. It was always an inspiration for me to talk to different people about my involvement in the sport, and the fact that I used to be in their shoes just last year makes me treasure my this year's attendance in the main show.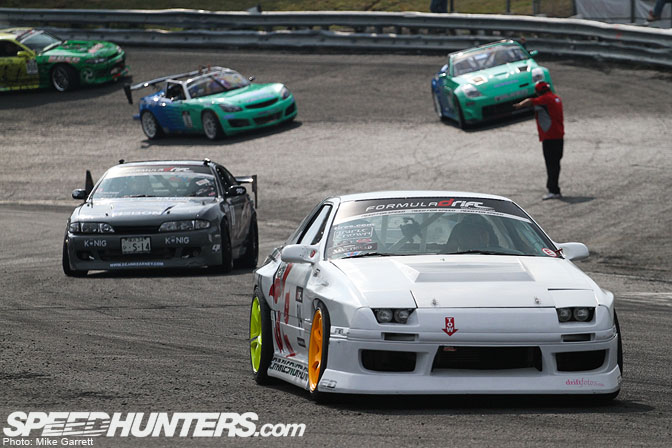 Driver Intros, I was the first car coming out into the field, next up was Dean Kearny, and the Falken troop.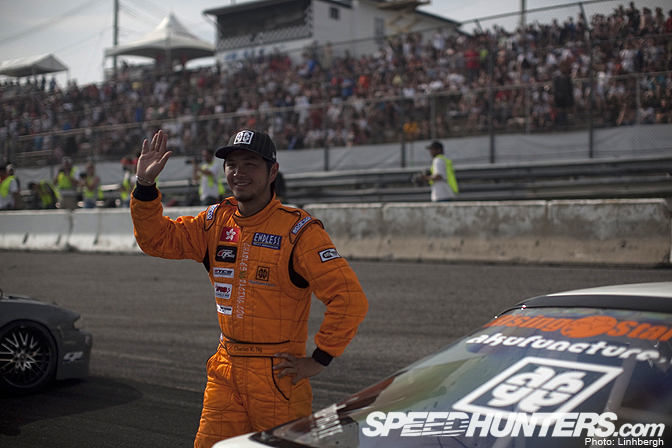 Saying hi to the camera facing away from the crowd…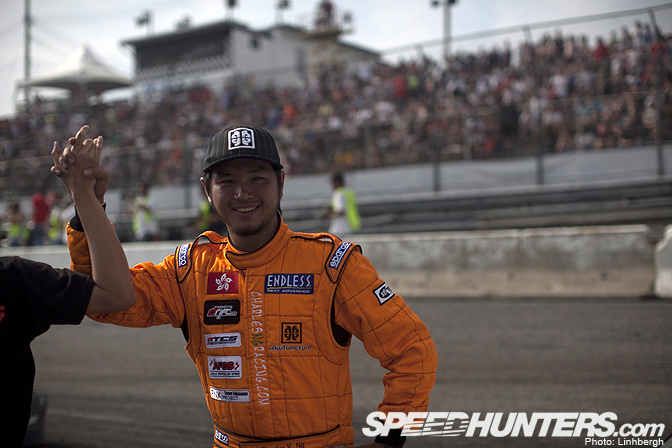 This was the 12647th high five I received in the same weekend! It was always good to show support to each other. That's what drifting is all about, especially for a rookie to go up against Chris "the 2009 champ" Forsberg, a little extra encouragement wouldn't hurt.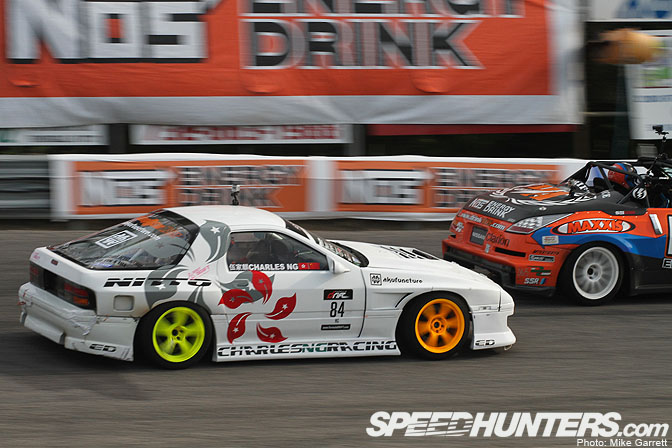 Top 16 vs Forsberg: My spotter spoke on the radio right before the start line, "K.A.!", go figure what that meant.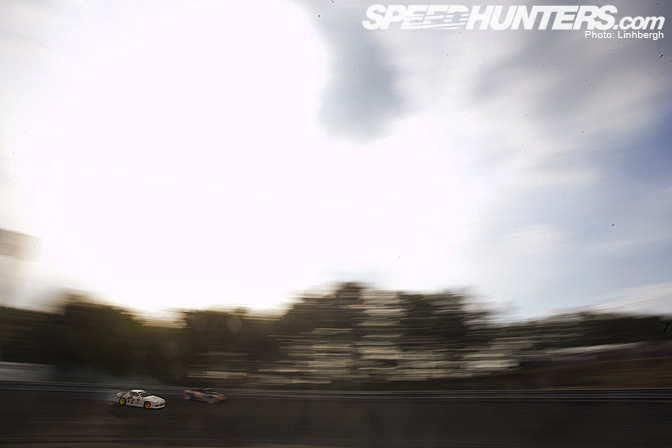 I was all pumped up and went full throttle all the way to initiation point at the bank.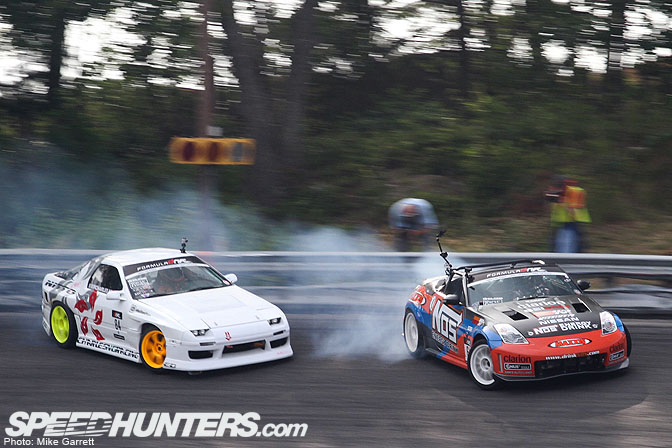 I stayed close to Chris the whole time in the bank until the later part of it when Chris flicked it a little bit more to get ready for the transition into the infield, I grabbed the e-brake for a quick moment, adjusted the angle perfectly to match up with his.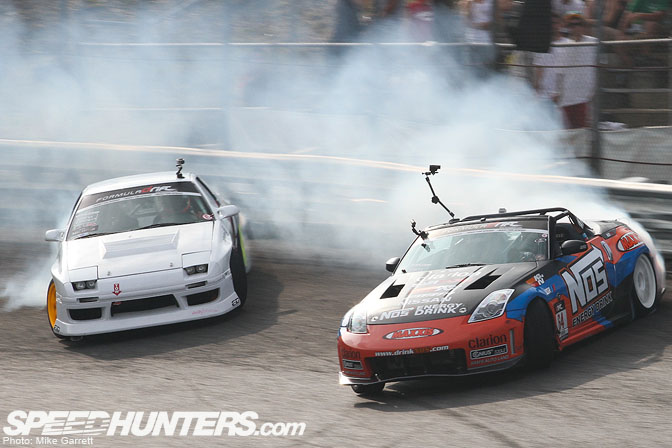 Coming off the bank fast!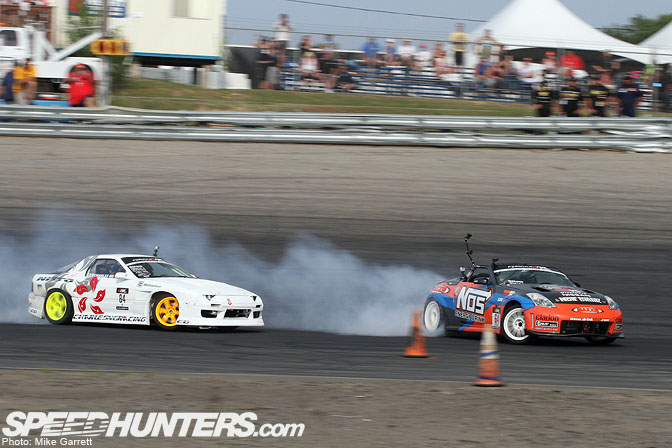 I stayed close enough to Chris throughout the entire course and I actually heard on the radio "you've got this bro!" Whoever said that, thanks but I didn't talk back to the radio.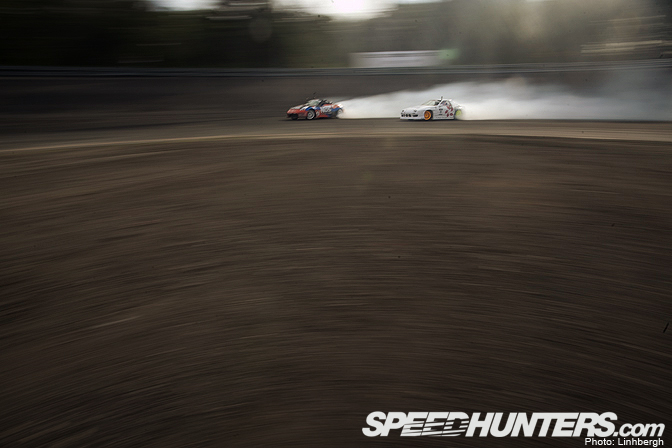 Woohoo!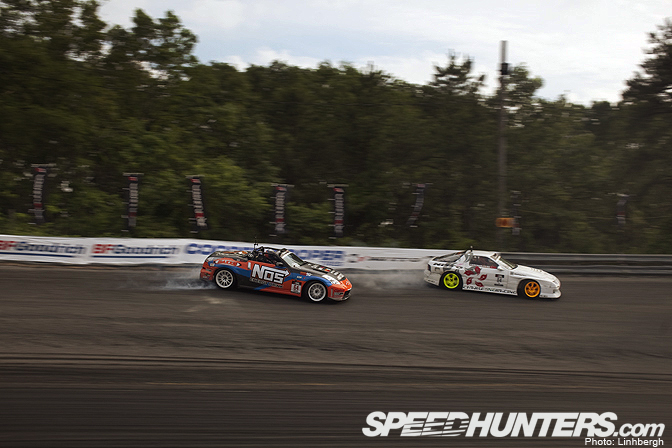 Before the starting line on my lead run, I heard one of my crew members say on radio, "Stay relaxed and calm, it's only drifting!" I didn't know if I followed his instructions exactly but all I had to say was that was easier said than done.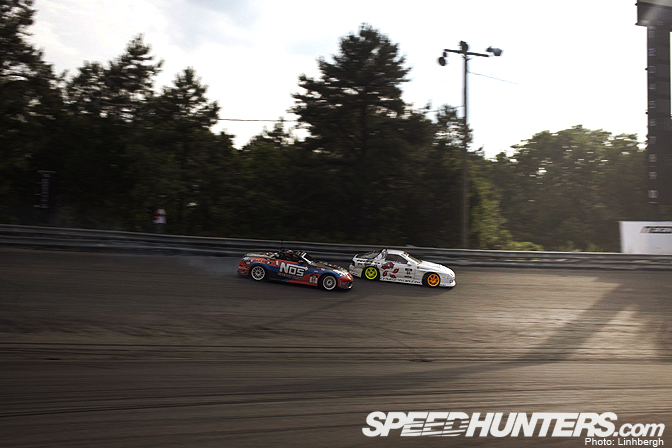 Chris was on me at the bank, I was trying to pull away from him with all I had.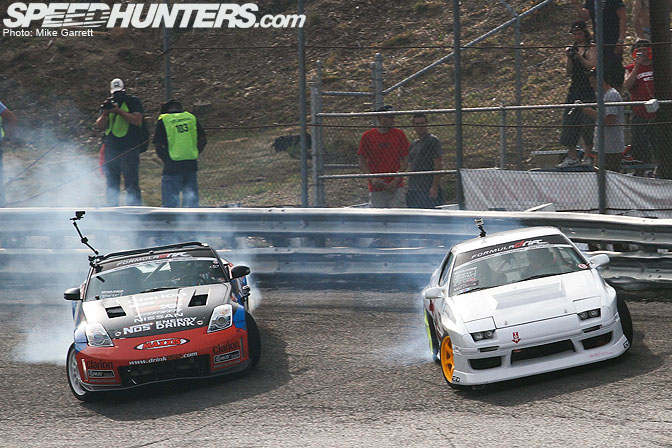 Still decent distance coming off the Bank.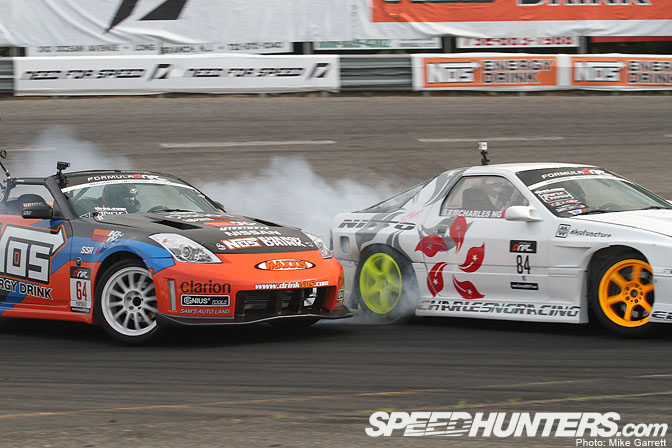 I made a small mistake on the transition and that gave advantage to Chris for closing up to me in the figure 8 section of the course.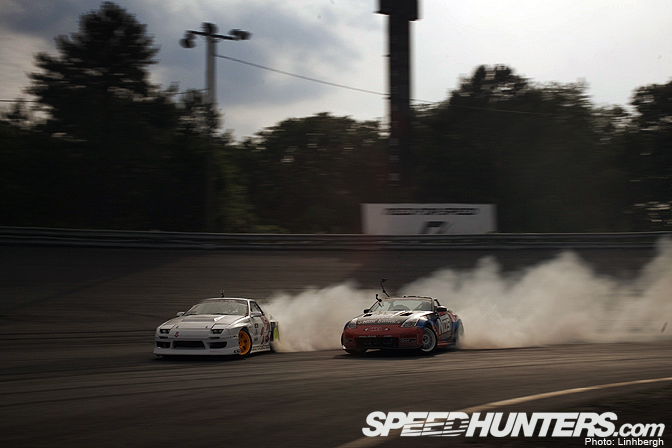 And he closed up the gap through the last section of the course.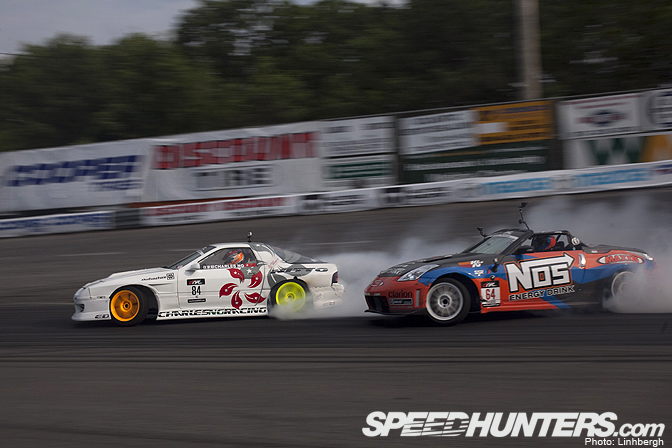 The judges gave Chris the win. Chris came up to me afterwards and said my driving was fast and smooth. Thanks for the kind words Chris!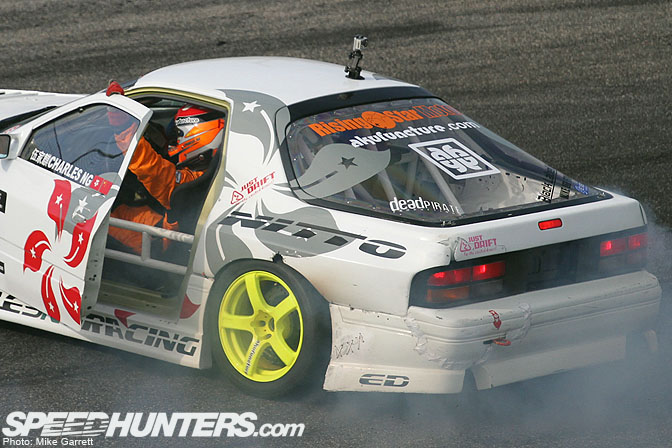 CharlesNgRacing would like to thank my team, Rising Star Motor, Nitto Tires, Wilwood Brakes, Akufuncture, 949Racing, JustDrift, Driftfotos for the support for this past weekend. Qualifying top 10 and making top 16 was a door opener for my rookie season, my team and I will be ready for many challenges to come.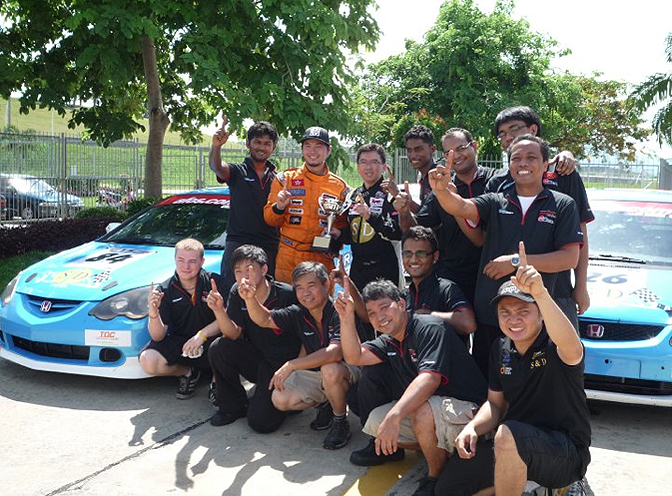 And stay tuned for the next round of the Asian Touring Car Series, which I took 1st place in Sepang International Circuit, Malaysia at Round 1 last month. I will be back there racing on 25th – 27th June. Wish me luck!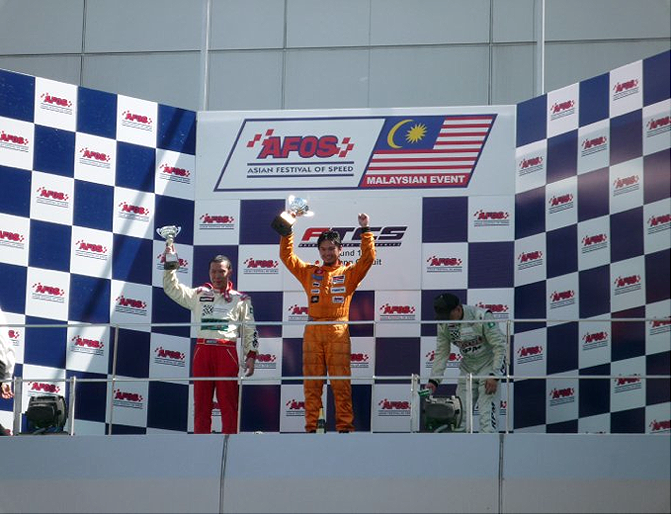 Lastly, big thanks to my local and global supporters from Hong Kong to Malaysia to Japan to Los Angeles to New York for all your support, you guys and girls are mind blowing and I promise not to let you guys down!
-CNR