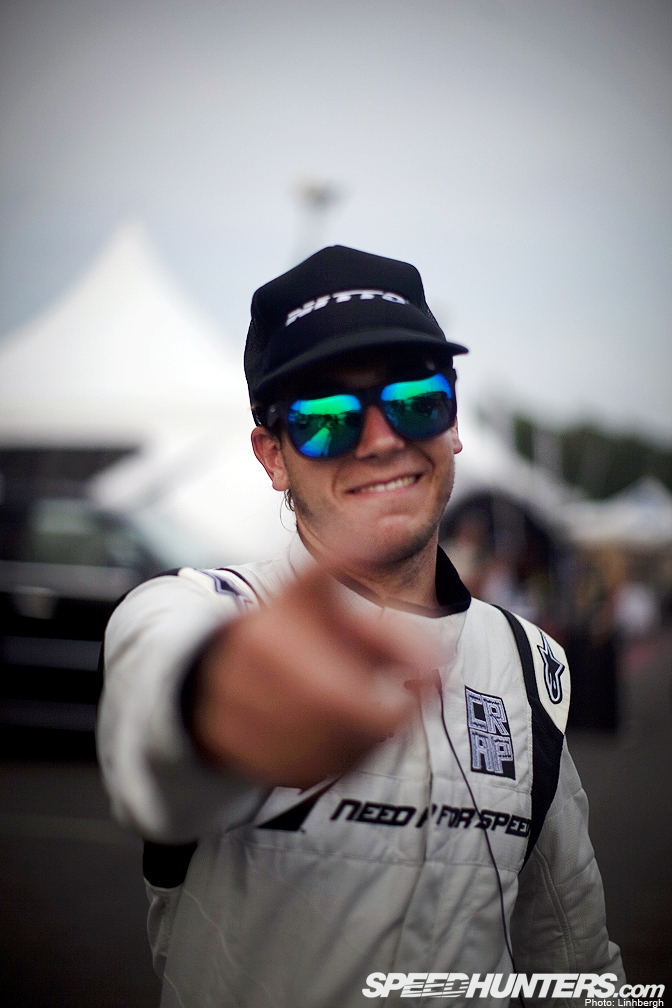 What's up SpeedHunters!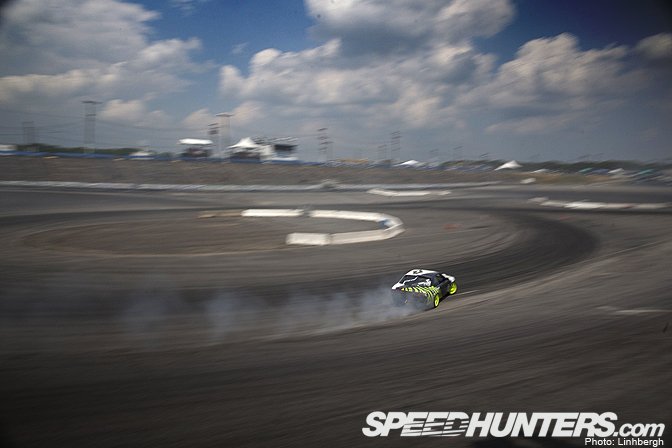 I survived the drive to our sketchy hotel in New Jersey so I'm ready to fill you guys in on the event.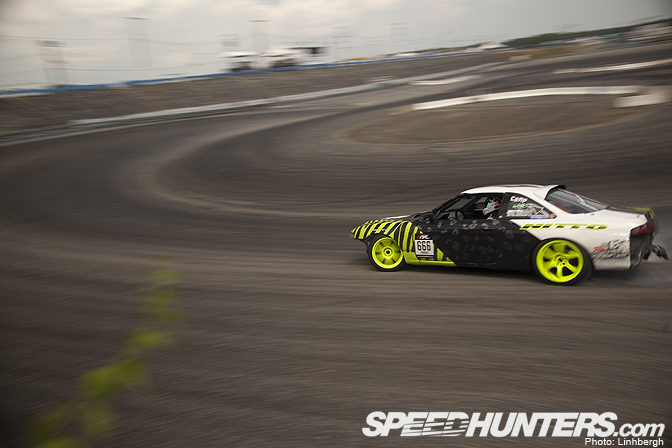 Despite the bad reputation Wall Speedway has in Formula D, I found it a really fun track and had a good time.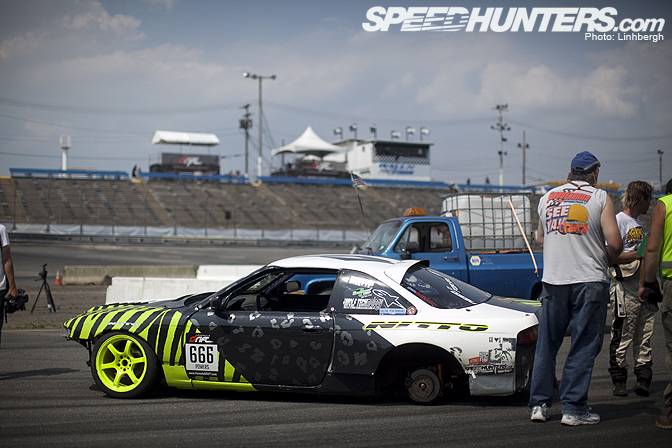 Unfortunately, my wheel didn't agree. I was driving down the straight, and then boom! I thought I had broken my diff and just coasted into the infield. Next thing I know, I see my wheel take off past me. I was surprised and confused, but also found it humorous. I watched it go up the bank, and told my friends over the radio "check it out haha," as it hit the guard rail and launched like ten feet in the air, then rolled half way back on the other side of the track.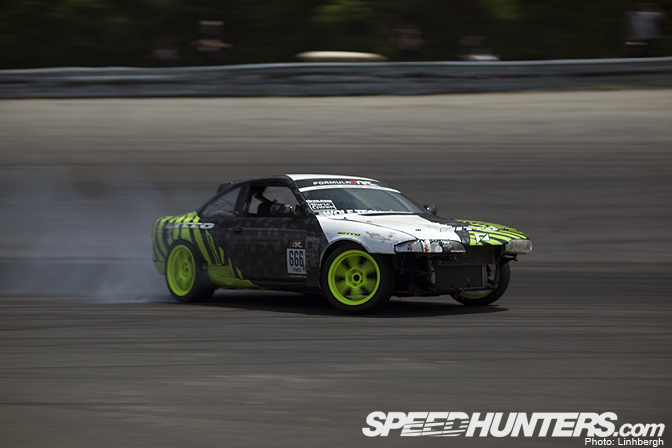 I don't know if the lug nuts were too tight, not tight enough, or it was the harsh transition from the bank to infield, but all my studs had broken off. Luckily, I had my old studs and was able to borrow a bolt on spacer and got back on track for more practice.
Jrod came over for a little bit with the YoParts/driftstream guys. I like doing stuff with them because they let me do super random stuff.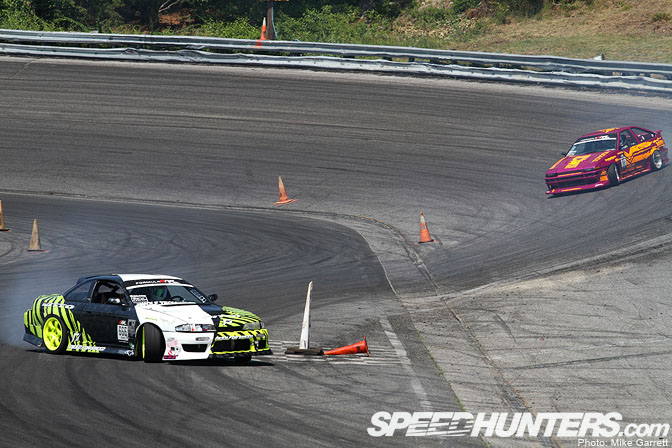 My favorite part of the track was the section exiting the bank, into the infield, around the first clipping point, and into the first turn. It's a pretty straight shot if you want it to be and I was just trying to floor it the whole way through there in third. In my mind I was thinking about how JTP drives between the big bank and inner oval at Irwindale.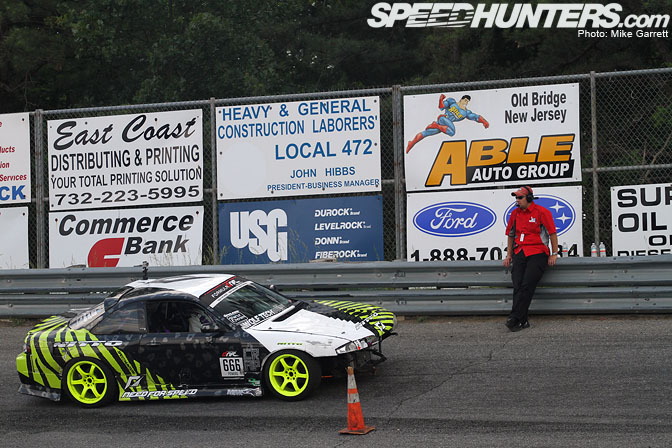 Qualifying up to the point when It was my turn to drive wasn't going too well and there wasn't much pressure.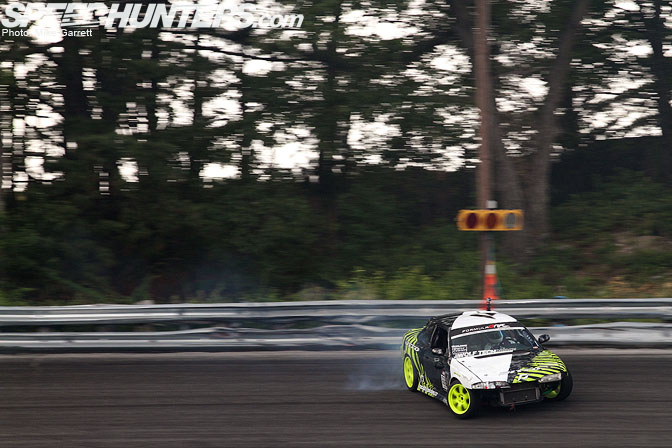 I focused on initiating the same way I had in practice and running a decent, but safe, line on the bank.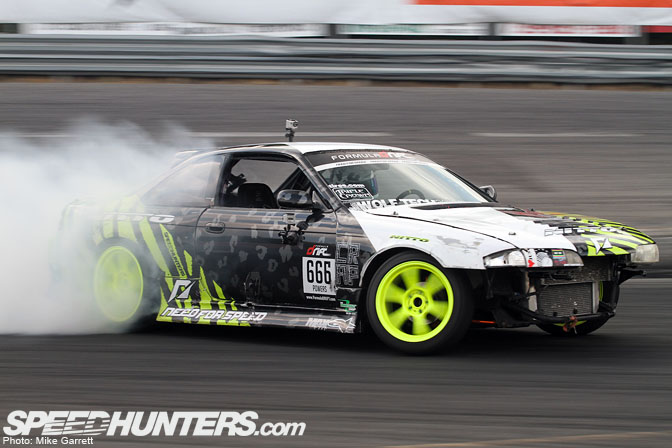 My next focus was nailing the 2nd-3rd upshift exiting the first inner bank and getting ready to handle the super bumpy section of the course.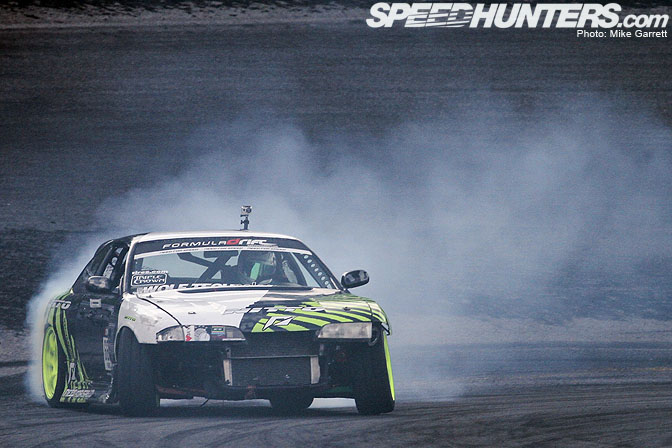 Then to the next inner oval, and I decided to stay in second through to the finish of the course and just bounce off the rev limiter.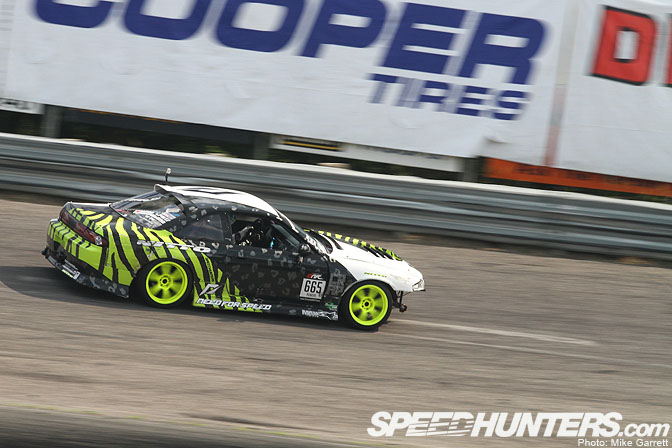 My first run I scored a 70 so I knew I was in and could push it harder for my second run.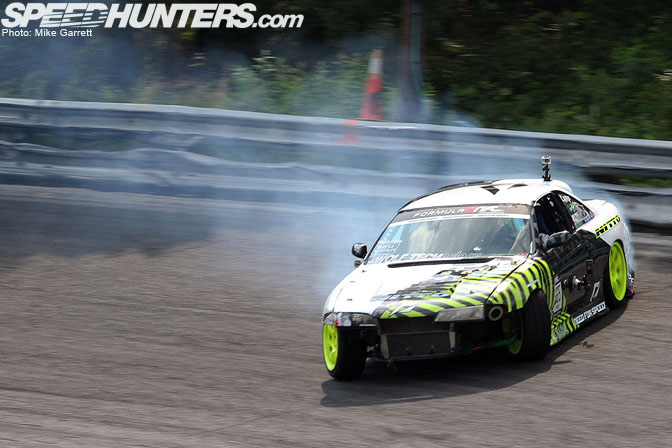 I tried to be a little higher on the bank with more angle.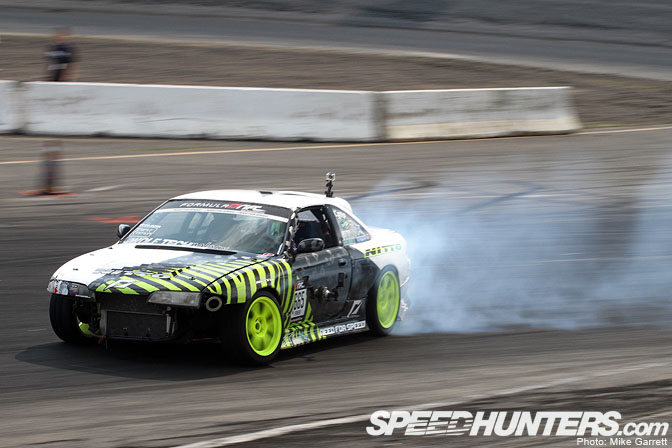 Then as I came through this section I just got ready to try to have an exciting transition with a lot of angle coming into the first inner bank.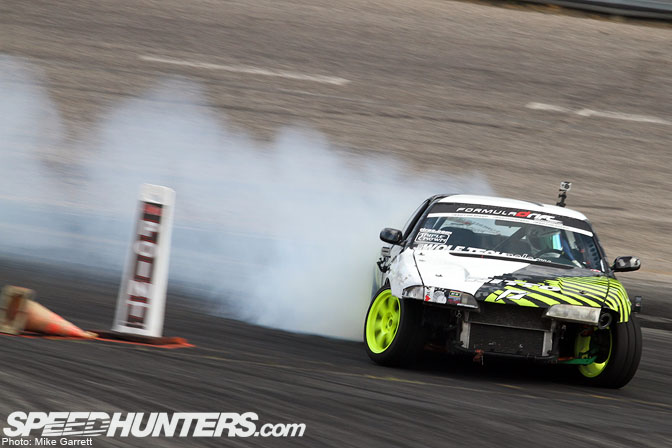 They moved this clipping point during practice because the pavement was getting tore up. This new line made the middle section of the course much bumpier and harder to do an exciting transition.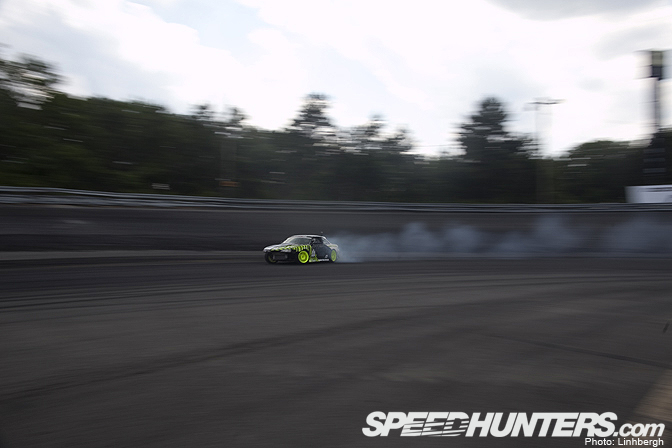 I didn't finish the lap as strongly as I had started and ended up getting a 76 which placed me in 17th place for qualifying. 
Jersey Streets captured the second run on film which you can see here.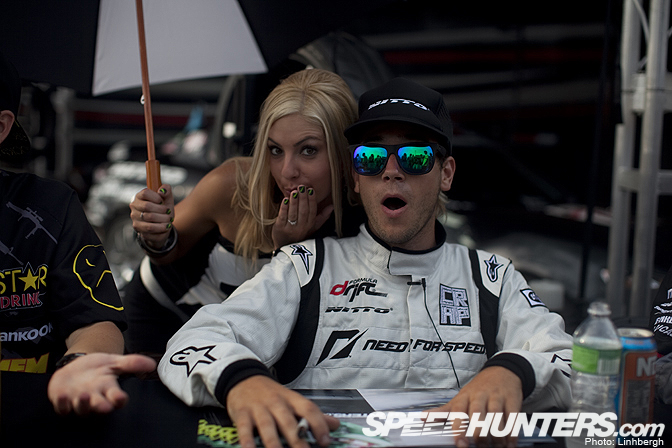 After qualifying was the autograph session. I was excited for it because I had an awesome new Alpinestars suit to show off and some cool SpeedHunters posters to sign. And Courtney Day mega babe umbrella girl. Check out her finger nail polish.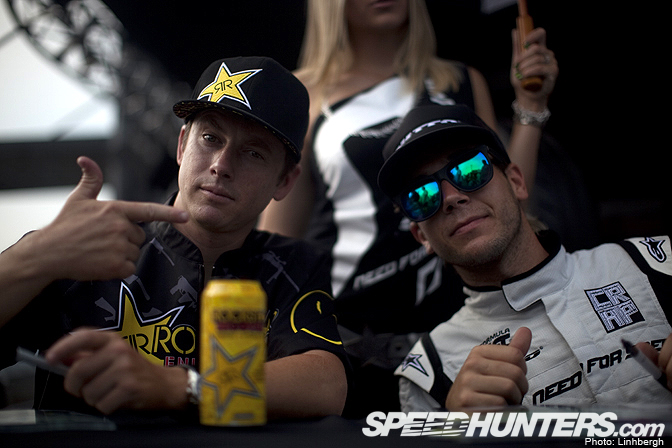 I sat next to Tanner Foust. It's funny how some of the grassroots drift community thinks guys like him and Rhys are dorks or something. He's pretty funny and I enjoyed sitting next to him. I wanted to ask him why he is so good at driving.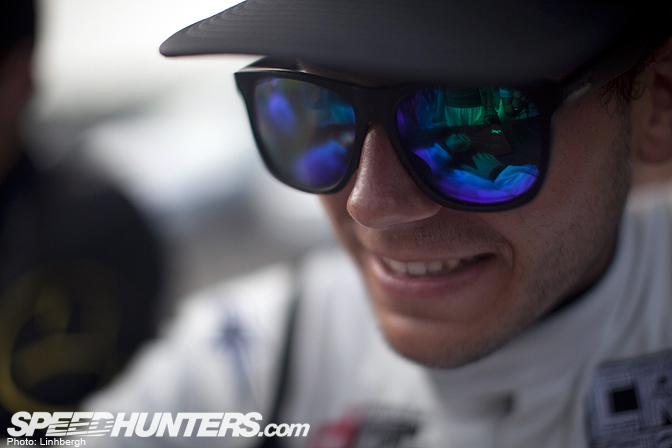 I think most of the people at the autograph signing have no idea who I am, which is fine, but it's pretty cool when someone knows who you are and has some questions or positive things to say.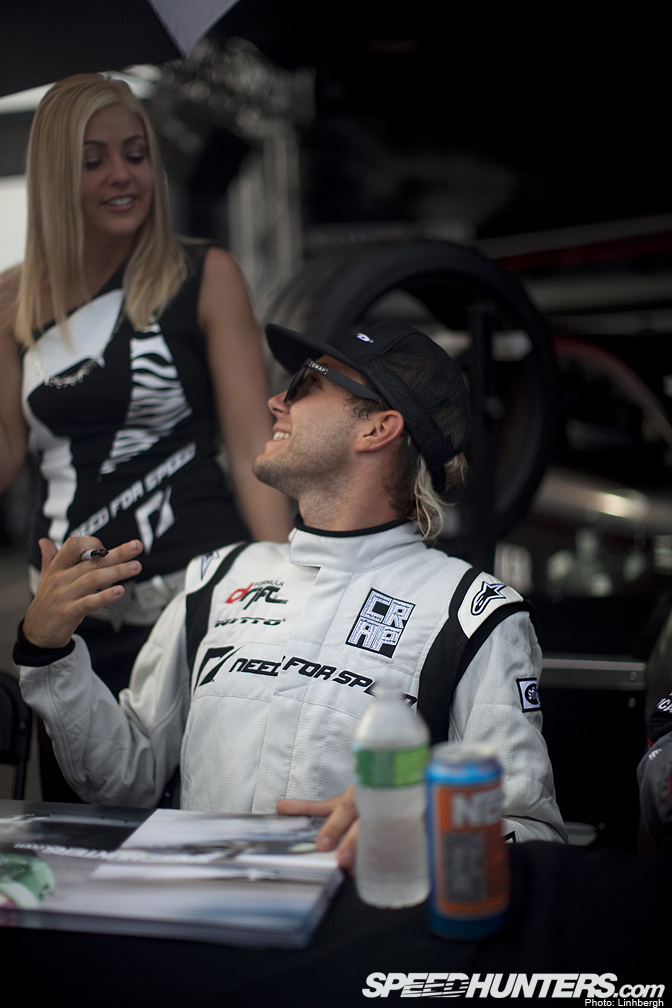 I don't remember exactly what happened here, but it looks like I'm explaining myself out of some trouble. It's cool being on Team Need for Speed with Courtney because she is nice and also because she has so much experience with this kind of stuff whereas I don't. Everyone on the team really is pretty qualified and experienced except for me so I think I'm pretty lucky to be part of it.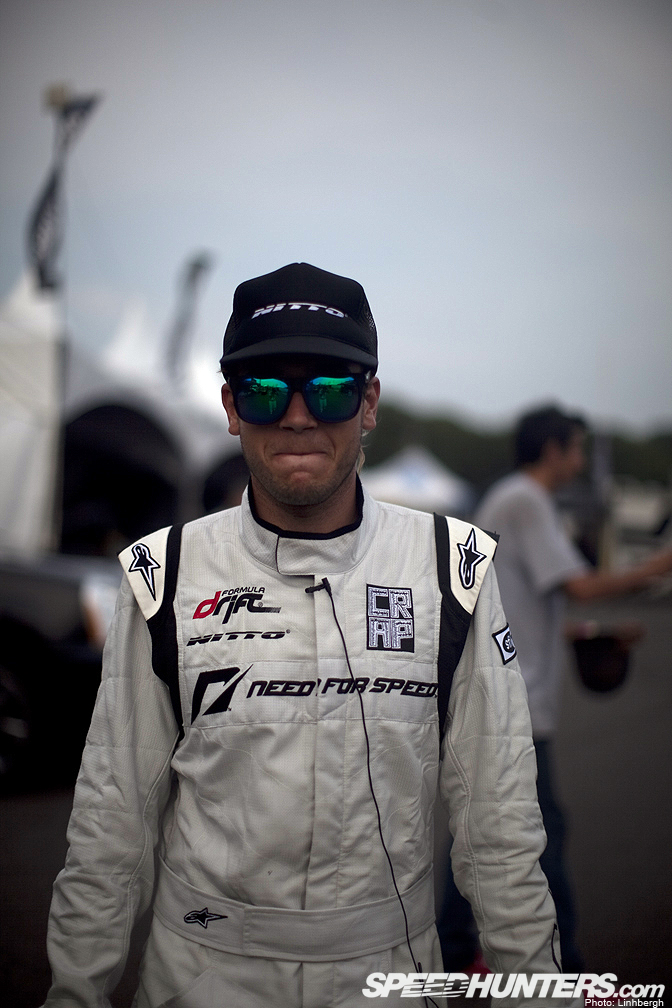 After the autograph signing I got mic'ed up and was instructed to make fun of my friend and Nitto team mate Mike Essa, and you know I did it.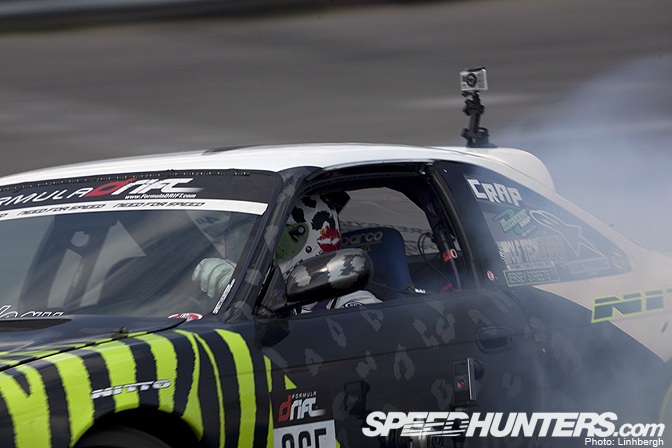 There were a lot of cameras on my car this weekend. The one on my door facing back belongs to Jersey Streets. They got some similar footage from qualifying and you could see something was loose on my rear suspension causing really drastic toe changes.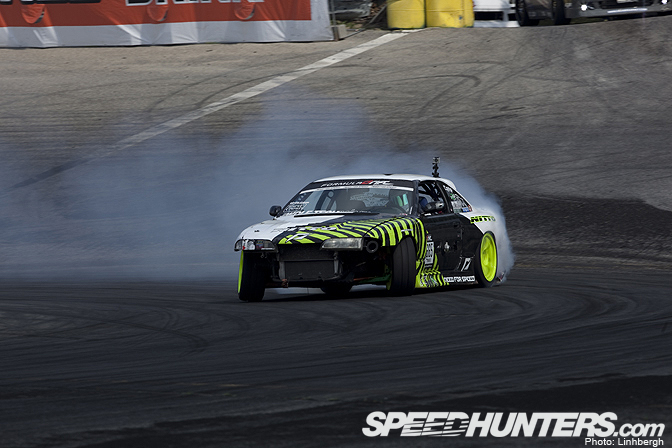 I like this photo because it just looks like my car is working. I have been working on improving my car setup extensively, doing as much as I can between rounds. I'm trying to do whatever I can to make it as competitive as possible. So far this year I've qualified higher every round than the previous round. Ed Bergenholtz and Joon Maeng both commented that my car seemed to be working better. I was pretty happy with this because I hadn't told either of them what I had been up to.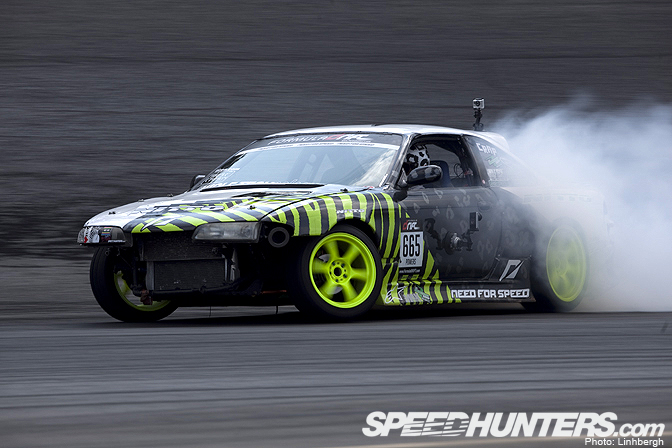 Love the Nitto smoke. One thing I was always bummed about before was I never had any smoke. NT05 problem solved.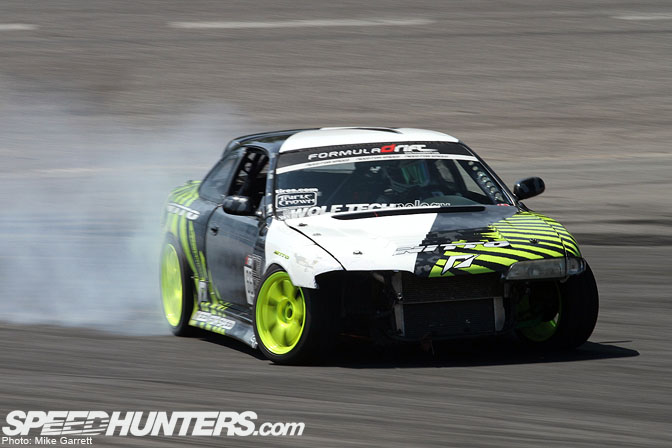 Friday when my front bumper came off it took my head light assembly with it but luckily the bumper is ok. I'm already on my third one this year, that's one blown up per FD event.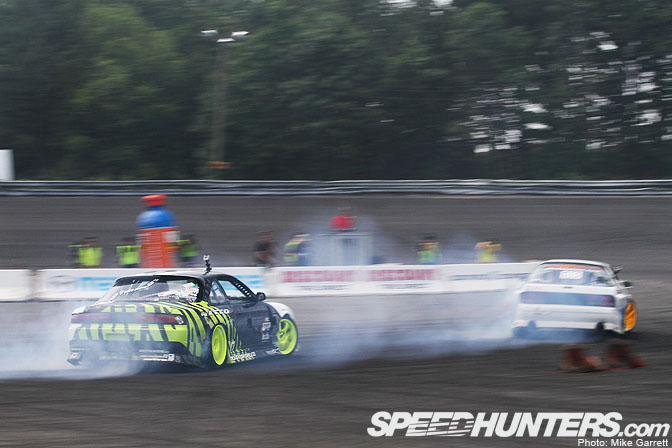 Here I am driving with Charles Ng. I remember watching him at the Pro Am qualifier they held at Formula D Irwindale last year. He wasn't that good then, and soon after he crashed his car at nationals, but he has definitely gotten pretty good since then. He did really well this event especially. I think in Atlanta we were the only people to crash into the wall at initiation haha (maybe ever?)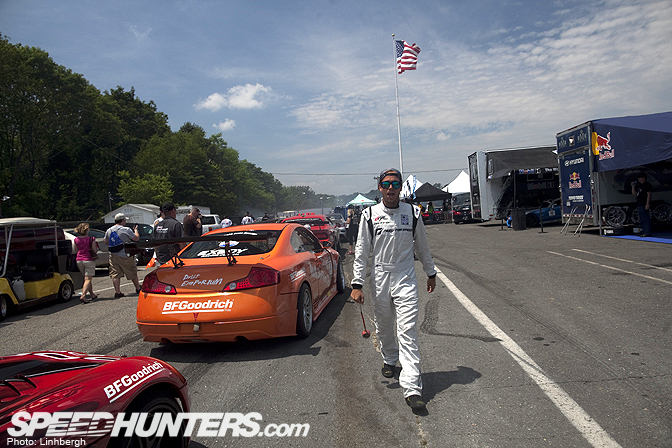 Got all lined up and ready for the last practice before top 32. We didn't have a pit vehicle so there was a lot of walking around to get parts and tools like this tire gauge.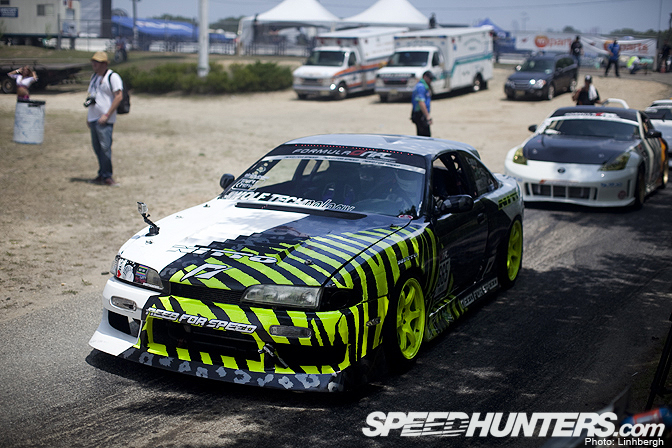 I was having some head gasket issues earlier this year (2 in one week). Big Tom and Jim Wolf Technology found a solution for me and now it's held up since Atlanta. Before Washington I'm getting some more dyno time at JWT to turn the boost up a little and make it rip even harder.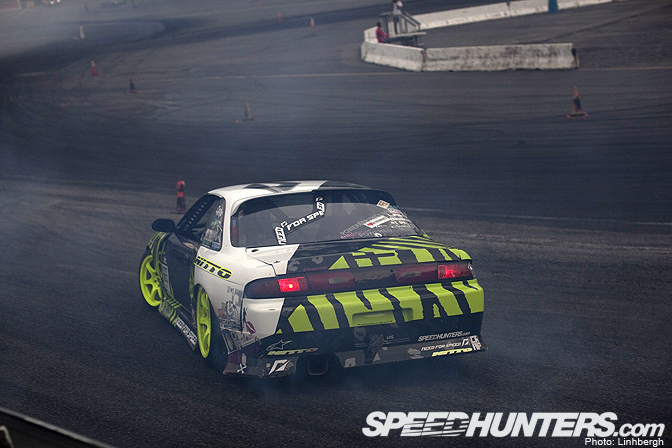 The transition from the bank to the infield can be pretty harsh. I know Mad Mike broke 2 axles and a diff over it. I broke axles at every competition weekend so far this year and was worried about the transition. Luckily I upgraded to some Drive Shaft Shop axles before the event and they took the abuse.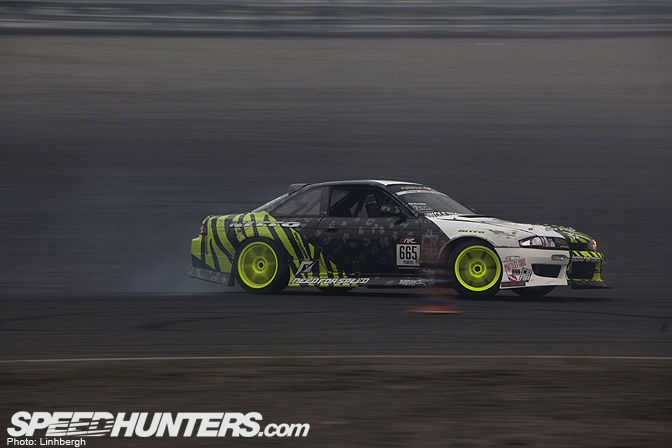 I lifted my suspension a little extra as everyone suggested me to do for this track.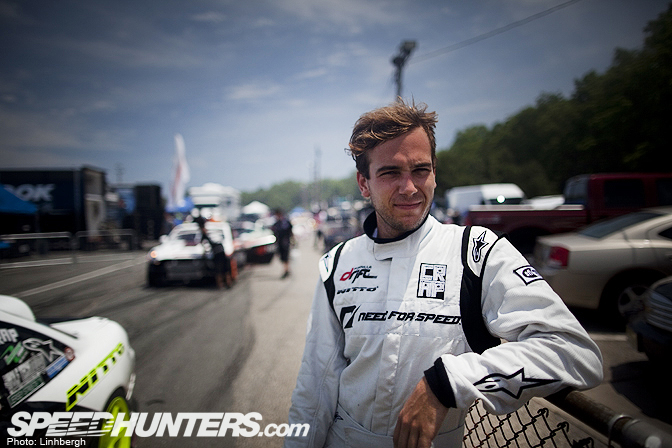 I really love my new Alpinestars suit. It breaths sooo much better than my old one and I like the cut a lot more too.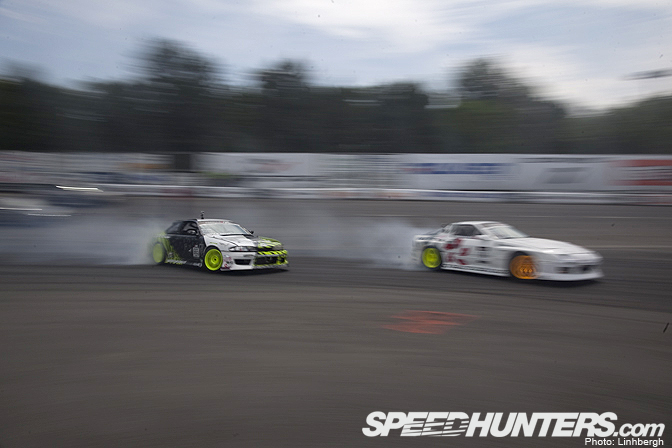 Here's some video of Saturday practice from Jersey Streets.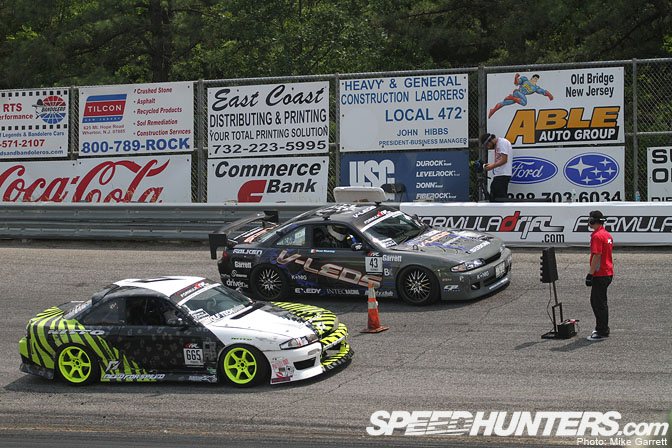 Going into the Top 32 I was feeling pretty confident because I think it was my most even match up this year car and driver wise. I ran him in practice on Friday, and it went pretty well as you can see here.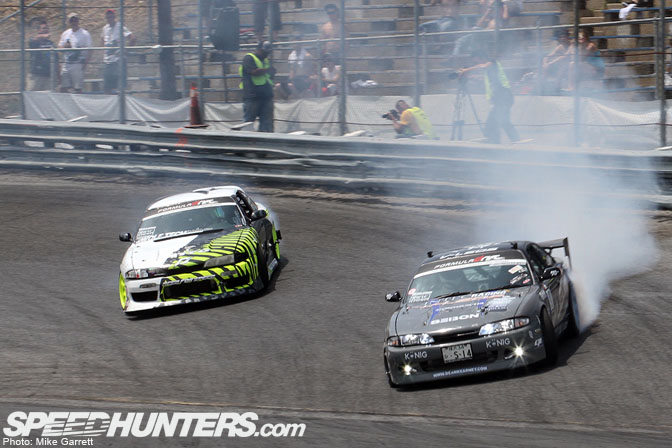 I was kinda caught off guard when he launched the line a little early before all the lights turned off (check the video again) and instantly a gap was created on the straight.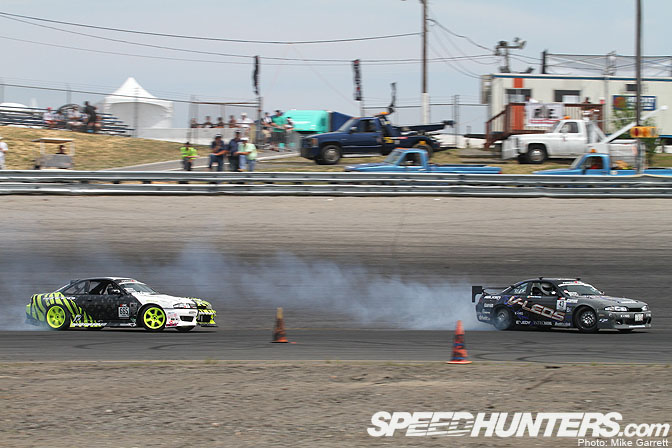 It was the biggest gap in any of my competition runs this year, and when I downshifted to second on the inner bank I felt it grind really hard. I think I was just shifting really hard and working to try to catch up and I wasn't able to close the gap.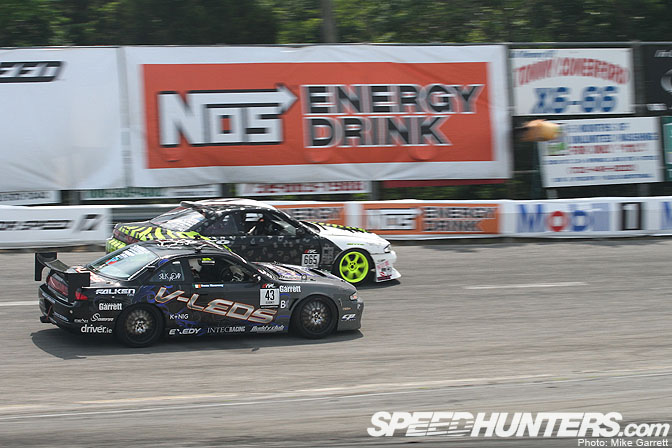 I knew my follow run didn't work out so well so my plan was to try to lay down a really good lead run.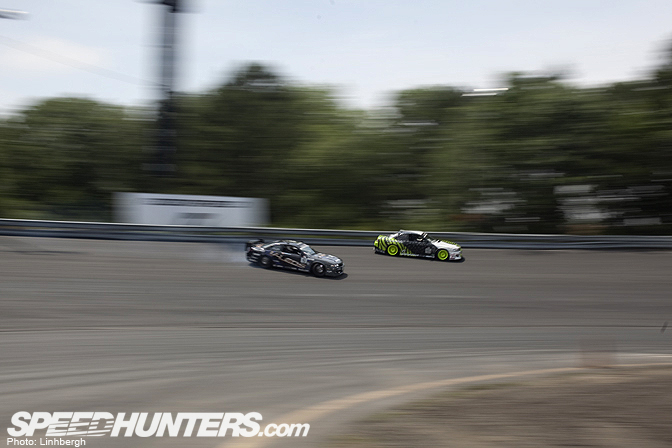 I didn't know it as I launched, but during the last run something in my transmission broke not allowing me to get into second gear (as well as 4th and reverse). I tried to shift to second and it just wouldn't go. I didn't know what to do as I haven't ever had that happen to me before, after slowing down a lot, I decided to throw it in third. I came in really slow and had a decent line on the bank but was had pretty weak angle.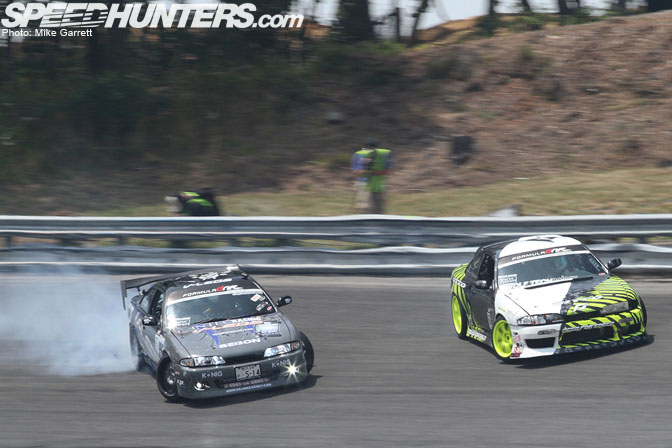 Still probably going pretty slow.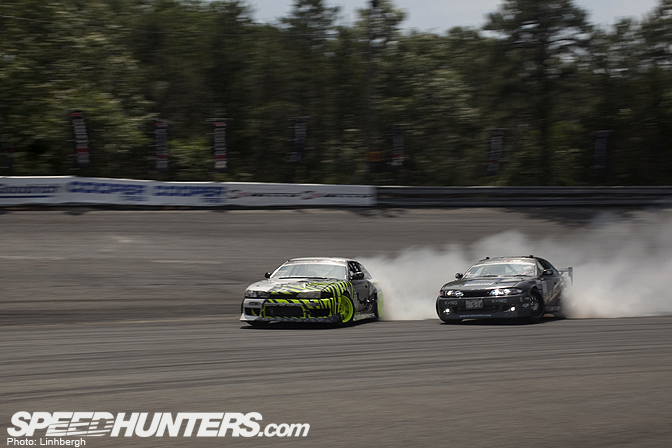 When I got to the infield I tried to downshift again and with the same luck. So I tried to do the infield section in third and I was pretty slow. Juggling between spinning from too much wheel speed and bogging the motor from trying not to gas it too much to spin, I did a pretty mediocre job navigating the course.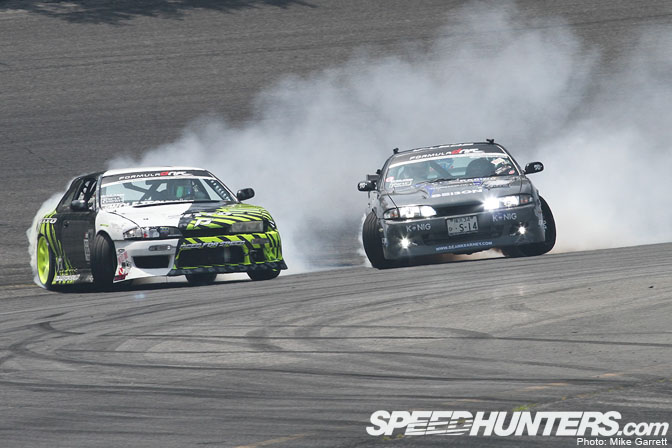 Dean was able to stay behind me pretty well even with my run not being so clean.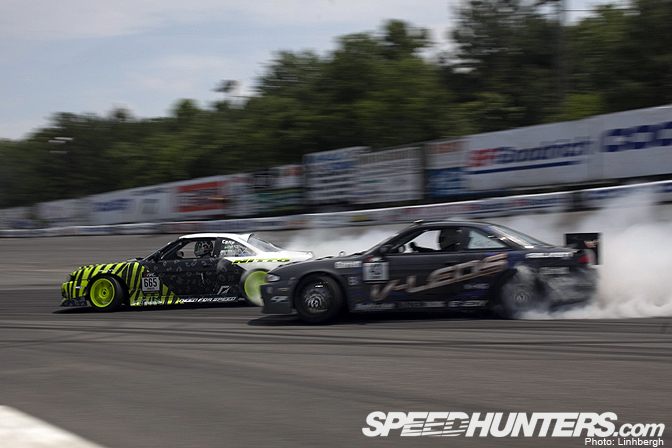 I lost but it's better than not being able to put down any run at all I guess. More lessons learned.
Here's a vid of the match-up.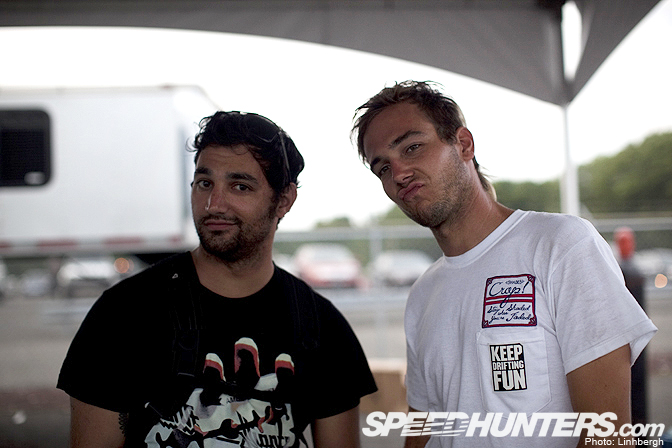 This is me with the hurricane- Tony Angelo. My first year in FD was the first year he became a judge. I don't know if he is going to drive or judge next year. I let him beat me in arm wrestling.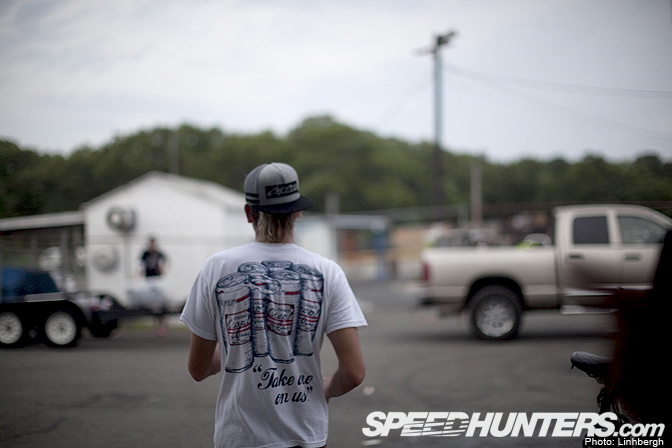 This is us mostly packed up Saturday evening. The big tan truck in the background is one that my long time family friend Jake Schwartz let me borrow for the trip. I don't have a truck and was having a hard time coming up with an affordable way of making the trip out there. We put almost 6,000 miles on it, thanks! Hopefully next year I can get some sort of tow vehicle.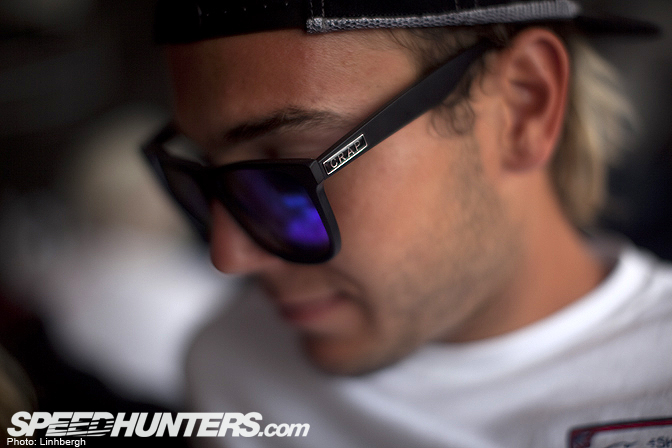 Crap is my friends company. He started it for fun when we were like 15. I'm hoping to come out with my own model fashioned after my car soon, stay tuned!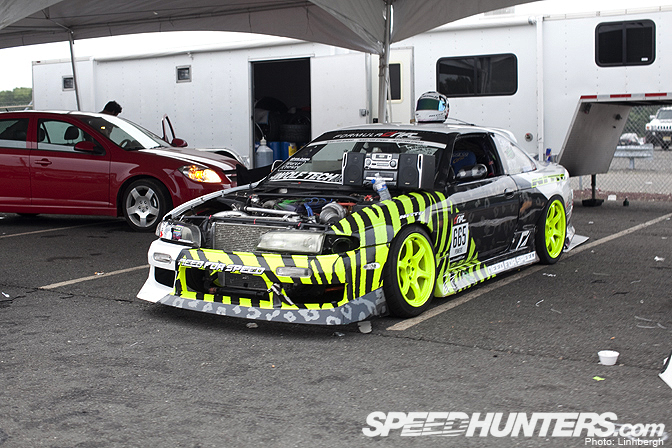 Funny posters and the boombox always end up on my car after the event.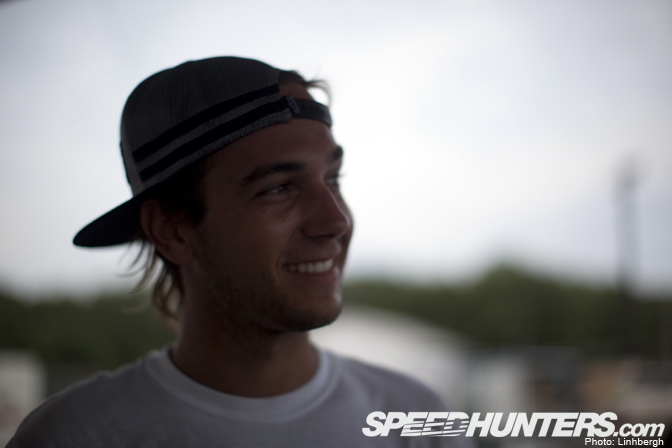 I was pretty disappointed after losing so soon in the competition again even if mechanical failure was partly the cause of it. It doesn't help to watch the rest of the event and see how hard everyone is pushing each other and how crazy the driving is getting with every round. Overall though I still had a really fun time on my first trip to Jersey and can't wait to go back next year! I'm motivated and excited for Washington!
- Matt.