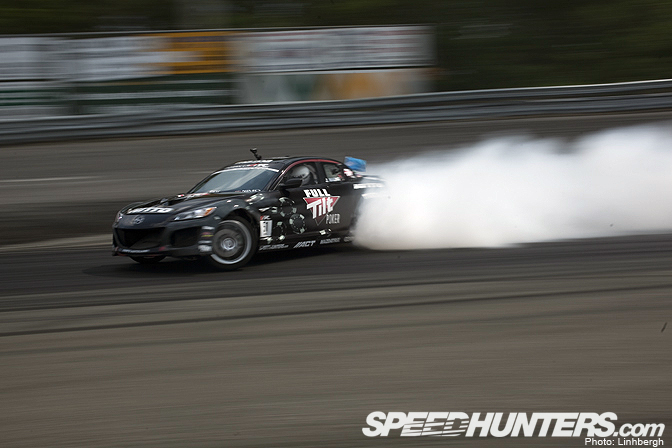 Hello Speed Hunters fans! I hope that you have been well and healthy. 
Formula Drift Round 3 at Wall Speedway in New Jersey was full of awesome fans, nice humidity, and tire smoke all the way around!
Unfortunately, my battle to the top ended prematurely so I wasn't able to participate in the main event.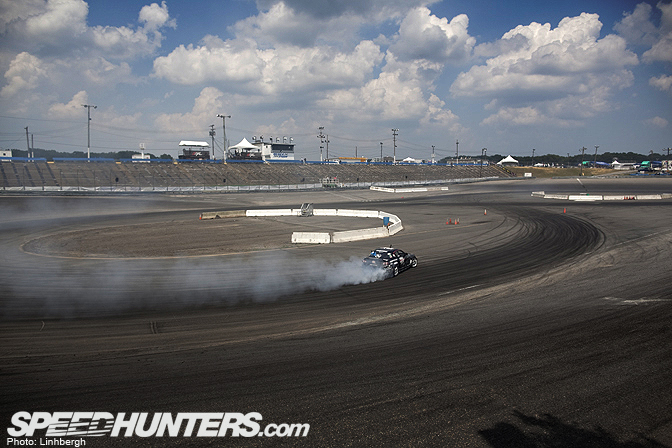 Wow~ It was such a beautiful day. This is my type of day: florescent blue sky with undeniably white, puffy clouds. It was a perfect day for drifting!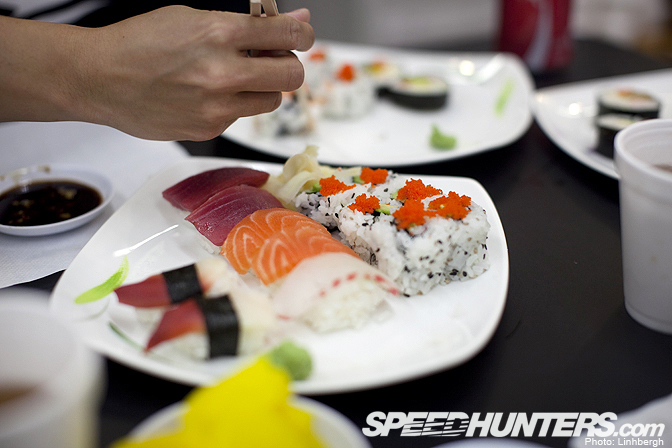 Any sushi fans? This is sushi with California Rolls that I serve daily to my customers and eat almost every day. Off the track, the restaurant is where I spend most of my days. Daily Udon and Sushi is located in Garden Grove, California, and has been a family business for more than 15 years.
I enjoy working here because it allows me the opportunity to hit base with my customers and inspire them to hold steadfastly to their dreams.
Also, it was a pleasant surprise to have the famous Linhbergh from SpeedHunters stop by for lunch!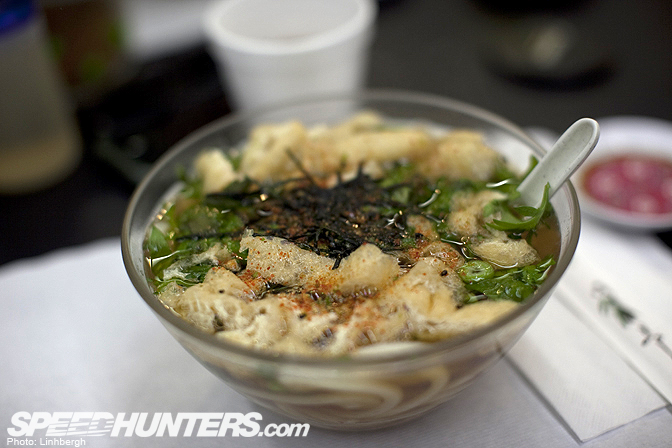 This Udon, which is basically fat noodles immersed in our secret broth, has a special place in my heart because it is more than a mere bowl of noodles in my eyes. Why? Because, during my inaugural season in Formula Drift, this bowl of noodles helped finance my drift program. My drift program for that year wasn't great by any means (all I could afford was 15" tires for the first half of the season) but, nonetheless, it served as a stepping stone that got me to where I am today.
Symbolism aside, it is delicious!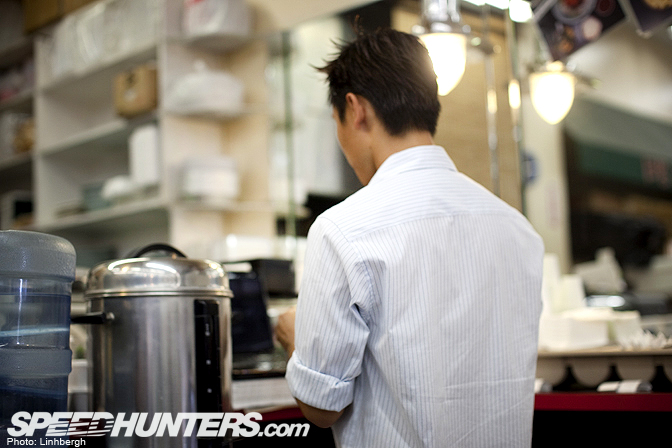 Yes, I'm working. Either I'm preparing a to-go order or filling cups with water for customers.
It's kind of strange to see my backside. I don't see it often so, looking at it, I know that it's me but, simultaneously, I question it. Weird~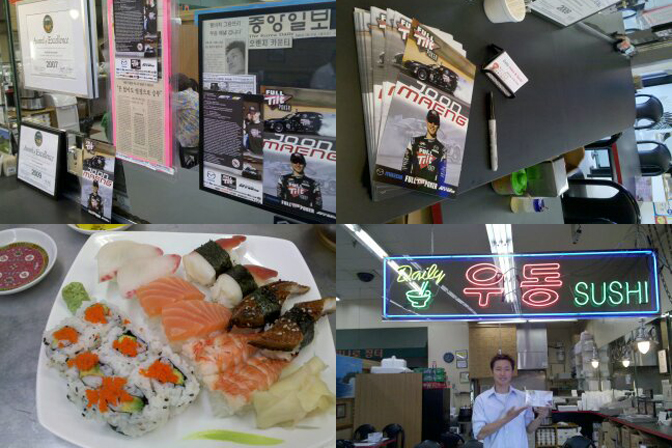 The Korean community in my neighborhood has yet to be acquainted with the existence of drifting. As such, I use my restaurant as a bridge that connects the people to the sport.
It's funny how a picture puts things into perspective; I have a shrine of myself as a drifter at the restaurant. Hahaha~ Nonetheless, it's effective for it stirs curiosity in the minds of the customers and they ask about drifting.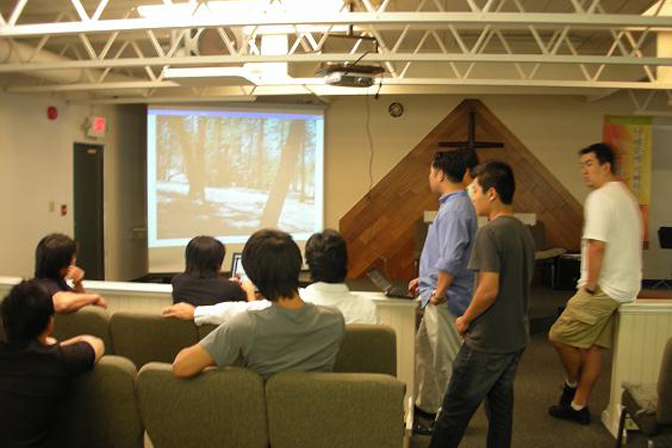 These are my church brothers. We get together on Sundays, worship, hang out, and help each others' spiritual growth.
Back in the days, I wasn't a productive member of society; just got into a lot of unnecessary trouble. But, going to church, and receiving Christ's salvation put my life in perspective. I knew then that I wanted to be a racer/drifter. Life hasn't been the same since and I'm still loving it!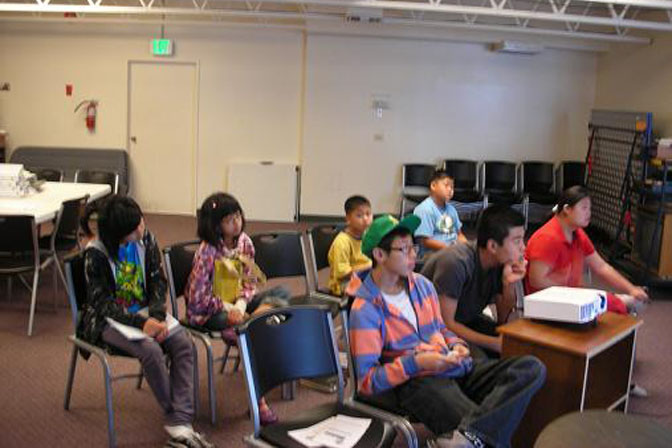 Everyone in the picture is a member of the youth group. It's quite ironic to see them here because I knew each of them when they were babies and now they are growing and budding into the person they were designed to be.
So, it goes without saying that church is like a big family. We grew up with and around each other and, just like biological brothers and sisters, we bicker and quarrel with each other but, at the end of the day, love remains our common denominator.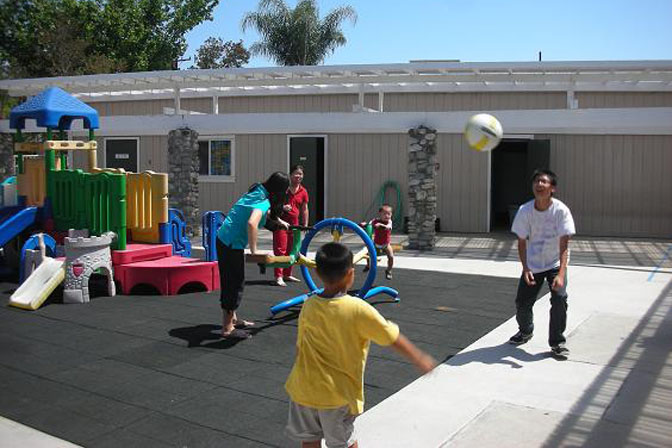 After Sunday service, the kids go out and play. Because children have a short attention span, I sympathize with them for sitting through sermons and doing it quietly and respectfully. It's quite funny seeing them try real hard to remain focused and be on their best behavior.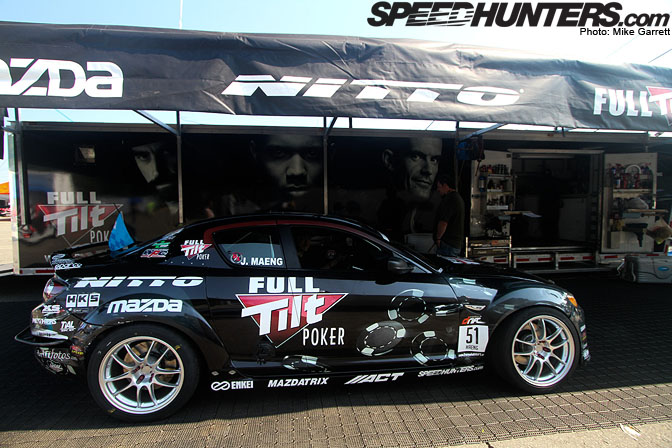 Wow~ The car looks great. I'm probably inside the trailer suiting up for practice.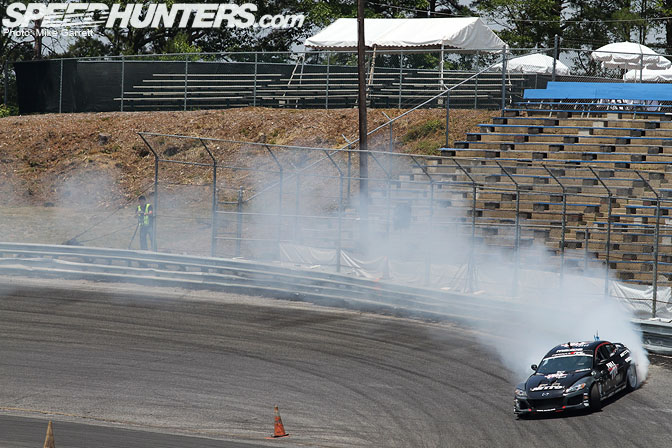 This is the exit of the main bank coming down hard onto the infield. Wall Speedway is tough on the drive-train. 
I surmised that coming off the 30 degree bank on to the base would be the best way to test the KW suspension setup and capabilities. I definitely felt its potential!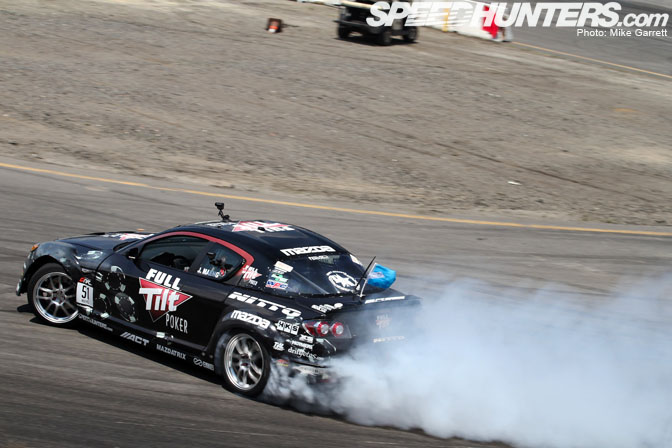 Smoking up the Nitto NT05 tires! More wheel speed the better! Pedal to the metal!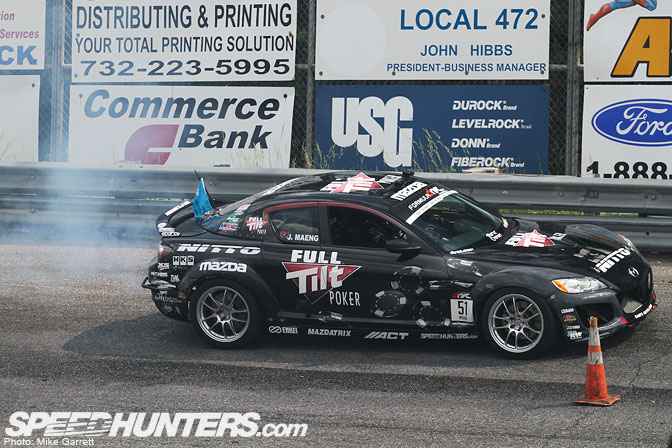 On grid for the 1st qualifying run. I was antsy with anticipation but, at the same time, I felt confident and focused.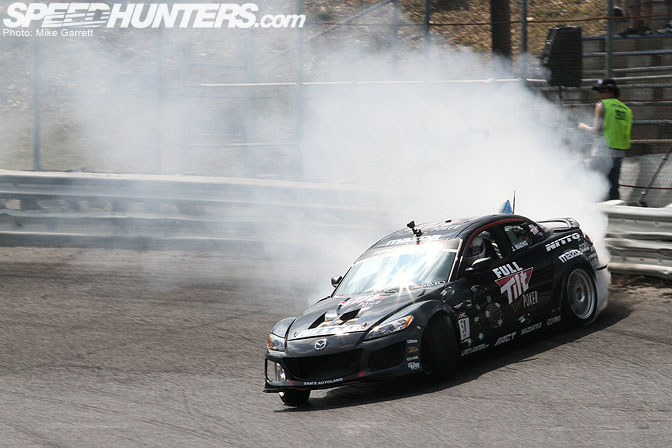 The bank portion was right on the money and the Full Tilt Poker Mazda RX8 felt powerful!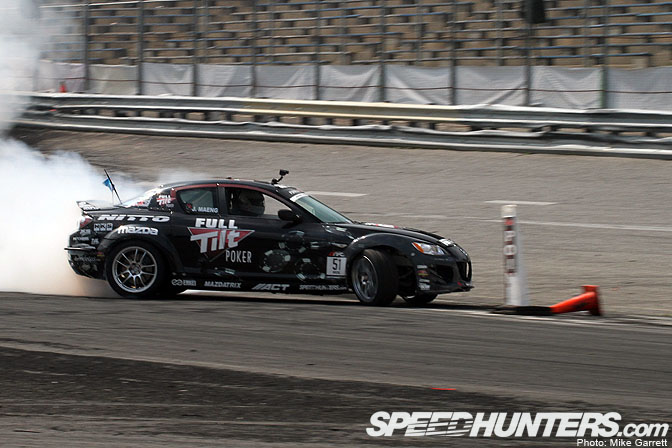 This is the 1st clipping point on transition right after exiting the bank. At this point, I already knew that the suspension didn't like the harsh transition from the bank to the base. What was left for me to do was readjust and harness the reaction of the vehicle.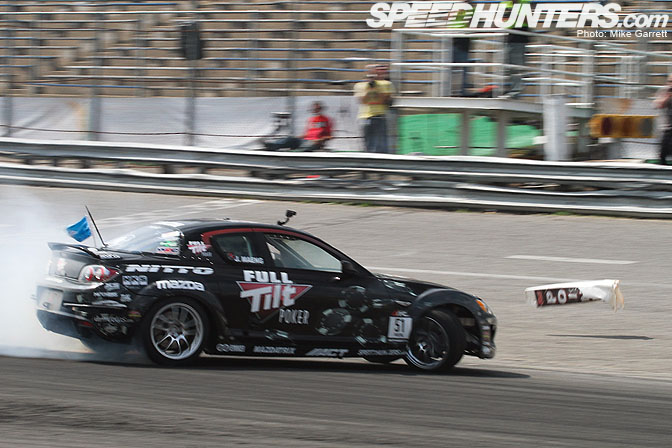 Ooops~ My apologies to the FD staff who had to chase down the clipping point cone. 
Too much angle on transition and scrubbing down a lot of speed didn't help to get any points for my 1st qualifying run.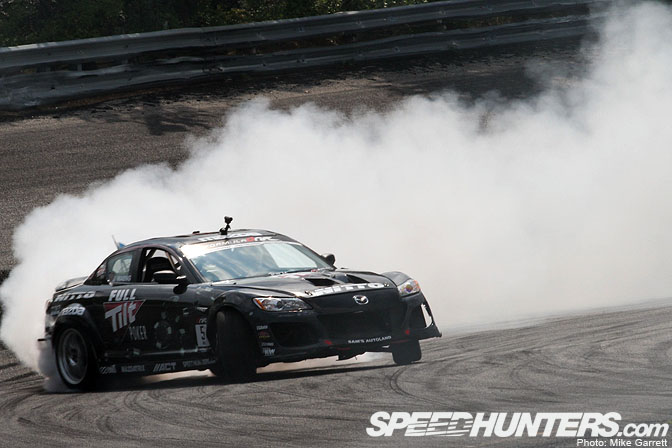 Here is the last turn before the finish line. My goal was to deliver an impact!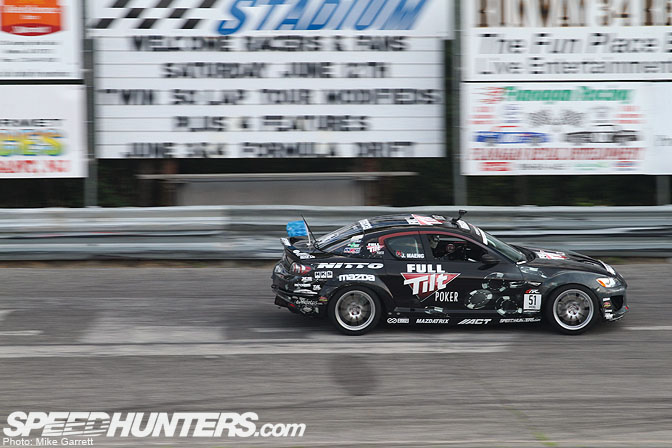 And off I go for the 2nd qualifying run…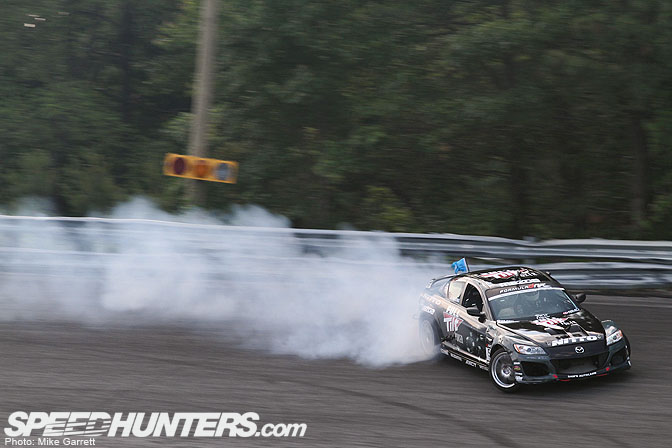 Clutch kicked on initiation and maintained good speed along the bank…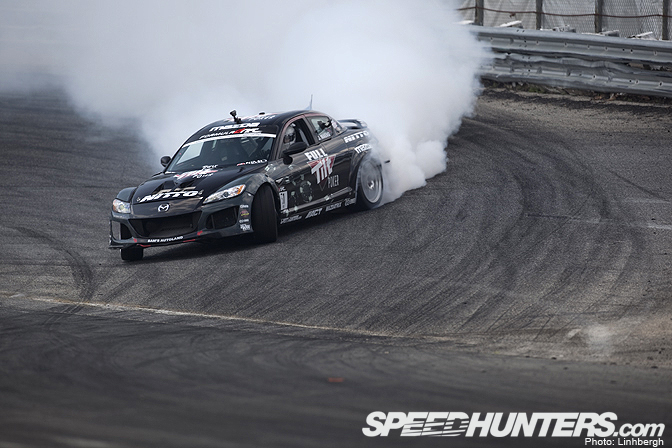 Lots of tire smoke and massive angle is the way to go! Got to get those points!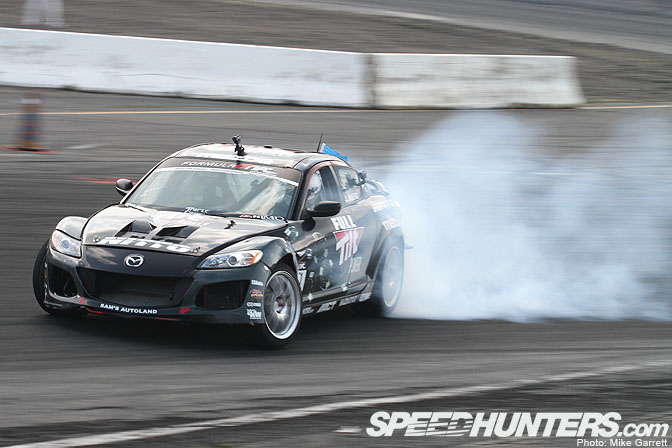 Taking a different approach exiting the bank allowed for a better connection between my skills and the track…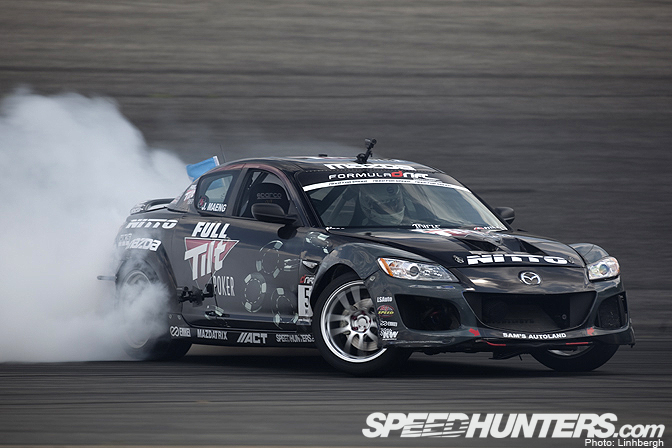 During the course of the infield, the Enkei-PF01-wrapped Nitto NT05s favorably reacted and the RX8 performed hard! It's so convenient to have a reliable clutch like ACT's and HKS sequential transmission so that I'm better able to manifest my drifts without a glitch.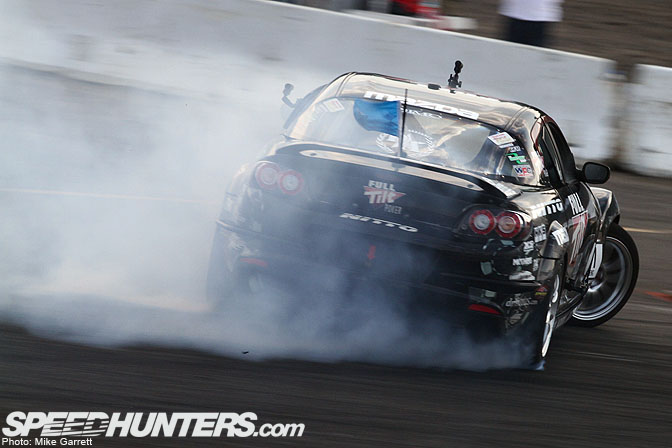 In the midsection of the infield, there were a series of small protrusions. Once I made the transition, it felt like I drove through a big patch of glue that intervened with the momentum of my speed. Right then I felt gas in my stomach and knew trouble was dead ahead.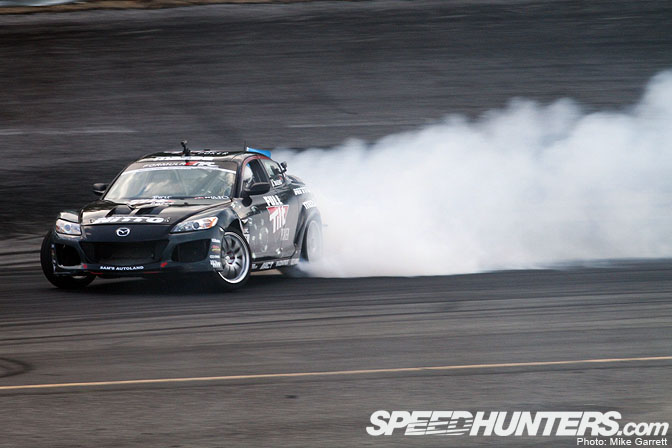 Instinctually, I e-braked to avoid taking the inside line into the last turn. With all the speed scrubbed down from transition, the RX8 ended up in the inside of the turn, hitting the cone. My only alternative was to make a correction to re-acquire the proper line to stay on course.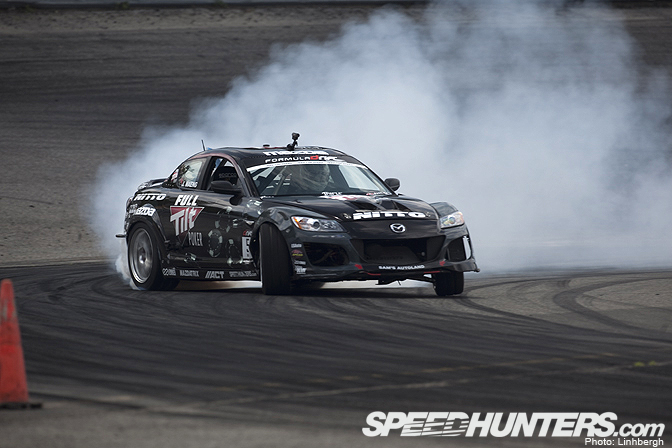 The track setup was narrow to begin with and the way in which the cones were placed along the track minimized the margin for error. In other words, I was done for…
Isn't it annoying when the fate of the moment, no matter how prepared you are for it, works against you? Yup, this is one of those moments. But, it is what it is. There are highs and lows in life and, at the end of the day, I'm still grateful for everything because life is good.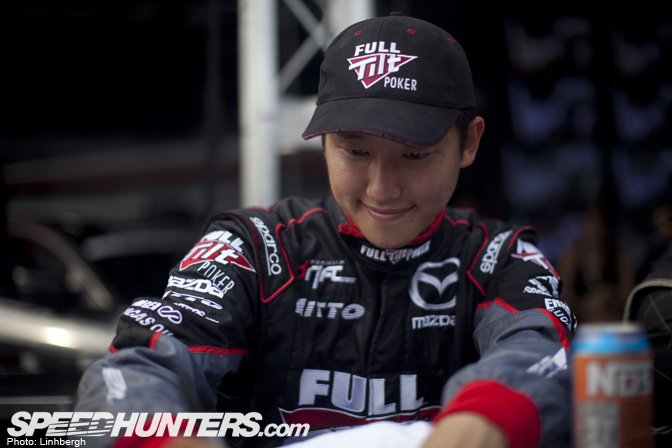 Notice anything different? Got a new suit from Sparco Italy! 
It took a lot of effort to divert myself from what just happened: I didn't qualify! 
After being showered with reassurance from the team and talking with fans, it wasn't as hard to keep smiling. I'm so grateful to be in the position that I'm in, especially with Bergenholtz Racing. I can't emphasize enough what a remarkable group of big hearted and talented people they are.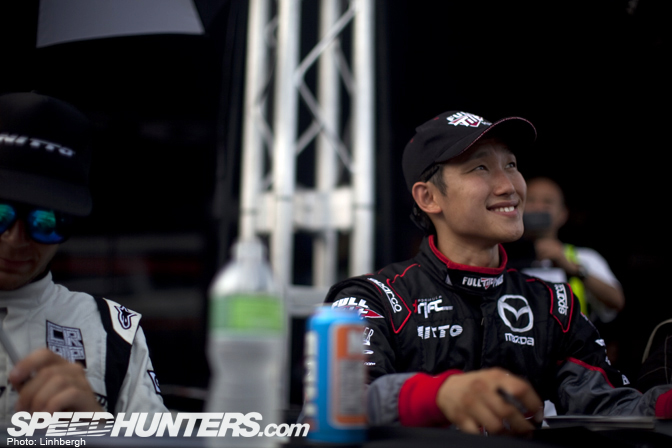 Even in the midst of disappointment, the fans in New Jersey are so supportive! They were so encouraging and optimistic. I cherish every word of kindness from them. Thanks y'all!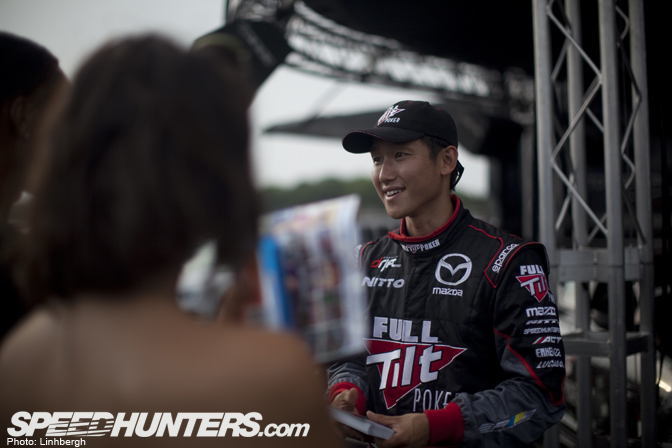 Here I am hanging out at Nitto's booth giving tours of the RX8, signing hero cards, and interacting with fans. 
Last year, the weather rained out Friday's event and what ended up happening was a group of fans came over to my pit area to hang out. Although we were completely drenched, we had a blast sharing drifting experiences and stories. One year later, each and every one of them came back! We reminisced last year's event and shared our thoughts on the day's highs and lows. It was an awesome moment!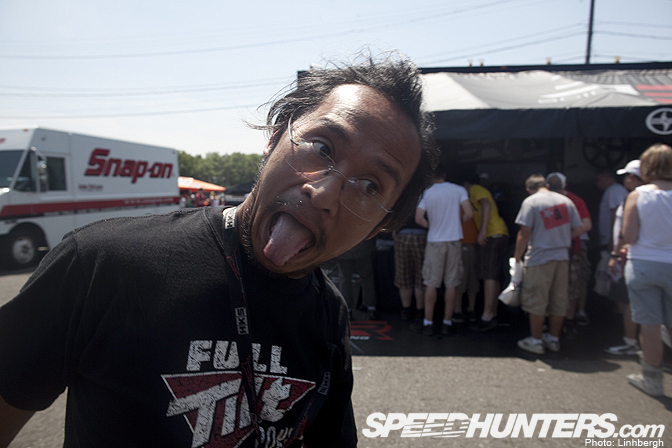 Another picture of Ron letting loose and not allowing the unfortunate happenstance during qualifying affect him. This is just a picture of Ron but the team shares a similar attitude. They are so encouraging and positive in their outlook that I'm humbled to the core.
TO TEAM BERGENHOLTZ: I'm sorry for falling short on our expectation for this round. Thank you so much for your understanding and faith in me. I'll bring it home, Brothers! We'll do it!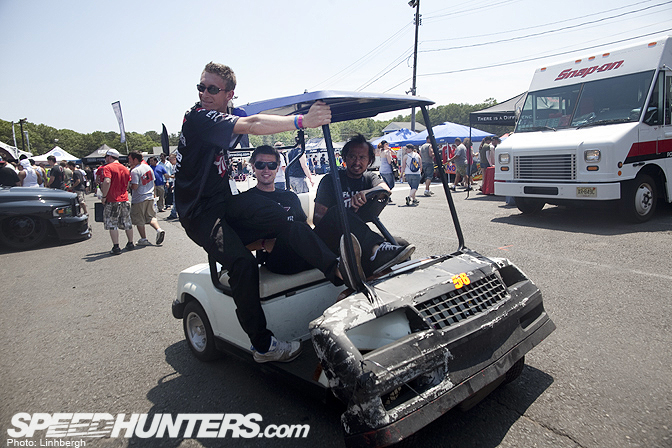 Sav, Vince, and Ed found a bumper and attached it to the cart. Kurt, Brian, and Ron were driving around and having a good time. They don't take life too seriously and expend their energy on enjoying it. Can't you tell?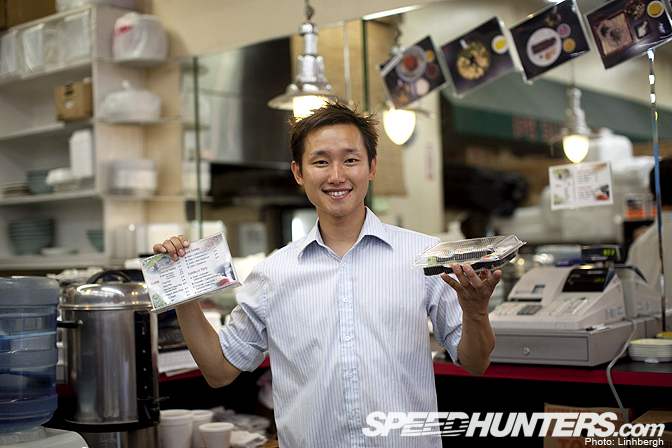 In spite of the obvious disappointment, overall, it was a wonderful weekend. I learned a lot about myself and my team helped in the process. My life's mantra is "Mind Over Matter" and, during the weekend, I learned to convert it into action on a higher level. I'm so blessed and I thank God every day. 
On a different note, I'm already excited about the next event at Evergreen Speedway, my favorite track! I actually want to get back into the RX8 and imagine the course and practice!
Thank you for taking the time to read me. Please feel free to drop by if you're in the neighborhood!
TO MY FANS: Thank you for your incessant support and love. Together we'll make it happen. No worries~
Sincerely,
Joon Maeng