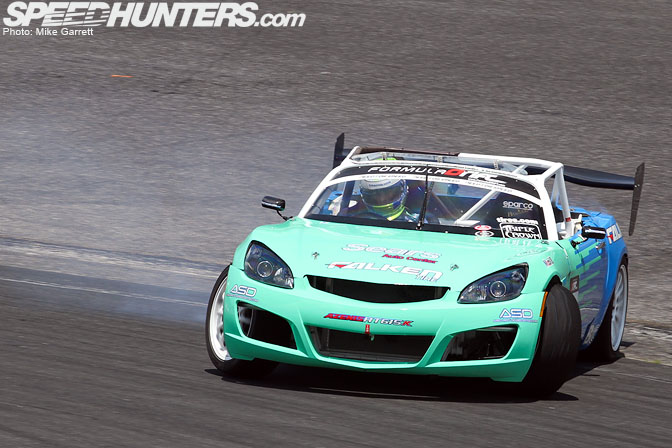 Hello Speedhunters and welcome to my re-cap of an eventful Round 3 of the Formula Drift Championship at Wall Speedway New Jersey.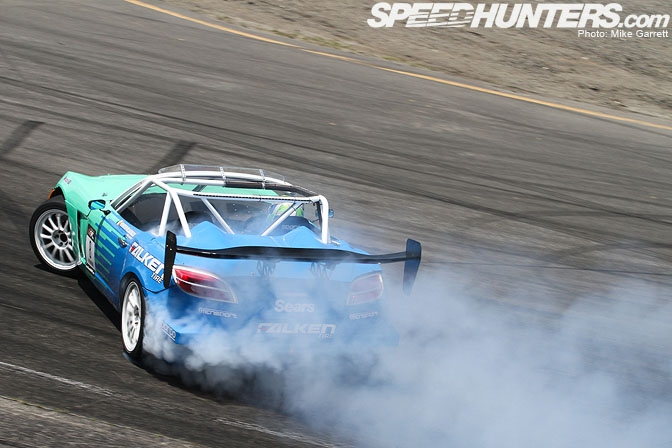 Wall Speedway was very good to me last year and Falken completely dominated the 2009 event. So you could say confidence was high going into the event.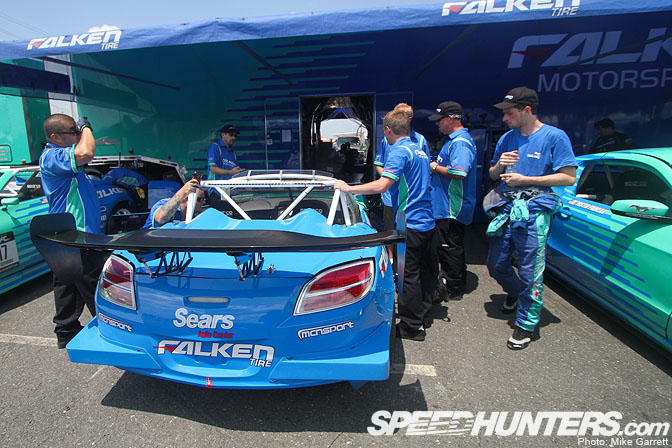 This is the crew and myself just before qualifying. This is probably the most nerve wracking part of the weekend. All previous runs in practice lead to this moment. You can only hope that you and the team got the setup right. If you did you will be rewarded with a high qualifying position and valuable championship points, if you didn't then you might find yourself going home early.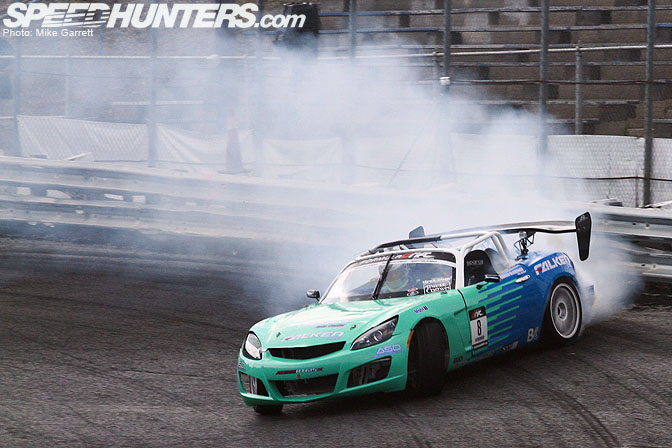 I always employ the tactics of solid first run, gangster second. It is in my opinion the only way to do it. Getting a zero on your first run puts huge pressure on you for the second run. And even though the team and crew help so much, it really comes down to what you do after you leave the line.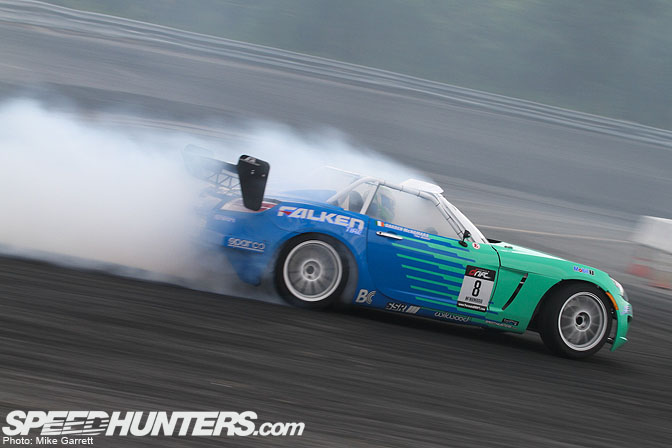 My first run put me in a solid 8th position. Nothing spectacular but more importantly no stupid mistakes and a score to build on.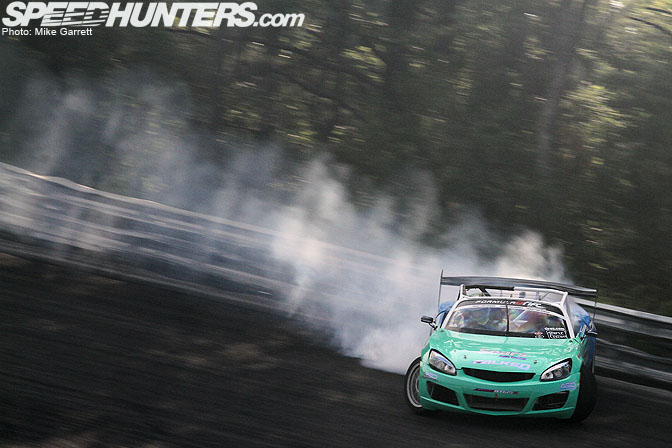 My second run felt great. High on the bank with big angle and my infield was smooth and I hit every clipping point.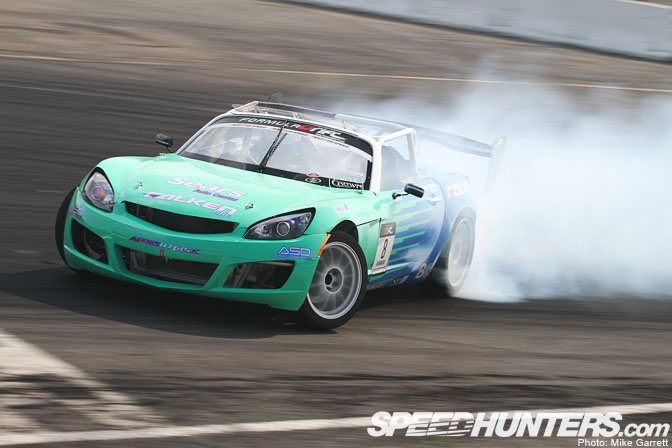 You had to make sure to stay on the power through the first transition off the banked oval and on to the infield oval. Lifting off unsettles the car too much and can lead to some hairy moments.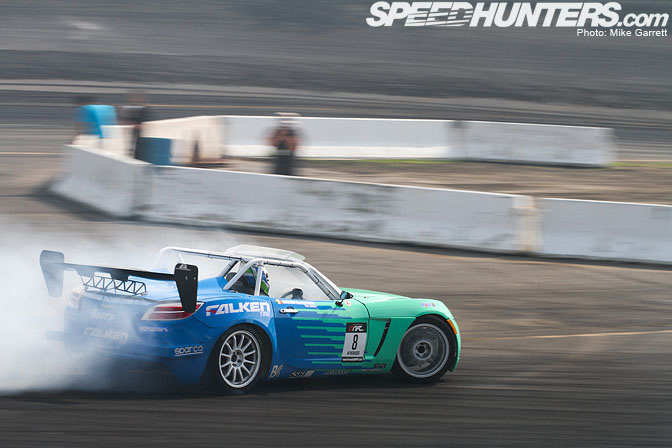 Coming through the centre to the last outer clipping point, I would drag the e-brake slightly to position the rear of the car for the outer clip. My second run at the time put me as the top qualifier but by the end of the session I would be second overall.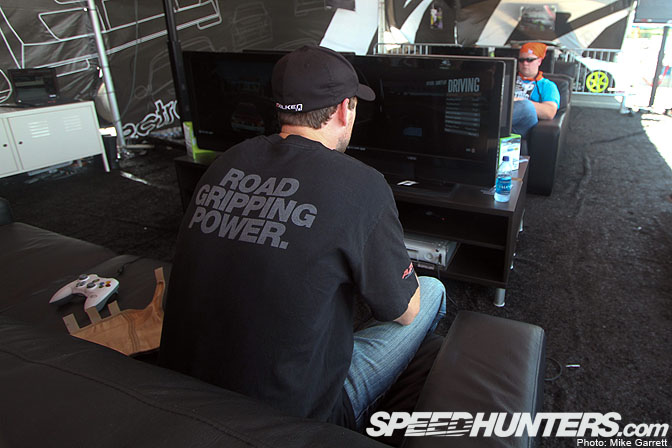 Saturday morning, I popped over to the Need for Speed Lounge to say hi to everyone and get a few laps of Shift in while I had some free time. You can see my wrist brace that I had to remove to be able to play the game, I also had to remove this for driving and put it back on afterwards…..pretty annoying.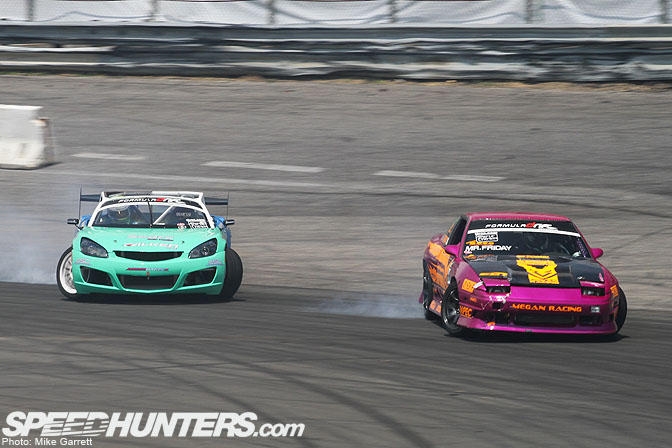 In Saturday Practice for the Top 32 drivers. I tried to get in as many runs as possible to get used to the speed of different cars and also see where I would be able to close up and attack people.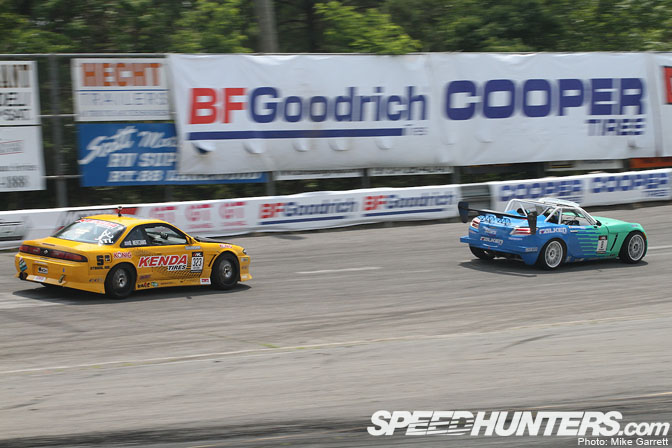 In the Top 32, I was drawn against Dennis Mertzanis. I was full sure the Falken Tire Saturn Sky had the speed advantage to win the lead battle so backed off on the straight away so that the battle wasn't over before it started and the fans got they're moneys worth.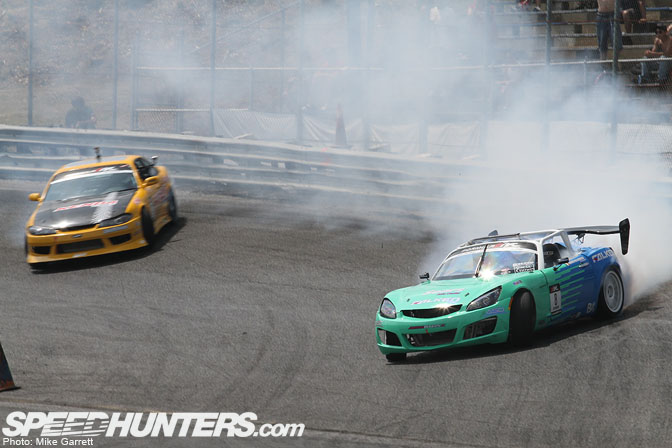 I was a little shocked by how much faster the Sky was given the setup we put under it for Top 32.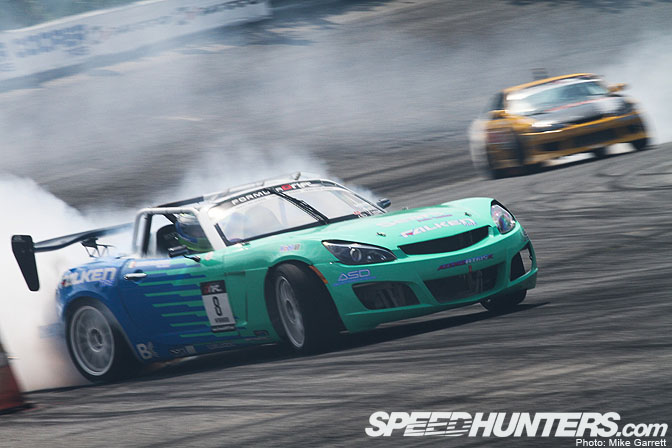 By the finish line I had quite a big gap pulled.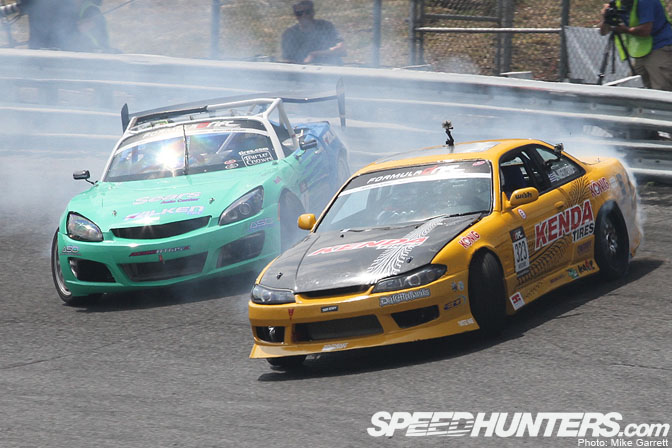 Just how much faster the Sky was became totally apparent on my chase run. Every time I stepped on the gas my car leaped forward, it was very difficult to stay close behind but not make any mistakes.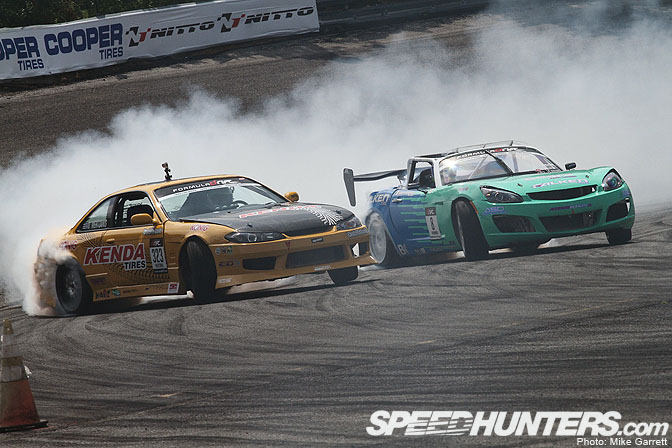 But thankfully it all worked out… I officially hate Top 32!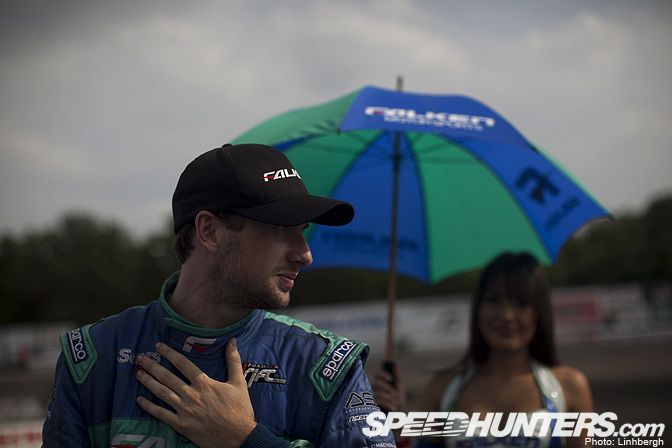 A win in Top 32 means you get to be involved in the opening ceremony.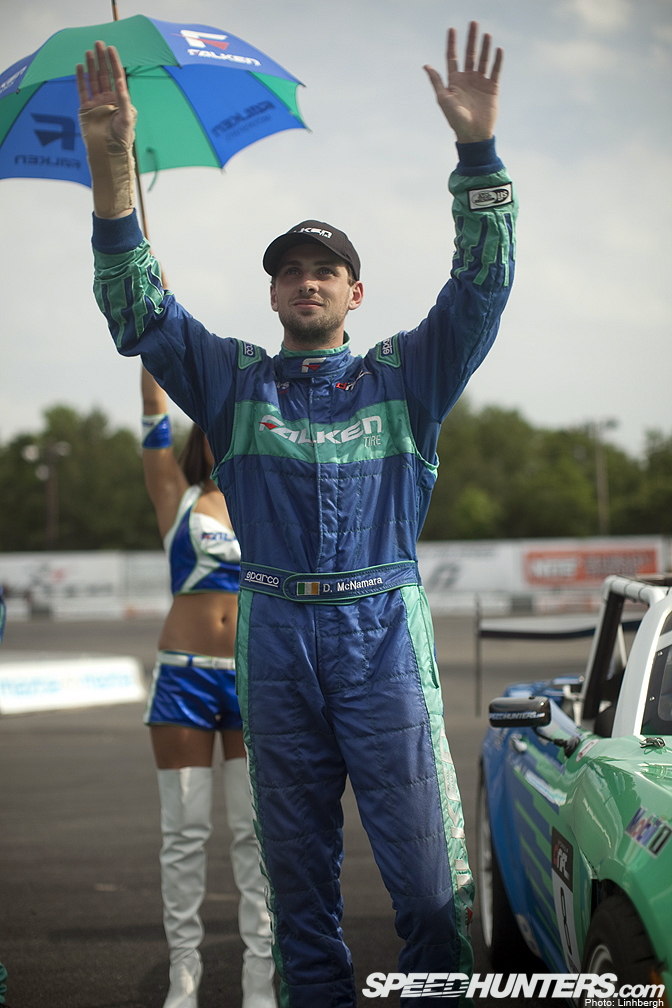 I had great support in New Jersey from my win last year and the fans were awesome at this event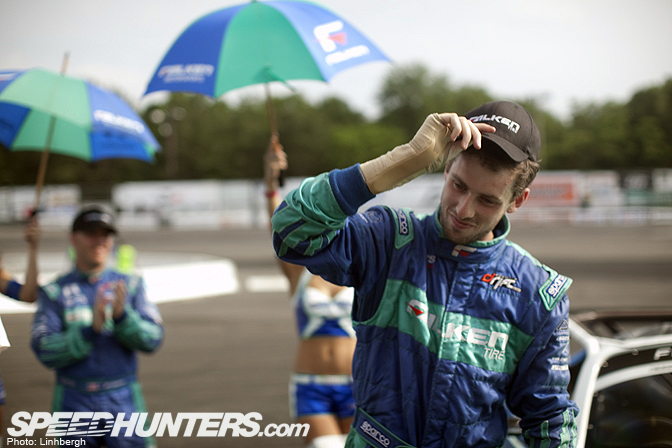 In fact, all of Falken Tire had great support of the fans at this event. Probably because of our podium sweep last year, could we do it again….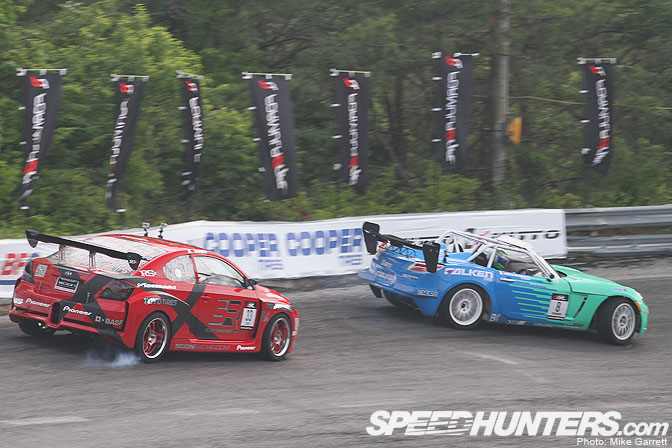 In the Top 16, I faced Ken Gushi. Not an easy battle by any means….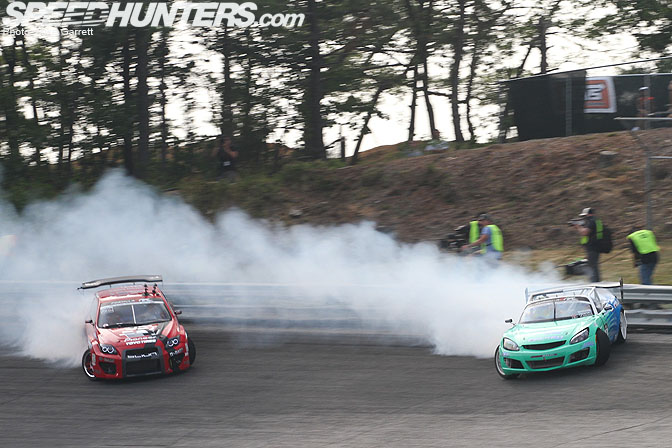 I love this shot Mr. Garrett! Did not realize I was that high on the bank. There isn't much rubber where my rear tires are….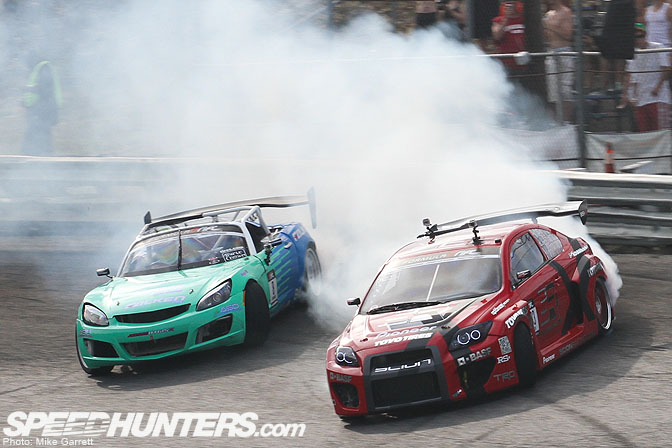 Ken and I met in the Final 4 last year and I have to say he has much more speed now compared to a year ago.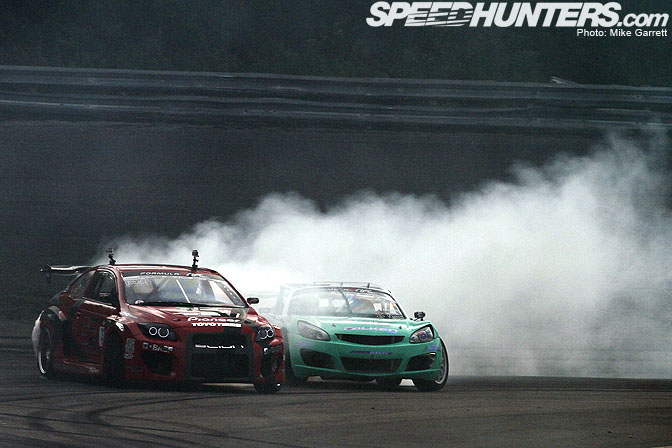 The judges couldn't decide so a "One More Time" was called.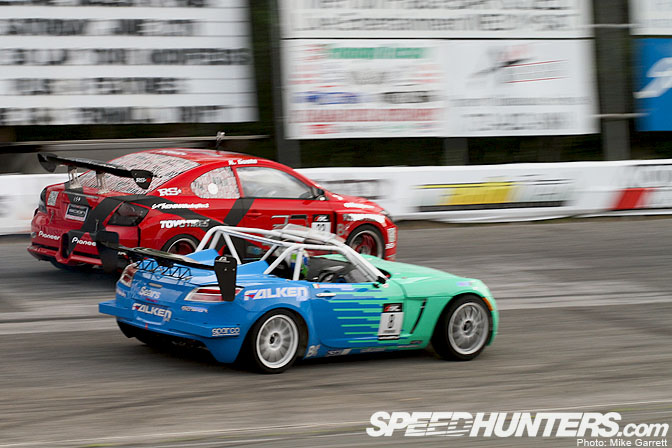 Ken's speed surprised me, so it was time for a quick setup change and time to send him home.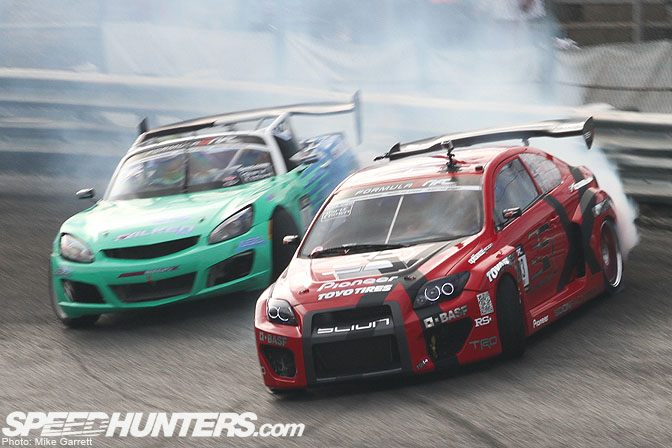 It was time to chase hard!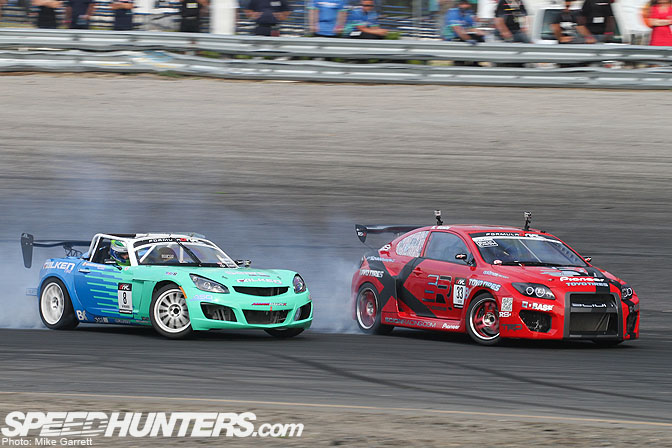 It was time to chase hard!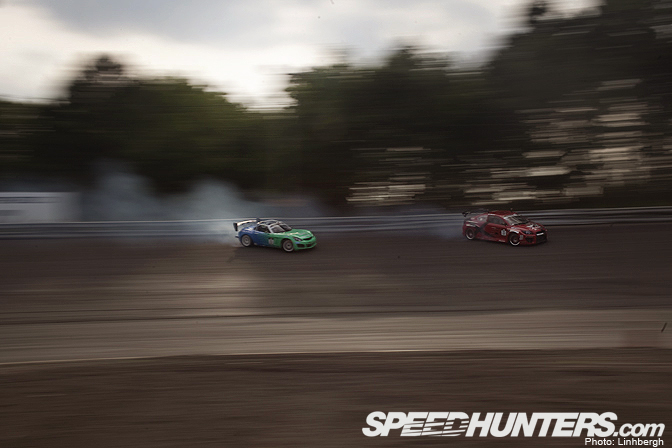 My setup changes should allow me to get a little closer and hopefully impress the judges….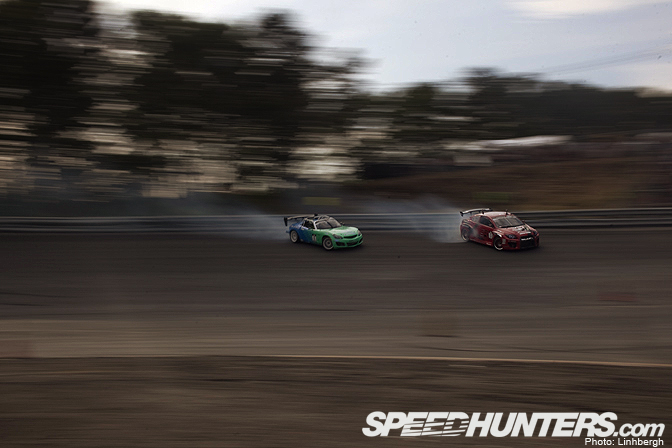 Closer….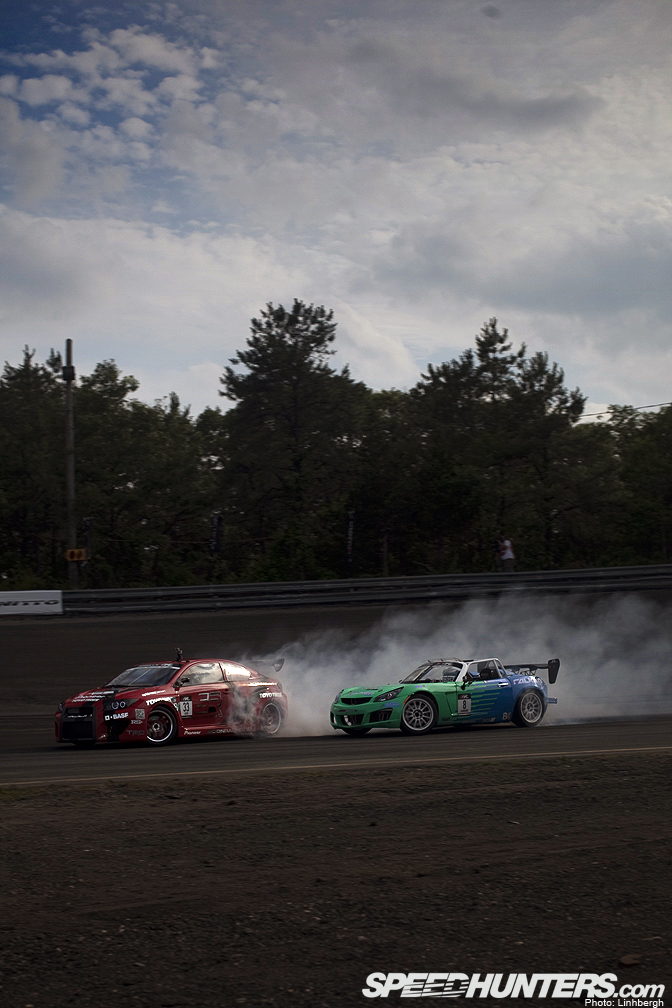 There we go!!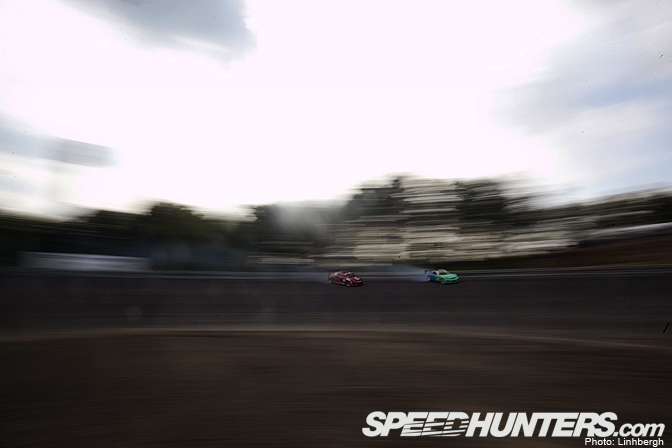 It should also help me pull away while leading.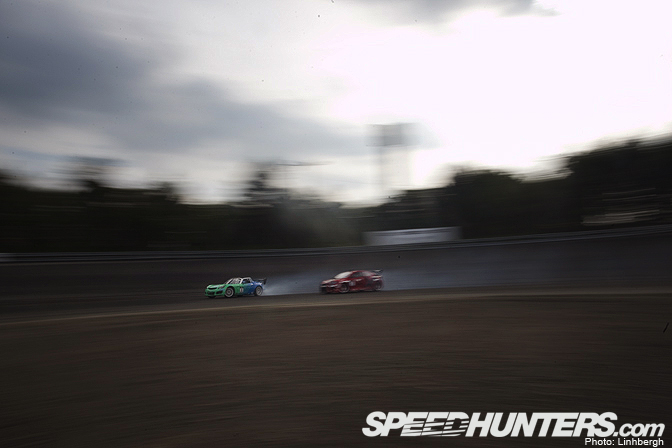 Not bad………Top 8 here we come.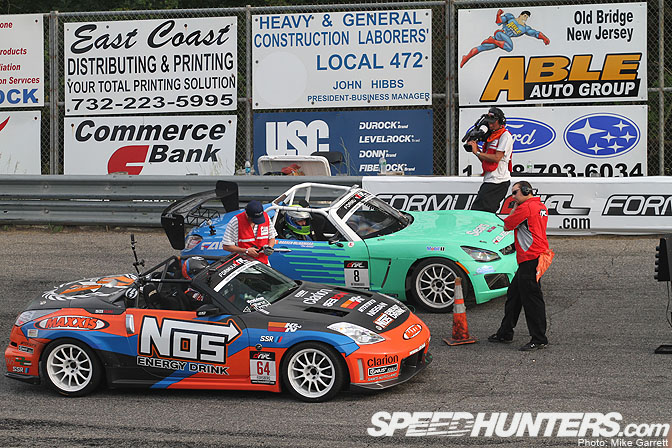 Now it was time to face the champ Chris Forsberg.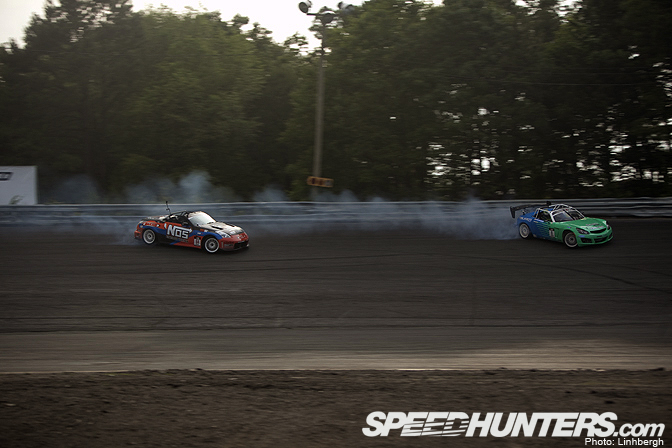 I had never beaten Chris before in a head to head match up.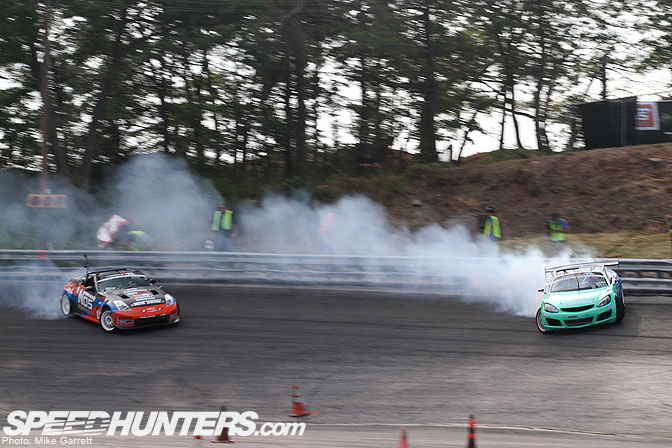 But I had never been so confident and entered the battle with no doubt in my mind that I would be in the Final 4.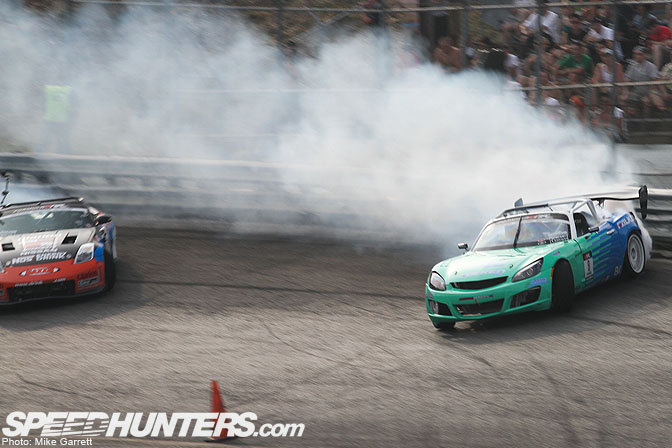 The speed of the Falken Tire Saturn Sky appeared to be too much…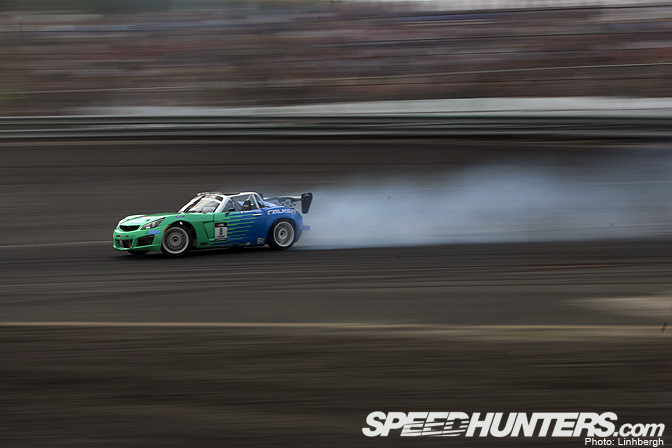 …and by the end I had a huge gap built up.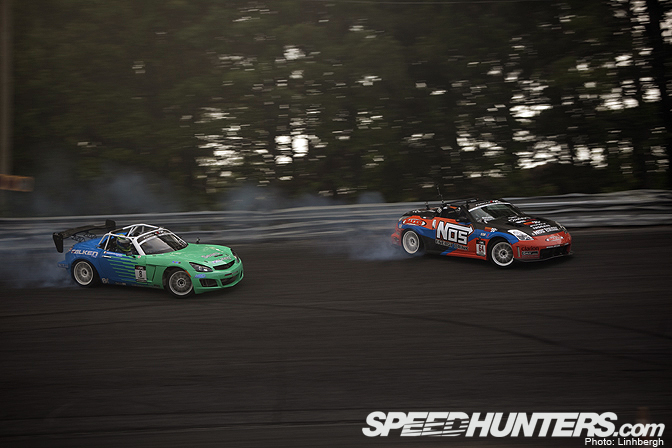 My crew chief, Clay Stephens, informed me that I should have a huge advantage from the first run….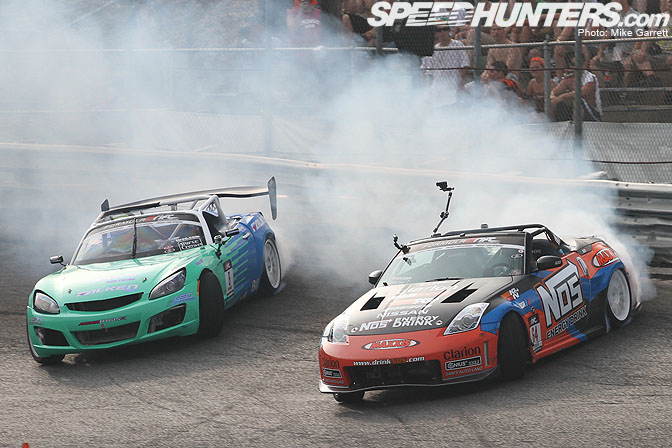 So a conservative car to half car length chase run should be enough for the win.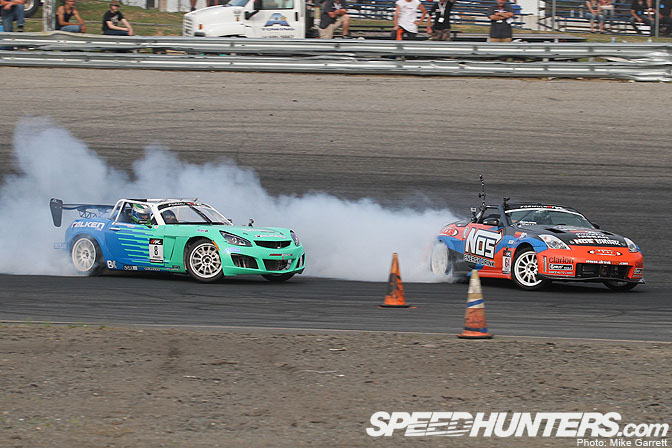 So that's exactly what I set about doing…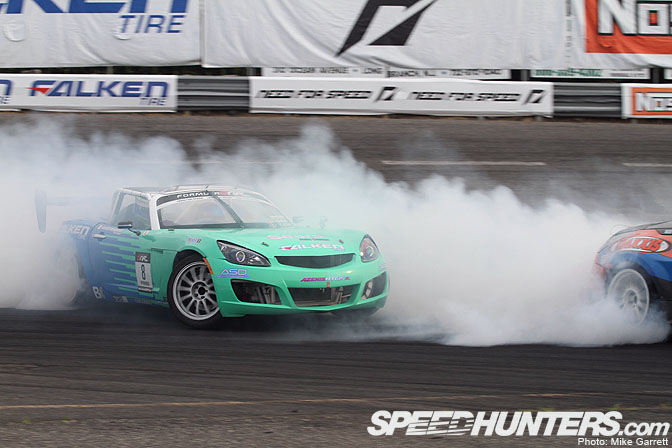 And it worked out pretty good even when I couldn't see where I was going.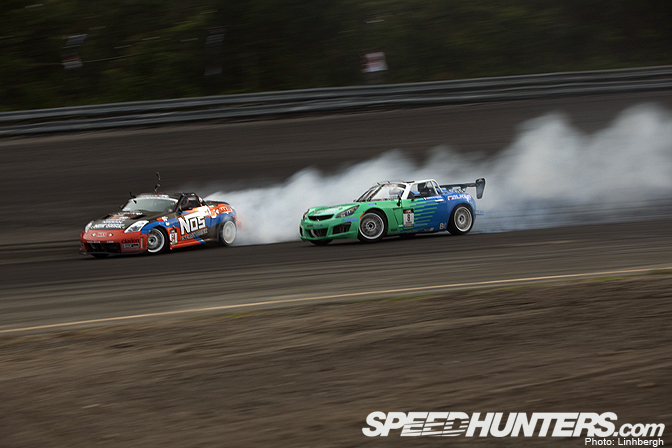 Job done!!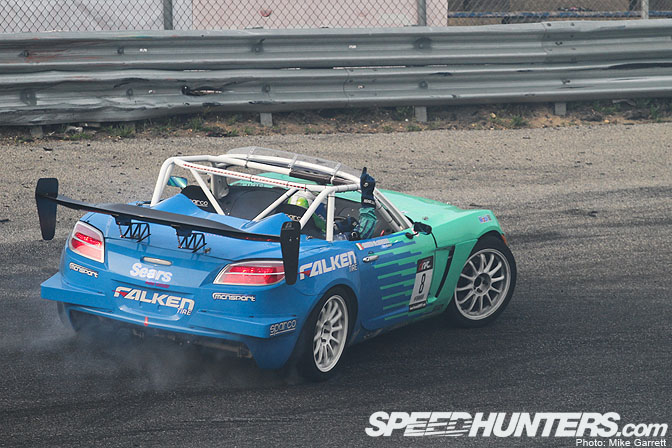 I could smell the podium at this stage. The trademark "one finger wag" shows confidence was high!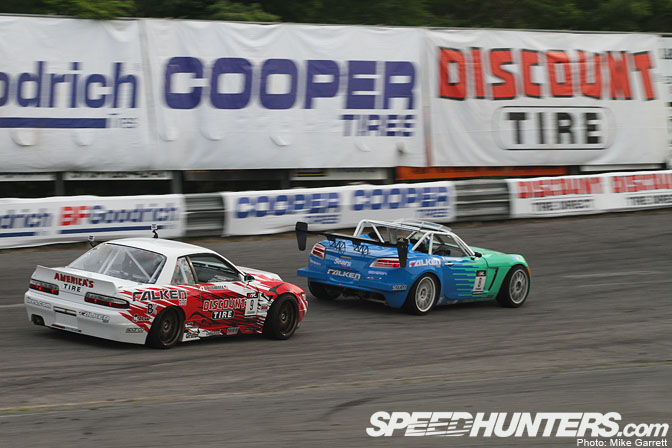 When we received the breakdown of the Top 32 bracket, I immediately saw that I would more than likely meet Dai in the Top 4. I was actually looking forward to this. Dai needed to be stopped and there probably is less than a hand full of people who could do it.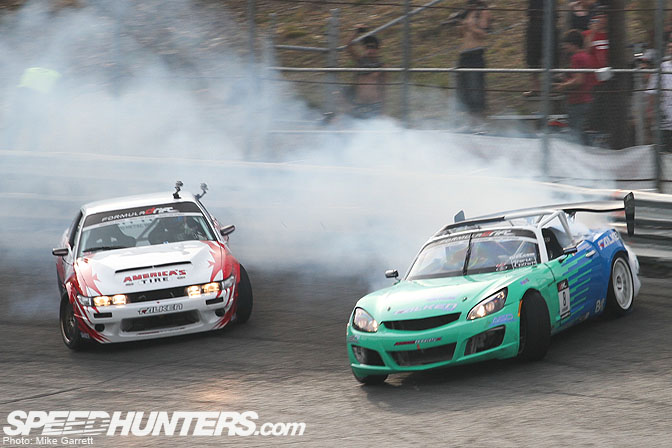 Wheres the angle Dai???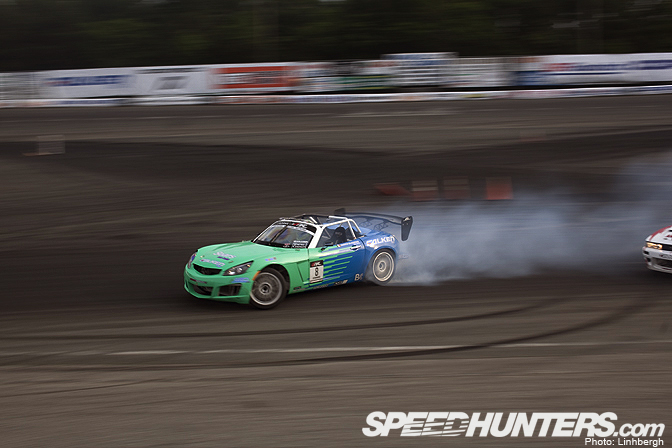 I knew he was pretty close on the lead run so my chase had to be right on him.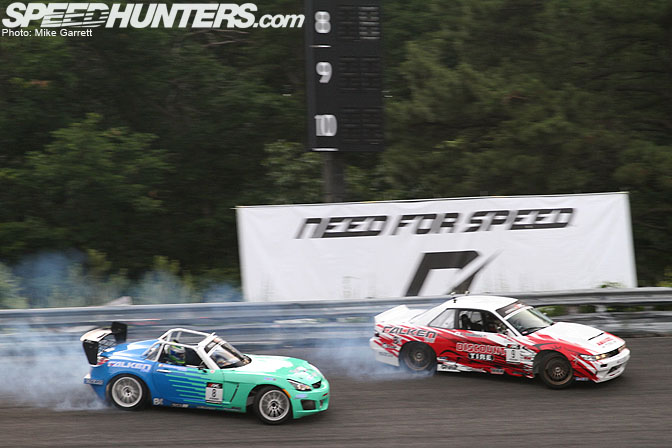 Entering the bank I was exactly where I wanted to be….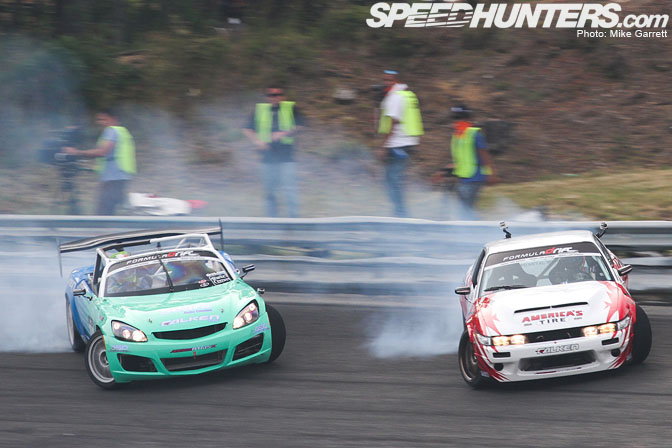 Perfect stuff so far!
I was surprised with Dai's speed once again…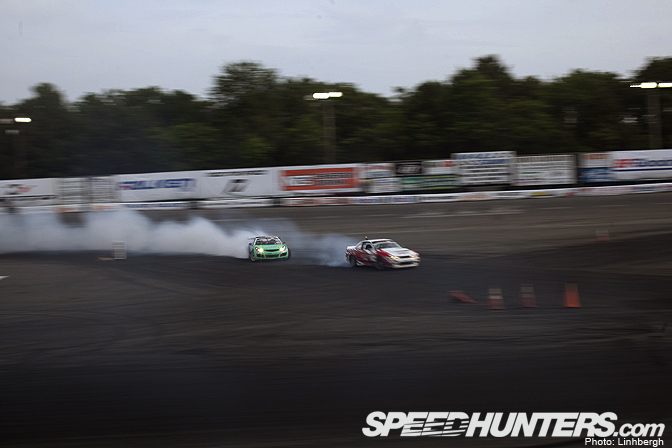 …and it is becoming quite apparent that people alter they're setups drastically to run against the Saturn Sky, which is a nice compliment to ASD Motorsports!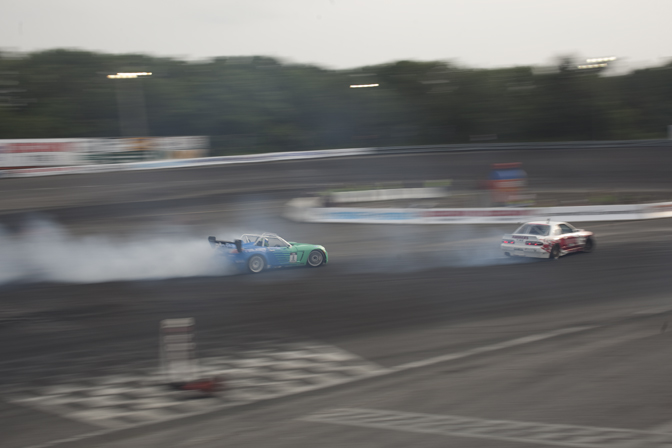 Judging from the lack of trademark Azenis RT615K tire smoke Dai must have been running his machine with a lot of grip….time to close back in a bit.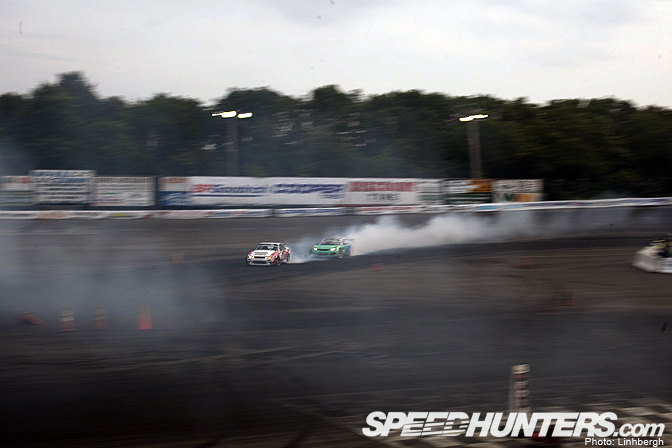 At least it was easy to see for once because of the lack of smoke.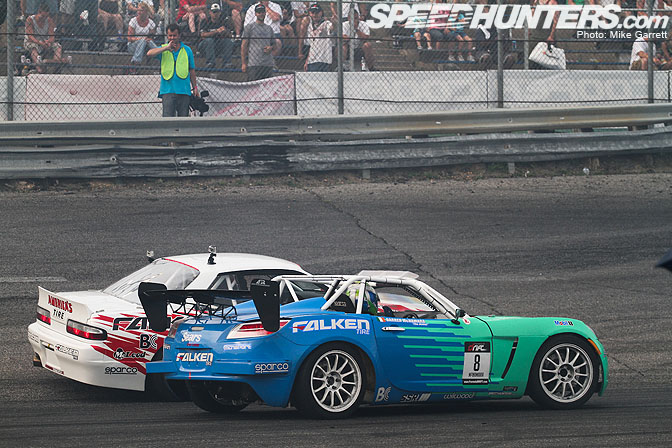 This was too even. So we definitely did a one more time.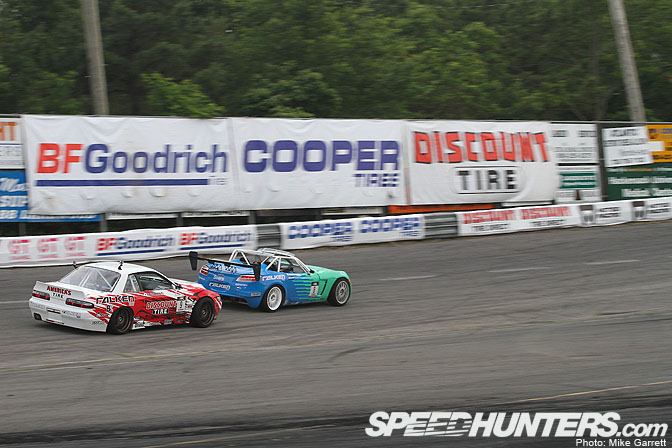 So time for the setup change and send him home right????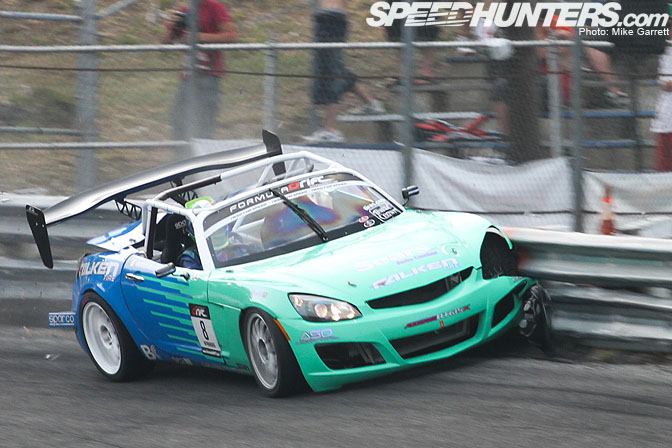 Wrong!!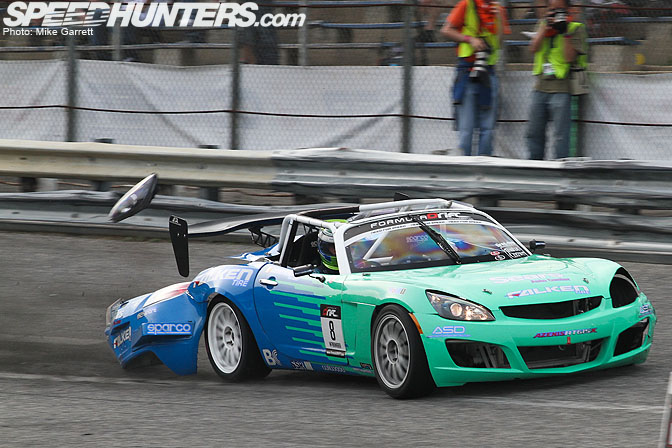 We went aggressive on the setup change and I entered the bank a little too high and couldn't get it back down. Floating headlight looks funny.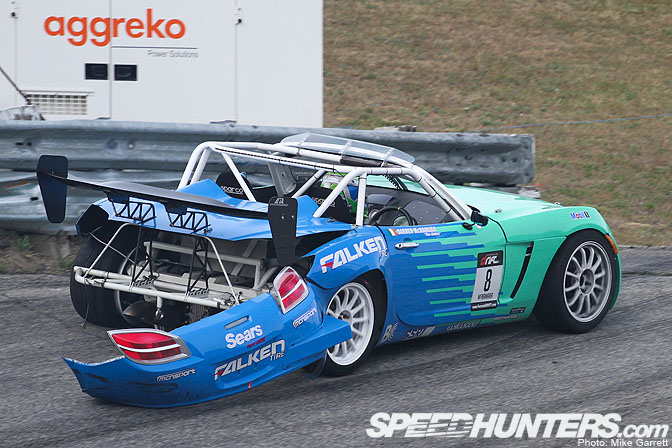 I was furious with myself at this point. To lose to Dai twice in a row is not acceptable in my view. Now, the car was so badly bent out of shape I probably wouldn't even make the 3rd and 4th place run off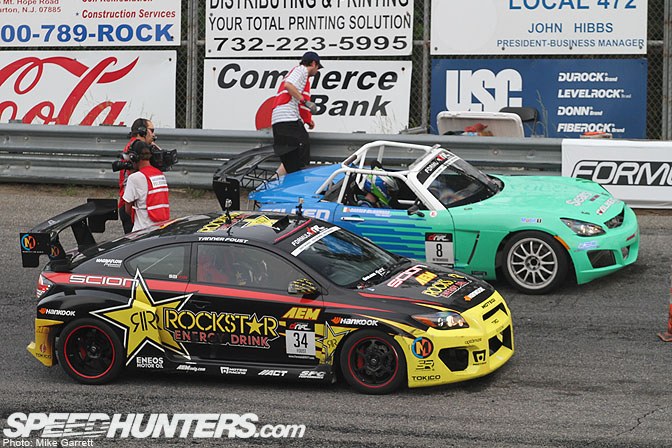 I have so say the Miracle performed by the Falken and ASD crew in the pits was nothing short of that…. a miracle. Because of them we made it to the grid! Everyone seemed to join in to get the car repaired, even Ross Petty and JR were in the mix. But there really wasn't enough time to straighten everything out. Tie rods were bent front and rear, heim's were bent, the car was a mess. When I pulled onto the banking the car crabbed so badly. I remember telling my crew chief what I thought and I couldn't possibly repeat it here.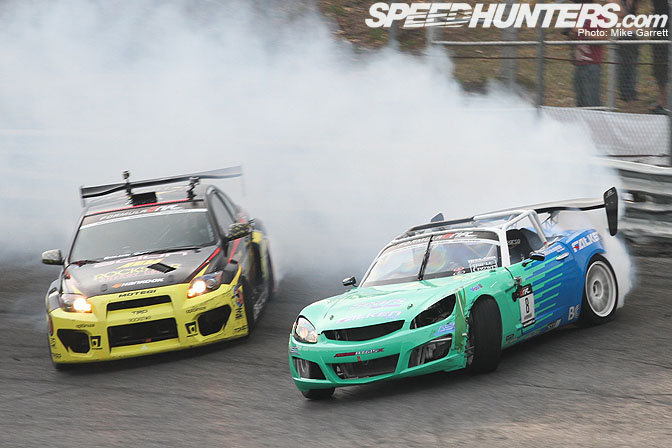 I had no idea where the car was going to end up when entering the bank so I decided to just go for it! Fire it in hard and see if I could catch it (2 inches of rear toe in anyone?).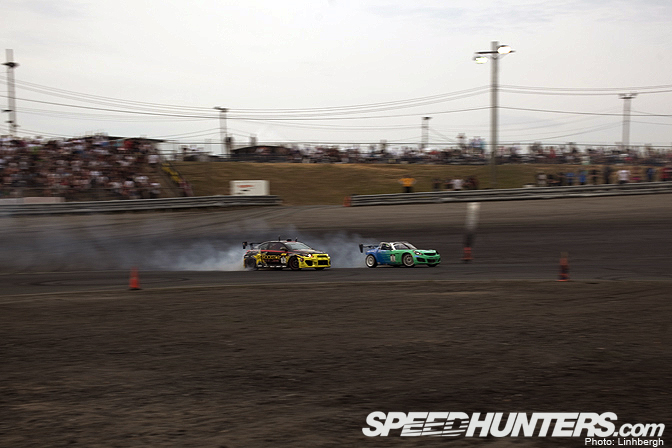 And to my amazement and delight it worked!!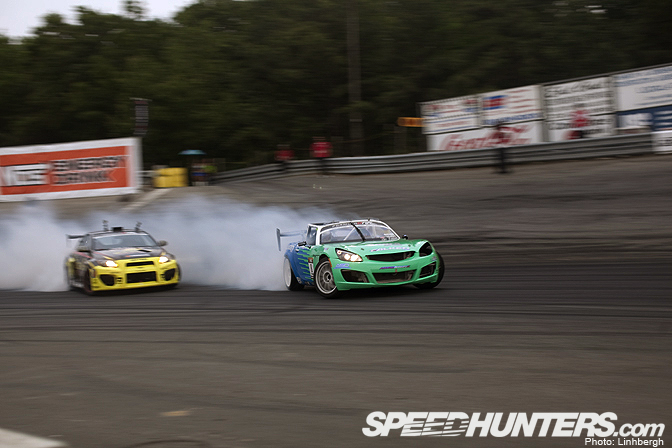 I was now using all 800 horse to try and keep a smooth drift.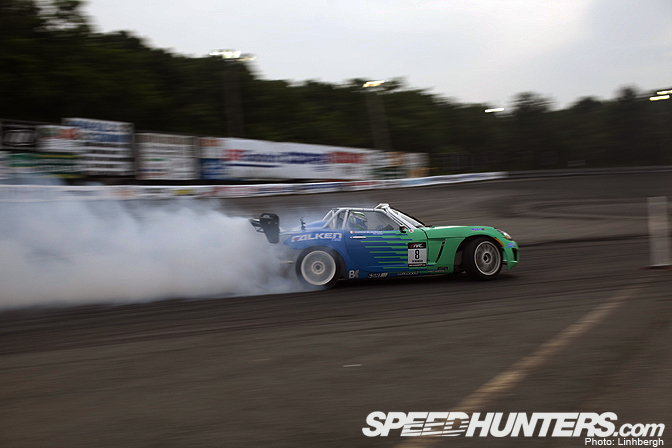 Amazingly I seemed to leave Tanner for dust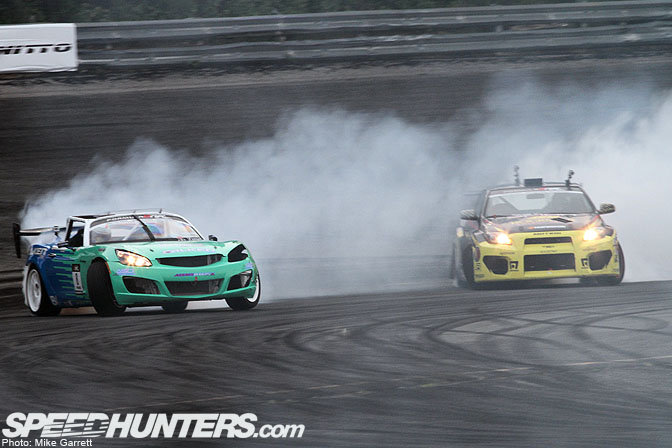 At the end my radio clicked on and i heard the words "Great job! Great job! you pulled away!!"
I was so fired up from the crash that I drove the sh*t out of the little Sky. To beat Tanner with the car so bashed up and secure a second consecutive podium sweep for Falken Tire would have been amazing. But there was still work to do……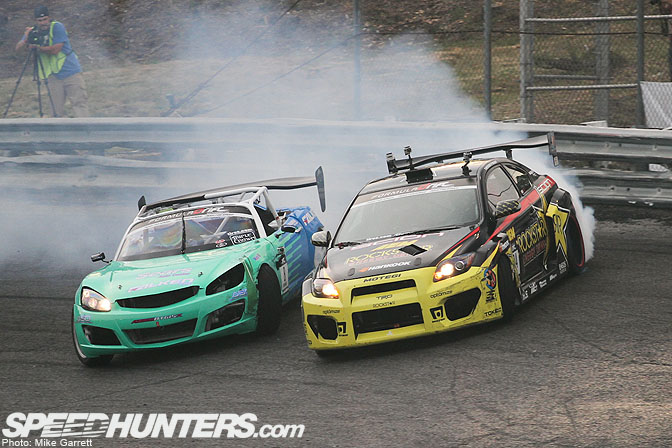 Still pumped up and feeling like I could walk through a brick wall! I chased Tanner very hard.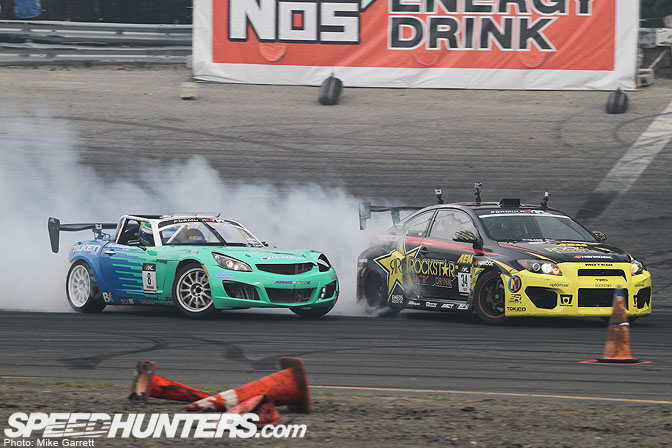 Not giving him an inch…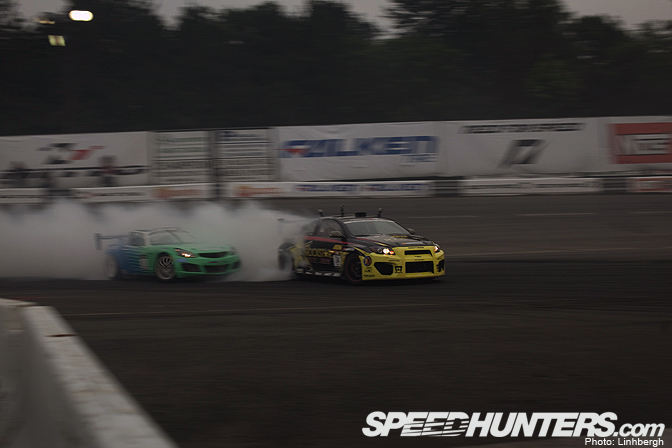 …and securing the podium spot.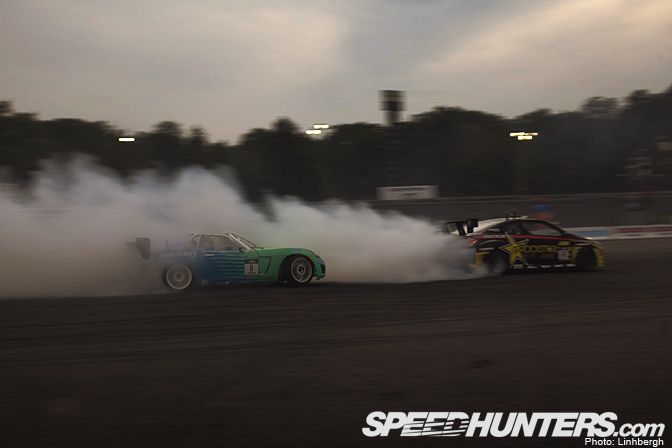 At this point I knew I had it won…. All I had to do was stick to his door on the last turn and it was all over.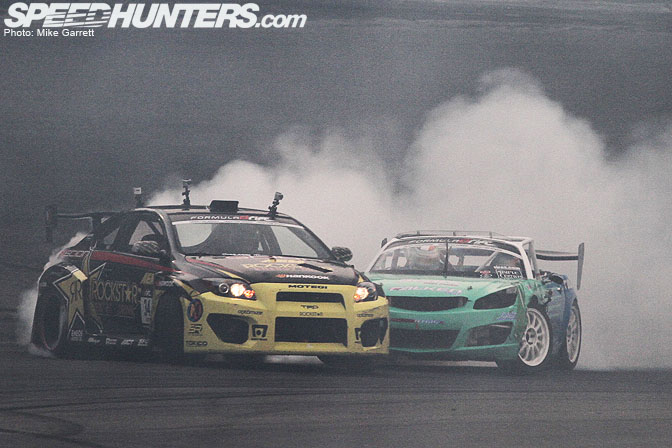 Now, I'm going to have to compose myself over the next couple of pictures. When Tanner and I were drifting through the last corner, Tanner was following his qualifying line, which you must do as the lead car. As soon as I edged up towards his front wheel, knowing I had the battle won, he pitched his car a massive angle and aimed his bumper for the inside finish line cone!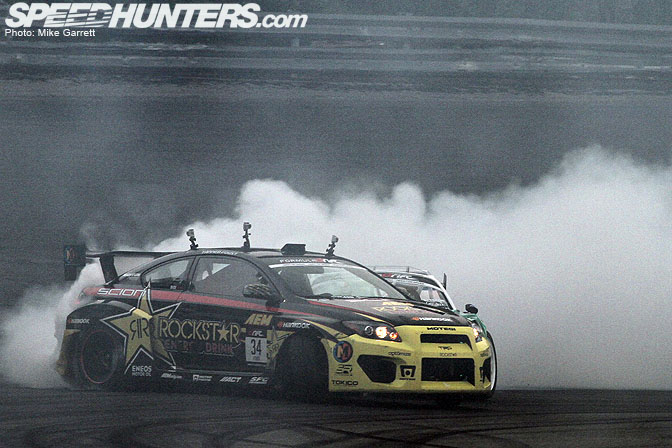 This was a dirty move and in complete violation of the rule "lead car must run 90% of his qualifying run". It was a clear and blatant block from a defeated opponent. I checked up slightly as the initial instinct is to avoid contact but when I knew we were going to touch. I thought to myself " if you want to go in there, then your going in there!"
So, I rolled back on the power and blew him out of my way!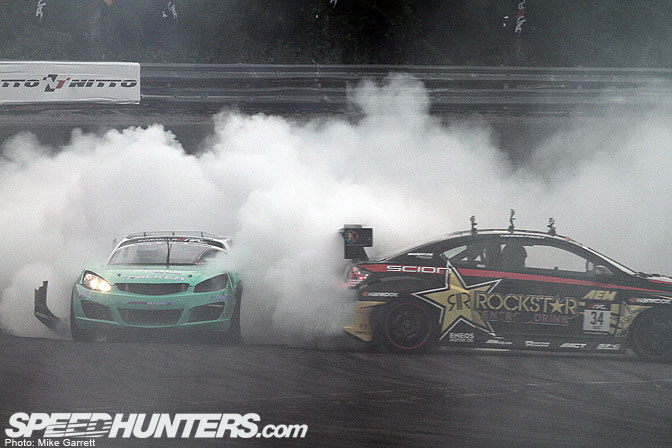 I finished the run as close to the correct outside line as I could. To say I was pissed off at this point would be an understatement.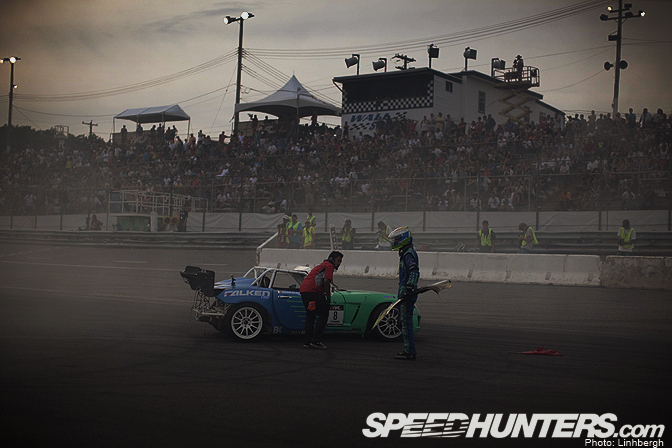 In the contact, I aggravated my wrist injury and this just fired me up further. I dragged some of Tanners body panels along with my car. That's his rear quarter in my hand. I was staring at him and had full intentions of making his quarter a piece of him once he got near enough. But after a few seconds, I decided that probably wasn't the best idea so I dropped it.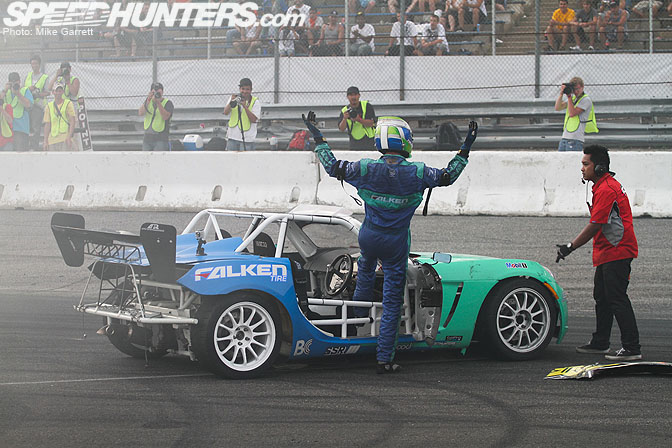 This is my WTF gesture.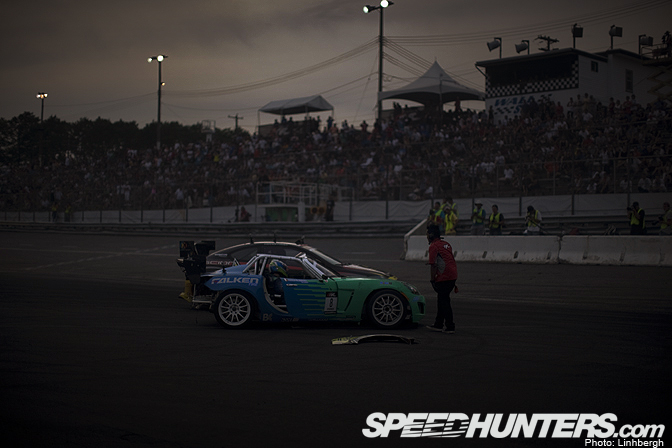 Tanner finally pulled up beside me and I proceeded to make him aware that I was not pleased.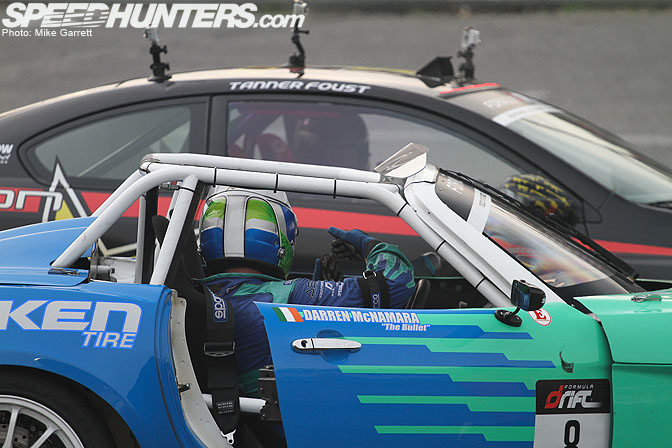 "You are my right hand, I am my left hand…." those weren't my exact words but you get the idea.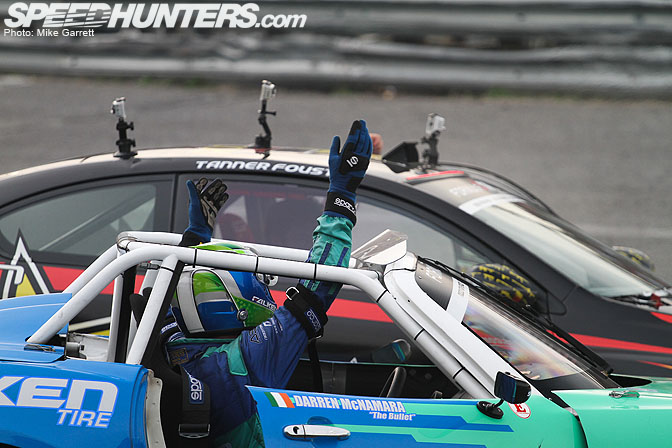 And to add insult to injury the judges awarded Tanner the win?? I couldn't believe that!! Looks like now we can block and run and lead line as we wish!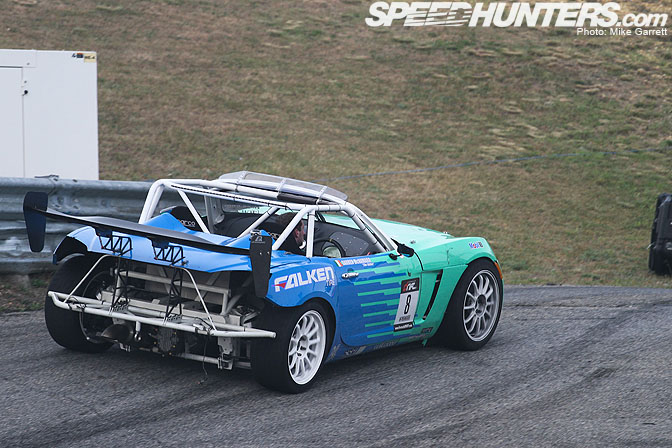 So I had to settle for forth. I felt completely and utterly robbed. The fact that Tanner apologized and admitted later that he cut in on me to block me didn't help. I also apologized to Tanner because I probably could have avoided hitting him but I didn't want to. The fact that Falken didn't get they're second podium sweep really annoyed me!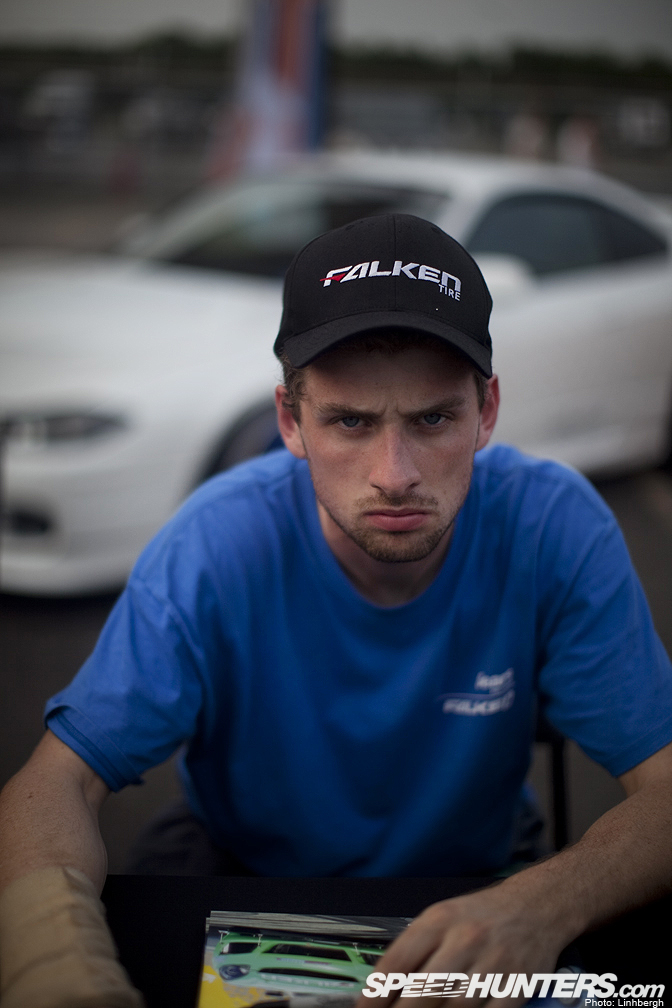 Not impressed!!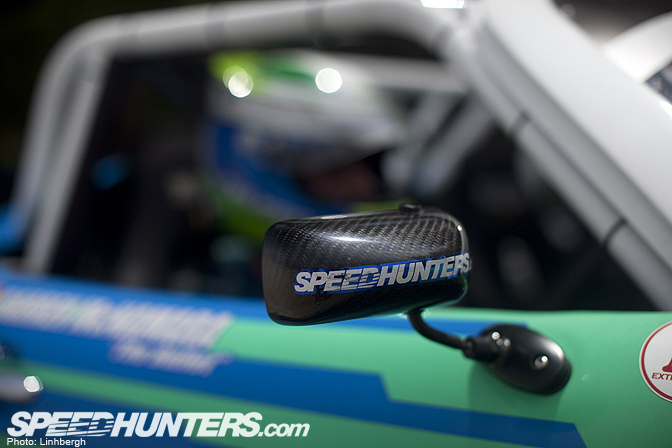 Thanks for reading Speedhunters….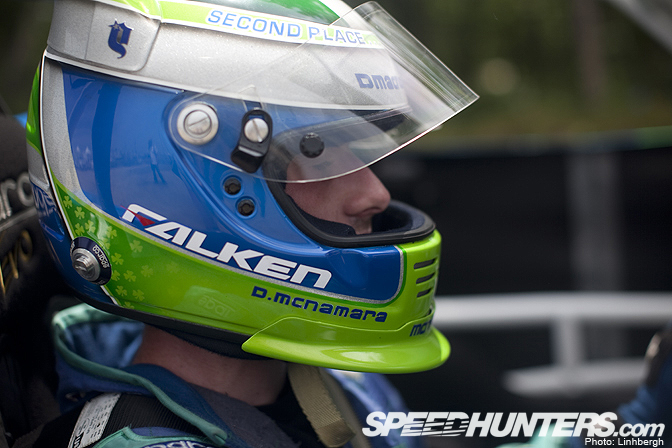 See you for more drama in Round 4!
D-Mac out.