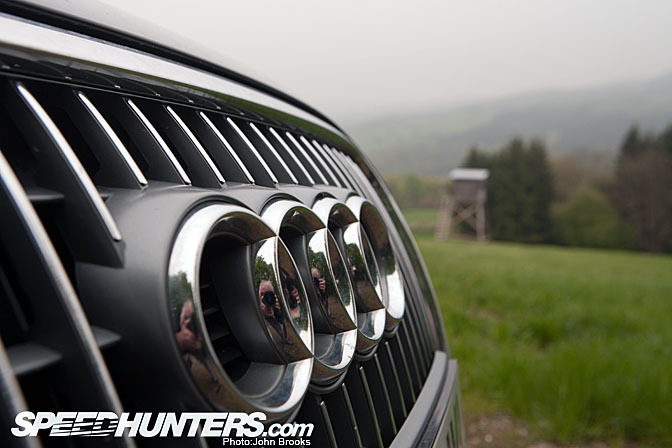 SpeedHunters bills itself as "Car Culture at Large" which translates into fast and furious, art and style, power and glory, it is an attitude of mind. We revel in the beauties of the automobile and its lush surroundings and drink at the well of its culture.  However the SpeedHunters tribe also lives, for the most part, in that distressing place "The Real World". That means using cars for their mundane purpose of transporting us from a to b with the least pain. So for everyone who drives a GT-R, there are legions of us who have a Micra instead. But having a more utilitarian vehicle need not be a hardship, the car manufacturers turn out fantastic machines and sometimes we are a bit blase about them. Those of us who drove cars back from the 60s and 70s would never have believed we could have come so far in such a short space of time. Mind you most of us would challenge the direction we have headed in but that is a question for another day.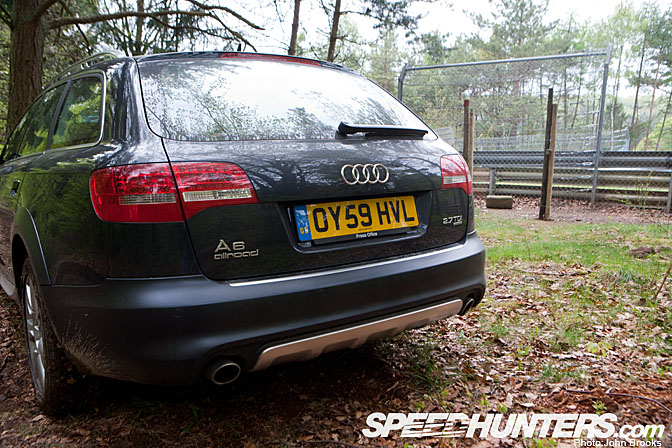 To cover the Nurburgring 24 Hours brings a series of problems and issues that need addressing, not least how to get around. With the right pass you can access the interior roads of the Nordschleife, whether you can actually use them depends on their condition and what car you use.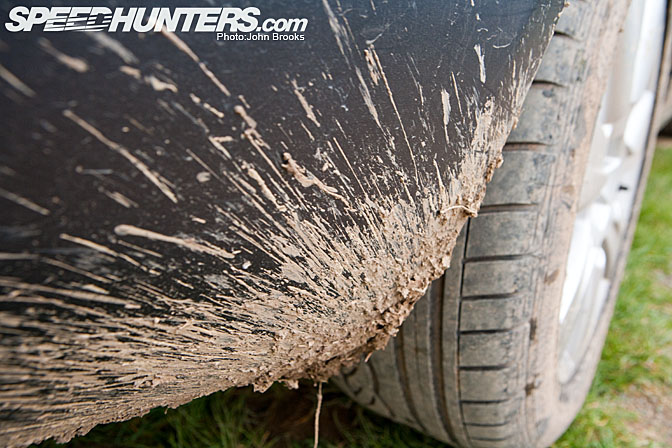 Back in January when the SpeedHunters' 2010 master plan was being drawn up by the Editor (who does resemble a Bond-style villain during this annual process) it was clear that I would be down to cover the N24. What I did not know at the time were the plans for Team Need for Speed. In this internet version of SPECTRE, I am Number 11 who ends up as crocodile fodder, Rod is Number 1, remotely controlling all his operatives.
Back on topic, I realised that the race was earlier in May than 2009, so bad weather was almost certain, mud everywhere was a given, this was the opinion of the various Ring Meisters I consulted. So all wheel drive……..Range Rover? Too much Premier League Football Bling and too big. SUV of some kind? Same problem sans the Bling and the WAGS. Then brainwave, what was that Audi? The one I had just read about.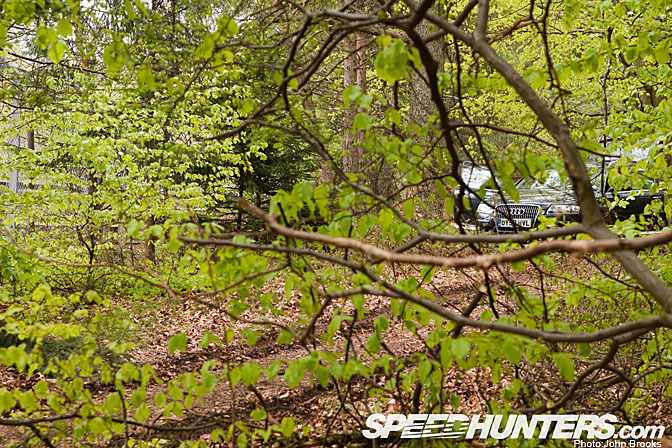 Of course what I was referring to was an A6 Allroad. A quick call to the mighty Martyn Pass of Audi UK got the usual "Ok, I'll see what I can do" reply. I knew I was home and dry then. So it came to pass that a very nice man turned up at Brooks, Towers with a 2.7Tdi version, jolly pretty it looked too.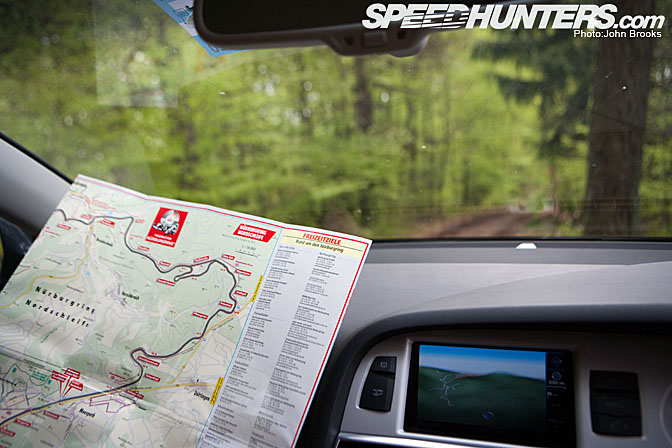 The trip took in the Spa 1000kms, so plenty of fast motorway driving, the A6 behaved impeccably, loaded to the Plimsoll Line with gear from myself and BMW's ace photographer, David Lister. That much would be expected from any of today's executive expresses but arriving at the Nordschleife and heading out into the wilderness would tax almost all of those in that class of automobile, except the A6 Allroad.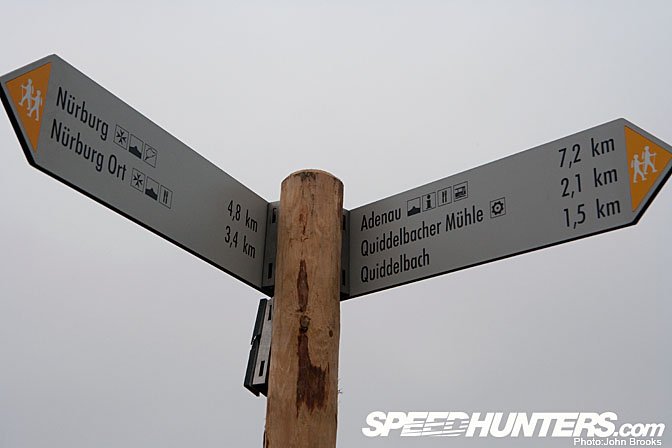 We were in the middle of nowhere, the farm tracks that we were following had been churned up, so it was raise the suspension and let the car do its thing…………it was brilliant…up steep muddy climbs from Herschbroich to Karussell or Schwalbenschwanze to Hohe Acht it never missed a beat and was rock solid on the most difficult of conditions. Even with a ham fisted bloke like me at the wheel.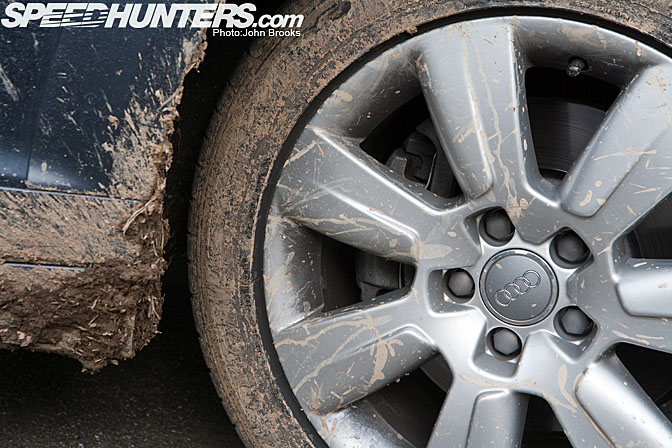 It did get a bit dirty………we were caught in the press carpark by Mr. Pass, who shook his head in mild disappointment at the treatment meted out to the previously pristine estate. Still the mud on the roof washed off in the rain on the way back to England. Evidence had disappeared from the crime scene. We tried to look completely innocent.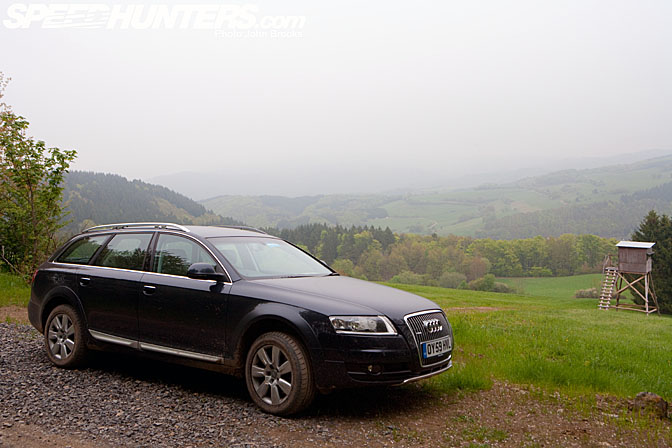 All joking aside the Audi A6 Allroad is a brilliant car on and off the road, I could not think of anything that matches its all round abilities with such subtle style. I reckoned it was the the Thinking Man's Range Rover.
Could I have one again next year?
John Brooks