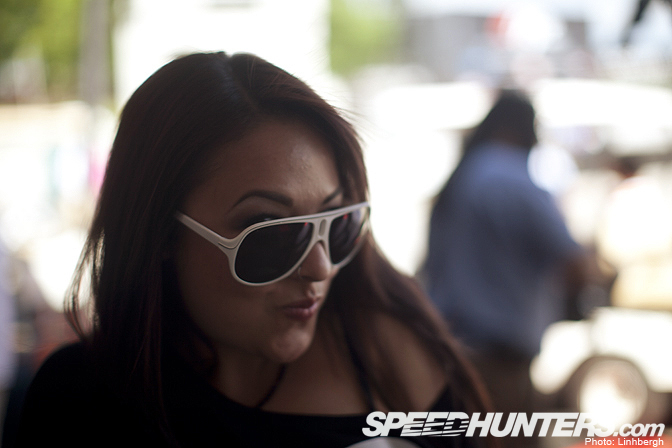 Why, hello there, my fellow Speedhunters! It's M8 here, yet again, to ramble about my most recent happenings from Formula Drift: Round 2 at Road Atlanta.
Thanks for tuning in for my latest installment of whacky coverage featuring none other than, Team Need for Speed at the track that held the very first Championship in Formula Drift history.
HOT-lanta proved to be just that, hot as hell! The heat was almost unbearable when the sun was at its peak, but we managed to keep it groovy and stay cool under cover of the NFS Electro Lounge. In our cozy space, we had music and games going while we packed a full house and created some fun competition off the track.
In addition to relief from the sun, we also had lots of goodies to give away, including decals, t-shirts, posters and PS3/Xbox Need for Speed games. But as the saying goes, "If you want something good, you gotta put in work!"
Hence was born…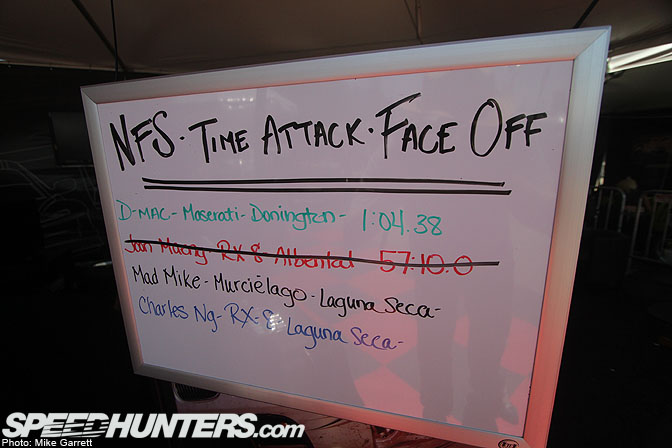 Need for Speed: Shift – Time Attack… FACE OFF!
For this challenge, we rounded up several of the FD drivers to set some times in the Need for Speed: Shift – Time Attack.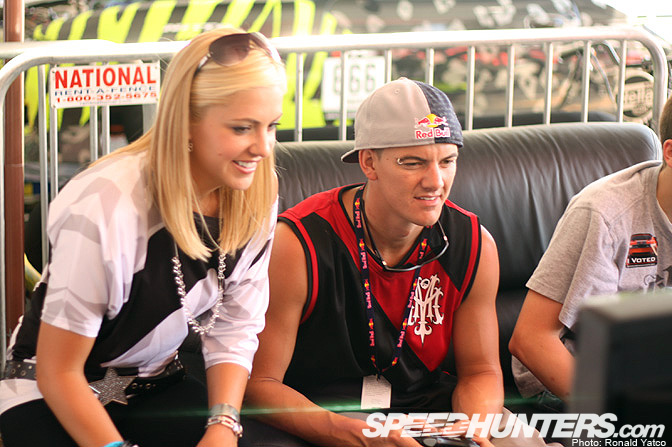 Mad Mike Whiddett quickly stepped up the to plate to begin the challenge, while Courtney cheered him on. I, meanwhile, was on the mic smack talking… all fun and games, of course!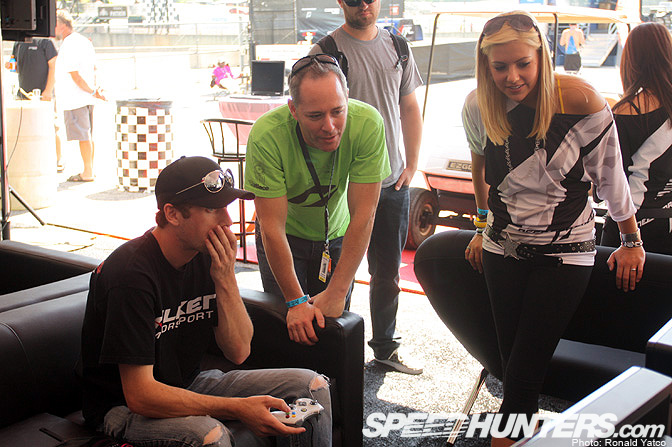 Also a good sport was Darren McNamara (AKA D-Mac), looking a bit stunned here. (I won't front, it's actually a pretty tough game!)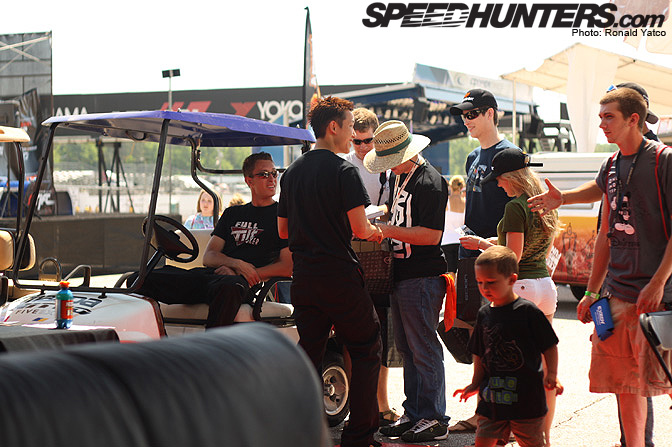 Joon Maeng soon made his way over to the NFS Electro Lounge to join in the gaming festivities.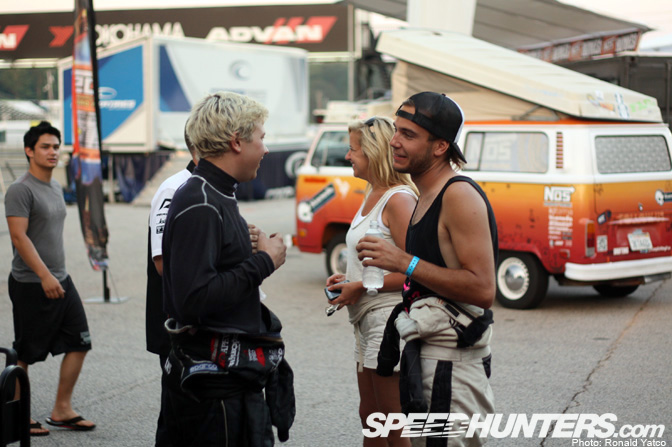 Followed shortly, thereafter, by Pat Mordaunt who first chatted it up with our raddest Team Need for Speed member, Matt Powers.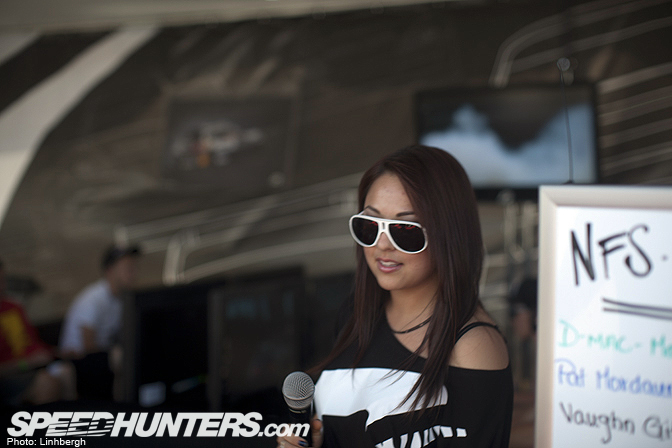 Here, I give a quick rundown on the Time Attack – FACE OFF.
The objective of this challenge was relatively simple. On the board, we kept track of times that were set by the FD drivers. Anyone who wanted to take home a nifty Need for Speed souvenir needed only to beat the time of any FD driver of their choice, playing the same course and car. Piece of cake, right?!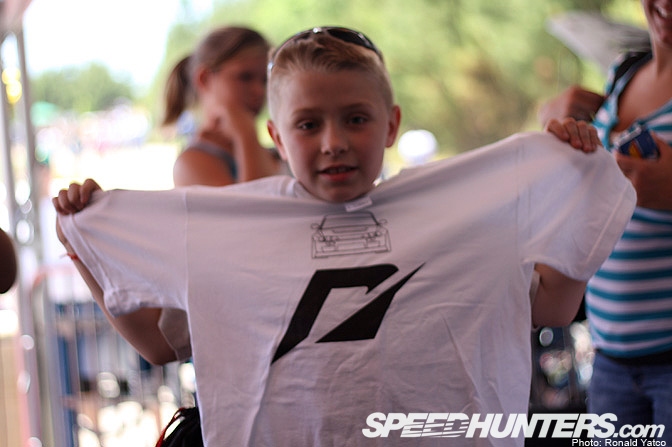 I'm pretty sure that's what this little guy said. Cheyeah buddy… cake-walk!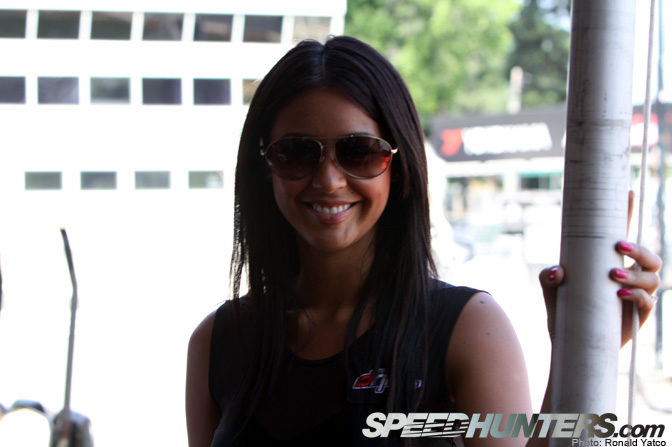 Miss Formula Drift, Melyssa Grace also made here way over to hang out with us for a bit at the Electro Lounge. It was a pleasure, as always, to have been graced (no pun intended) with her bubbly personality and fun-loving attitude. I'll be challenging her to a game of Need for Speed at Round 3 in Jersey, for sure!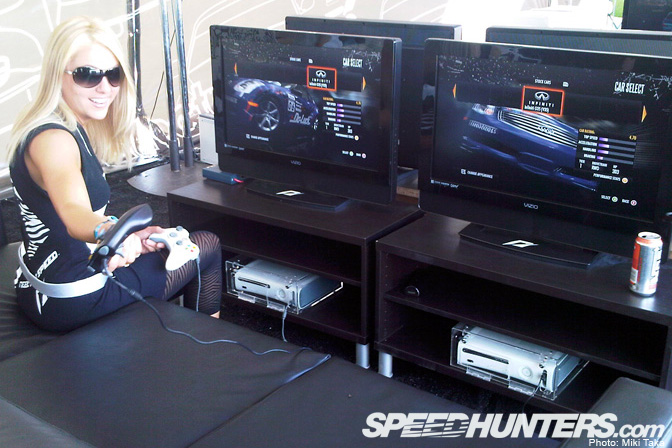 Here, Courtney challenges me to a Time Attack duel in Need for Speed: Shift…
Little did she know, I squeezed in some practice. Puahahaha. Game point goes to: ME. Whoot!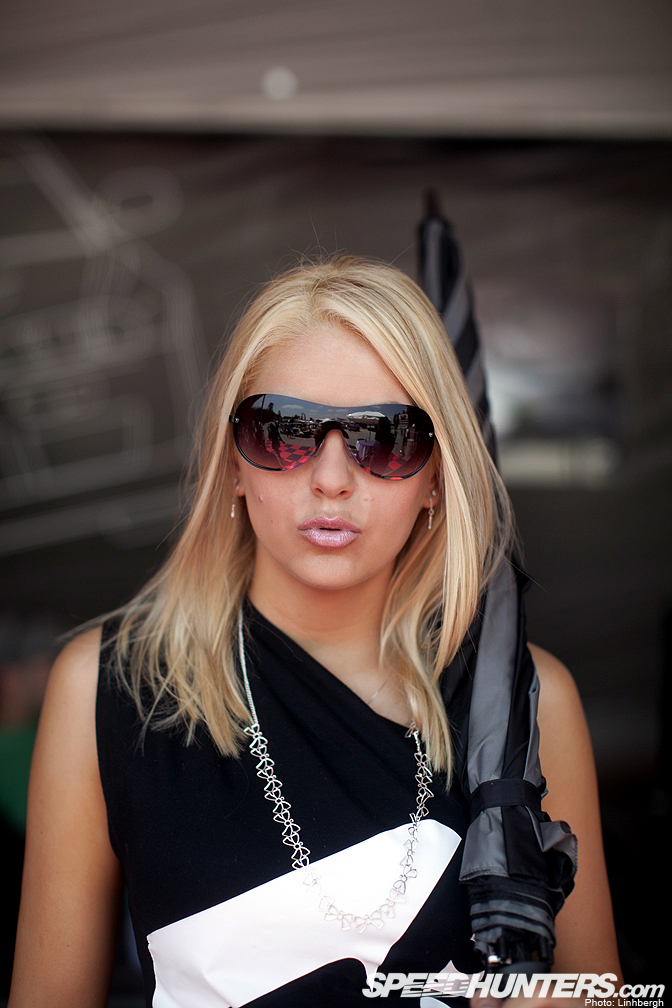 She's still a winner in my book, rockin' the stunnnnnahz!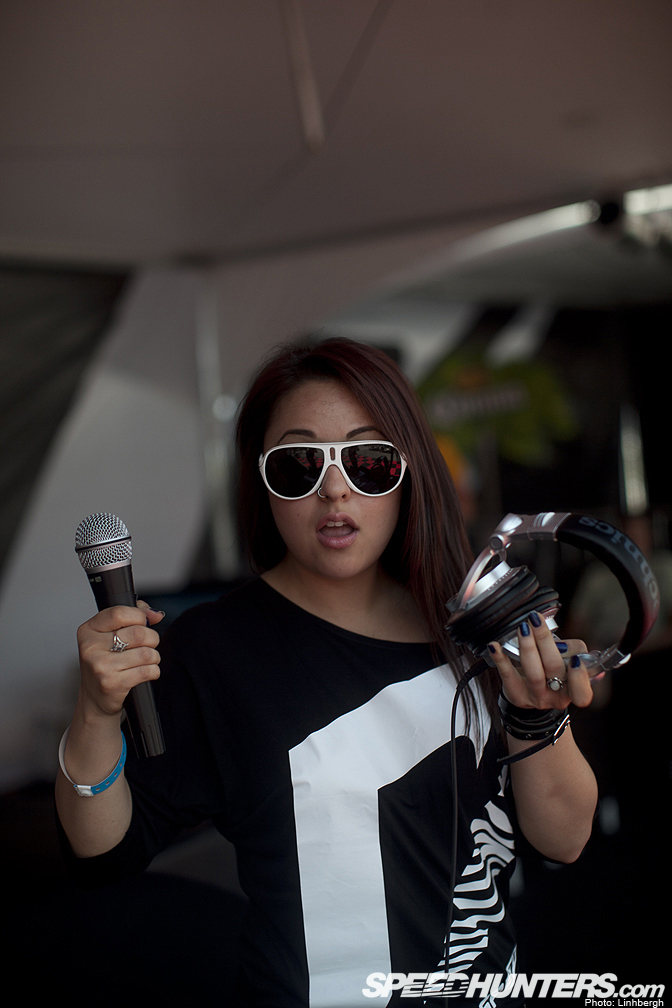 And then there's me, looking (not) so cool, as I debate what I want more… the headphones or mic?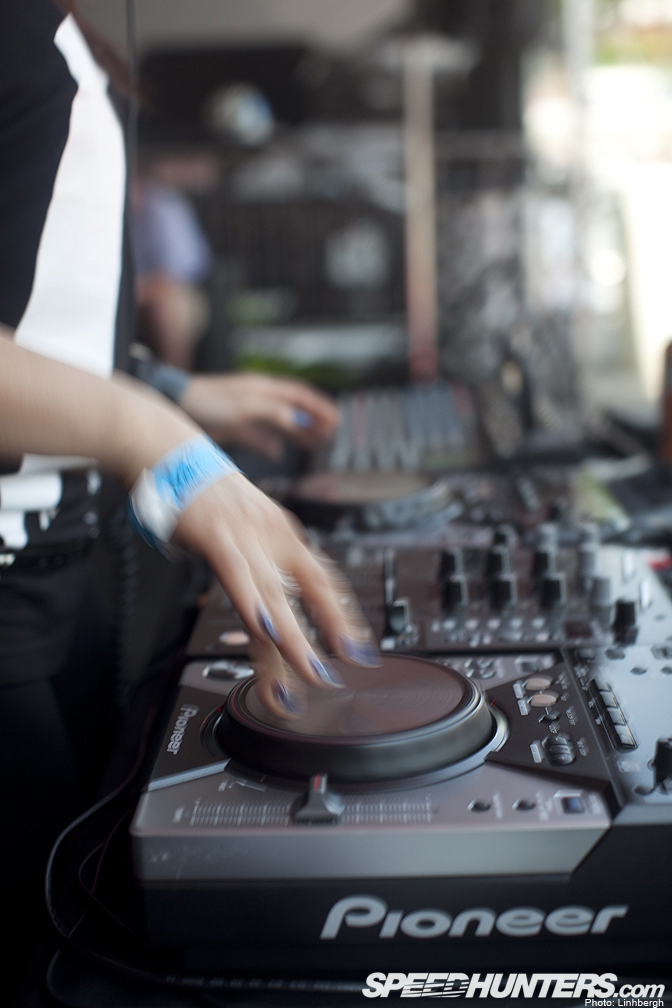 Hmm. I say, BOTH! Yes, I like to have my cake and eat it too.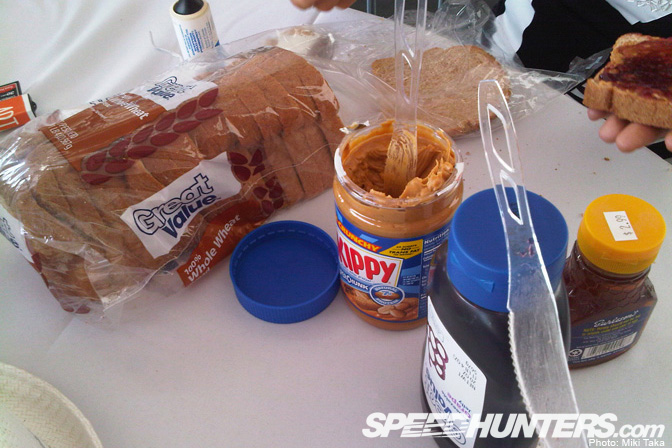 Speaking of cake, there was none. There WAS, however, a special stash of PB & J…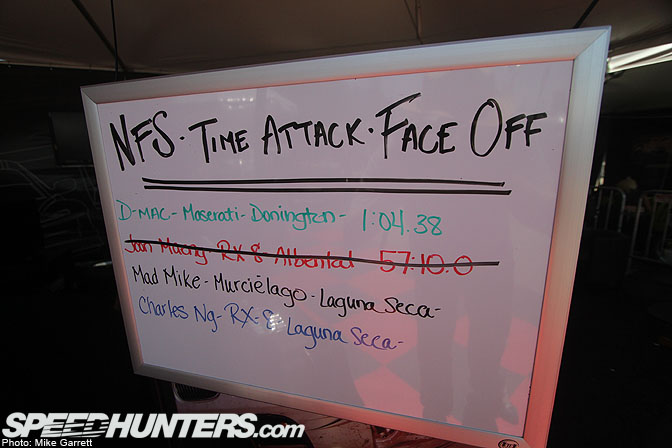 …which I generously helped myself to. I don't care what anyone says, you absolutely cannot go wrong with this meal. It's just too official. PB & J, for the win!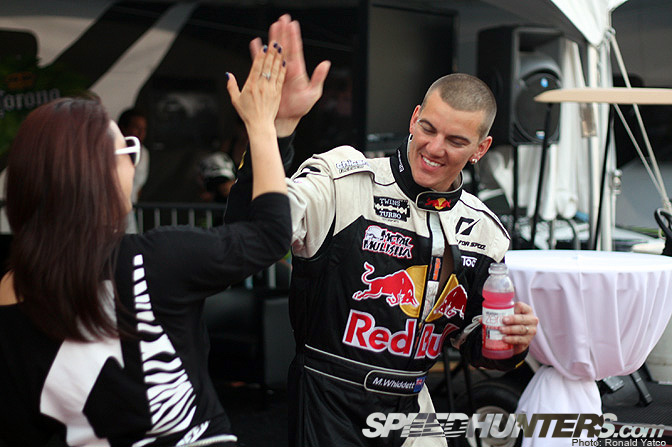 I wonder if Mad Mike agrees.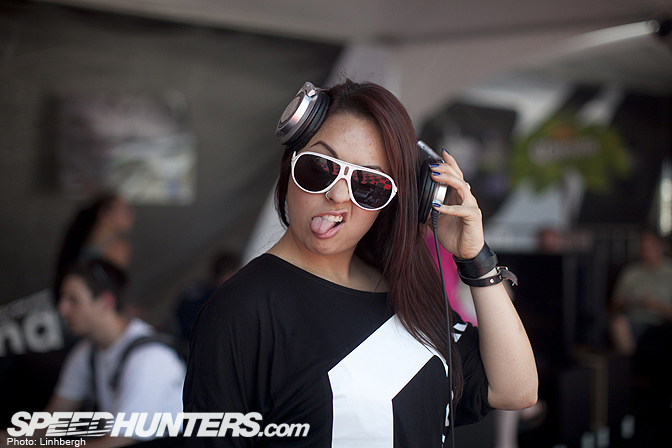 That's how I felt about the sweltering heat, humidity and relentless mosquitoes in Atlanta. No joke! By the end of the weekend, I had practically drowned myself in insect repellent. Yet, I somehow managed to leave the track with mosquito bites in some very unforgiving places!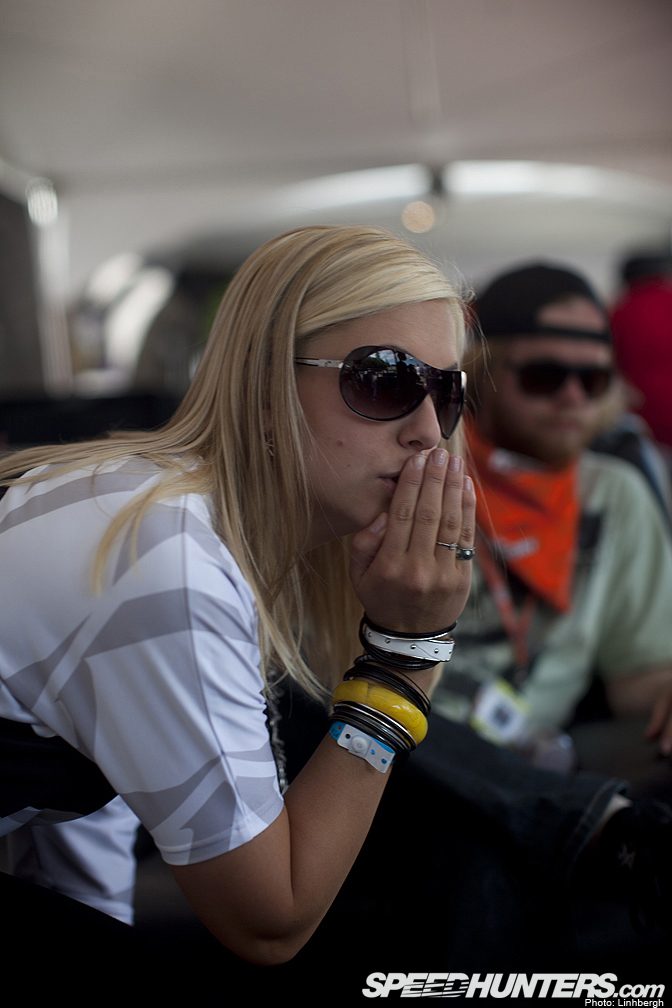 I think it's safe to say, Courtney felt the same. She just wasn't nearly as big of a cry-baby about it as I was… trooper!
It pretty much goes without saying, that any event involving team Need for Speed would incomplete without us engaging in some sort of outlandish antics. So, Courtney made no hesitation to climb onto the roof of Mad Mike's car.
…and do a jumping split over me as I rushed over to join in on the action!
Maybe next round we'll have a sing-off, yeah?!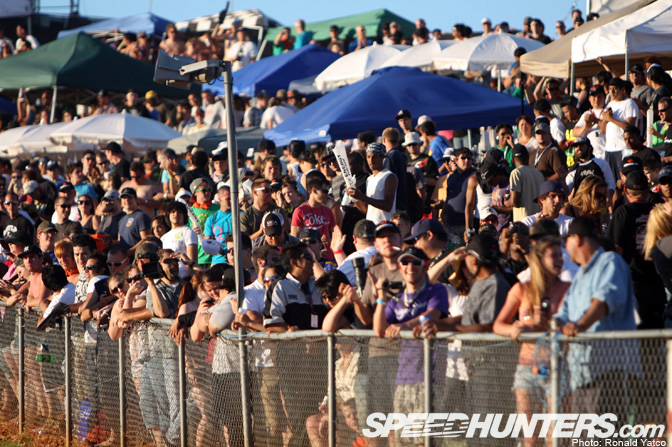 Although we were having a blast in the NFS Electro Lounge, we made a point to venture out to mingle with the crowd…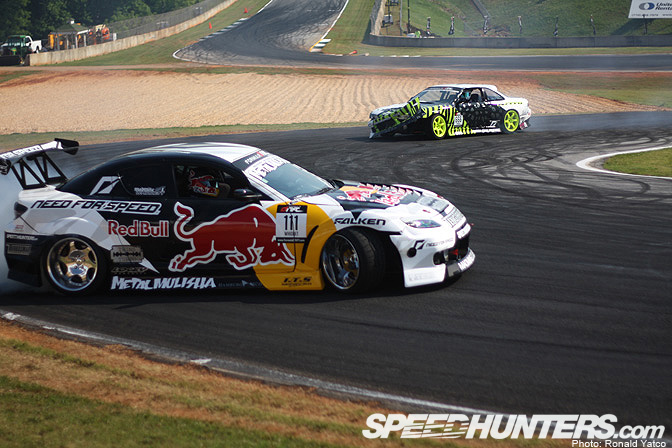 … and show love for our team Need for Speed drivers, Mad Mike Whiddett and Matt Powers!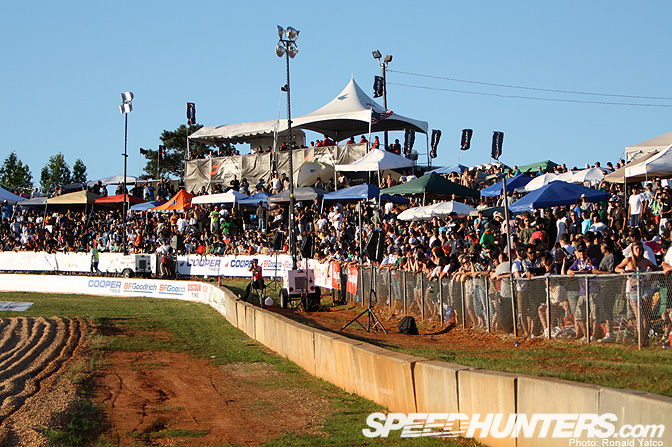 The enthusiasm of drift fans at Road Atlanta come second to none. They were all about having fun and did one hell of a good job doing just that!  There were canopies set up all around the track, with some heavy tailgating going down. At one point we had a crowd wave that made its way around not one, not two, but three times in a row!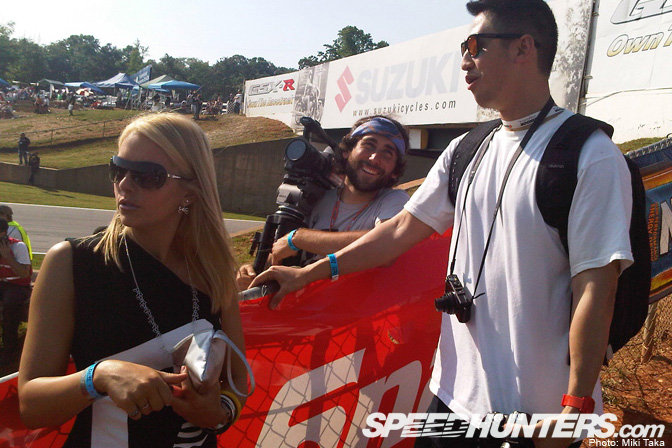 Courtney, Will, Ron and I were front and center to get in on the action and watch things heat up on the track.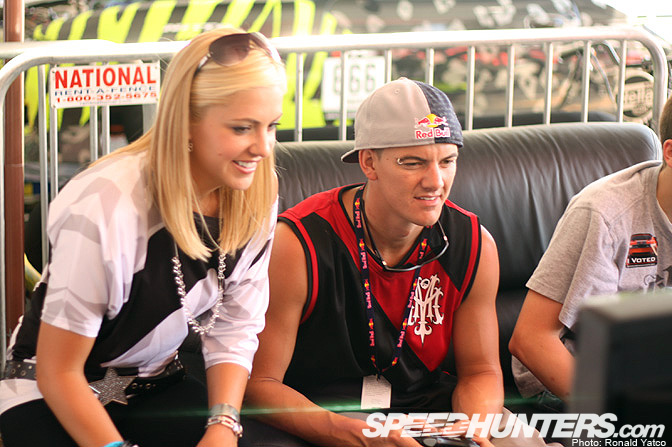 After shooting t-shirts into the crowd, Courtney and I bid our farewells to the fans at Road Atlanta.
Hotlanta proved to be yet another wild and enjoyable drift through my journey with team Need for Speed. I walked away with a few battle wounds, but all things considered, they were well worth it! Bugs, sweat and tears (of laughter) are all a part of the game.
Round 3: The Gauntlet, at Wall Speedway in Jersey is peeking right around the corner. I'm anxious to see how things go down in my neck of the woods and am prepping for some Jersey-style fist-pumping action. One thing I know, without a doubt, is that team Need for Speed is ready to play… and we're gonna bring it!
'Till next time…
-M8-
Speedhunters FD Atlanta 2010 Coverage