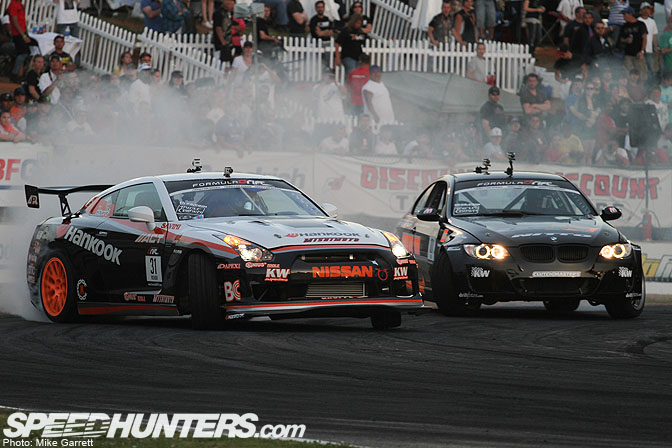 After a long Top 32 competition at Formula Drift Atlanta, the sun began to sink, the air began to cool, and the cars returned to the grid to bring the event to a climax.
Here are some moments from the Top 16 competition, on through to the final.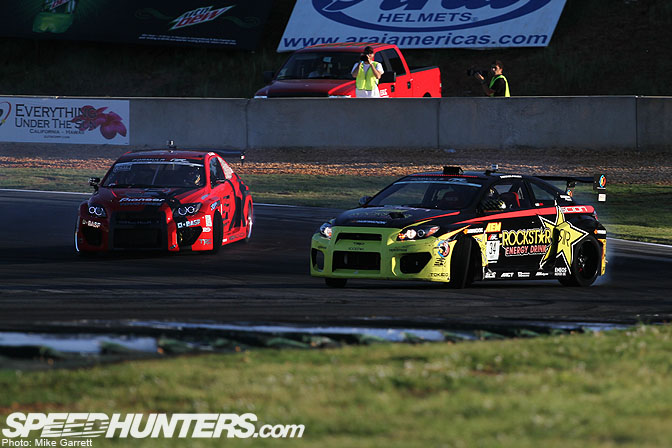 The first two cars matched up in the Top 16 were a pair of Scions – Tanner Foust and Ken Gushi. How would this four-cylinder turbo vs V8 battle go down?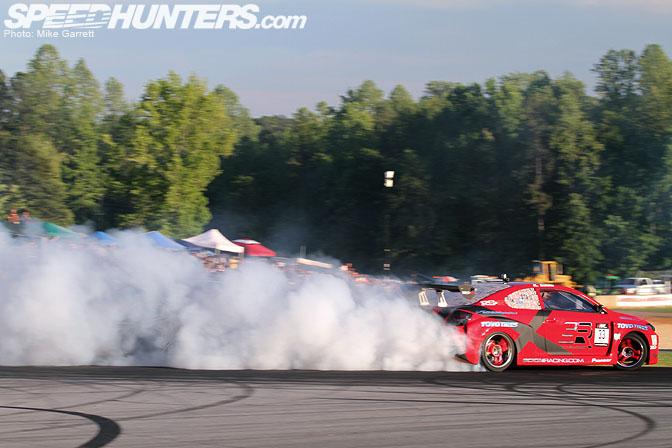 Coming in with the upset, it was Ken Gushi who earned the upper hand after the two cars made contact on the final part of the course. I'm sure if Tanner had to pick someone to lose to, it'd be his Scion bro.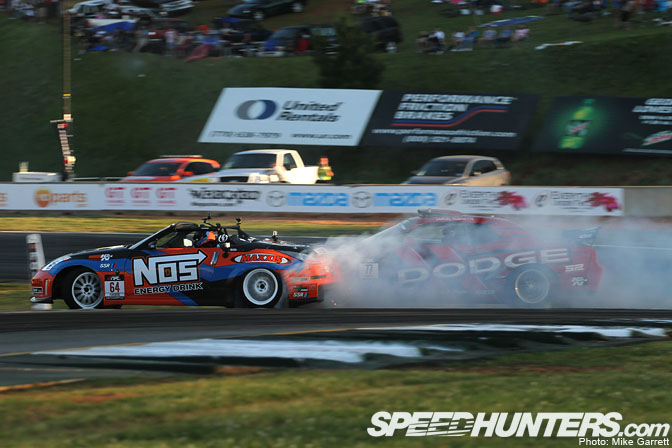 Next up, another rematch from 2009 – Chris Forsberg going against Sam Hubinette.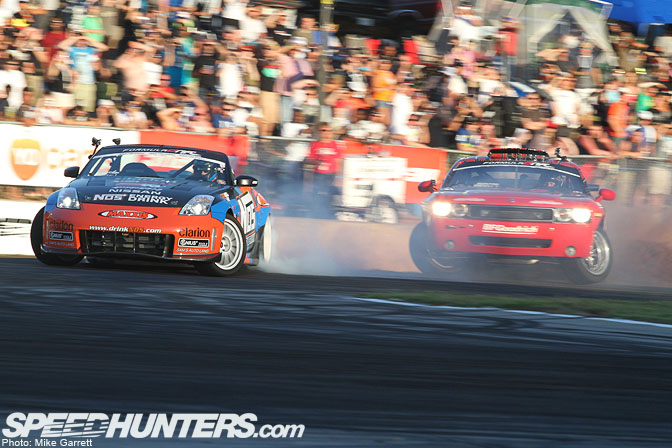 Not a shocker here, but this one would take an OMT to settle. Check Sam nearly popping a wheelie as he runs his back tires through the dirt.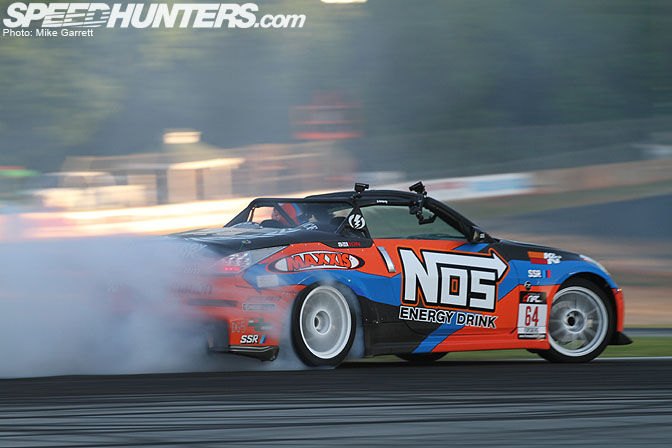 Just as last year, it was Chris Forsberg who ended up advancing from this heated match.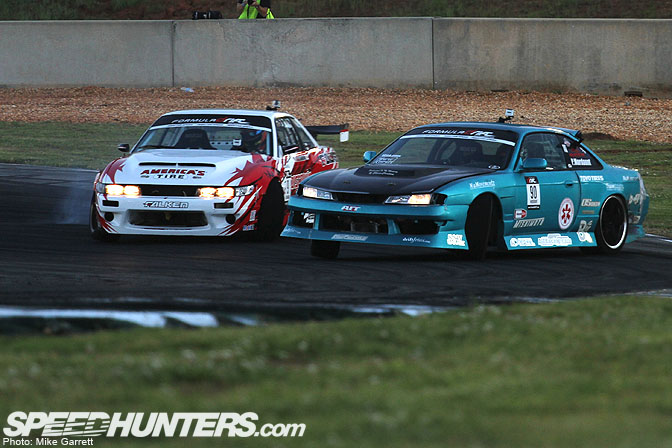 Yet another rematch from FD Atlanta '09 came next when Pat Mordaunt faced Dai Yoshihara.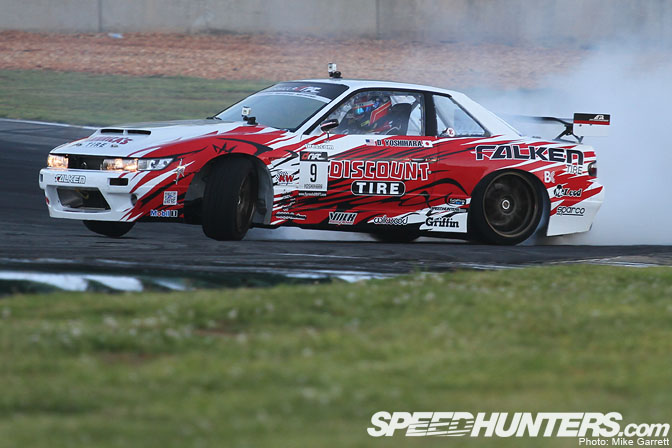 It wouldn't be the epic battle that we saw between these two last year though. Pat spun on the first run, allowing Dai to easily advance.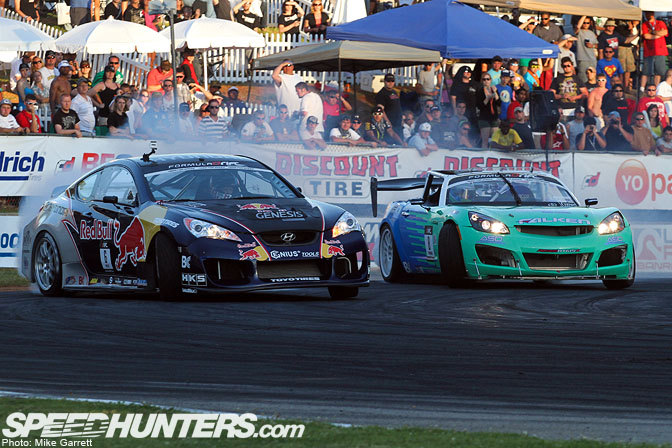 The next match would be an interesting one, with Darren McNamara going against Rhys Millen. The first run was pretty even, but on the second Rhys got into DMac's car on the first corner – a costly mistake. McNamara moves to the Great Eight.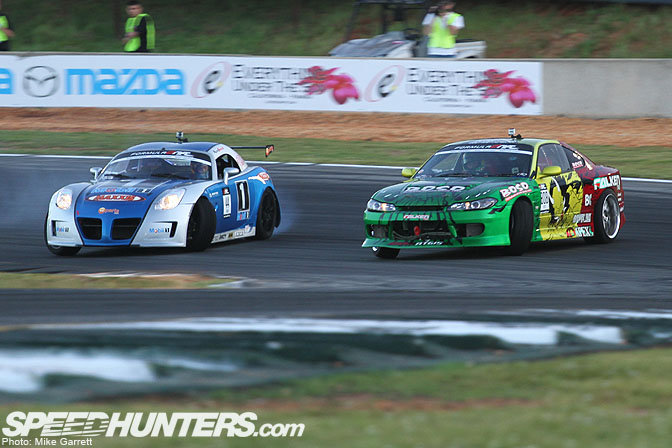 The following battle put Ryan Tuerck and his Solstice against Ross Petty's S15.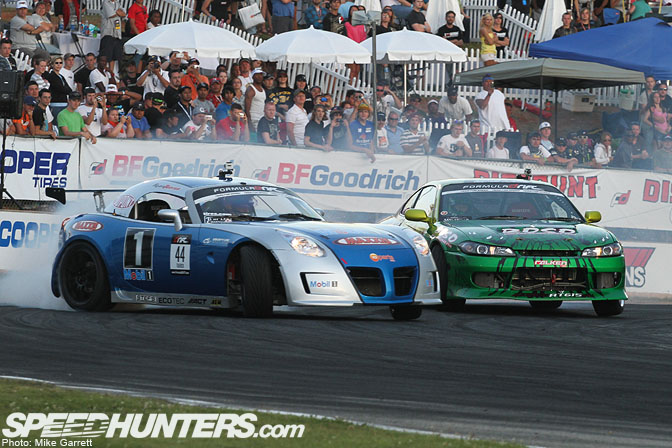 Ross put up quite a fight, but it just wasn't enough to get an advantage. Tuerck advances.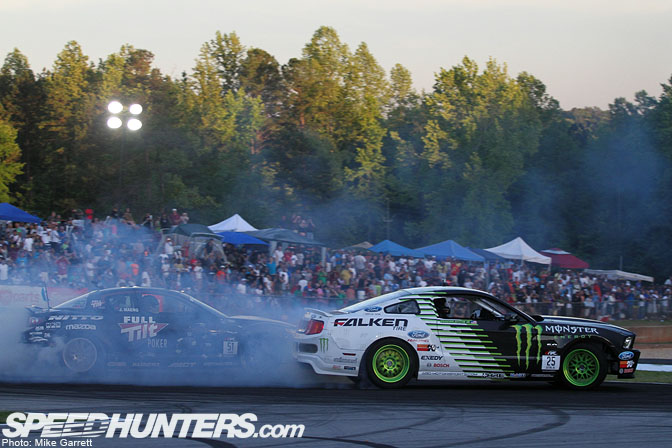 It was Ford V8 vs. Mazda rotary once more in the next battle, as Vaughn
Gittin Jr. ran against Joon Maeng.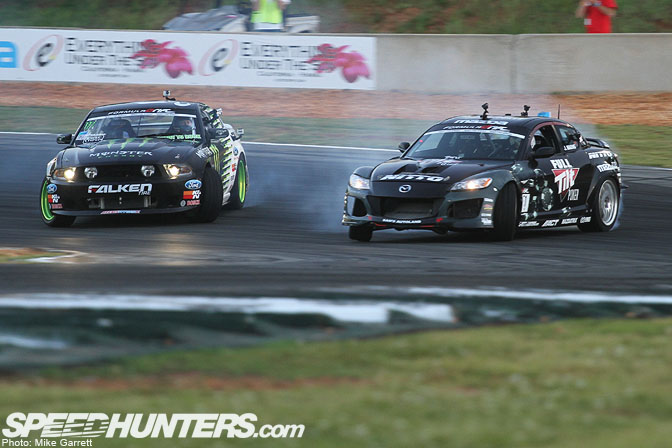 Joon had been on fire all weekend, but he finally slipped here when he straightened out a bit. This allowed Vaughn to grab the advantage and move on.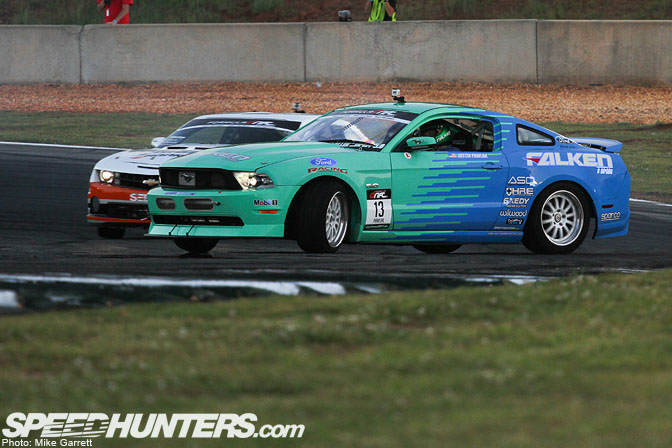 Next up, an all-American battle with Justin Pawlak's Mustang going against Conrad Grunewald's Camaro. As I watched these two guys battle it out, I felt like I should be eating a KFC Double Down, and washing it down with a 64oz Slurpee.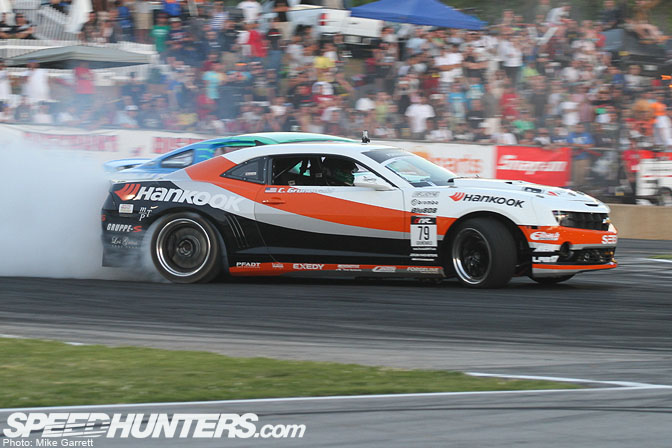 After a very entertaining and patriotic battle, Conrad and the Chevrolet bowtie emerged victorious.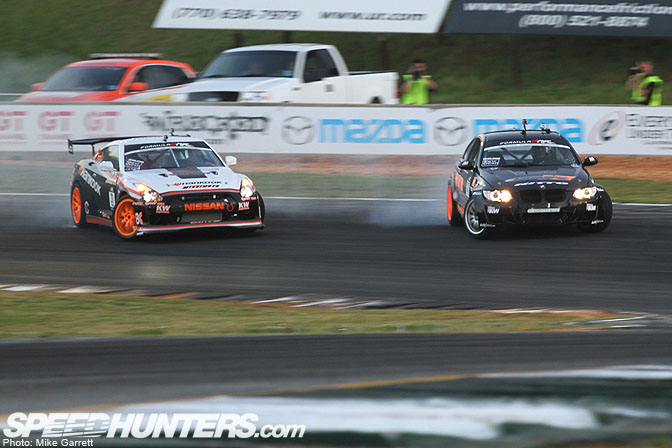 From Mustang and Camaro, to GTR and. BMW as Robbie Nishida faced Michael Essa. This would be a fight between two all-new cars for 2010.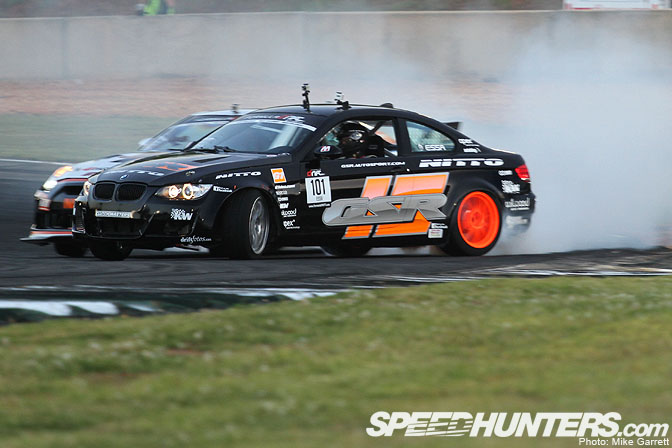 It was Essa who looked more comfortable in his new machine here. Him and the BMW would move on, while Robbie Nishida and the GT-R would end their event first here.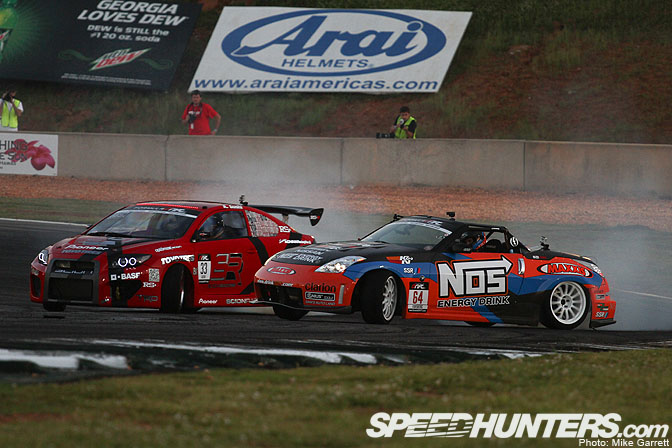 Kicking off the Great Eight were Chris Forsberg and Ken Gushi.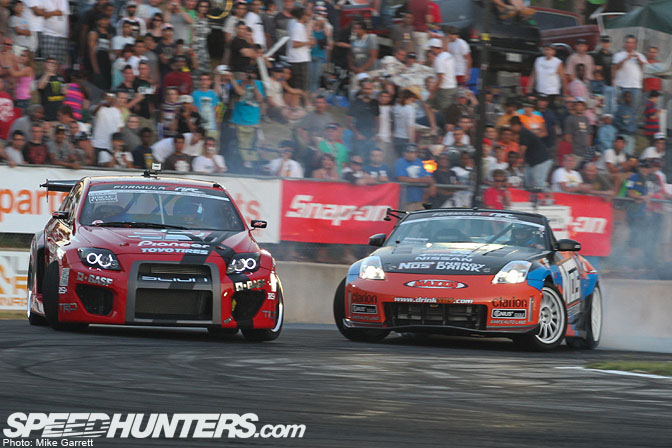 This match would be settled in the horse shoe when Gushi slowed up, causing the two cars to make contact. Forsberg moves to the Final Four.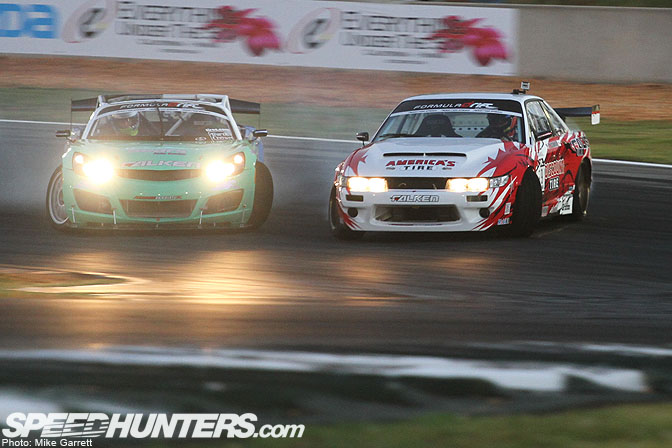 The next battle may have been the best of the entire event. Darren McNamara vs. Dai Yoshihara. No winner could be decided from their first runs, so an OMT was called.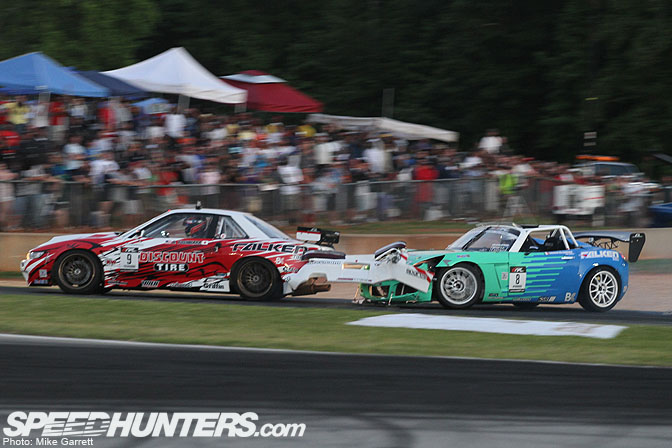 During the OMT battle, the cars made contact through the horseshoe, with nearly the entire rear end of Dai's S13 being ripped off in the process. It wasn't really that someone made a mistake, that was just how close these guys were running.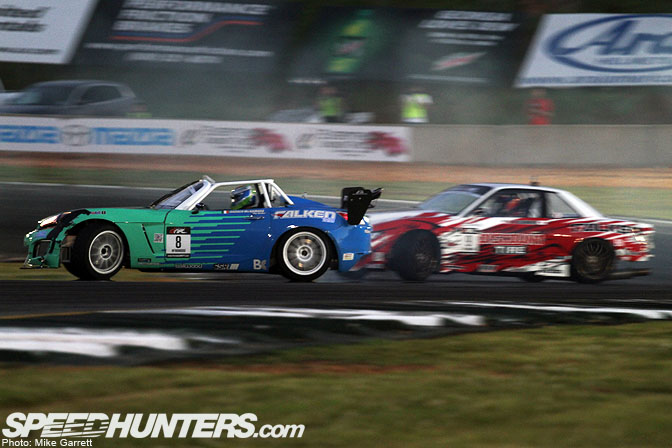 After Dai's crew called five-minutes to check out the car, the two Falken teammates returned to the track. When the dust had settled, it was Dai that emerged victorious. Drifting at its best right here folks.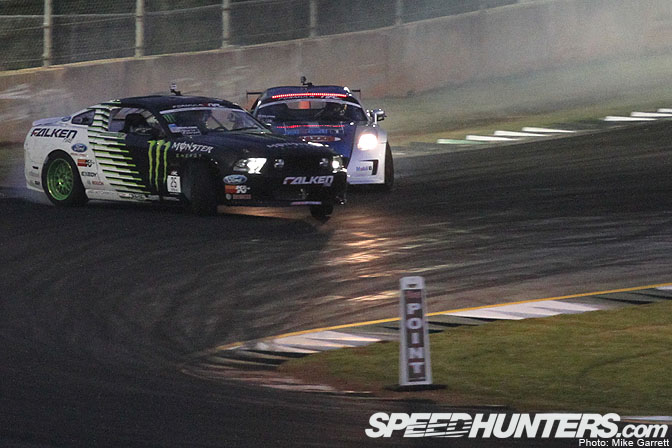 In the next match Vaughn Gittin Jr. was once again matched against Ryan Tuerck.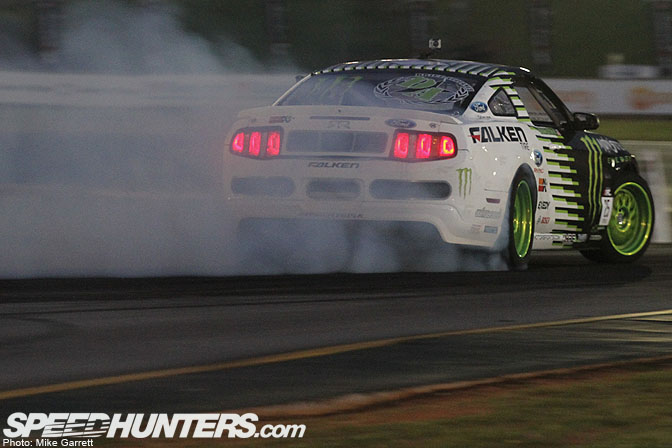 Tuerck drove well, but Vaughn's driving was just a bit faster, and a bit more aggressive. The Monster Mustang moves into the Final Four.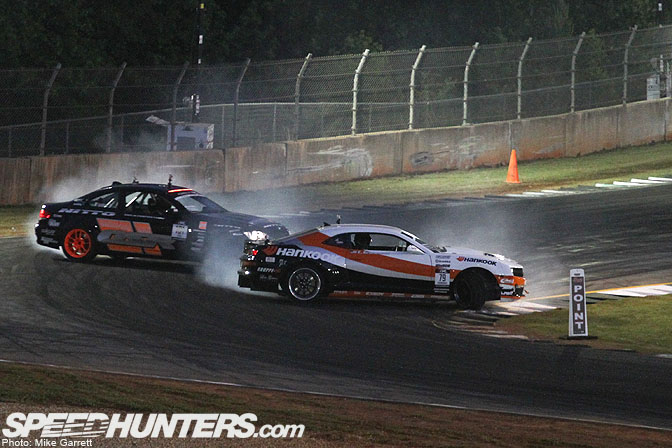 The final Great Eight match had Michael Essa going against Conrad Grunewald. Conrad tried for a hero entry at the first corner, but he over did it just a little – nearly coming to a stop on the track.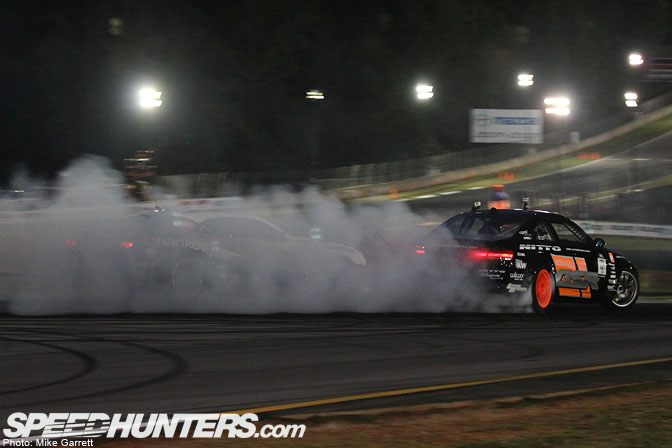 Essa drove well on the second run and in only it's second event, he'd put his BMW into the Final Four.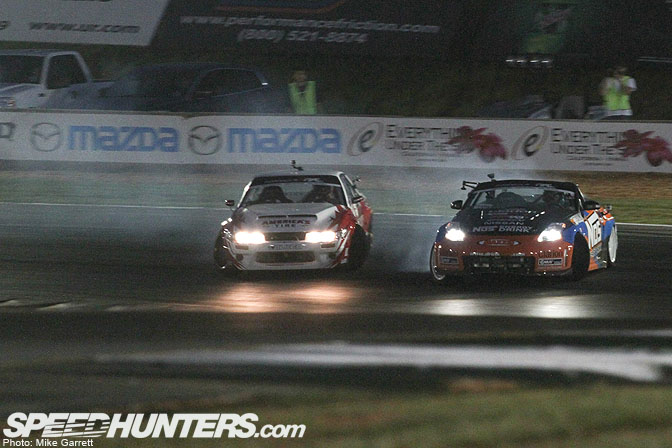 Kicking off the Final Four were Dai Yoshihara and Chris Forsberg.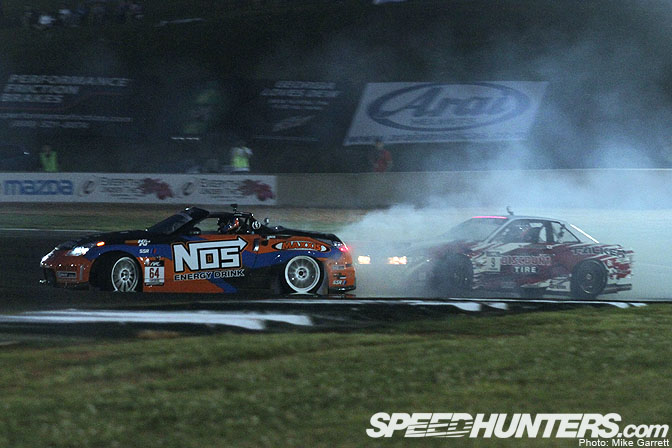 It was close, but Dai was on a mission, and he advanced from this battle of Formula D veterans.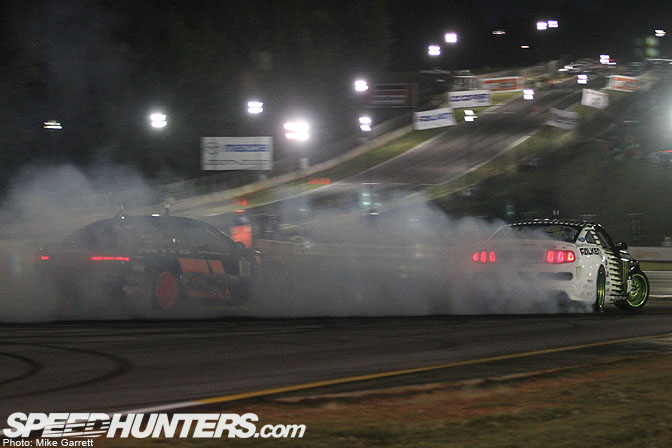 The second Final Four match was between Vaughn Gittin Jr. and Michael Essa. Vaughn had a great lead run, but he got too aggressive on the final corner and spun just before the end of the course. Would Essa be pulling off a huge upset?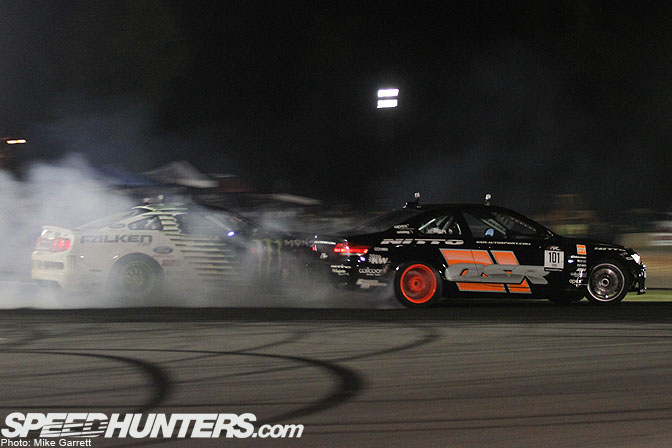 On the second run though, Essa entered the first corner way too aggressive and spun the Bimmer. Perhaps the excitement had got to him? The only way to settle this would be with a OMT.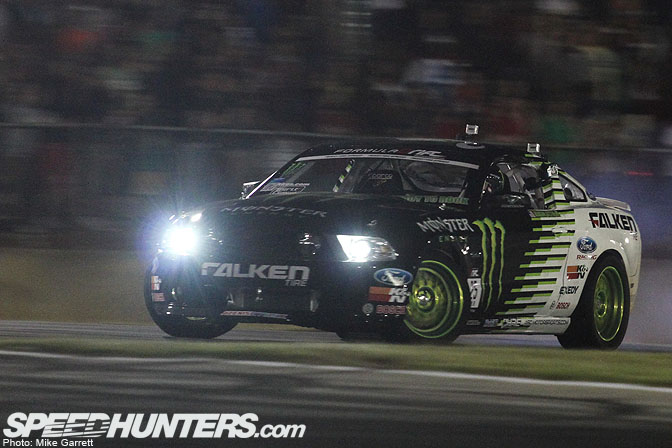 During the OMT Vaughn ran basically flawless, and he put his Mustang into the final for the second event in a row.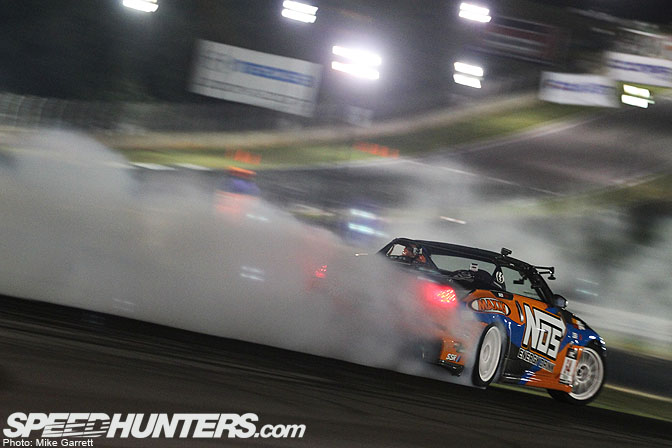 Before Vaughn and Dai squared off in the final, Chris Forsberg and Michael Essa would battle for third place. I have a feeling Essa was exhausted by this point, and Forsberg was able to advance pretty easily from this one. Still an awesome performance for Essa in what was the first tandem competition for his new car.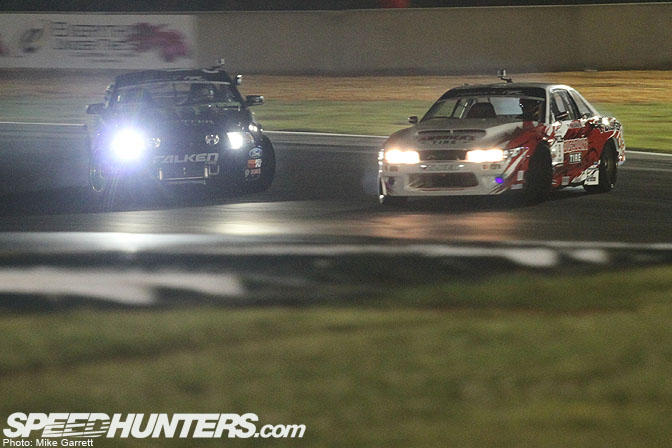 And so, a Mustang and a Chevy-powered Silvia faced off for the top spot. Both of these guys drove well here…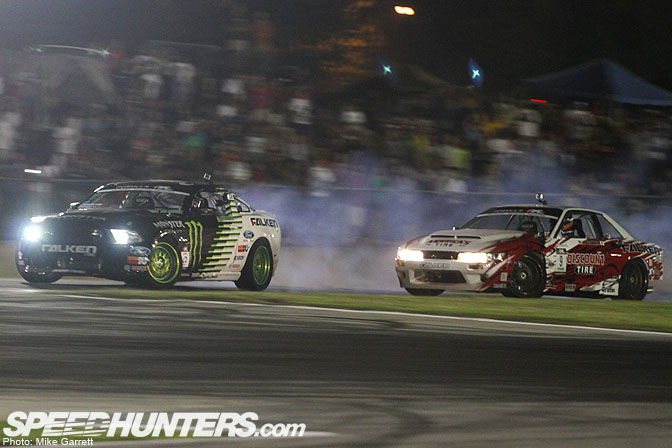 …but Dai's runs were just insane. He was able to put a decent gap on Vaughn while leading, and stuck right to the Mustang when following. It was his night.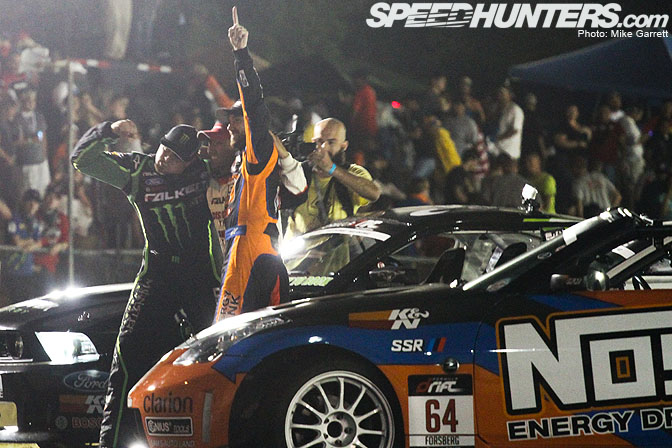 With Dai Yoshihara, Vaughn Gittin Jr., and Chris Forsberg standing on the podium, Formula Drift had ended its annual stop in Atlanta in spectacular fashion.
-Mike Garrett