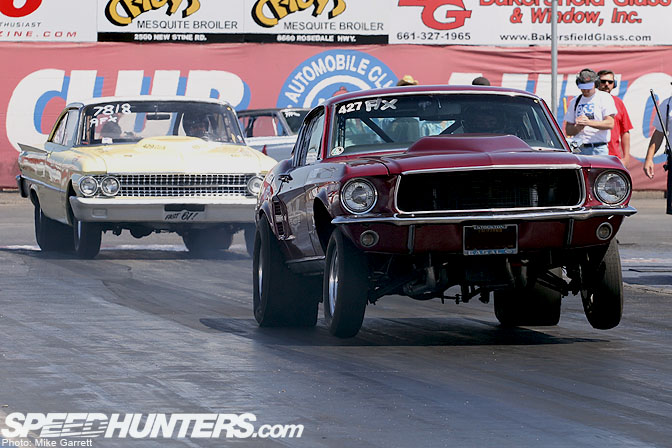 Now we take a quick diversion from the poetic British clouds and intense FIA GT racing to enjoy a little down-home drag racing action in California's Central Valley.
This weekend was Dragfest 2010 hosted by Rod & Kulture Magazine at the exotic Famoso Raceway just outside of Bakersfield. I'm a sucker for retro drag action, so I drove up yesterday to have a look.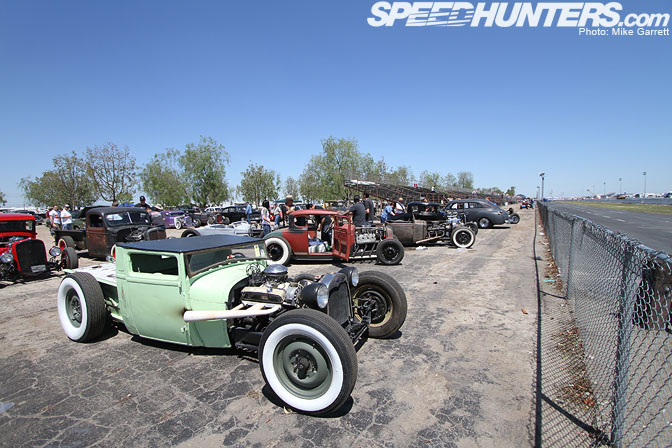 I was curious to see how this relatively new event would differ from other Famoso gatherings like the March Meet or Hot Rod Reunion.
While Dragfest featured a lot of the same types of cars as those events, it seemed to have a slightly more low key atmosphere. Whether on the track, in the staging lanes, or in the pits there, was fantastic machinery all around.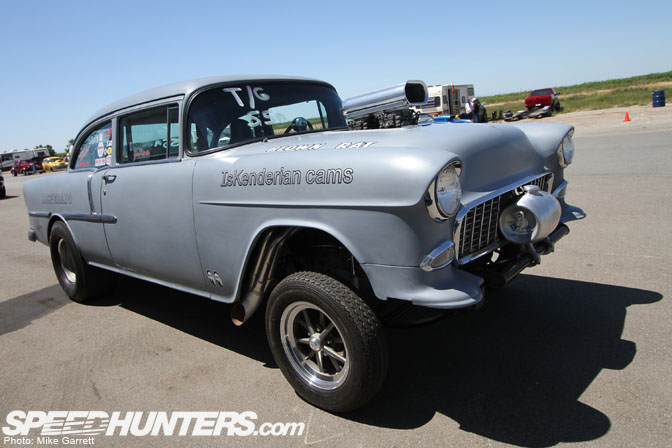 If you're a fan of gassers, (and who isn't really?), then Dragfest is the place to be. I think I saw more straight-axle '55 Chevys yesterday than I had in my entire life.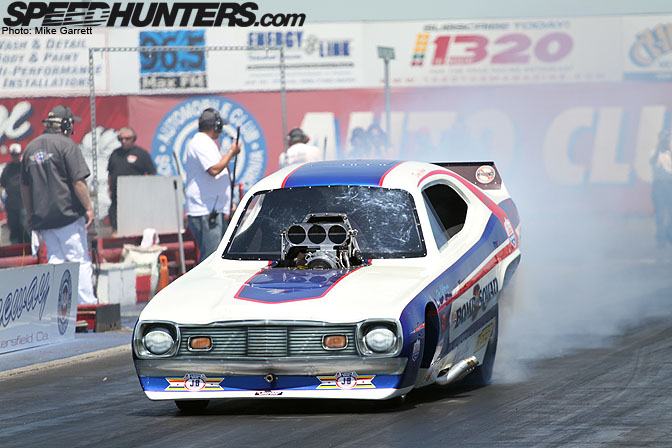 But it wasn't just gassers that were taking to the quarter mile. I'd seen nitro funny cars before, but this was my first time standing trackside trying to shoot them. The fury of these cars is unreal. The fumes, the bone-rattling vibrations, and that final gust of wind as they scream by on their way to six-second ET's.
It might not be the most pleasant thing in the world, but it's something any motorhead should experience once. Just don't forget to bring your earplugs like I did (thanks Travis for those, BTW).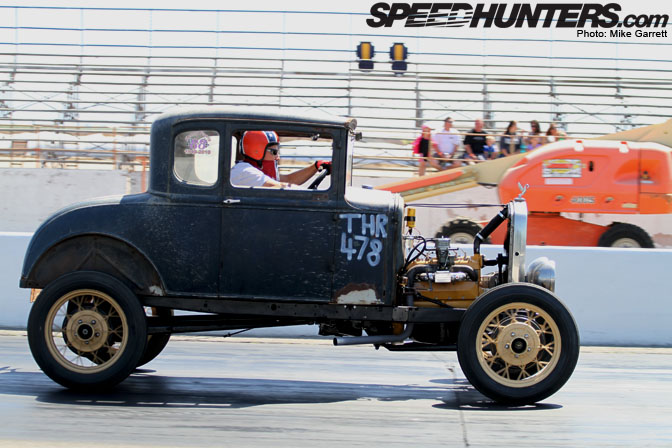 From six-second ET's to 30-second ET's. These hopped up, skinny-tired rods were a hoot to watch. Slightly quieter as well…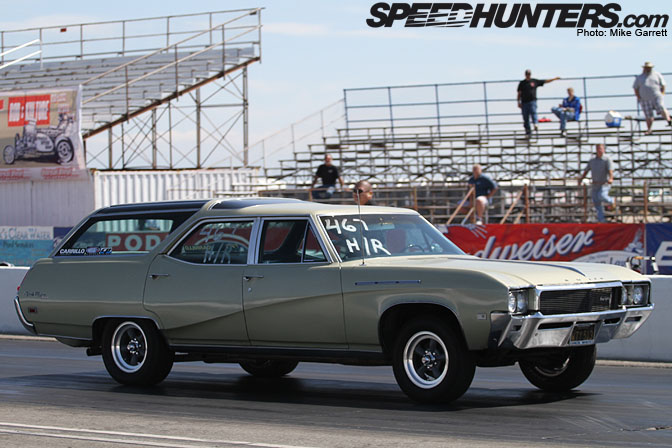 The only thing better than a retro station wagon, is a retro station wagon running on the dragstrip. It wasn't blazingly fast, but this skylight-equipped Buick Sportwagon looked very respectable out there.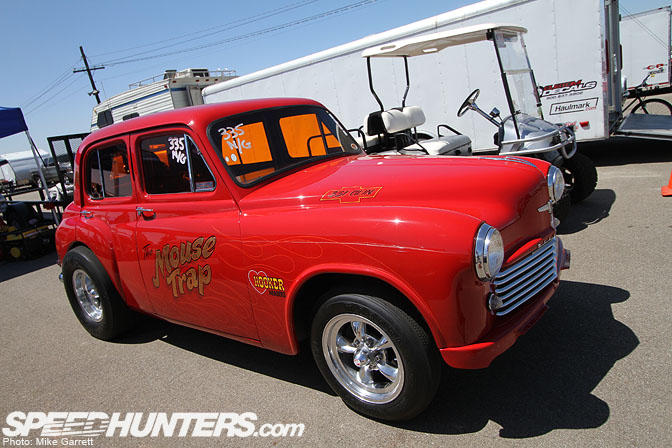 There were some truly off-the-wall machines taking part in the action. For example, "Mouse Trap" a Hillman-bodied Nostalgia Gas dragster with the driver's seat located in what should be the back seat.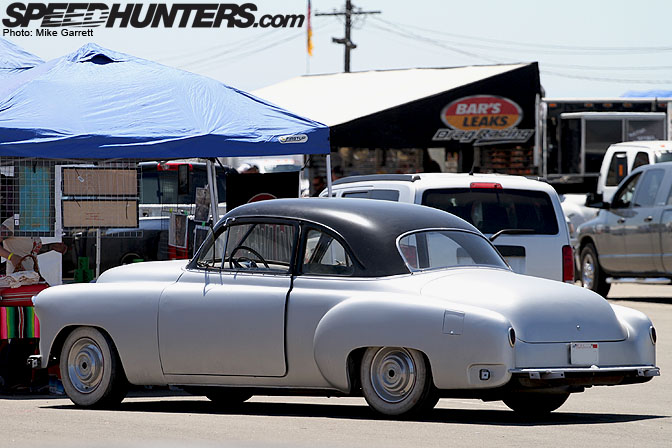 If your eardrums needed a break from the action on the dragstrip, there was plenty of stuff to look at in the pits and in the car show. For example, this mild Chevy.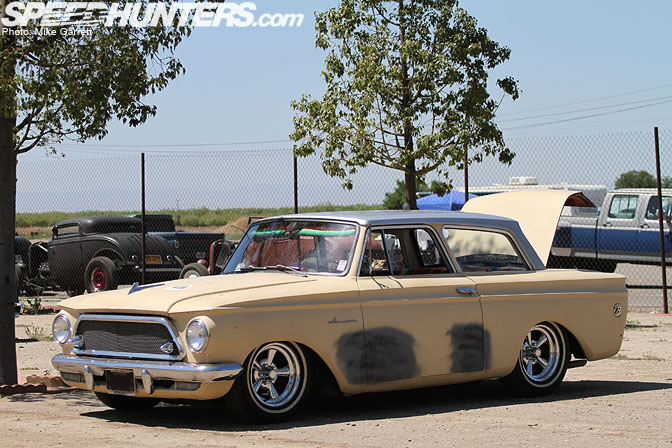 I was quite fond of this Rambler American in the process of getting the '60s custom treatment.  In general, it's always cool to see models from outside the big three get love from builders. Can't wait to see what it looks like when it's done.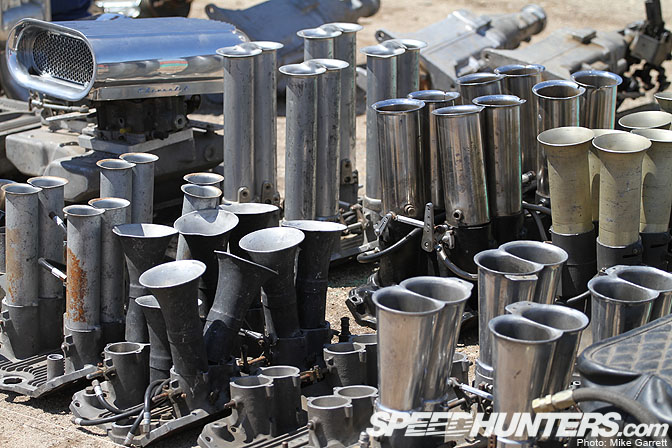 There was also a small, but well-stocked swap meet area. Does anyone need velocity stacks?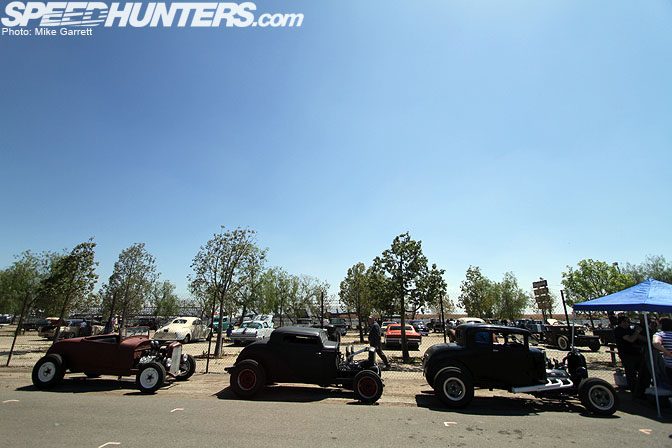 Cars from numerous eras were represented, with a nice selection of traditional hot rods.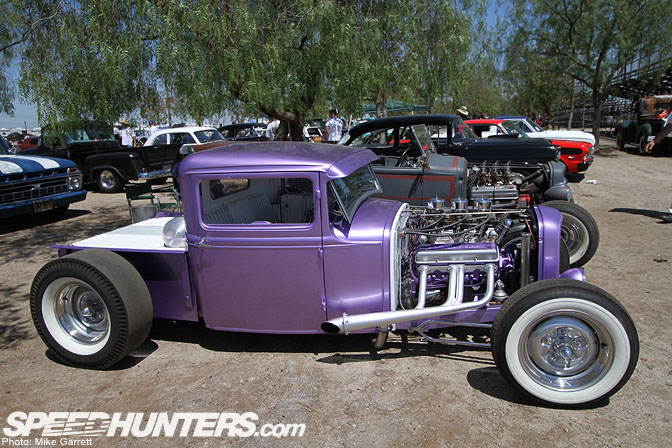 Some remained parked in the shade, like this purple "show rod" style pickup…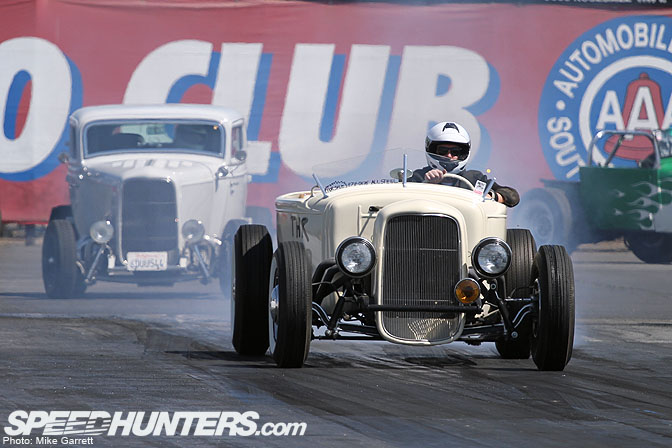 …while others were out getting things done on the track. It doesn't matter how fast it is, it's got to be a blast taking an old roadster like this down the strip.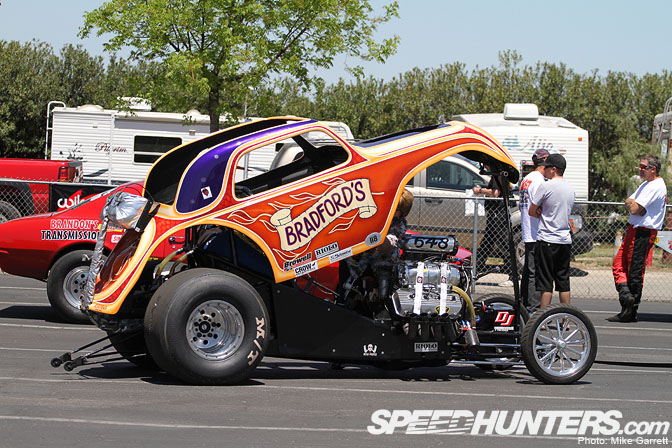 Here an Fuel Altered racer sits in the staging lanes waiting for its
run.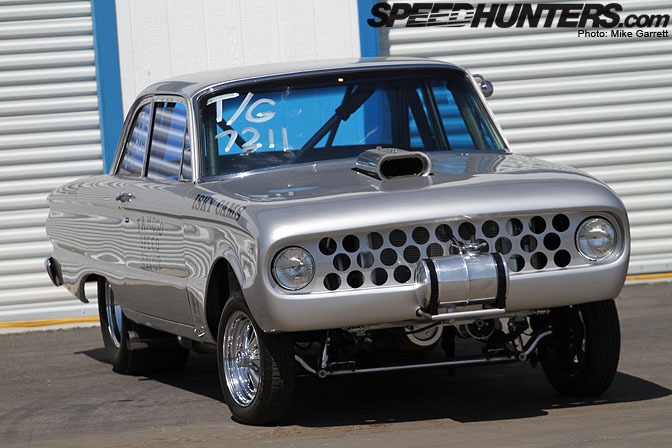 Out of all the cars though, my favorites had to be the '60s era gassers and altered wheel base sedans – such as the Famoso Speed Shop Ford Falcon.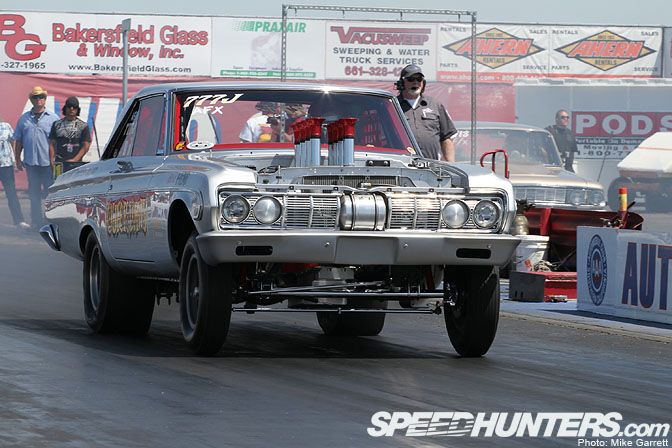 I drooled over the "Outer Limits" AFX Plymouth at the Grand National Roadster Show this year, but it was a whole different matter seeing the car rip down the quarter mile right in front of me.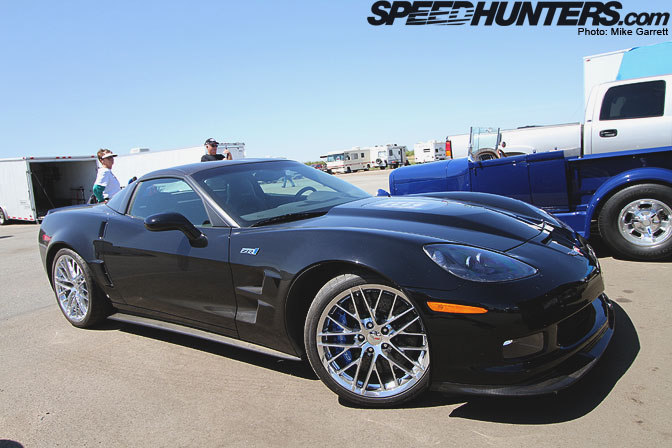 As I was wandering around the pits I stumbled across this Corvette ZR1 fresh off the showroom floor. Sure it's a bit "off topic" compared to the hot rods and gassers in this post, but an awesome car nonetheless.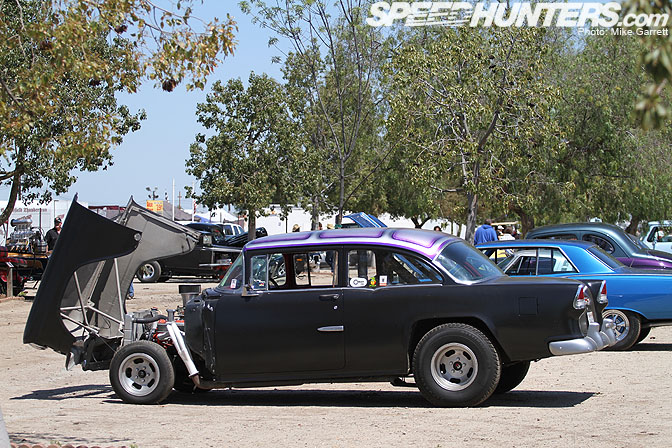 Here's another '55 Chevy, this one looking more like a late '60s-early '70s era strip beast.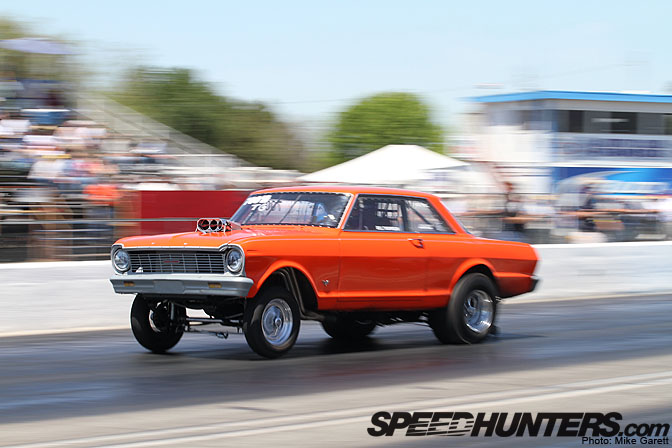 A straight axle Nova charging hard off the line. If only this picture had sound…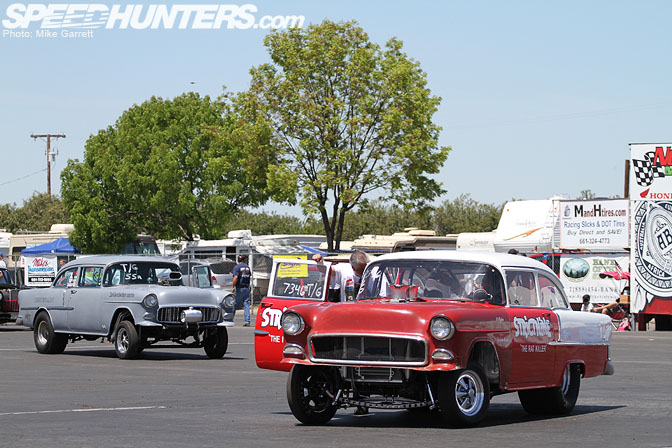 That will do it for my first bit of coverage from Rod & Kulture Dragfest 2010. Much more on the way.
-Mike Garrett