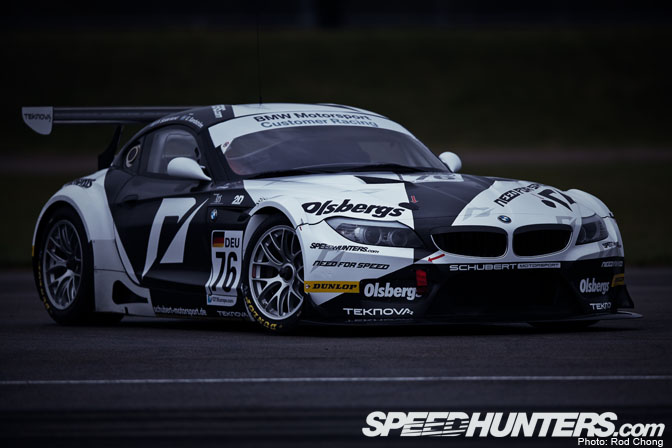 Hi guys, Patrick Soderlund here. For those of you who aren't aware, in my professional career I am
actually an executive at Electronic Arts. I oversee everything related
to driving and in particular to the Need for Speed franchise. I have an
amazing organization of game development studios that I oversee who
build the various Need for Speed titles. What one of my sort of passions
or dreams is, is for the brand to be and feel like it has a broader
meaning than maybe it has had in the past. If you think any type of
driving or racing game I'd really like to see Need for Speed being
recognized as the top in any category. Be it arcade or authentic or
action – I want it to be known for its quality and high production
value. That's kind of my goal with the brand. One of the ideas behind
this was the Team Need for Speed. I wanted to make sure we're able to
effectively connect with our audience and really be a part of car
culture. We're working on this together with Rod and the Speedhunters
team and I'm very excited to see where it all goes and how the Team
performs this season.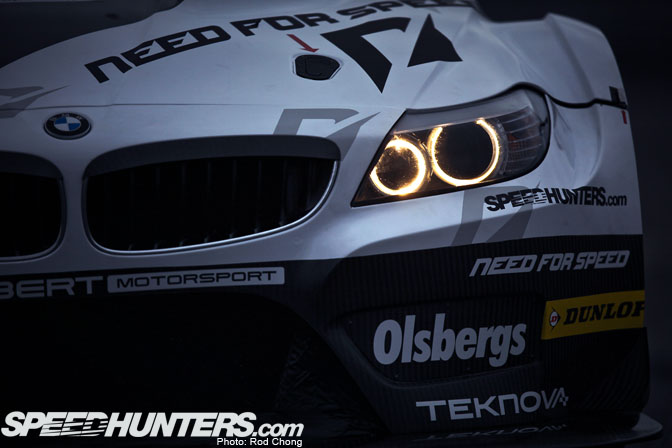 We are currently racing for Schubert Motorsports, who I raced with
previously on the Nürburgring. They are a partner to BMW motorsports and
will actually be running the first of the new BMW Z4 GT3 that they
recently released. The car really looks spectacular – very raw.v It has a lot of down force and
a great amount of speed through the corners. As with any brand new car
we are currently working on different elements to develop a more optimal
performance for our style of driving. I think we have a very good
chance of making the podium with it.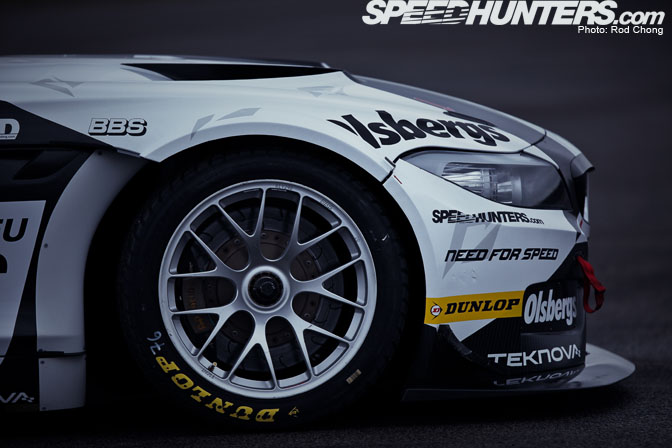 The main event for me will be the FIA GT3 European Championship, an
international team racing series comprised of 12 one hour races held
over 6 event weekends. Each driver on the team qualifies in the car
individually to determine their starting position. Each race requires
one pit stop, where the team must switch between the two drivers, as
well as change all four tires. This can be at any point after 25 to 30
minutes of racing, the only condition is that the second driver must
finish the race with each driver finishing one race at each event
weekend.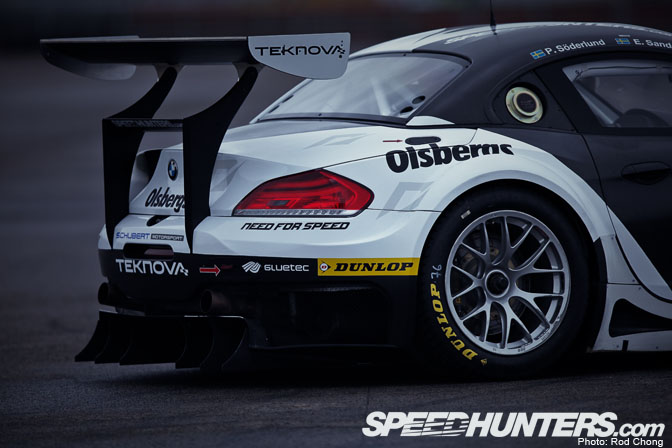 The FIA GT3 Series is particularly exciting for me because it is gaining
quite a lot of interest. This year they are expecting to have about 40
cars on the grid. The race will be broadcast across all of Europe and
other places around the globe, including the US. It has developed into a
highly competitive event that allows for both amateurs and
professionals the opportunity to race together. They are able to
properly account for the differ levels of skill using a handicap system
based upon experience and past event results. Drivers are put into
different classifications; a platinum, gold, silver or bronze status
that determines the handicap they get. Depending on who is driving the
car at a given time you receive different points based on your status.
Platinum drivers for instance have won significant international
championships. Gold is for faster drivers that have experience in higher
level national championships. Silver denotes drivers who are younger
and have junior championships under their belts. The Bronze status is
comprised of amateur or gentlemen drivers, such as myself.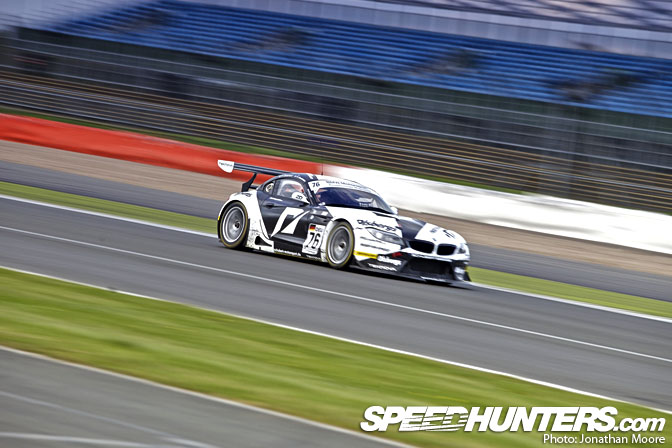 My partner, Edward Sandström of Sweden, was recently upgraded from
Silver to Gold. As you could imagine he is quite an experienced driver.
He has raced in higher profile touring events using both front and rear
wheel drive BMW's and Volvo's and is a very confident driver. I really
wanted to partner with someone that I would not only be able to work
really well with, but someone that I could also learn a lot from. Our
partnership has so far proved quite successful!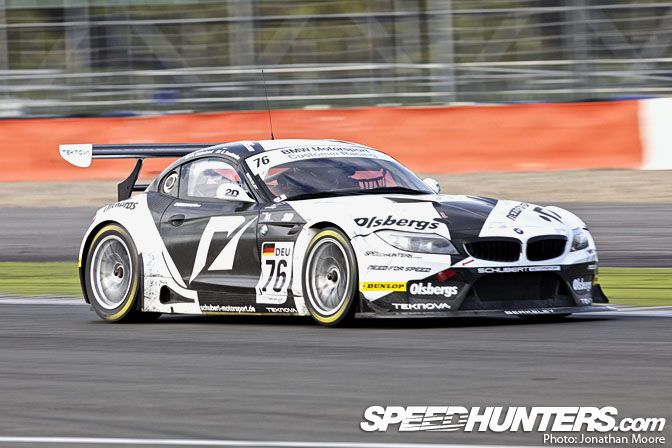 Aside from the GT3 we are also going to do the Nurburgring 24hrs in the Z4. The
Nordschleife is a fantastic track. There's really only one way to
describe the feeling of being a driver there and that is being scared! A
single mistake there and you're off the track. If something does happen
there is no way to escape damage to the vehicle and most likely injury
to yourself. While it is a scary track it is an amazing experience, the
track is always filled to its 240 maximum participants and that's an
exhilarating experience to be a part of.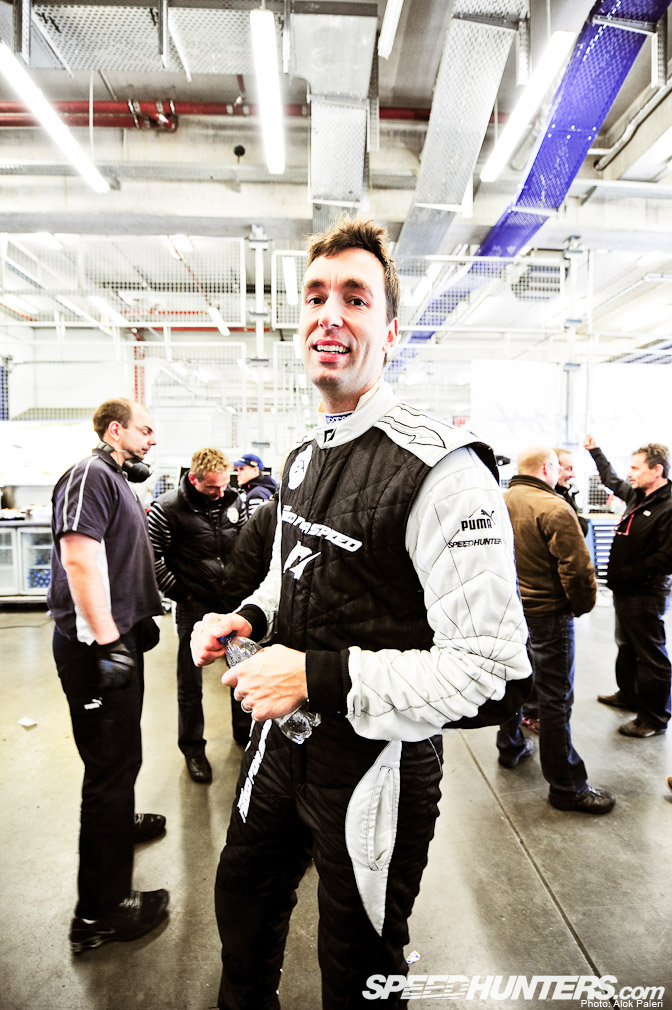 The VLN race was obviously interesting cause it was the first test for us in the new car. It was an interesting trip and an interesting race. During the first practice session, we were lucky to have a dry track. Which is, by the way, unusual for the Nurburgring. So the dry track meant that we could test the car quite a bit and get some solid updates to the car. The Z4 is the fastest spec car I've ever driven at the 'ring. I started racing at the Nurburgring in a Mini Cooper. Then moved up to a WTCC spec car which is lighter and a bit faster than the Cooper. That WTCC spec car was a good middle ground between the Cooper and the BMW. Then after that car, I moved up to the Z4 and this BMW is about two minutes faster per lap than the Cooper. That's F***in' nuts!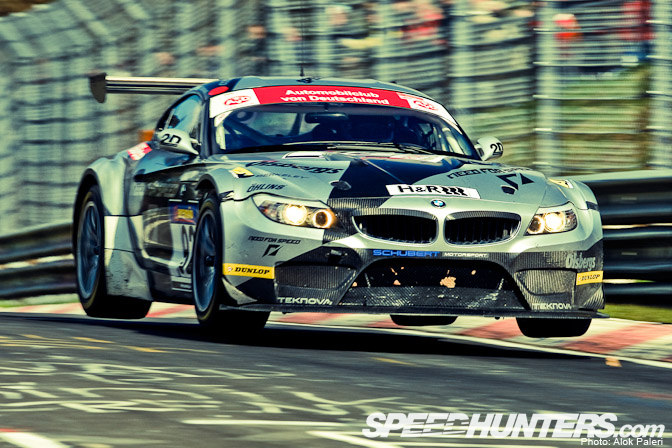 What was so apparent to me was how much the track changes when you move up to a faster car. Corners that you didn't view as corners previously suddenly come into play. You think to yourself: "Oh s***, I have to brake here!" Basically, you have to relearn the Nurburgring again when you drive a much faster car.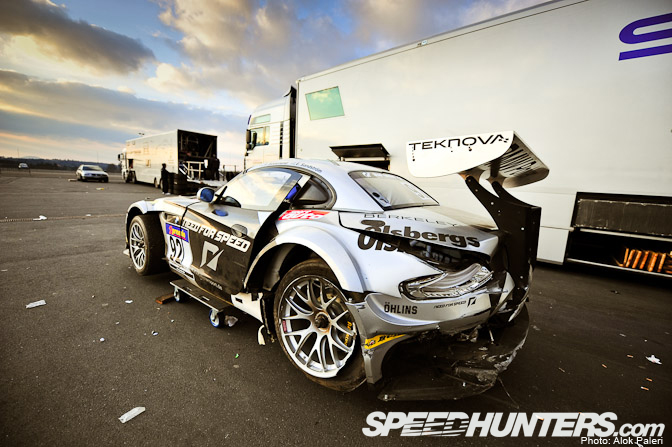 The VLN race was my racing partner Edward's first race at the Nurburgring. On his 20th lap or so in a race prepped car on the 'ring. He does an 8:31 during qualifying which, by the way, is a very competitive time. We ended up P17 while our sister car, driven by a very good driver on the Nurburgring, Richard Göransson, did an 8:23. So we were eight seconds off his pace. And let's not forget to mention that Richard is one of the fastest drivers on the 'ring in the world! So that proved to me that Edward really knows what he's doing and also that he's a little bit crazy. The team could not believe their eyes when they saw Edward's lap time with so few laps in the car and on the track!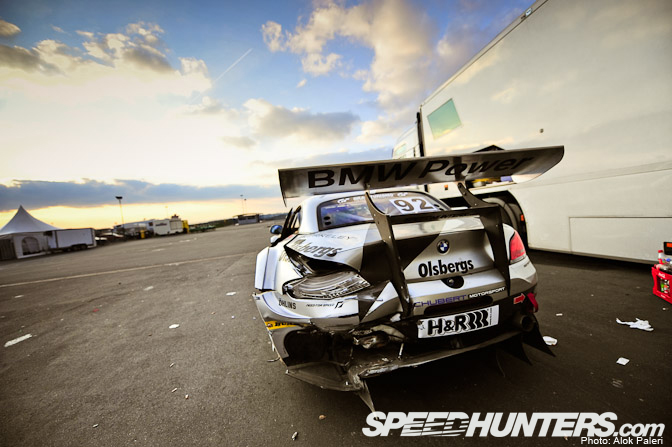 Edward started the race on Saturday and in the ensuing carnage of cars breaking and crashing, he managed to overtake and gain a few positions. When he came in to swap with me we were in 13th position. I manage to keep that pace. I did about six or seven laps, which doesn't sound like much until you bring in the fact that each lap takes about 8 or 9 minutes. And when I came in we were in 12th place and I swap with our 3rd co-driver. Fifteen seconds into his stint, he tries to over take a car which suddenly turns in, spins him at 175KPH and he goes into the wall. So, that was the end of our race at the Nurburgring.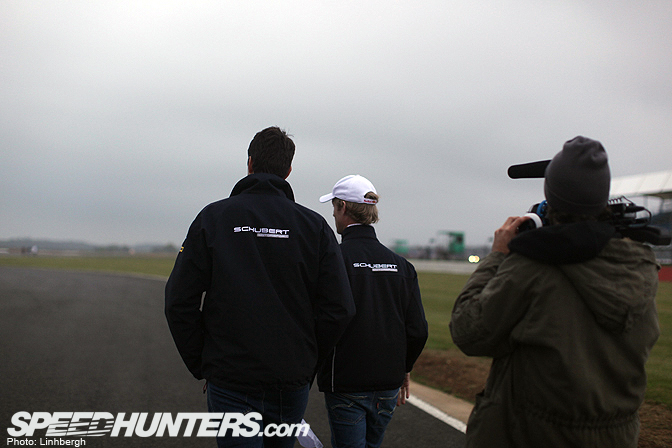 At every track that Edward and I go to we would walk to look at the condition of the track, look at the corners and see if anything has changed. In the particular case of the new Silverstone track, we had to find the lines coming in and out of the new section of the track.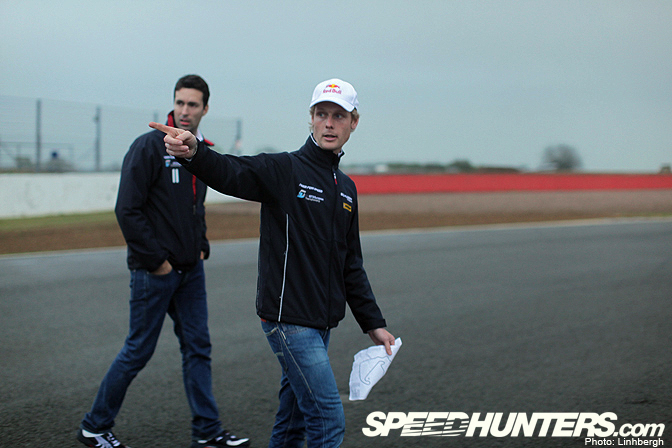 I'm a rather inexperienced driver compared to Edward so I took the opportunity to learn as much as I can from Edward about how he processes a new tracks in his mind; what does he look for, what are various lines to take, what is the track condition, etc. Edward would need only five laps to be quick whereas I would need 35-40 laps to be quick. So going through the track with him has become a very important part of our driver-to-driver relationship.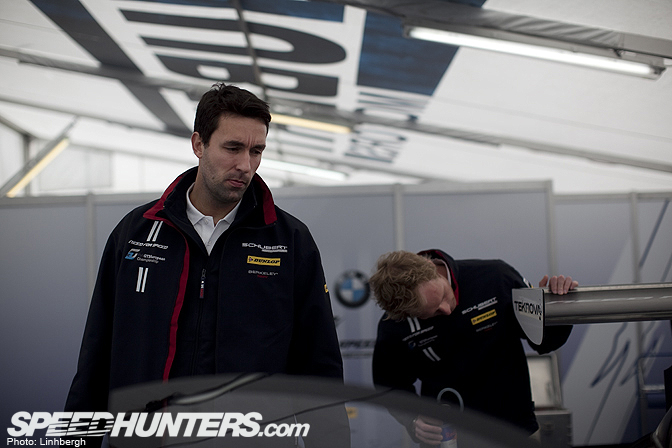 Before the car goes on track, Edward and I spend a good portion of our time checking out the car, especially the inside of the car.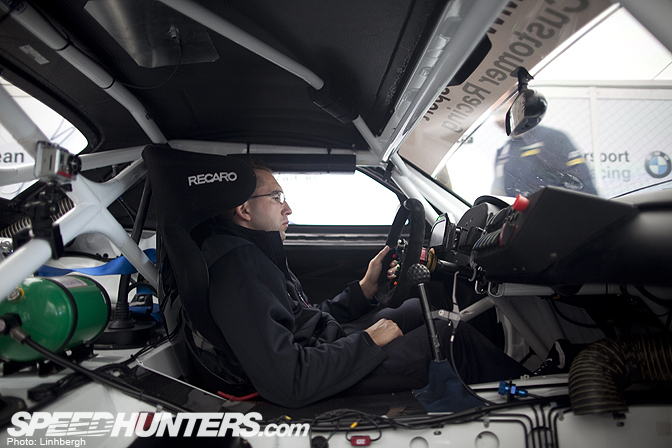 We check to make sure the seats, the belts, the steering wheel, the shift lights, etc. are all working and are in place.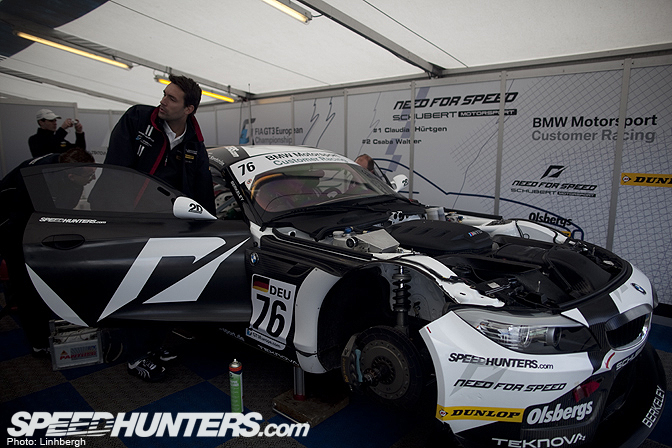 We also do a lot of practice for driver changes and also practice for things that can go wrong during those driver changes.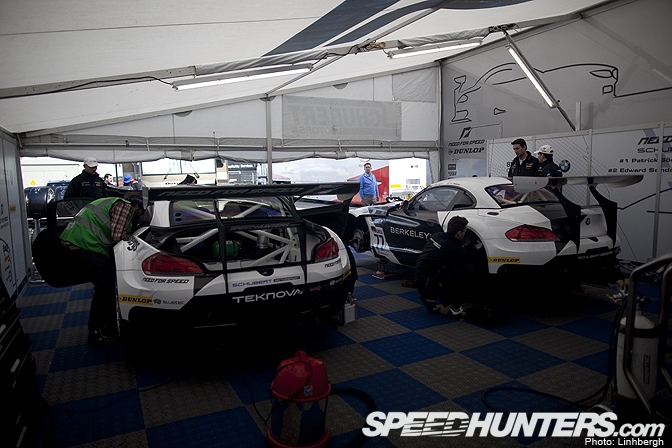 Every time we see the car and every time we meet BMW with the car, they show up with a backpack of new things to put on the car!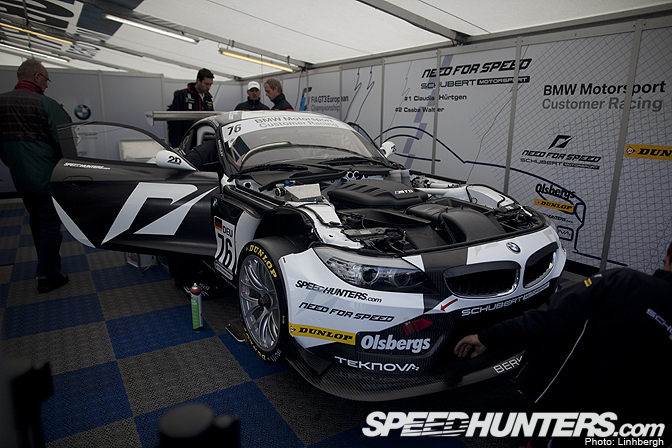 For the Silverstone weekend, BMW came with a new under tray for the car
which is 5kg lighter. They also changed the fire extinguisher from red
to green. The green one is actually a little more than a 1kg lighter!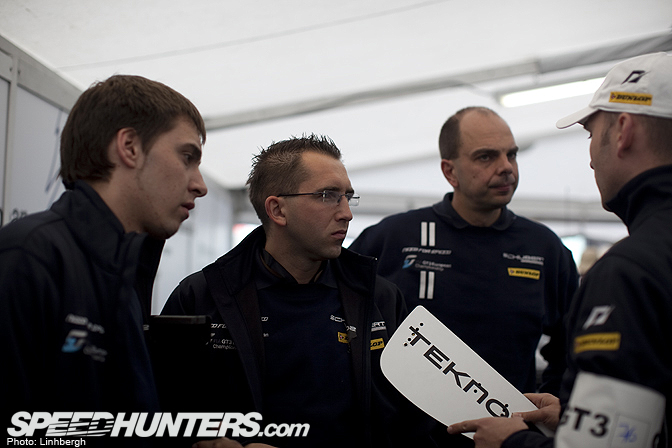 We always check to see what's been fixed or added to car. It could be a
new wing flap here, suspension part there, brake part, or an update to
the air intake.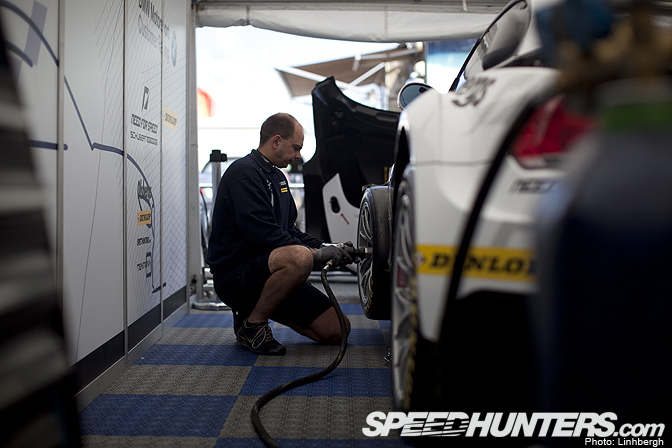 And being how this car is still being developed, there's
always so much going on with the car. It's never the same on any given
weekend. That's why we have to constantly have to check the car so we don't miss
anything.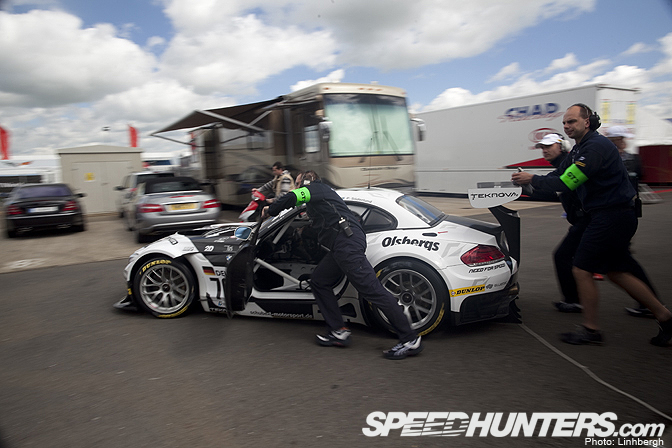 Here's the car getting pushed out onto the grid. If you think these ultra lightened race cars are easier to push, but you'd be wrong!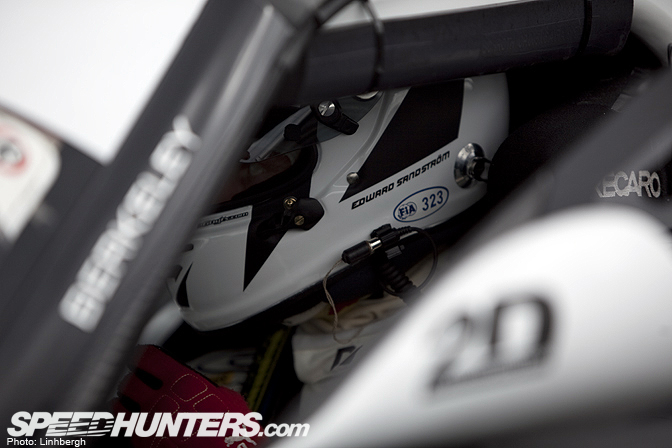 Edward started practice and this was the first time where we'd really know where we stood in relation to all the other cars. In the early stages, we were better on the pace than we expected! We were probably 1.7 to 2 seconds behind the fastest car.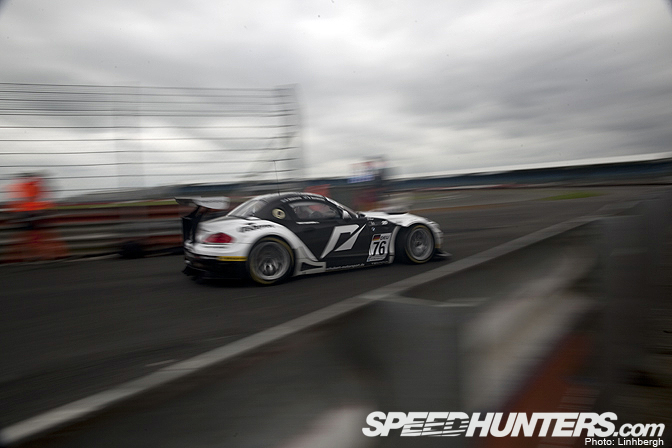 Then Edward came in to swap with me and I go out with the car. I
honestly struggled quite a bit with the first section. It wasn't because
I couldn't drive the car but rather I just couldn't find my rhythm and
lines on the track!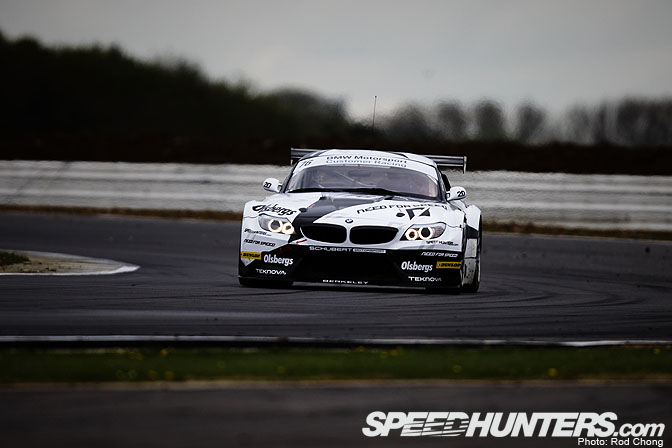 Silverstone is a long and high speed track with lots
of very fast paced corners. It just took me a while to get familiar
with the track and to find the line. I ended up being 3.5 seconds behind Edward's time! That devastated me.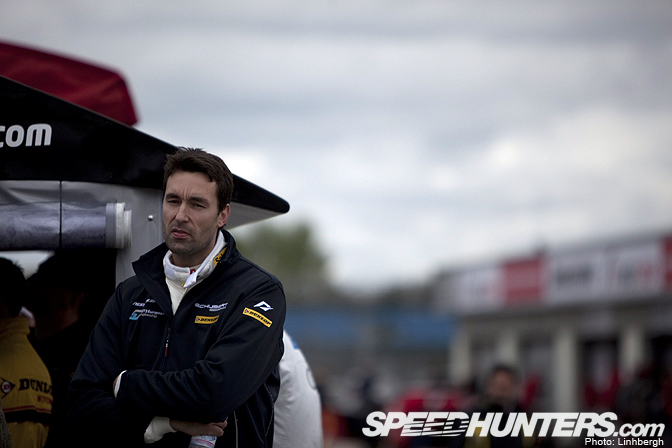 That was pretty tough to be honest. It's been like that before this year with the new car where I start off being way behind then I eventually catch up to Edward's time as I spend more time with the car and the track. In the FIA GT race, there's are two two-hour practice sessions. One hour for each driver. And that leaves no time for me to adjust myself slowly. So that's practice 1.
\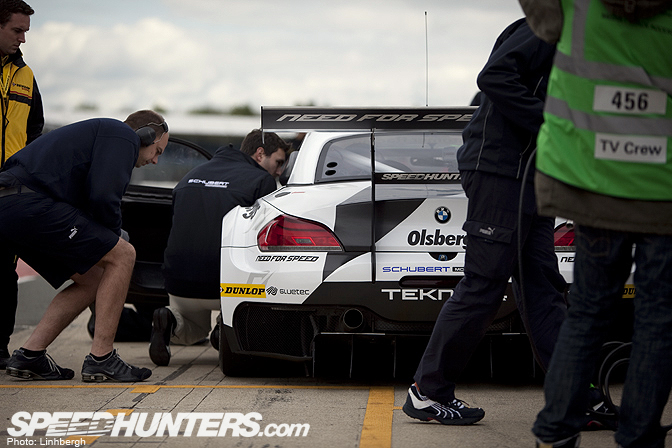 Fast foward to practice 2. I started feeling ill before I got into the car. My stomach felt weird and I felt like I was going to throw up! I kept telling myself that it was going to go away. But before I had left for Silverstone, my wife and both kids had some sort of stomach flu.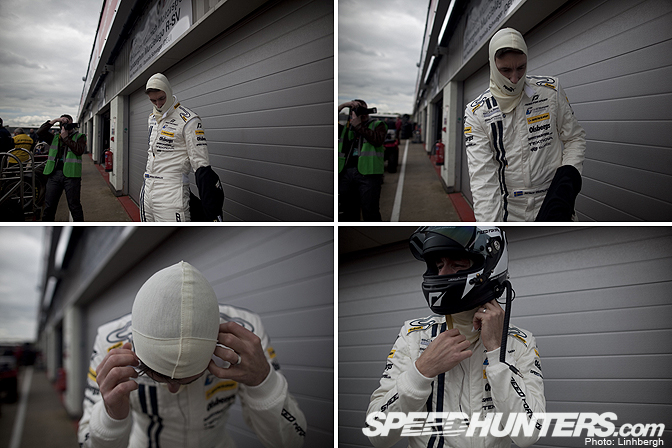 So in the back of my head, I knew that was probably what was coming. I
managed to ignore it and when on to drive my second practice session. It felt much faster. We managed to get the car 1.2 seconds behind the lead
car!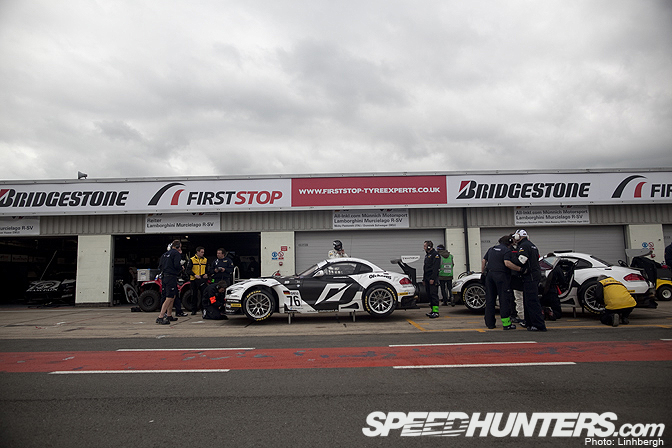 Right after practice, I started feeling worse and worse. I got a fever, I start throwing up, and was running back and forth between the bathroom and the pits. I was officially ill. So, I headed back to the hotel and had a fever all night and felt like crap.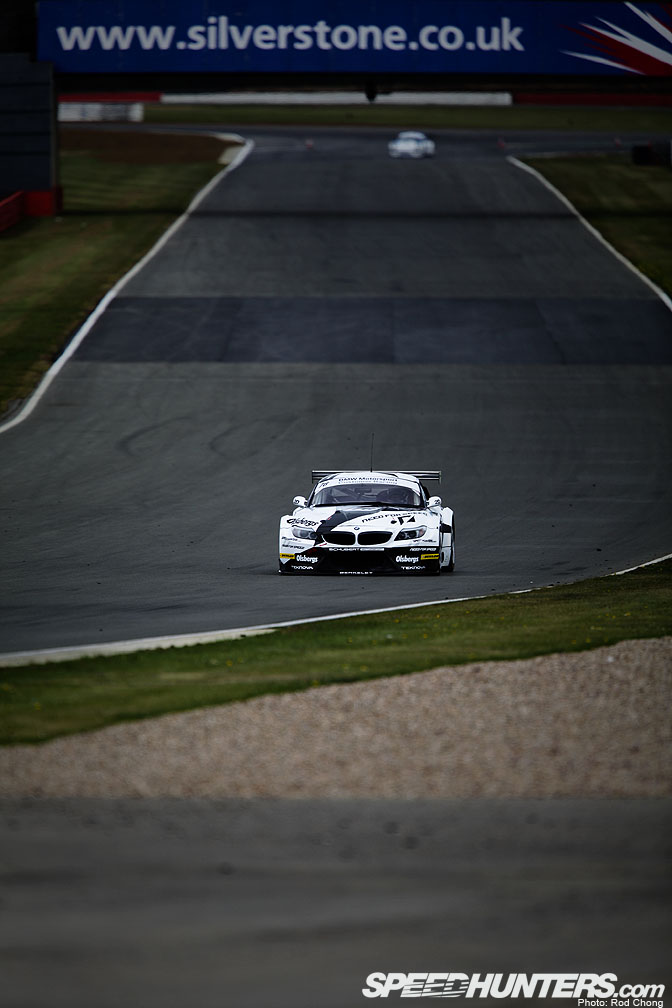 When I went out for my qualification round, the track was still quite wet at certain parts of the track. It took a while for me to pick up speed, but I finally found my line and managed to go quicker in the wet than in the dry. But that still was not enough for me to get reasonable lap times.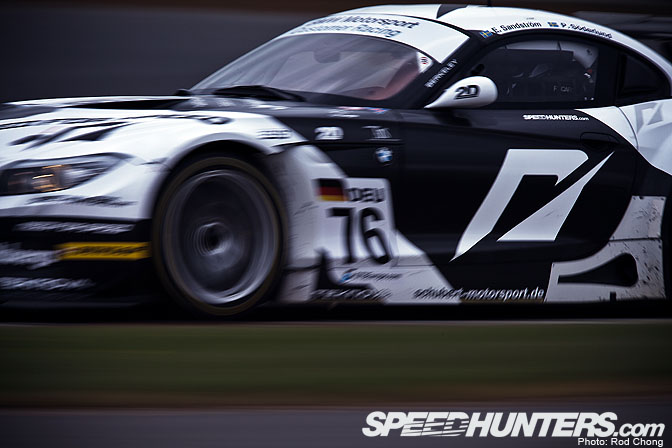 There was miscommunication between the team manager and myself that was related to fuel consumption. I was suppose to do six or seven laps then come in. But after three or four laps he calls to tell me that I'm out of fuel. We had to make sure we saved enough fuel for Edward because you're not allowed to fuel up the car in between qualification rounds.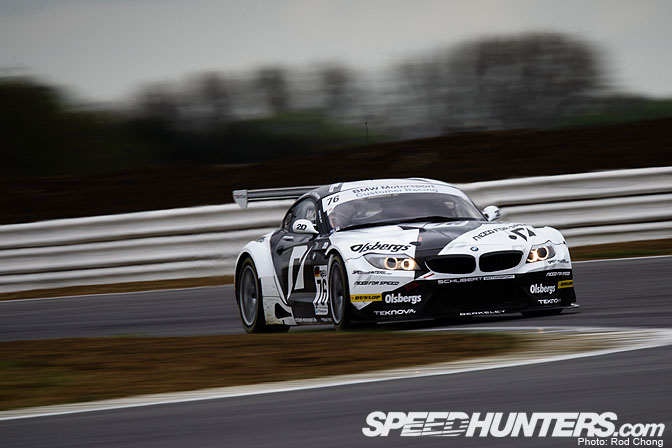 My qualification times go for the first race of the weekend and Edward's qualifying time goes for the second race of the weekend. I was called in from my session just as I was about get in my rhythm, which landed us in 26th place on the grid for the first race. Respectfully, my team manager apologized for this. The good news was that I knew I could drive a lot quicker and that brought a sigh of relief to myself and to the team.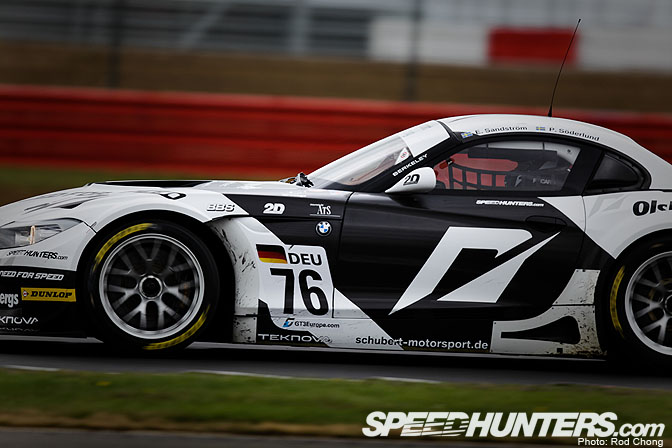 With the track now completely dry, Edward heads out onto the track for his qualifying session. Some of the top cars were doing very quick lap times of ~2:03. Our sister car did a 2:05:05. The fastest time Edward managed during practice was a 2:06:09. Basically, Edward needed to shave a second and a half off. He was really pumped go get out on track and come out with great lap times.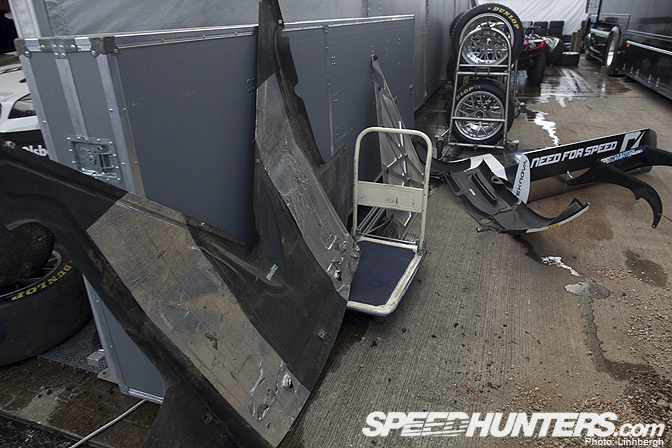 He was on it. But little bit too on it. On a fast right hand corner the
car oversteered and Edward overcompensated, spun and went into
the tire barrier. It was a pretty heavy crash at about 140KPH.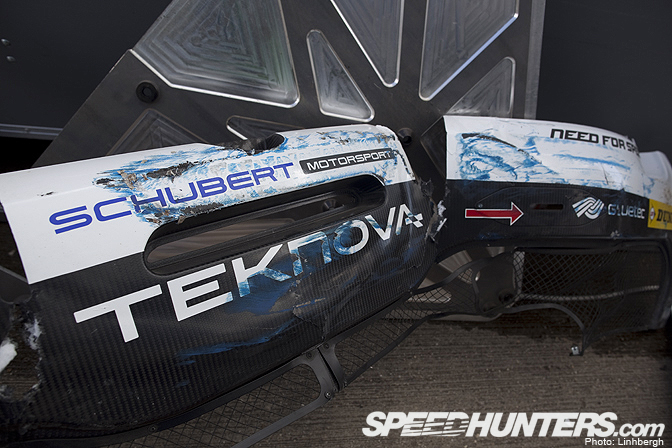 That was
the end of the qualification session for him and also the car for that
day. There was no way we could've fixed the car for the race that same day. So we missed our first race that weekend.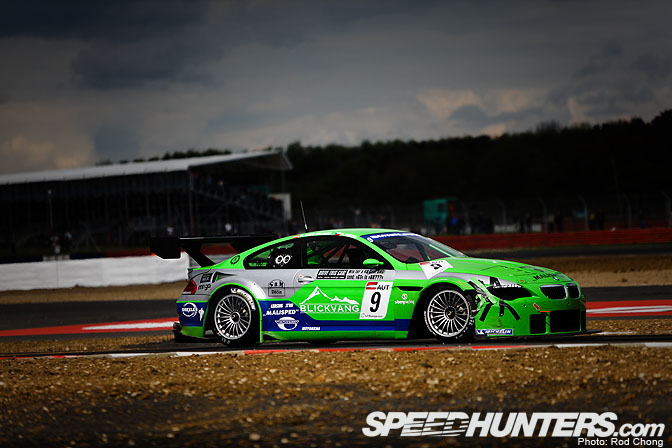 Let's talk about the other cars for a bit before we go on with my weekend…. It was interesting to follow the Alpinas because they were actually quite good in slower speed corners and had a lot of top speed. They were, however, struggling in the faster corners. The Alpinas are surprisingly fast even given how heavy they are and how clumsy they are around certain corners. The car was probably about a second faster than us. It felt like we were lacking top speed and torque which was some sort of engine problem for us but we had no problem following them in the corners. When the Alpinas came up to a long straight, it just left us.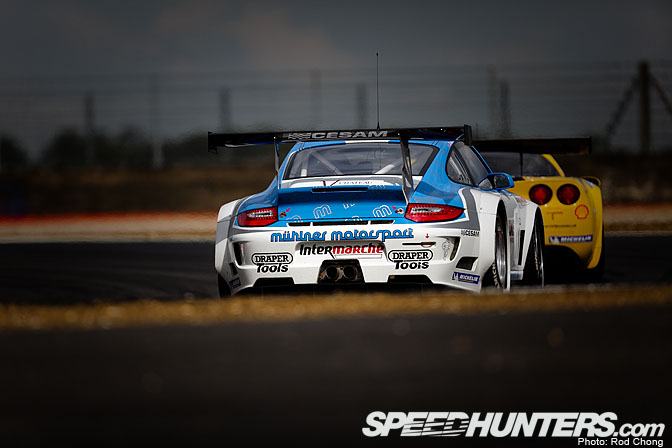 The Porsches are similar to our BMW in terms of how they behave on the track. They're good in the medium to slow corners like us. But the advantage that the Porsches have is that they have very good traction out of the corners because the engine is in the rear. That really helps them gain a lot of speed coming out of a corner and into a long straight. The Porsche was faster than us by a second and half. It just helps that the car was much more developed and much more balanced than our car was.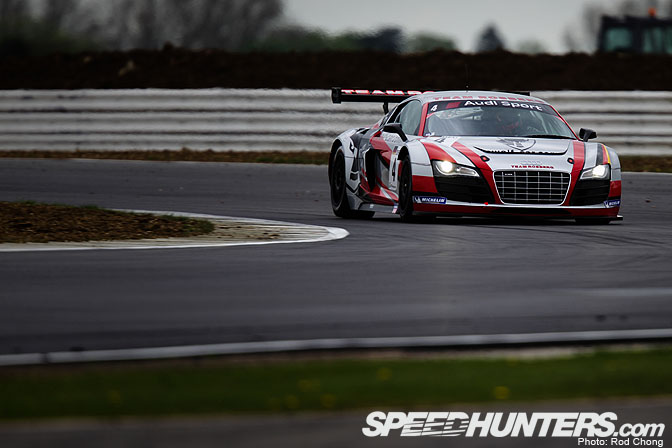 The Audis got penalized quite heavily on performance. They were limited to 7500 rpm and had to add extra weight. And normally, Audis are very competitive. The performance compensation slowed them down a lot. Hopefully those rules will be fixed for the next race in the Czech Republic.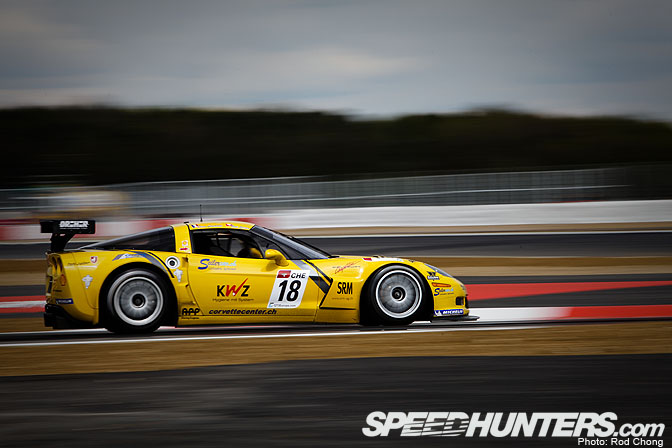 The Corvettes had a lot of power, tons of torque and good down force. It was overall a very competitive car. It actually looks quite nice to drive too. It doesn't look nervous at all. It just looks like a comfortable and fast car to drive.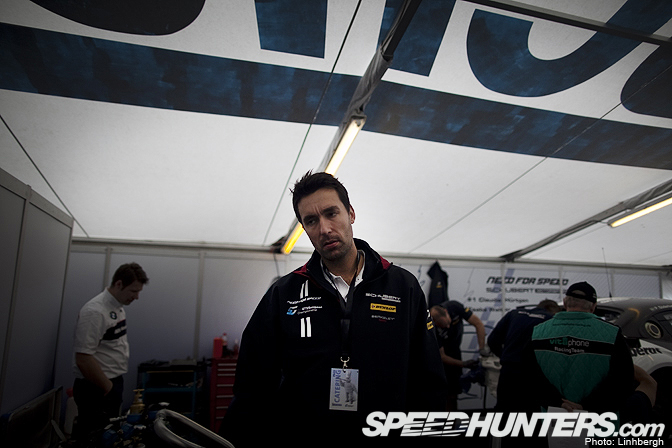 During race #1, I was asleep in the trailer but Edward was up watching the race. Our sister car put in a really good result and finished 6th. The thing that we got out of that race was that the BMWs race pace was a lot more competitive than the qualifying pace.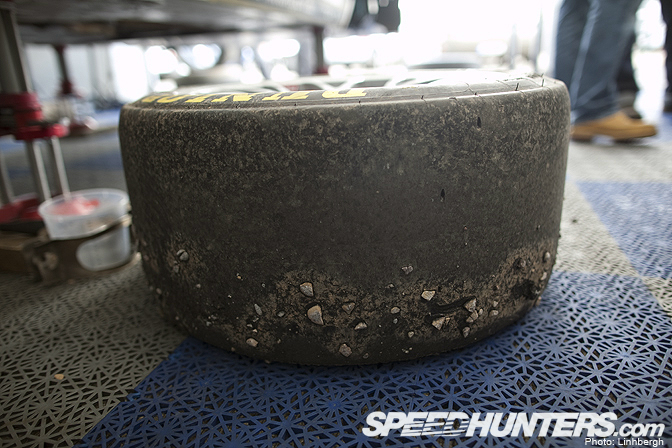 We are actually the only team on Dunlop tires. All the other teams were driving on Michelins. We think the Michelins are faster on a one or two lap stint, like a qualification session, but we found the Dunlops to be very long lasting, durable, and also holds the performance over a long period of time. They actually work better the warmer it gets. Us having the lightest car and also being well balanced (but not perfect) meant that the car was very gentle to the tires.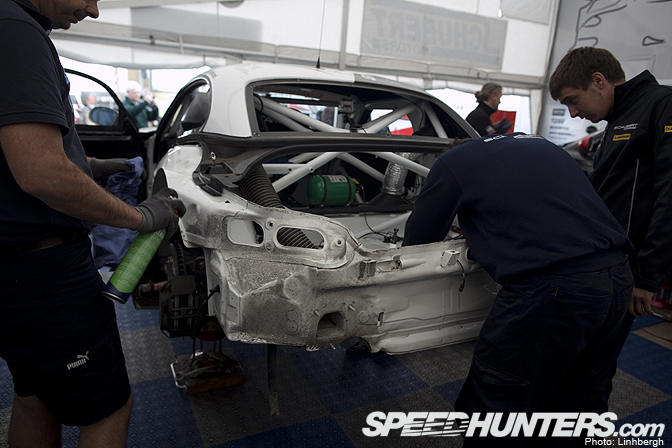 Sunday comes and the team has done a magnificent job in fixing the car. I think they were up till 2:30 in the morning working on it. They managed to get the car to 95%. It wasn't perfect. The wing was still tilting a little bit too much forward. We had a twelve or thirteen degree wing on the back. We should be at six or eight degrees but they couldn't fix it. There was just too much damage to the body to remedy that. The fact that we were able to drive in the second race after that crash was pretty incredible. My hats off to the team for getting that together so quickly.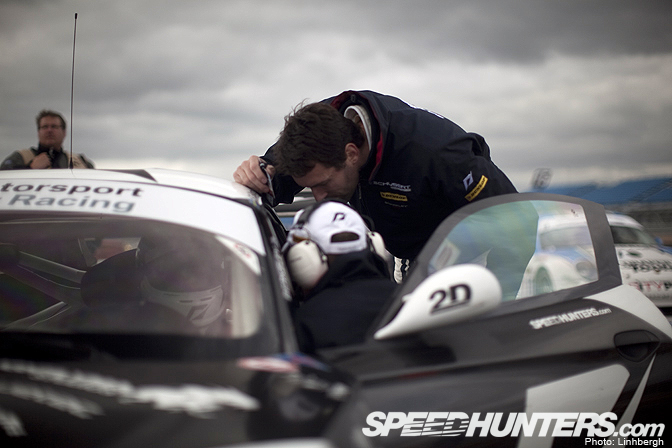 We sat 26th on the grid because Edward didn't have the chance to get in a good qualification time because the crash.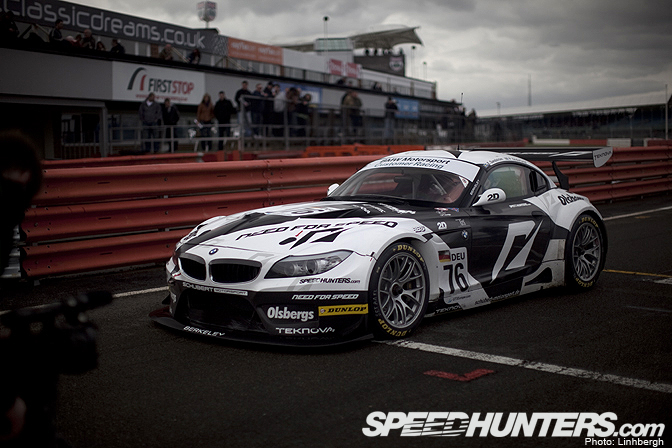 Edward and I agreed that we should take the race as a practice session. We planned to finish, stay out of trouble and do the best we could.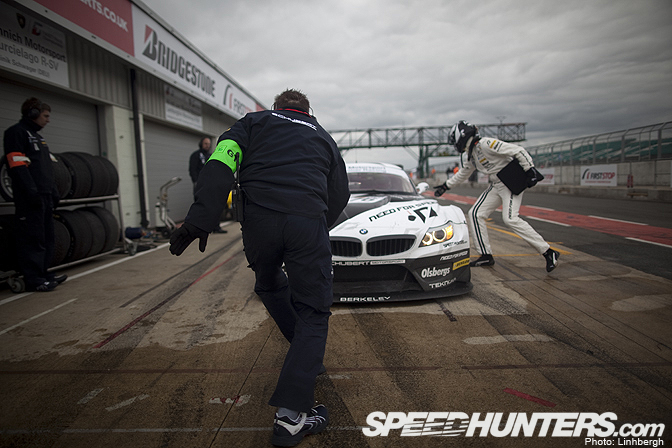 I was really nervous as Edward brought the car in for a driver change. I was nervous because of the car and also because of the damp track. It was dry in some places but still very wet in others. But most importantly, I was nervous because I had not been competitive the whole weekend!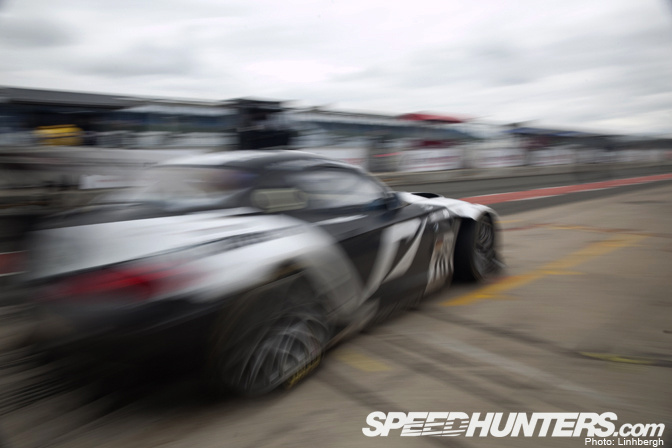 So I headed out.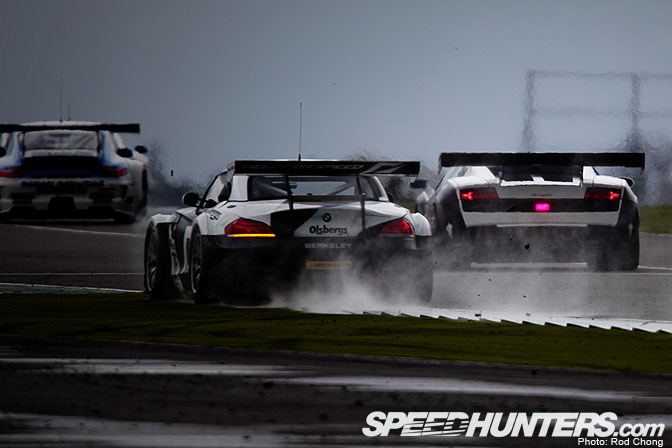 I came out 14th with an Audi and Porsche ahead of me. I surprise myself by quickly being able to get into the rhythm of things. I told myself to stick with the Audi and Porsche because the longer the race goes on they were going to struggle with their tire wear. And at that point I'll be able to pass them.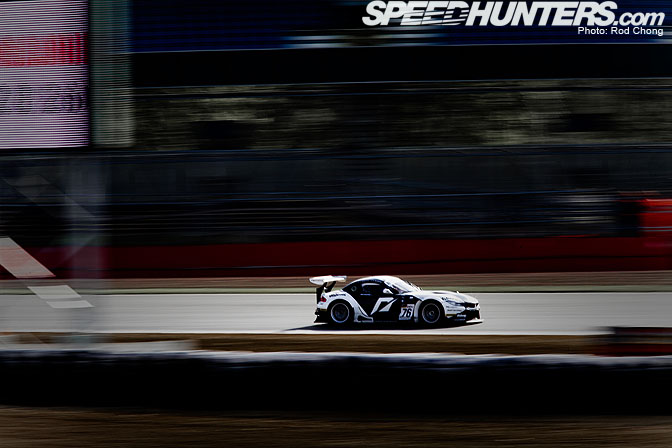 I managed to stay behind those cars and also managed to stay competitive! I was 1.5 seconds faster in the race than I was in any qualification or practice session. Edwards talks at our video sessions really helped me.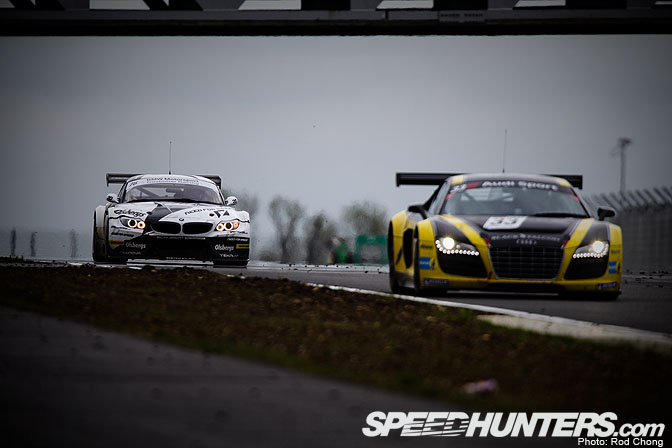 I managed to pass one of the R8s fairly soon. And with that we managed to go from 26th to 13th. I told myself that I should take it slowly and pass when it is safe.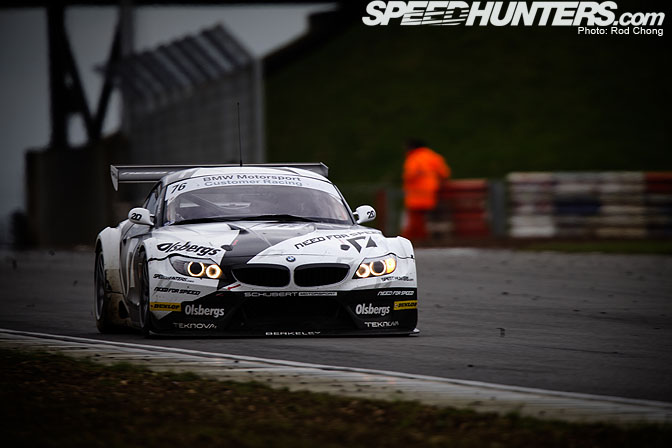 So as the race progressed, I keep hearing on the radio that cars are spinning out and losing grip. So we went from 13th, to 12th, to 11th, to 10. And a lap before the race ended we were 9th! We were in the points. I certainly liked what I was hearing.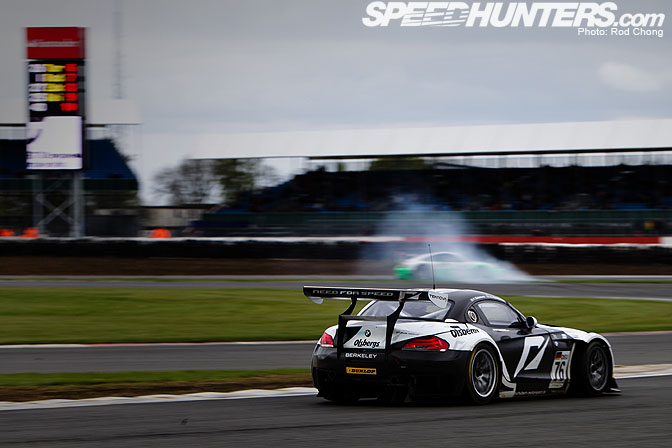 It was a great race for us. It was a huge confidence boost for the team. What the race showed us is that we can be competitive in the FIA GT series. We thought we were going to be, but we really didn't know till now.
We're very much looking forward the 24 hours of Nurburgring. We're hoping to qualify in the top 20 there because when you qualify in in the top 20, you are given a purple light to put on your windscreen. When you're on track and cars see that purple light, they will move aside… That, I guess, is the secret sauce to the 24 hours of Nurburgring.
We can't wait.
– Patrick