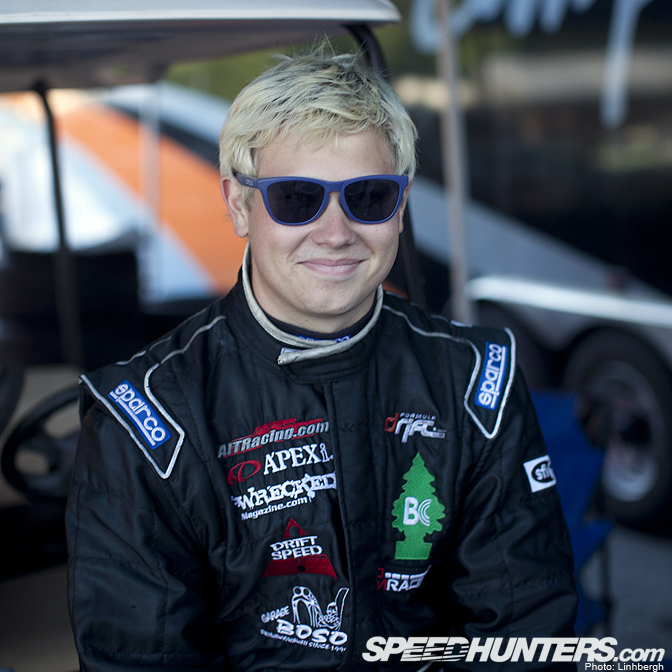 Hello Speedhunters! This time around I've been lucky enough to write a guest blog for all of you! Atlanta is my favorite stop on the Formula D tour, So I'm excited to give you a little insight into my weekend! Just to give you an idea of how my weekend started, I drove to Atlanta and arrived Thursday morning at about 7:30am. We had practice that same day, which meant I would be taking a 30 minute power nap at the hotel before heading back out to the track to unload and practice! I guess that's why you're supposed to leave early when driving cross country, not last minute!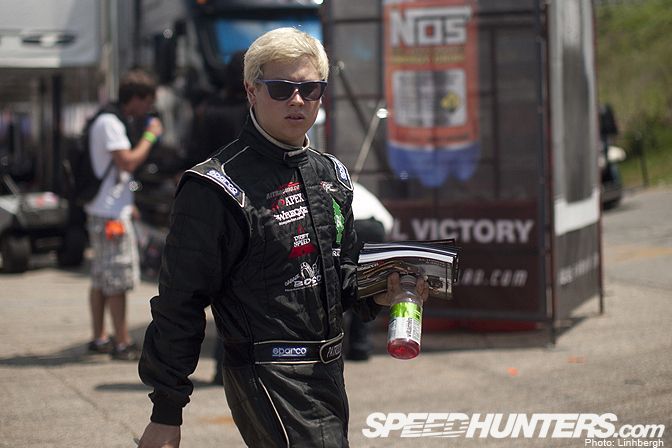 I guess I look a little goofy walking around in my driving suit, but that's life.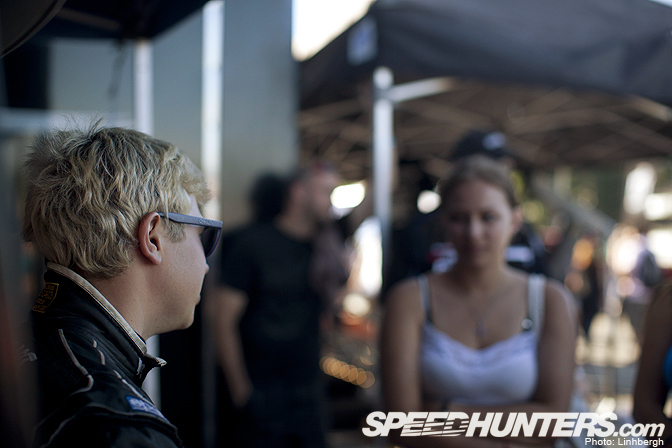 Trying to be cool for the ladies with my Frogskins on!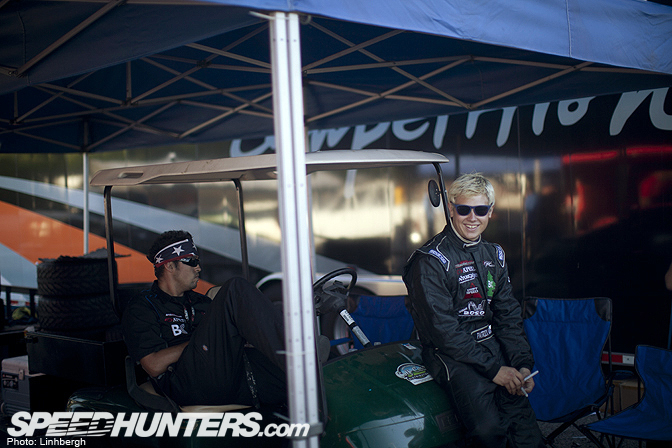 So as most of you know, I have a pretty amusing nickname in Formula D, Juicebox. This lovely name came from my mistake of drinking a caprisun at a drift event a few years ago. Once Jeff Jones' team saw me drink it, they instantly started calling me Juicebox. After that a few other FD drivers and teams heard the name, and it's stuck since.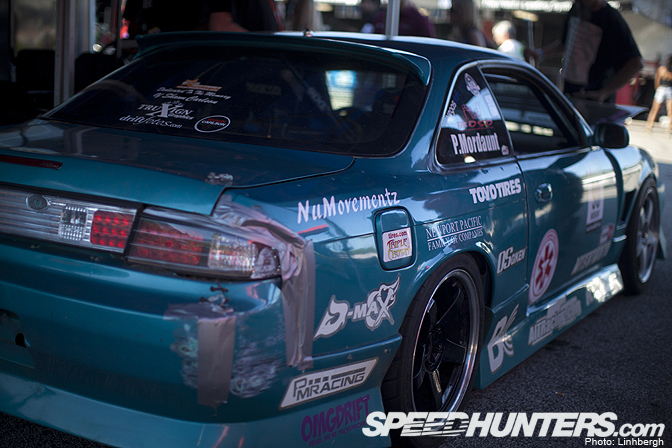 As you can see here, my S14 is not the prettiest of cars but that's because I tend to push a little hard on the track. I've had the S14 now for about 3 1/2 years, and in that time it has gone through more rebuilds & crashes than probably any other car in Formula D. We initially built it to replace my AE86, so that I could learn how to drive a chassis with power and be more competitive. It started out as a simple drift car with basic bolt ons, but after about 6 months of driving, it became a fully fledged Formula D car. Since entering FD, the S14 has been wrecked at least 4 or 5 times and I know for a fact that my front shock towers do NOT line up. But that's part of the beauty in a machine like this, it will never die and never let me down. I think it has truly shown people that a privateer team and car stand a fighting chance in drifting.
As you can see, this window is reserved for my closest friends in the drifting world, aside from my name of course. First and foremost, you see Garage Boso. Boso built and tuned the S14, and have helped get me to where I am today. They are some of the hardest working and craziest people I know, and have almost become family to me. Next up you can see a VegasDrift sticker. I really feel that Las Vegas has an amazing drift scene and community and always get nothing but love when I'm there. Nick Dizon & everyone running vegasdrift are an absolute blast to work with and are now running an amazing Pro-Am series to help some drivers move up the ranks.
Across from that sticker, you can see the one and only 'Keep Drifting Fun" sticker which is the name of the DVD my good friends Will Roegge & Joshua Herron are working on. These guys are the best videographers I know and produce nothing but pure gold. They're too close of friends, and have helped me out way too many times for me to not run a sticker to support! And last but not least, the top sticker on my window is a tribute to Shaun Carlson. Shaun was one of the few people that really had faith in me from the day I met him and was always supporting me no matter how big or little of a mistake I made. He was a huge part of getting me to where I am today and will always be missed. The only other sticker missing on this window is NuMovementz. NuMovementz is my crew chief Scott Stanwoods new shop that has been building and preparing our 350z chassis, as well as providing trackside support for the 2010 race season. I have been close with these guys for a few years now, due to my history with Shaun Carlson and his former shop NuFormz. I owe everything to these few shops and close friends, since they're the few people that have always supported me and helped me to become a better driver.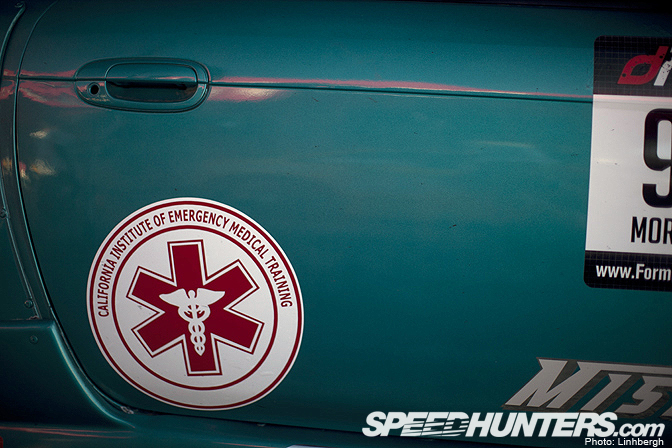 This sticker might throw people off a little, since it's something we haven't really seen on a drift car before. One of my closest friends from childhood actually became a Paramedic a while back and started teaching at a school in Long Beach, called CIEMT (California Institue of Emergency Medical Training). This is one of the best EMT schools in CA and have been supportive of me for a while now. Their staff is made up of some of the best people I know, and I definitely trust them with teaching someone how to save my life!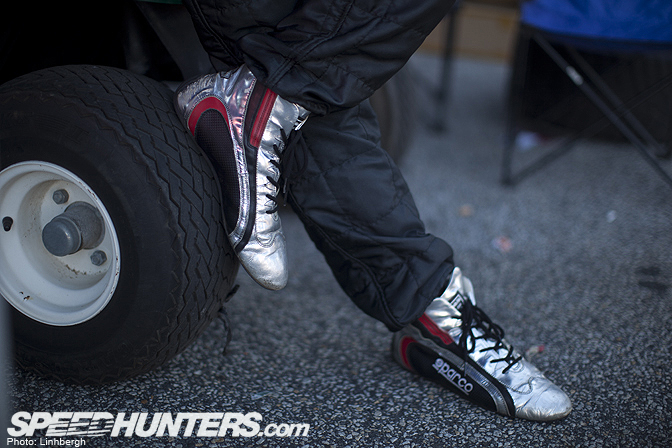 These are my favorite piece of driving equipment & there's absolutely no way you can hate on them! Who else can say they rock chrome driving shoes in FD?!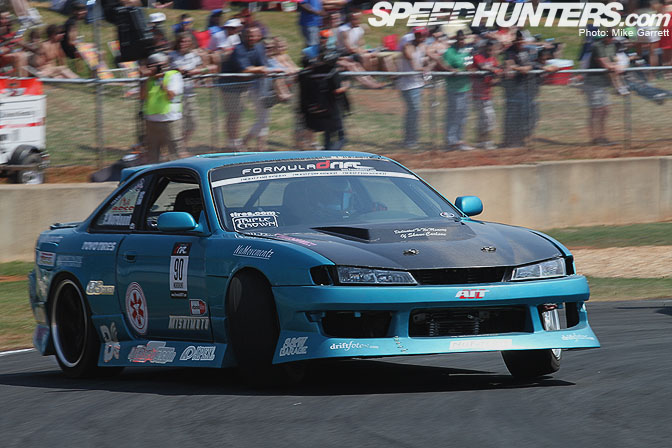 Friday practice is always the most crucial point in any Formula D weekend. This is your time to dial in the car, and learn the course. I've always seemed to do well in Atlanta, so practice went pretty seamless. The car was running better than ever, and I felt more than confident in how it would perform, but of course, qualifying is the driver's responsibility, not the cars! Luckily, there were no issues with the car so it was straight into qualifying!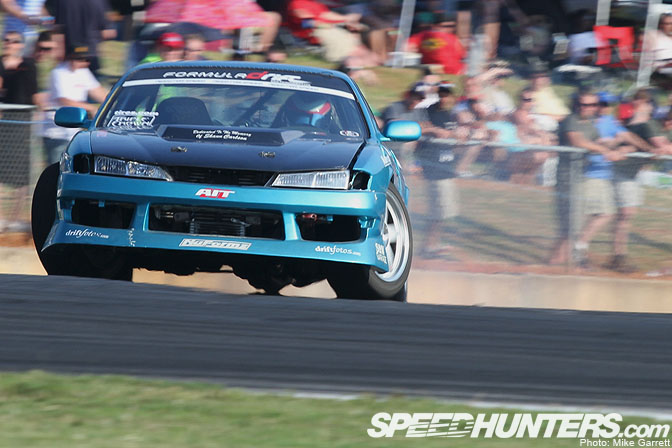 Since Long Beach went so well, I would have to qualify at the end of the pack. This is really a weird feeling for me, since you have to watch everyone else put down absolutely amazing runs. Regardless of how crazy everyone's runs are though, I really tried to keep my first run safe and consistent in order to score points and secure a position in top 32. The run overall went pretty well, the only real big flaw I had was not being wide enough through the keyhole section of the course. This cost me a decent amount of points, but I knew it would still be enough to qualify on.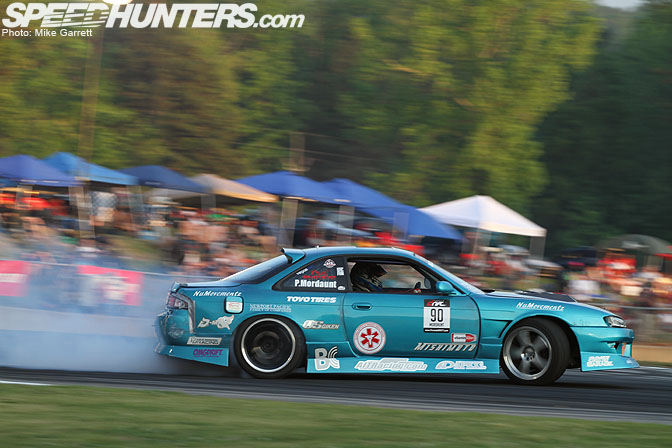 Now that my first run was done and out of the way, it was time to go all in. Since my first run's score wasn't as high as I would have liked, I decided to drive as hard as I could on the second lap. This is pretty standard protocol for us drivers, you always want to make sure you get a score and can qualify on your first run, so that the second lap can be all out!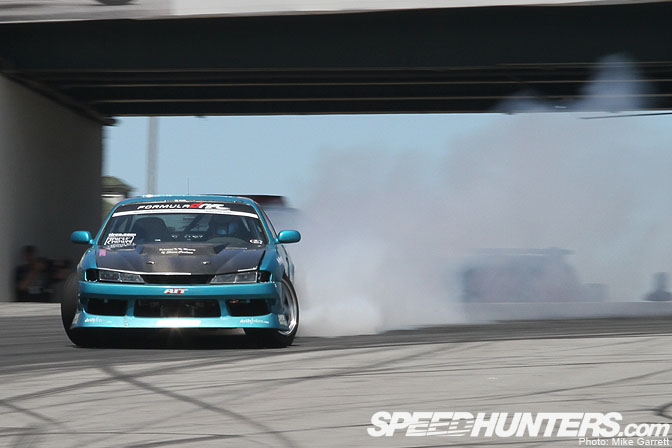 This was probably one of the few instances where my car made smoke over the course of the weekend.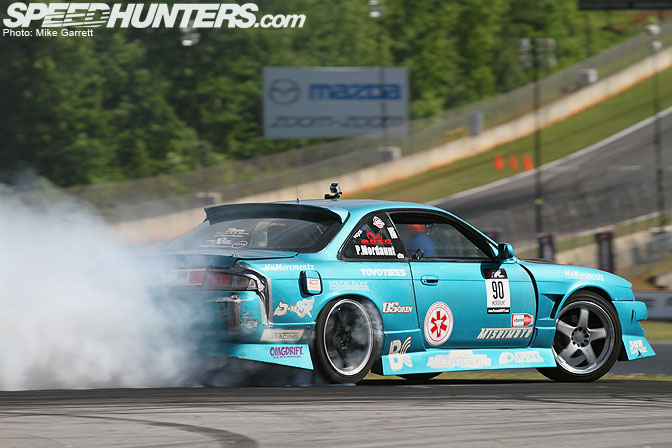 As you can see, I prefer to use ductape for last minute fixes.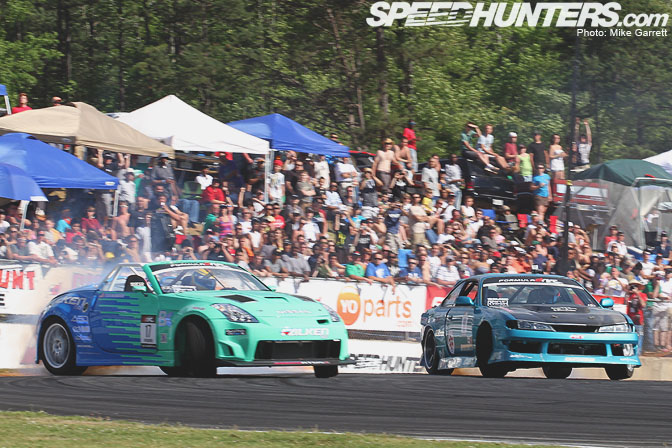 Since I couldn't gain on tyler coming into the keyhole, he maintained a consistent gap from me. But luckily since he spun on the first lap, the judges ruled the win in my favor.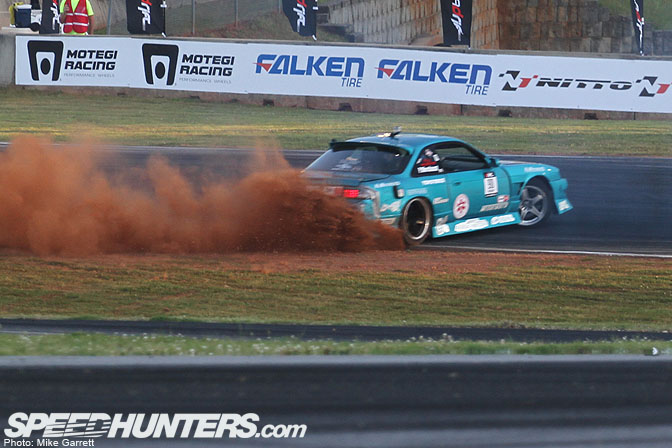 If only I had kept it under control a bit better, I could've put on a much better show!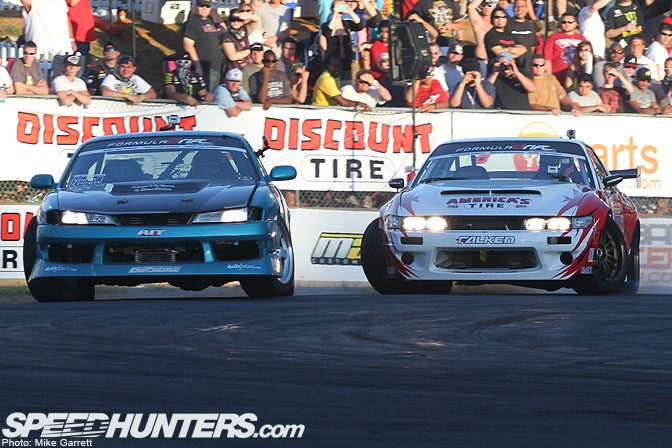 I'd definitely say Dai wanted some revenge after last year.
Moving forward, I can't even begin to explain how excited I am to compete in our new 350z platform. The car is absolutely top notch and is going to blow people away when you see the car run! I'd just like to say a Huge thank you to everyone at Formula Drift, Speedhunters, NuMovementz, and of course to you, the fans. We wouldn't be here without your support! So with that being said, thank you Atlanta for another great race! See you all in New Jersey!!
-Pat