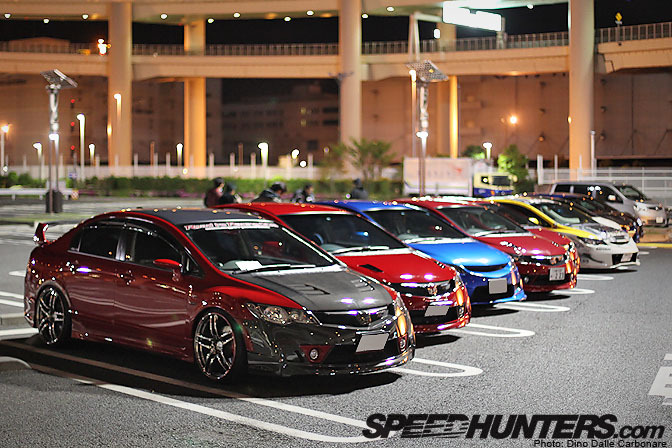 The weather hasn't been too good to us since Rod and I arrived in Sydney yesterday. To cheer me up I looked at some of the shots I took last week down at the Daikoku Parking Area during the monthly meeting me and my friends have. It's always nice to get together and chat with like-minded people but I was far more interested in testing out my new camera that night, like a kid and his new toy.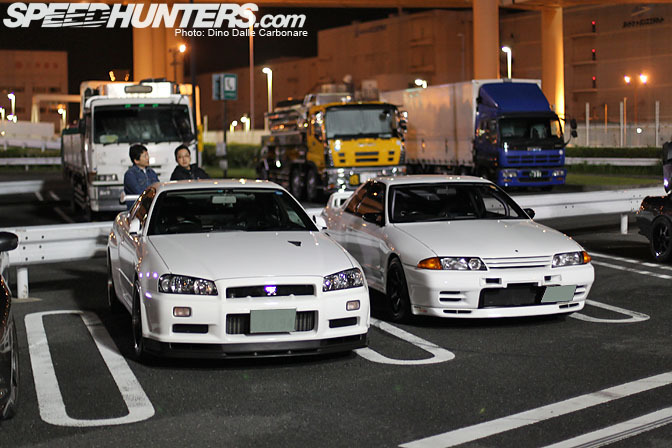 Since the ISO capabilities of these new Canons are simply amazing I purposely left the tripod at home armed only with my trusty cheapo 50 mm lens. I was blown away at how clean all the shots turned out to be and the ease and speed the camera seemed to focus in every situation.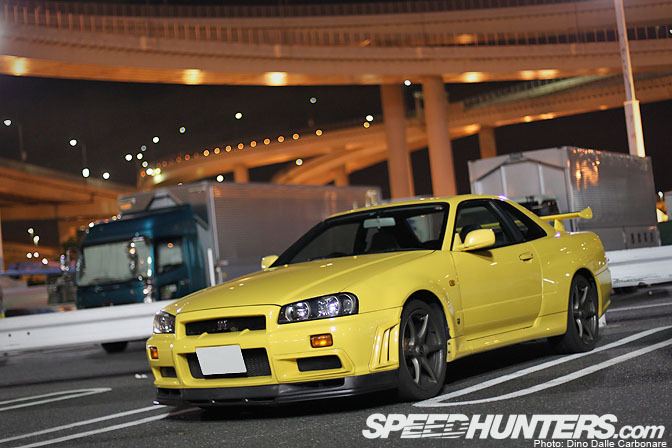 This is one very special R34 GT-R. It's a pre-production model built before the BNR34 went on sale in January 1999. This was one of the original press cars that Nissan handed out to the media. Most of the car is hand-built, each engine part carefully selected to make sure that it would perform to its fullest. Rumor has it these cars run more boost thanks to special turbines, producing a little over the 280 PS that Nissan quoted. The car is still 100% stock but sounds nothing like a stock R34! The engine revs smoother and has a deeper tone hinting at just how special it really is. A collector's car to say the least!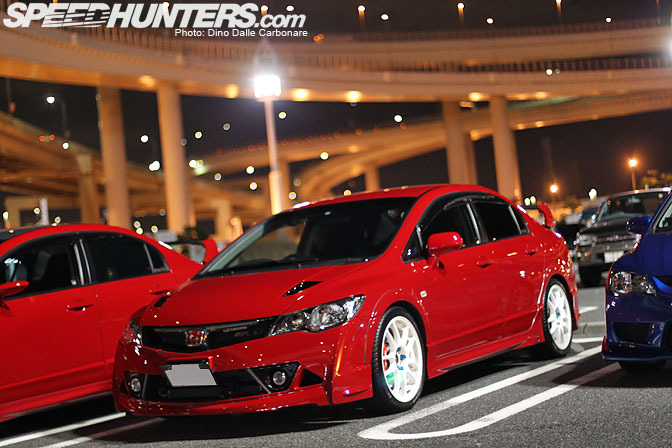 This little group of Mugen RRs really grabbed my attention as it's not every day you see a gathering of such a limited edition car.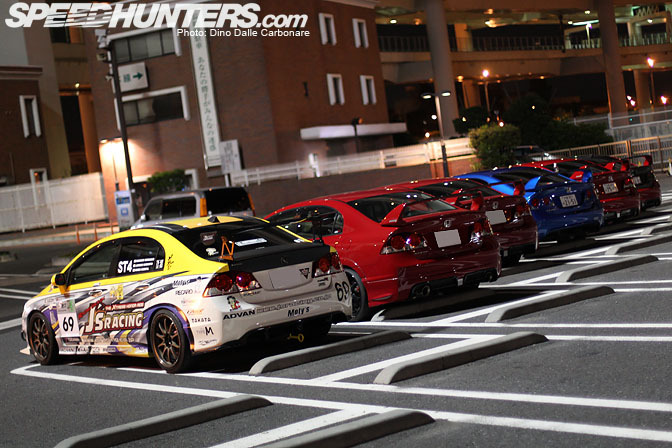 Joining the four double Rs was a J's Racing Super Taikyu endurance car replica and a regular blue Type-R.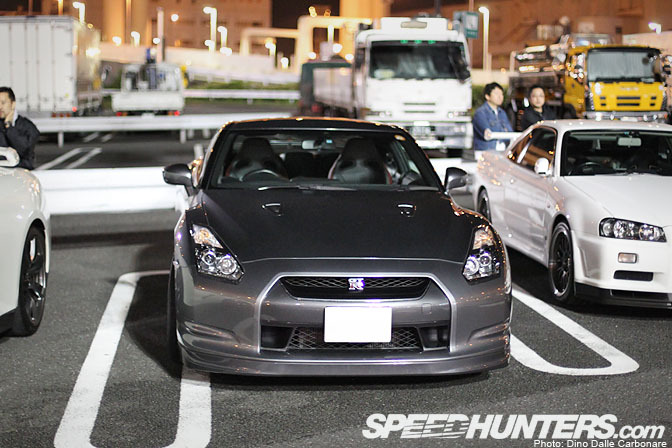 I was treated to a test drive of this monster! Running 1.3 bar of boost and tuned with a very special ECU map this R35 GT-R really impressed me for its face-ripping acceleration throughout the gears. It was also recently fit with custom built Bilstein track-spec dampers, far too advanced for a quick assessment out on the wangan.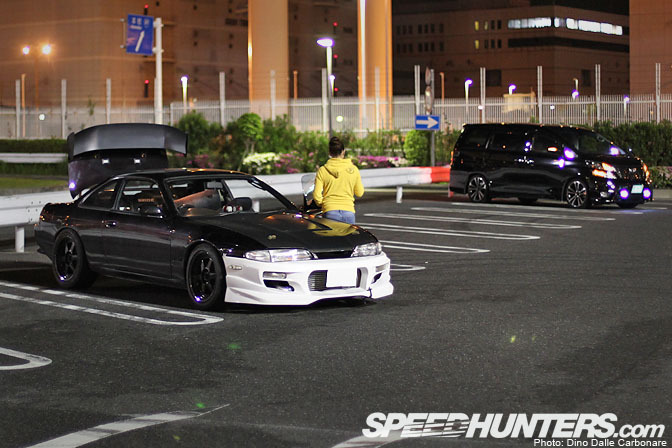 This S14 drift car had a very cool black on black look. I'm guessing the bumper will get some paint soon!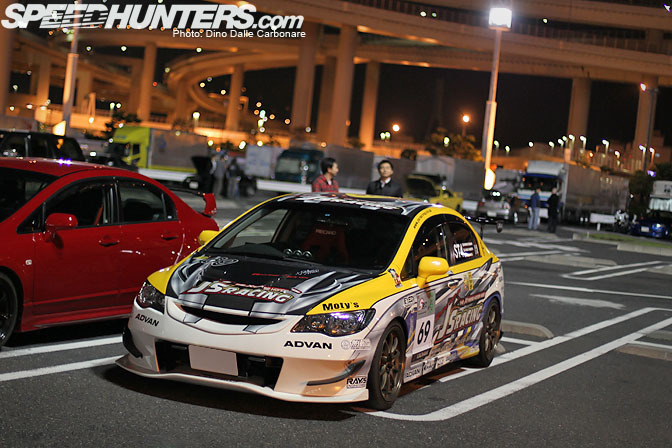 One way to stand out!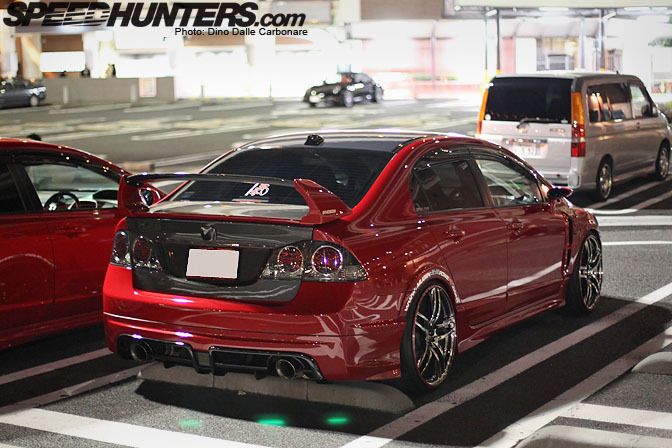 As if the Mugen RR didn't have enough carbon parts from factory the owner of this particular example fitted a carbon trunk and has probably decided to save ruining the original Mugen wheels by replaing them with these chrome AVS 5s.
Ok time to go and do some shooting in Sydney now!
-Dino Dalle Carbonare