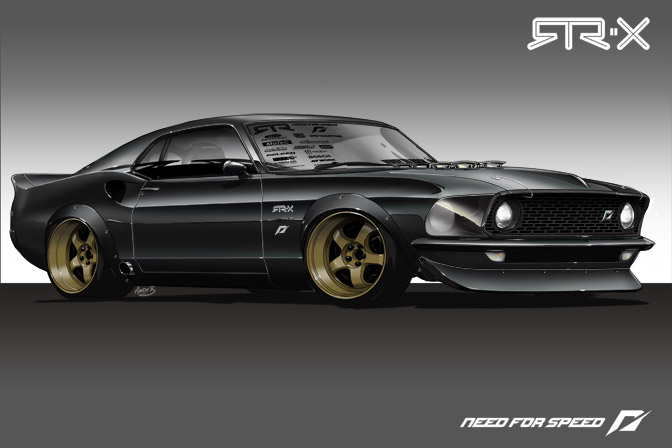 I am extremely excited to officially announce the Team Need for Speed 1969 Ford Mustang RTR-X project which I have been working on since December of 2009. Most of you have seen the Mustang RTR, which will be heading to select Ford dealers in early June, and also the extremely-limited all carbon fiber Mustang RTR-C; both of which are my vision of a new generation of Mustang.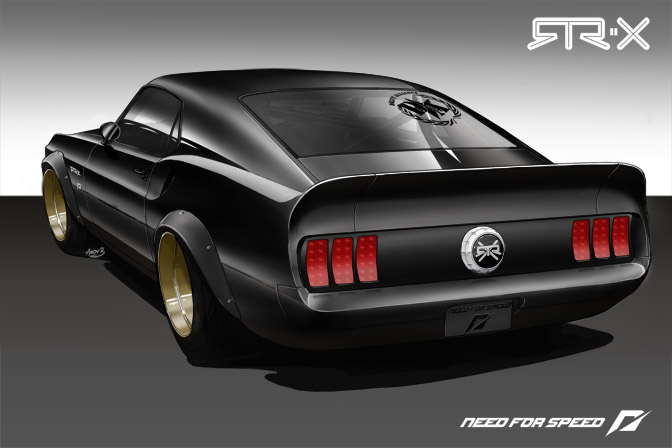 I have now taken the RTR brand full-circle back to 1969 – turning a '69 Mustang into a radical street\drift-styled machine to debut at SEMA 2010. I am so pumped for this project, as well as the fact that everyone will be able to keep up with the build from the current concept phase to its completion here on Speedhunters is simply awesome!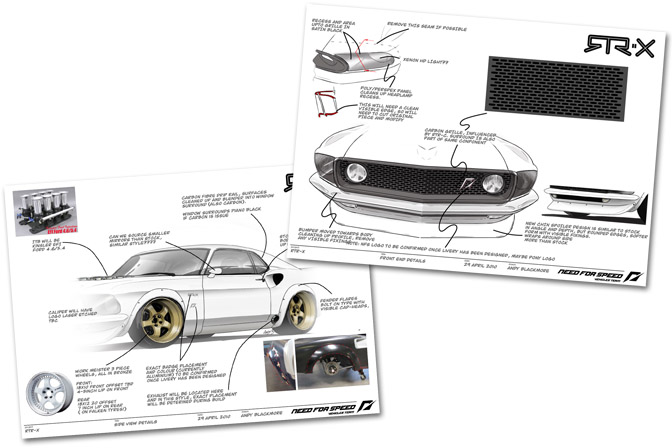 Upon its completion, I am hopeful that the eyebrows of the automotive culture around the world will be raised by the Team Need for Speed RTR-X and that it will not only look unique, mean, and aggressive, but it will be getting nuts on tracks and star in multiple Speedhunter's film projects with me screaming behind the wheel!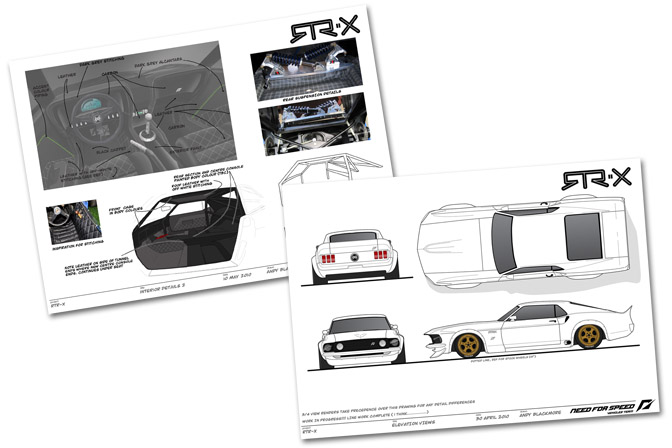 Not only am I overly-excited to drive the car, but I am equally excited for the entire world to be able to get behind the wheel of the RTR-X virtually in upcoming Need for Speed video games.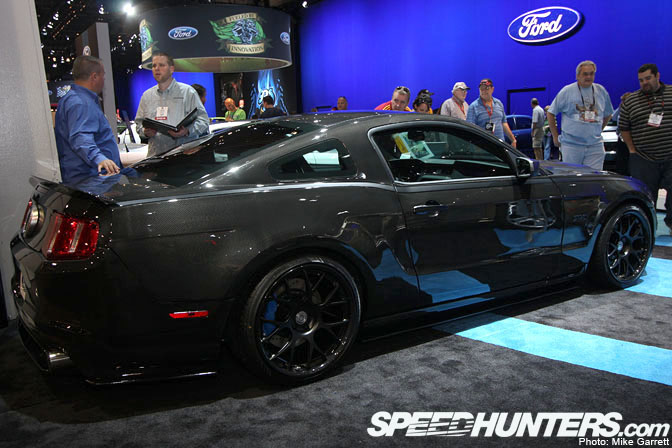 The conversations for this project started at SEMA 2009 when I was chatting with the Speedhunters crew while looking over the RTR-C and RTR. They all really seemed to feel my vision and passion for the cars. It was decided that for 2010 they wanted to build a unique, functional, street-drift-machine as a part of Team Need for Speed, and I was simply flattered when it was decided that they wanted me and my RTR brand to head the build.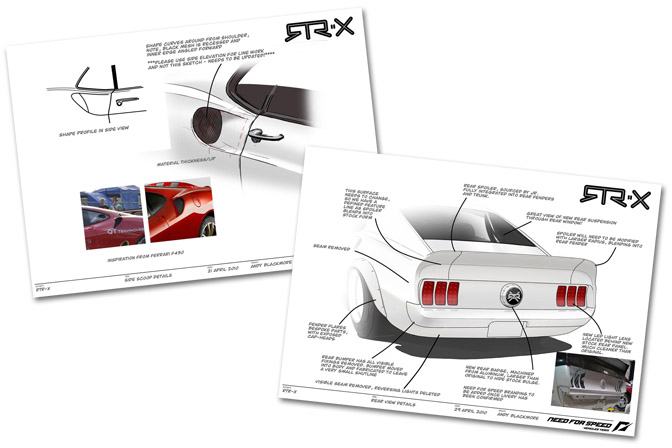 Initially I was thinking to do a 2011 Ford Mustang, but after a lot of thought and discussion we felt that taking it back and building a classic Mustang would be amazing – plus I have ALWAYS wanted to build a '69 Mustang for the street. The vision was pretty simple: build a badass '69 Ford Mustang that was aggressive, slammed, functional, unique, and would perform on both the track for drift and the street as a daily-driver. Oh yeah… and had the potential to put some decent times down on a road course. Easier said then done. Especially the "unique" part, as people have been adding their own personal flair to classic Mustangs for a very long time.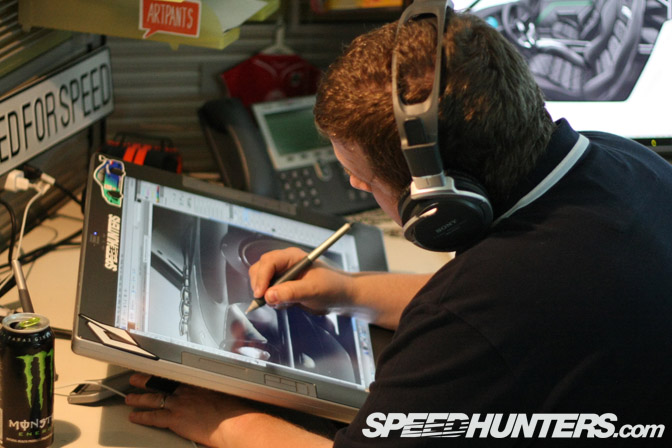 These concepts are a result of five months of hard work between myself and the entire Need for Speed team at EA. EA resident Andy Blackmore (AndyBlackmoredesign.com) and I have worked tirelessly for months to get what you see here on paper coming from my brain, then through his brain, and out of his hand on his Wacom Cintiq drawing tablet (damn Andy is talented!)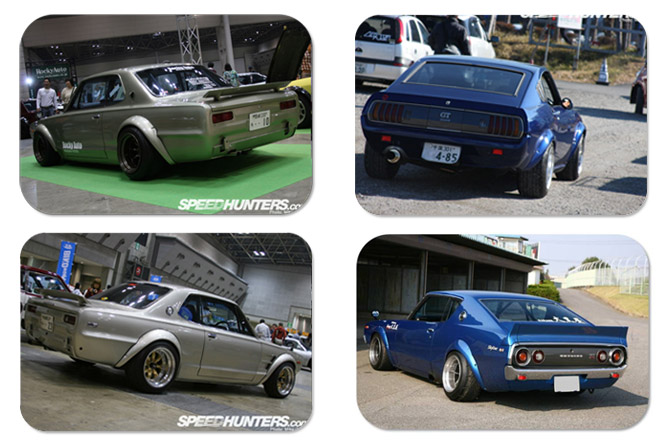 The inspiration for the RTR-X has come from a mixture of things I have grown to love from custom Japanese nostalgic car styling.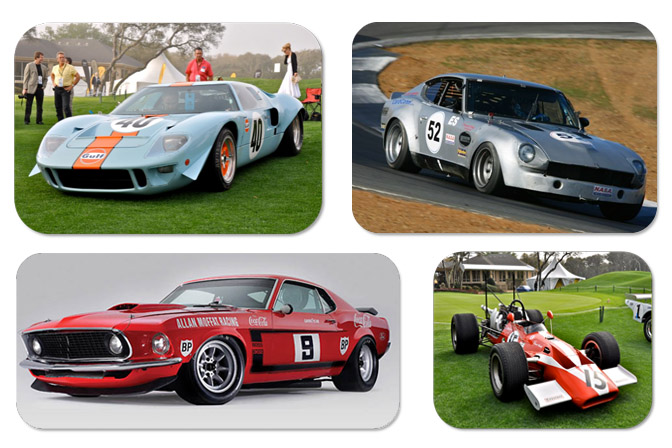 Late '60s and '70s race cars.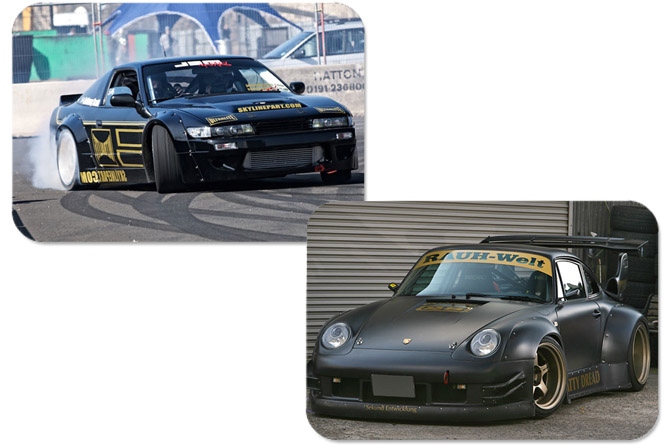 Some very cool current machines.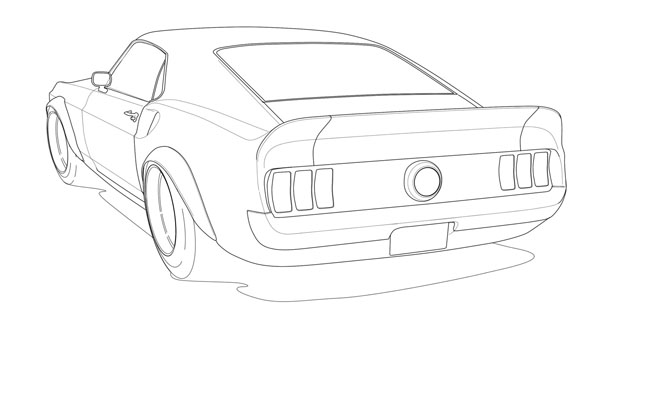 I spent a lot of time scouring the interweb and other references for examples of what I wanted meshed together with regards to exterior styling and performance for the RTR-X. Fender blisters, aggressive front-spoiler, and a tasteful rear-spoiler were all a must. Andy then attacked the first renderings with his superhuman design skills and we worked very closely to successfully mesh everything together to where it would be acceptable from a design standpoint while staying true to my vision.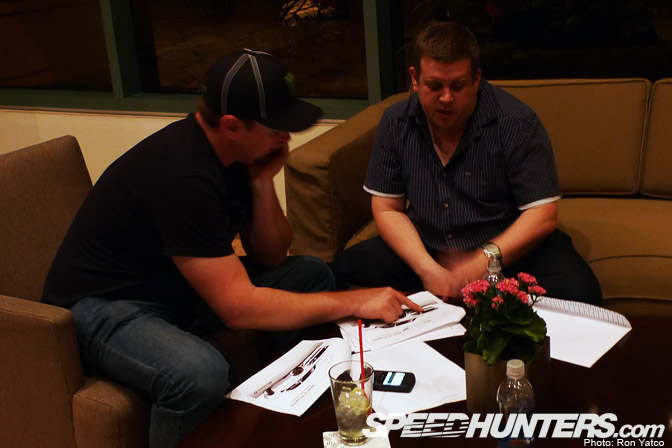 While he was massaging the design options, I was planning how to take all of this awesomeness I had just compiled and make it a reality! The real "nuts and bolts", if you will. I was determined to get the entire RTR-X built on paper and timelines planned prior to Long Beach Formula Drift, so I could be focused on the Gold during the entire Formula Drift season. I almost made my personal deadline…This picture of Andy and I going over everything was actually taken the Friday evening after qualifying for FD Round 1. Maybe I need to do more car-build-planning prior to game day.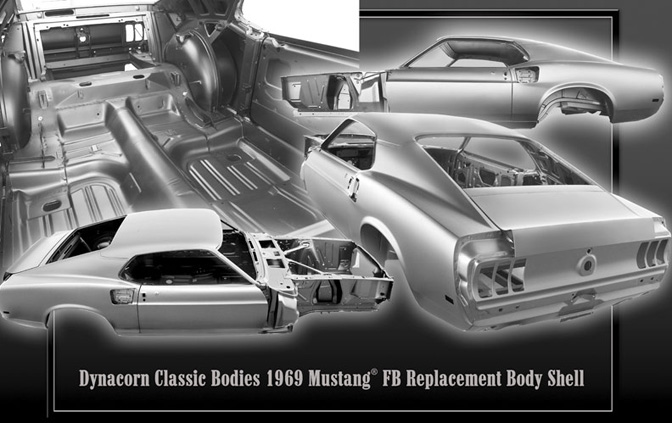 I decided to start with a brand new Dynacorn 1969 Ford Mustang fastback body. I decided to go this route for many reasons including the amount of time and flights it would have taken to find a very clean '69 that was affordable. The Dynacorn bodies are exact reproductions that use the original Ford tools and they are very affordable. Not to mention most Mustang owners love their cars. Like seriously LOVE them – especially if they have a clean '69. I really would have felt bad taking someone's baby and hacking it up… well, at least a little bad.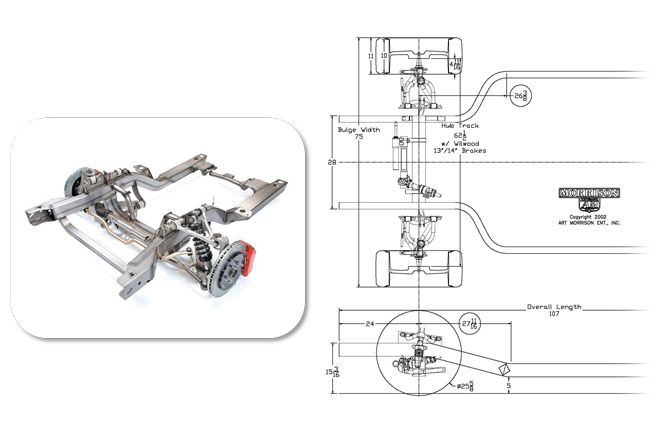 Now I had the plan for the body. But how was I to slam it, have 50 to 60 degrees of steering angle, and retain decent suspension geometry? After some research, I reached out to the highly-recommended Art Morrison. I had the pleasure of speaking with Craig Morrison and he was all about the project and was very confident he could do everything I explained to him I needed done by building a custom front sub-frame for the car.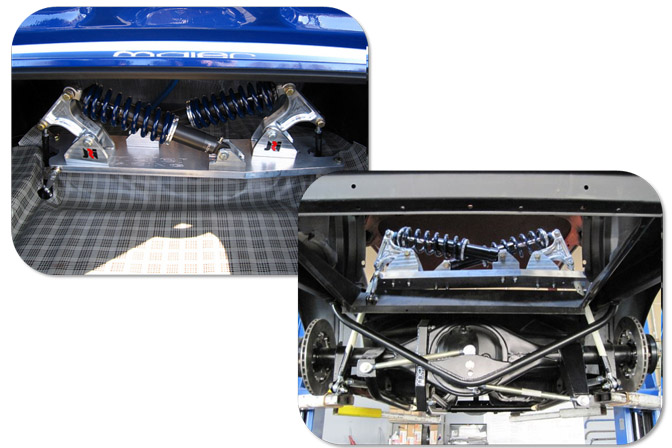 Taking inspiration from old-school race cars, I really wanted a cantilever rocker-style type of shock setup for the rear. It would be functional, as well as different as far as a street car, and it would also easily allow us the extremely low ride-height we were going for as we need to notch the frame outback. I reached out to the family at Maier Racing; they make an incredible rear suspension setup that lined up with my vision.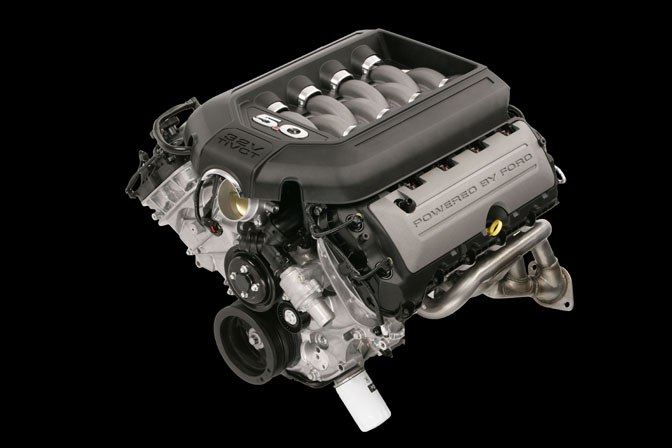 Now that I had the basics of the chassis laid out on paper it was time to decide what drive-train to go with. I decided to go with the brand new Ford 5.0 liter V8 that comes in the new 2011 Ford Mustang GT. Over 400hp stock and capable of over 7000RPM coupled with Kinsler individual throttle body injection and the brand new Ford Racing Boss 302 R1 six-speed transmission, seems like a good recipe for fun and incredible sounds!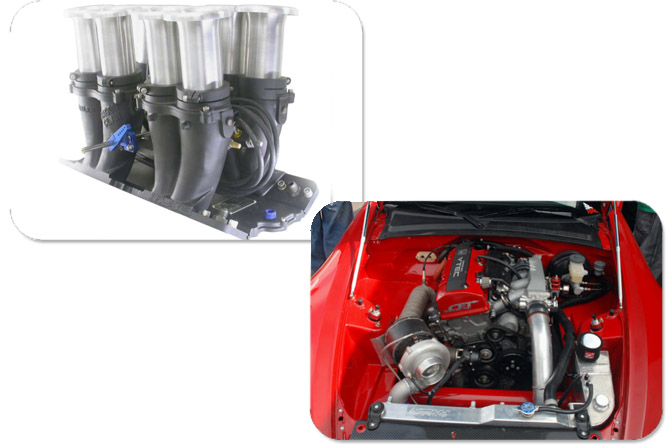 The goal for under the hood is to be extremely clean and the only thing you will see is the coil wires, tubs, motor, and plumbing. I am hopeful it makes you second-guess whether the car is fuel-injected or carbureted. The Kinsler ITB fuel injection and wire tuck should help this happen! Only time will tell how good we do at this!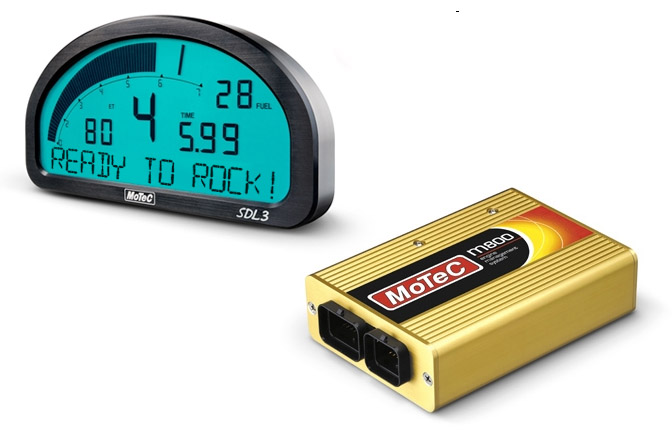 Now with the basics of the chassis and drive-train on paper, it was time to figure out the brain to keep the cylinders flowing with fuel and the spark firing with pure precision, all while keeping track of the other vitals of the engine. This is one place where skimping could leave me on the side of the road or on the side of the track for that matter. Being that the RTR-X was obviously riding the line between a full-blown track car and a daily driver, I decided to go with arguably the best ECU out there – the Motec M800 coupled with the Motec Sport Dash Logger "SDL" digital display. The Motec crew will be doing all of the engine wiring and tuning as well. This is the same ECU and display setup that runs my Formula Drift competition Mustang.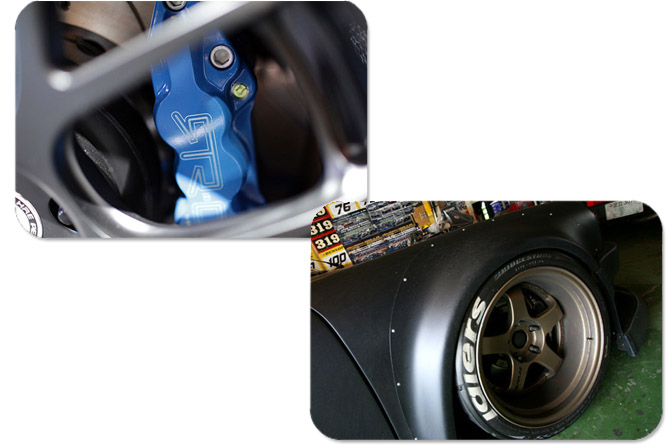 What's that about wheels and brakes you ask? Insane wheels with huge lips and proper fitment were a must for the RTR-X. I opted for a set of timeless Work Meister's with the lip and offset charts maxed out. 18×10 with 5″ inch lip in the front and 18×12 with about 7″ lips in the back – to be wrapped in Falken RT615-K's of course. The front sub-frame and rear were specifically designed to fit the insanity. All of you that don't love my competition car stance will all be proud.
For me it was a no-brainier to work with the genius's at Wilwood for the brake system. They designed an insane setup for the RTR-C and have saved me on more than one occasion on the track. More on this setup soon!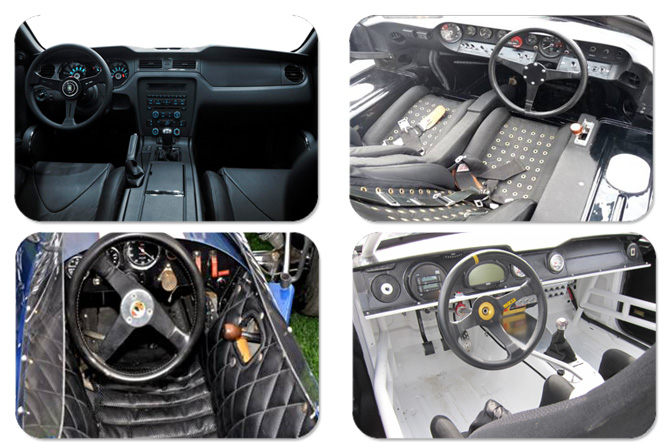 On to the interior, I wanted to take it back to the late '60s, early '70's, and add a splash of modern times. Like my first real street drift car, I decided to have a full interior up-front and everything behind the seats raw and unupholstered.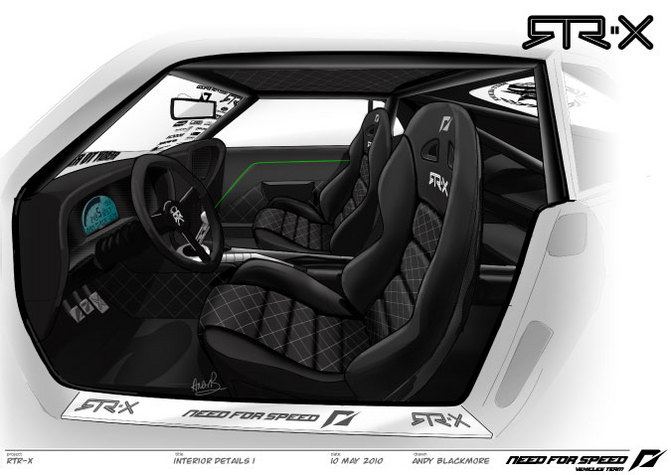 Once again taking inspiration from older race cars, I decided on the classic diamond shaped upholstery on good quality black leather, as well as everything to be controlled by old school toggle switches. On the modern-end, I went for a little bit of carbon fiber, a taste of Alcantara, and of course, kept it clean and simple with the Motec SDL. I am still blown away by how well Andy was able to put our vision down to get these concept drawings of the interior. You blow my mind man!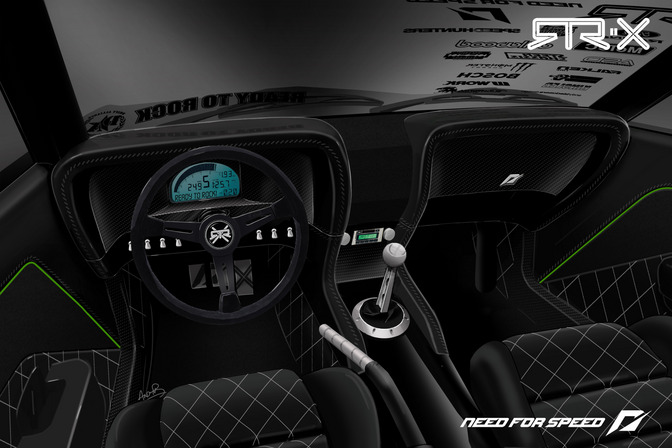 Now that the most important basics were on paper, it was time for me to decide who would be responsible for what with regards to actually building the RTR-X. While I like to think I have a good vision, building something of this magnitude far outweighs my bolt-on mechanic skills and backyard fabrication capabilities. The teams' I had to rely on to do the actual build and fabrication had to be chosen very carefully, as everything had to be perfect the first time due to the actual build timeline based on the SEMA 2010 debut.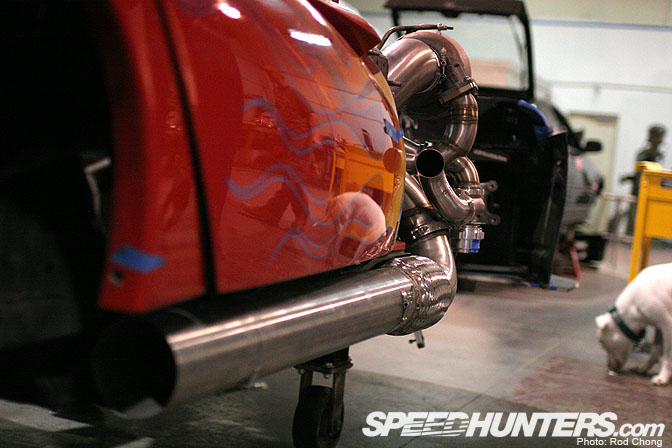 I reached out to the Kozeluh Twins, Eric "Grim" and Marc "Koz", of Twins Turbo to see if they were interested in the project. I have known these guys for a while and one walk through their shop you know they don't really play when it comes to getting cars done. Once I explained my vision and sent them the inspiration presentation, they were all about it. After a flight out to California for a meeting with them, I decided to make them the team to work side-by-side with me managing the project, as well as handle the plumbing, chassis wiring, some miscellaneous fabrication, final assembly, and about a million other things I'm not going to ramble on about. The Twins really get it; they are very passionate about what they do and they have a great team of people they work with local to their shop that they trust and can accomplish anything.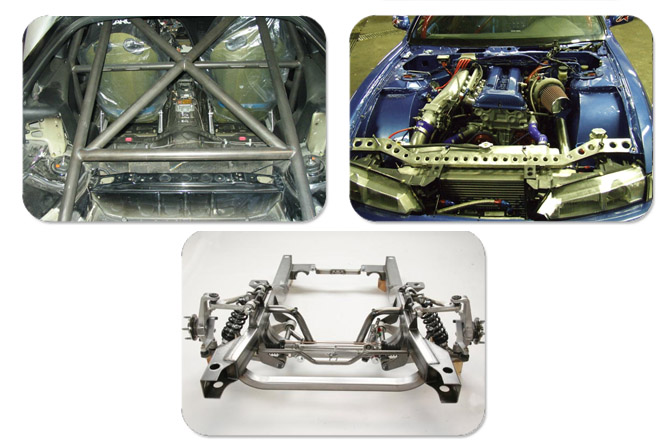 Speaking about accomplishing anything, once the Twins and I were done our meeting, we headed over to the chassis shop they trust with all of there projects, Steen Chassis, where I met Gary and his son Jayson. We went over the entire vision, timelines, what I wanted as a final product chassis-wise. Gary and Jayson were all about it, and they had some incredible ideas too. I walked around the shop, checked out what they were working on to see the quality of their work, and even called some of their past customers that I have a relationship with to find nothing but good things about the guys at Steen. We discussed some business shortly after the initial meeting and I was confident that they would handle the job with the same passion as I have. I am happy to say that they will be building the chassis for the RTR-X including mounting the Art Morrison sub-frame, fabricating wheel tubs for both the front and the rear, and building a very tight cage, just to name a few things.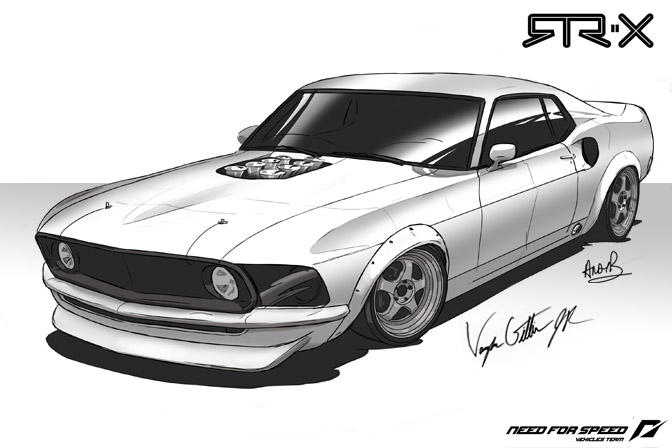 We are still finalizing some paint scheme\colorway options and they are all pretty sick. I would really like to reach out to all of the Speedhunters readers and get some input to help me decide the final scheme. I plan to have them posted this upcoming Monday morning, so please check back and let me know what you think.

It has been awesome working with everyone over the last few months to get to this stage. Thanks so much to Andy Blackmore for understanding my ramblings and really getting my vision while adding his expertise to the overall design. There is no possible way I would have ever been able to nail this so well with out your help; I am hopeful the final product does your artwork justice. Huge thanks to the Speedhunters crew and everyone on the Need for Speed team at EA for giving me this opportunity. Rod and Rachel, high five! Now the real insanity starts. SEMA 2010, here we come!
– Vaughn Gittin Jr.