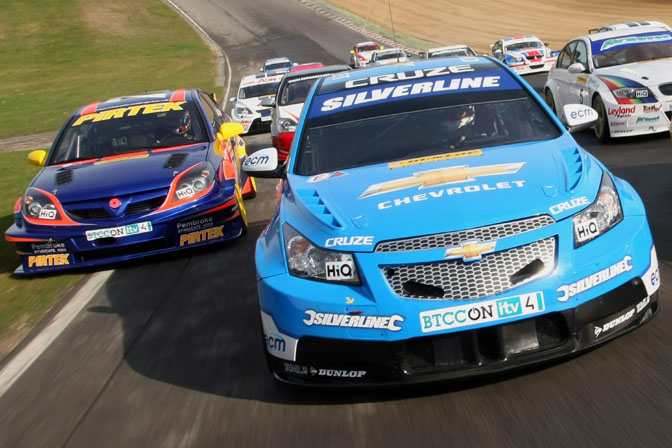 The 2010 Edition of the British Touring Car Championship kicks off at my old 'home' circuit, Thruxton this weekend. Despite Vauxhall departing as a works outfit and the current non-appearance of Champion, Colin Turkington it should be another strong exciting championship with a 23 entry field.
The BTCC consists of 30 rounds at 10 venues across England and Scotland. The series allows FiA S2000 cars (some with national dispensation), older 'BTC' style cars and a new class which allows S2000 cars with new 'Next Generation Touring Car' specification  turbo-charged engines in preparation for new regulations in 2011.
Back to today and the drivers and teams who will be part of the 2010 Championship.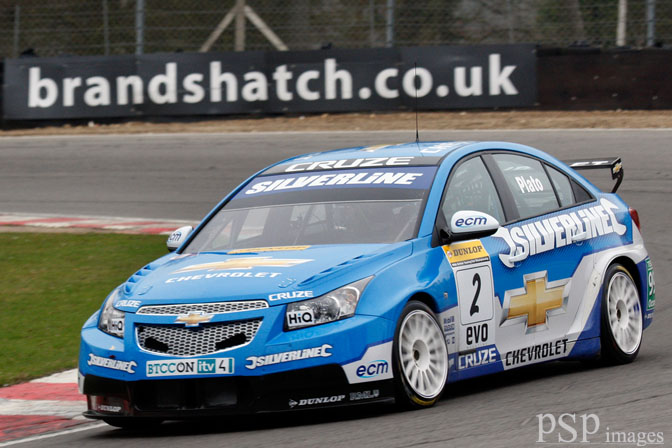 After a successful, but, late entry in 2009, RML and Chevrolet are back with a two car entry for Jason Plato and new boy, 19 year old Aex MacDowall.  This entry has come together a little later than planned as Plato was rumoured to be heading to a new Volvo team, but when that fell apart, Jason returned to his new home.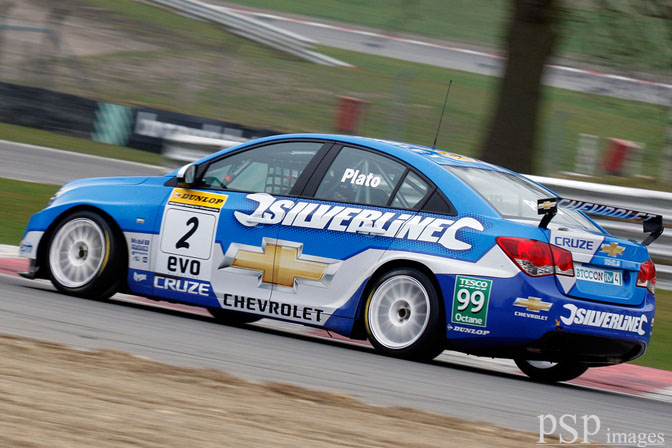 The Lacetti has been pensioned off and the new Chevrolet Cruze, which enjoyed race wins in 2009 in the World Touring Car Championship is now on the British Grid.  With three cars in the World series run by the same team, you can be assured the Cruze will be quick out the box. Plato has to be favourite for champion, a title he has been chasing since his first crown way back in 2001.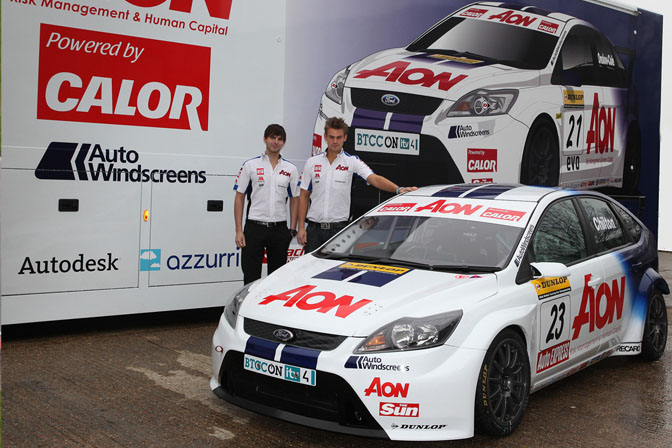 Team Aon is a team I'm involved with (so no bias then LOL!) having designed the livery and worked on the 2009 bodykit design. This is the second year of the cars development and the effort and dedication put in by Arena International and Tom Chilton is paying dividends.
The 2009 season was very much testing in public as the BTCC has limited options. A late season change to Mountune developed Ford engines also helped. By the end of the year, the Focus was a podium finisher and sat on Pole Position. Driver, Tom Chilton missed out on a first victory in the final round by just 0.015seconds!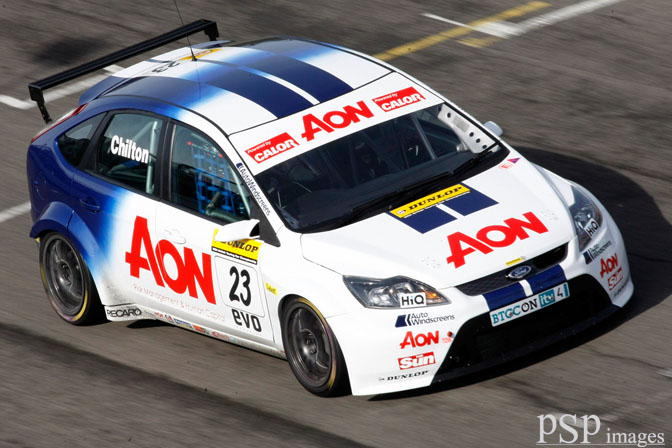 The winter season has seen a extensive test programme. I can never get hold of them as they are sunning themselves in Spain!
For 2010, Tom Chilton is joined full time by Tom Onslow Cole who had selective outings last year. A great choice as driver, the two Tom's will be regulars up front.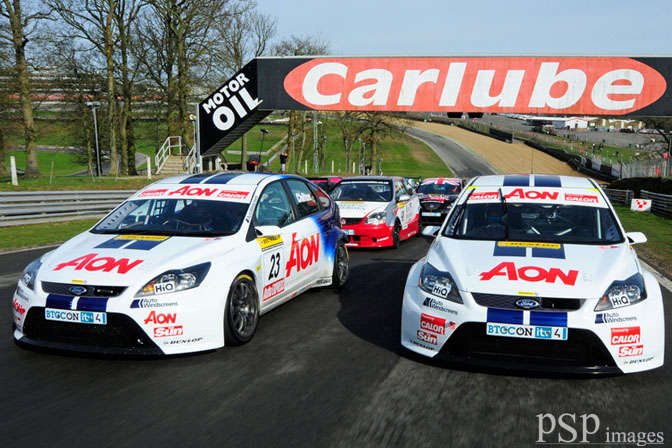 As BTCC fans can see, the bodykit has been developed and the livery tweaked with new sponsors. The cars will be powered by Liquefied Petroleum Gas (LPG), which will be a first at the front end of the BTCC grid. Traditional engines can run on LPG with little modification and has proved reliable in extensive testing during the closed season.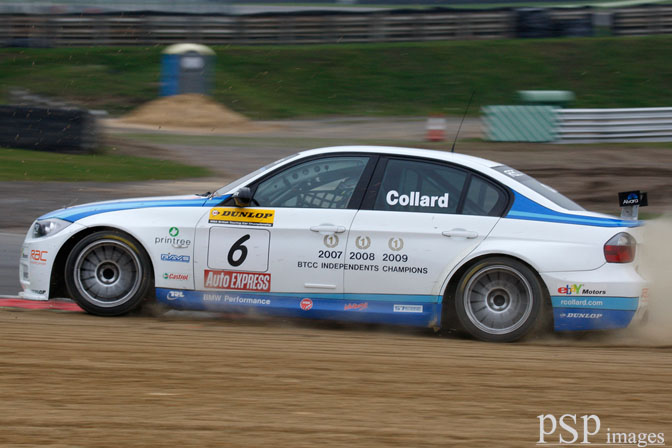 Current Champions, WSR have been struggling for a budget after their original RAC Sponsorship programme ended. Finding new title sponsors, in this climate is hard. Rob Collard rejoins WSR from Motorbase and is familiar with the BMW 320si. He is joined by Andy Neate.
Its amazing to see Neate back in a race car, let alone a BTCC car. Neate had a horrific accident a couple of years ago at the Britcar24 and was in a coma for quite a while. Things really didn't look good, but Andy has had an amazing road to recovery and is back racing.
The cars are quite Spartan at the moment. Don't be surprised to see some new logos on the car at some point. The team need the money!
Unfortunately, there is currently no budget to run current Champion, Colin Turkington. Collard and Neate bring funding to the team, yet Turks has been unable to find a company willing to support a Champion!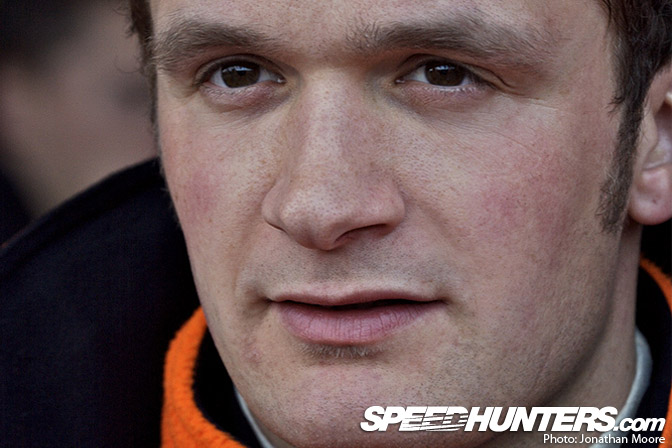 Turkington, told the Belfast Telegraph "We have contacted close to 80 companies since Christmas, but haven't been able to secure anything like the funding required for this season despite the high profile of the BTCC and the 100-plus hours of television coverage the series receives. It is a huge disappointment, but I suppose it is just a reflection of the difficult times all businesses are experiencing."
Seriously, if any companies want to get into the British Touring Car Championship, you couldn't pick a better driver than Turkington to front your coverage.  I wouldn't be surprised to see Turks in a WSR BMW at some point, if money can be found. The team have three chassis.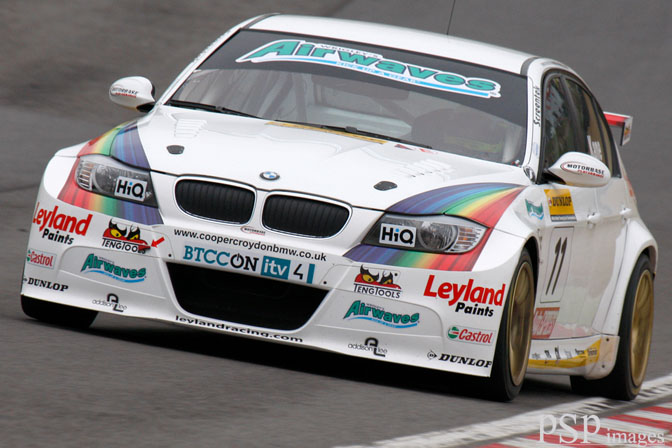 Motorbase Performance, under the team Airwaves BMW is another Spartan BMW. Airwaves originally pulled out of sponsorship at the end of 2010, but have relented in the close season, with reduced coverage. Matt Jackson, who has been a star in the last two season joins Motorbase with Stephen Kane returning to the squad in the second car. This is a strong line-up and Motorbase are a well run team.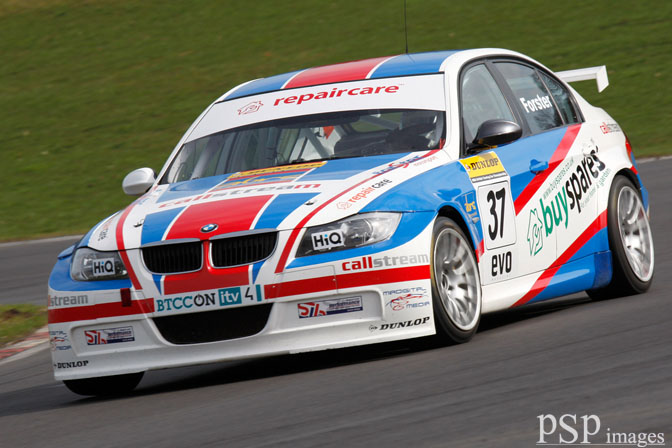 Forster Motorsport are a new team, running two more BMW 320si. Well turned out at the media day, the team have an uphill battle, learning the cars and resolving some engine issue. Touch and go as to their participation with both cars for the season opening.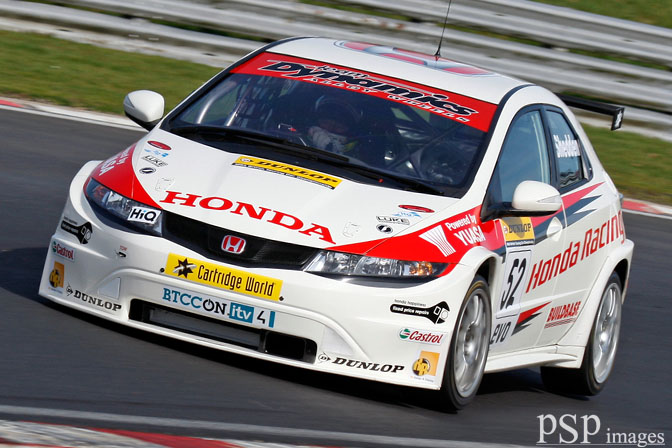 Matt Neal returns to the family team, Team Dynamics after the Vauxhall pull-out. Finally supported by Honda, this is one of two works entries. Matt Neal's knows the Civic well and was involved in most of its development along with Gordon Shedden who returns to the team.  Honda purists will love the new off-white livery with Red flashes.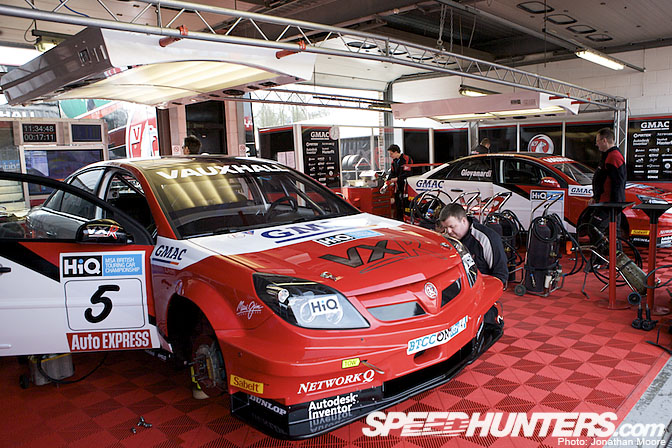 Despite the works pull out by Vauxhall and their VXR brand, the race team who ran the Vectra, Triple Eight Engineering return with a smaller team with at least one car. Renault Clio Champion Philip Glew brings WD-40 sponsorship, while the second entry does not have a confirmed driver and not certain for the Thruxton opener.
Giovanardi to come back? Please say its true!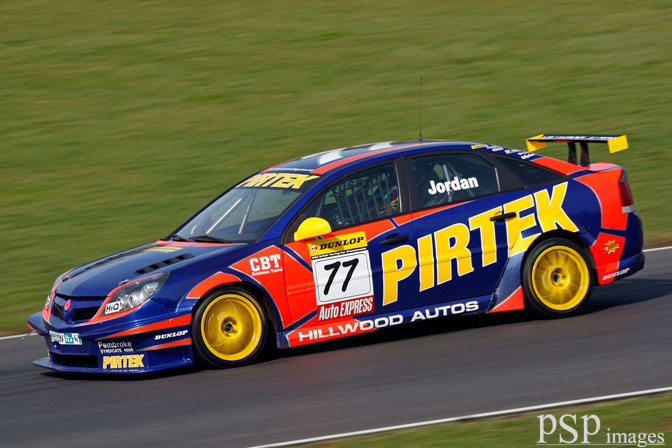 Two other Vectra's will be running, both with the new Swindon Engineering NGTC engines. Andrew Jordan is reunited continues with Pirtek sponsorship and his Vectra is stunning in the V8 Supercar influenced livery.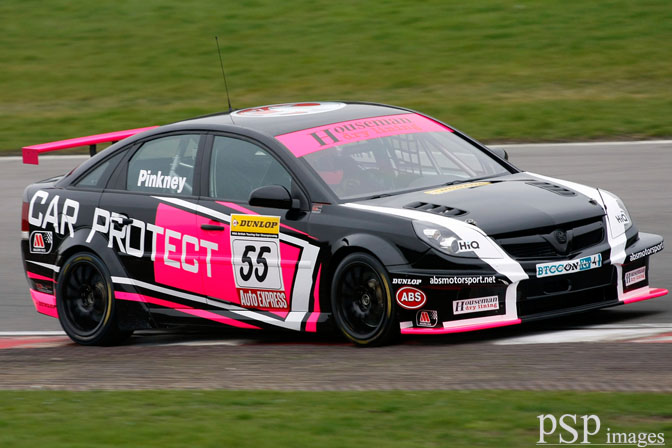 David Pinkney drives a similar machine, decked out as per usual in Pink and Black!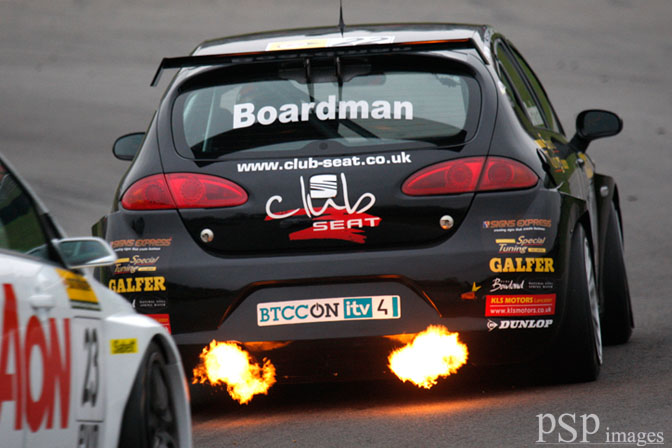 Tom Boardman and Special Tuning (UK) return to British competition with the SEAT Leon after a season in the World Championship. This car is the petrol variant and currently the only SEAT in the championship, following the works pull-out in 2008. Tom is a quick lad and knows the British Tracks well. Having won the one make SEAT Leon Championship in 2008. Rumours of a second entry for the team are around, but as usual, money is an issue.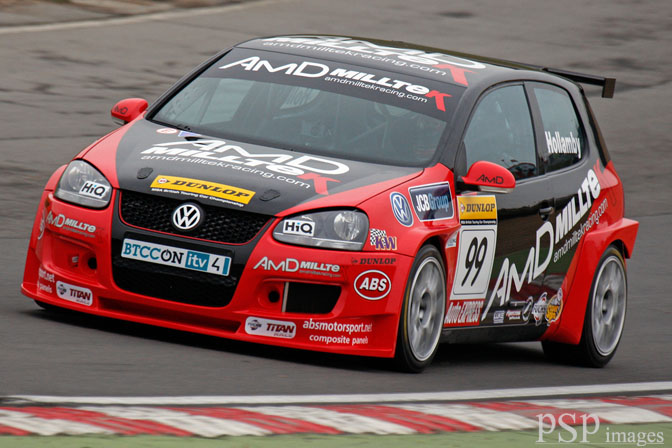 As featured yesterday, Shaun Hallamby and AmD Milltek Racing have joined the BTCC with their Volkswagen Golf S2000 cars. Highly recommended reading.  Another uphill battle, but Shaun and guys know what they are doing and will be developing the car hard .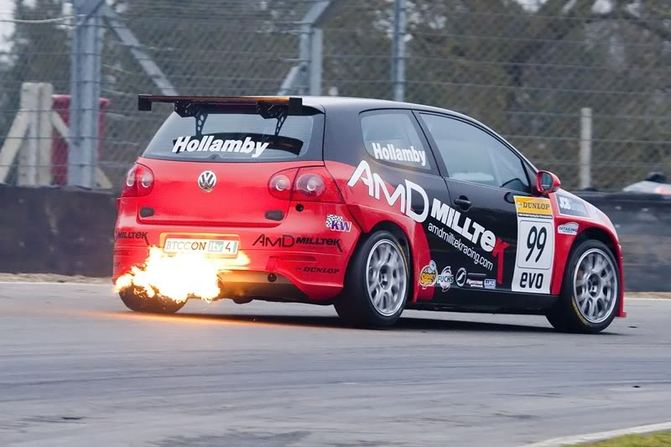 Keep an eye out for the flames on the VW Group products!
That's all the S2000 class cars out the way, onto the older BTC cars. Some of these cars date back to 2001 and can't really challenge for a podium but quite impressive they are still racing really.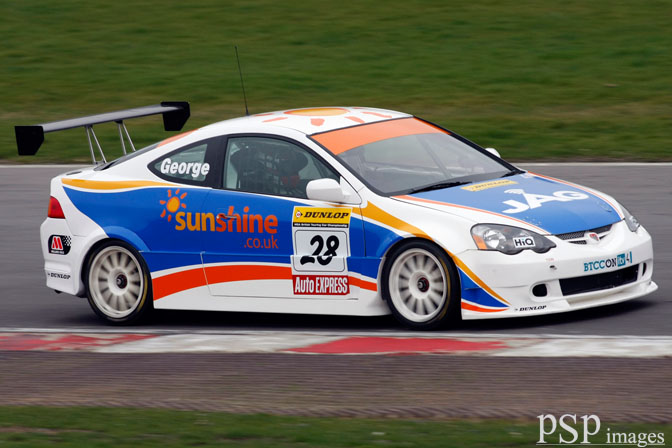 Paul O'Neill, a fan favourite continues in his Sunshine backed Honda Integra (Acura RSX) and is joined by John George who has previously raced an Integra with TH Motorsport.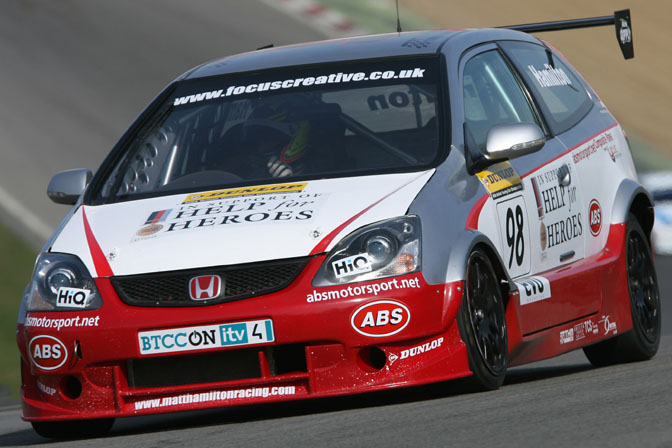 TH Motorsport remains in the series with Matt Hamilton who had a couple of outings at the end of the season. One of the oldest cars on the grid, originally developed by Arena International (who race the Ford Focus), Matt will be working hard to move up the pack during the year and get experience in tin-top racing after a career in single seaters.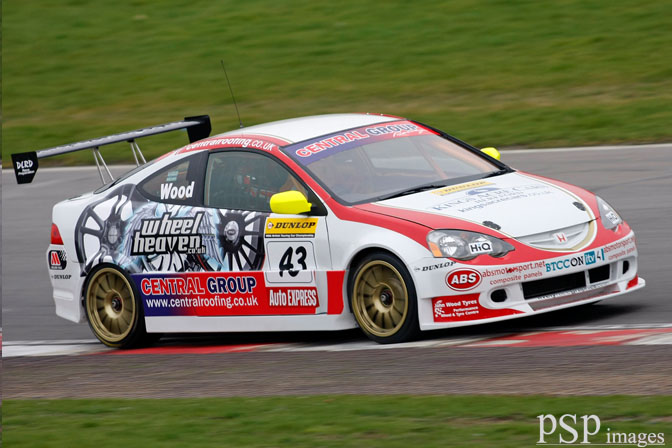 Lea Wood joins the series later in the season with his family run team in another Honda Integra while Martin Johnson continues with his old Vauxhall Astra Coupe.
Expect additional entries to appear during the season, hopefully, Fabrizio Giovanardi and Colin Turkington will be back.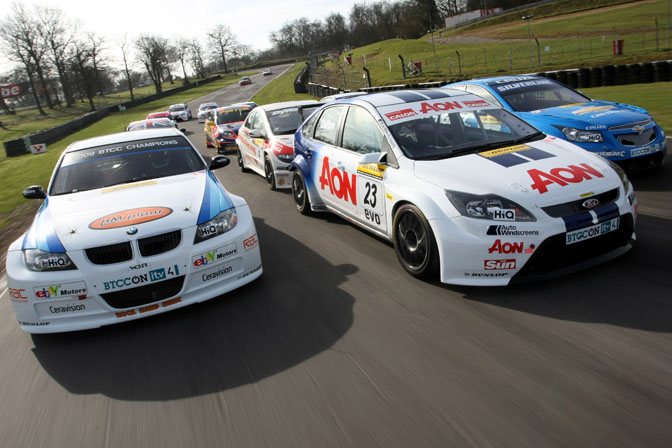 The series kicks off this weekend at Thurxton, near Andover in Hampshire. A good support package too, so well worth a visit if you are in the area. Always a cold place and very hard on tyres, you can be sure of some close tight racing thanks to the fast sweeping sections around the back of the circuit and two chicanes, the smaller one near the start finish line is normally straight lined on 2 wheels!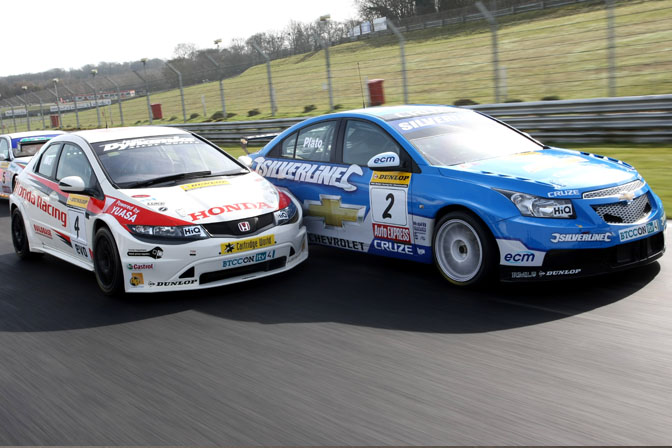 UK Armchair supporters will be able to watch the races on ITV4 live (or as live)in six hour broadcasts(!)  and a highlights package will also appear on ITV and Men & Motors.  My understanding is SpeedTV (North America) will also show the highlights package at some point after a successful broadcast of the 2009 season over the winter period.
As usual, my BTCC Spotter Guide will be available on Friday. Link below.
It should be a classic season… the guys just need to make sure Plato doesn't run off into the distance.
Thanks to PSP Images for the images.
- Andy Blackmore
Photos: PSP Images ( Still, Dzenis), BTCC.net, Arena, AmD
BTCC.net
BTCC Spotter Guide (available Friday)
Touring Car Times