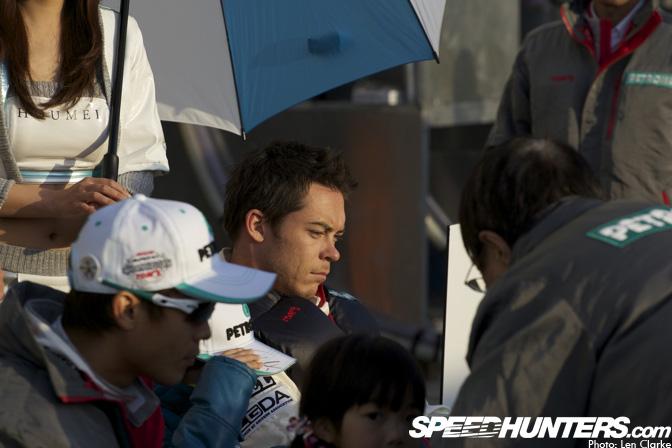 Current SUPER GT driver's champion Andre Lotterer contemplating another result in the following day's Okayama round? He and teammate Juichi Wakisaka would go on to finish third after both drivers put up fierce resistance against rivals throughout their stints.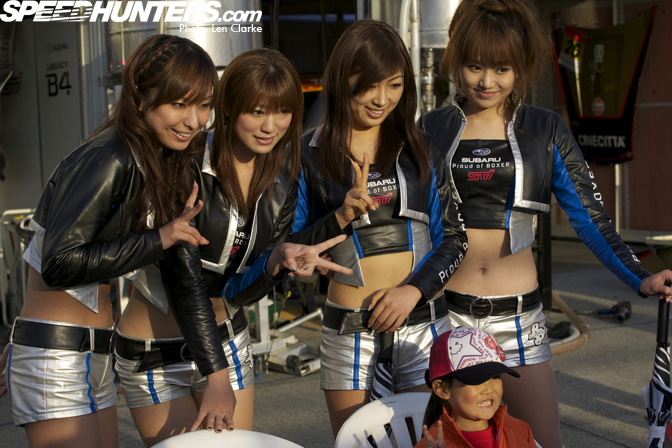 This kid….wants to be a racing driver!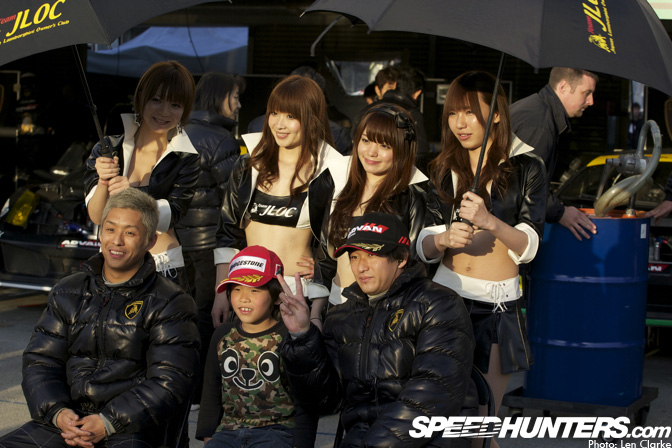 Check out the happy kid gettin' all the attention – sat between Yuhi Sekiguchi (blindingly fast – freakish!) and Koji Yamanishi, no slouch either. This pair really are the best duo in a JLOC machine in recent memory. The car is new (#86 Gallardo) and this image is only an hour after netting pole, for a race in which they came fourth.
Oh and the guy in the back spiriting away the fuel drum? That's James, hard at work as usual!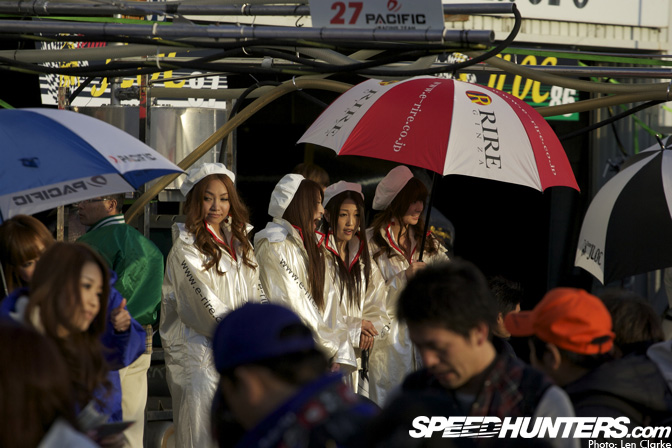 Is she looking for a new gig or what!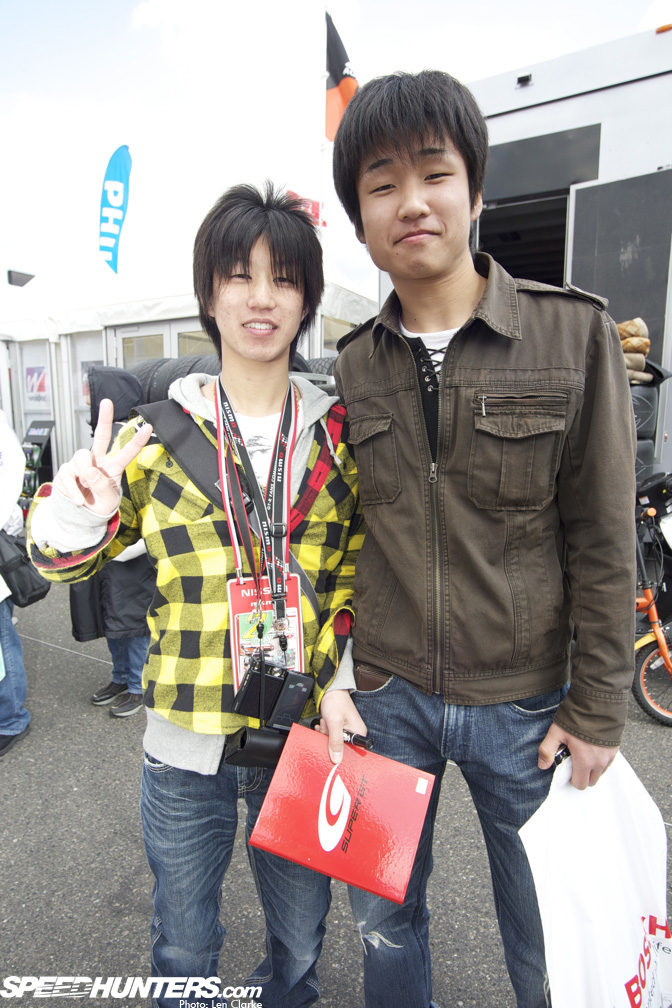 This is the typical youth that crowd the paddock on race weekends – armed and ready!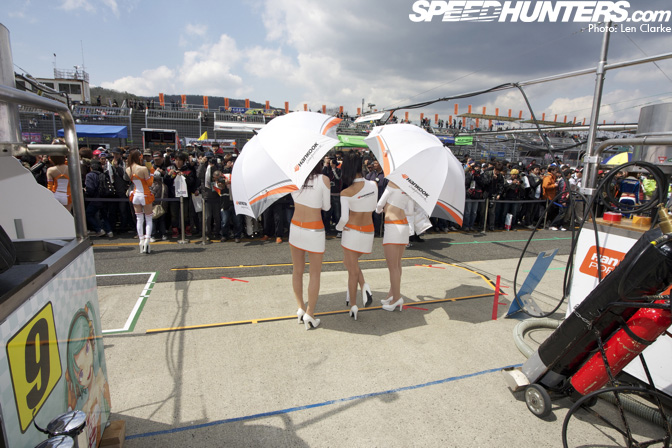 Looks like there might be some cloud coming in… Saturday afternoon in Okayama
Check out this kid in full HIS ADVAN KONDO RACING colours!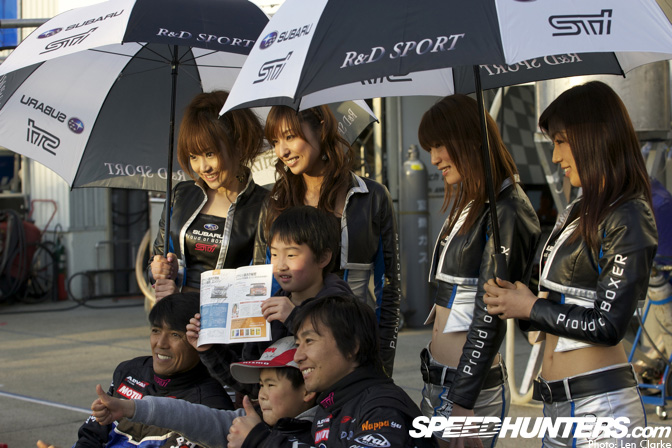 More kids totally into motorsport – and I bet their dads are too! These lucky youngsters are sat between Tetsuya Yamano (left) and Kouta Sasaki, both champions in the GT300 class – and a whole bunch of other disciplines besides!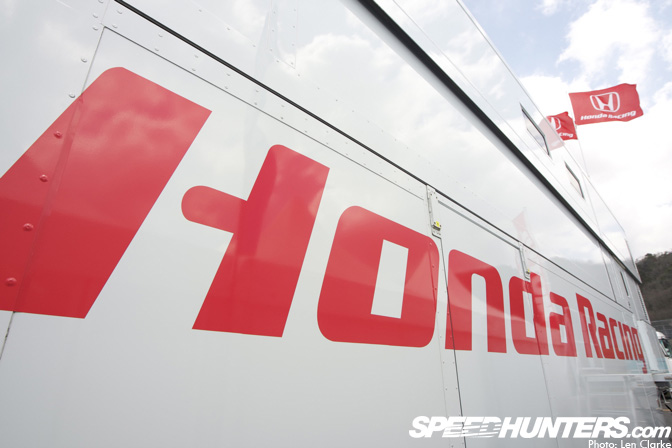 Honda Racing – after what happened at Suzuka, the maker was in desperate need of a good showing for round two of the series…. They would get that with a lights-to-flag victory for the #18 Weider entry (formerly the Takata Dome NSX)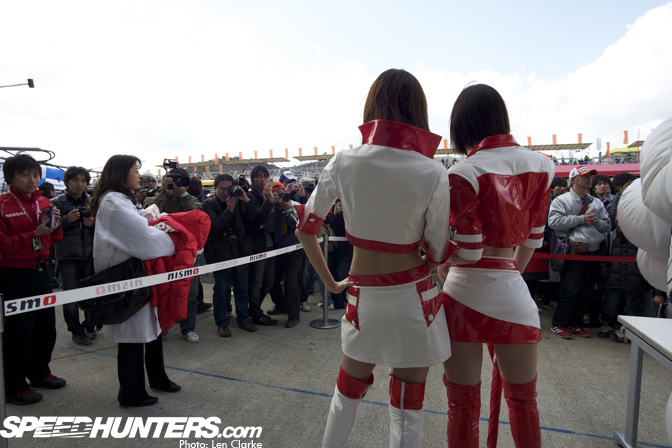 Earlier on in the day it was a little brighter…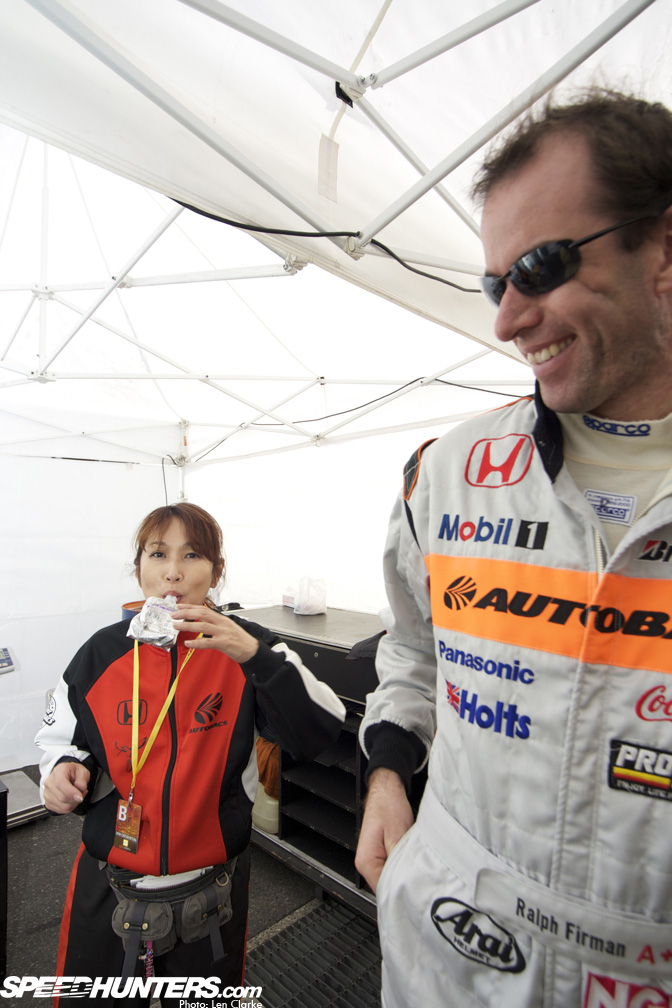 Ralph Firman having a laugh…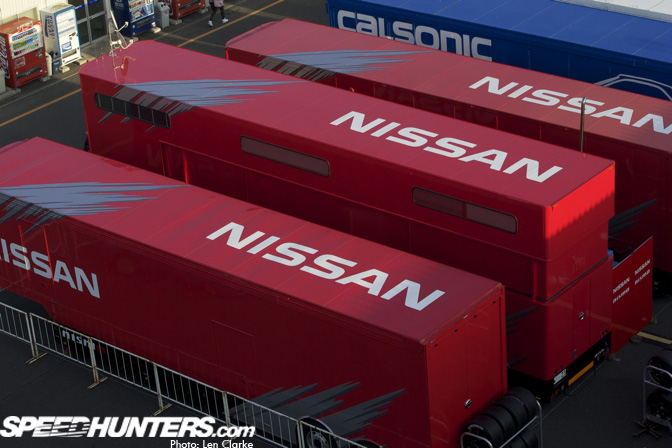 It all starts from here….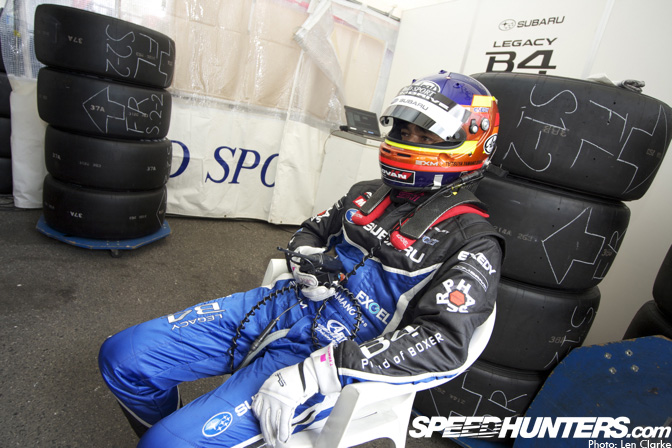 Triple GT300-class champion Tetsuya Yamano waits for his turn in the car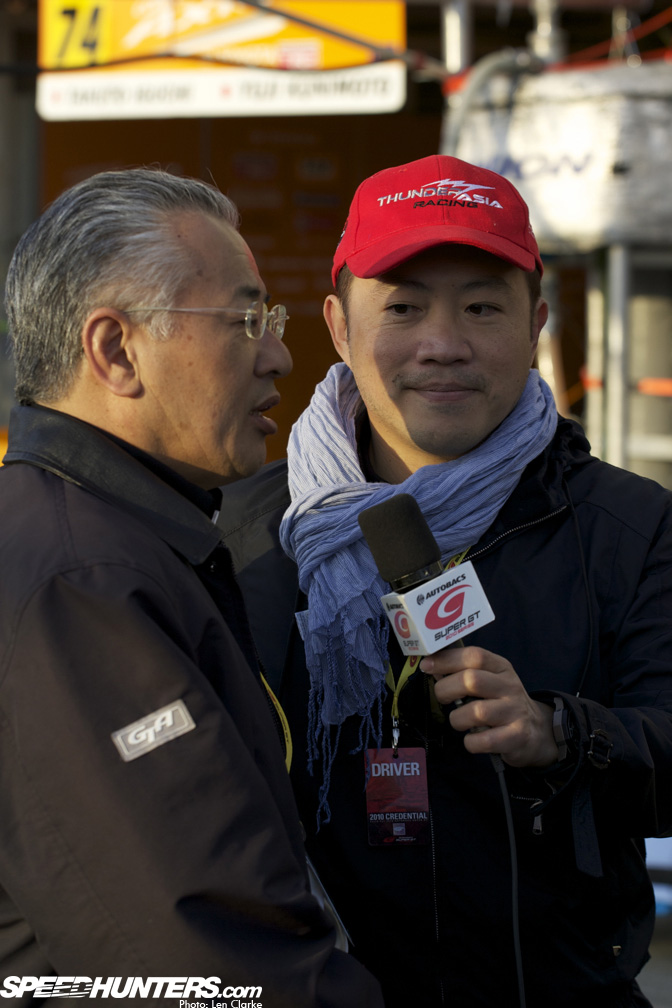 SUPER GT's latest entrant, Singaporean owner/driver Melvin Choo interviewing series' boss Masaaki Bandoh after Saturday's qualifying sessions. Choo is joined by two-time British GT Champion Tim Sugden in the specially-developed MOSLER MT900M, which made its SUPER GT debut in Okayama.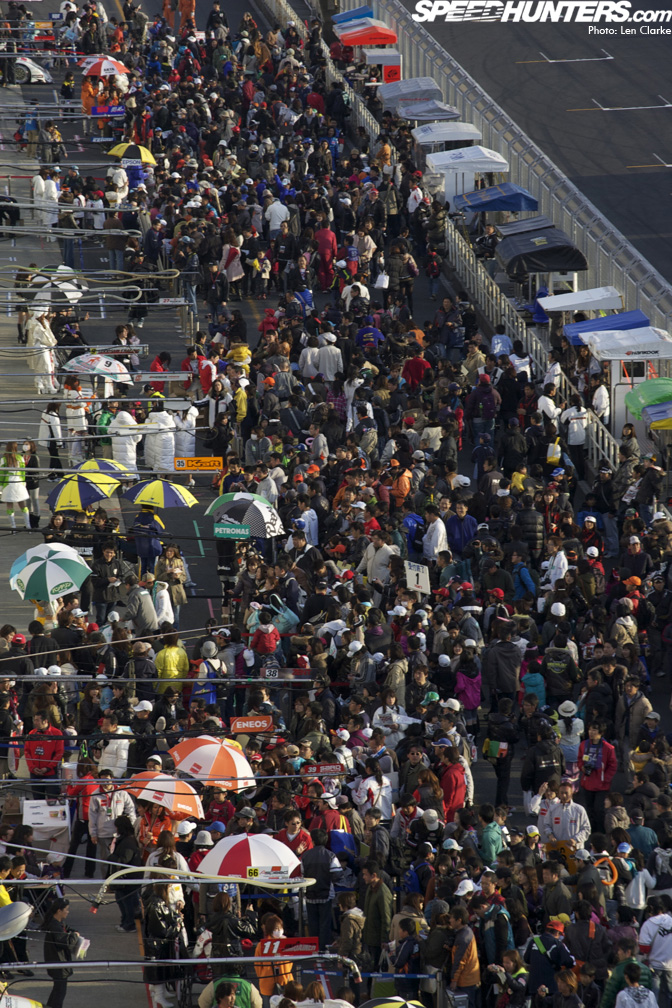 From the roof of the Control Tower you get an idea of the popularity of something that's an institution in SUPER GT, the Saturday afternoon Kids' Pit Walk – where grown-ups can go only if accompanied by a child. The drivers get right into it, handing out gifts, signing autographs and posing for photos with the youngsters and their parents. While it's busy in this image from Okayama, at the larger circuits, Fuji and Suzuka for example, it's an absolute zoo!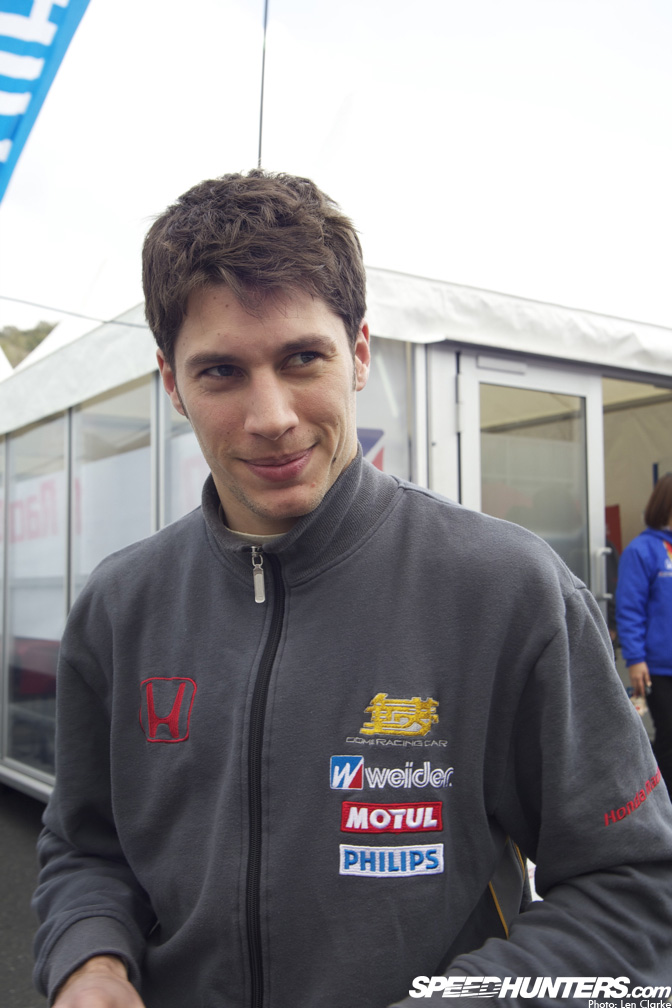 Calm and cool as ever – Loic Duval amuses fans in the paddock before qualifying, in which he and teammate Takashi Kogure dominated the knockout format sessions.  It proved to be the perfect lay-up for a dominant race win the following day – the first for Honda's new HSV-010GT – and well-deserved!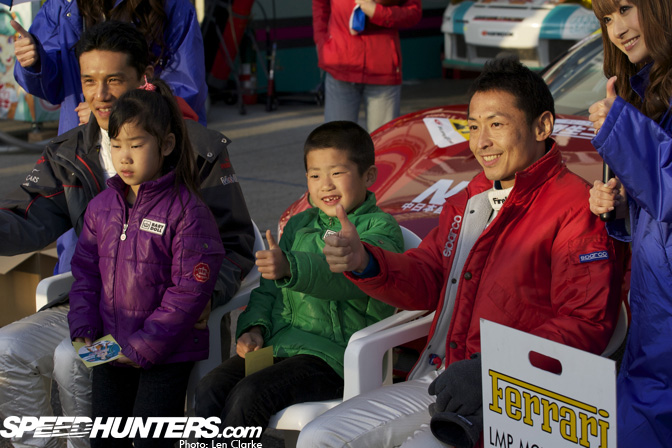 Having moved from a 911 GT3 RS to an F430 GT, the Yamagishi-Koizumi pairing started 16th in GT300, and finished 11th. It's better than last year.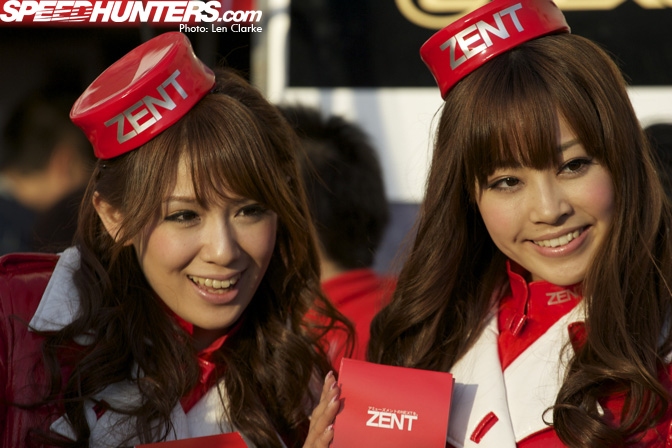 What is Zent, you ask? Well, it's not gum, it's not batteries – it's Pachinko!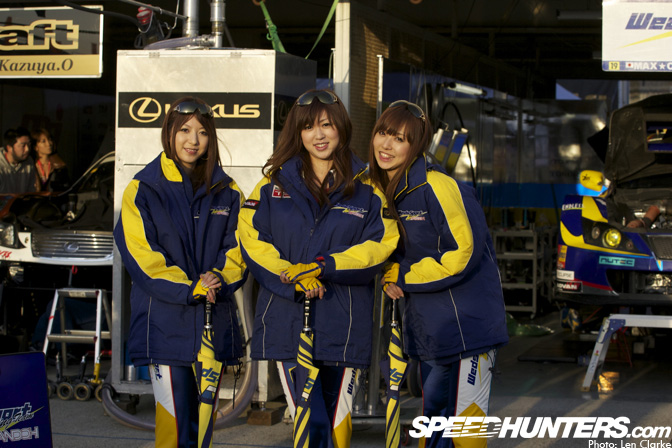 These girls are champions – at least the team they sashay for, WedsSports, are current GT300 title-holders.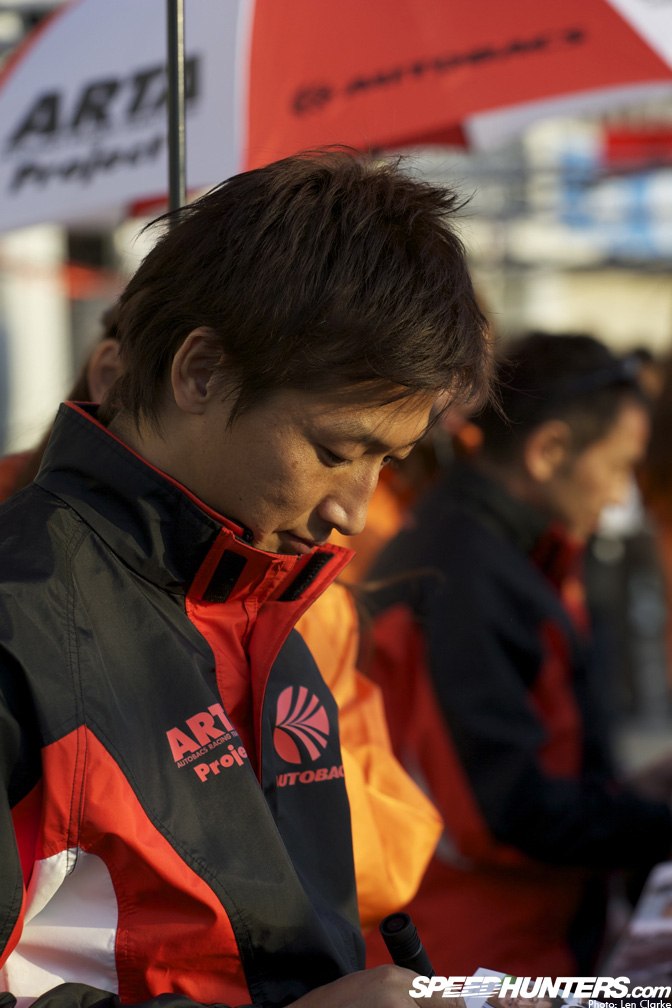 Now in the core Honda Racing factory-backed car with former champion Ralph Firman by his side, is this Yuji Ide's best chance ever to show his speed? Once the new Honda's sorted, frightening things are going to happen! Plus, Ide's quick in the right environment.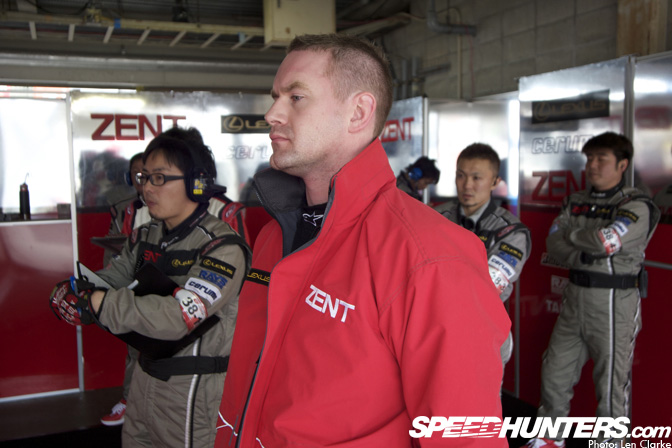 Richard Lyons concentrating hard on the monitors as teammate Yuji Tachikawa sets a time.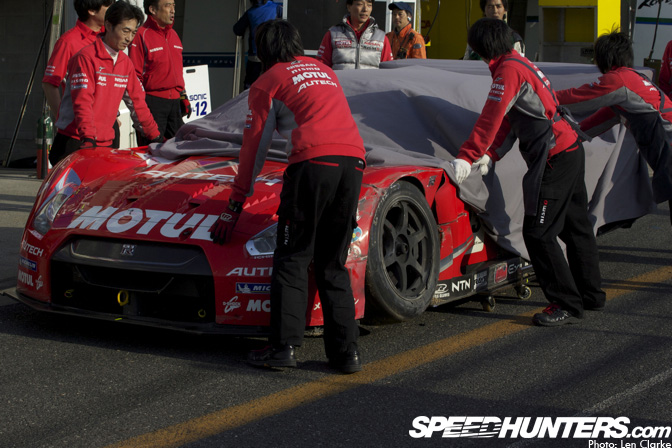 The MOTUL AUTECH GT-R (#23) is brought back to its pit garage after the race. The car was hit from behind on lap 16 of the 82-lap event by the #32 EPSON HONDA HSV-010GT, which was later penalized for the incident.
-Len Clarke