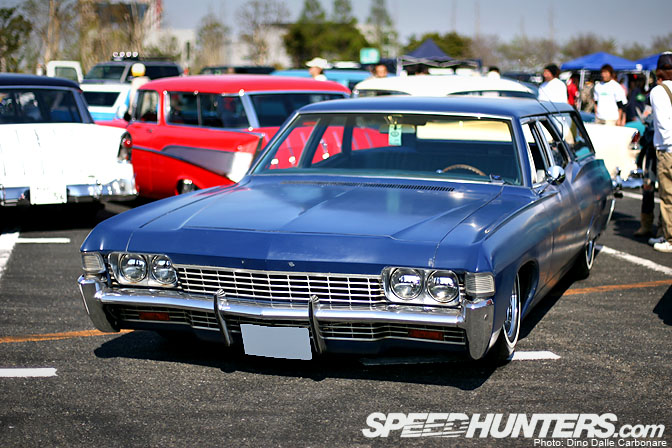 I've put together another collection of shots from the Mooneyes Street Car Nationals picking some of my favorite cars from the hundreds of rides that were on display, not to mention what was around in the parking lot! Like I said yesterday it is probably the variety that makes these events so unique from your Americana…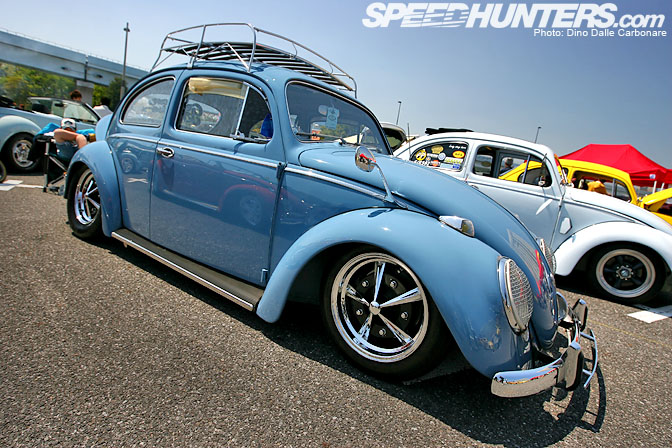 …to the unavoidable VW's…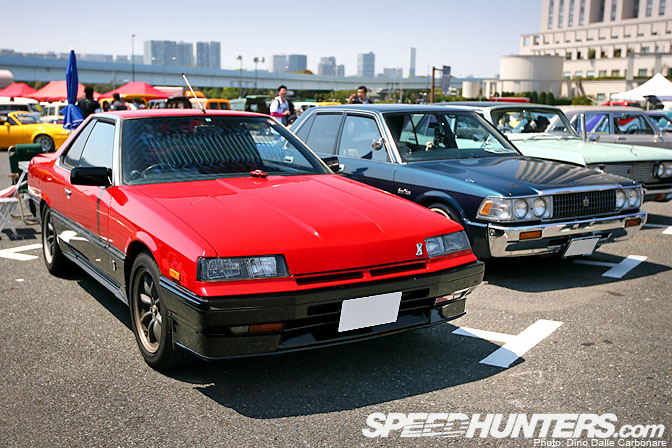 …and a very strong and rare showing from the JDM side of things. I managed to spot an R34 and R35 GT-R but it was this almost stock looking R31 that really looked the part among all the customs.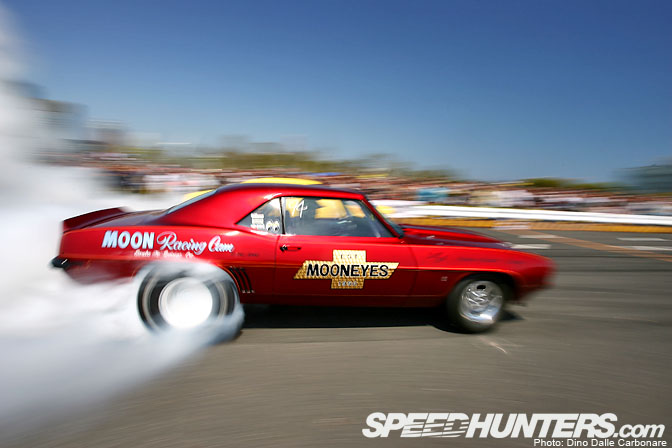 The burnout show got going again in the afternoon where cars that had signed up to show their stuff decided it was best to just kill their tires putting on one hell of a smoke-fest. This driver of this Camaro showed everyone how a proper burnout is executed…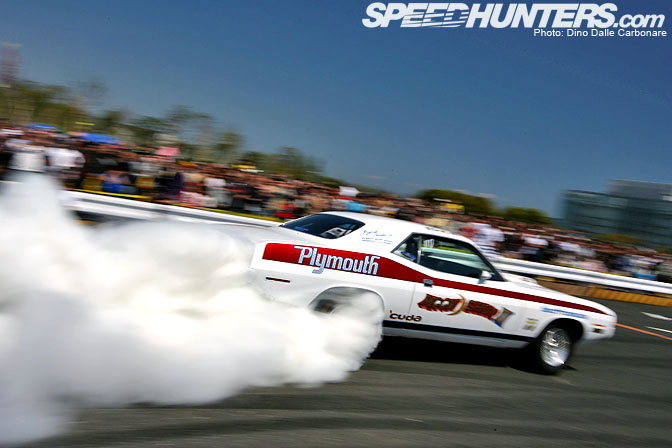 …followed shortly by this Cuda.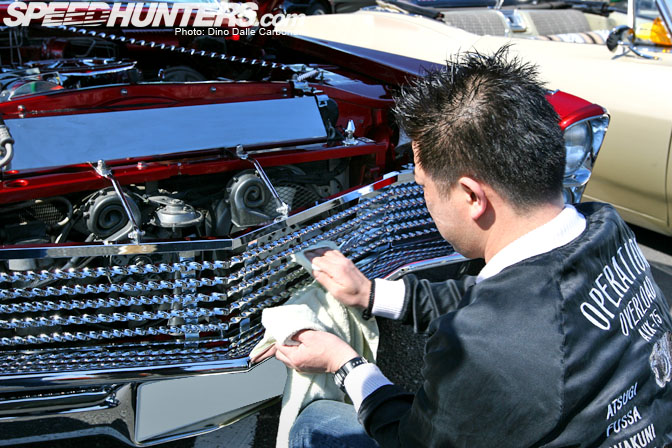 Lots of chrome means lots of polishing and every owner was trying to make his/her car look it's best. The only people chilling out were the owners of cars going for the rusted out rat-rod look, definitely a low-maintenance approach to this hobby!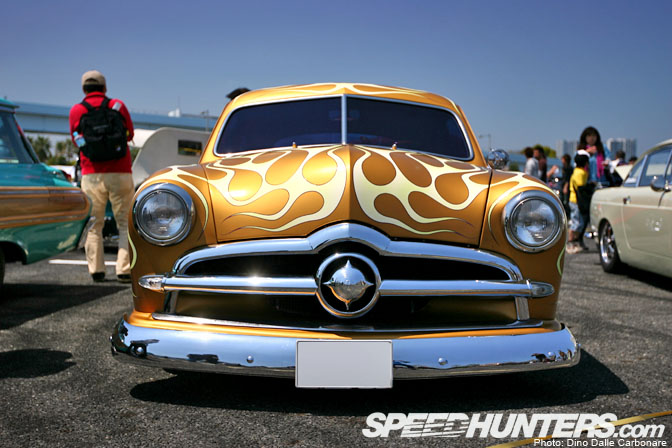 If you guys remember we already saw this Kustomstyle built '49 Ford at the Custom Show in Yokohama back in December. The semi-gloss paint on this thing looks incredible under the sun and was getting a lot of attention. I still think the windscreen is too dark!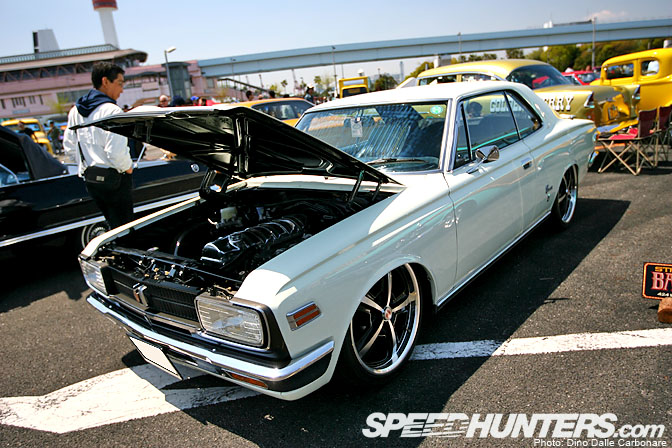 I've never see so many Crown coupes like I did yesterday in Odaiba. Not too sure the big wheel look will be appreciated by all but the work that has gone into this car's restoration can't be ignored.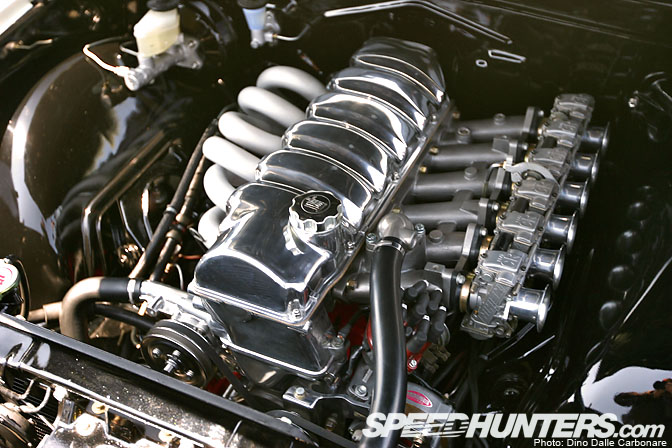 Take a look at what was under the hood…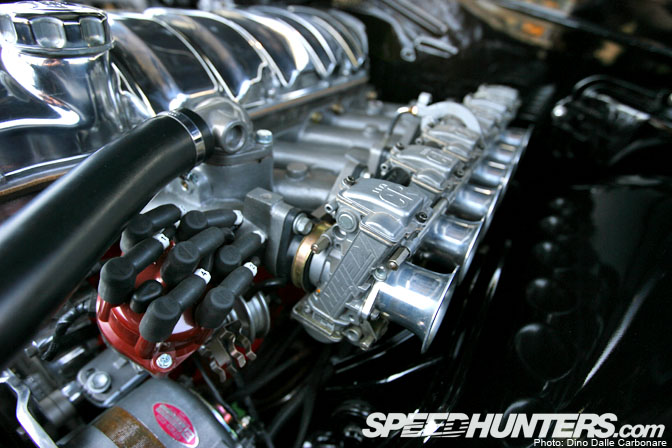 …yep those are six Keihin Flat-CR carbs!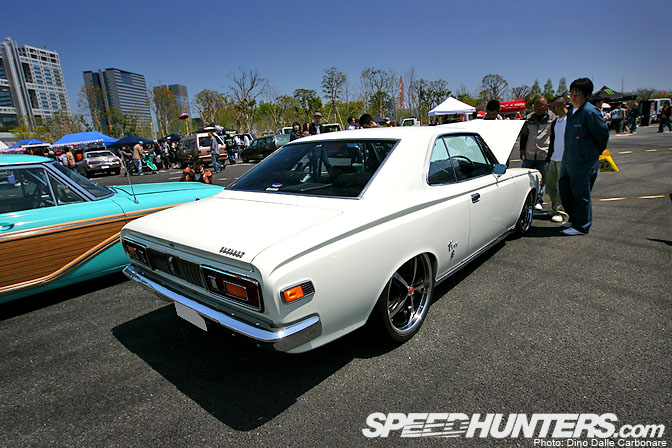 View from the back.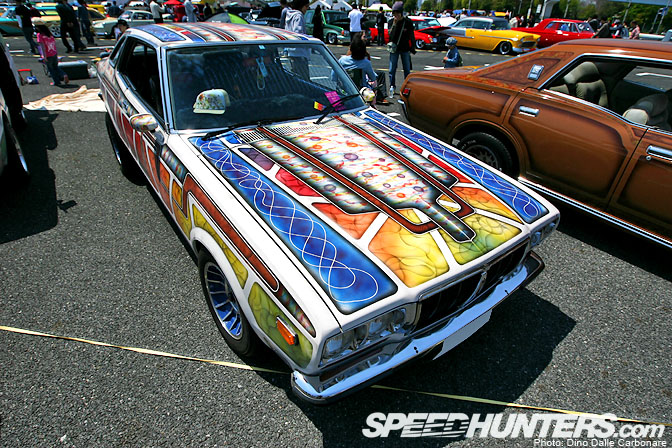 It's all about style at these events, and there are just so many different schools of thought it is very hard to get bored. Check this lineup of very colorful rides..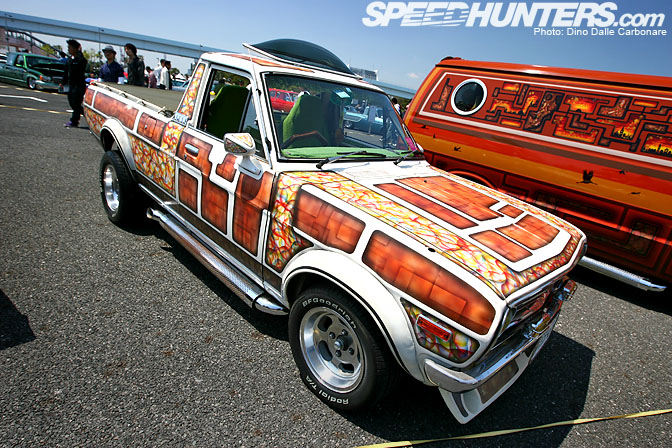 …both sporting hand panted matte designs.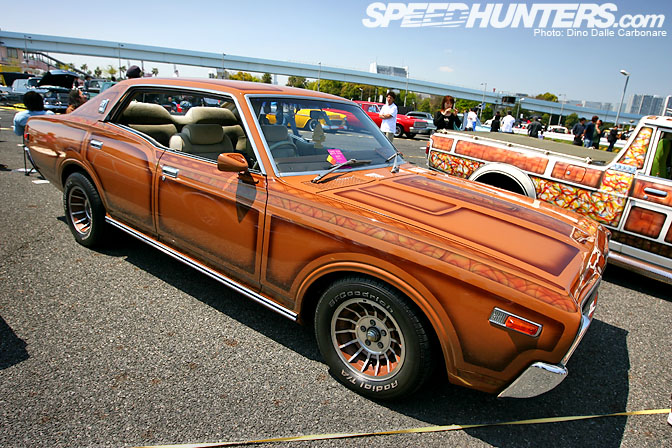 Best of the bunch had to be this seventies Nissan Gloria. Even the insides of the wheels were color coded in brown.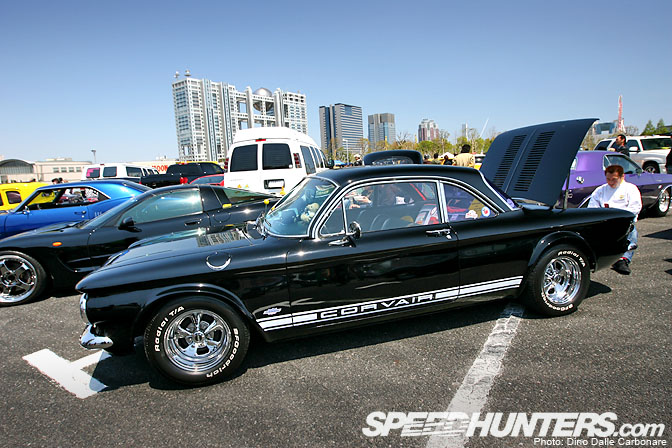 You just don't see cars like this Corvair in Japan so I took my time to check this 1962 Monza Coupe over.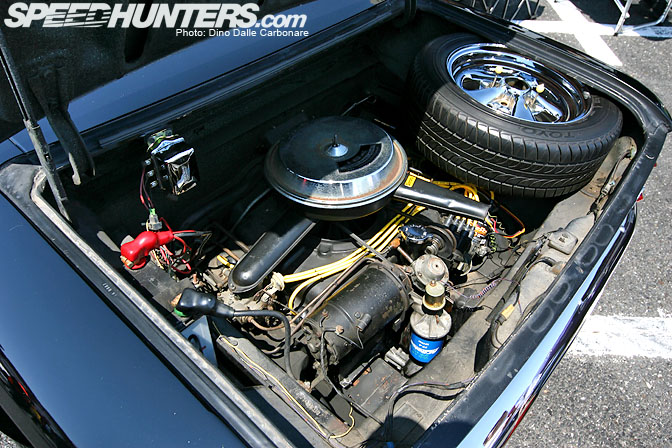 Chatting to the owner I found out they even made a turbocharged version of this rear-engine coupe, one of the first production turbo cars. You learn something new every day!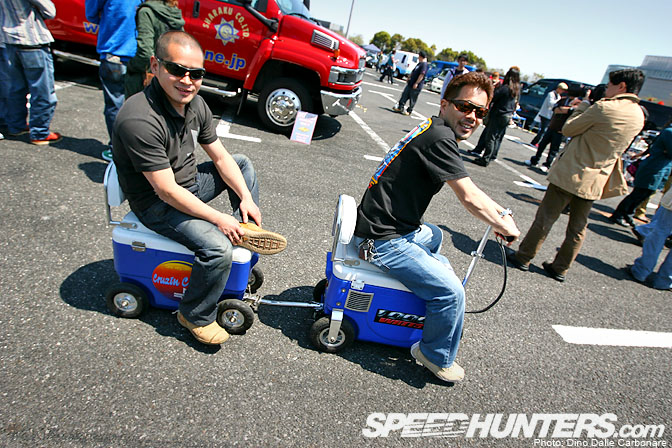 I spotted these guys zooming around all day on their electrically powered coolers on wheels. Definitely an easy way to check the show out, and when you get tired you can always stop for a refreshing beverage! These "Cruzin Coolers" sell for $750 in Japan, a pretty pricey way to keep your beer cool!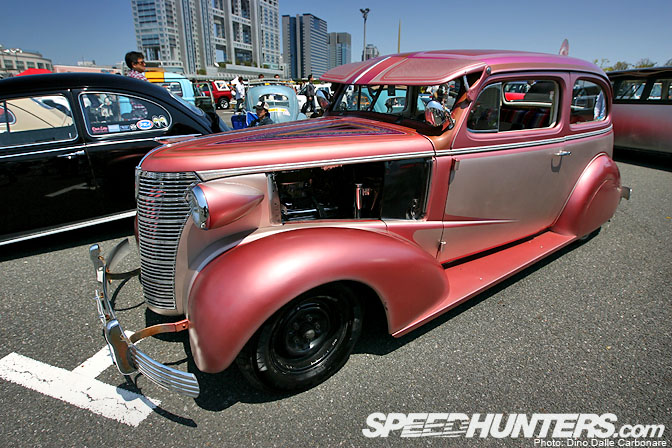 A pink Chevy custom!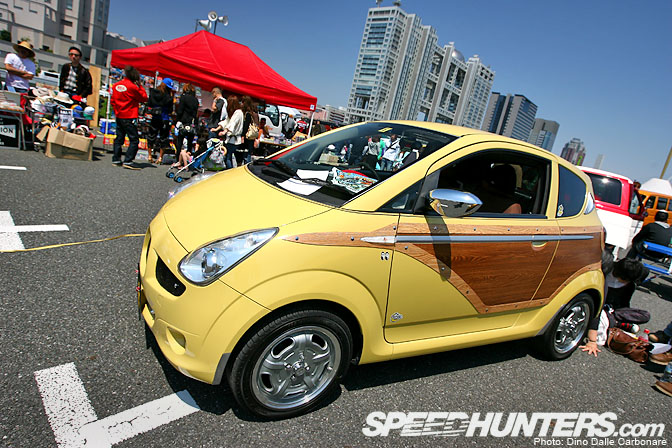 I thought the Mooneys look really suited this little Subaru R1 Kei-car.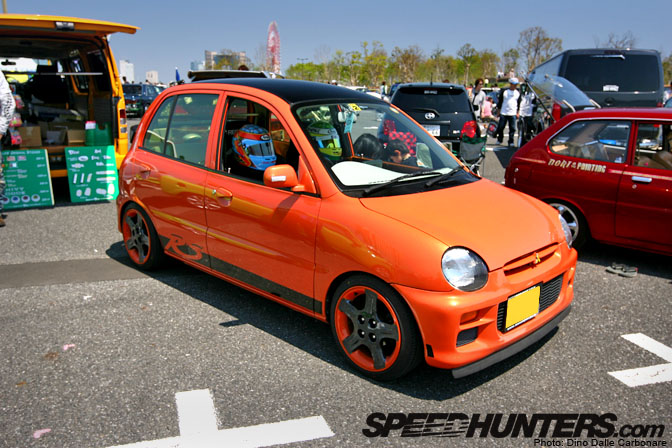 The Mitsubishi Minica RS, who needs a 911 when you got one of these!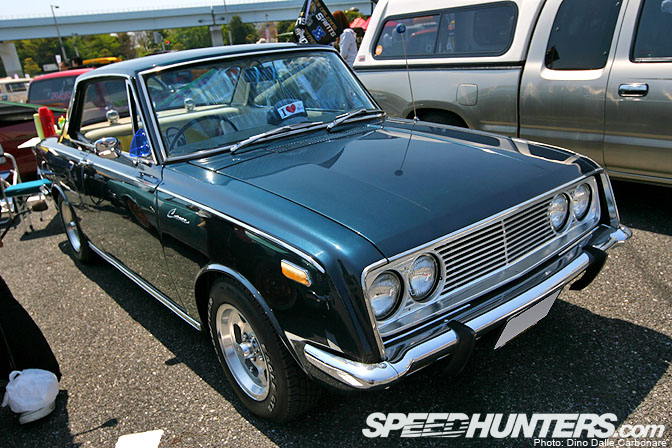 Another rare one, a Toyopet Corona 2-door. The cap on the dashboard reads, "I love my Corona," most definitely referring to the beer rather than the car!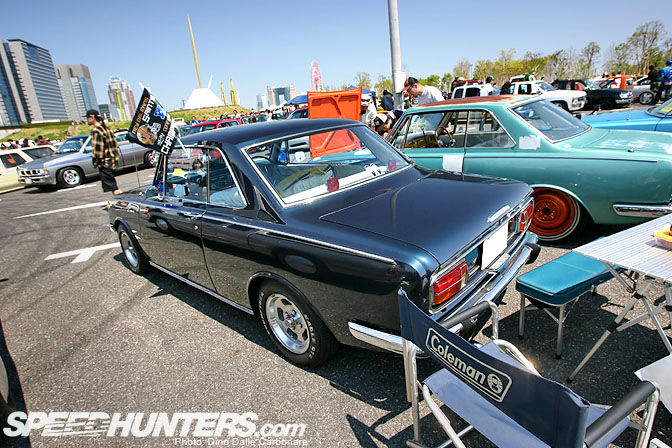 The car next to it is another Corona coupe, equally cool even if a little rough around the edges.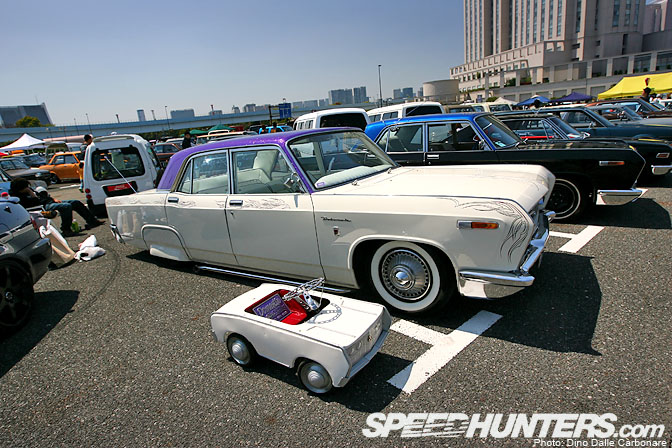 Mitsubishi Debonair with a customized mini-me.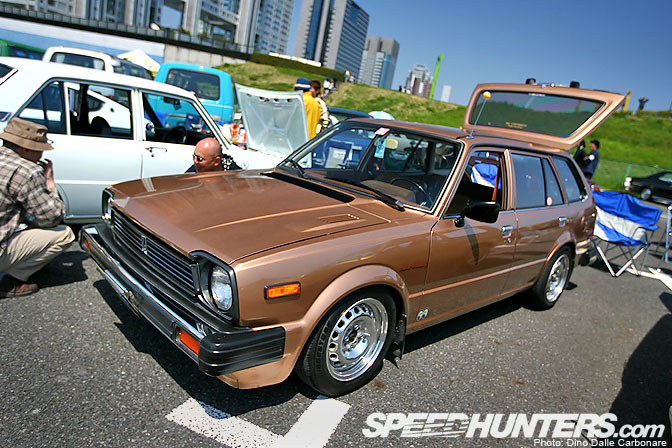 One of you guys mentioned that some of the shots in the first part of the coverage looked like they were taken in the US. Well I really got this feeling at times yesterday, especially while grabbing this shot of one of many imported Hondas. Like the Prelude in Part 1, simple and clean.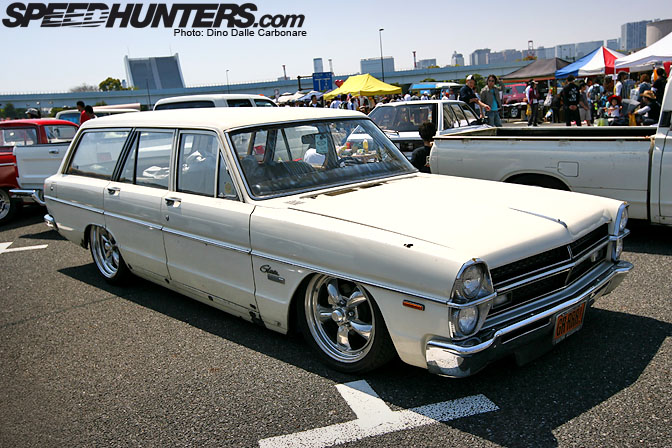 I wasn't aware these old Nissan Glorias were exported but judging from the position of the steering wheel I guess they really were. I wonder if there are many in the US or other countries?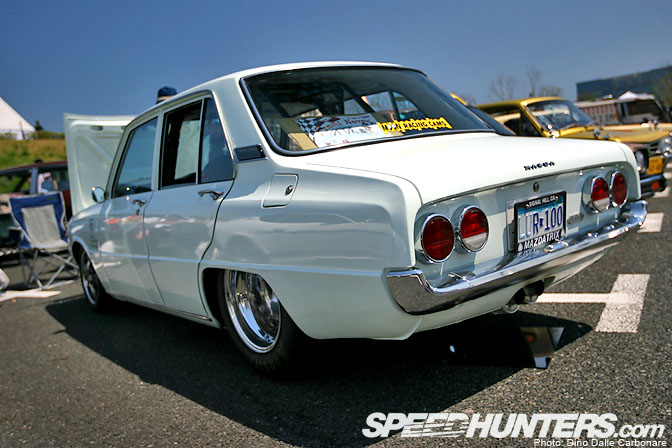 A lot of you were correct in identifying the little Mazda Familia TSS rotary, a car that was also made in coupe form in the early seventies.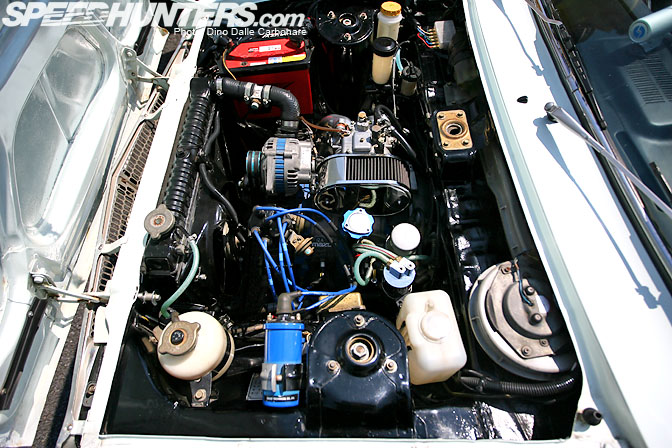 The little drag racer was fitted with a tuned 12A motor, just managing to fit in the tight engine bay.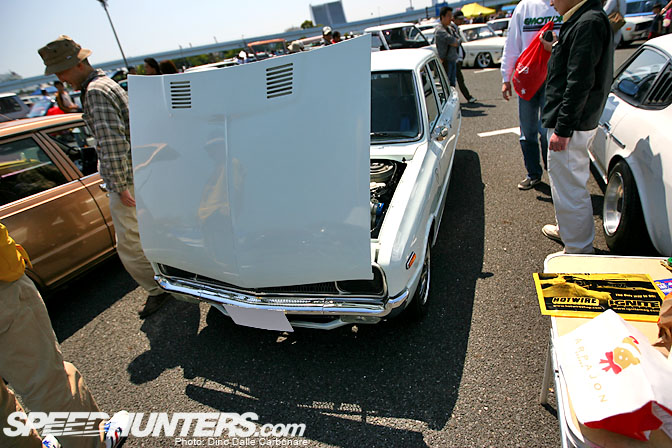 View from the front. Would be interesting to see it in action, I wonder what times it can put down at the strip.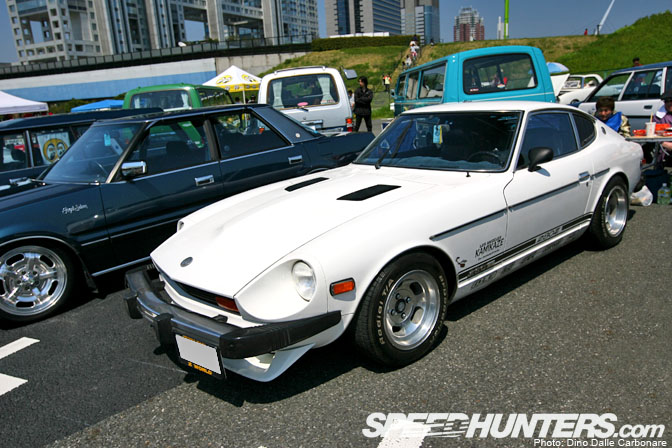 Don't miss the next selection of cars from Odaiba, as I have a lot more to show!
-Dino Dalle Carbonare