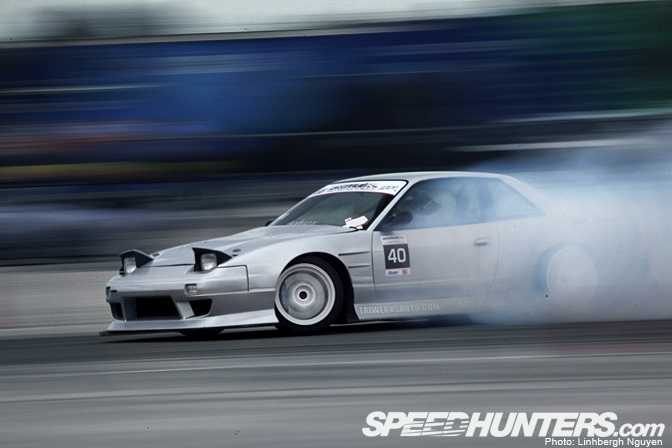 When you hear the word import, I'm sure many dark memories are conjured up from the deepest and darkest depths of your 1990s soul: baby blue Civic sedans with ridiculous body kits, wings, wheels-sunken-into-the-fender goodness, matching baby blue interior plastics and a sound system that would even make Paul van Dyk turn green with envy. Thankfully, those days are far behind us. I mean, for heavens sake, we're in the year 2010–THE FREAKIN' FUTURE, RIGHT!? We now live in a completely futuristic and globalized car enthusiasts world. You can see every branch of the collective automotive culture somehow touch upon each and every other branch. The word import has been diminished to a simple meaning: any car that originates from the land of the rising sun. Import Reactor is fast becoming a large, well known automotive festival and car show in the greater Houston metropolitan area. Import Reactor: Drift is a brand new venture for these guys.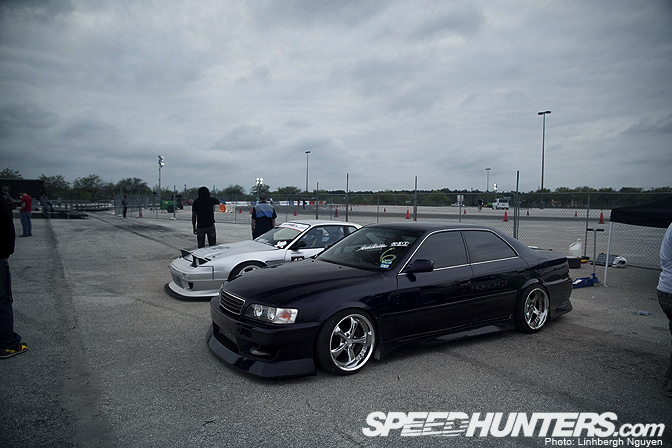 Import Reactor: Drift is exactly what you think it is; it's an entertainment spectacle where cars hailing from the land of the rising sun do that whole sideways-smoking-tires-thingy-ma-bob that kids these days are going nuts over. Not only is it a show, but it is also a competition for local talent to win a bit of cash to help them advance their goals of maybe someday competing on a nationwide and professional level. When you're eating ramen all day to save up money to buy tires, two-thousand American dollars goes a long way in that quest.
This drift event is a prelude to the two-day long car show that will happen during the weekend. The car show Import Reactor is part of a much bigger festival celebrating all things Japanese and Japanese pop culture. It is part of an Anime convention–Anime Matsuri, to be exact. It's three days of sheer craziness I tell you… but more on that in the coming days.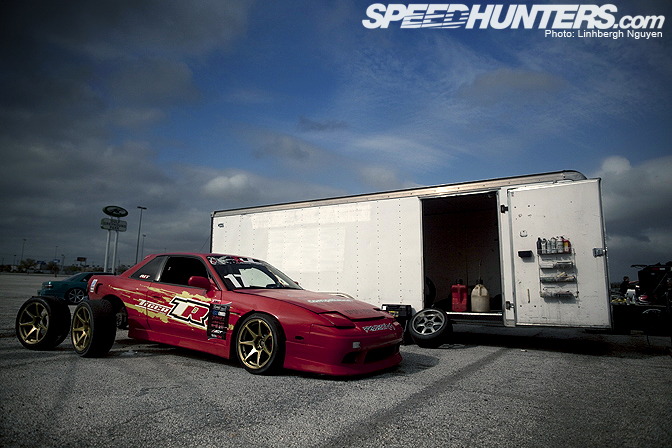 The event may have the word import in it, but there's not a single hint of baby blue Civic sedans in sight, but rather, home brew, down-to-earth grassroots rear-wheel drive drift cars built with Elmers glue, baseball bats, bubblegum, sledge hammers, hopes, dreams, and zip ties. This S13 coupe belongs to Sammy Tiger. He drove all the way from Atlanta to Houston to compete. He is also campaigning in the new nationwide XDC series.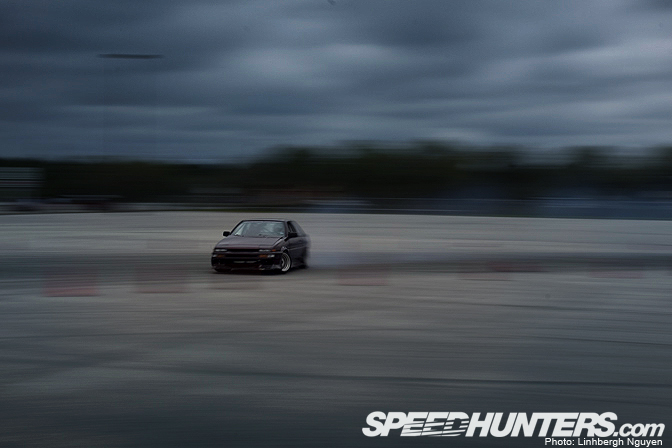 This little AE86-that-could, definitely could with what was under its hood. What lay underneath was a Lexus V8! A full feature coming very soon….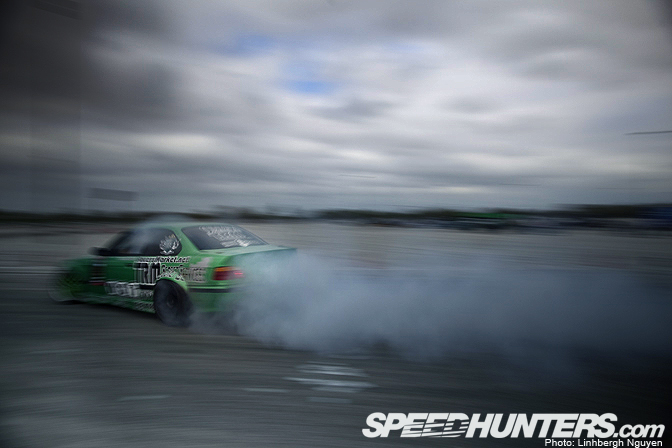 Chelsea DeNofa is another XDC competitor who was also looking to score a bit of extra cash. He was looking solid all day long in his E36 not-an-import-but-totally-euro M3.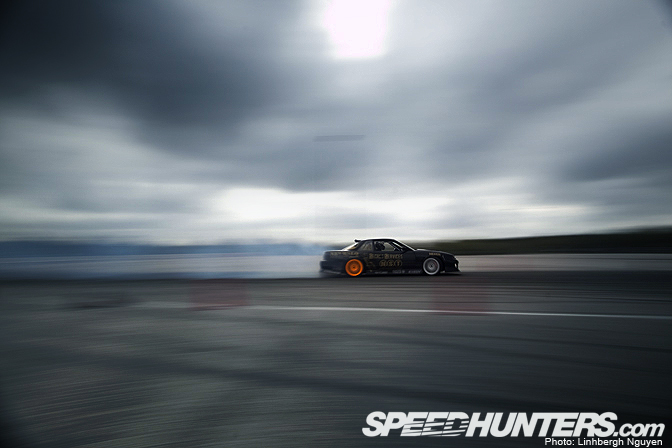 During the afternoon practice sessions, Joshua Steele and his S13 also looked to be in good form for the evening's competition.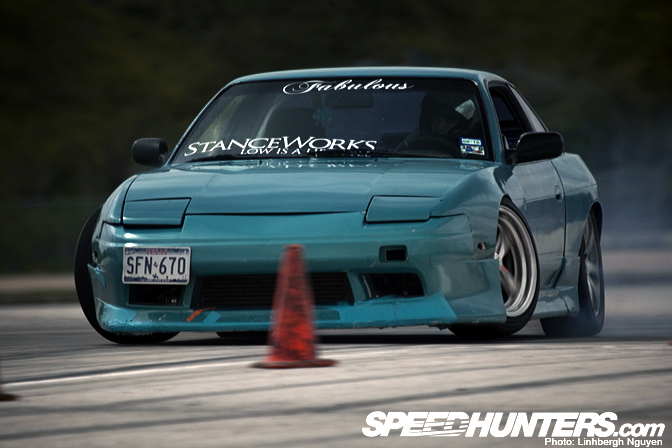 There may have been a lack of baby blue cars, but there was this teal S13 driven by Corey Gilbert. This is that street drift style that originally made us all fall in love with drifting.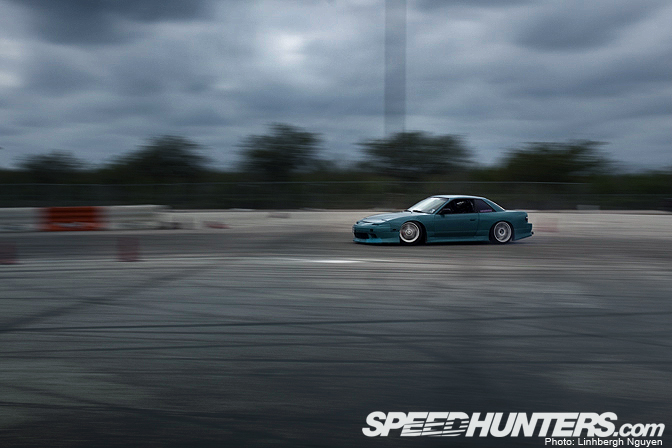 Corey's S13 looks just superb.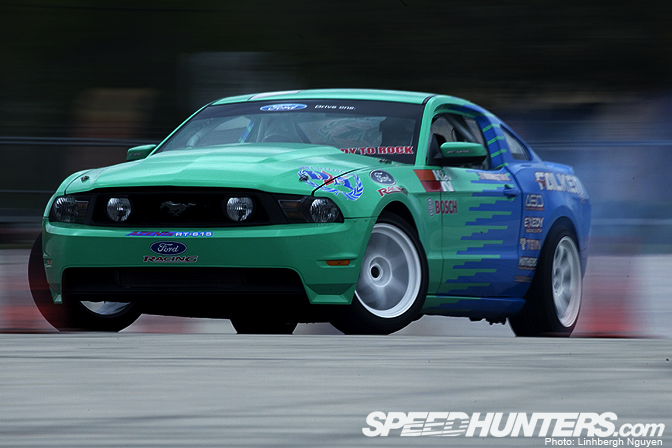 Now, who is this? How the heck did this guy get here? It's not even an import for Pete's sake!
In all actuality, professional drifter Vaughn Gittin Jr. was invited to be a guest judge at the event and also strut his stuff in his demo car. This event would be the last event he would be driving in the signature blue and teal Falken livery. We now know that he drives in a carbon fiber Monster energy drink Mustang with Falken scallops.
It was a quite treat to see him not drive in competition form, but rather loose and just for the heck of it.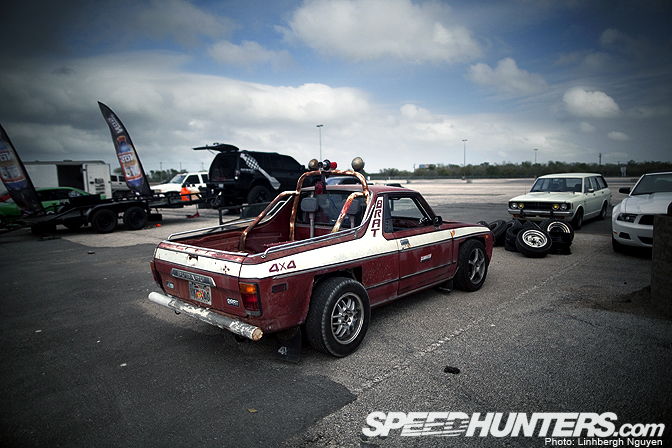 This Subaru Brat is a drift car that all of us would never think of as a drift car. It's a totally beat hack-job with a stock 13B rotory powering the rear wheels… and I freaking love it. It's rare to see this much character in a drift car, and it has been a long time.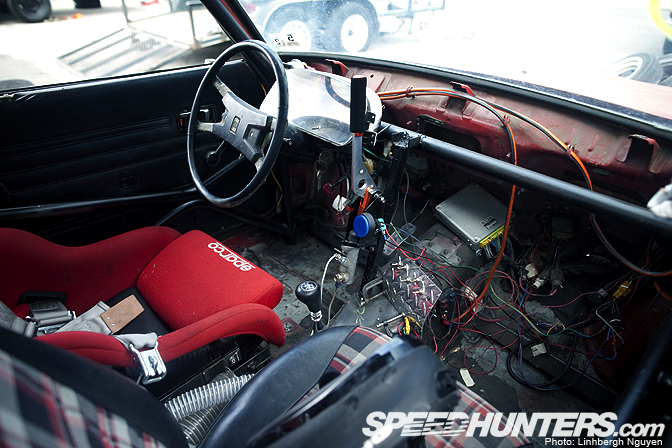 You just have to be careful not to touch the car or it'll give you tetanus.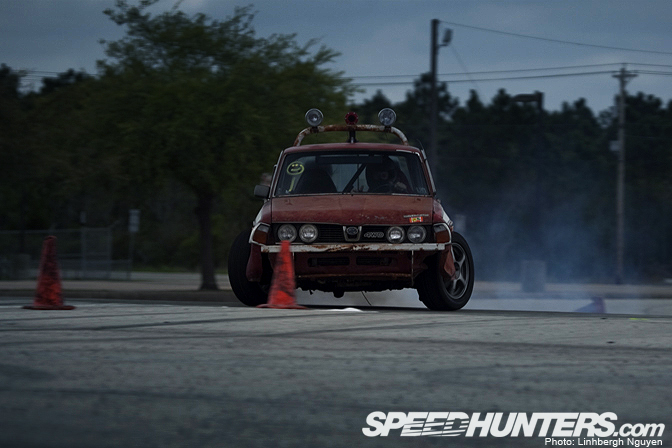 … and yes, it does drift–and drifts well.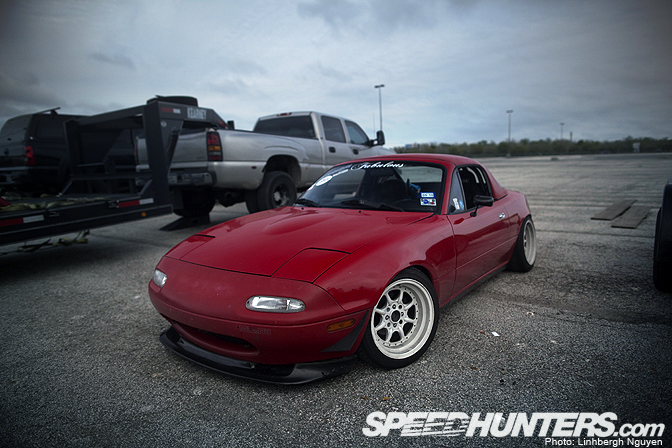 This Miata was not part of the competition, but when you come up to a Roadster that looks this good, it's hard to ignore it. The painted white Sportmax wheels look fantastic on the classic red.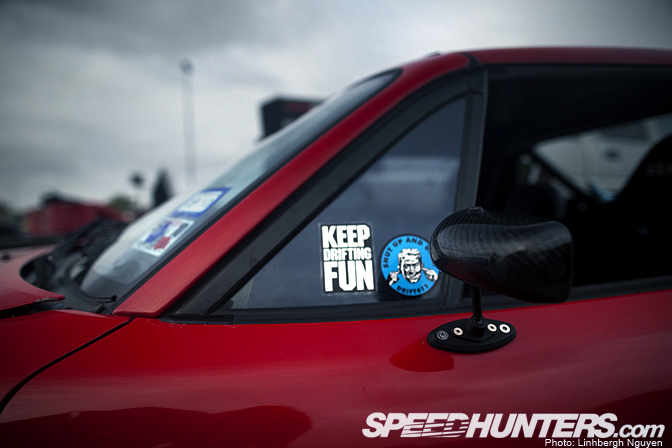 The owner of this roadster has the right mindset, too. He's definitely trying to Keep Drifting Fun!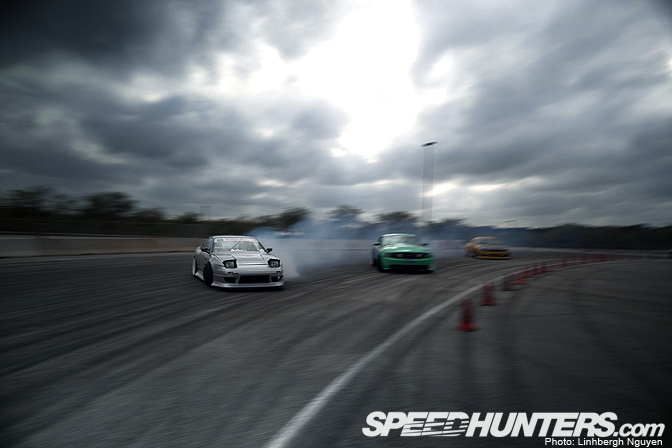 The great thing about having Vaughn Gittin Jr. present is the fact that these local guys are given the chance to drive with someone on the top tier pro level. It's not very often that these guys get such an opportunity!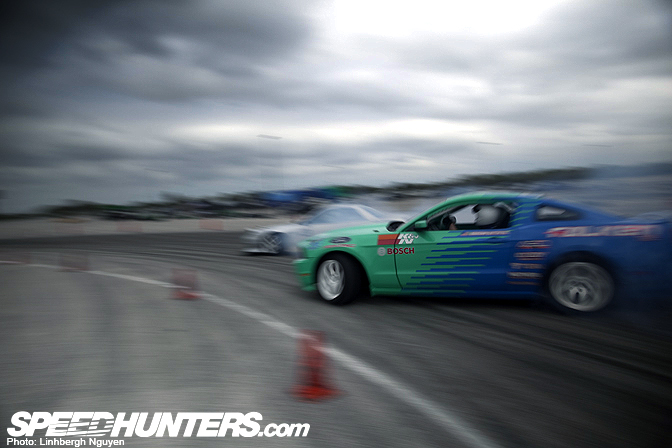 I'm sure JR had just as much fun as these guys.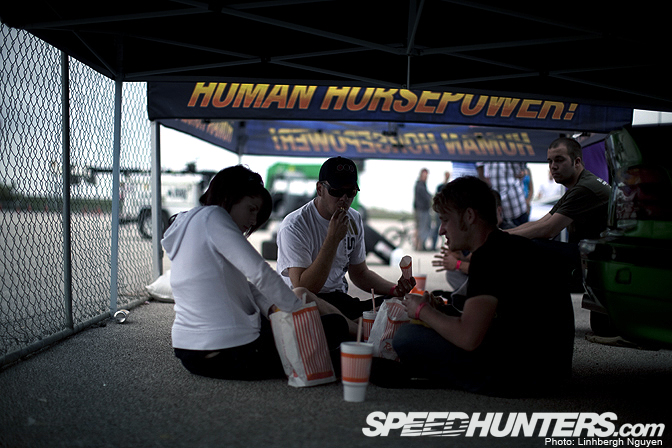 Nobody really liked the tuna, so instead they went to get some burger and fries for 2.95 at the local Whataburger. The early afternoon practice sessions felt like any other local drift event… well, if you disregard the fact that there was a huge Falken rig sitting in the pit area. But, if you've ever been to a local drift event, you know exactly what the vibe was like; it's a relaxed atmosphere. A mini-vacation from the fast pace of everyday life. When the sun set and the dark of the night crept in, that relaxed feeling was completely thrown out the window.
Next we'll head straight into the competition of the event….
-Linhbergh
P.S. If you guys want some wallpapers, let me know which ones exactly and the most popular three will get posted.