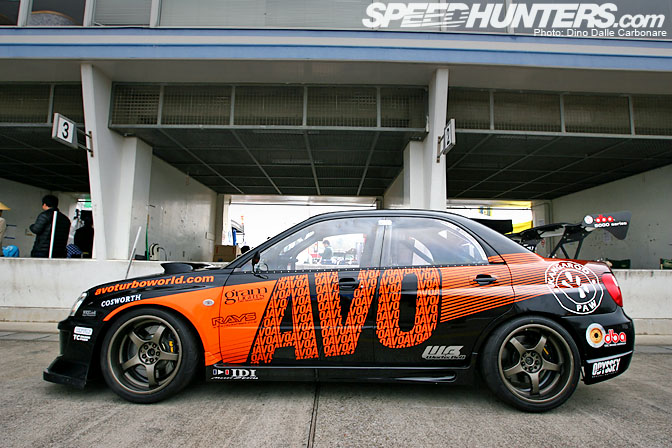 Time to wrap up the 2010 Hyper Meeting coverage with this final look at more action and some of the most powerful all-wheels-drive machinery in Japan, starting with the mighty AVO Impreza demo car, now sporting a lighter curb weight and even more power. As Ross explained they managed to shave off close to 60 kg by using lightweight materials and fitting paper-thin lexan glass to the doors and rear windscreen.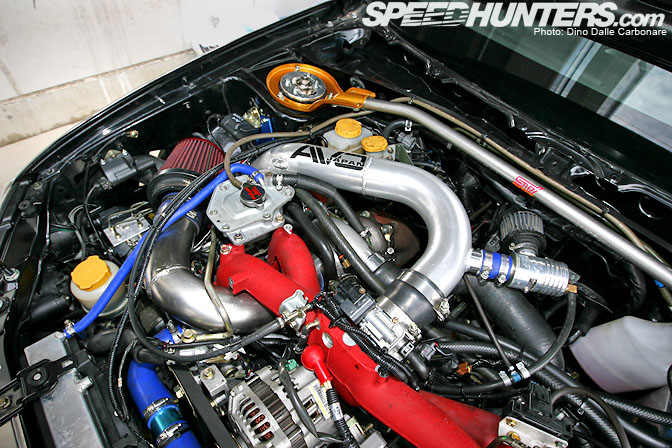 Under the hood the car is running the trusty 2.5L Cosworth motor, that in four years of hard track use hasn't had a single problem. Thanks to the new AVO600 v2 single scroll turbo power is now up to 600 HP with a monster torque curve peaking at 3,800 rpm with 554 lb/ft, making it easier to shoot out of corners faster and allowing them to finish the day with a great result…a result we can't disclose due to the agreement with the Video Option guys.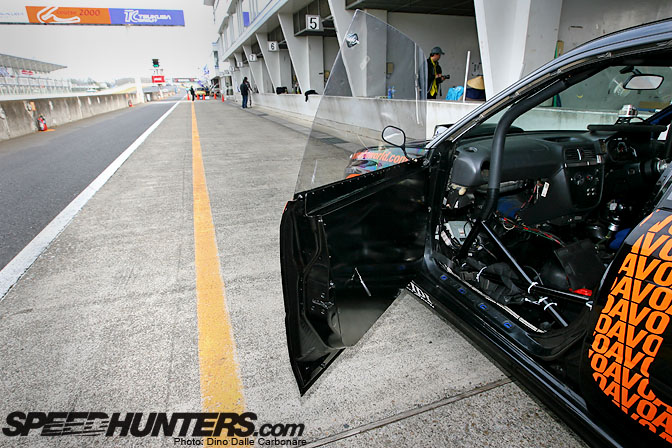 Here is a look at the lightweight doors and the lexan windows.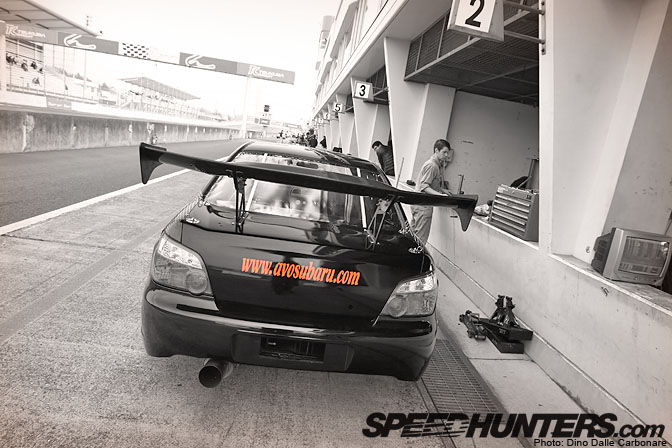 With massive torque and power comes the need for downforce, and lots of it, hence the massive wing!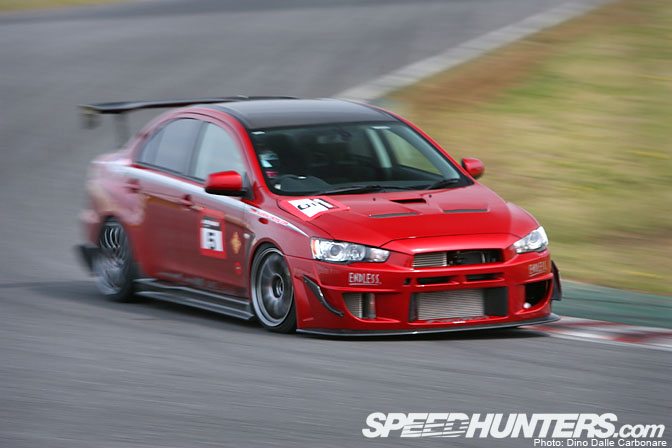 One of the biggest surprises at the Hyper Meeting was Sunline's newest demo car, a rather fast and mean looking Evo X. Sato-san from Sunline Racing did a great job with the preparation of the car for what was its first outing at an event.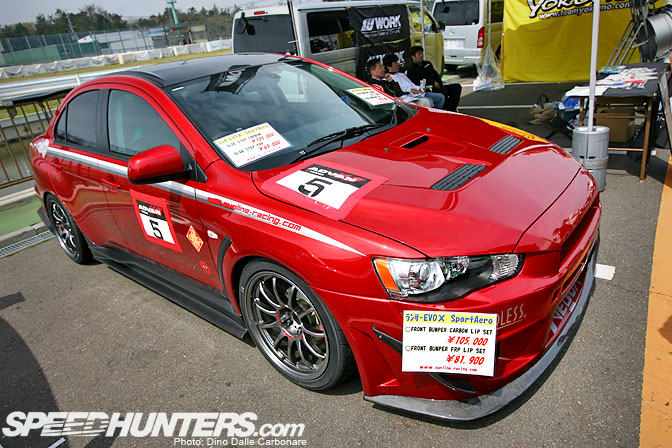 The car was prepared in a few days, finished right before the Hyper Meeting and driven up to Tsukuba all the way from Okayama! This SST equipped CZ4A sports a full original aero kit with lots of cool carbon detailing as well as nice items like Endless brakes. Gotta love how SLR does things.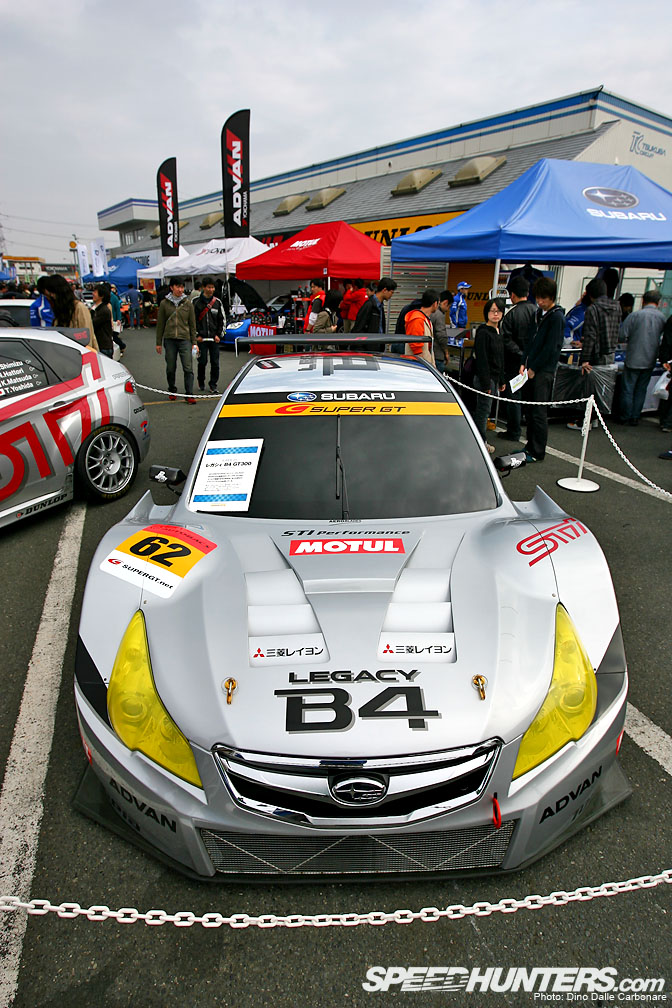 I couldn't get over how damn low the GT-300 Legacy sat!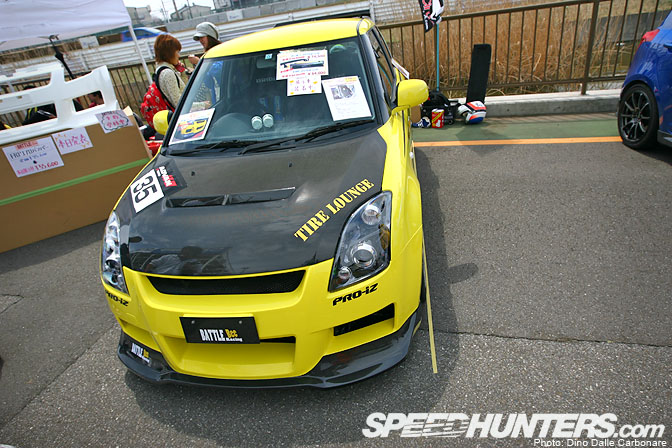 The Battle Bee Racing Swift, doing a very good job of looking like a killer bumblebee!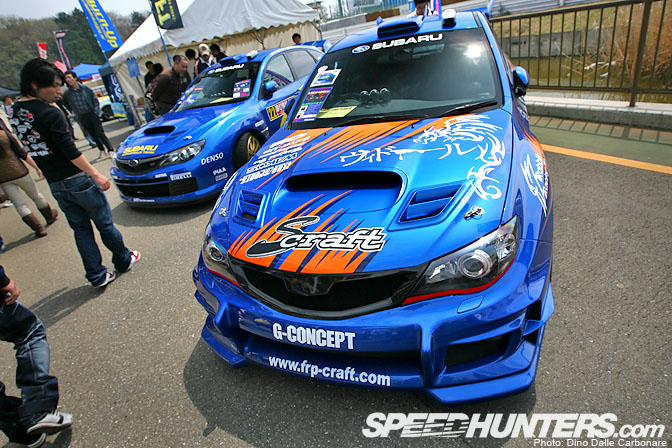 If you want to go for an authentic WRC look when modding your Impreza then S-craft definitely has what you need as you can see with the rally-replica demo car in the background. But if you want something a little wilder then check out their new hood scoops and front bumper, very angular to say the least!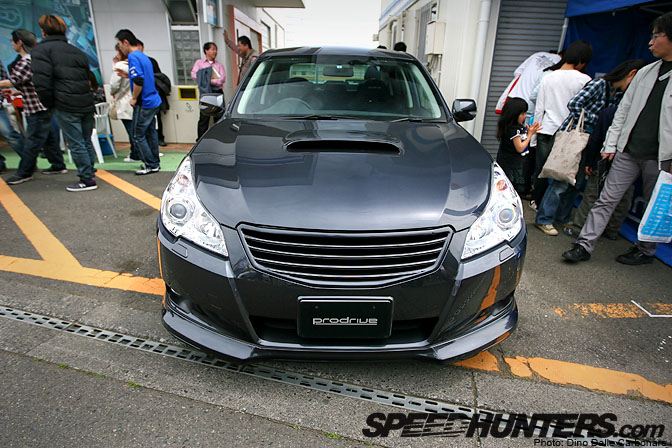 More Legacy love.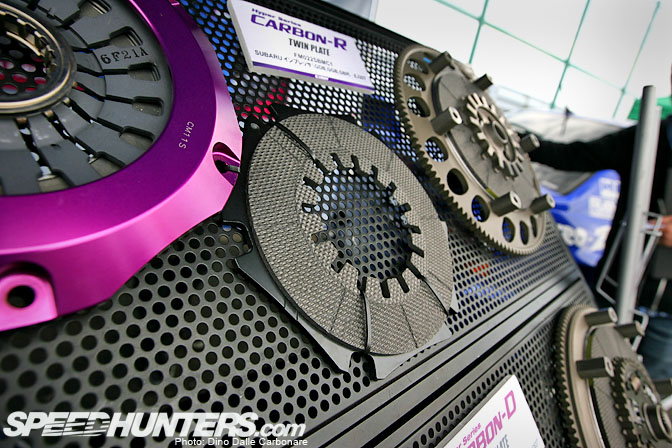 I always like to check out how products develop over the years and it seems that carbon clutches are really becoming popular nowadays. Ten years ago only extreme drag racers would opt for these, which at the time were prohibitively expensive. With improvements in processing and tons of development they have become the clutches to use. This twin plate is from Exedy…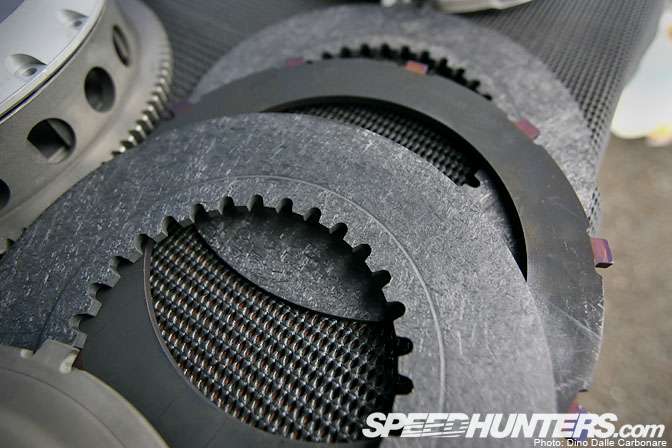 …while this is from ATS, the pioneers of the carbon clutch and LSD.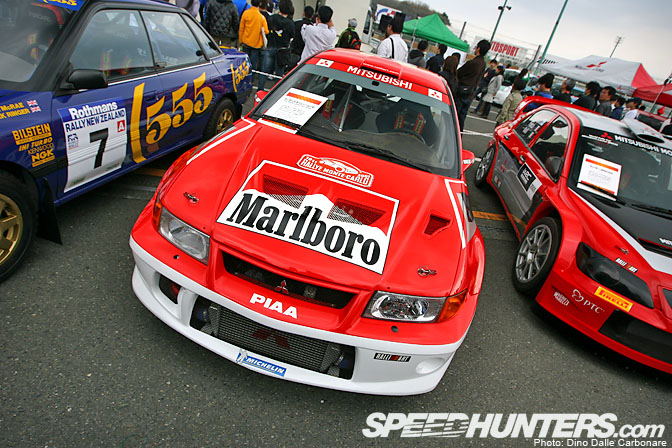 The Gr.A Evo 6 as used in the 2001 Monte-Carlo rally at the hands of Tommi Mäkinen. Still can't believe MMC is no longer in WRC!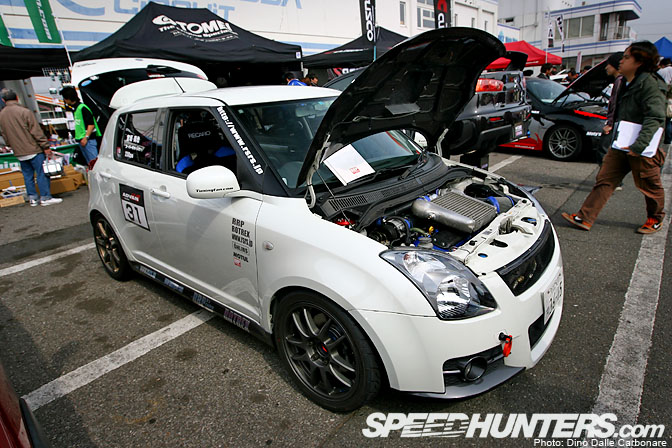 The Racing Service R's Swift grabbed my attention for its speed out on track but mainly…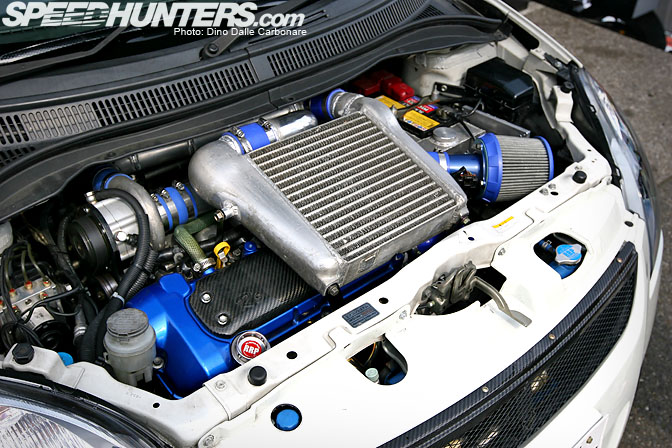 …for the curious positioning of the intercooler which allows to keep piping very short for best response. The little supercharger whine under acceleration is very cool.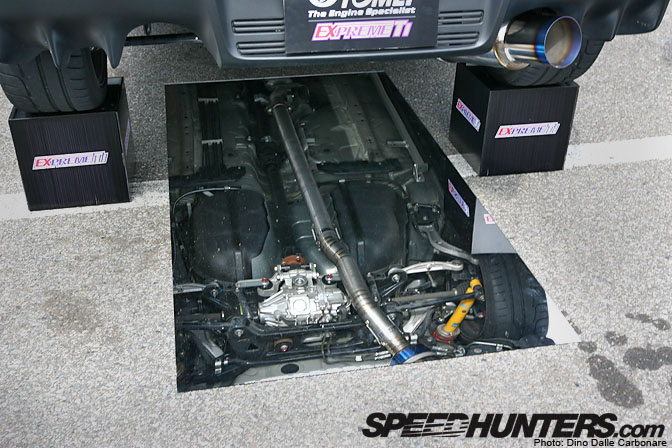 You can't get much straighter than that! This is Tomei's Expreme Ti titanium exhaust system which is so light, you can lift it up with one finger!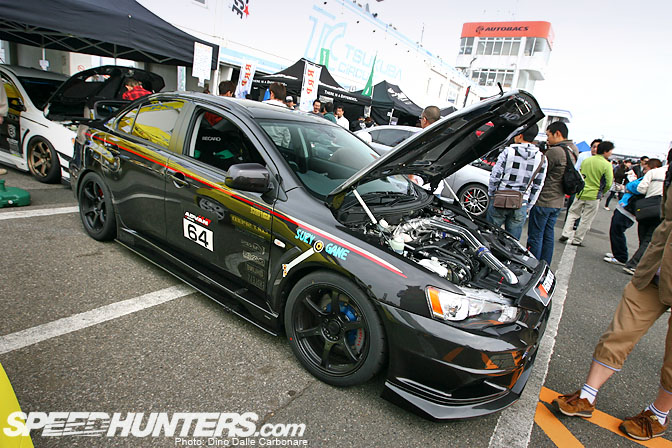 Black on black worked so well for this G-Force tuned Evo X. Behind the TE37 G2 wheels are the same massive monoblock 6-pot Endless calipers as fitted to the Varis/G-Force Evo X time attack car sitting behind it.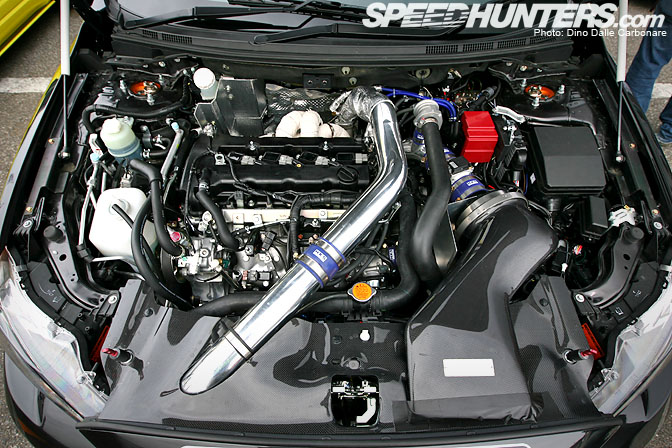 Engine runs a stroker kit and new turbo kit for well over 500 HP.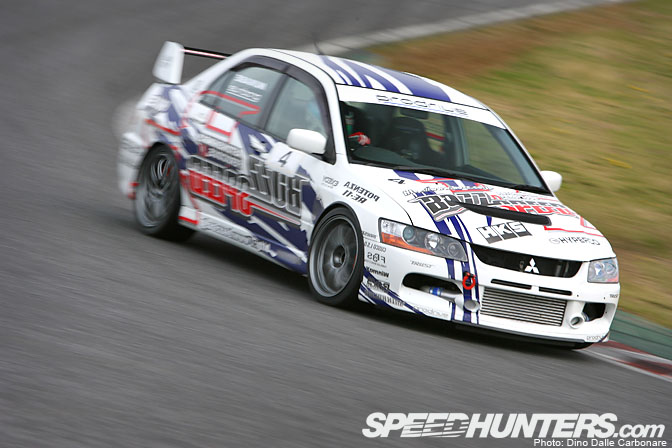 The Bozz Speed demo car out in action. This thing sound ferocious when powering out of corners!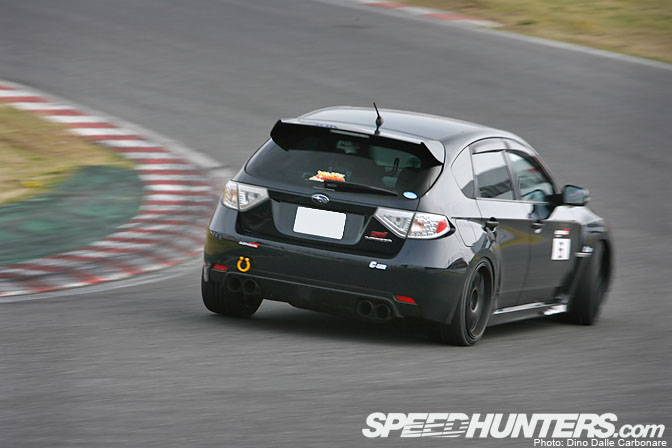 Yashio Factory is diversifying and doing rather well at it too. This is Okamura-san taking his GRB demo car around for a few quick laps.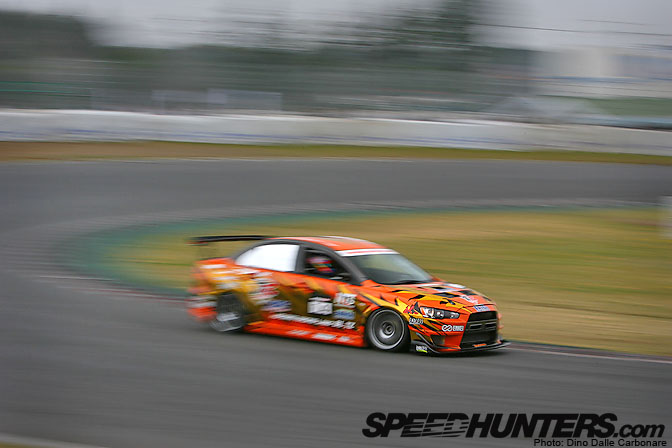 I leave you with a shot of the mighty Koyama Racing Labo Evo X hitting warp-speed as it exits the hairpin corner at Tsukuba.
More Hyper Meeting madness next year!
-Dino Dalle Carbonare