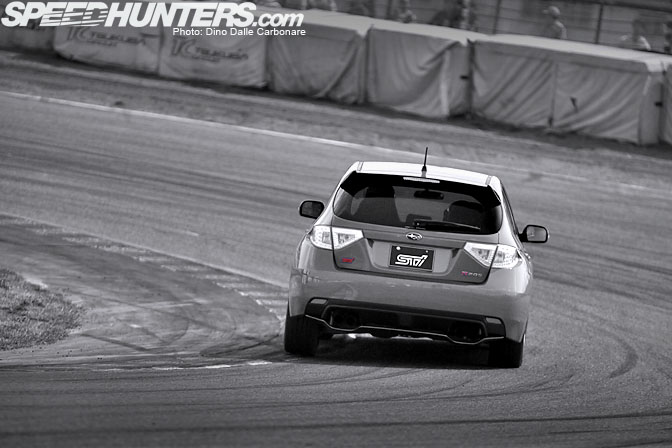 Time to dive into the world of all-wheel-drive cars with a more detailed look at some of the action and at some of the rides on display from the 2010 Hyper Meeting. Like every year this is the first event that I get my first serious sunburn of the season, and the sun sure didn't spare my poor sensitive skin this time round either! Despite this I hanged out on track during the biggest events, and was glad I finally saw the Japan-only R205 in action. I have to say, that after a few years, I'm beginning to digest the awkward design of the new Impreza. Of course now that the sedan version has been finally made it all become more interesting!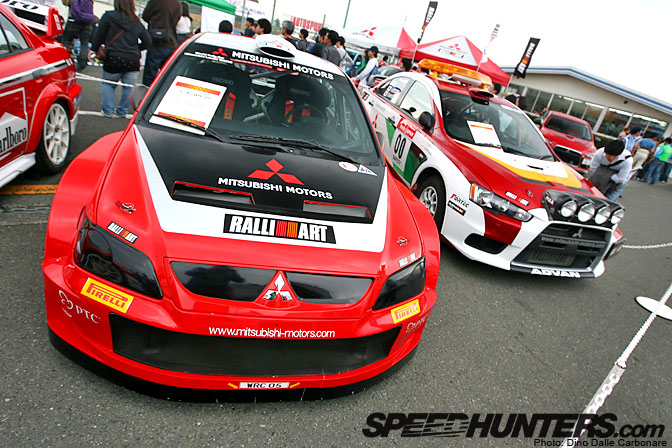 It's a true pity that MMC/Ralliart pulled out of WRC. This is their last WRC car from 2005 and a Gr.N EvoX.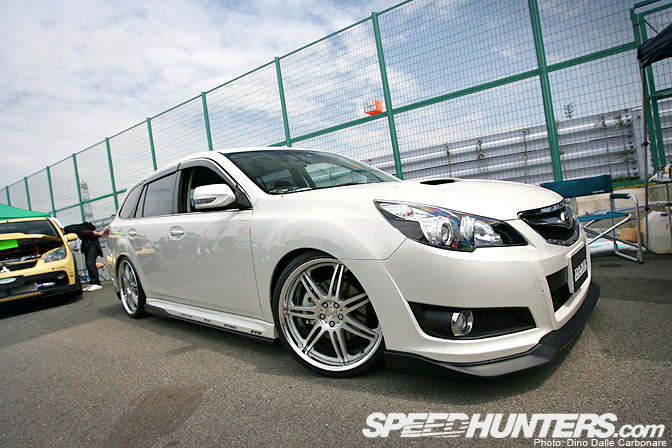 I still think the glasshouse of the new-gen Legacy and Legacy Wagon is far too tall, and that the hood line is way too SUV-like, but with a few choice body parts and the addition of well sized wheels, with correct offset, it can be made to look rather OK. What do you guys think?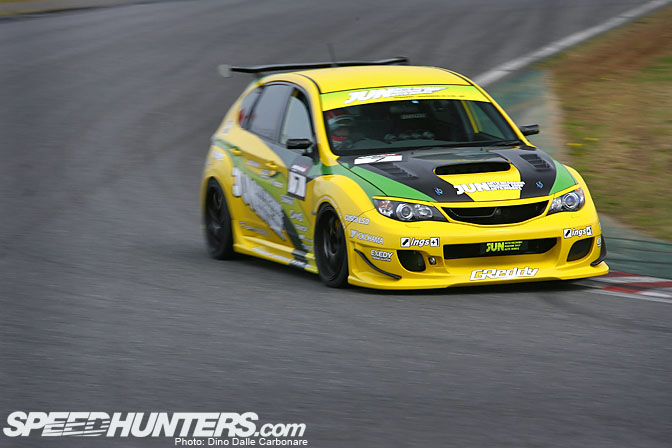 Now that JUN have put their Evo X development car up for sale it is the turn of their GRB to be taken to the next level. During the course of 2010 this will be take from a street-car class level up to an open-class level and if they finish up in time we can expect to see it at this years Super Lap Battle in December. One to watch for sure.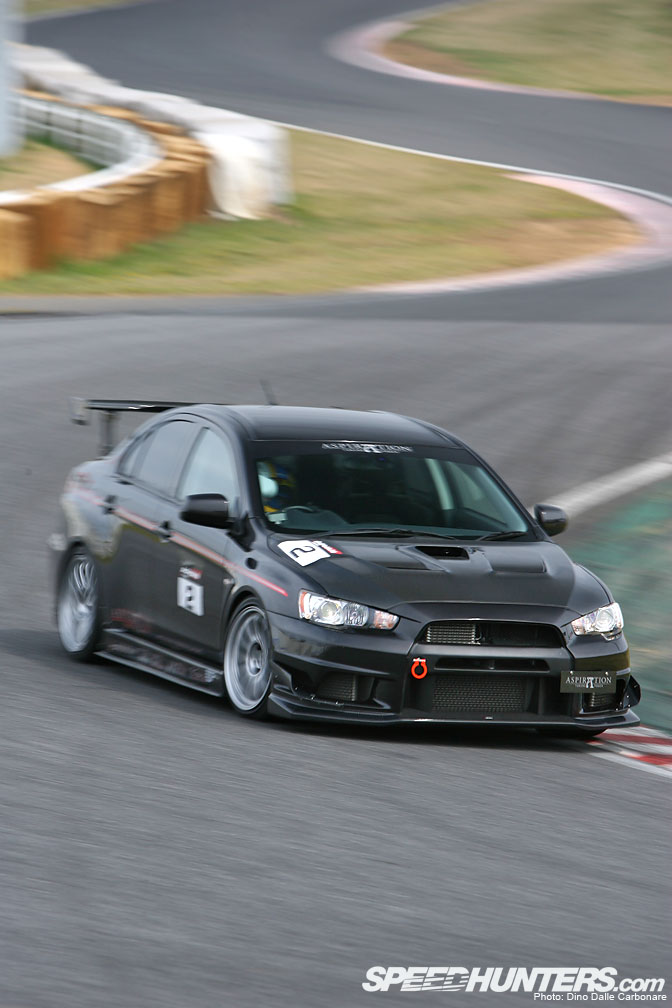 G-Force has a solid background in drag racing, which means that really know how to get the best out of an engine. They have been shifting their focus more on time attack lately and after building up the 4B11 of the Varis Evo X demo car they have began working on two of their own CZ4A. This is the SST-equipped version.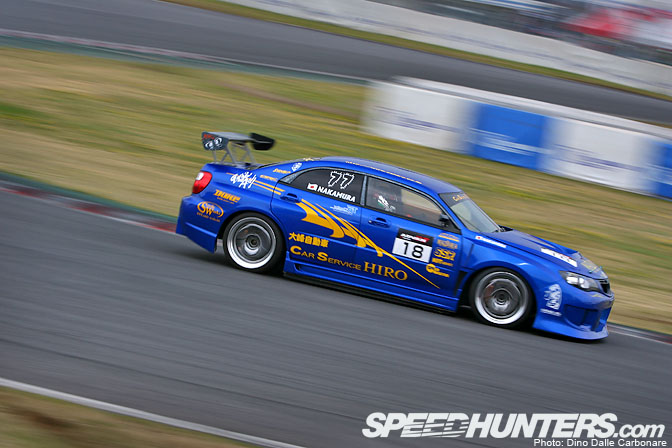 Nakamura of Car Service Hiro was back out in his crazy chopped-roof GDB showing everyone he is just as fast as the top drivers when let loose on track. The car was exiting the in-field hairpin with massive four wheel drifts on cold tires. Very cool.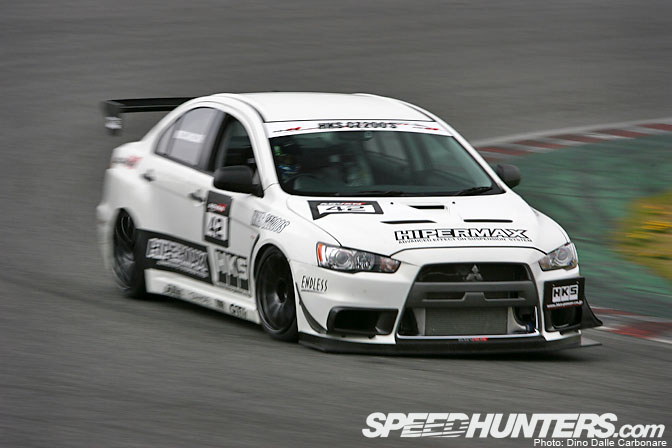 All eyes were on Taniguchi and the HKS CZ200S which we haven't seen in action for quite some time. New graphics and no doubt changes under the hood it fought a very close battle with Koyama's Evo X in the 5-battle open-class race at the end of the day.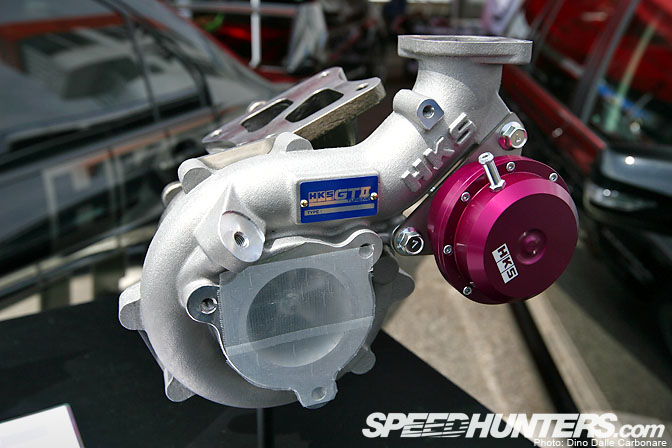 The CZ200S has allowed HKS to develop a new series of turbochargers for the 4B11 with a couple on display at Fuji.  This GT II 7460R is good for 460 HP and 441 lb/ft of torque when supporting mods are fitted.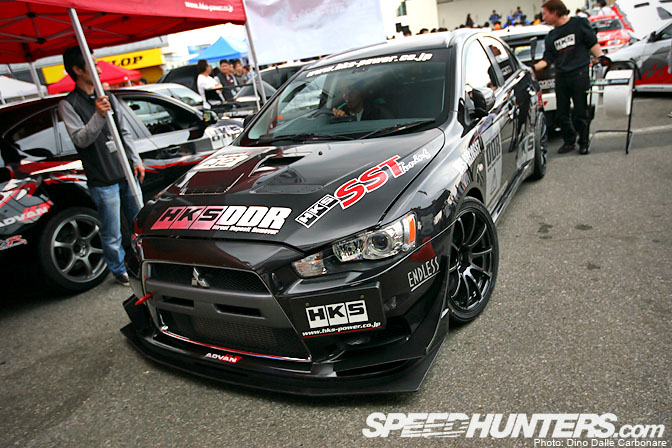 The HKS "SST Tuning" Evo X is yet another dual-clutch equipped CZ4A that is under development. Will we see clutch and gearbox upgrades for the 6-seed Getrag unit by the end of the year?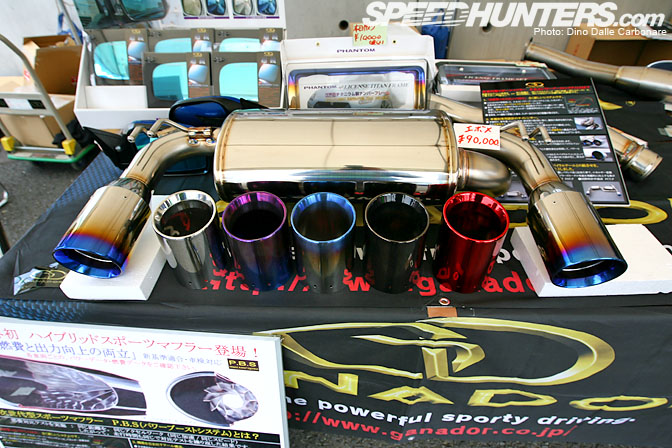 Color treated exhaust tips from Ganador. What will they think of next!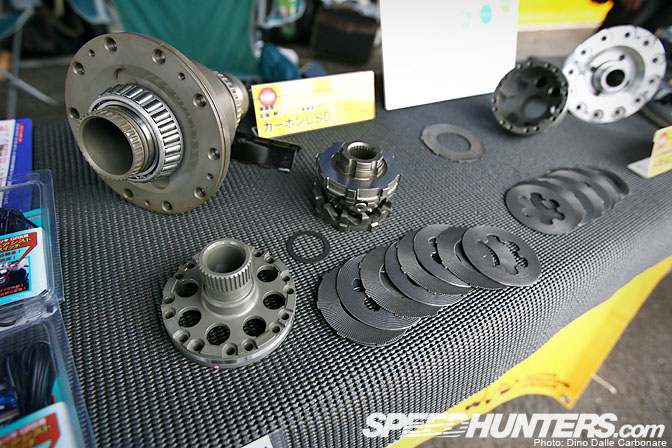 Carbon LSD from ATS.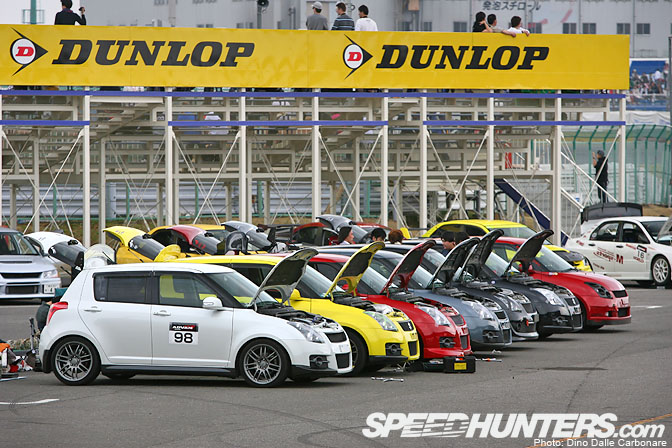 When demo cars were not out on track privateers were let loose in their Evos, Imprezas and Legacys, with a separate group made up only Swifts and Colts. I spotted this little line up in the smaller paddock area.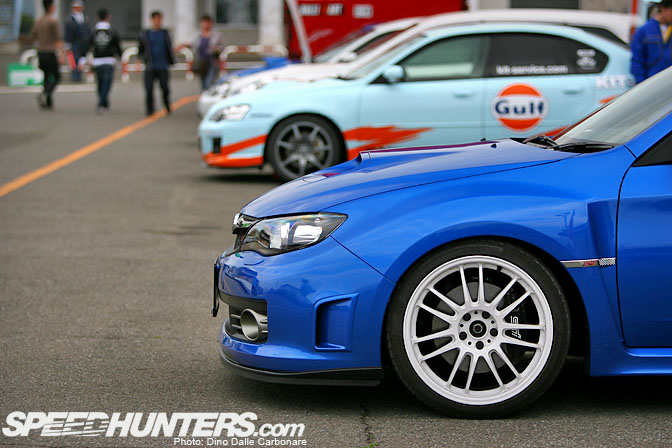 I wonder if we will be seeing the Subaru version of the FT86 at future events!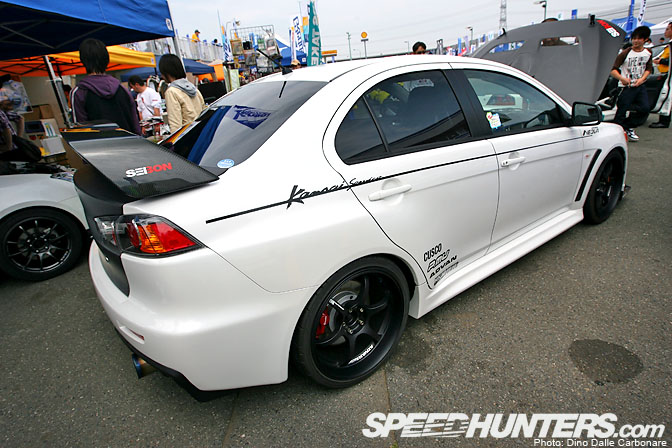 It's all about stance and the HKS Kansai Service Evo X had plenty to go around. The combination of ride height, spot-on offset…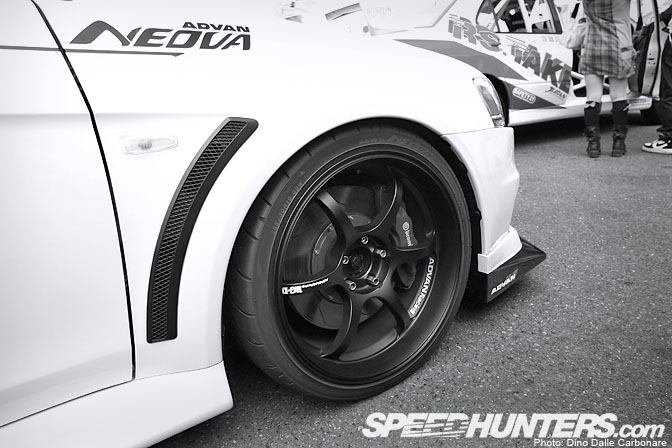 …and super sexy 19-inch satin black Advan RG-D made this, for me, the best looking car of the show. I beg you Mitsubishi, please make a wagon version of the Evo X so I can get one in white and fit these wheels to it!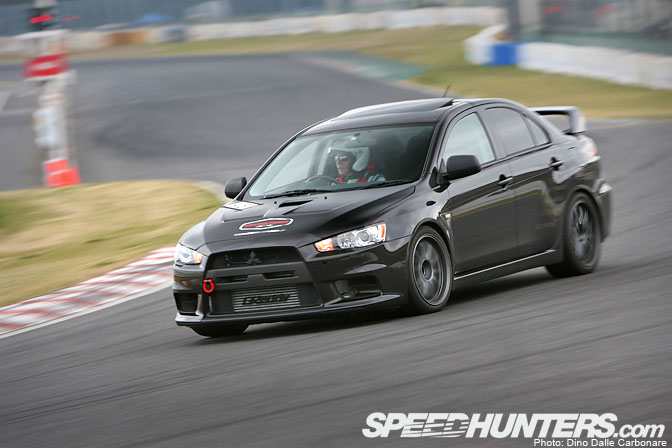 Here is Derek from drivingforce.jp with his Bozz Speed tuned Evo X testing out his new Bridgestone RE-11S tires along with a brand new Nukabe front brake kit. This must be one of the fastest SSTs around!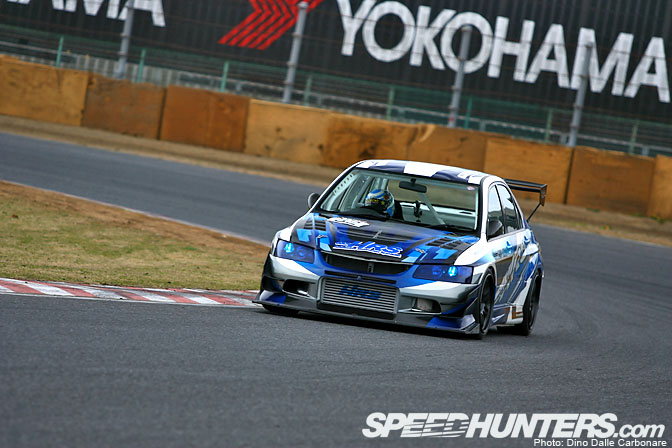 This Evo 8 was actually built for a US customer by Garage HRS. It was supposed to be used in one of the time attack series but due to some problems with the buyer the car has stayed in Japan and is no the company's new demo car.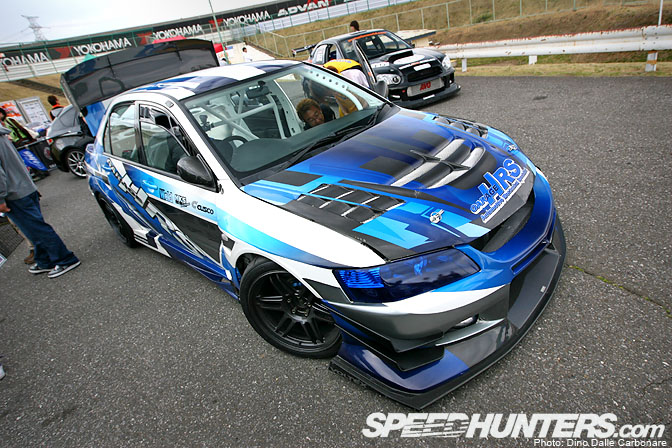 I shot this way back in 2007 before the Garage HRS livery went on it. We might need to check this car out in detail as it's one mean machine!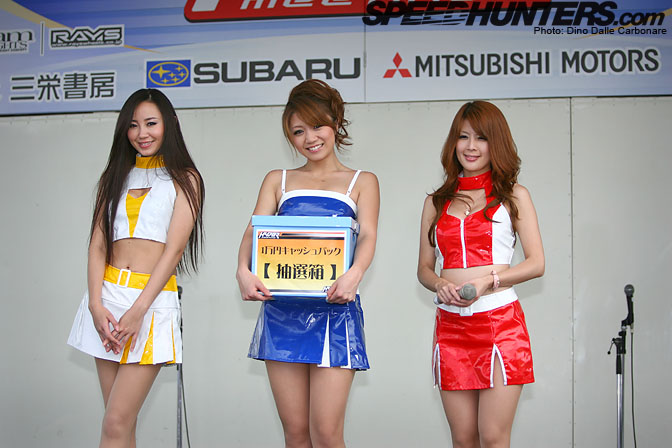 No girls, no show! These poor girls had to fight off hordes of pro-camera equipped fans in the paddock throughout the day. I bet it isn't an easy job.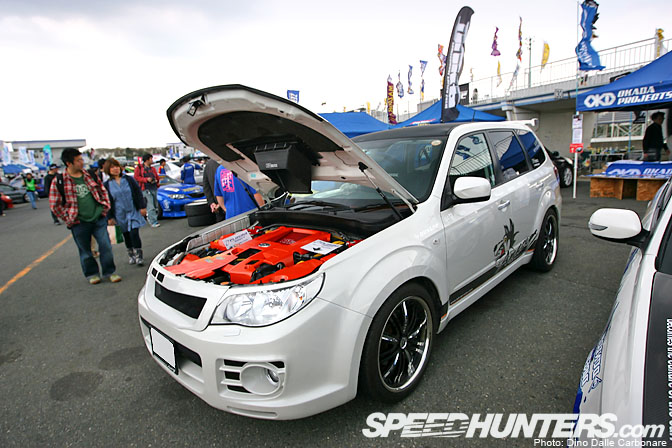 Yep it's a Forester. Since this new-gen one went into production a couple of years back I thought every association with sportiveness had been lost now that it looks like a fully-fledged SUV. But this Kit Service built demonstrator didn't was actually pretty cool.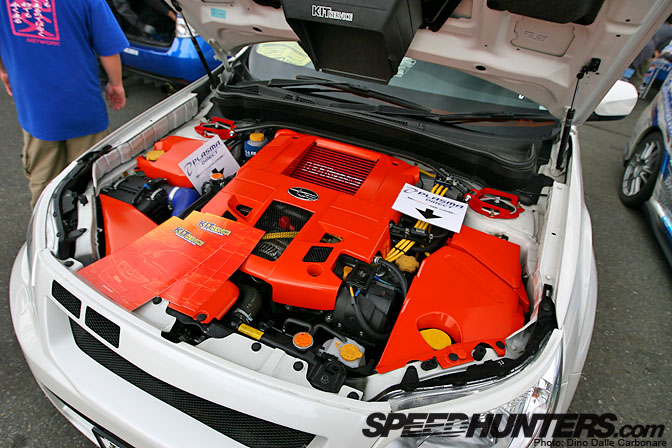 Engine bay was very bright!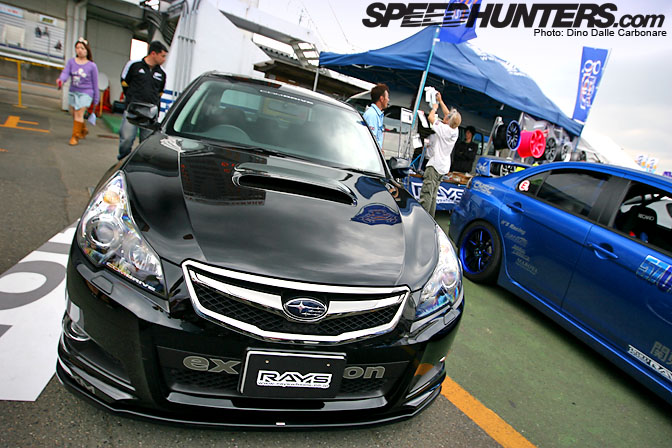 Can't wait until STi makes a special edition of the new Legacy so I will have an excuse to drive on at last.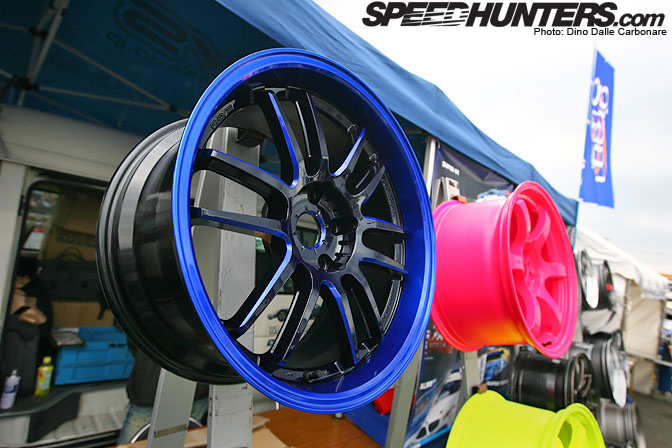 Since TAS I've noticed an ongoing trend with ever colorful wheels. Spotted these Gram Lights 57U in the Rays area…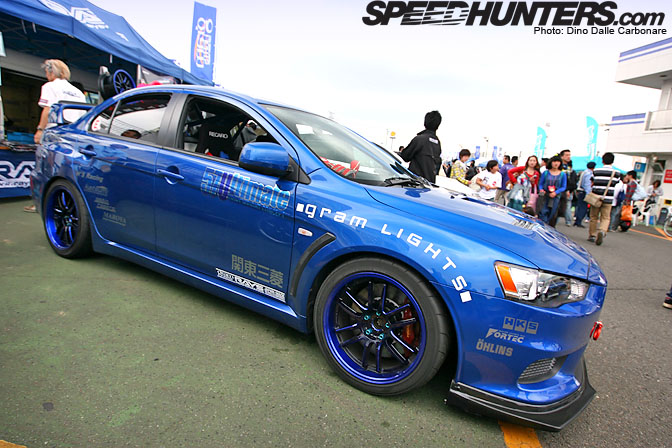 …as fitted to this Evo X. "U" in 57U stands for Ultimate.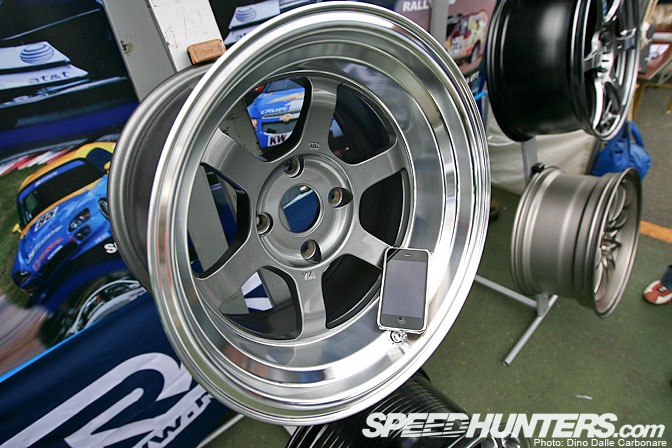 Obligatory TE37V shot. Biggest lip I've seen on these so far, iPhone was thrown in the picture for scale.
More from the Hyper Meeting very soon!
-Dino Dalle Carbonare