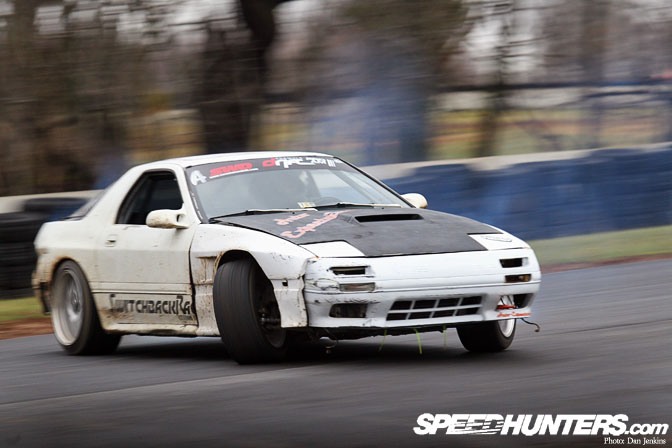 This past weekend I traveled down to Summit Point WV for the first Drift Nirvana event of the season.  This is my first assignment for Speedhunters and my first drift event of the year, so needless to say I was pretty excited!  Mother nature hasn't been too kind to us here on the East Coast this past month.  After a few weeks of snow storms, I was looking forward to getting out into the crisp March air and finally do some speedhunting.  Unfortunately the weather didn't cooperate.  Four days non-stop of heavy rain hit us pretty hard making conditions at the track pretty nasty.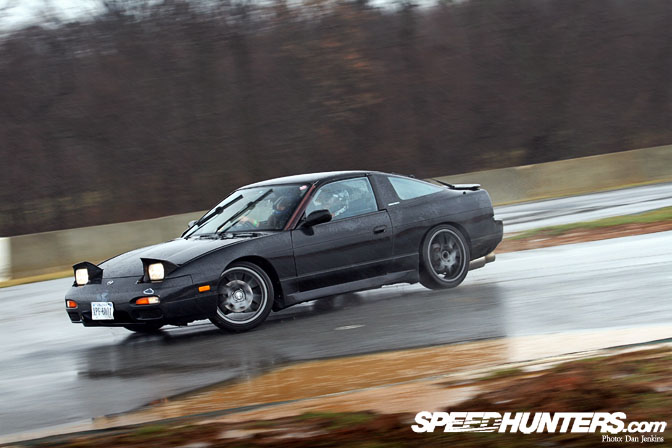 A downpour wasn't going to stop most of these guys!  Dan Savage borrowed his friend's 180SX and tore up the track as usual.  This S13 wasn't too heavily modified and was running stock boost.  Dan later told me "all it takes is a crazy nut behind the wheel".  That and a dude with some skill.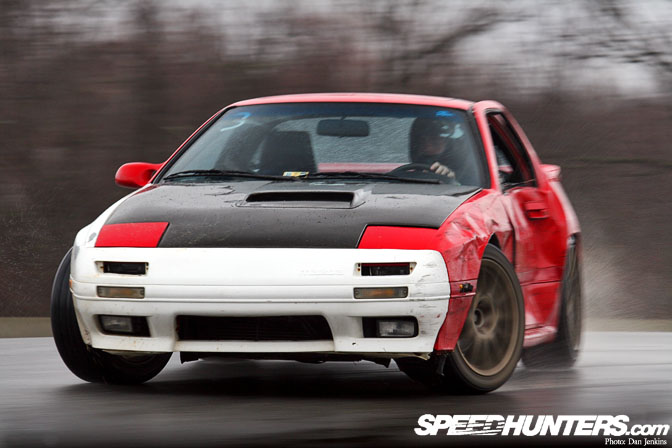 The rain did make things rough for some though.  This red FC hit a wall pretty hard early in the morning before I got there.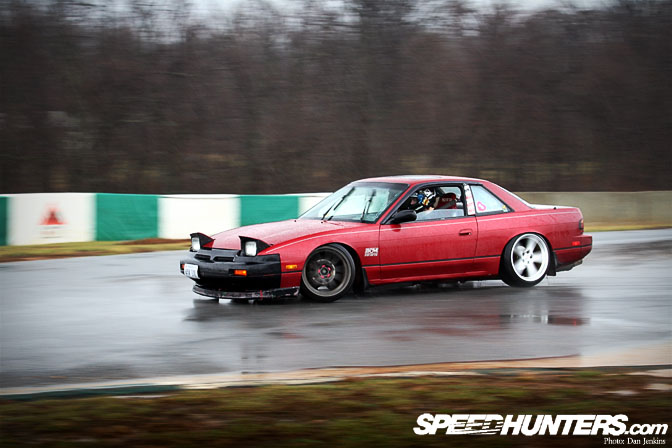 I really dig the wheel fitment on this S13!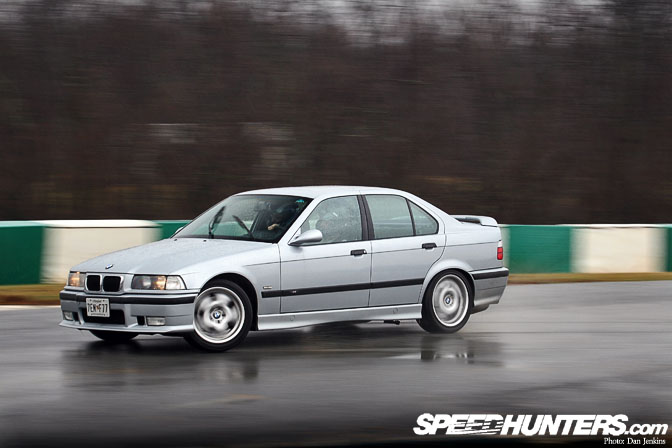 With the conditions being so slippery, most of the drivers cut their speed back as they approached some of the sharper turns on the track.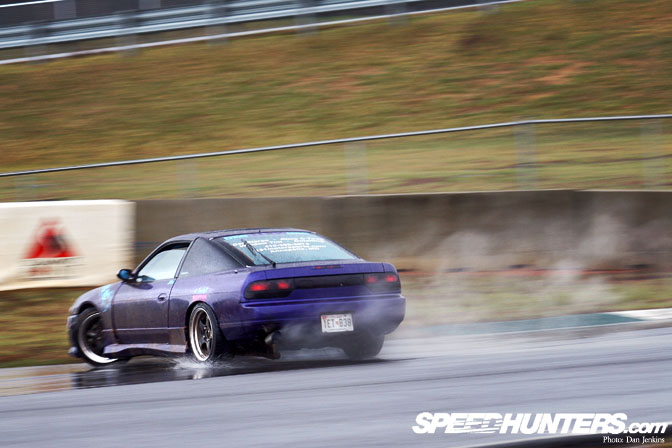 We all saw quite a few spin outs in the morning session.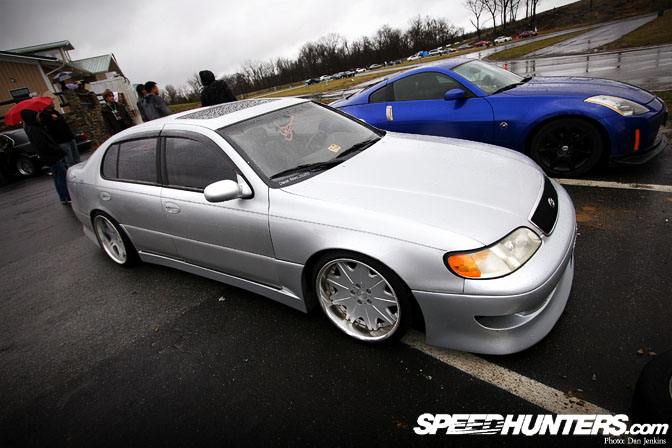 The heavy rain eventually tapered off so I decided to walk down to the pit area and check out some of the cars.  The first one that caught my attention was this clean and simple Toyota Artisto.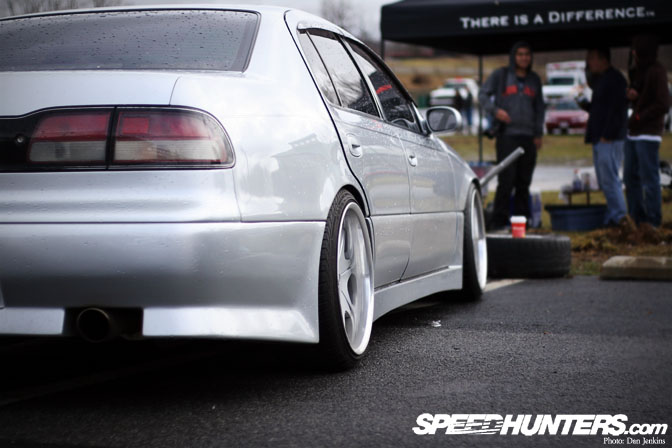 Personally, I thought it was a nice choice of both fitment and wheels.  What do you guys think?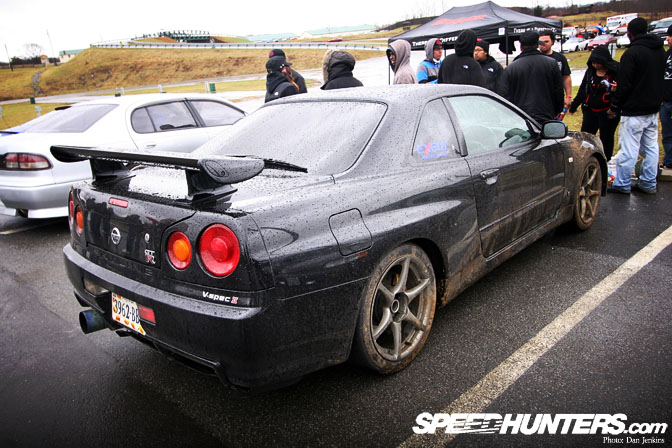 Right next to the Toyota was this R34.  This was probably the most popular car at the track!  There seemed to be a large crowd gathered around every time I walked past.  Obviously the most common cars you see at grass roots events are 240's, so this was a like a breath of fresh air.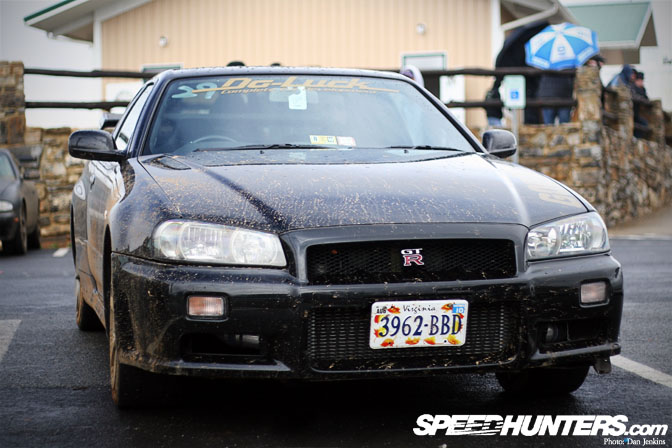 I didn't get a chance to talk to the owner but the mud caked all over shows he must have been having a bit of fun earlier.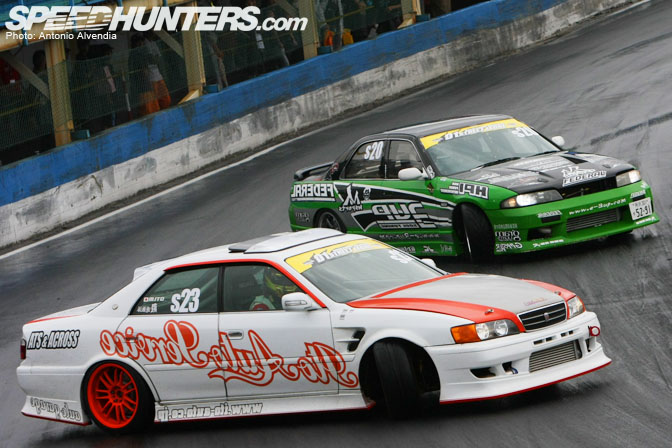 As I continued to walk around, I came across this.  A chopped off S13 with an S14 front and a huge wing.  Some people in the car community get tired of seeing these Nissans in the drift scene all the time.  I can't ever get tired of seeing them- there are endless ways to change them!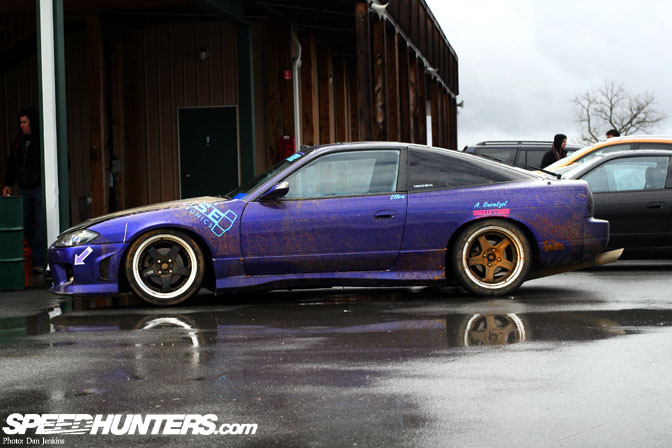 How about an S15 front end on an S13?  I talked to the owner Alan Brentzel about his conversion.  He said "I wouldn't do it any other way".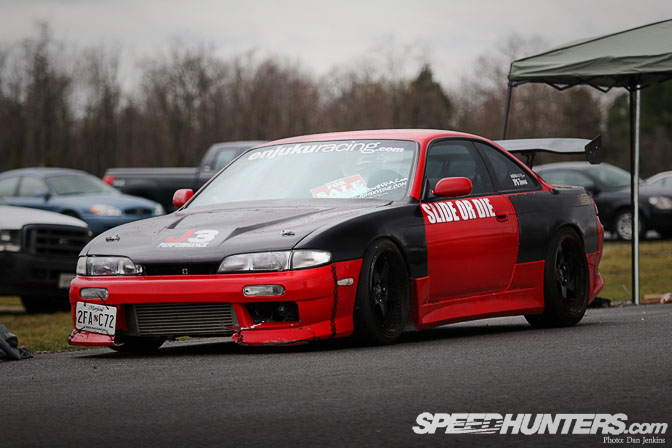 I'll let the door be the caption here!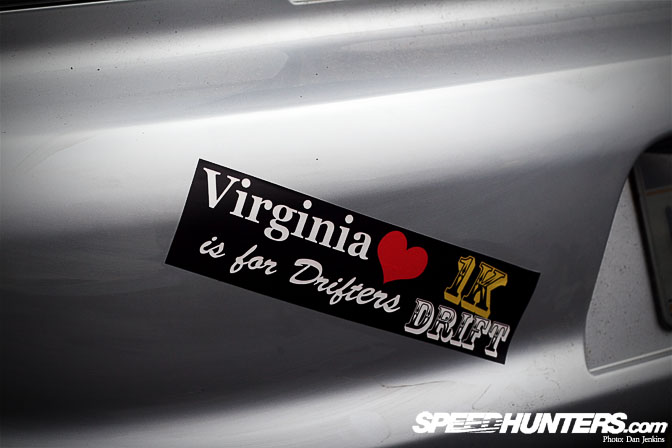 That's right, Virginia isn't just for lovers anymore!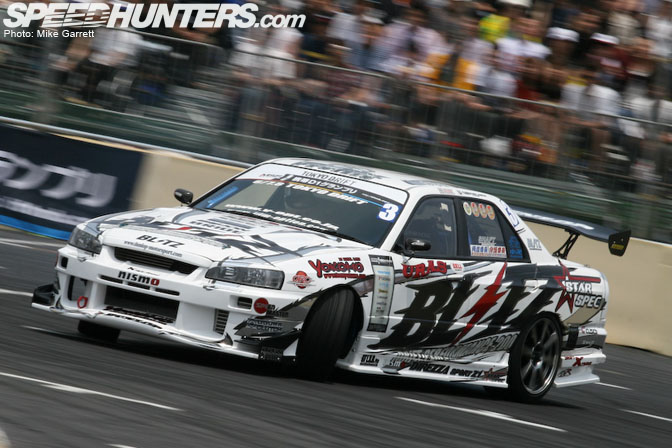 I wanted to make sure I caught some of the action over at the skid pad while I was there.  It just a huge paved circle for some of the beginners to get a feel for drifting.  I think there were a few experienced guys there just looking for some fun as well!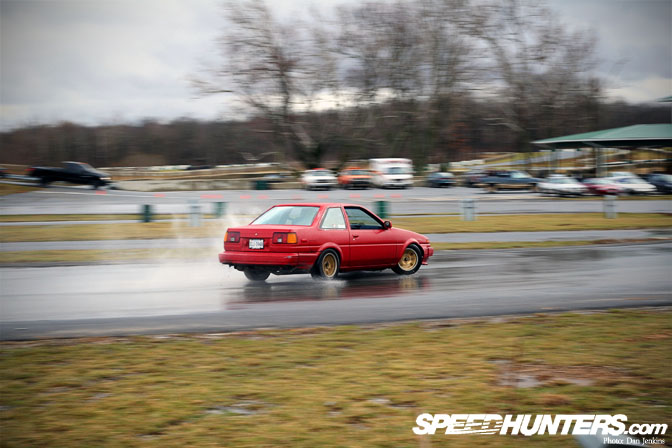 The guy driving in this picture is 15 year old Nate Chen. I was told it was his first time out and he doesn't have is driver's license yet.  His friend Clayton was cool enough to let him hop in the driver's seat for a few spins.  Looking pretty good little buddy!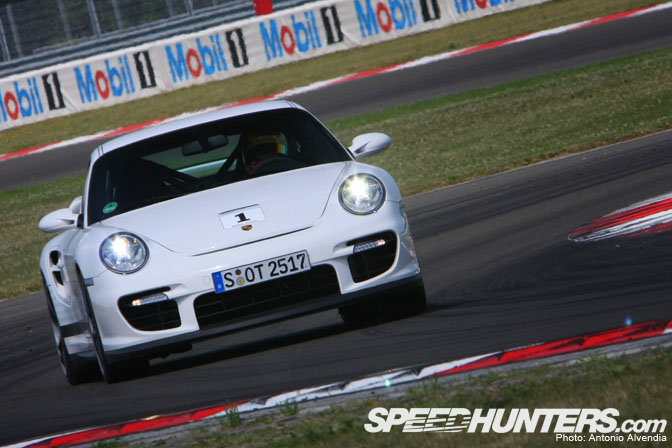 I watched this RX-8 take some laps around the circle.  This guy was on the throttle the whole time!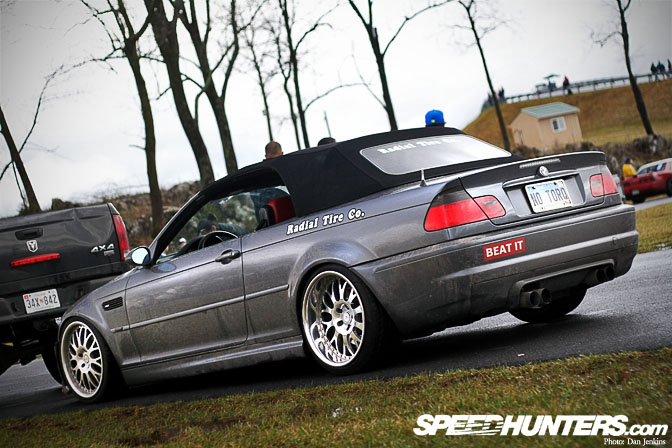 This was the spot to see a variety of cars.  I saw this M3 sitting in line, so I had to snap a shot of it.  I usually don't go for chrome rims, but they sure do look pretty nice on this convertible.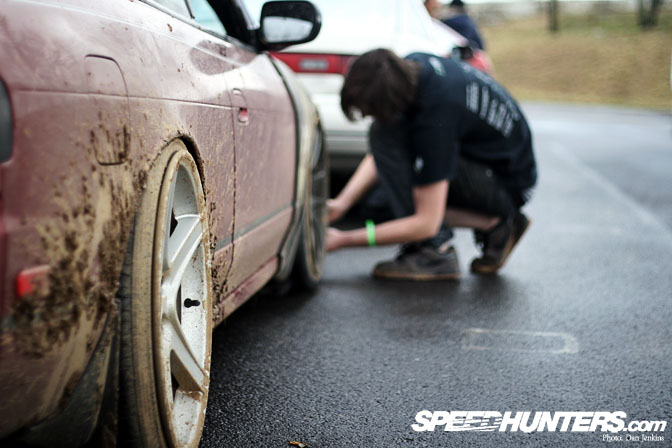 Everybody had a nice coat of mud.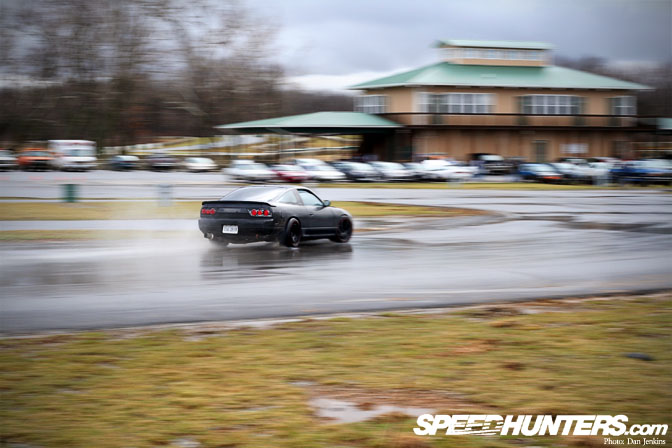 I wanted to stay at the skid pad a bit longer but the main track started to dry up.  I wanted to finally be able to catch some of the action on dry land!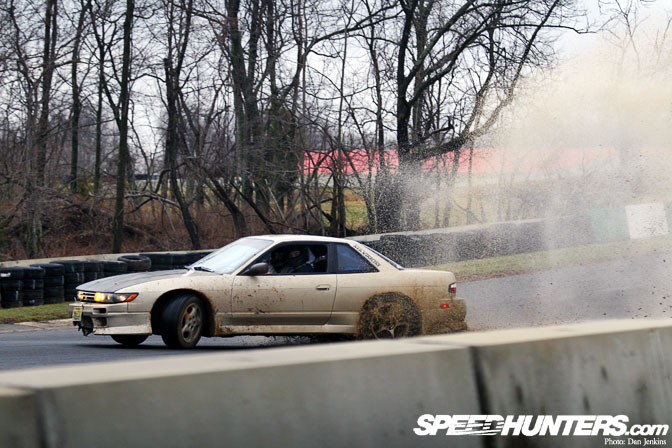 There were however quite a few large puddles.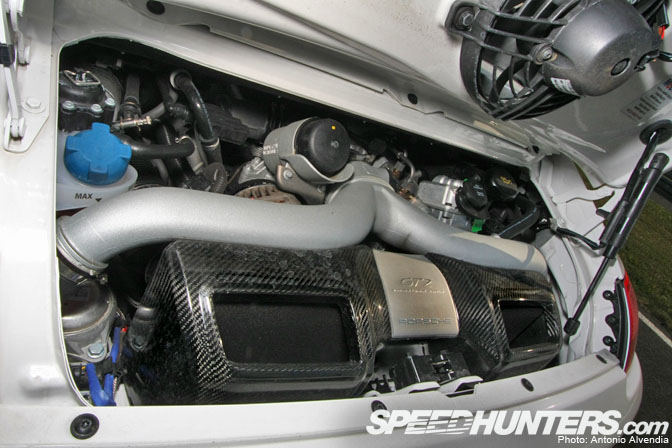 Once the rain finally called it quits, it was game on!  It was nice to see the sun try and break out for a few minutes here and there.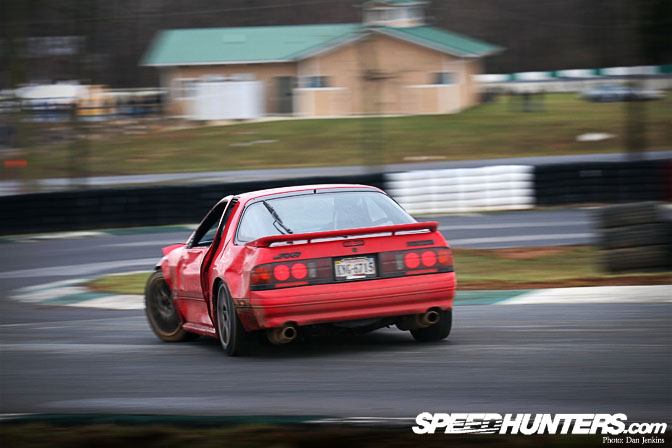 Despite his wreck early, this guy was still going strong all afternoon.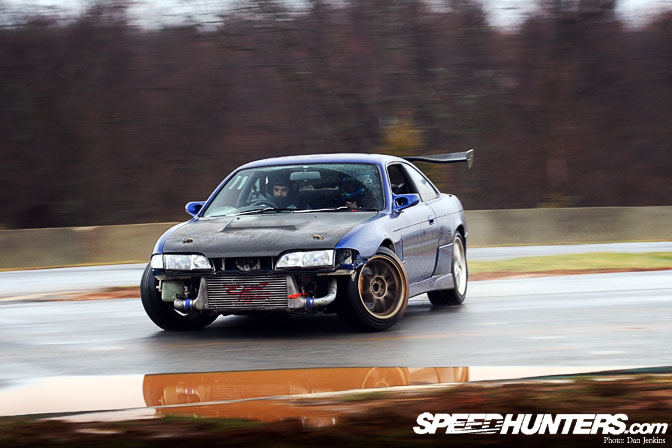 This is when a small pond becomes a clipping point!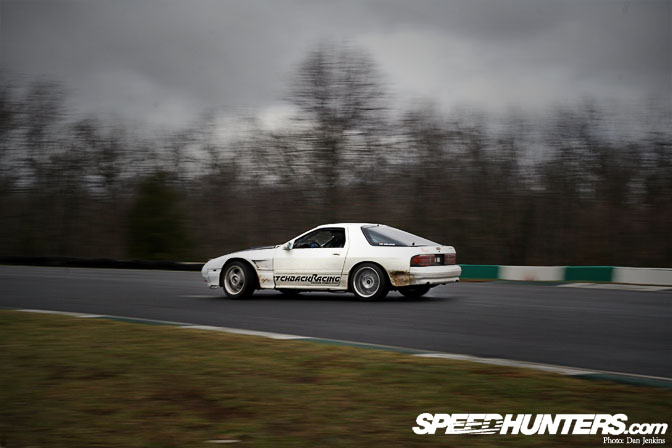 I'll leave you with this final shot from the last turn.  This FC had an LS1 engine swap and was the loudest machine there.  I wish you guys could have heard how insanely loud this car was. 
I got in contact with the driver Ryan Downey who told me he borrowed the car from his friend Tony.  They were in North Carolina the day before competing in another event then drove up to West Virginia the next morning.  That is total love and dedication to this sport- these guys who drive hours to get to a track, beat the hell out of their car all day, then pack up and drive all night to do it all again the next day.
-Dan Jenkins