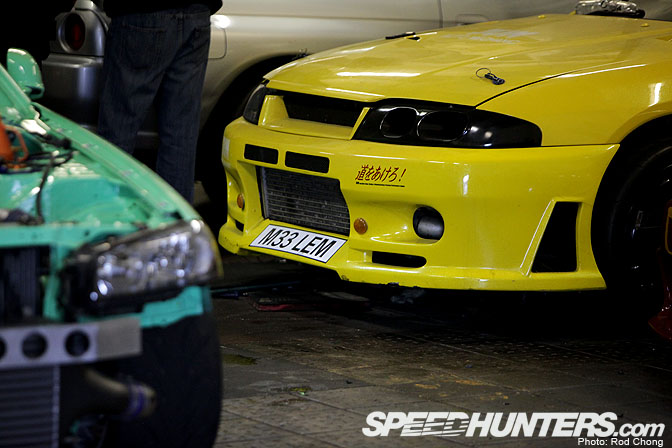 Did any of you watch the F1 race today? I'm a bit irritated to be honest, as I think the new "no refueling" rules have really spoiled the show and made F1 even more processional than it already was. Ergh DISAPOINTED!!!… Anyway moving on, I wanted to share some photos with you that I took a few weeks back in the UK.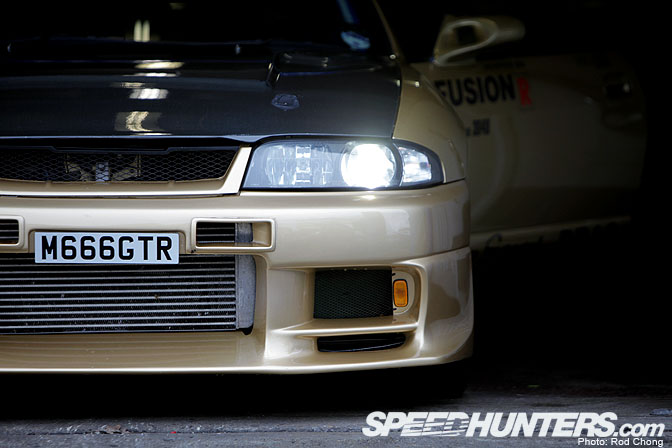 All of you now know that the Top Secret Drag R II Skyline R33 is alive and well in the UK with its current caretakers: G Man and the Skyline specialist shop: TR Racing.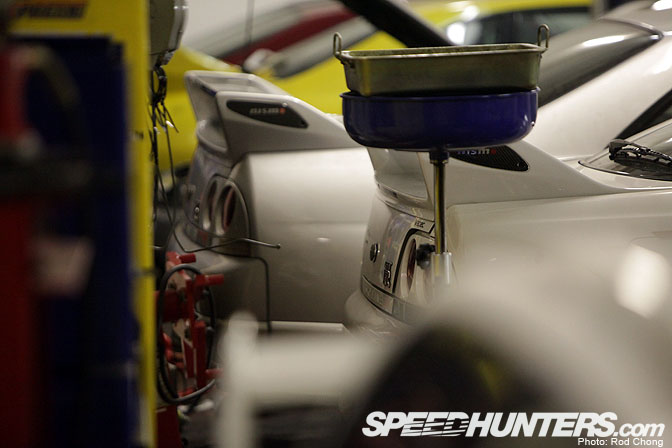 When I shot the car in Essex at the end of February I also took the opportunity to photograph the TR Racing shop too.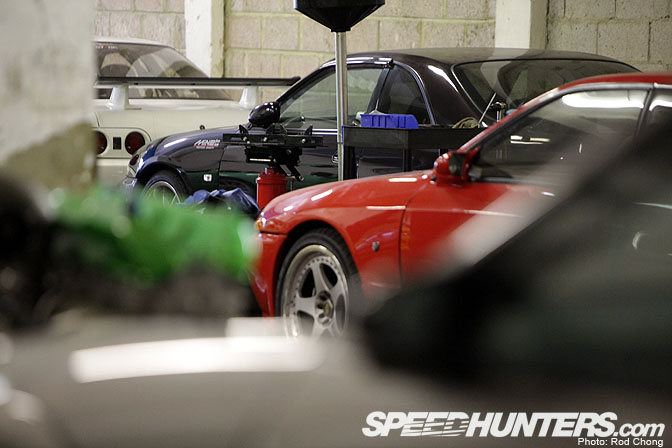 Before I arrived at the facility, G Man gave me a some background history: "TR Racing was founded by Tweenie Rob (hence the name), who was killed in a car accident in October. Rob was famous in the JDM scene all over europe for his mapping skills and for building "Gaijin" which is the ex-Duke R33 and current 1/4 mile 4WD GT-R record holder, which has now sadly been sold as the owner, Mick Begley, didn't want to carry on without Rob."
As you are likely gathering, Rob was immensely popular in the UK Skyline scene and is sorely missed.
So the visit to his shop was perhaps a bit loaded, as everyone involved
are likely still processing this big loss.
Upon arriving, I was met by several clean examples of the subject matter at hand: the GT-R. This particular R33 is sporting a Do-Luck body kit.
R32s are also a common sighting where I live in Vancouver, but very few of them are as clean and polished as this example.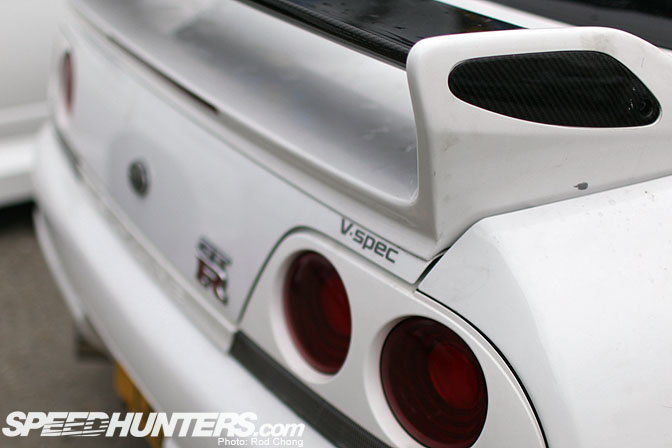 In Canada, we have a rule that only JDM cars older than 15 years can be imported. So R33 GTRs like this V-Spec machine are just starting to appear in our country.
TR Racing on the other hand was full of these cars…. ahh the UK has it good when it comes to JDM grey market machines!
So you've seen the feature we recently published about the Drag R II, but I have a second drag-focused Skyline monster to show you.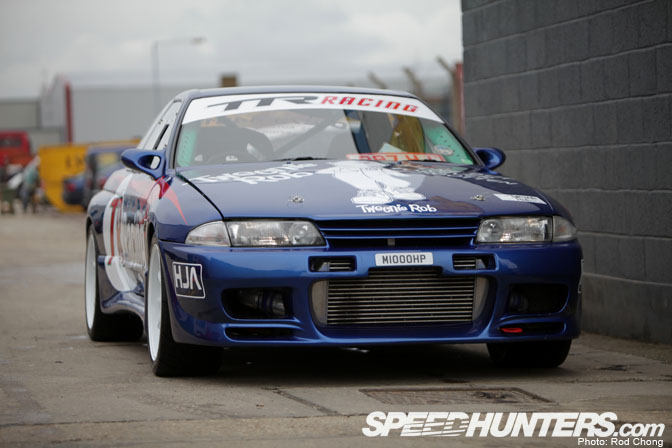 This is the current TR Racing demo car and will likely represent Tweenie Rob's legacy for years to come.
A street legal 1000 hp? You betcha!… in fact the R32 is capable of generating a whopping 1200 horsepower with all options turned up.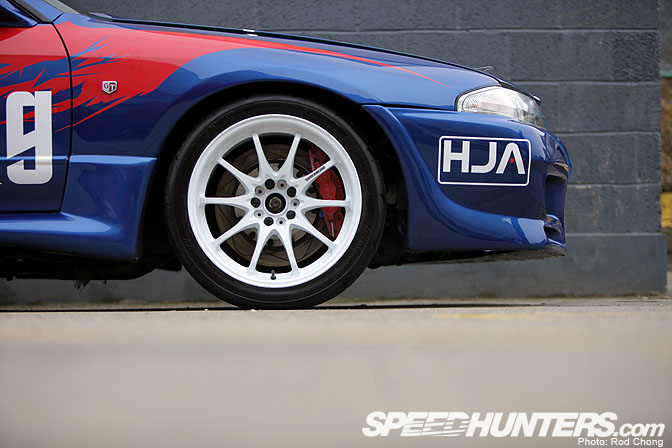 I can't really imagine what it would be like to try and control this much power on the street! Santa Pod drag strip is perhaps a more natural environment for such a boosted up car. I'd be interested to see what this car would do in a Standing Mile event too. I'm sure 200 mph could be easily attained.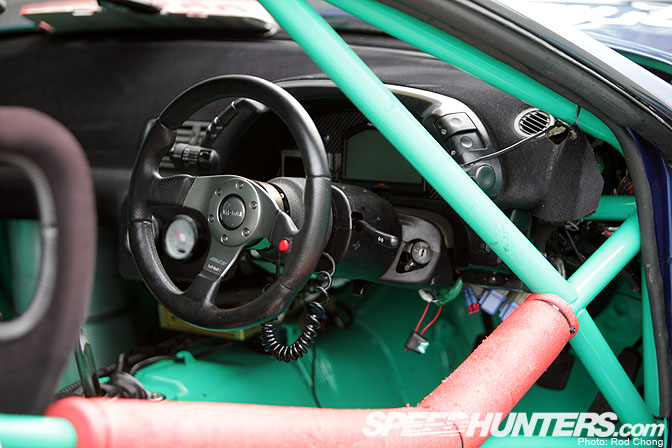 A shot of the cockpit. The transmission is a Hollinger sequential if anyone is interested.
Here's the heart of the beast. Looks pretty tidy. The engine has been stroked up to a displacement of 3.1L BTW.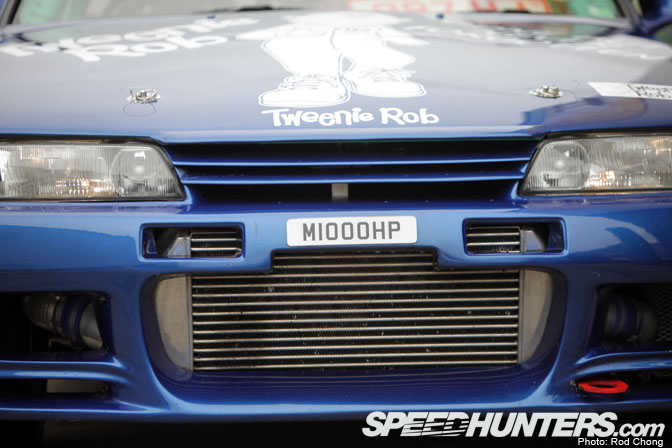 Quite a hardcore example of a R32… Ok now let's have a look inside the shop.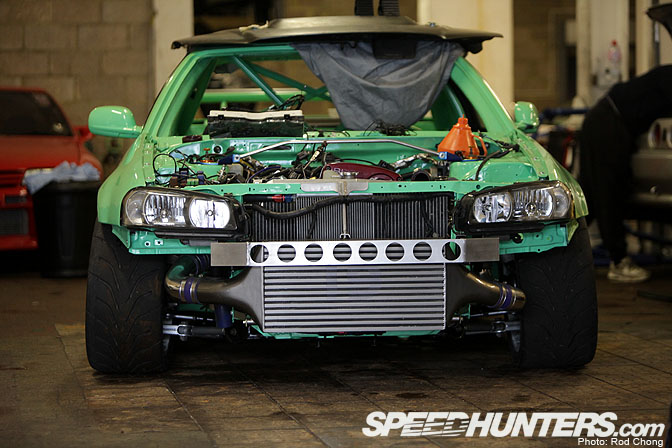 Walking in, I was met with this partially assembled, race prepped R34.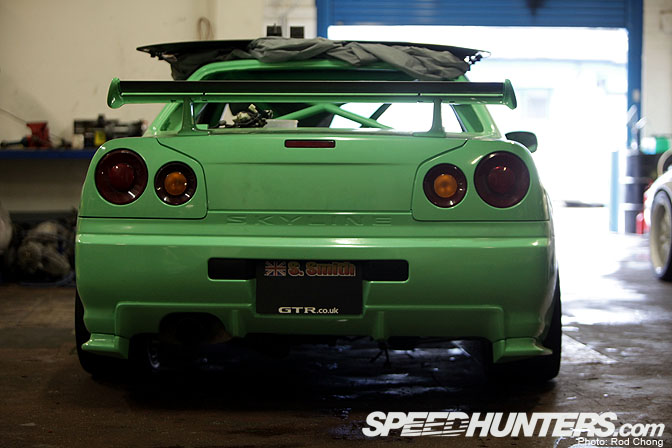 This ex-NISMO machine was built to a similar spec as the original Falken liveried R34 Nurburgring racer.
It's currently being reworked in preparation for the upcoming UK Time attack season.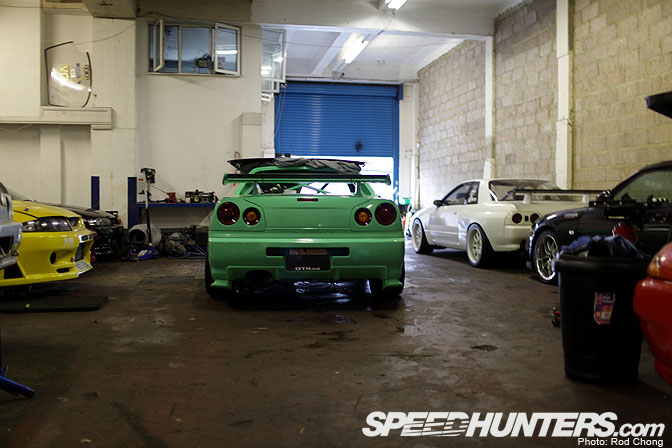 Looking around the R34 you can see all sorts of GT-R goodness.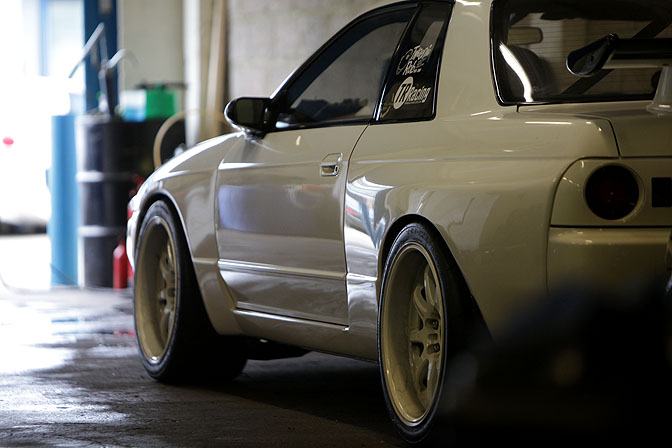 Here's another mint R32. Check out the width of the rubber!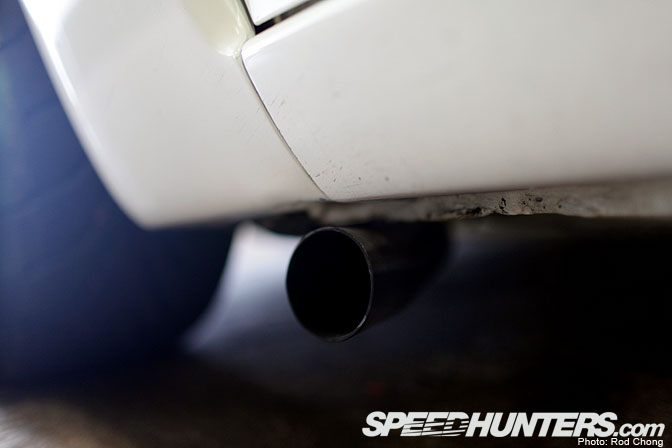 My host G Man was quick to point out the screamer wastegate pipe. Nasty.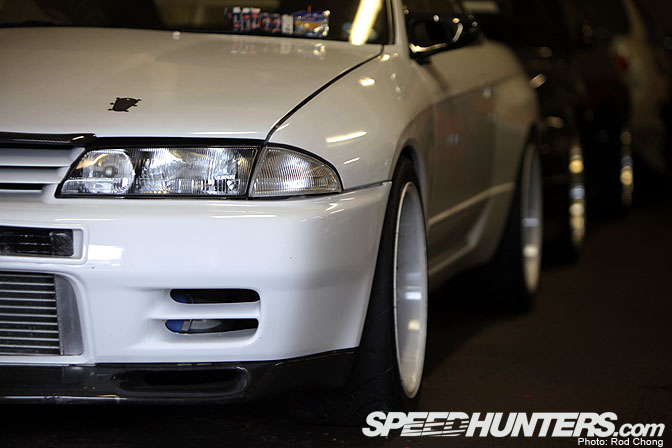 I don't have any specs on this whited out Godzilla…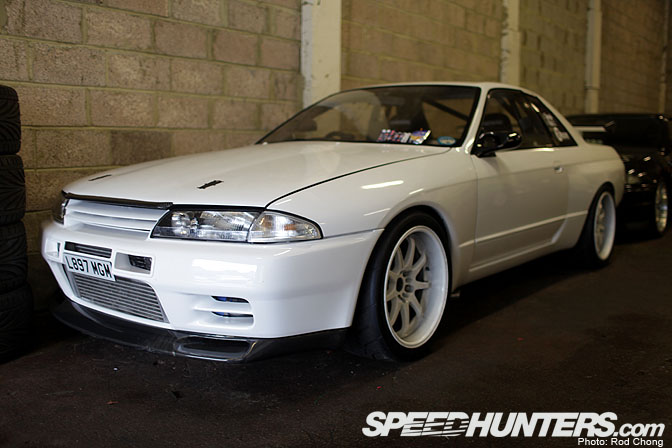 … but judging from the detailing (roll cage, semi-slick rubber, intercooler, hood fasteners), it looks like a serious track day car.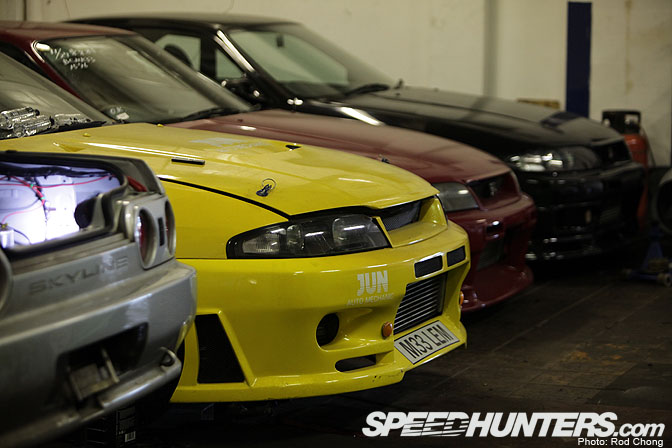 Looking down the other side of the shop we can see that the Drag R II keeps some pretty serious company: the Jun Hyper Lemon.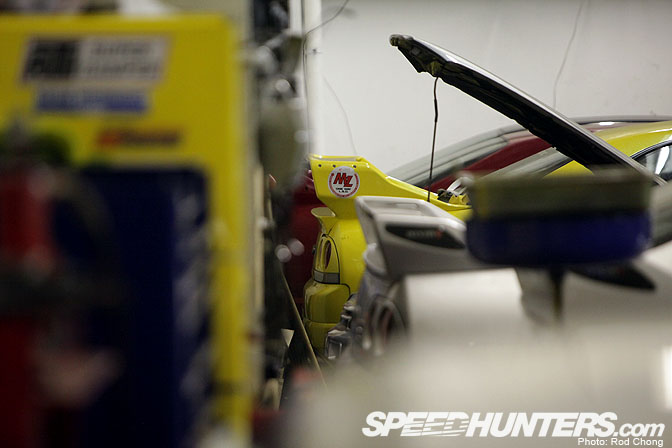 The car is just undergoing a bit of a rebuild.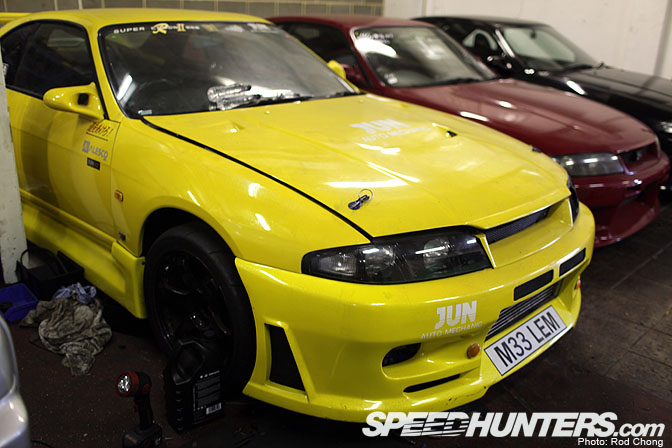 The engine has been pulled and is currently being rebuilt.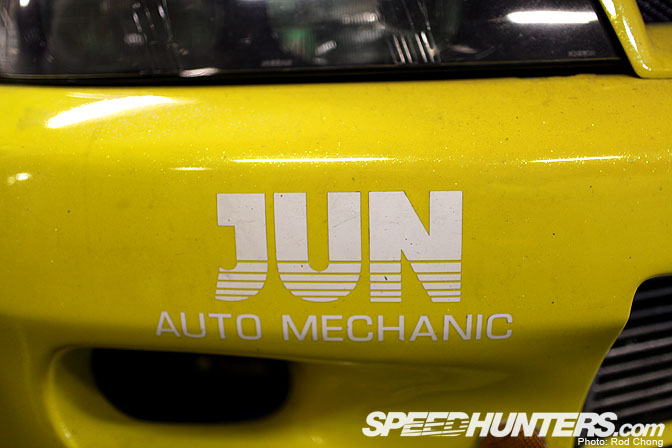 Can you feel the legend? In this shot you, can get a sense that there is some metal flake in the yellow paint…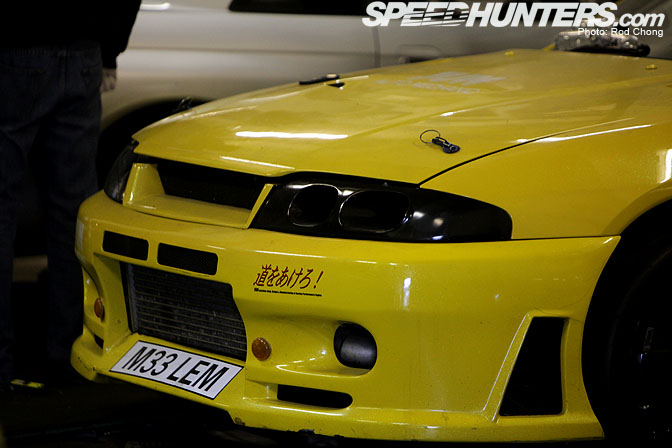 Interestingly, the same guy, Tim Webster brought the Drag R II, the Hyper Lemon and the Duke R33s to the UK and owned all three cars at once. Must be nice!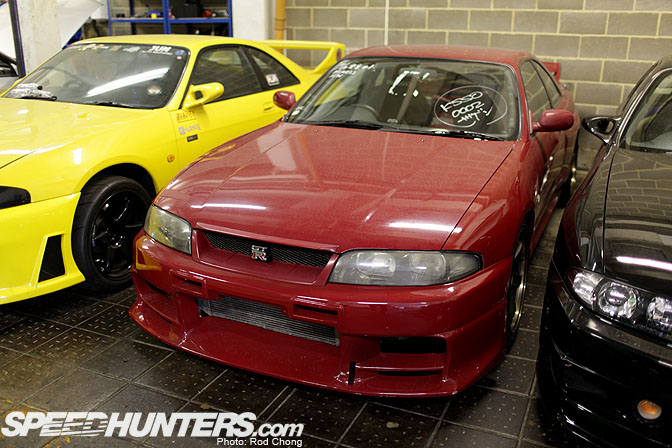 Aside from the single R34 race machine, all the other Skylines in the shop were of the R33 and R32 variety.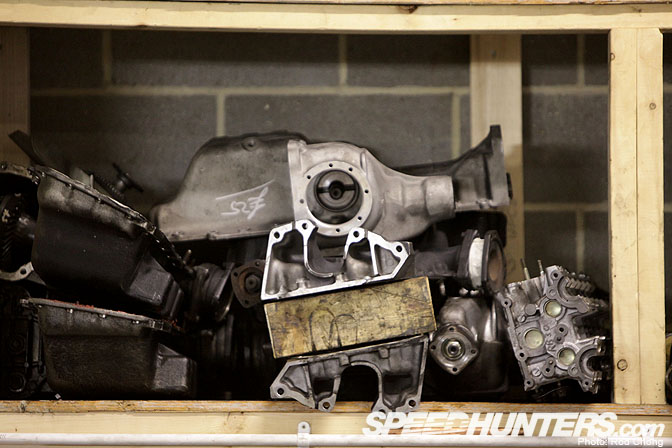 Looking around the TR Racing, you get the sense there are enough spares kicking around to build an entire GT-R from scratch!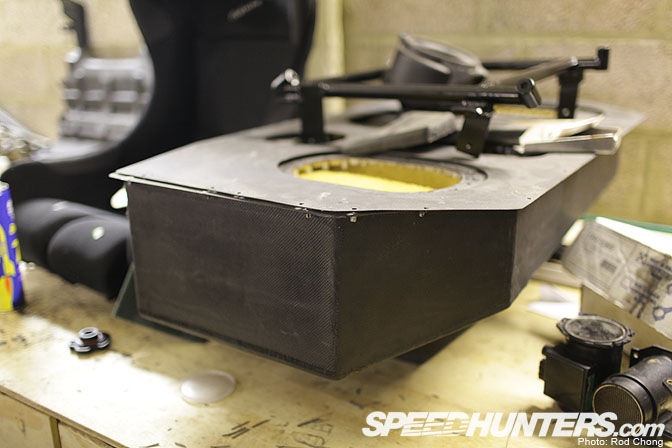 Check the Nismo carbon fiber gas tank for the R34. That's a pretty rare item no doubt.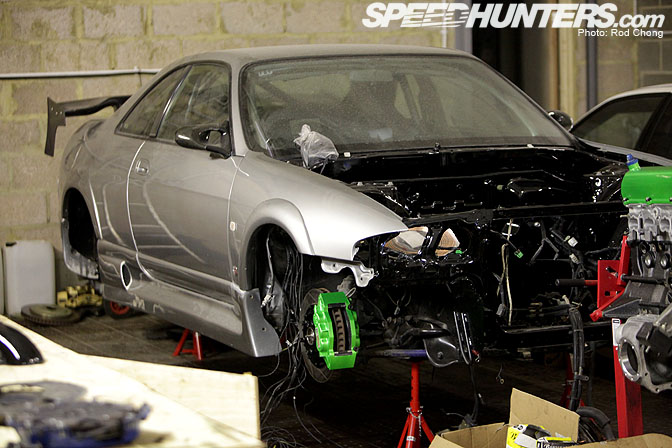 As the back of the shop I checked out a pretty serious R33 project car. Looks like a ground up build.
You like how the brake calipers match the valve cover? It's a nice use of colour.
Check the low style Do-Luck wing. It's a bit of a trademark for Do-Luck.
I'm looking forward to seeing how this car turns out. Judging by the build quality I've seen in the TR cars, it'll be a real showstopper once complete.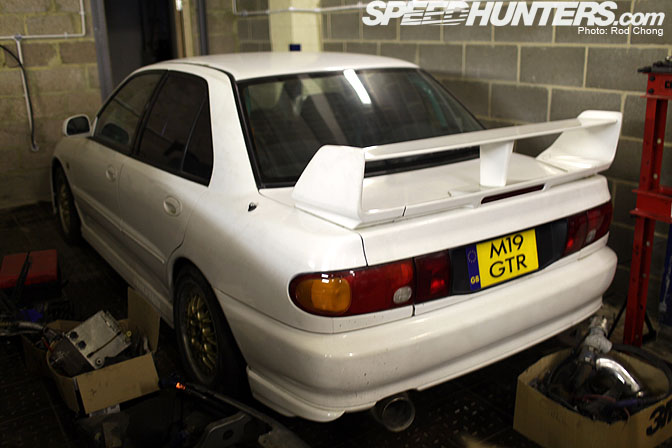 Hmmm what's this little guy doing in the corner? It reminds me of the first time I ever saw an Evo. It was in 1996 and I was at a family reunion in Jamaica. My uncles had a couple of these cars they were rallying at the time… Anyway that's a story we'll save for another day.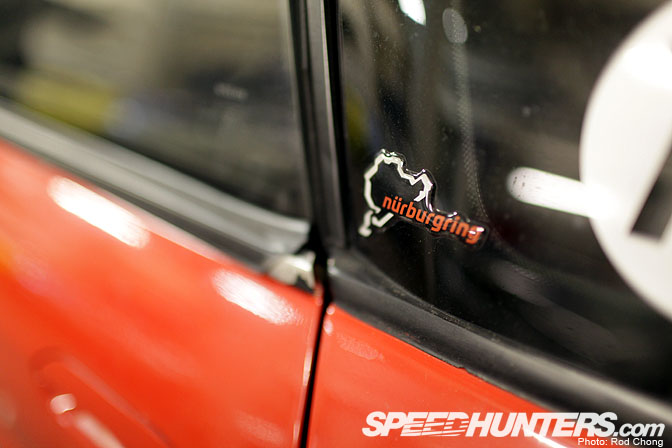 Judging by the sticker on this machine, you get the sense that TR Racing are surrounded by a culture of hardcore enthusiasts who play hard with their performance machines. This R32 has obviously been flogged around the greatest track in the world: the Nurburgring Nordschleife. No doubt it was but one of many similar cars at the track that day.
Well I hope you've enjoyed this quick look at TR Racing. I'm not sure that I've done justice to the reputation and achievements of these Skyline builders, but perhaps we should more think about this story as more of an introduction what the UK scene has on offer.
Now I really need to hear what Martin Brundle has to say about this new F1 formula…. Hmph!
:R