So where has top kiwi drifter Mad Mike Whiddett been lately? In Onuma, Hokkaido – the northernmost tip of Japan that's where – and he's been working on a secret film project dubbed "Red Bull Drift-n-Ice".
In a freshly built replica of his MADBUL Mazda RX-7, engineered by Japanese drift tuning shop Magic, and rolling on skinny WRC style studded snow tyres (with 275mm spacers!), it's been Mike's first taste of sliding on ice. Along for the ride, however, was D1 star Toshiki Yoshioka, also an experienced snow rally driver who joined the project as Mike's adviser.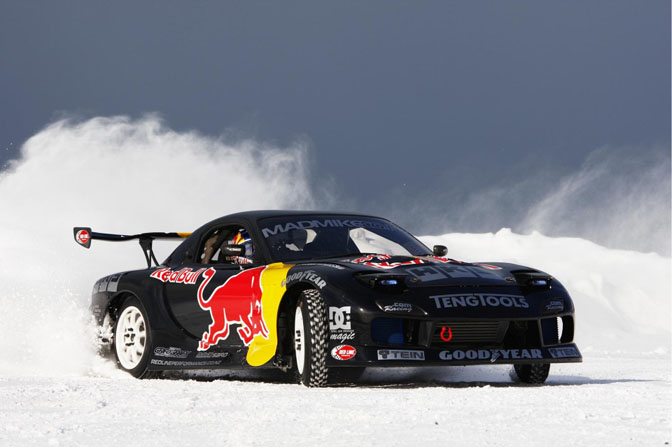 Mike just sent us over the "Drift n Ice" footage for you to check out through the links below. But before that check out what Mike had to say about the whole experience;
"This project was awesome! It was the biggest challenge this year – no, make that in my whole drifting career!" says Mike. "I was able to succeed because we had the best team that helped set up the RX7, and the choice of tires was optimal for drifting on the snow and in the climate of this cold region. Although I have tried to express what it is like to drive on the ice, I cannot compare it to anything. It requires a technique completely different from drifting on tarmac. I experienced the traction of steel spike tires for the first time and four days of driving helped me get used to driving on the ice and I was able to really fly by the fourth day. I really enjoyed it and as a pro driver loved the new challenge. Taihen Tanoshikata des! Hahaa Massive thanks Arigato gozaimas to Red Bull, all the media crew you were all really fun, Kawato san at Magic total car produce for building an unbelievable car and Yoshioka for all your advise and knowledge, I look forward to working with you guys again in the near future!"