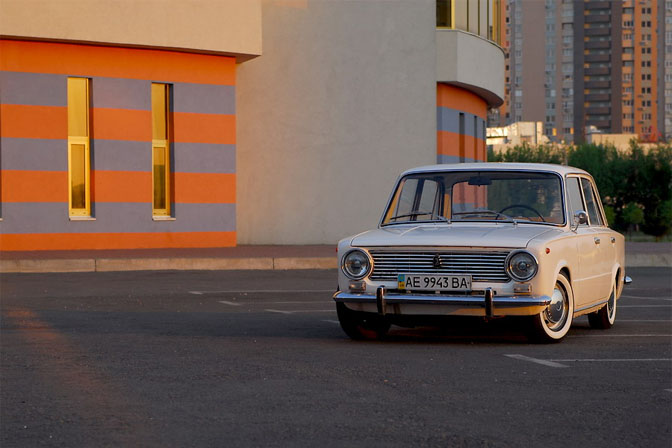 Greetings, fellow Speedhunters! We are Low Club Ukraine, a fairly new-born community dedicated to appreciation of low ride height and styling above all characteristics of an automobile. Now you might have never heard of a country named Ukraine, but we the eastern Europeans have been lurking Speedhunters.com for a long time. We get inspiration from restored aircooled VWs, as well as chopped and slammed US customs; we also love those rust-boasting rat rods, and even rat look euro rides. However, such machinery is far less widespread on the former Soviet Union's territory, so we have been trying to adapt these styles to our homeland-bred cars.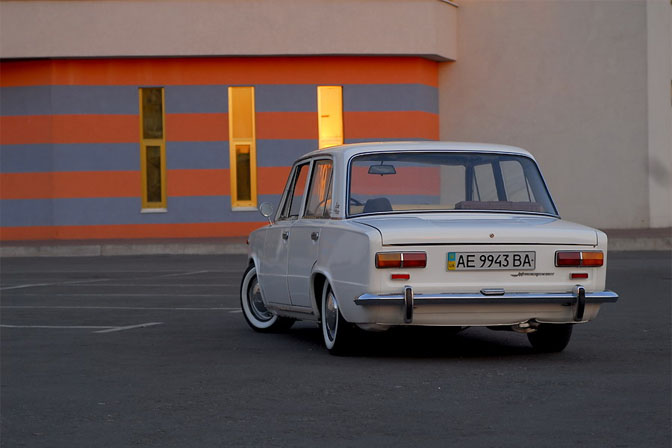 The ride of the community's founder, a Lada 2101, nicknamed Snowflake for obvious reasons. The car was restored to its stock appearance, the way it came from the factory back in 1972, with an exception of whitewalls. Apart from refreshing the paint and collecting all the chrome bits and goodies, the owner did a mild drop and a complete interior retrim. Proves that you don't need much to get a decent-looking retro machine, even if it's a Lada.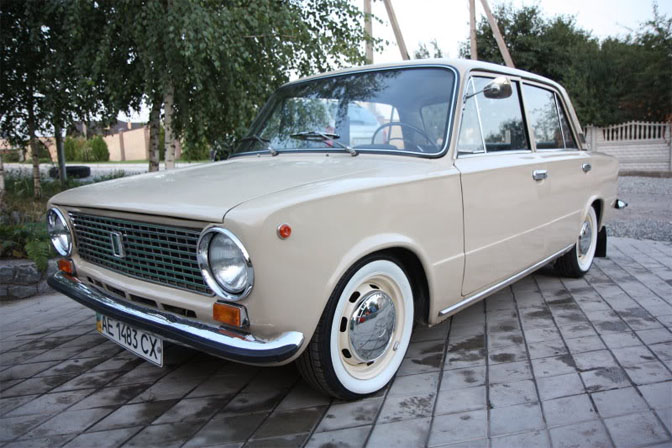 Another Lada 2101 in the family, being a younger one from '84.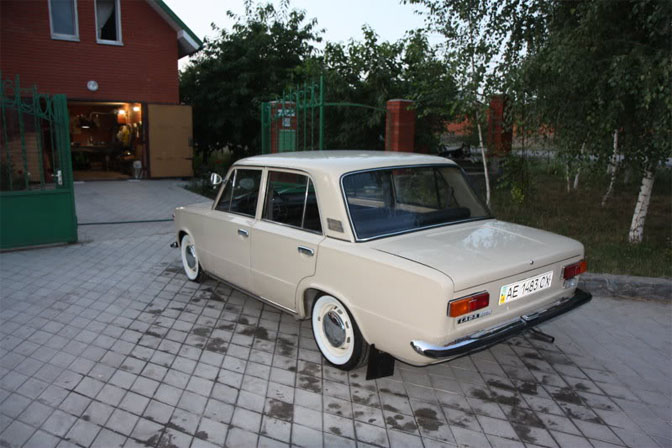 Different bumpers and miscellaneous details, yet same approach to style – fully restored and mildly lowered on a set of stock steelies with chrome caps and whitewalls.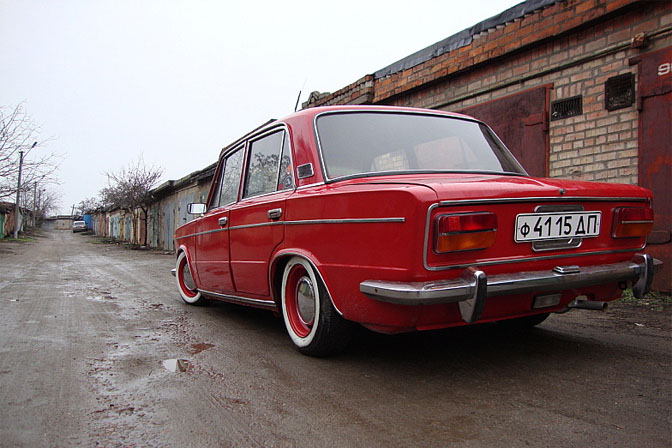 One of the latest and cleanest builds in the club, another fully restored Lada, this time a '76 2103.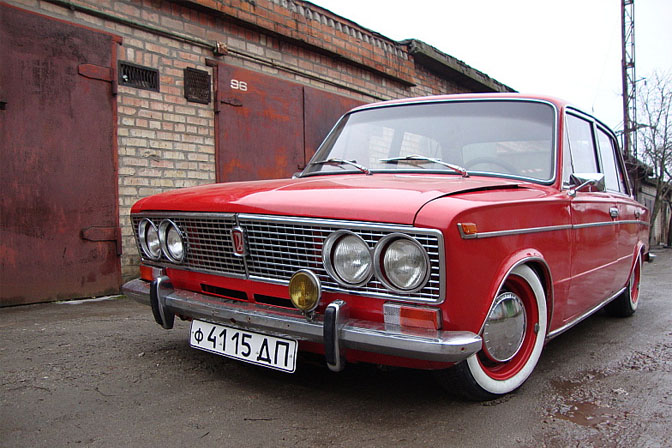 The car has come a long way, from a junkyard-bound crash victim to fartcan street-racer wannabe, and finally to this speedbump-scraping resto queen.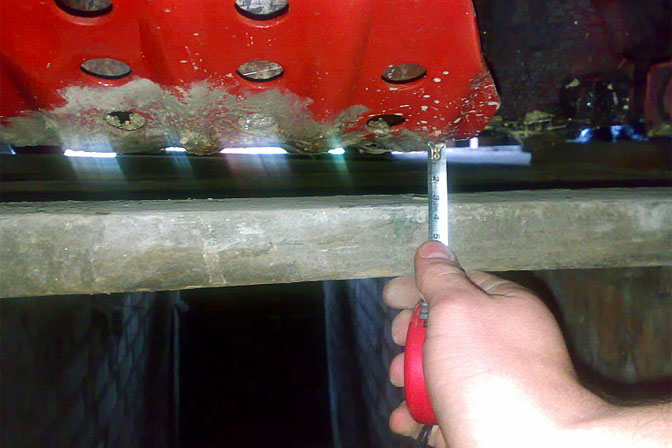 Yes, that's the clearance from oil pan guard, in centimeters. Considering the quality of roads that we have in here, that's drastically low. Note that all the cars above and below are still work in progress, which means they're getting lower and collecting more period-correct accessories.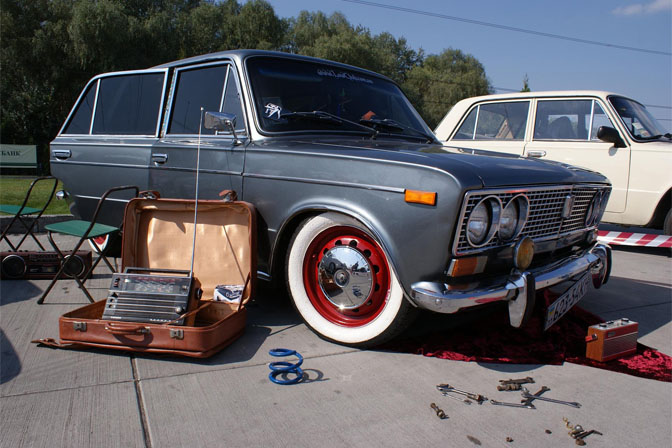 A more loose approach to restoration, this '74 2103 was painted in custom shade of gunmetal and fitted with 14 inch steelies on whitewall tires. Lowering to half the height of stock springs was not a matter of discussion, despite the never-ending queue of questions like "Why so low? You can't ride that on our roads!", "Are you carrying bricks in the trunk?", and "Must be the springs subsided, huh?" (Yep, we still get these.)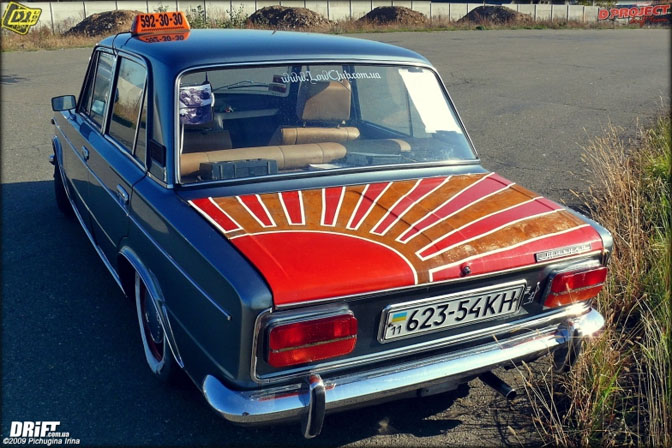 The owner is currently in search for style, applying whatever comes to his mind straight onto the car. Yellow tinted headlights? Random stickers? Rusted trunk with a rising sun decal? (Yeah, that one is a little over the top) Who said you can't do it on a Lada?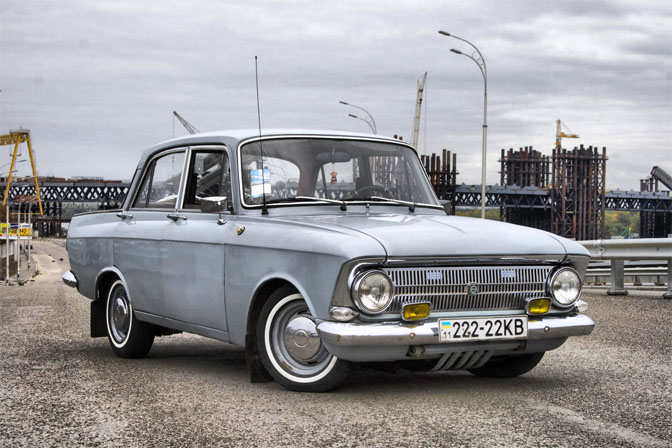 To dissolve the Lada pollution, here's a car that you might have never ever heard of, a '73 Moskvitch 412. Equipped with bow spring rear suspension, this one's not easy to drop, but we know the owner will go great lengths to scratch them nasty road bumps.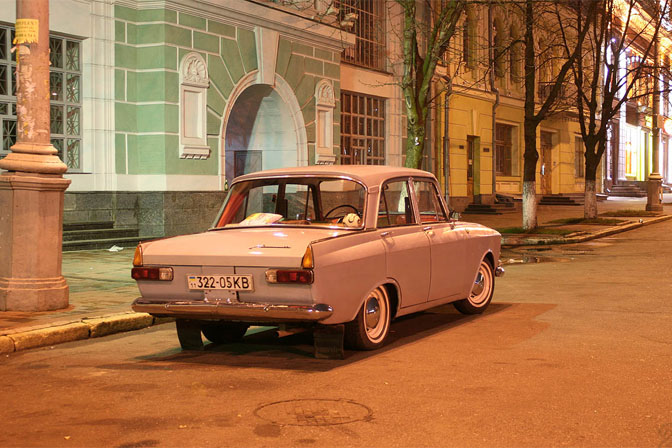 The common recipe—restoration, mild drop and whitebands—works well on this piece of Soviet machinery.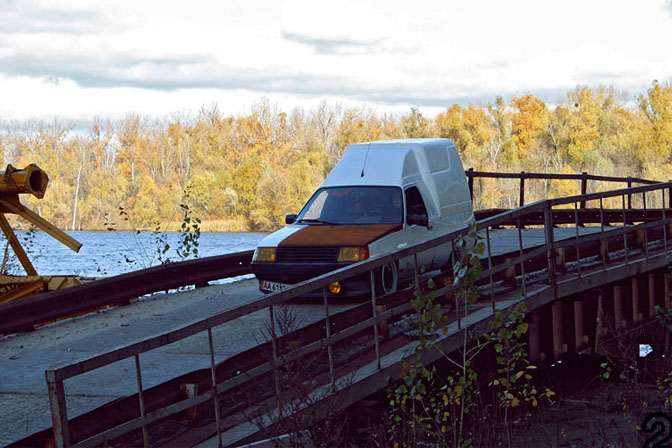 And finally, the most radically different (but not the lowest) ride of the community, this rusted-hood FWD pickup manufactured in Ukraine.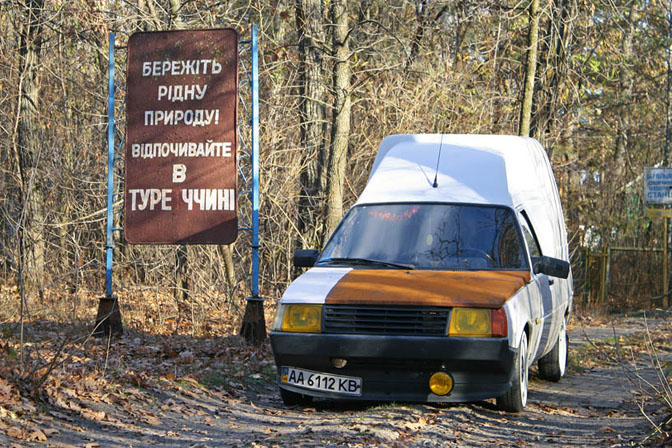 Fitted with a ghetto DIY front lip, mismatched turn indicators and whitewalls, it is really an eye-catcher since these cars are generally used as commercial vehicles.
So, that's a short insight of what's going on in the far corner of the automotive world, where 30+ y.o. cars are still daily drivers for most people, and the widespread car styling trends are yet to be discovered. Hope you liked the journey, and let this be a way to somewhat break the Iron Curtain, again.
P.S. Cheers to Only Dropped and RLC, our fellow low car worshipper clubs from the Russian Federation. And to all Russian-speaking Speedhunters—see you at the Low Club!