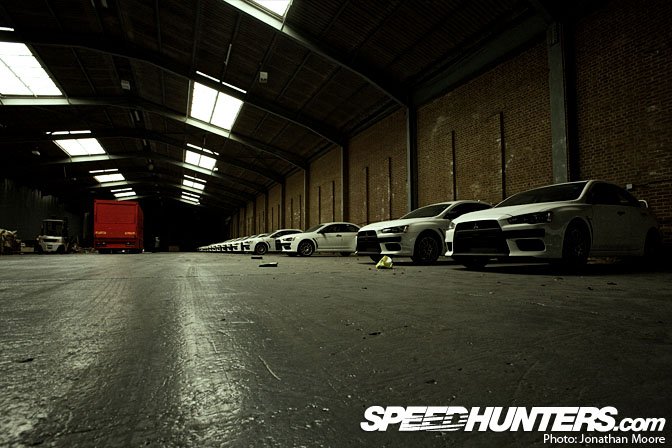 Sometimes you have good days. And then there are great days. Having taken in the impressive JR Motosport/Sumo Power factory in Rye, Rod and I had one more treat in store courtesy of Sumo Power boss Andy Barnes. We drove out to JRM's separate storage facility in my car; starting up my Alfa GTV, Andy asked if it was a diesel… rather embarrassed I had to say: "uh, no it's a 3L V6…" Okay. I think I need to get a service. Or a new car. When we arrived, I started unpacking my gear whilst Rod stepped into the dark warehouse. All I heard was him exclaim: 'Woah…".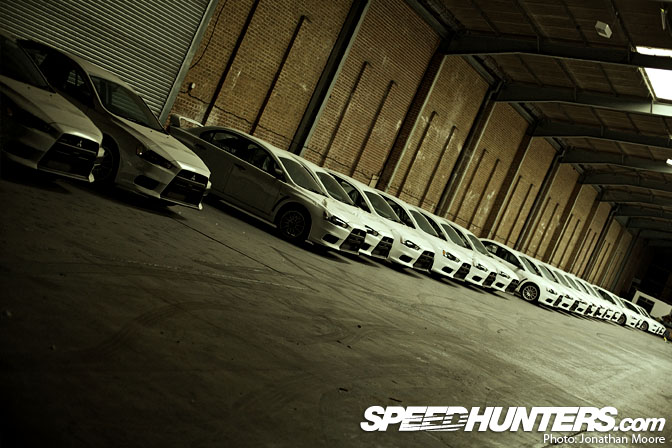 The first thing that hits you is the row of Mitsubishi Evo Xs. I mean, a long row. A lot of cars.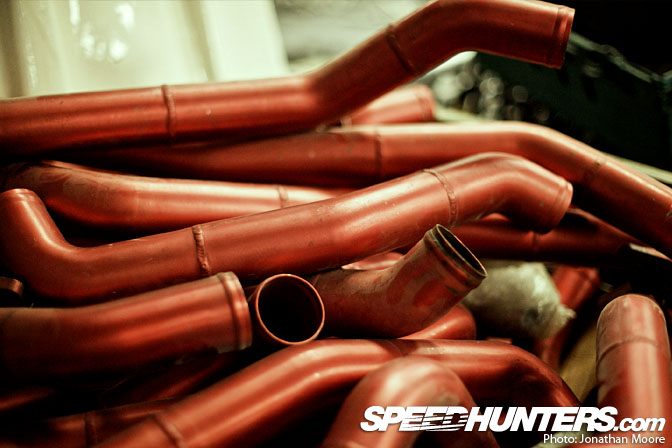 There's also something else lurking in this warehouse, which I investigated later on…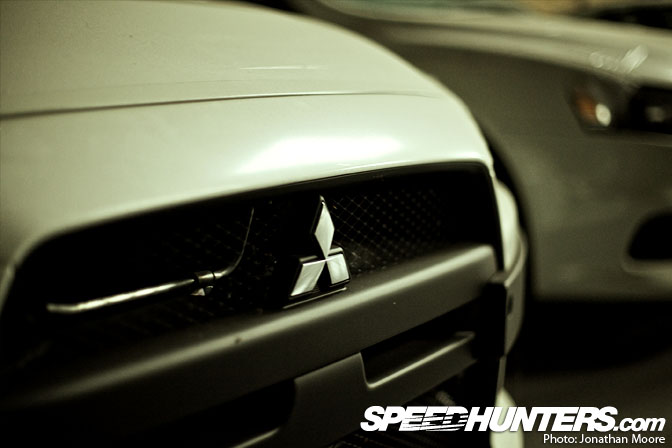 This set of Evos is from a proposed one-make series, originally a partnership between ADR Motorsport and Mitsubishi UK for the car manufacturer's return to circuit racing in the UK.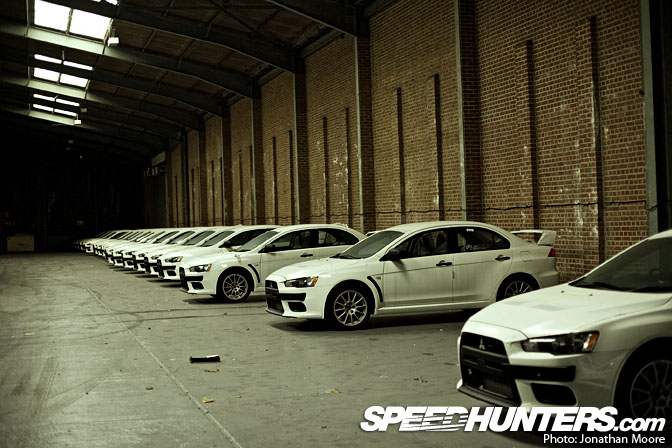 Announced in late 2008 and with cars on show at the following January's Autosport Show. ADR ran the work Mitsubishis in the British Rally Championship at the time, and kicked off the programme with a single Evo X entered in the Britcar championship driven by BTCC pilot James Kaye. With 4-wheel drive and 400hp on tap from a 2-litre turbocharged unit this car is still being run: it was out at the recent Dubai 24 Hours race…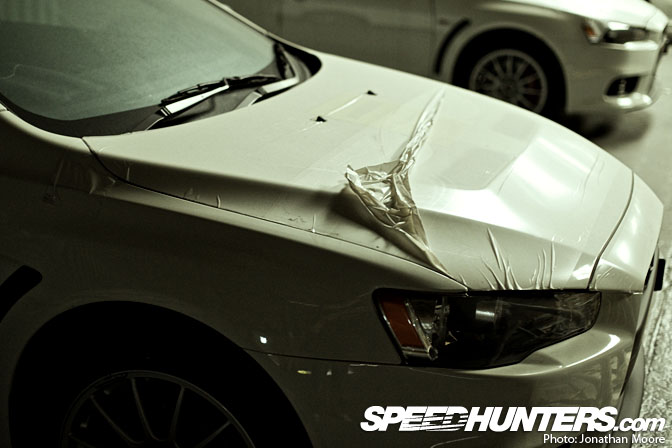 James Rumsey's JR Motorsport took over ADR around the same time, and continued the development of both the car and associated series. The Evo X Series planned to deliver an arrive-and-drive package for two-driver pairings starting in the Summer of 2009: the cars would have roll cages, fully adjustable EXE-TC race suspension and up-rated brakes, wheels, clutch and exhaust.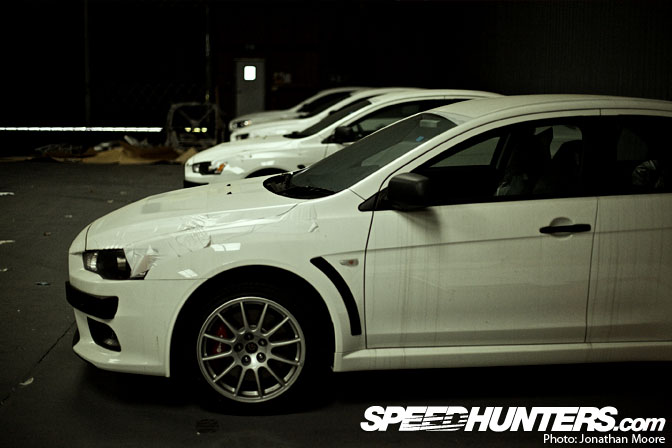 All looked good to go… and then recession hit. With such a large number of series competing for a shrinking market, it was obviously just not the time to press the button. So the cars went back in the shrink wrap and were secreted away to this warehouse.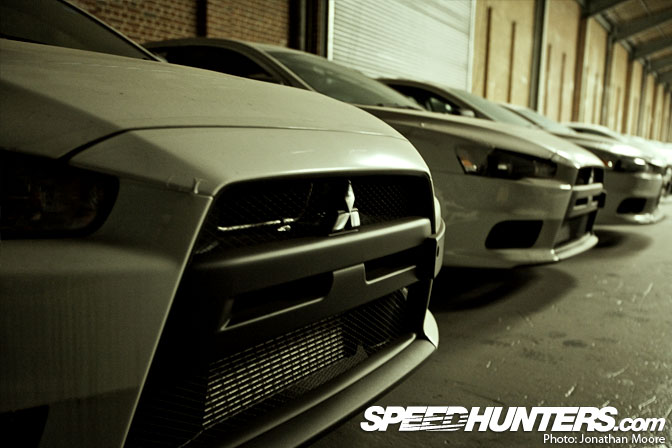 They're a beautiful sight, but like something you're not supposed to see, just waiting for the right moment to be revealed again.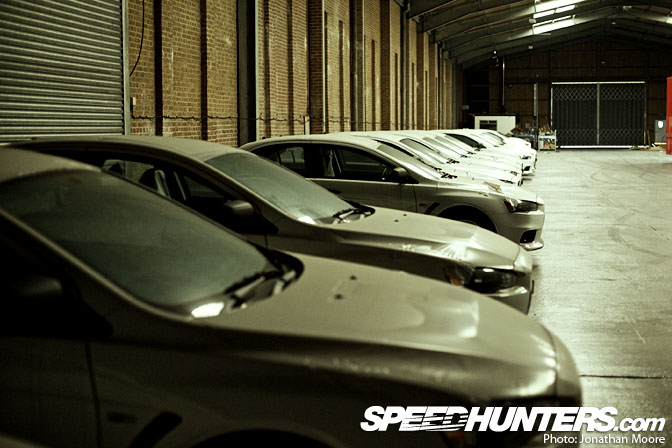 There's a lot to soak in. Okay, it's just a line of cars, but it's a very purposeful line. This is a slumbering army.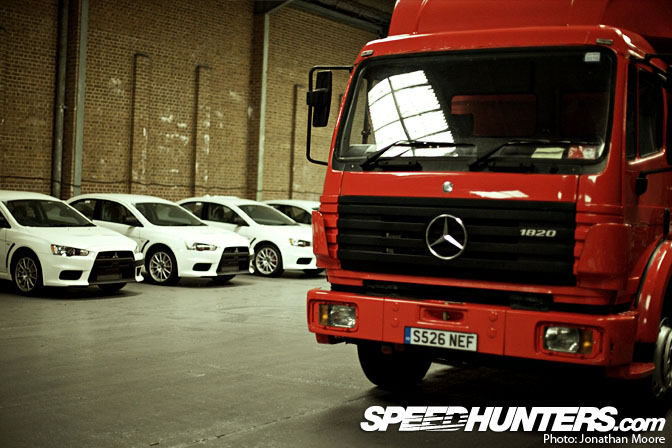 There's one obvious intruder here: the bright red Merc support truck, which points to the second subject the warehouse hides.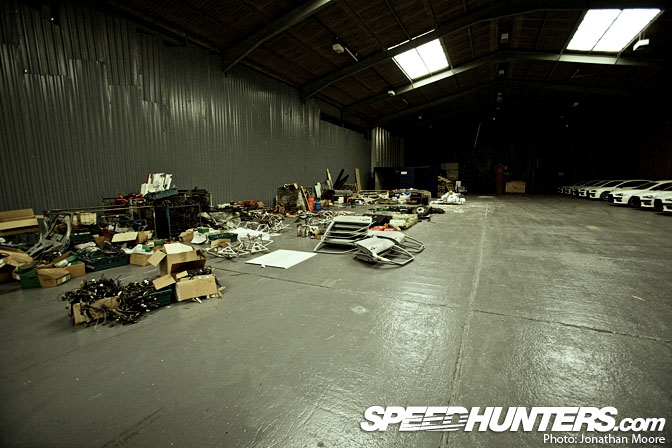 Whilst I was finding new Evo angles, of course I'd noticed the piles of debris on the left side of the warehouse. It was dark, so a big pile of stuff wasn't that interesting, surely?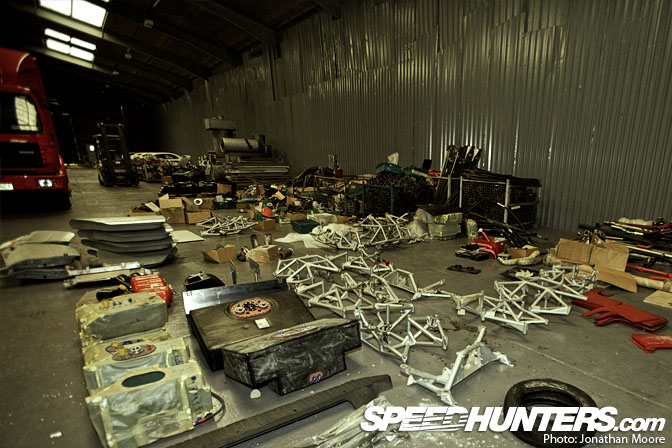 Rod and Andy were looking around in the recesses of the warehouse, but I was called over. Pulling away from the Evos, I reluctantly sauntered across. But this was no pile of rubbish…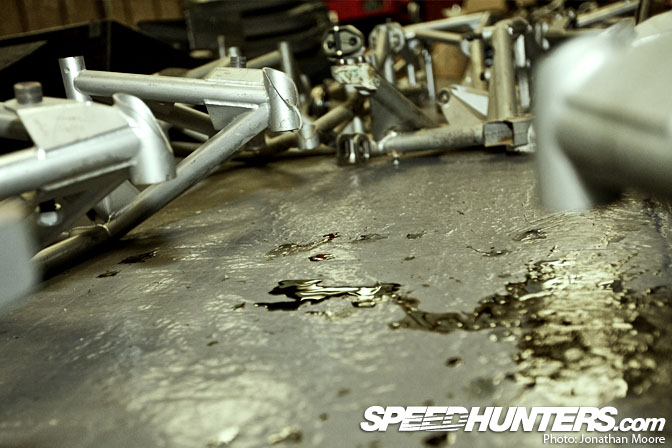 What we had was an entire set of spares for a World Rally Team. Everything. Literally. Hence the support truck. Evos forgotten for the moment, it was time to root about.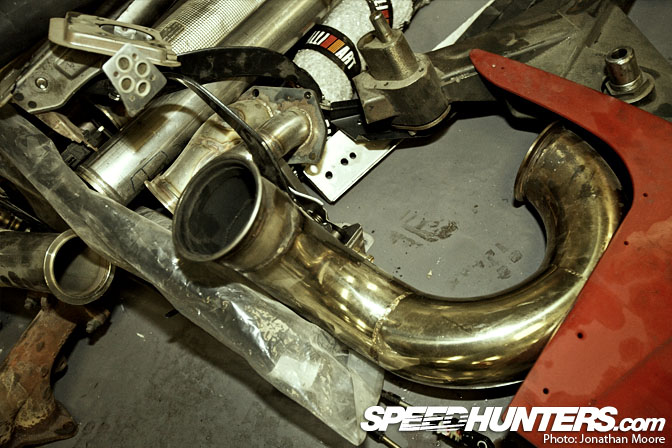 All the parts in here are from the Mitsubishi World Rally Championship programme originally run by British works team MML.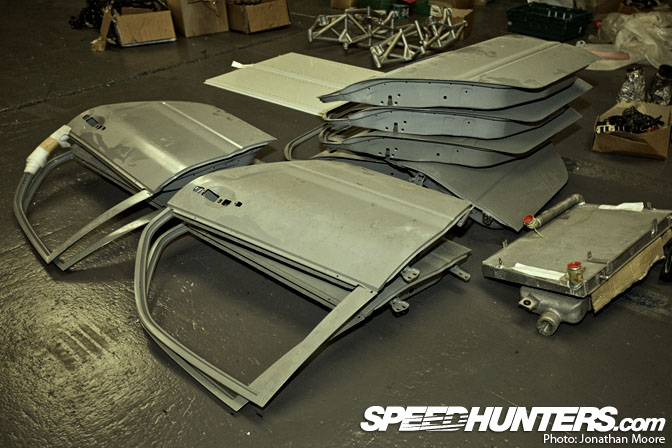 Backing up the Emkei wheels and body parts still stored at the main JRM/Sumo Power factory, this it the final piece in the WRC puzzle. There's an enormous amount of kit laid out. It gives you an idea just what is involved with running a factory effort. Given the body shells, you could easily make up half a dozen WRC cars from the parts.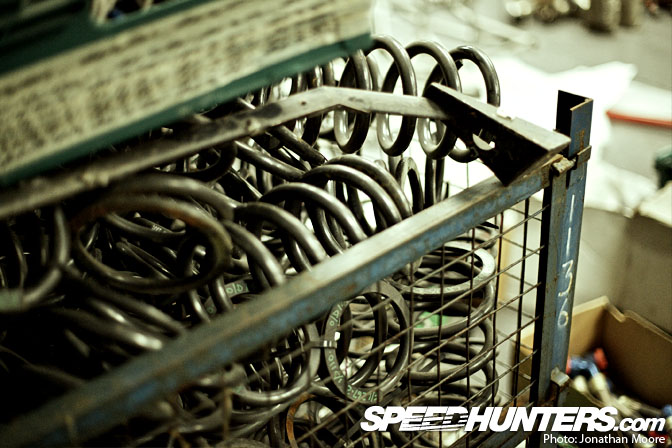 When JR Motorsport acquired ADR, who had been running the Group N Evos in the British national Rally Championship, they also ended up with all the spares and cars from MML's operation. Springs? How many do you want.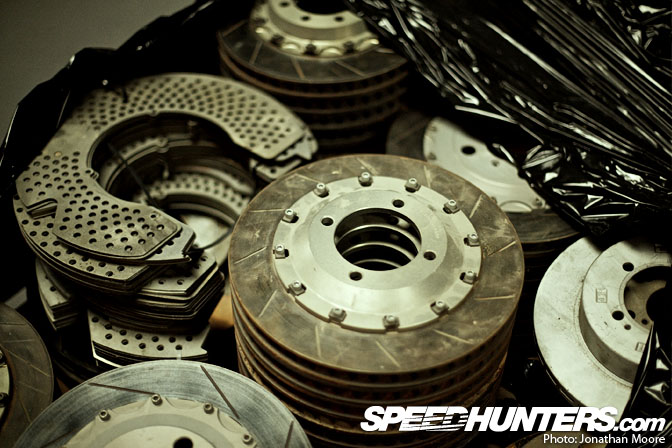 The smaller, more manageable parts are piled up in wire containers. There's just a mind-boggling amount of stuff lying about.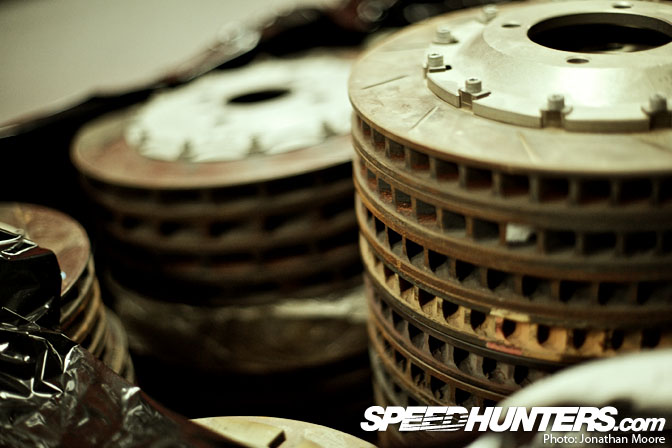 Brake disks as sci-fi buildings?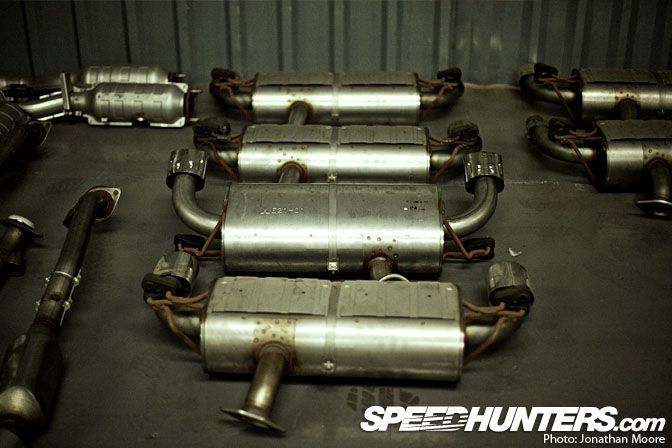 Exhaust systems…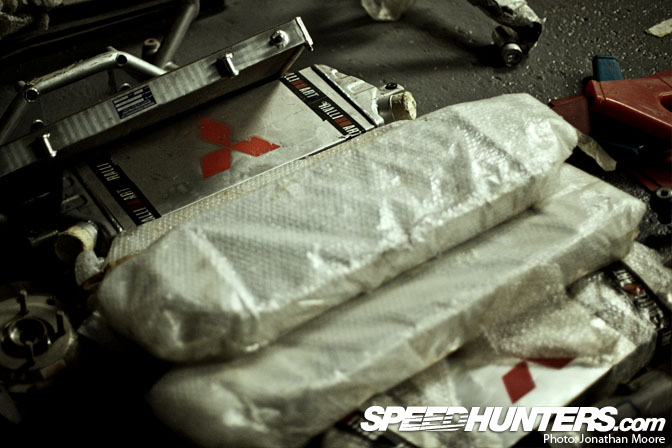 Radiators…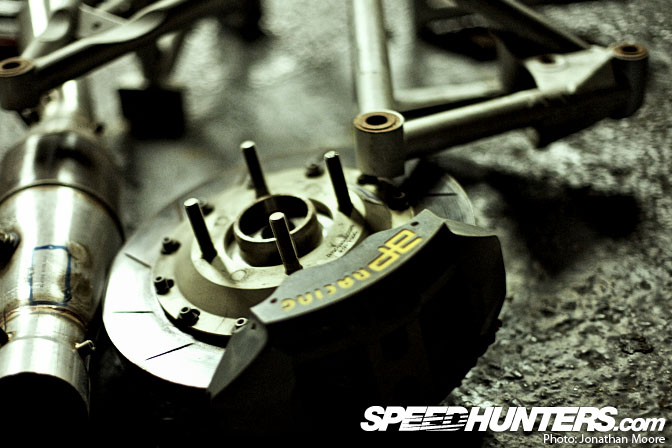 AP brakes…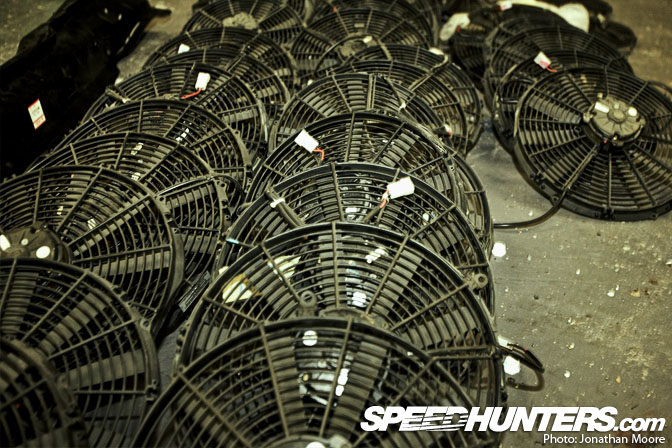 Fans…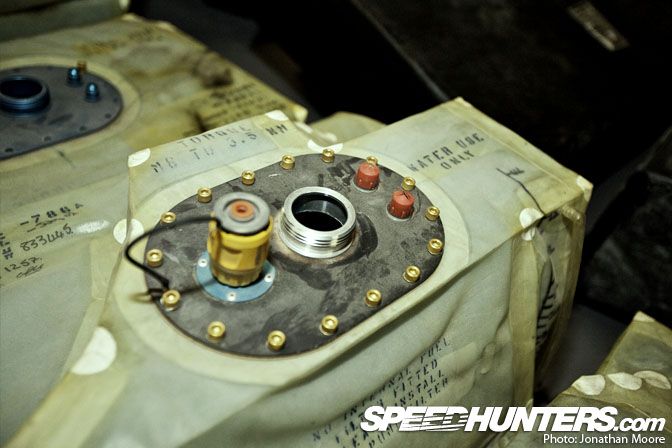 Fuel tanks…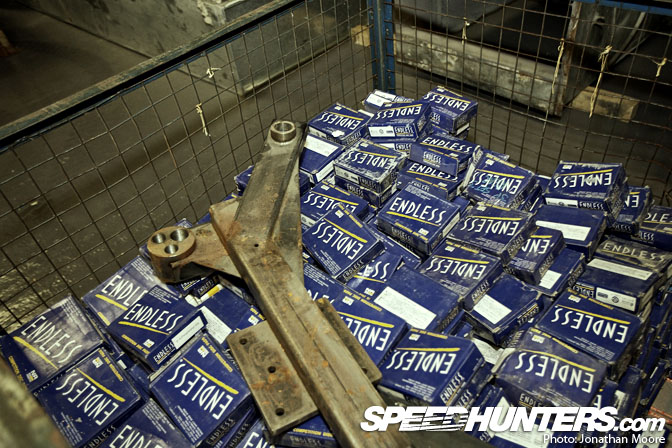 And a seemingly Endless supply of pads. Okay. Bad joke.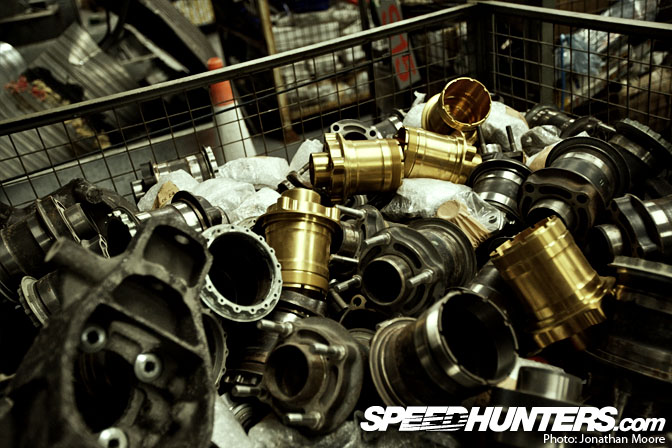 Hub bearings and half a carbon gearbox casing.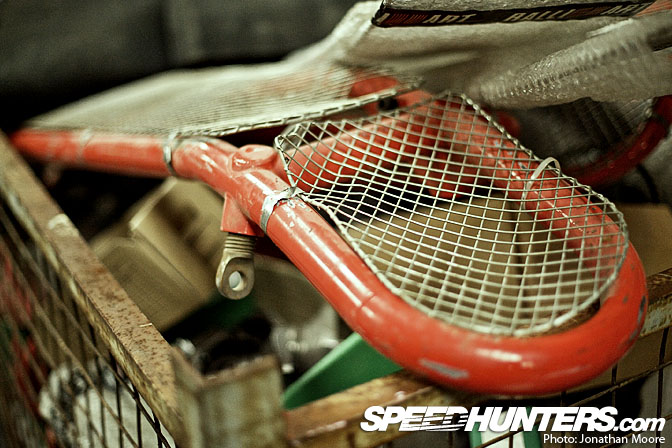 It's stupid to say 'one interesting thing' when you've got this much racing treasure to delve through, but these out-rigger bumpers caught my eye. Safari-spec? Paint missing? Maybe seen action?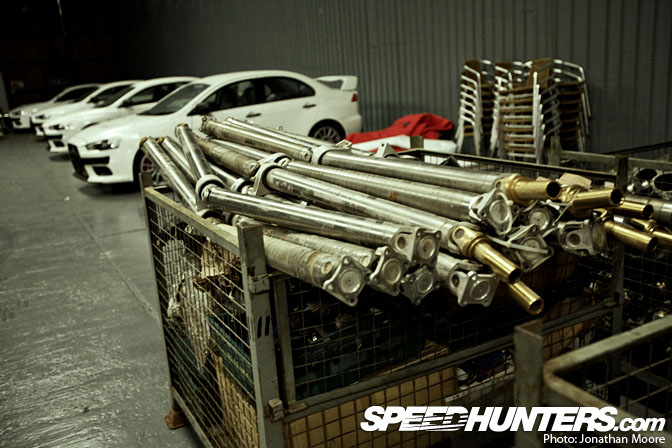 A whole stack of titanium prop-shafts was piled up.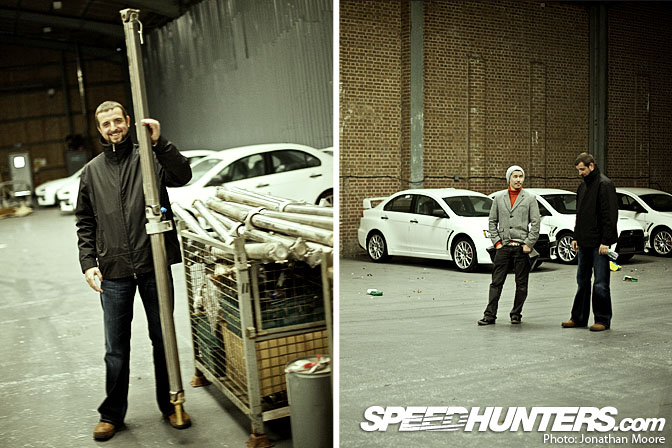 These are substantial pieces of kit… not surprising when you think of the punishment they have to put up with.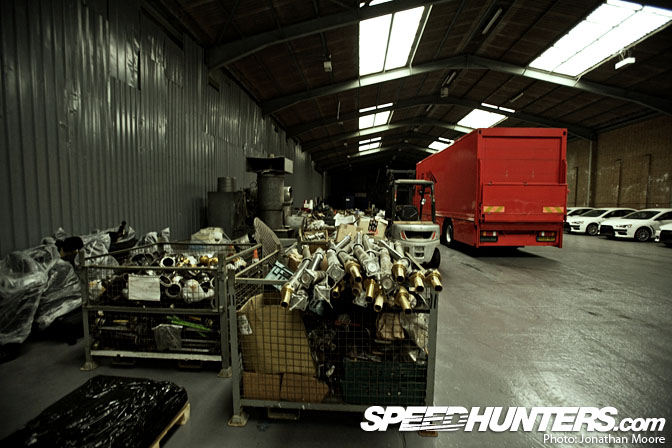 What an amazing thing to see. Truly one of those places where if you love cars, you simply don't want to leave.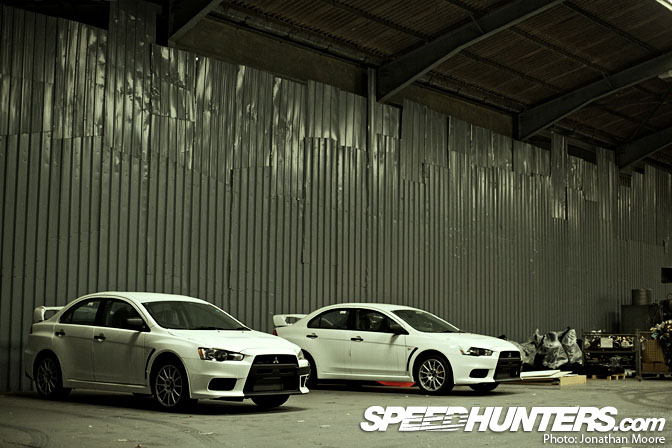 And okay Andy, I'll buy Japanese next time…
JONATHAN MOORE