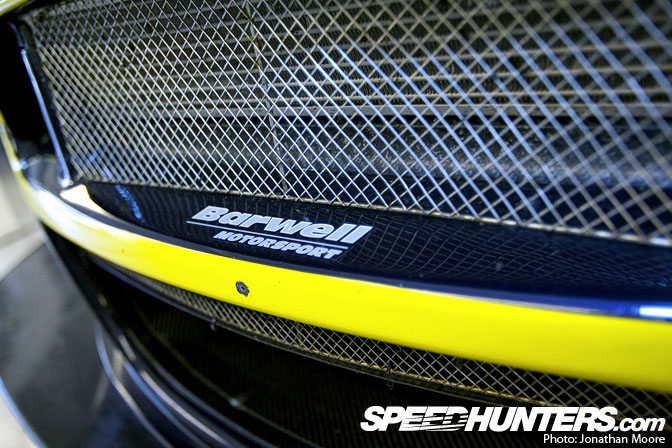 During 2009 Barwell ran a capacity programme with six cars in action across national and European GT series, Belgian touring cars and various historic events. In Britain, two cars ran in British GT: a full season entry in partnership with the Beachdeen team running their Aston Martin DBRS9 along with run-outs for the new Ginetta G50z.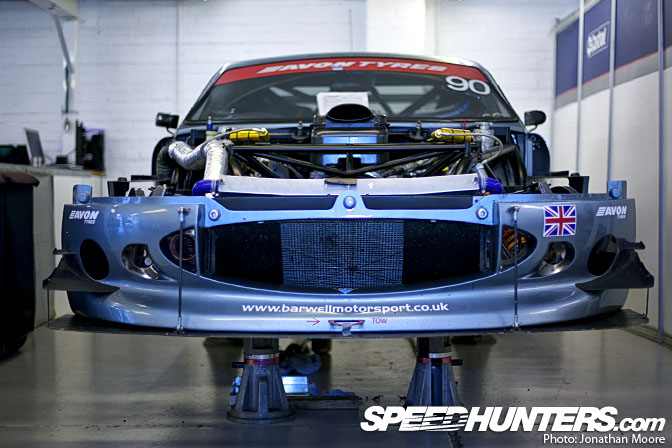 The Ginetta was entered in the Invitational class, bringing a bit more interest to what was a pretty lacklustre season in British GTs. Across the water in Belgium, Barwell ran another DBRS9 in the Belgian GT series and doubled up by competing with their own car in the supporting Belgian Touring Car Series with team boss Mark Lemmer driving alongside Mike Brown, Barwell's team technician.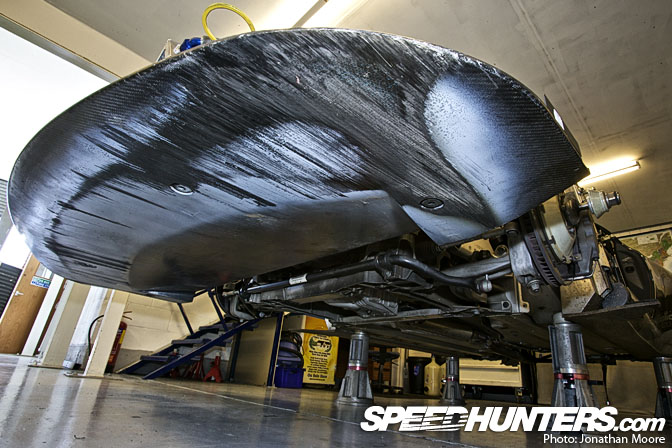 Just as we arrived for some Speedhunting, Barwell had received the last minute news that their DBRS9 would be competing at the legendary Spa 24 Hours in Belgium: a race up their with the other classic European enduros such as Le Mans and the Nurburgring. This meant the team had only a week to prepare for the race… Work had to begin right away to repair the damage from the last race and to prep the car to endurance spec.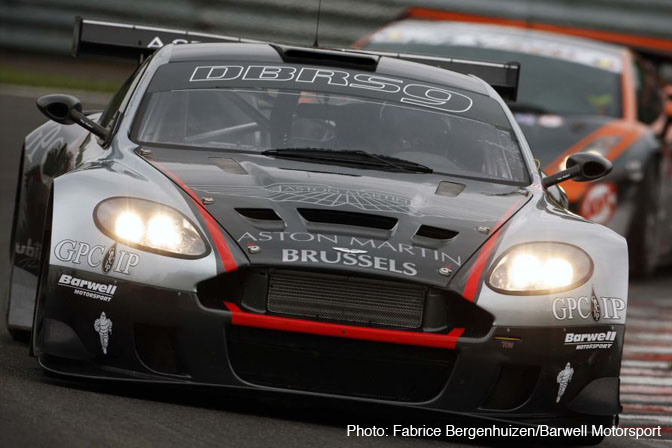 The Belgian DBRS9, chassis 21, was in full 2009 GT3 spec and was the most recent GT3 car to come out of Aston Martin Racing. The car had been getting good results: at the hands of Belgian veteran Vincent Vosse it had been on pole for the last three Belgian GT rounds at Spa prior to Speedhunters' visit. Lemmer: "We've raced in Belgium on and off for the last 12-14 years, so it's a sort of home from home. A Belgian customer wanted to run a DBRS9 and we were his first choice of team because we know the car so well; AMR recommended us."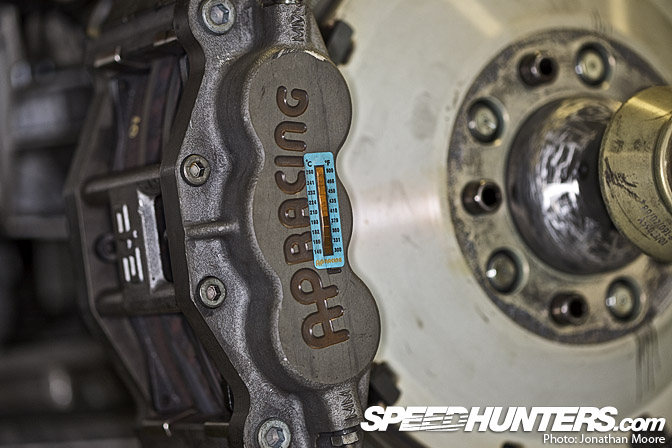 Of course, preparing a car for a 24-hour race is different from the usual 2-hour GT races. "Luckily this car was going to run in the Zolder 24 a month later.  We run endurance drive shafts, endurance prop shaft, endurance brakes; we'll change the gearbox on Friday after qualifying. We've got a high compression engine installed that we'll qualify on and then we'll fit a fresh low-compression engine for the race."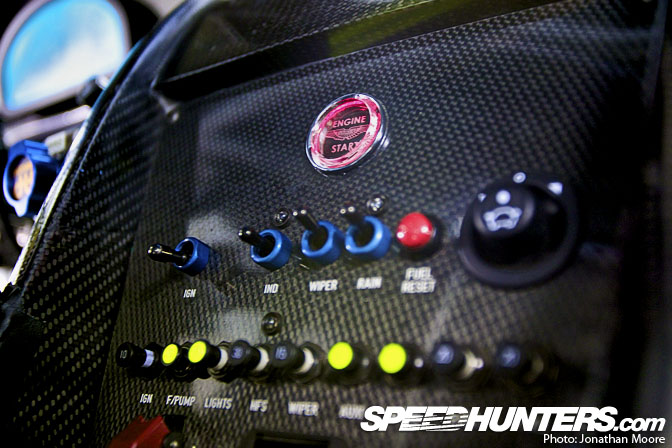 The Spa 24 will be Barwell's fifth trip to Spa this year. "The truck arrived back from our last race at Spa two days ago and then the unload crew came in yesterday. Today we'll have a bit of a planning meeting to get a rough schedule and then the engineers will tally up all the mileages and work out what components are going to be out of mileage."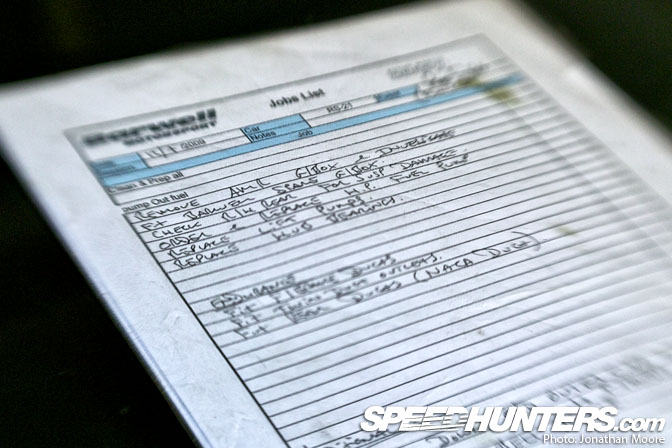 "From that information and from the debrief sheets generated during practice and qualifying sessions (where drivers note anything they're unhappy with) we compile a job-list of work that needs to be carried out."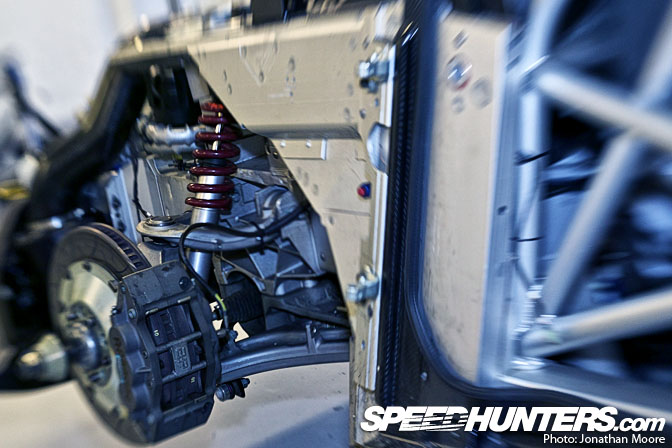 "Preparing for the 24 Hours is slightly different because we won't necessarily change components for free practice and qualifying. Effectively we've now got a schedule where today (Tuesday) will be a clean and check-over: we'll take the gearbox out for a rebuild and inspect all parts of the car, including the suspension, to make sure there are no leaks or cracks or any wear. Then on Thursday we'll put the car back together."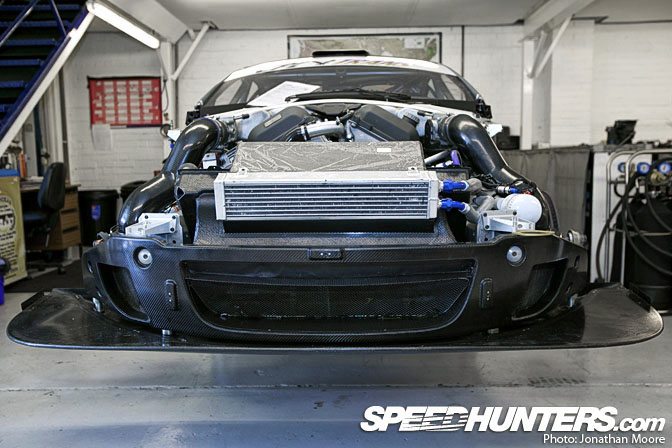 "On Friday we will set the car up in the morning; do the corner weights and geometry, etc – we know the settings for Spa very well. Then we'll put a fresh gearbox back in and then start assembling all the safety equipment and spare parts to go in the truck. There's a list of equipment we'll need over and above a standard race weekend; we've already ordered all the endurance parts for the car – luckily all of our 24-hour equipment is already sorted as the car was already down to compete in the Zolder 24 Hours."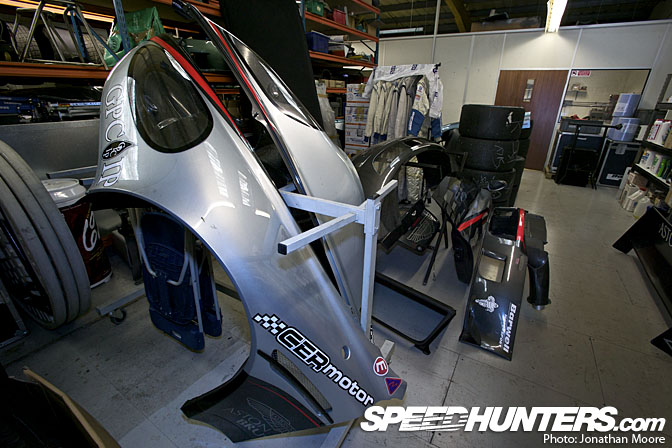 "Next week the trucks will be loaded up and we'll issue the team a detailed itinerary with the week's schedule: session timings, pit details, where we're staying and what our allocated scrutineering slot is. Scrutineering at Spa, like Le Mans, is quite special, as it's held in the open in the local town. When we get to the circuit on the Tuesday the first thing we'll do is dress the pit garage – set up the hoarding, flooring, awning, catering and such like. We're a small team so there's a lot of multi-tasking, with duties shared – but everyone is allocated set tasks. There's also a livery change on the car for this race, which will be done by a Belgian company."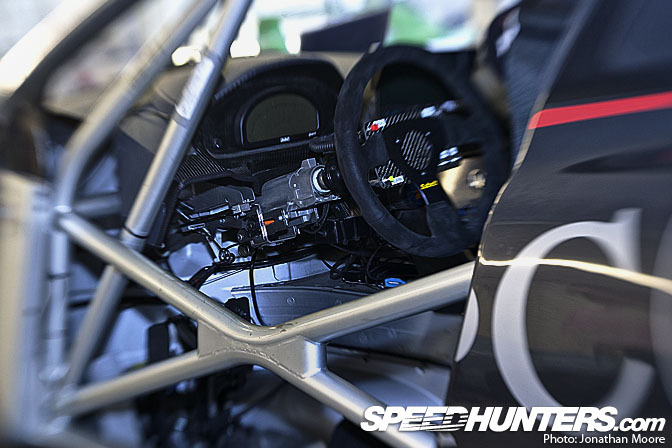 "The key thing for us is to get the new drivers familiar with the car. So we'll be scheduling familiarisation sessions and seat fittings to get them comfortable. We know how to manage the sessions to make sure we don't put too much pressure on the car or the drivers. We know the pace of the car. We'll be on the Michelin tyres, which we know inside out.The focus is being ready for the race, not setting ultra-fast times."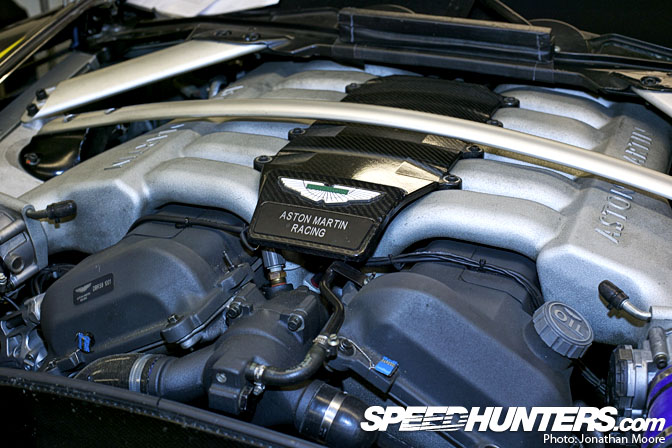 "After practice and qualifying, we'll replace the engine, the gearbox and the torque tube. Strangely we'll likely spend hours fiddling around with drinks bottles. Then we should be in good shape for the race. We'll run the car in Saturday morning warm-up, make sure the new engine and gearbox work okay, and then that's it until the start."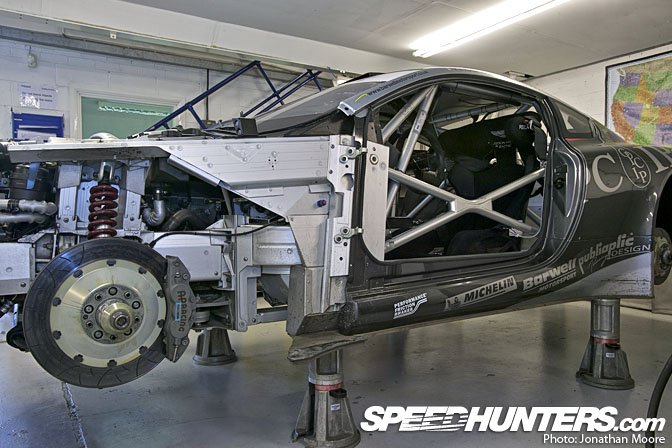 "We'll be hoping for pole position in GT3 if Van Hooydonck (who drives a Viper in Belgian GT) takes to the car quickly – hopefully ahead of some of the GT2 cars. Our focus will then be to have a clean race; stay out of trouble and a result will come. We'll be stopping on the hour for fuel – that's as far as an Aston GT3 can go at Spa on a full tank at racing speed."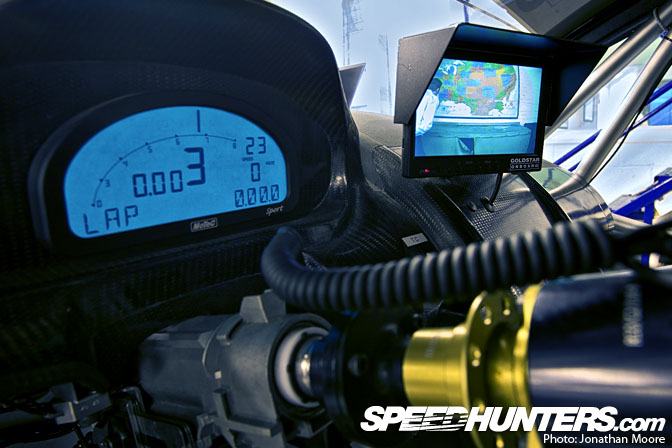 "There'll be four mechanics on the car – that's the key crew. Then we've got two tyre and fuel guys and our Belgian/French-speaking engineer, Marc. I'll be chief engineer, handling strategy, and then there'll be a couple of people taking care of logistics and commercial aspects. The catering for the event is quite substantial. I won't get involved with the sponsors, that's Chris Needell's job; my job is the well-being of the drivers and the car over the weekend."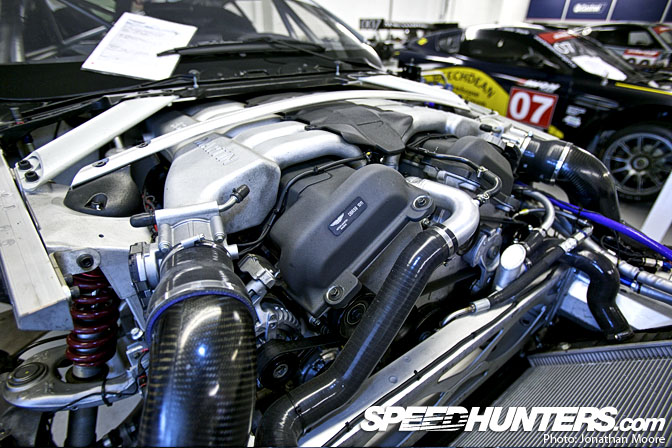 After the race we'll pack everything away, but probably not travel until the Monday morning. Our truckie is part-time; he's an ex-Bernie Ecclestone Formula 1 TV guy, so he's used to high standards. It will depend on how the race has gone really. We're a competitive race team. For example, being in the top four at Road Atlanta last year and then going out in the last hour, with what was effectively a half-shaft failure, the team simply wants to pack up and go home. We had a fantastic race up to that point, but we didn't achieve the result we were after, so we want to get out of there. But we'll have a couple of beers if we've done well. When we get back from Spa, we're immediately into the Silverstone 2-hour race, so there's no time to celebrate."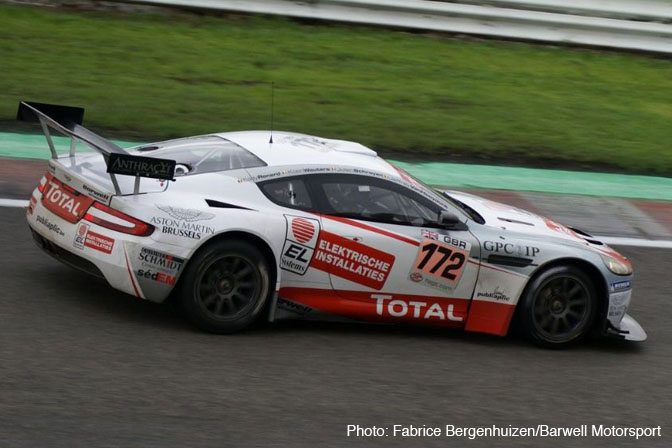 After qualifying 19th (second in class behind the Matech Ford GT), Barwell ended up 14th and fourth in class at the end of the 24 hours. An extended pitstop in the 20th hour, a puncture in the 21st and then bodywork damage in the final saw it lose a potential podium place in the G3 class.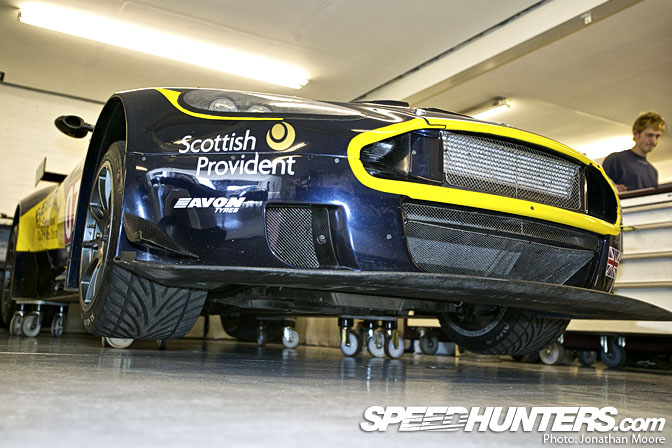 The team's second DBRS9 sat in the adjacent bay. Chassis number X1, it was also in GT3 spec and was originally the prototype R&D car for AMR.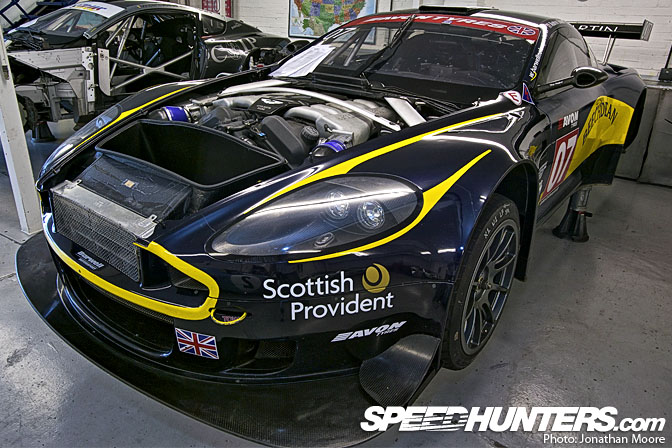 "This car has been all sorts of colours: grey, black, then blue, then Aston Martin green and now Beechdean corporate colours. Beechdean run their own cars at GT4, but there's a massive difference between GT4 and GT3, so they entrust their GT3 programme to us"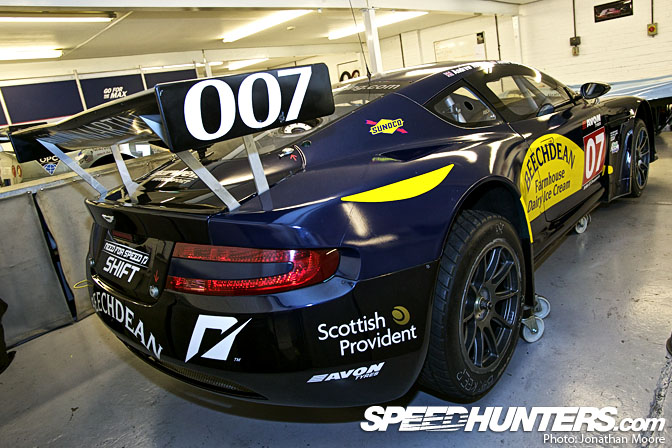 "In keeping with AMR's James Bond tie-in, we would have liked to run it as number 007, but it's an MSA (the British motorsport sanctioning body) rule that you can't run three-digit numbers. It's basically '09 spec, but it doesn't have a high-compression engine."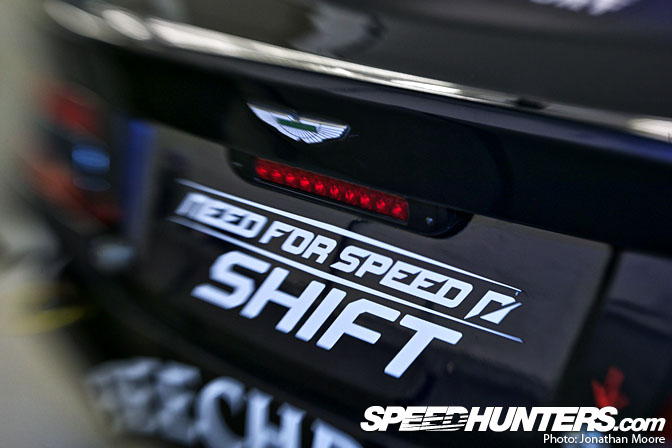 All FIA-spec GT3 series use performance balancing to equalise the cars. "DBRS9s are very tyre- and circuit-sensitive. The Ferrari 430s are good on tights tracks – that's why they're good in the UK – whereas the Aston is a big aero car – it hates the tight tracks but loves the fast tracks,  which is why we're good in Belgium."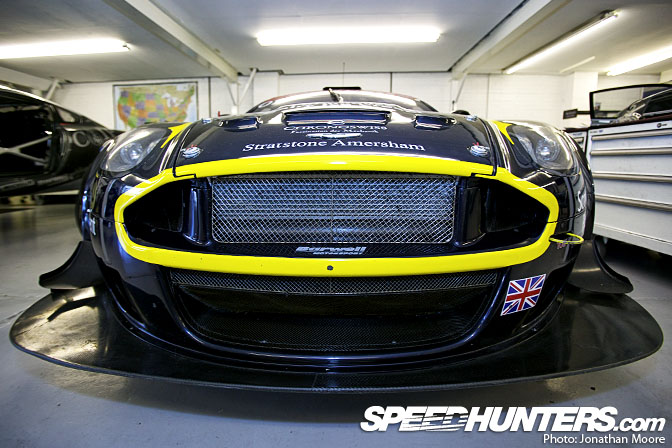 Since GT3 was launched in 2006 the cars have got five seconds a lap faster due to intense competition and development by the manufacturers. "We're faster than GT2 on a lot of circuits now! But the upgrade kits cost £50,000 to £100,000; people can't afford that in a recession."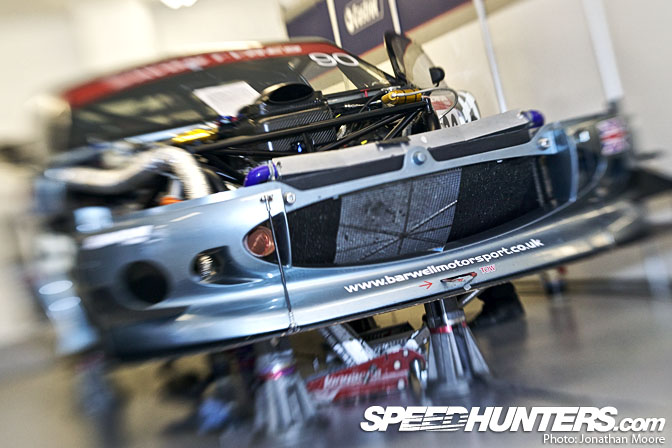 The third 'live' bay has the Ginetta-Zytek G50: chassis number 1. It's another pre-production prototype entrusted to Barwell.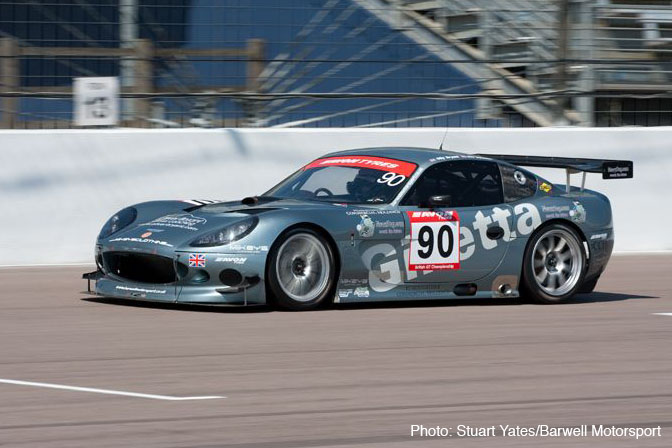 "This is Ginetta's development car, which we're operating for them. We've got an excellent relationship with Ginetta, as with Aston. We've shown that we're very effective at developing cars on the track, which helps the car builder improve the car that much faster."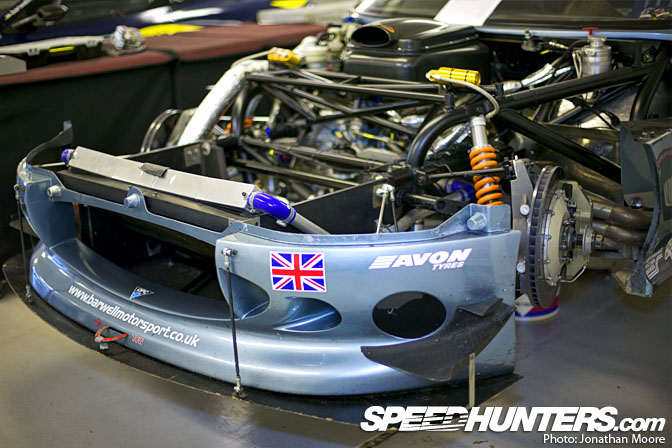 "We've got a soft spot for this car; we've had three wins with it already. The engine is set up at just under 400bhp, so the rest of the car has to work really hard to be competitive with everything else in GT3 – and that's what we've done."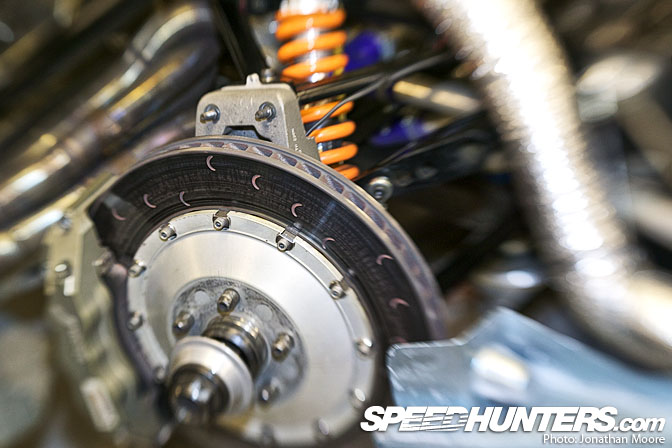 "We've worked on the suspension, the diff and the gearbox set-up. It may surprise the competition but we have to work really hard for the wins."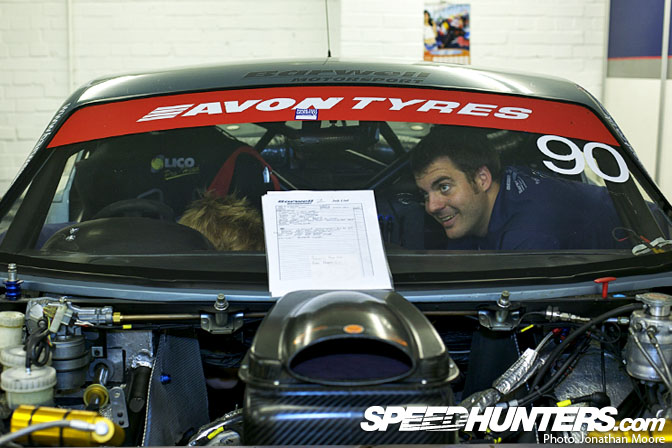 "The Aston's engine is smooth as silk, but it's a bit heavy. We never have any vibration issues. In comparison this is a V8 wanting to burst out of the chassis, so we've done a lot of work on vibration."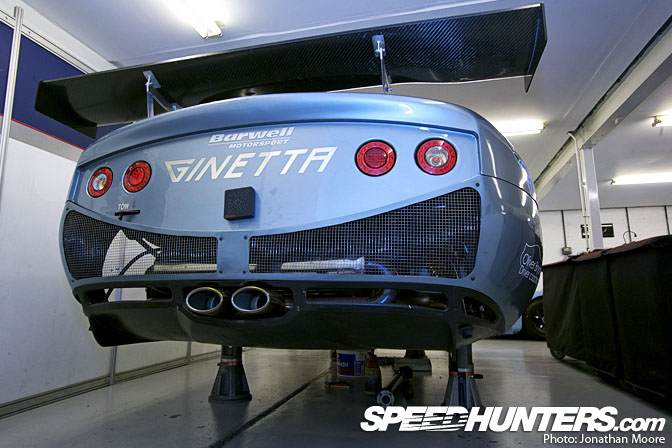 "The G50 runs a Hewland DTM transaxle and is very enjoyable to drive. It's full Gran Turismo-spec. It's like sitting in your gaming chair. It's almost surreal – it does everything so well. You want to stay in the car all day."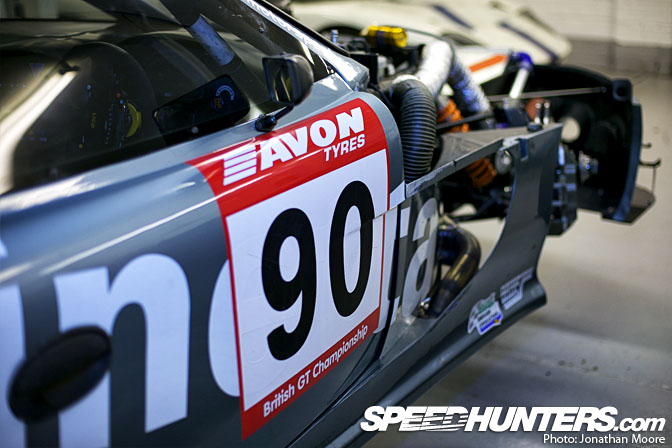 For 2010, Barwell are running two Ginettas in the G50 Cup (supporting British Touring Cars) and DBRS9s in the Belgian GT & FIA GT3. Another programme around Europe & the UK is on the cards and should be announced soon.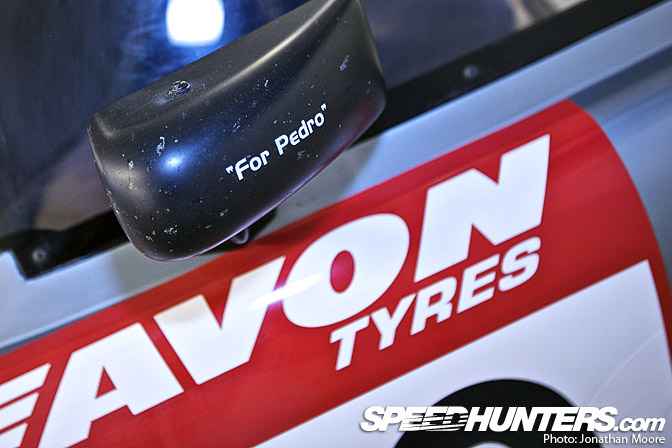 Every car Barwell runs features a 'For Pedro' sticker, which refers to Peter (nickname Pedro), the team's former chief mechanic who died six years ago at the age 40. "It was a big blow to the team," says Mark. With those two words, his memory lives on with every car the team prepares and races. 
Jonathan Moore
Many thanks to Barwell for the additional race photos.