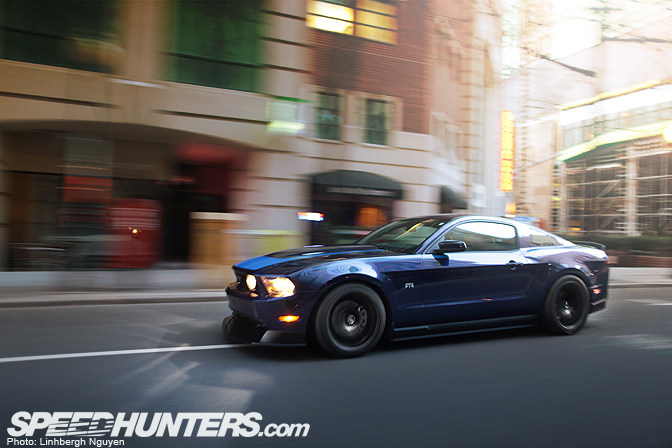 It wasn't until just recently that modern muscle cars started to shed some of their uncoolness with the younger crowd. Seduction and sexiness are two traits that did not ooze from the last generation of modern muscle cars, like the 5.0L Fox body mustangs, F-body Camaros and Trans Ams. Rather than being sexy, that generation of muscle cars gave the thought of moth balls, stuffy air, decades old
Levis jeans and sweaty bottoms! I have to admit that I was one of the many that disliked those cars — they were seriously uncool.
When Ford unveiled the completely restyled Mustang in 2005, it injected the withering scene with a shot of pure adrenaline. There is a universal appeal to the old muscle cars, and the retro throwback styling brought sexy back into the equation. Formula Drift driver, Vaughn Gittin Jr., saw the potential that the current generation of Mustangs have and gave it a second shot of adrenaline with his RTR brand. He took the already sexy car and dressed up to the nines for a grand night out on the town.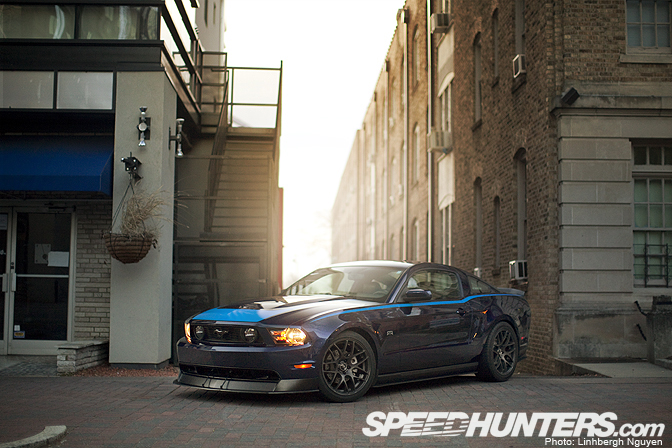 While in North Carolina shooting the rare and exclusive side to the brand, the Mustang RTR-C, I had the pleasure of spending a day with the RTR-C's the MUCH more affordable and accessible counterpart, this 2010 Mustang RTR.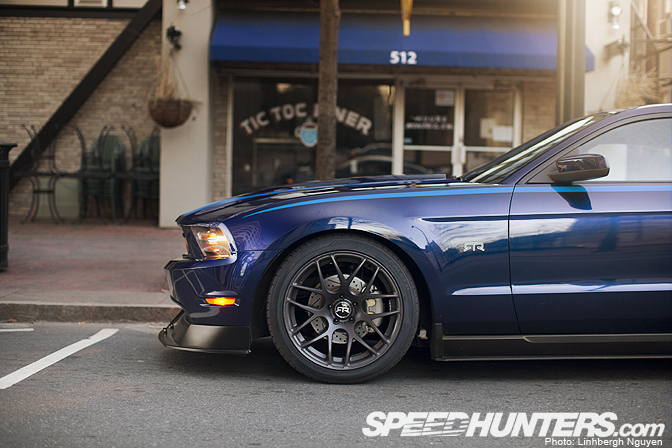 The first impression you get when you get in is that this car is a well put together car. It feels solid. It's a car. Not a bunch of sheet metal and G.I. Joe underwear plastic lumped together to some semblance of a car like the previous generation of Mustangs.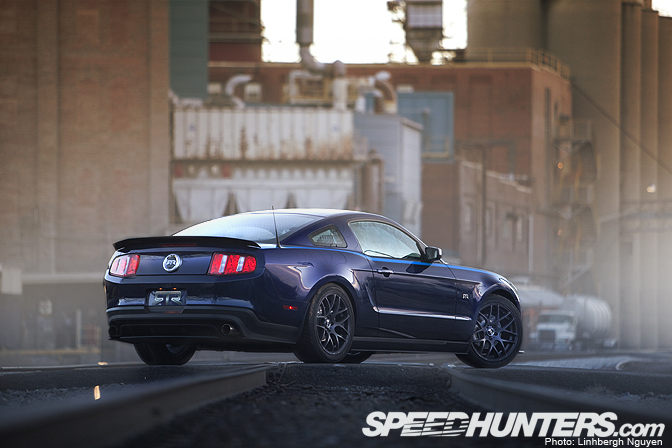 Having a solid feeling car is great and all, but its nothing like turning the key and hearing the roar 4.6L Ford V8 start up. The engine has been fairly untouched with the exception of the a high flow air intake which K&N calibrated with Ford Racing Performance for. Nine whole horsepowers is gained from this mod, give or take a few. It may not sound like much, but to the regular ol' butt dyno it's enough to put a smile on your face when that pedal hits the metal.
You can imagine what this car will do and sound with the brand new
production 5.0L that will offer 100 more horsepower stock!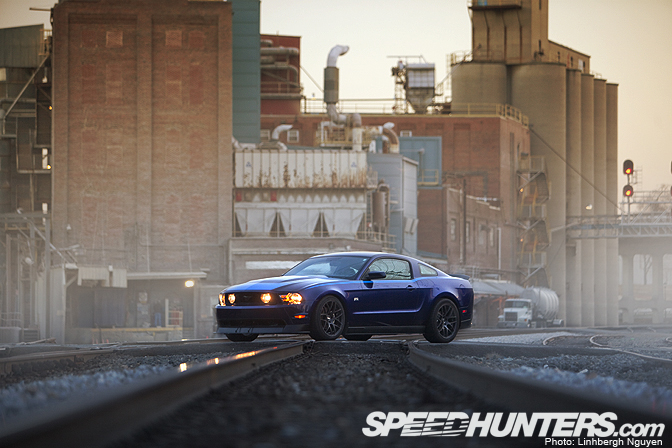 The sound of the 5.0L V8 is gloriously amplified by Ford Racing FR500S
mufflers for a true blue collar Detroit metal experience. The sound is
primeval and awakens any slumbering testosterone hormone.
If you were to wake up to this car each morning, you wouldn't want some french press expresso, but the bottom of the pot, blackest of the black, coffee from rain forests of Columbia. The noise of this mustang is chest hair growth inducing.
The car's original suspension has been replaced with a set of Ford Racing damper kits, and Ford Racing 1.5″ lowering springs. It's not super slammed, but its just low enough to make the car look real mean.
The interior has been spruced up by various RTR brand details, like this RTR floor mat. I've mentioned before that everyone who tunes cars is allowed at least one rice mod. Vaughn chose his rice mod to be the red interior under glow. My inner riceness approves!
More RTR detailing can be seen throughout the cabin; there's an RTR shift knob, RTR emblems (like the one on this gauge cluster), and a numbered RTR badge.
This car just looks even more mean and more aggressive while in motion. The Ford Racing suspension rides a bit rough when the road gets a bit bumpy, but its not back breaking. It's sporty enough that you can overlook its roughness because when you turn into a corner fast and hit the gas, you'll be quite surprised by the results –this car can take a corner.
Under Mustang RTR's fenders sits a set of RTR brand 19×9.5 (front and rear) wheels wrapped with Falken FK-452 performance tires. Baer cross drilled and slotted rotors replaced the OEM rotors.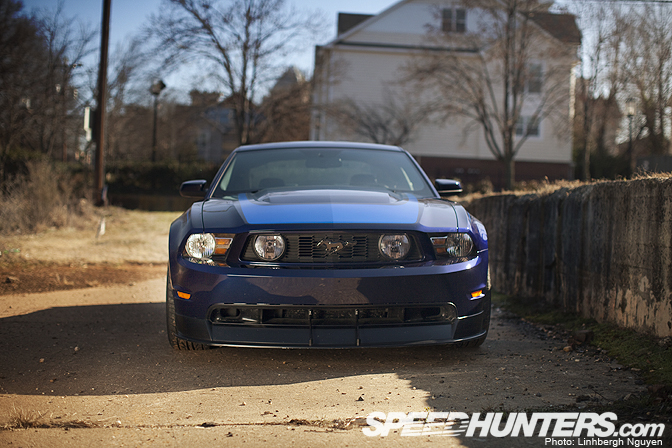 The front sports an RTR front chin spoiler and splitter.
In addition to the front chin spoiler and splitter, there's also an accompanying pair of RTR side skirts….
…RTR rear diffuser and an aluminum rear spoiler. Of course, the Mustang front and rear badges have been replace for RTR ones. This car is a total package, and it all works together very tastefully!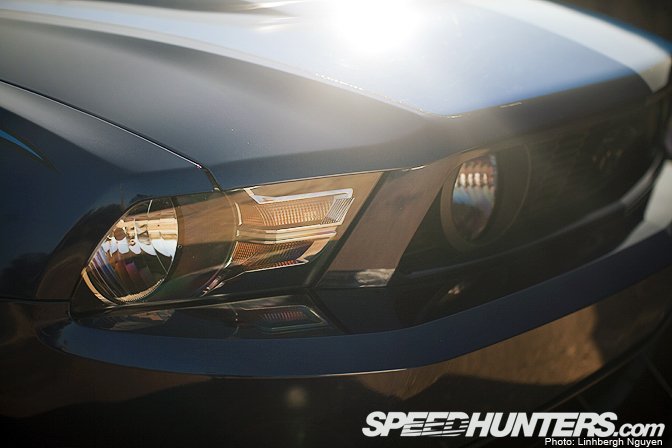 RTR aside, Ford did a great job overall with the redesign for the 2010 model. The detail on the front end deserves special attention and praise.
I can totally imagine myself walking out from the corner store to see
this car parked and marveling how truly good this thing looks.
The most surprising aspect of this car is when the car enters a corner it does not shy away or cower in fear mumbling about straight roads that go on into the horizon. It fantasizes and craves the corners. When this RTR, with the Ford Racing suspension, enters into a turn, it hugs tightly and that electric feeling comes up your spine. You smile because you know the car is enjoying it just as much as you are.
It takes great inspiration, vision and some properly cooked steamed white rice, to create a Mustang that oozes with this much seduction and sexiness. Muscle cars from a different generation, like the 60s Mustangs, Camaros, GTOs, Chargers, Barracudas and Challengers, were all cars that were drooled upon in those days (and even to this day they're still drool material). The people that grew up drooling to those cars are now old men; a crowd of tweed, cigars and locally brewed bear. The Mustang RTR brings back the youth and vigor that has been missing from this muscle cars for a long time and at an affordable price!
The last time so many of us have drooled over a Mustang was when Steve McQueen roasted that dark green 1968 Mustang GT's tires in the infamous movie, 'Bullitt.'
But that was 1968, we're in the year 2010 now and a new contender has entered the ring.
-Linhbergh