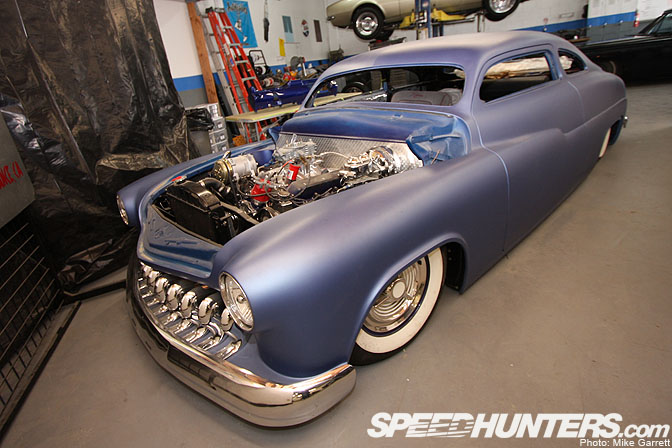 As I sit here listening to the rain outside turning the LA basin into a disaster area, it's time to continue with my visit to Starlite Rod & Kustom right here in lovely Torrance, California.
I've had the chance to visit a lot of fantastic car shops, but as you can see there's something very special about Starlite. In fact, I can't help but feeling proud that such a cool shop is located right in my neighborhood.
Anyways, on with the tour.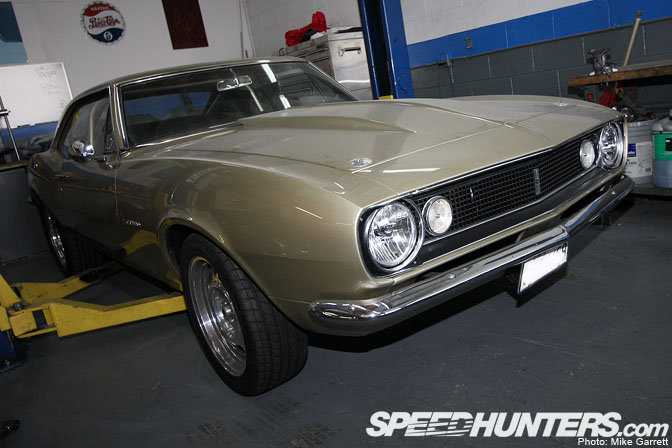 This simple-looking '67 Camaro started off as a customer's car before the guys adopted it as another Starlite shop project. The car sees a lot of use on the streets of Los Angeles, and Edgar is planning on bringing it out to some local SoCal autocross events this year.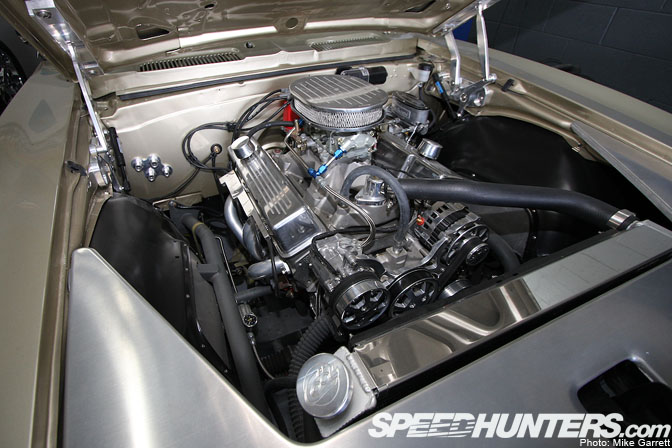 The Camaro is powered by a nasty 427 small block, and like the '69 I showed yesterday, it's also rocking a whole catalog's worth of high end chassis and suspension parts.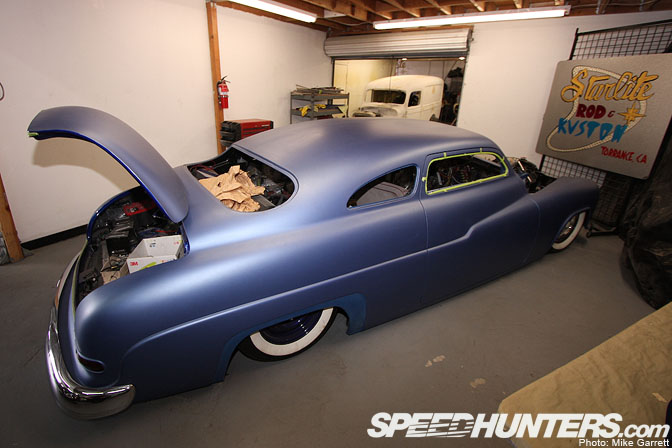 This '50 Merc is another one of those customer cars that started off as a simple body work job, but turned into a complete overhaul.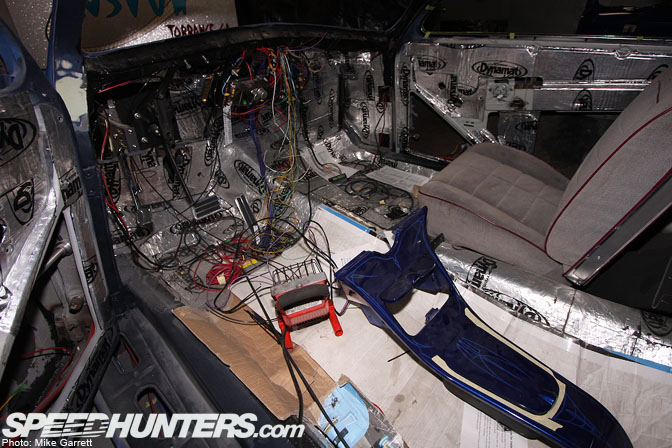 It's still very much a work in progress, but it's already shaping up to be quite a machine.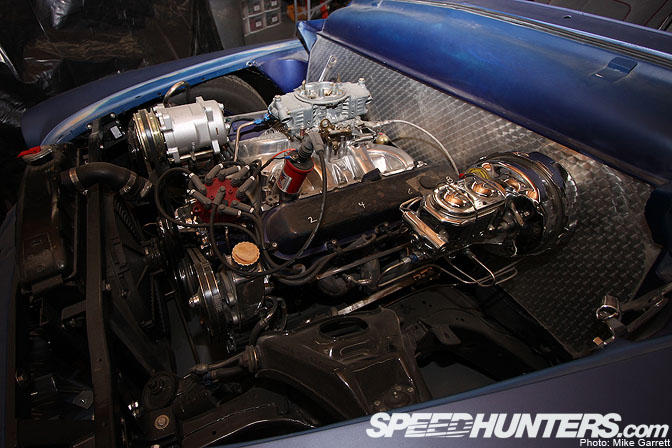 If that front suspension doesn't look like it's from a '50 Mercury, that's because it's not. It's actually late 1970's GM stuff, complete with disc brakes. The engine? A 500 cubic inch Caddy, capable of uprooting trees with a touch of the throttle.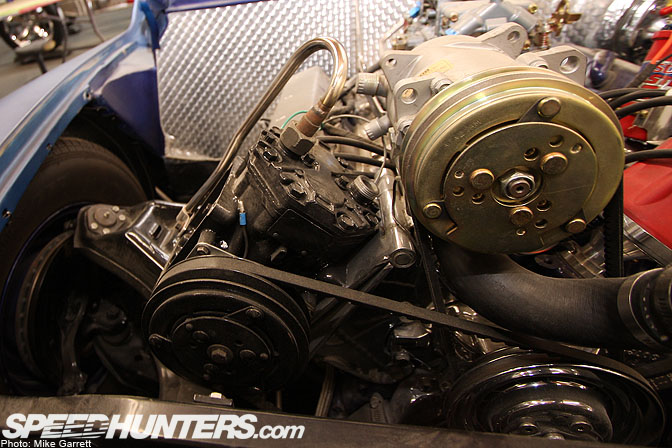 One of Starlite's specialties is mounting the compressor for the air suspension on the engine itself. This gives much smoother operation, without the annoying sounds that you hear from a lot of bagged cars and trucks.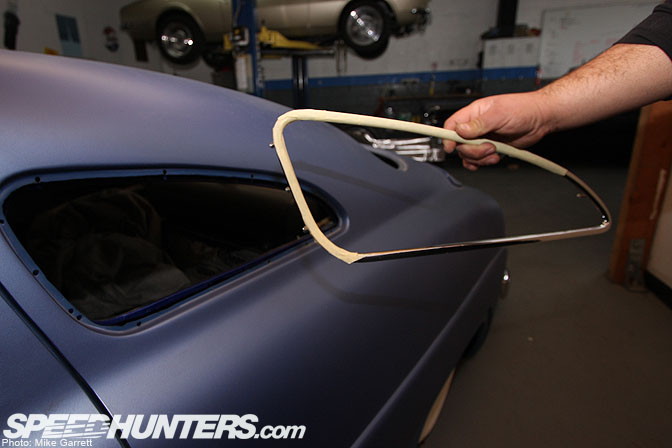 Here's Edgar showing off one of the custom trim pieces handcrafted for the Merc's rear windows. This really just scratches the surface of the details in this build.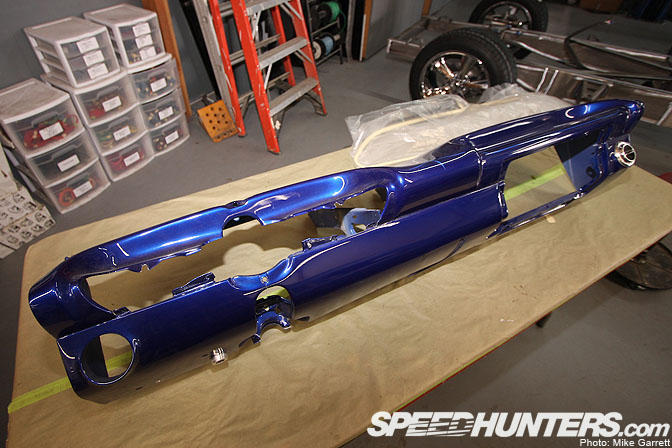 While some may like the car's current suede color, it's eventually going to be painted in the same deep blue as this '59 Chevy dash waiting to be installed.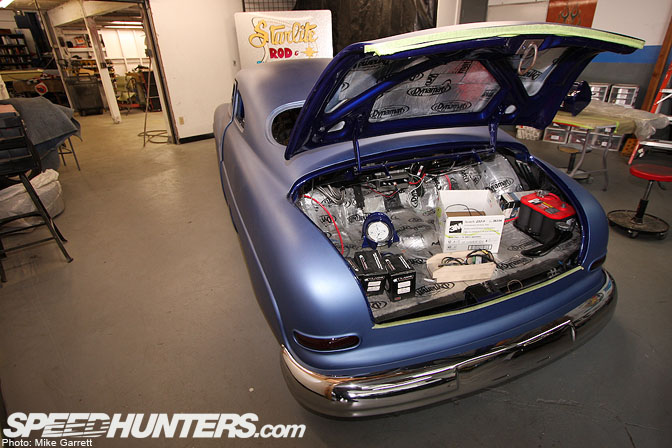 It was eye-opening to watch Edgar describe the things they are doing to this car. I've seen plenty of customs like this at shows, but it's something completely different to see one as it's constructed, especially a build as thorough as this one.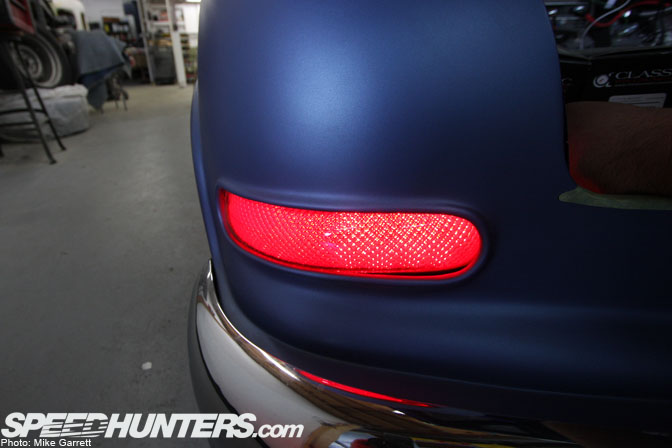 Edgar is not a big fan of trailer queens, and Starlite likes to make their cars as safe and reliable as possible. After nearly rear-ending a hot rod with tiny little "custom taillights", Edgar came up with the idea of doing one-off LED tails for his projects. Not only are they much brighter, but they look awesome as well. HID headlight conversions are also something seen on a lot of Starlite projects.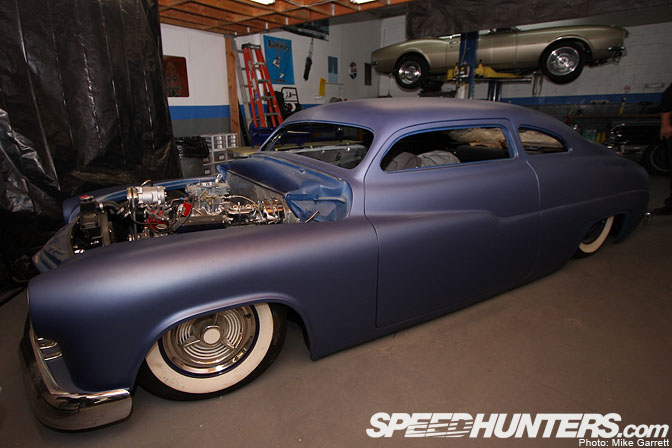 The completed car is scheduled to a debut at a big show that will be held later this year in Long Beach. I can't wait to see it! Full feature anyone?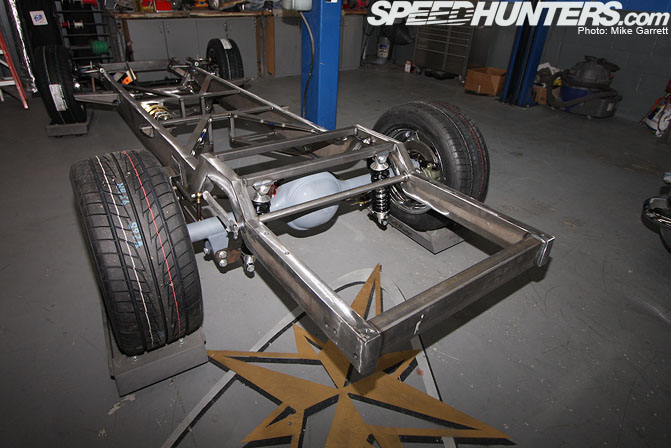 Here we have the beginnings of a '59 Chevy truck project being built with in collaboration with suspension and chassis specialists TCI Engineering.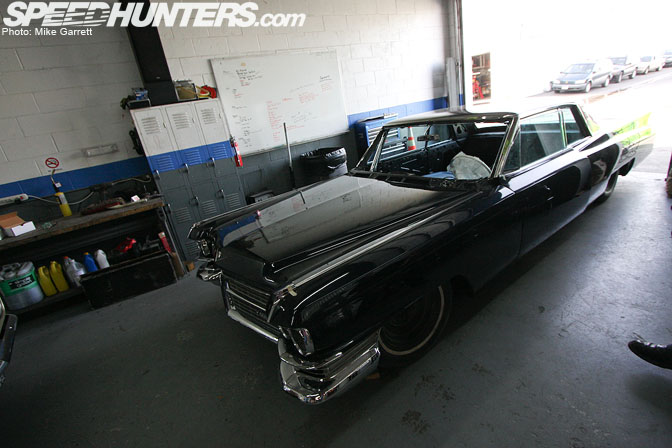 Meanwhile this '63 Caddy is being a done as a mild cruiser for a customer.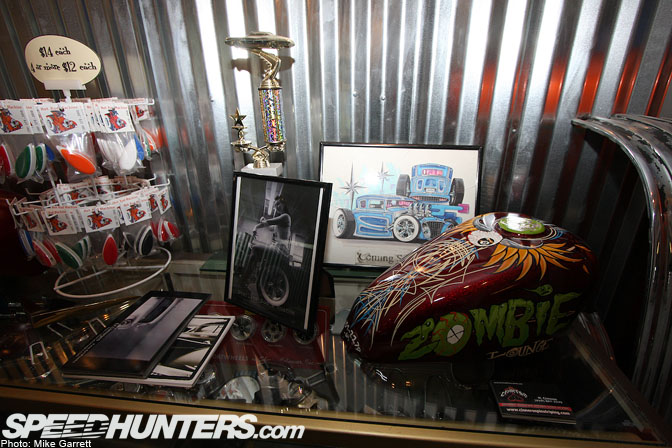 The small showroom at Starlite is filled with all sorts of artwork and cool parts gathered at swap meets over the years.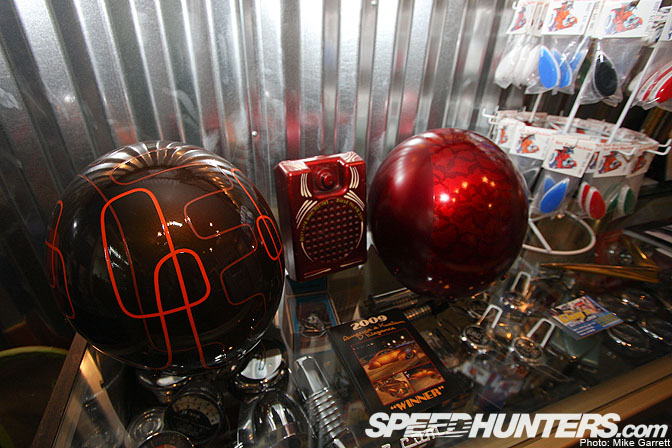 Seeing these kind of things are always one of my favorite parts about visiting a shop.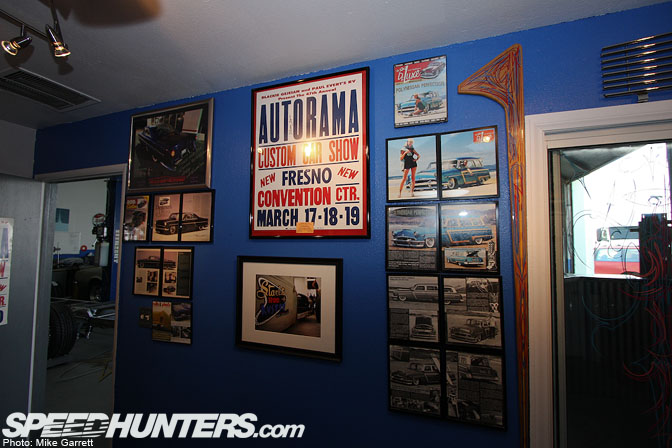 Of course you'll also find framed articles and photographs of the shop's past project cars.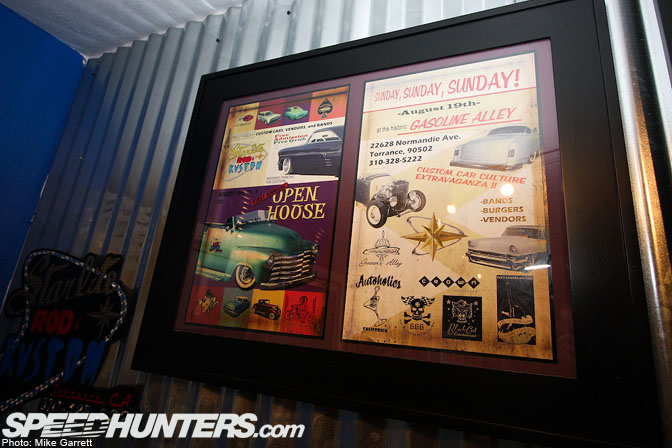 One of the coolest things I saw were these flyers for the annual Starlite open house, done as period event posters. Sunday, Sunday, Sunday!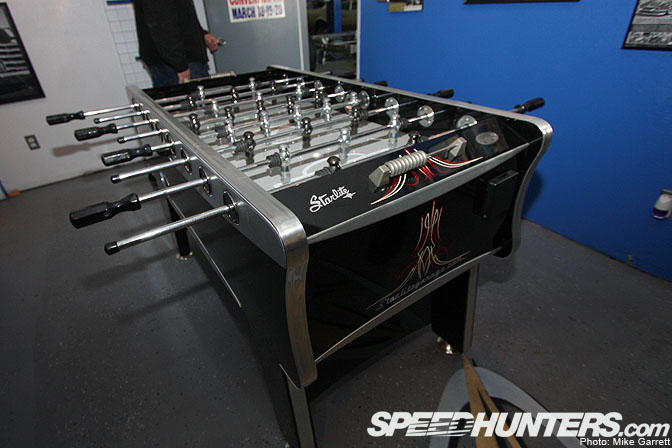 And finally, I had to include the pinstriped foosball table.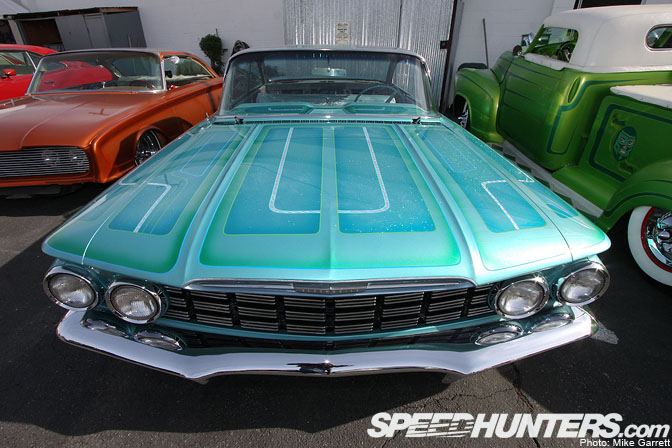 Moving back outside we have another car from the Starlite family – this incredible '60 Oldsmobile.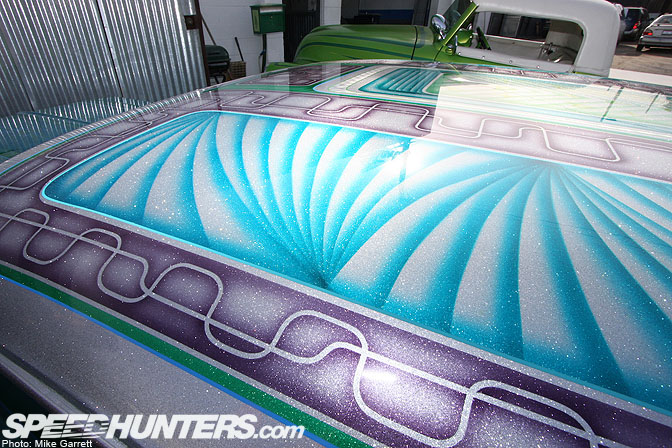 The paintwork was done by a friend of the shop, and the results are amazing. Edgar says the inspiration for the car was the work of famed custom painter Larry Watson.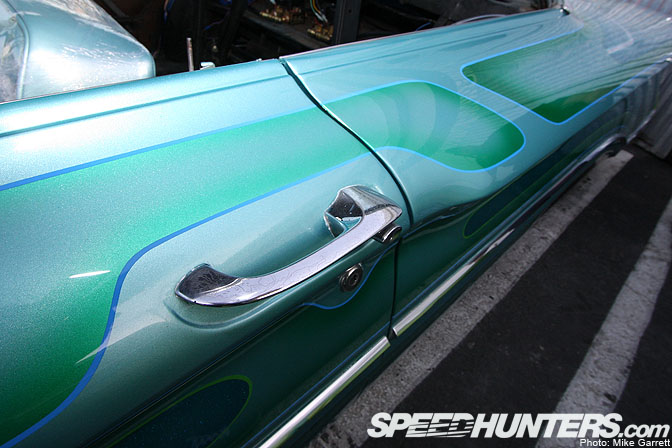 Note the factory door handles and trim pieces. These were left on the car to give it the vibe of a showroom-fresh car from the '60s that had just been given the Watson touch. So cool…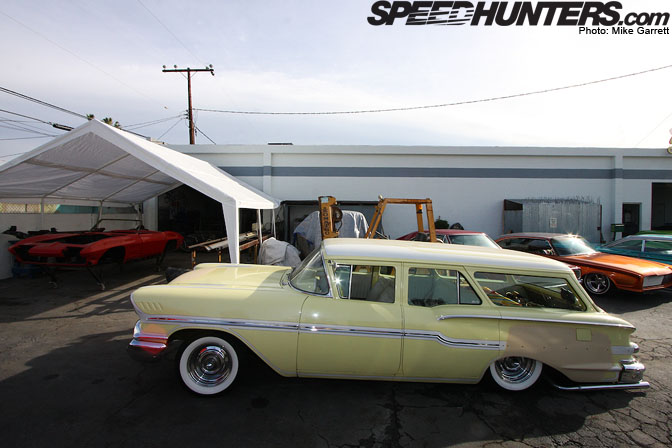 Lastly, we have this '58 Chevy Wagon, which serves as Edgar's brother's daily driver. Edgar told me a story about how a stranger told his brother that seeing the old Chevy every day on his morning commuted brightened up even the most depressing days.
It's things like that that make Edgar and the entire Starlite crew proud of what they do.
As for me, I'll be looking forward to checking in from time to time to check out their latest bits of automotive greatness.
-Mike Garrett