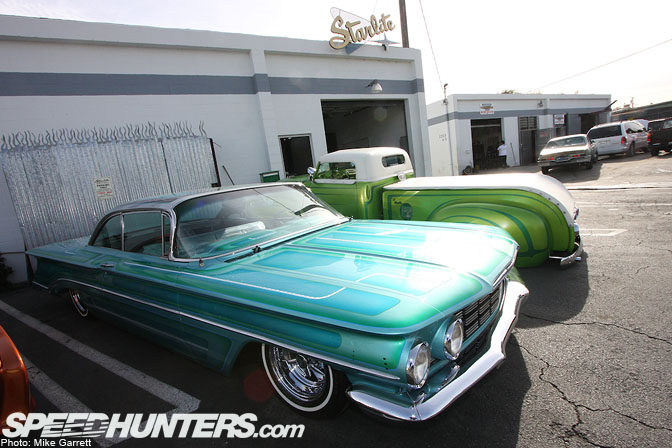 Last month during our coverage of the Mooneyes X-Mas Party, I did a spotlight on a radical chopped and slammed Chevy pickup convertible. After seeing a sticker on the truck for a shop called Starlite Rod & Kustom, I got in contact to arrange a visit.
As It turns out, Starlite is located right just a few minutes away from me, right here in Torrance, CA. Last Friday morning I headed over to the shop to have a look at the facility and some of their project cars.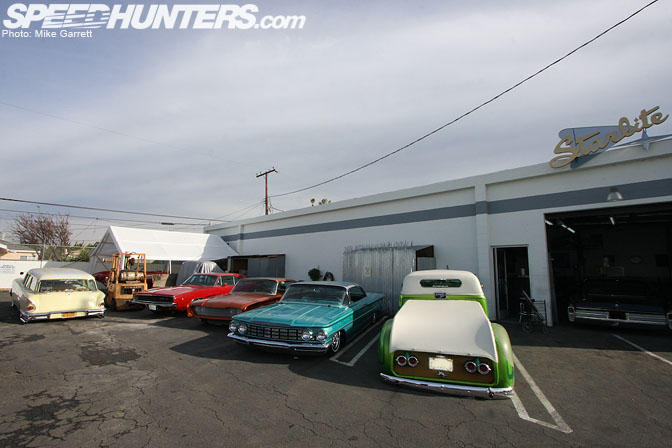 Tucked in the back of a plaza known as "Gasoline Alley", this was the sight that greeted me as I walked up to the shop. Surely, I had found a special place…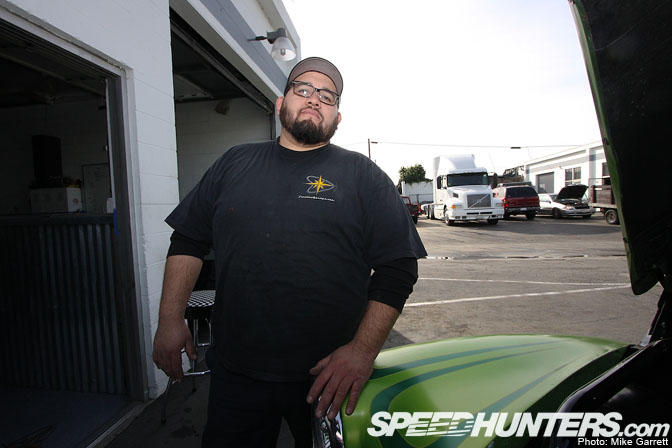 This is the Edgar Hernandez, the co-founder and co-owner of the shop. It turns out Edgar is actually a Speedhunters reader, and when I asked him about arranging a visit he was very excited. It really feels great to see the exposure that the site has, especially among the people in the hot rod and custom car community.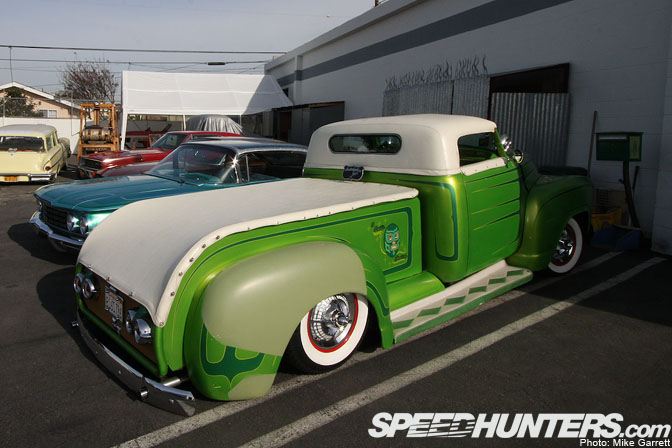 That pickup I did the spotlight on is actually Edgar's daily driver, and it's also one of the most unique "shop trucks" you'll ever see. Edgar drives the truck over 30,000 miles each year.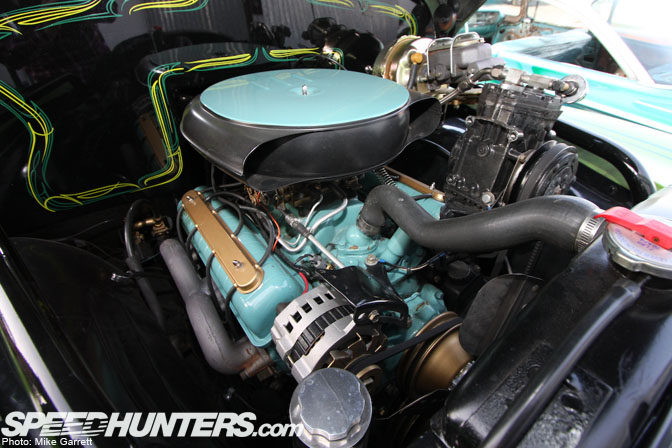 While it might look straight out of the '50s, the small block in Edgar's truck actually comes from a 1990's Chevy Suburban. As you'll see, one of Starlite's specialties is not only building cars that look cool, but cars that are reliable and safe.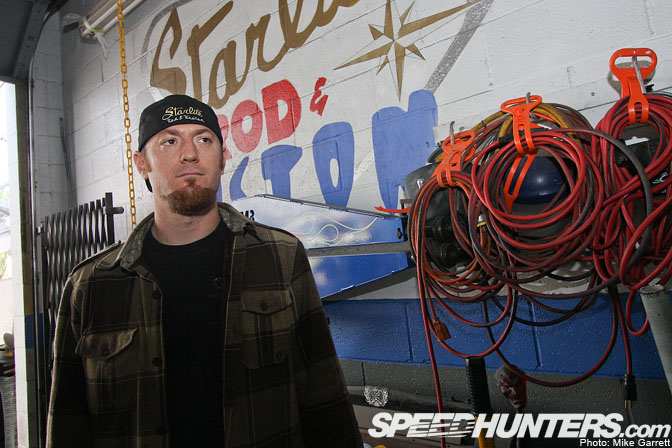 This is Jack, Edgar's partner in running the shop. Naturally both Jack and Edgar are lifelong gearheads, who's differing backgrounds give Starlite Rod & Kustom a very unique vibe. Jack's grandfather even worked for Barris at one time!
The rest of the Starlite crew consists of mechanics well-skilled in the automotive arts. Given the wide range of projects that the shop does, Edgar and Jack like working with people who are familiar with all parts of a car.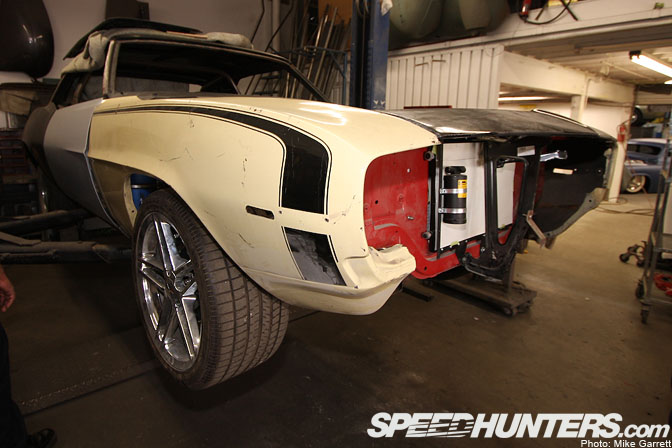 While the shop got started working on traditional rods and customs, lately they have been doing more and more muscle car projects. In fact, the first car Edgar showed me was this '69 Camaro which is being built as a demo car for a body parts company.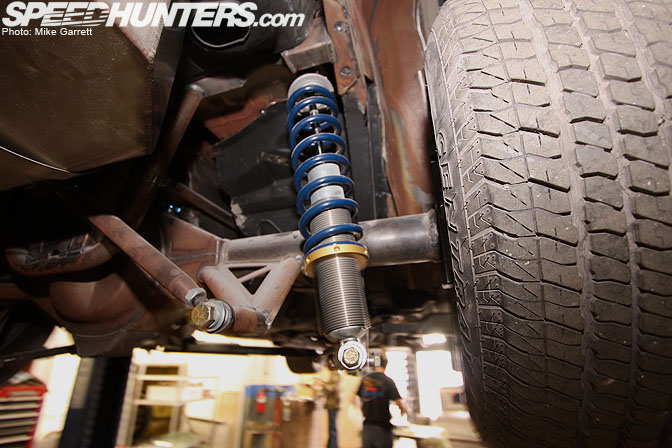 As you'd expect from a pro-touring car like this, the Camaro is loaded up with modern chassis bits like full coilover suspension.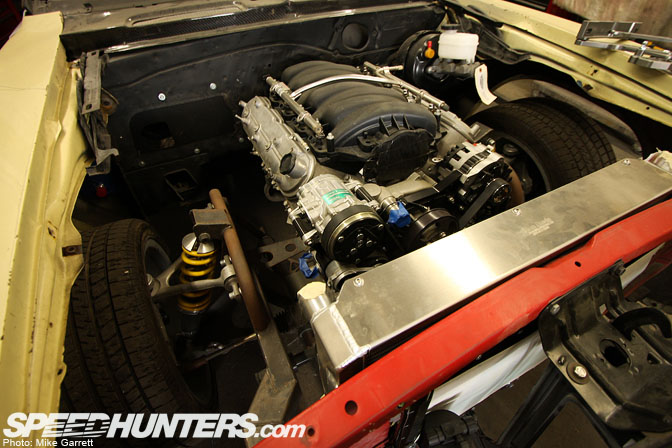 Power comes from an LS7 V8, now available from GM as a crate motor. Edgar says the LS7 swap is one of the hottest things going right now, and that the guys are quickly learning the art of these new motors.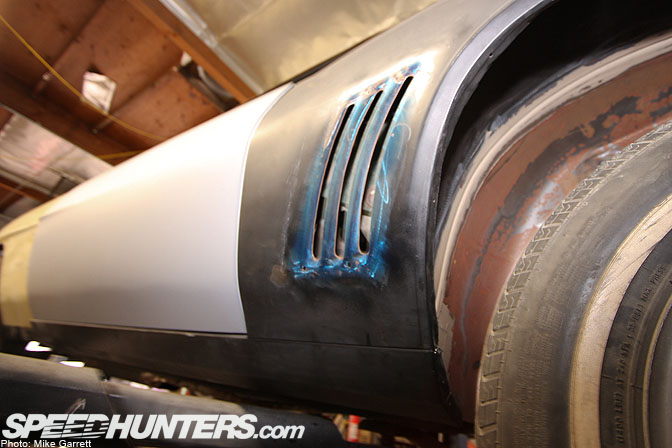 These vents are being formed to the feed air to the car's giant 14" brakes. I'm looking forward to seeing the finished product, which should be done this summer.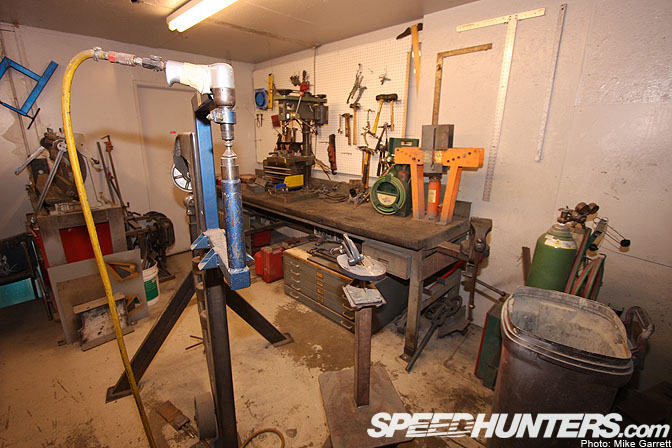 From paint and body, to chassis fab, air suspension, wiring, and engine swaps, Starlite can pretty much do it all. However, Edgar stresses that they cater to all customers – whether they are out-of-towners looking for a full build, or local kids just looking for a few tweaks on their car.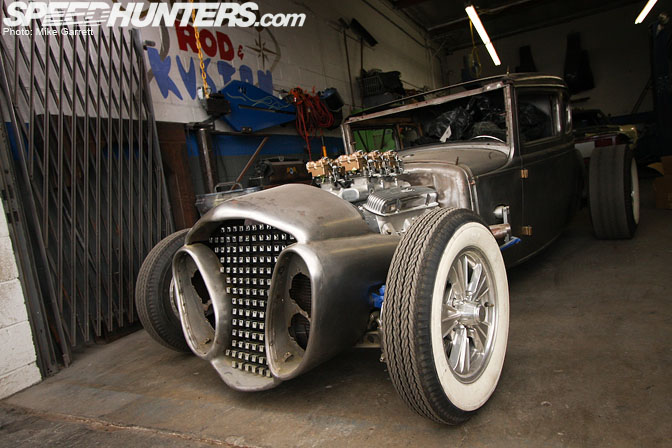 Next up, Edgar showed me the shop's own project car, a '31 Model A five-window coupe project being built into a '60s style show rod.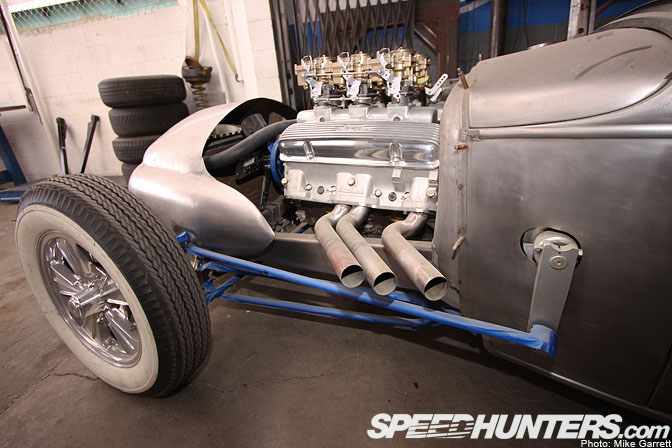 Of course there's very little Model A left in it. The entire chassis is scratchbuilt…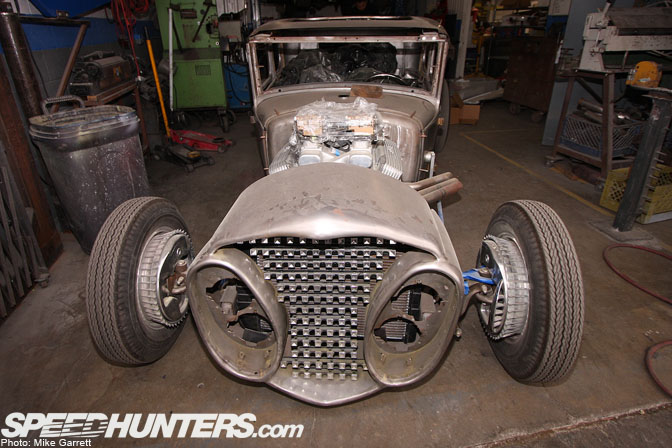 The front grill started off as an original Ford piece, before headlights from a '58 Lincoln were added to give it that radical '60s look.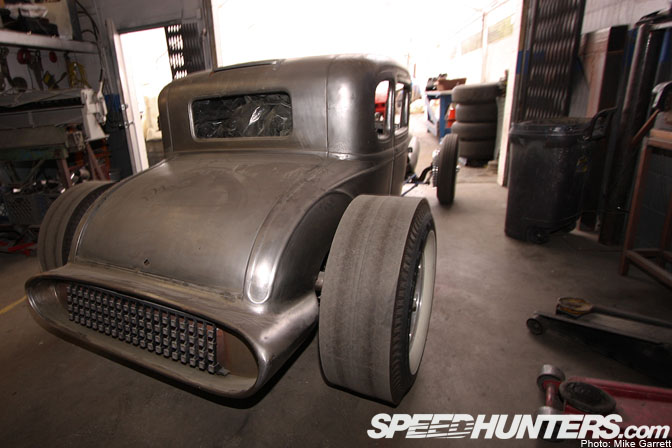 The same Lincoln housings are actually being used for the car's tail panel as well.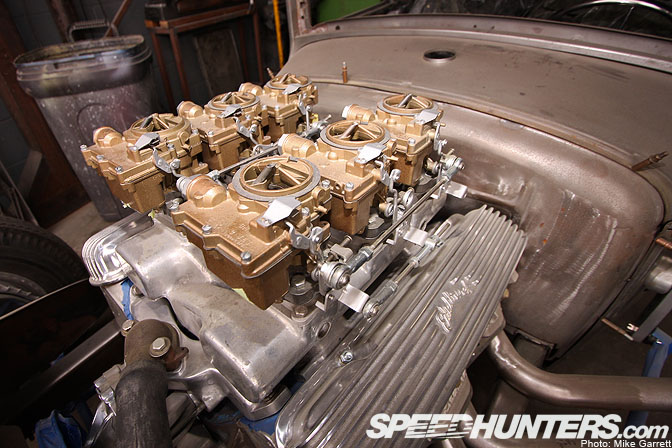 The car is powered by a 1970's Pontiac 455 that's been modified to accept a vintage intake manifold and carb setup. The big Pontiac motor will be hooked to a 6-speed manual trans.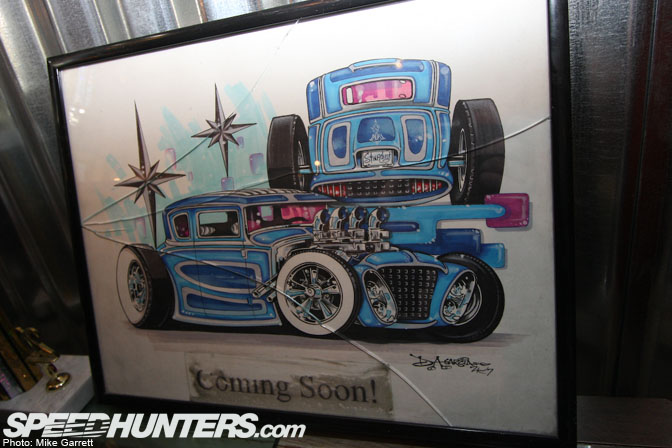 A rendering of what the car will look like when it's done. No doubt this thing will make waves in the hot rod scene…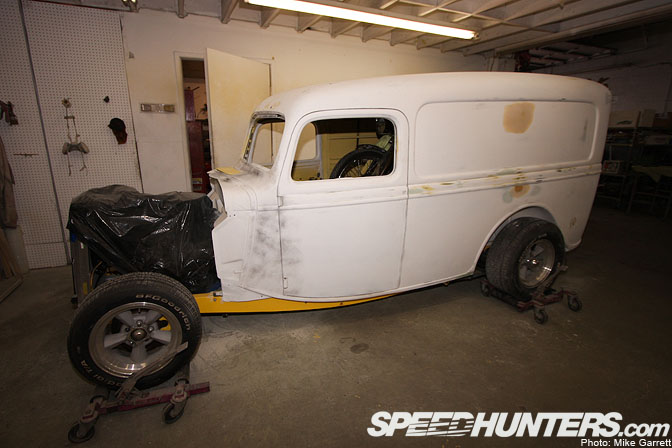 Moving on, this panel truck started off as a simple paint and bodywork project for a customer, but like a lot of cars it evolved into a full-on rebuild.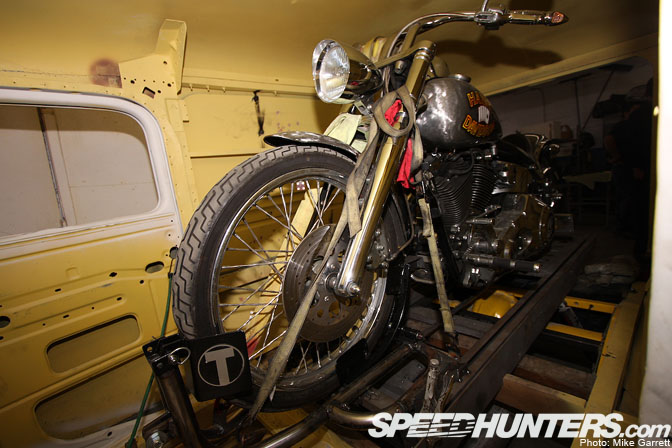 It's being built to haul the owner's motorcycle, thanks to a trick mechanical ramp setup. Due to how much space the bike takes up, the interior has to be redesigned from the ground up.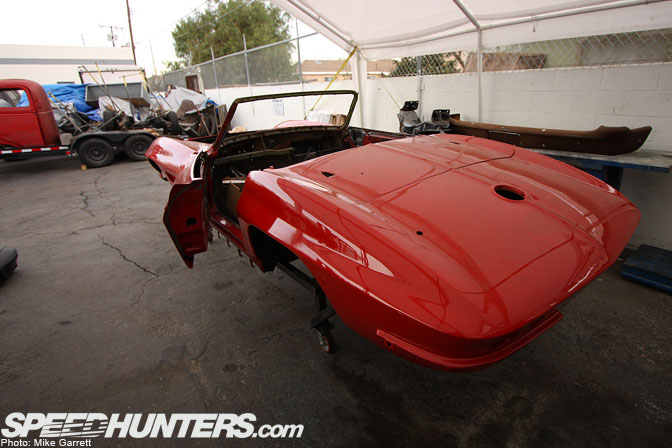 Another long term customer project in the works at Starlite is the 'Vette convertible. A full LS7 swap and late model suspension are in the plans.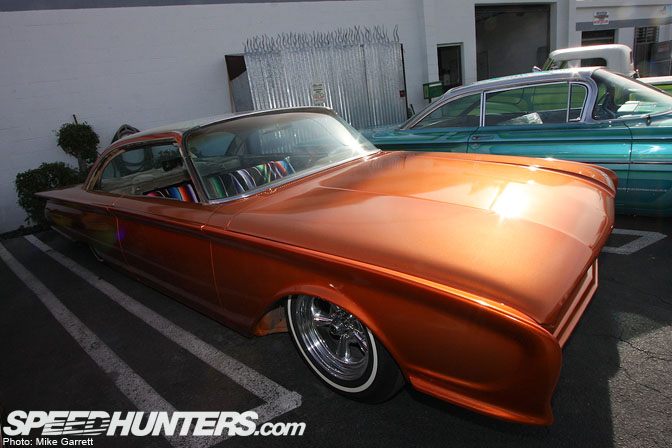 This lowdown Ford Starliner is another one of the cars owned by the Starlite crew. As you can probably see by now, these guys can do everything, whether it's a traditional hot rod or custom, a muscle car, or an early '60s sled like this.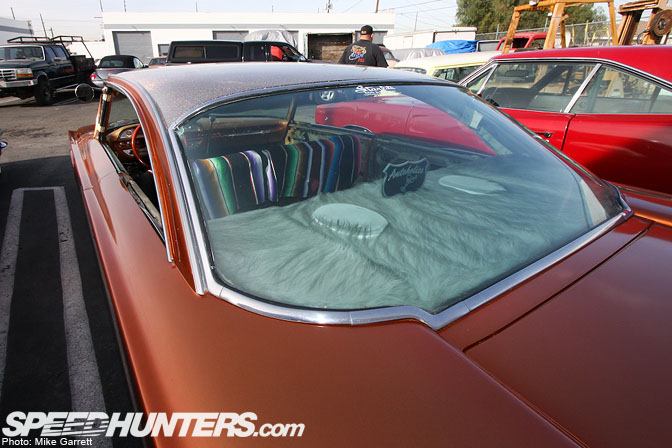 Besides running the shop, Edgar and co. are also involved in a car club called the Autoholics.Their plaque can be seen in the rear window of the Ford.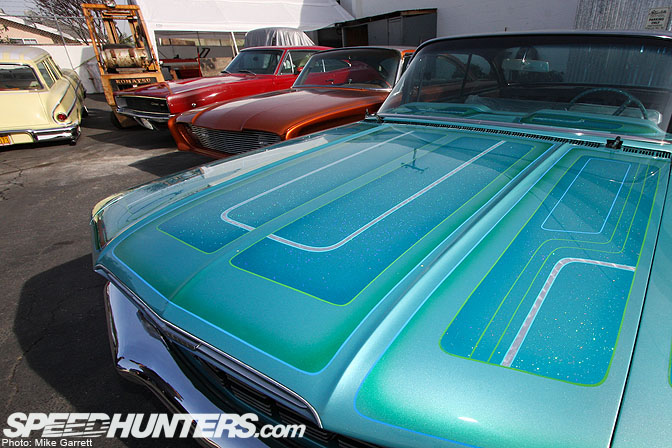 There's much more to come, so stay tuned for the second part of my visit to Starlite Rod & Kustom.
-Mike Garrett