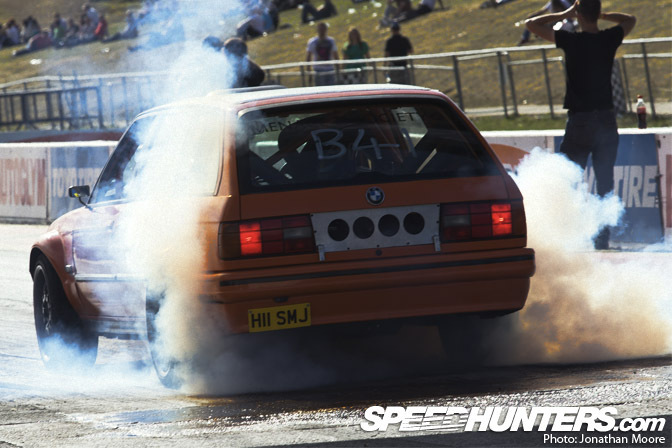 BMW Show RWYB, Santa Pod – September
The handy thing about a sportwagon is that there's more space for spare tyres. There's something fantastically gladiatorial about the 'Run What Ya Brung' sessions at Santa Pod drag strip, home to the big car club shows in the UK. You want the applause of the crowd? Light 'em up in the burn-out area.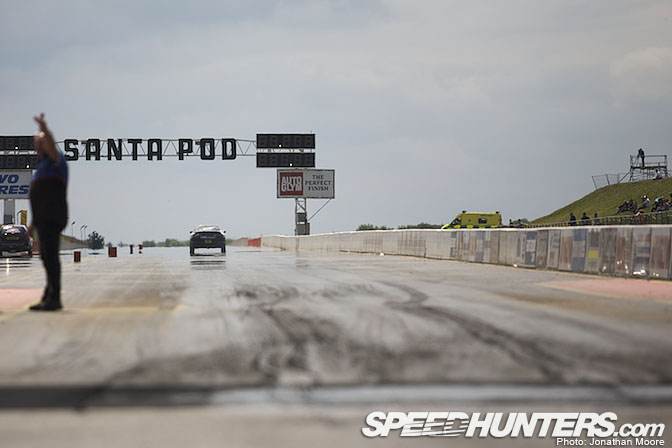 Jap Show RWYB, Santa Pod – June
It's all so easy when you sign up to take a run down the quarter mile: it's damn cheap and the atmosphere in the (often long) queues is always buzzing. However, the nearer to the front you get, the quieter drivers become. And you can see why: this is your view. You've got another car next to you, the personnel waving you forward and the stands either side of you are full of people. And in front of you, just a big long stretch of greasy tarmac. Go for it. or just try and make it down in one piece?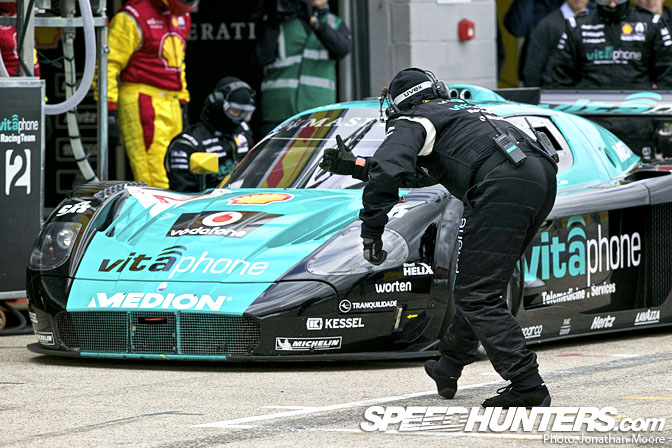 FIA GT, Silverstone – May
When it goes right… The Vitaphone Maserati GT1 team are old hands at the sportscar game: multiple FIA GT champions, they combine the speed and reliability of the now relatively ageing MC12 with slick and efficient pit work. Watching pitstops is always interesting: the apprehension of the crew before the stop and then the frantic activity as the car comes in. It's over in the blink of an eye. Although the Maserati was technically never eligible for the FIA GT series, in its dotage it may now even be accepted for a final fling at Le Mans in 2010. It would be great to see this famous make back at the most famous of races.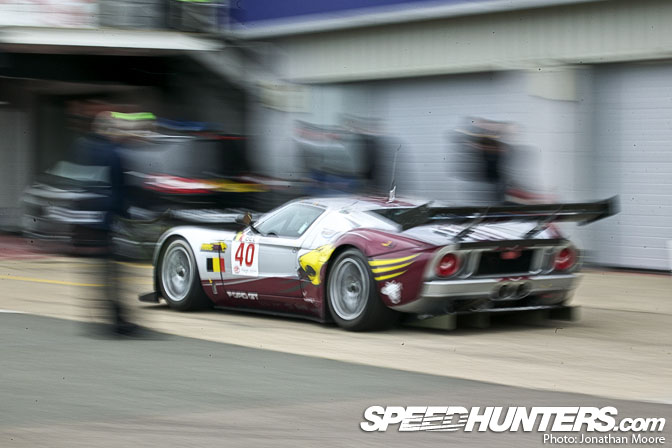 FIA GT, Silverstone – May
When it goes wrong… The Matech Ford GT blasts out of the penalty box after an infringement. In endurance racing you want to be in the pits for as short a time as possible – additional errors throw races away. GT1 rules have been dramatically shaken up for next year and a World Championship beckons. The Ford GT, along with the Nissan GT-R and a promised Lamborghini are so far the only cars made to the new rules: current cars such as the Maserati, Aston DRB9 and Corvette C6R have been 'grandfathered' in to make the grid up to the correct numbers.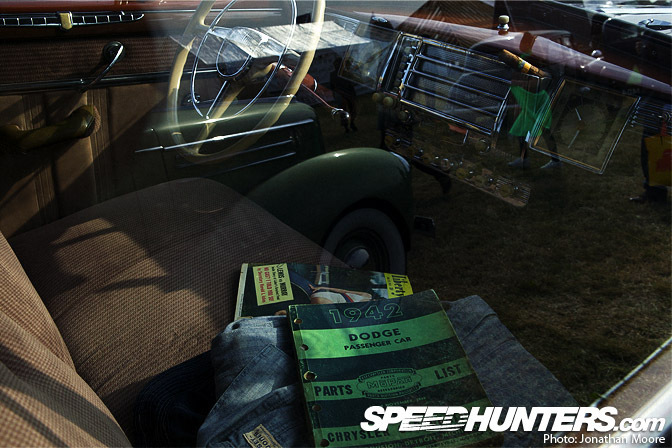 Goodwood Revival Car Park – September
This WW2 Dodge staff car came complete with period magazines and half-smoked cigar. Reflected in its window is its neighbour, a beautiful Studebaker Commander:  pure Americana in the south of England. The grass-strip airfield that the Goodwood track surrounds was used during the Battle Of Britain in WW2 and then by American fighter pilots later in the war.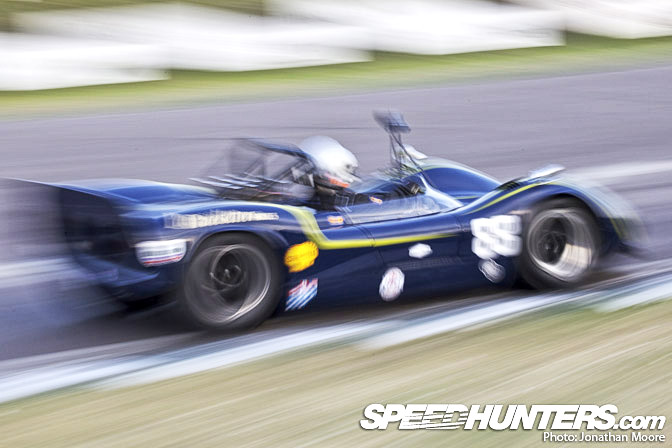 Goodwood Revival Racing – September
Can-Am is still talked about in hushed tones: the series, whose heyday was between 1966-74, was bare-knuckle racing: basically an unrestricted, no rules, build-anything series with 1500-horsepower monsters driven by mad people. Some very famous mad people though, it has to be said: British F1 champion John Surtees, Mark Donohue, Mario Andretti, Paul Newman, Jackie Stewart… All the legends tried the series at some stage. New Zealander Bruce McLaren came to dominate the series with his own cars, before tragically losing his life in 1970 testing an 800hp wedge-shaped M8D – coincidentally at Goodwood. The Revival is a chance to see some of the early CanAm weapons out of track. They still make hairs stand up on the back of my neck.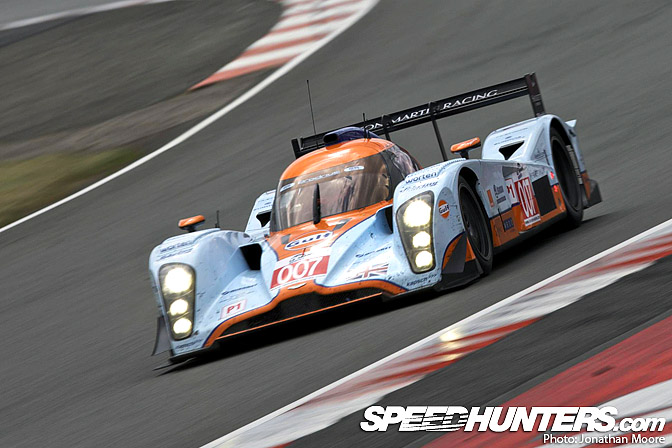 Le Mans Series finale, Silverstone – September
Over 40 years later, and an example of a current sports prototype: the Lola-Aston Martin LMP1. Aero efficiency makes up for a smaller number of horses and these cars hardly hang about: 210mph in their natural habitat of Le Mans, but the Silverstone Grand Prix track has enough long straights to let the big 6-litre V12 sing.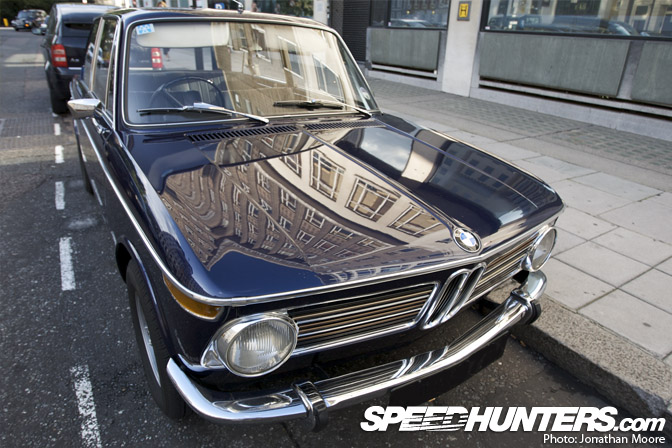 Mayfair, London – September
I'd be lying if I said I didn't run to the window every time I heard a howling Aston or shrill Lamborghini passing by my office in the West End of London, but then this BMW 2002 drew more attention than the ever present supercars. In perfect condition it was an absolute beauty. There's been an Iso Rivolta Fidia cruising round recently – a stunning looking and incredibly rare 1960s four-door sedan with Giugiaro coachwork and a Chevy V8 under the hood – which I'm trying to track down. Mayfair might be known for its exclusive boutique shops, but just watch the roads if you want to see real works of art.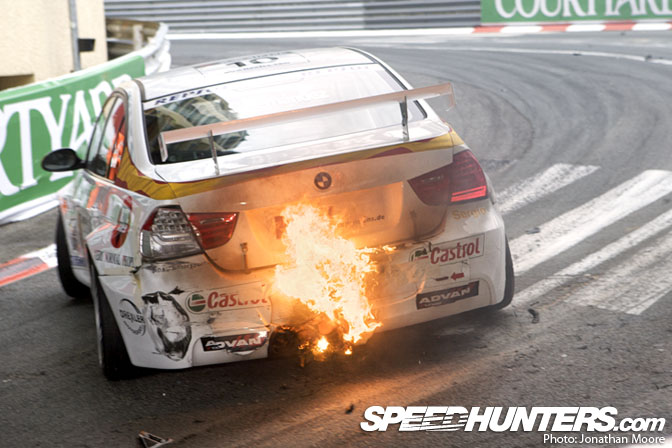 WTCC Pau – July
No one likes to see drivers hurt – and therefore accidents are never a good thing. But incidents are inherently part of racing and at least in touring cars there's normally a bit more protection around you. On the second lap of the second race at Pau, Team Italy/Spain BMW driver Sergio Hernandez was tipped into a spin at the Pont Oscar hairpin – ironically by the man he had replaced at the team, Felix Porteiro. As he pirouetted around, he hit the outside barrier backwards right in front of me, splitting his rear bodywork against the hot exhaust. As the pack streamed past him the flames got bigger, unseen by Hernandez as he waited for a gap to get going again. Finally the last car passed and he could get going again – with flames and smoke billowing out of the back. He only got another few hundred yards before thankfully stopping at a marshal's fire post.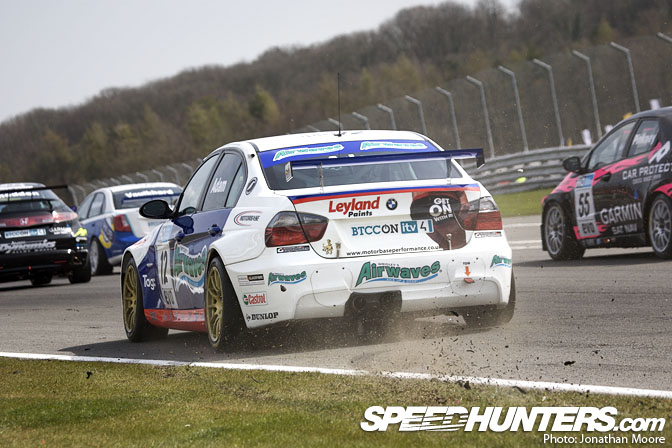 British Touring Cars Opening race – Brands Hatch April
Sometimes I think they're aiming for me deliberately. At the opening round of this year's BTCC I settled in on the outside of the start-line, ready for the off. Tracking the leading cars to the left of me, all I heard was a sound of grinding metal as Jonathan Adam's bounced off the barrier I was leaning against, forced off by jostling cars off the line. Deep breath, new trousers… keep shooting.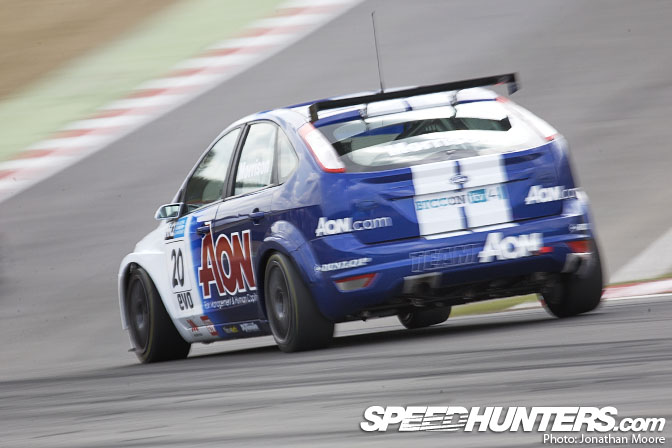 British Touring Cars Opening race – Brands Hatch April
Ford were back in touring cars after almost a decade and straight away there was plenty of support from the crowd. Not quite approaching the levels of the Ford/GM loyalty in the Australian V8s, for sure, but certainly cheers. Unfortunately the new Focus just wasn't quick out of the box, no matter how pretty the car looked. It would be a long year for the team, but as ever patience and hard work paid dividends: they were rewarded with a podium finish at the end of the season.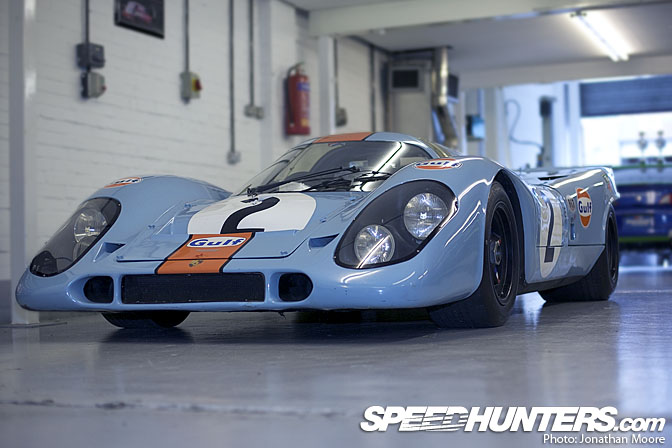 Barwell Motorsport – August
Motorsport is kept alive by small professional teams and a visit to Barwell Motorsport's facility in Surrey was a chance to see what teams do to supplement running their regular race cars. Normally Barwell race GT3 Aston Martin DBRS9s in the British and Belgian GT series, but they also have the pleasure of babysitting this pristine Porsche 917 for historic race events. Capable of 230mph on the Hunaudieres straight at Le Mans, it still looks stunning 40 years later. Truly a privilege to see.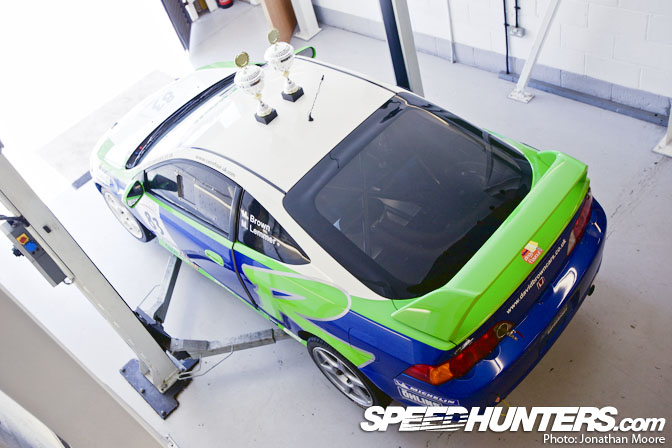 Barwell Motorsport – August
Barwell team boss Mark Lemmer ran a DBRS9 in the Belgian for locals Eddy Reynard and Vincent Vosse, but there was space in the big Aston Martin-branded trailer. So, why not take a spare car to run himself in the supporting touring car series? Barwell built up this Integra Type R themselves, and along with mechanic Mikey Brown scored multiple pole positions and class victories. I'll be posting up more on the Barwell cars in the New Year.
Jonathan Moore