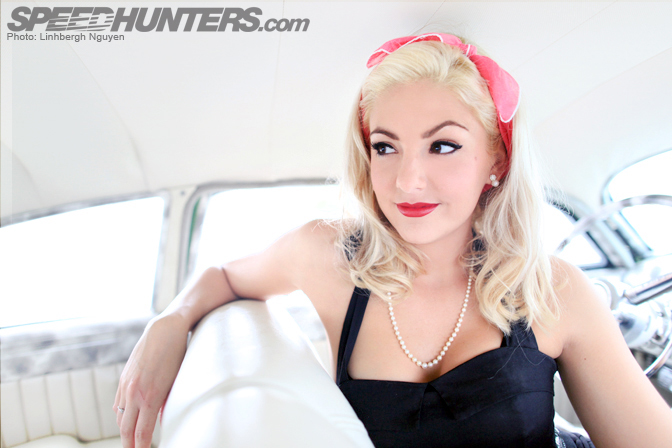 I have to admit. I am a complete newbie when it comes to most things Hot Rod, custom, low rider, or anything that relates to the overall umbrella of American automotive culture. When I arrived at the Mooneyes X-Mas show at the beginning of the month, I had no idea what I was in for. I arrived expecting to see plethora of grey haired, mustached men walking about and talking about about the by-gone days of proper Hot Rodding. What I was actually introduced so was as scene that has been revived, in recent years, by the hearts and minds of a younger generation of enthusiasts.
Think of these new batch of kids as the "Hellaflush" movement or "ricer" equivalent for the hot rodding scene and you will understand the energy, enthusiasm, and live-hard-all-day approach that these kids bring to what was fast becoming a stagnant scene.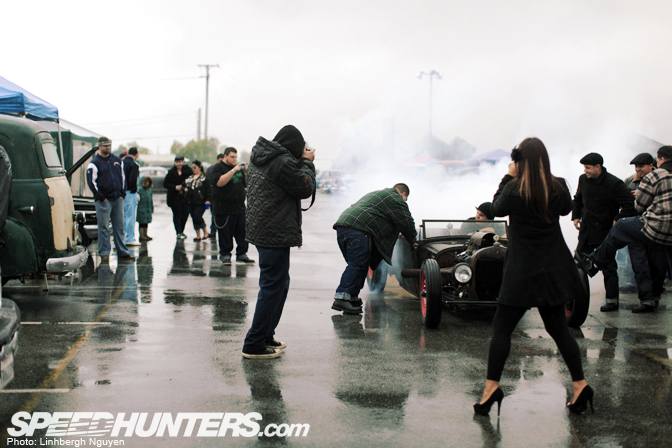 Not too long after I arrived, I was greeted with smell that I was all too familiar with at Irwindale Speedway. The smell of burn rubber permeated the cool and damp air.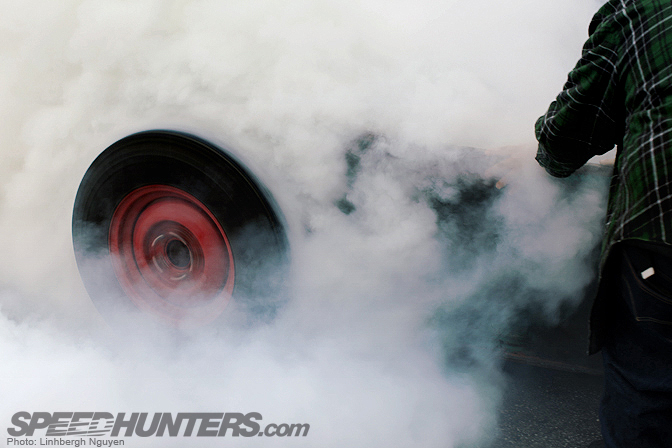 This is a sight you rarely see at now at import shows (not that it should).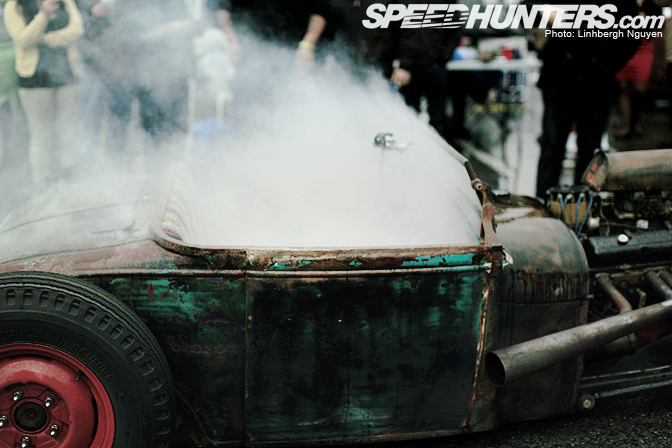 As I approached the car, I saw another sight which I was also quite familiar with. Thick tire smoke billowed out of a car's cockpit, not from a late model drift car, but a hulking, rusted, worn out looking rat rod. I instantly fell in love with the show as I witnessed the tire smoke slowly wisp away…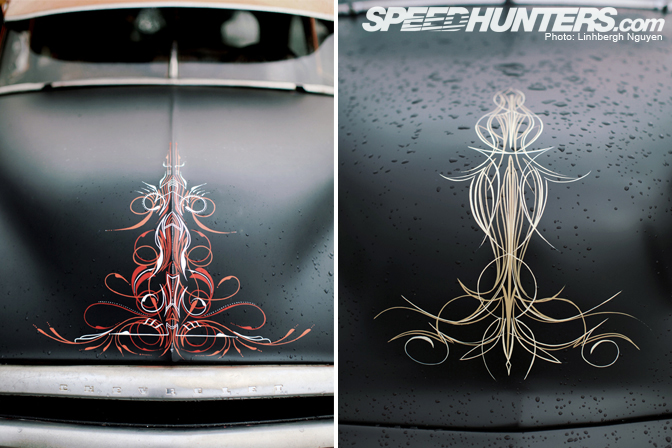 Tagging, and stickers are the prevalent forms of adding a bit of character and personality in the late model crowd. For this scene? Tons and tons of exquisite pin striping.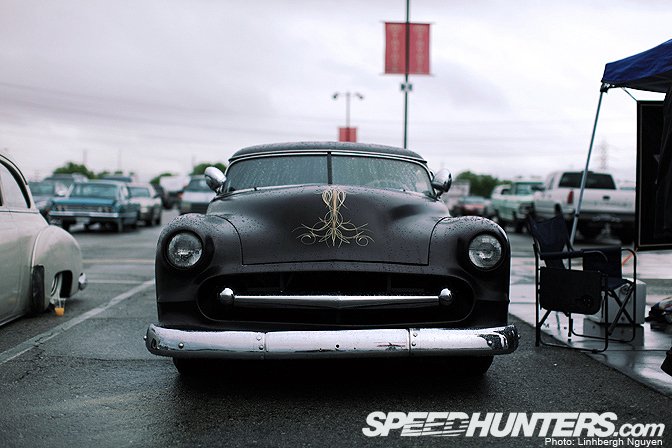 Stickers and vinyl are all things that are mass produced and more than one person and have the same thing. Pin striping is all hand done and each pin striper creates each piece to flow with the body lines of the car.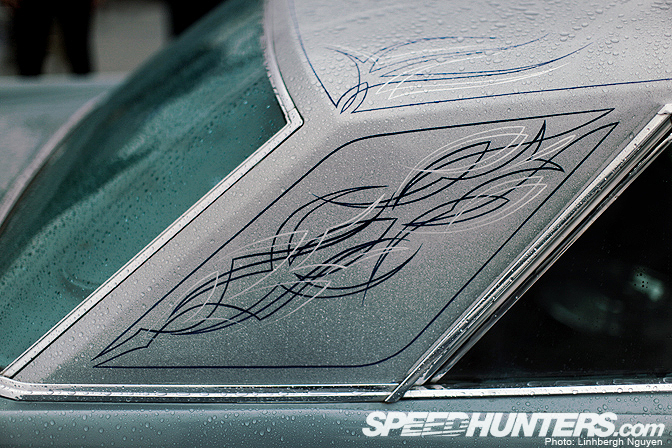 It is mind blowing to think that this was painted on the fly!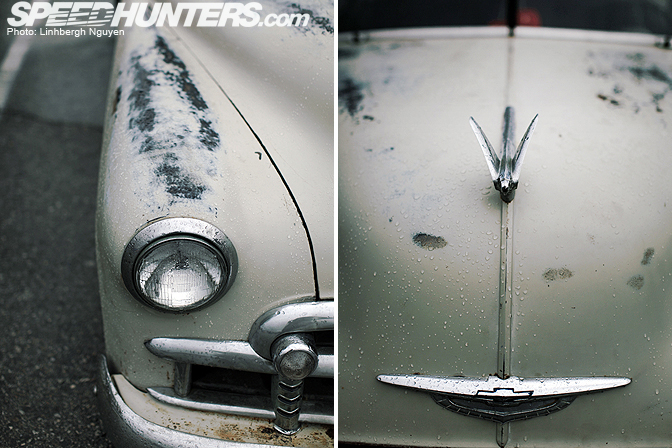 I mentioned in the Datsun 610 car feature that "history builds character. If you build from history, you'll find that you're always in a better place." This show just solidifies that statement that much more.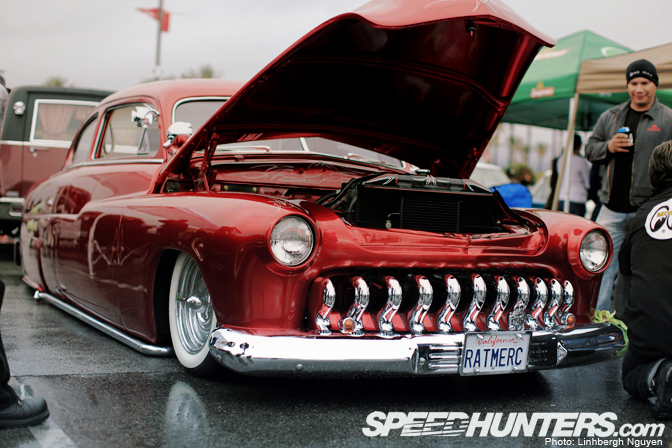 This '49 Mercury was one of my favorites from the show. The stance, the color, the side pipes, and the chrome all worked well together to make this masterpiece of a car.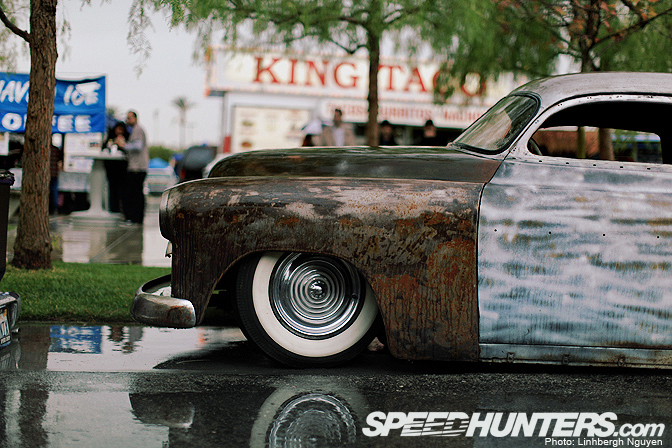 Rust? Check. Slam? Check. The amount of shear road presence that this lead sled has with the aforementioned attributes? Tons.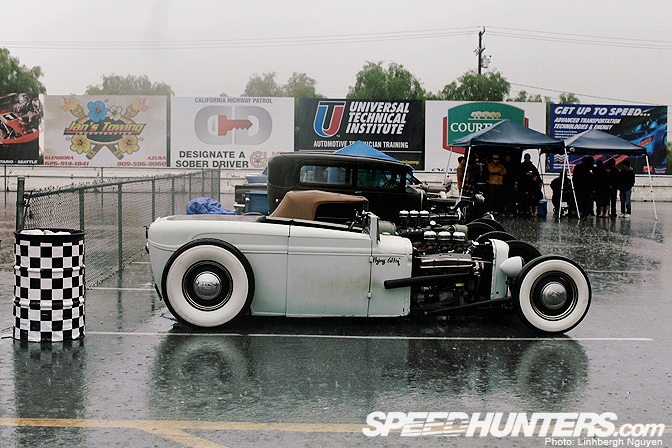 Imagine driving that thing in that weather.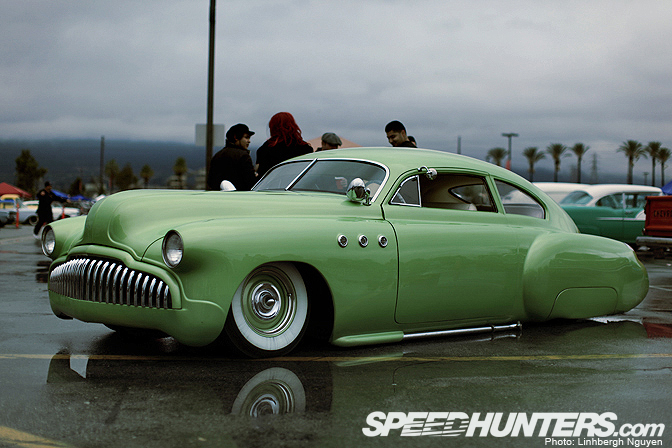 I had the fantastic opportunity to shoot this slammed '49 Buick for a feature that'll be coming out next month. Rod and I also had the opportunity to shoot two wonderful pin-up girls with said car!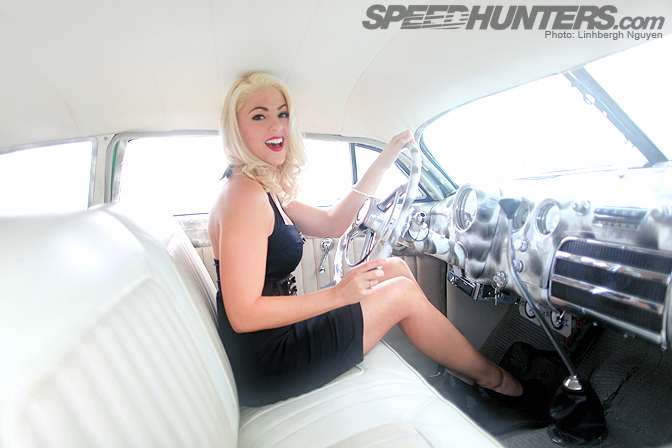 First, I spent some time with the lovely Courtney Day…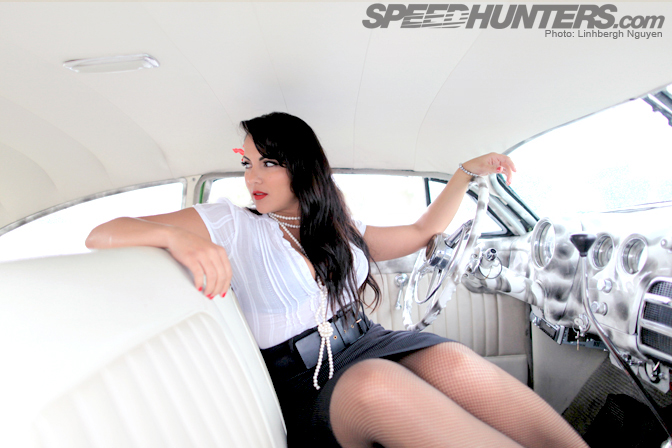 ….then switched gears and spent time with Tania Simon. These girls did fantastic job of staying dry and keeping their spirits high while the sky poured!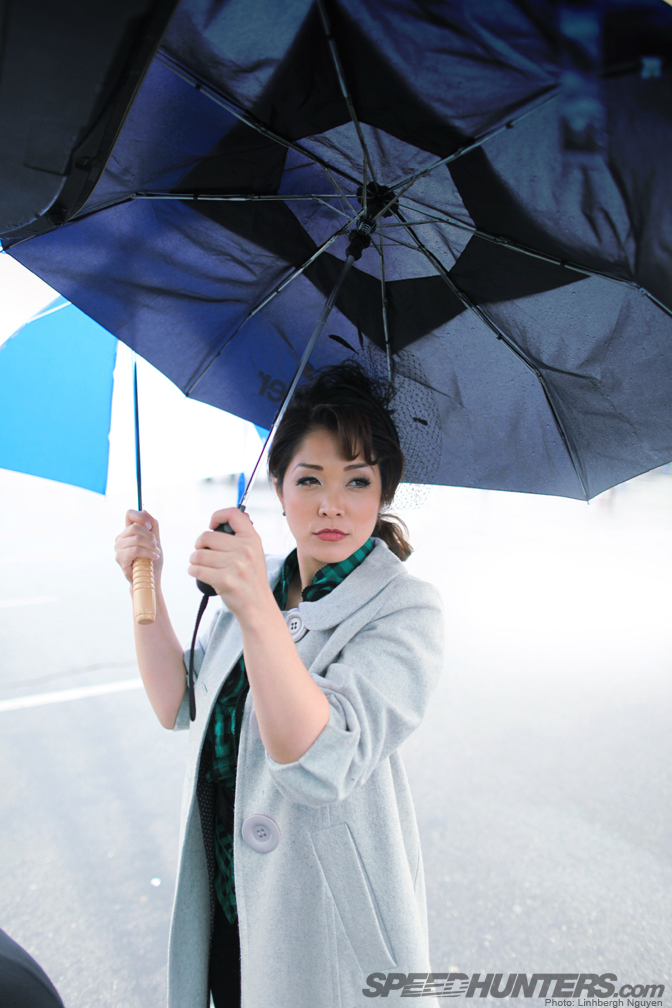 Here's a familiar presence from the Formula D paddock, Joyce Lex, but at a completely different scene. She single handedly styled, dressed, and looked after the girls' needs as the shoots went on.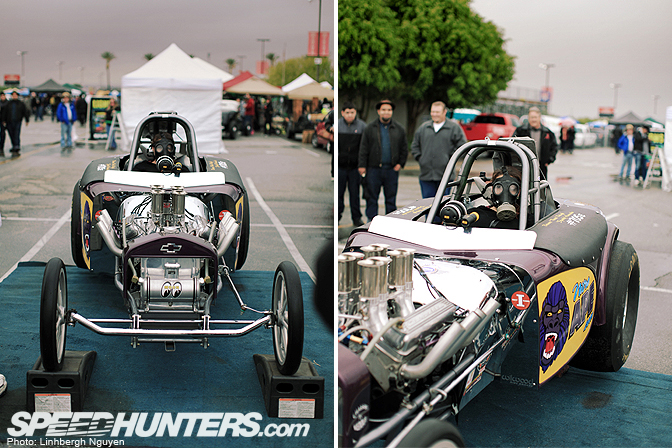 Because of the heavy rain, the drag cars that showed up were not able to do their runs. I was able to witness a couple going through all the procedures to start this vintage drag car. The husband did all the required engine prepping while the wife (who reminds me of a very iconic fire-producing character with that mask) sat in the drivers seat to do what she needed to do. What a noise when that engine fired up!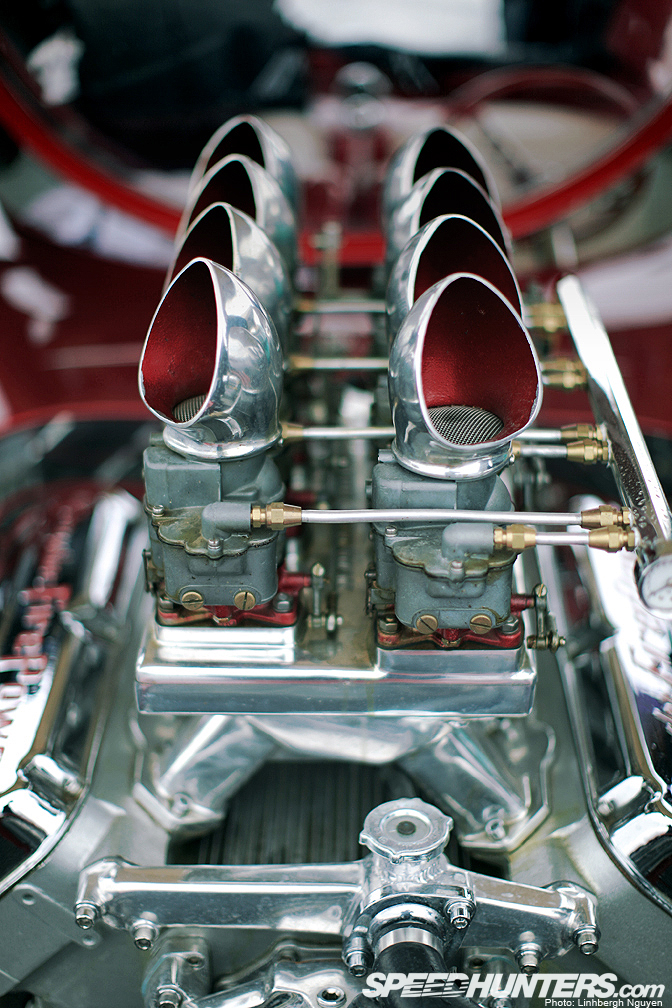 There was plenty of functional art to just marvel at. I could stare at a beautifully crafted motor for a long, long time.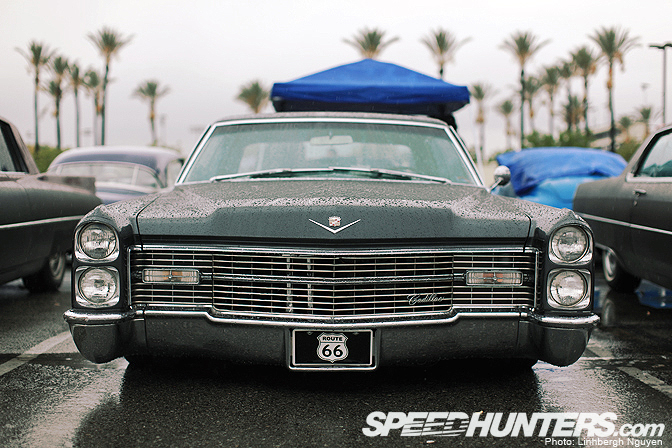 '65 Cadillac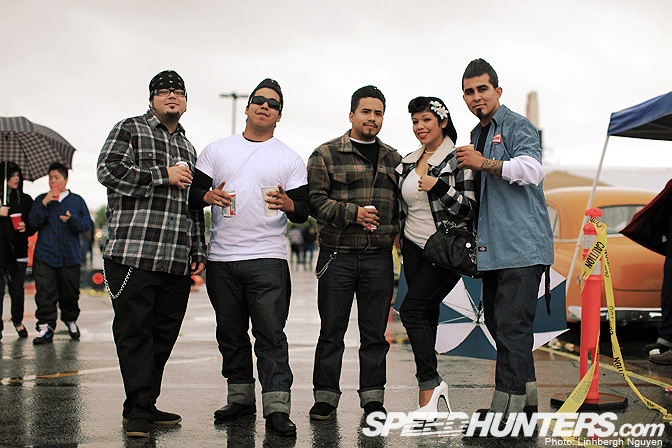 There's a huge variety in the of people that this scene caters too. There are the people that live the live style everyday through and through…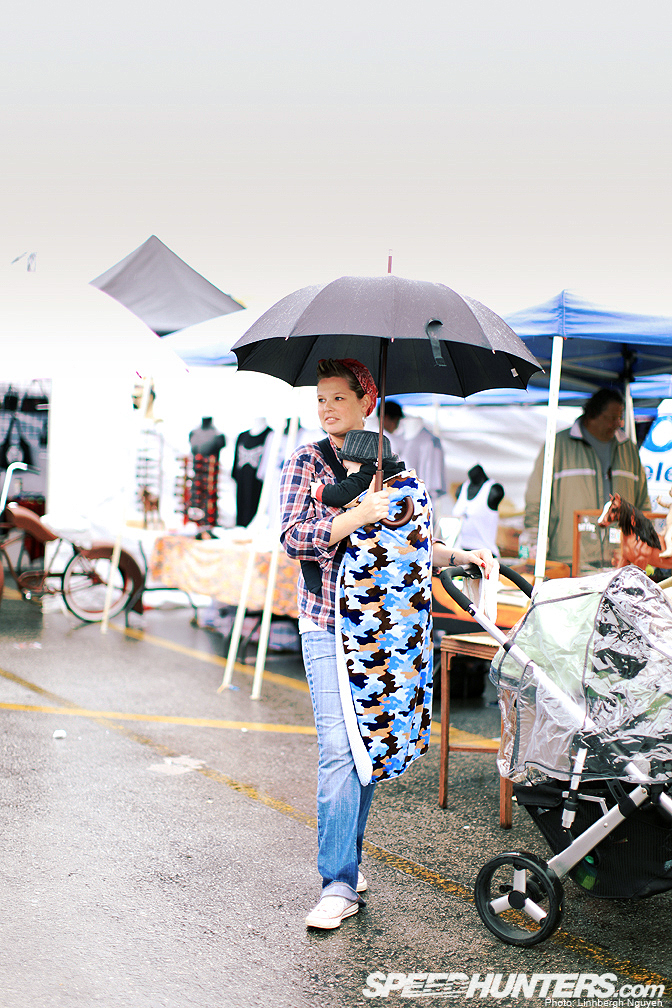 …like this woman….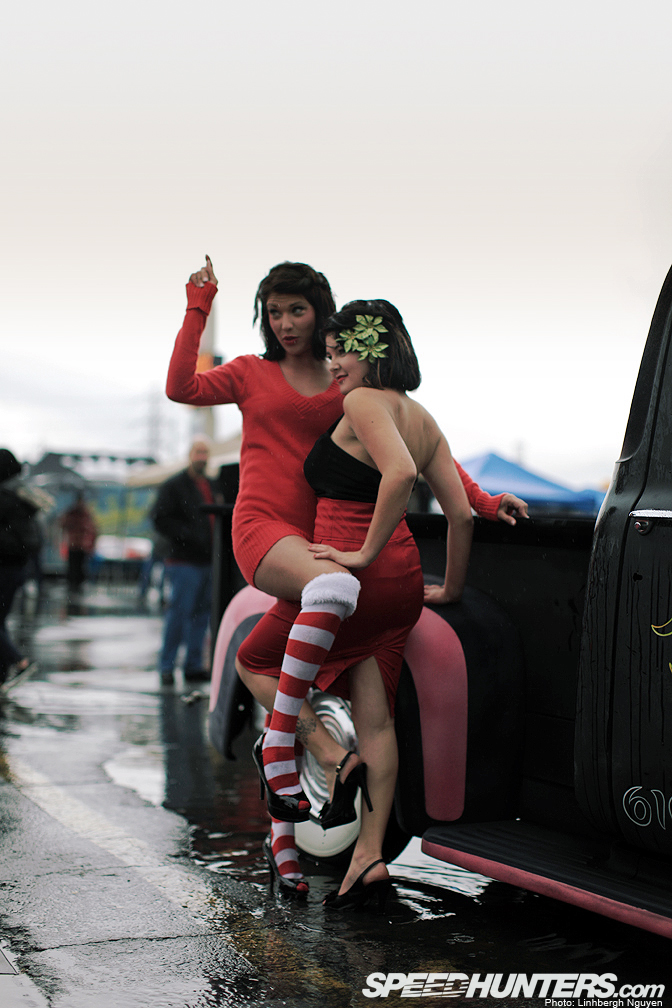 …then there are those that desire bit of attention….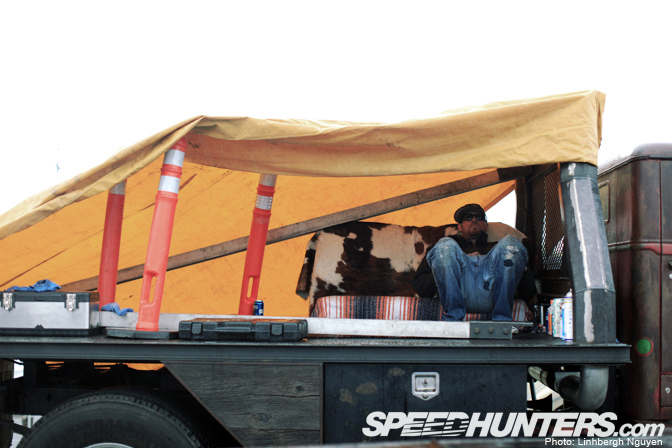 …and of course, people that just want to stay out of the rain.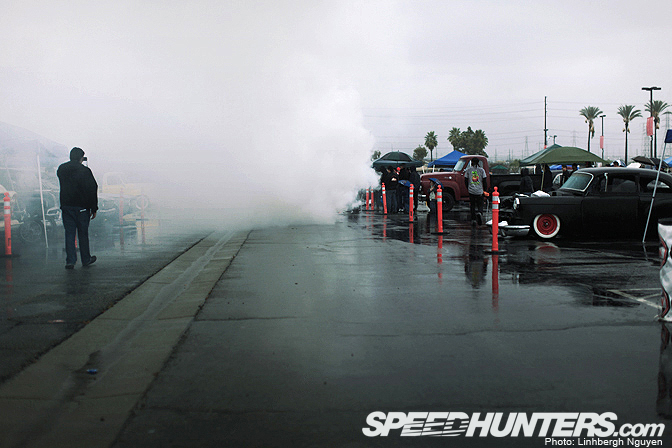 In another far corner of the show, there was that familiar white cloud billowing. I had to get a closer look.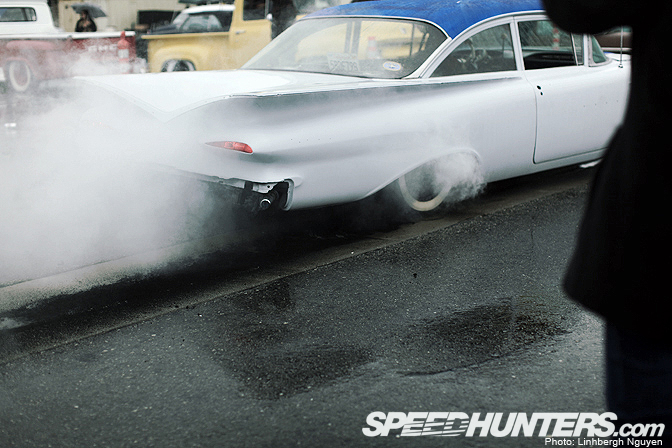 It was this '59 Chevy that produced that massive tire smoke cloud. Notice the line black that is behind the rear wheel.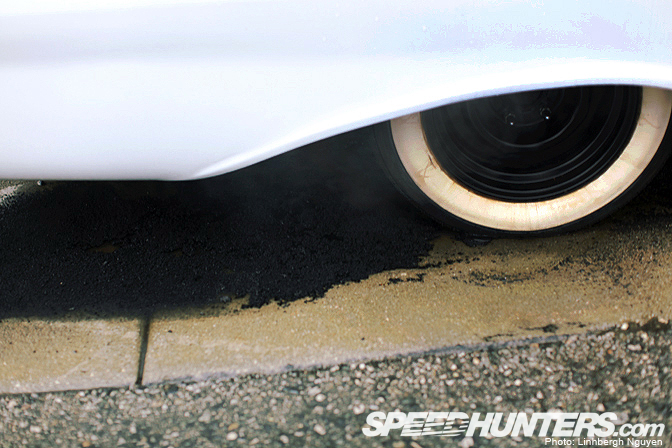 There was a mountain of tire bits on closer inspection. After this epic burn out, the local law enforcement clamped down and stopped such tire burning actions to continue.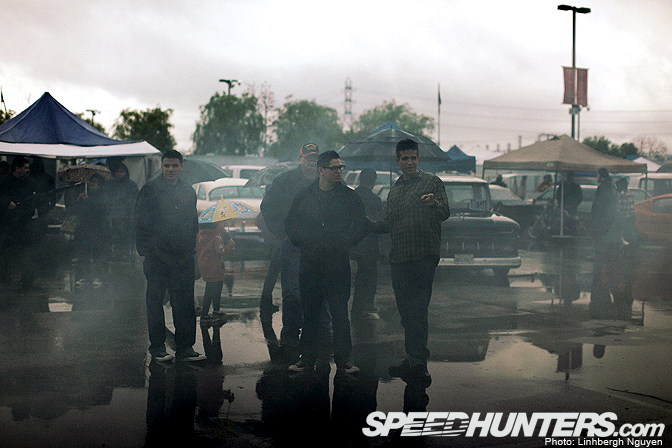 These guys are definitely pleased of the smoke show that the '59 Chevy provided!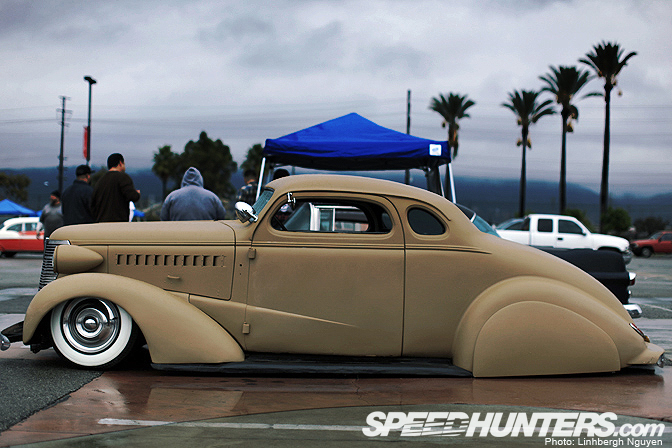 This car car belongs to a group called "the Shredders." Keep an eye out for a little feature on them next month!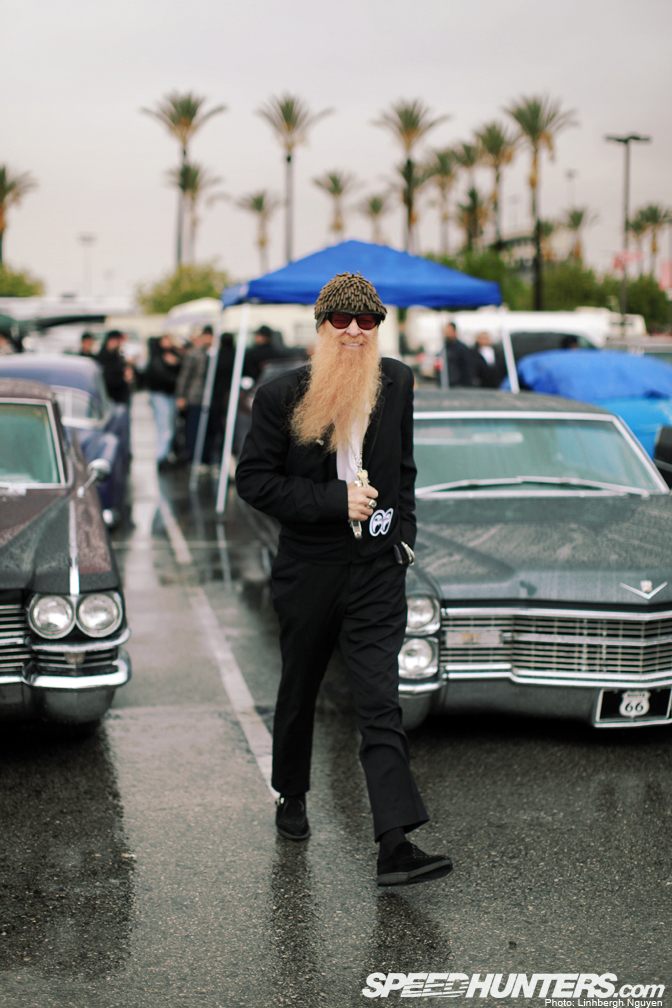 The Mooneyes X-Mas show was definitely an eye opening experience. The quality of the cars that show cased there were second to none and in addition to the fantastic cars are the people. They're a part of the show as much as their cars are!
The rain prevented a lot of attendees from coming out, but I was able to get a glimpse of this scene that I am so foreign too. This show, coupled with the phenomenal and magical experience at the Bonneville salt flats, have peaked my interest at the American car scene. I demand more.
-Linhbergh Nguyen