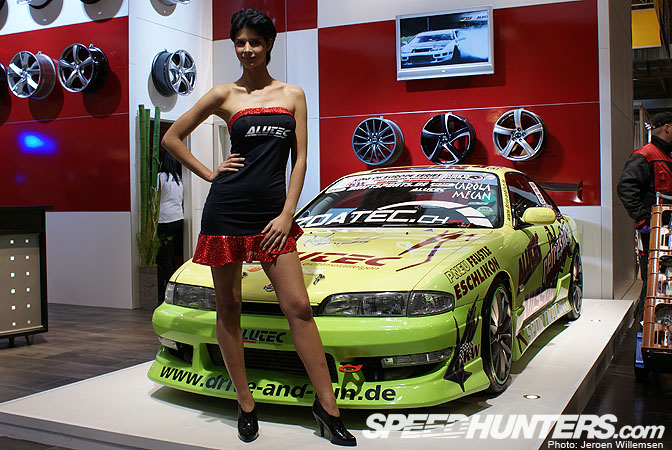 Let's continue my coverage of the Essen Motor Show with my second installment. Looking for Japanese cars on a German car show proved to be difficult. I found two S14s and this was one of them. It features what looks like a URAS bodykit and can be seen in action during the King Of Europe drifting championship. The wheels are made by Alutec, a major sponsor in drifting events throughout Germany, and go by the name Toxic.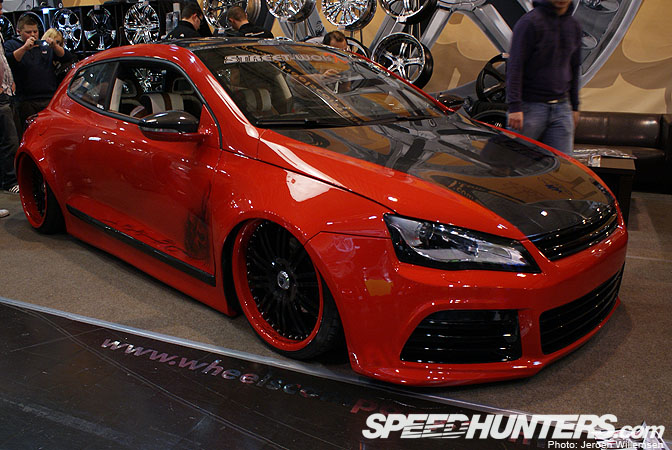 Another car I was looking for was the new Volkswagen Scirocco. But again I was disappointed at the amount of cars present. I found this one with a custom made widebody and frontend, airbags and Ashanti wheels.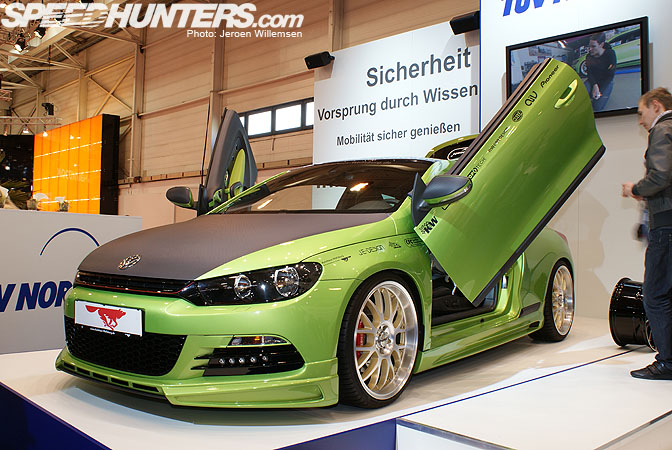 The second one I saw featured these lambo style doors that are still very popular amongst certain car builders. Another popular item was the dry carbon look sticker sheets, numerous cars had this applied to their hoods or trunks.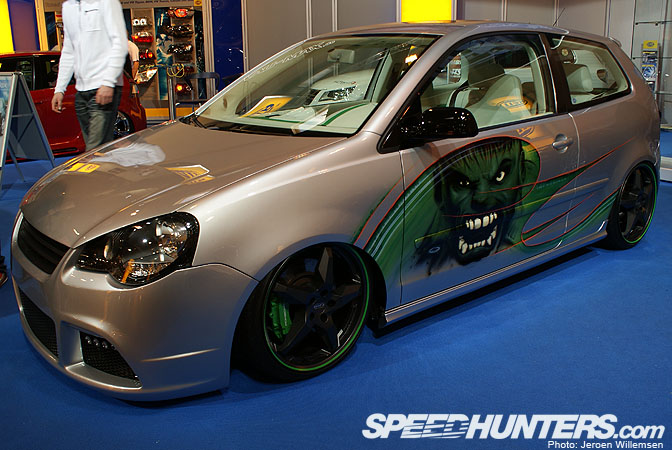 This VW Polo caught my eye, not because of The Hulk on the side, but because of its clean look. The color green could be found everywhere, but not in a obnoxious way. It was all about the details like the green Porsche calipers.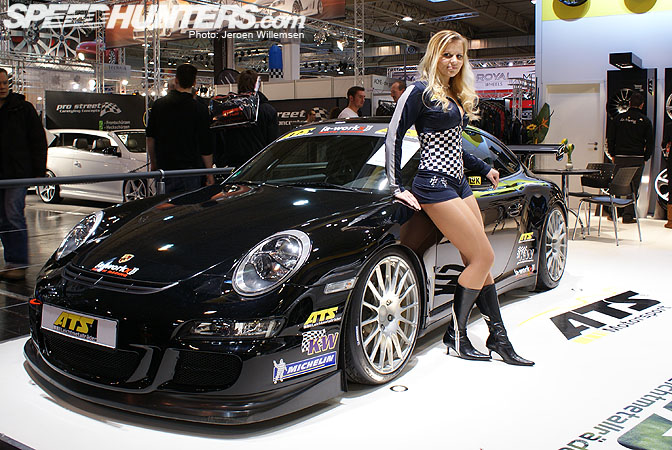 One of many Porsches on the showground, this time at the ATS stand, they are responsible for the wheels on the car and the lovely lady.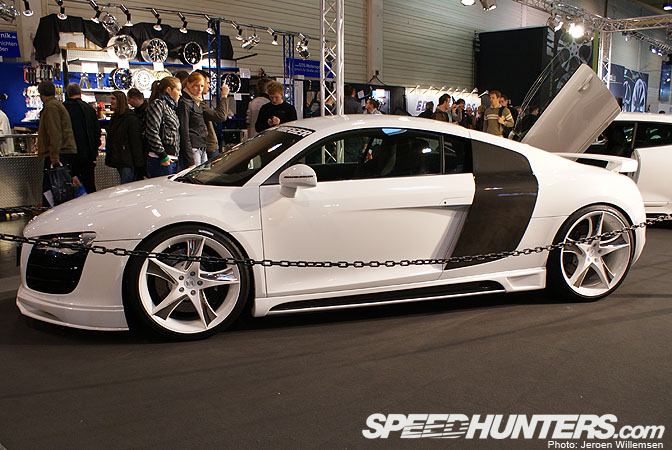 This Audi R8 stood on the Rieger stand, one of the most popular stands on the Essen Motor Show. It premiered with their new bodykit and signature wheels. The car looked pretty good in white and carbon sideblades. Rieger has always been a company that is associated with rice as is apparent with their lambo style doors on the democars. But in recent years they have been producing some nice looking bodykits.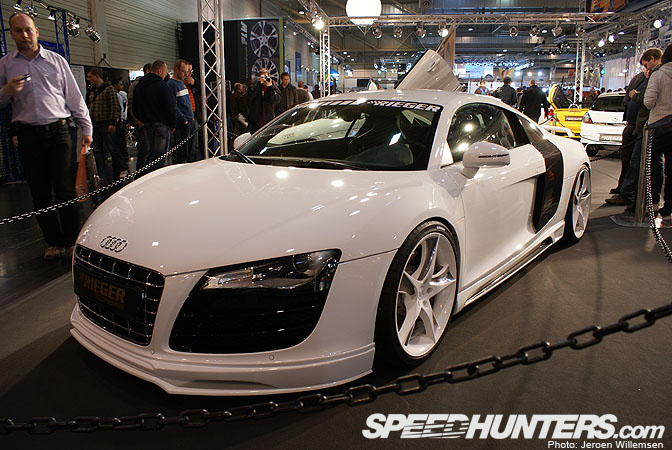 The front of the R8 is dominated with a chrome grill and massive front lip.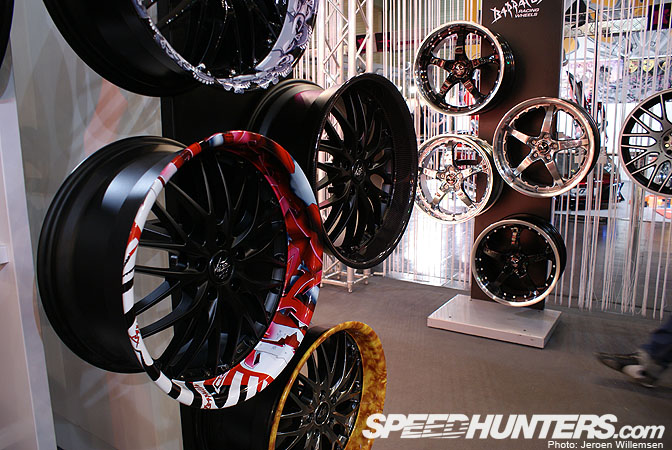 Barracuda was one of many wheel manufactures that showcased their latest designs. They had all these custom finishes on their wheels, from carbon to graffiti like textures.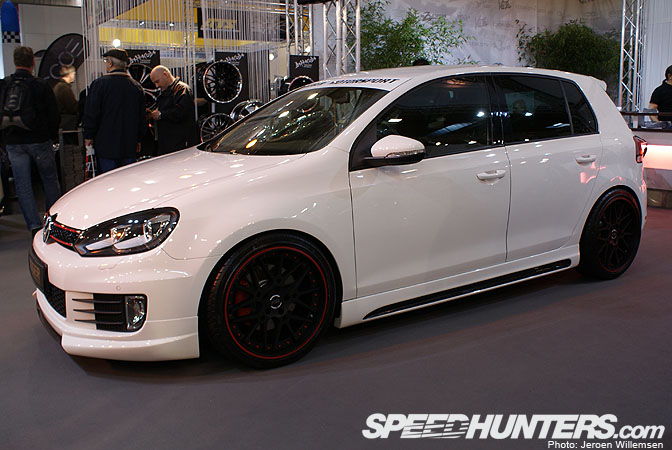 Another world premier by Rieger was this Golf VI. The kit looked pretty bulky and I mean that in a good way.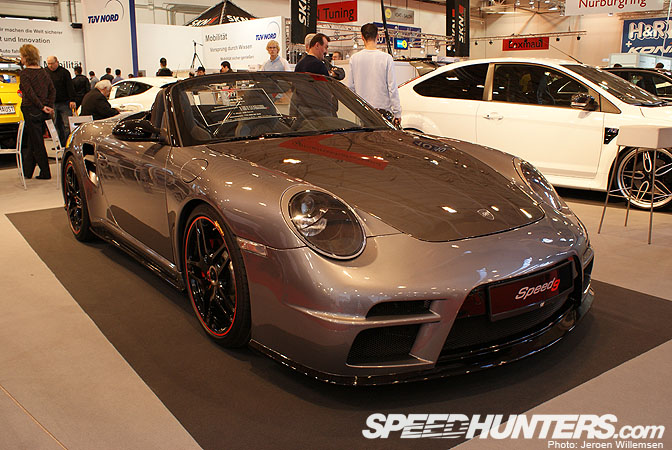 Last year 9ff had their own stand but this year they had to make do with a shared stand. A shame really because they had something special to show. It was this 911 convertible turned into a 9ff Speed9 speedster. It had lots of carbon fiber parts and a newly designed bodykit. But it didn't stop there, they also shortened the windshield and reworked the spot where normally the canvas roof would sit, making it a true speedster.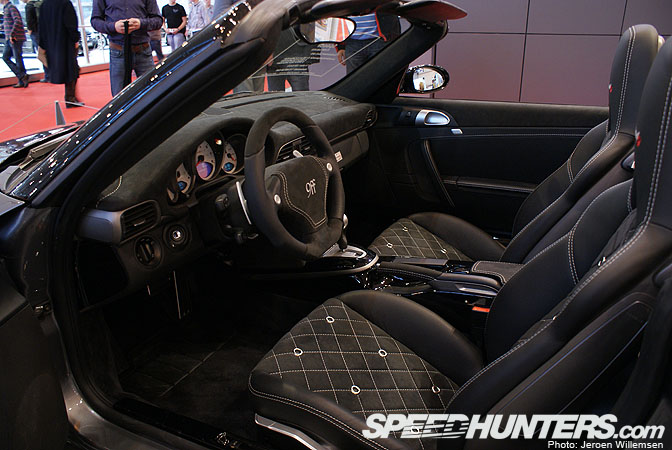 9ff is all about customization, do you fancy ostrich leather or a different color? No problem, but you better have some deep pockets. The interior on this demo car looked extremely good with the diamond stitching and refurbished dashboard. The speedometer reaches 400km/h, but in reality I'm guessing this car will go to 350km/h.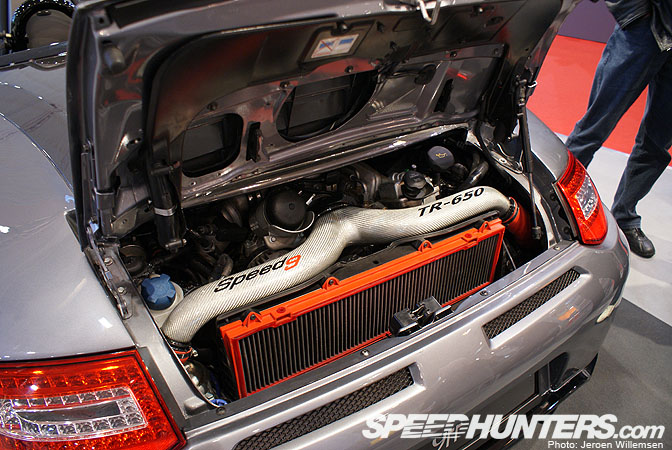 To reach those dizzying speeds 9ff rebuild the engine using their complete catalog. The six cylinder engine now delivers 650bhp and 890Nm of torque. I always find it amazing that tuners are able to cram so much in such a small engine bay.
That's it for part 2, for part 3 I will be looking at Brabus and some race cars.
-Jeroen Willemsen