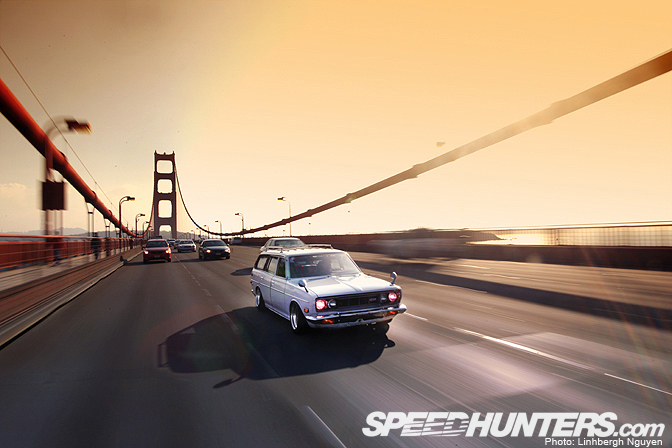 I have to admit that my eyes tend to glass over whenever I see an ultra clean car. The car may be done up correctly with appropriate ride height, wheel fitment, clean body work and everything else we appreciate on Speedhunters but I find there's something quite impersonal about being perfect. Owners of clean cars tend to tweak over the smallest details when something isn't as clean or as perfect as they want. I find a lot of these car owners start to lose the enjoyment of owning automobiles. What's the point of owning a play car if you can't enjoy actually owning it?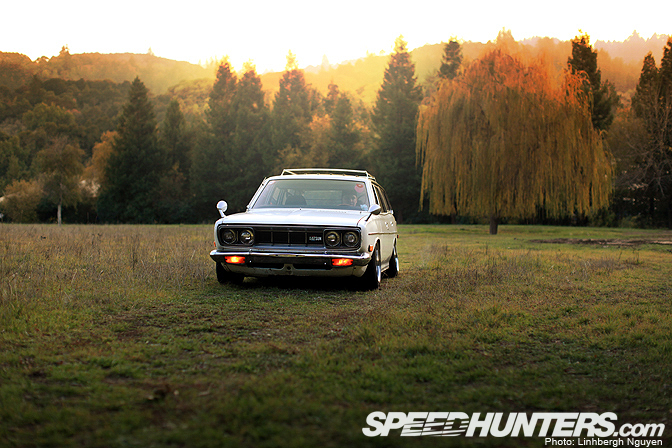 When I was given the task to choose one car from the Hellaflush III
meet to shoot and feature on Speedhunters, my first thought was that it
would be an extremely hard task –especially knowing the quality and quantity of
cars that come out to the Hellaflush meets. Mike Garrett and I circled
around the meet a few times and mentally noting each car that we passed.
We saw our fair share of clean and very well done BMWs, Nissans,
Hondas, Mitsubishis, and Mazdas, but when we came upon a car that that
was had the same group friends as That 240z, we just knew we'd found our car.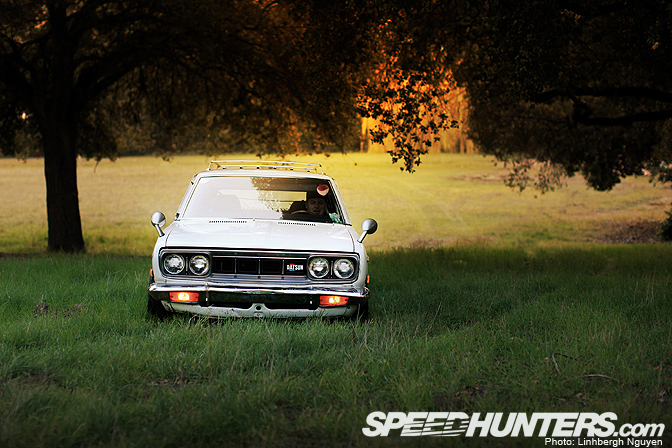 One of the most important traits that I look for in a car is character–this 1973 Datsun 610 Wagon definitely has a whole boat load of it.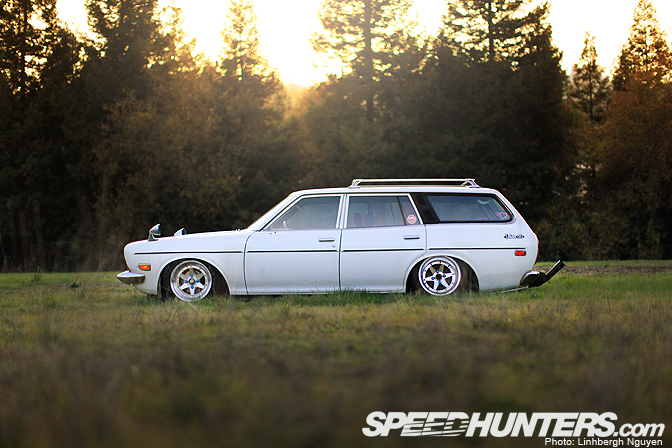 Look at it. Just look at it. This car makes you laugh out loud, giggle like a girl uncontrollably, question the owners sanity, question your own sanity for even being sexually attracted to it loving it, and finally accepting the fact that the cars' ridiculousness is the reason why you're completely drawn to it. It's rusted, the front clip is slightly bent from an accident, some panels are dinged up, it has a cracked rear tail lamp, tires rub, and it is dropped lower than any rational classic car owner would ever even dream about. It is traits like these are the things that draw us to this car the same way we're drawn to Boba Fett's beat up and rusted Slave I!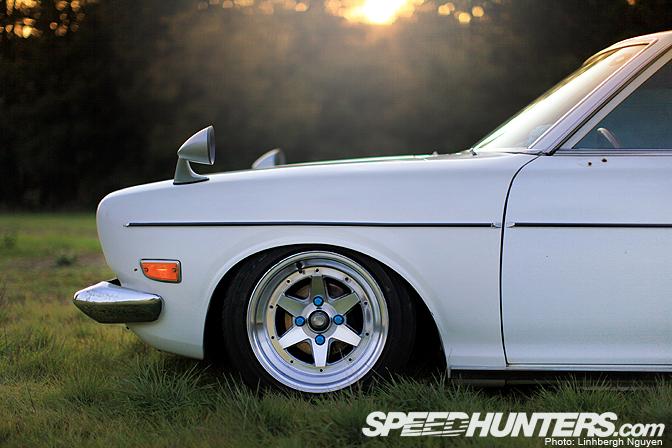 It's definitely not easy to drop a car to this ride height when it is a classic like this 610 wagon. Aftermarket support runs very thin, so a lot of custom work had to be done. The front suspension is a plethora of mix and match parts, but the result proves that the inter-brand breeding was well worth it. Volkswagen Mark I shock inserts were used with sectioned stock struts and put on coilovers with 450lb springs. There are also some lower roll center adjusters, created by Daft Innovation, that spaces the wheels out an extra 25mm. S13 camber plates were also added for maximum camber tuning.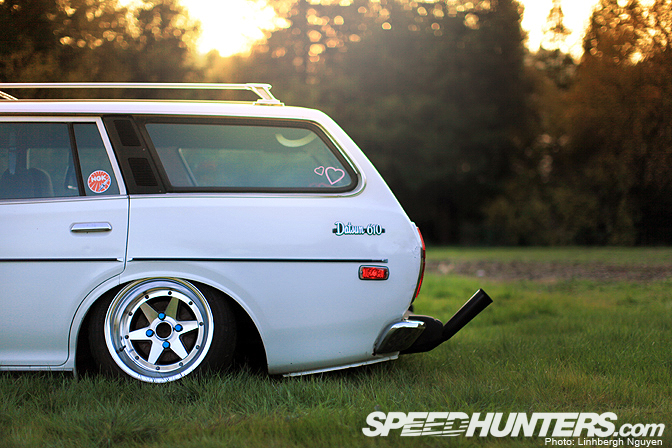 A Datsun 510 rear subframe with all urethane bushings were used for the rear of this car. The rear differential is an R-180 which came from a 240z.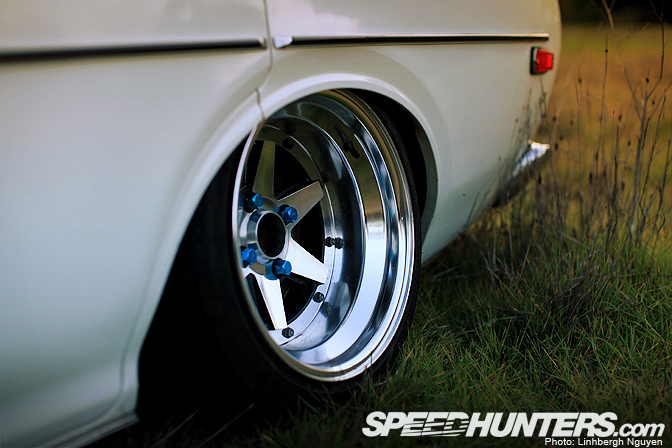 This is the result of all that custom mix and match: a pair of 15×9 -27 offset SSR Longchamps are able to tuck under the rear fender perfectly. The fronts houses pair of 15×7 -1 offset wheels which, I have to admit, are not as impressive as the rear but the overall package looks silky smooth.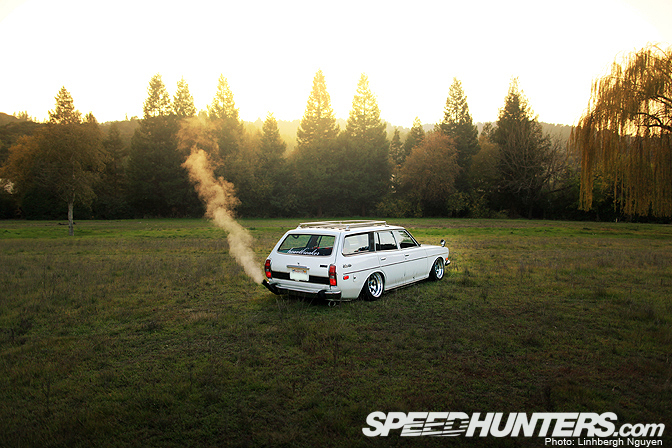 The exhaust is all custom; 2″ piping with a Nissan 350z pre-silencer
which was used as a muffler and a Empi Volkswagen stinger tip. The car
looks like it'll be extremely loud but it is surprisingly soft.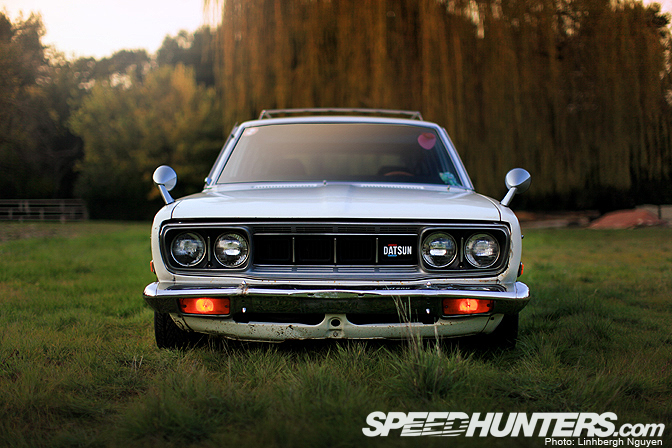 The front headlamps were replaced with a set of 16k HID which shine a bright violet color –an interesting change from the usual white, yellow, or blue that we all normally see.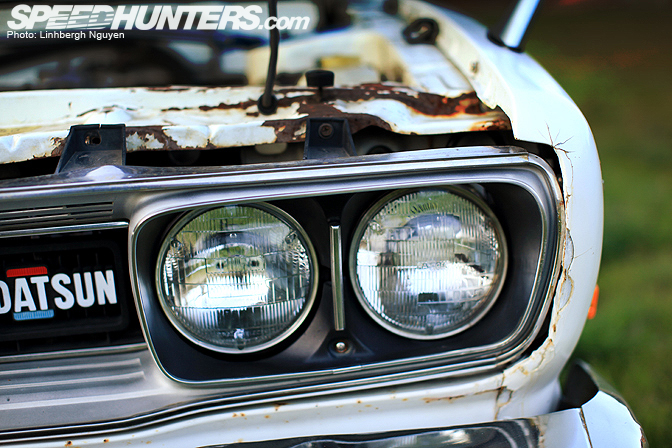 Here's a detail of the front driver side headlamp which shows the bent frame which was eventually straightened out. The rust, the cracked bondo and paint give so much character to the car! Each crack, flakey bondo, and rust all have a story to tell.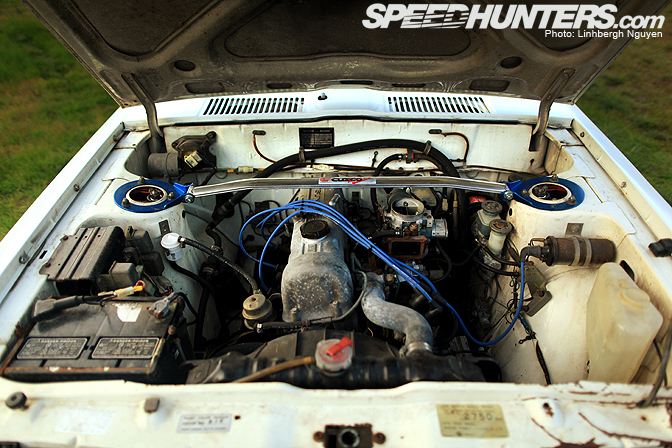 The engine bay houses a stock L28 and stock 4-speed transmission.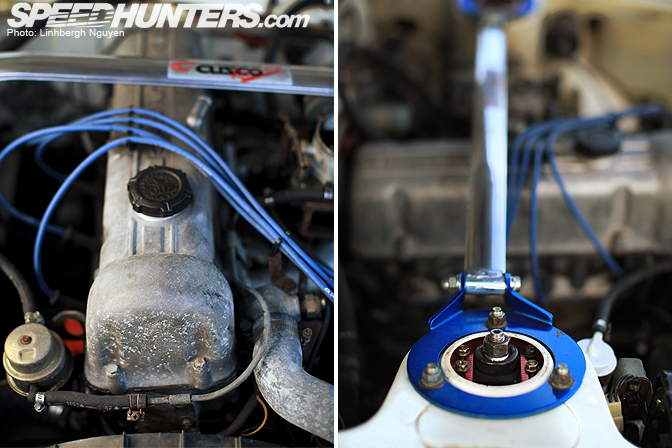 The only thing not stock in the engine bay is the Cusco strut tower bar. You're probably asking yourself when did Cusco make strut tower bars for 610s and the answer is the bar is actually for an S13. The current bar in going across the 610s engine bay was cut and re-welded together!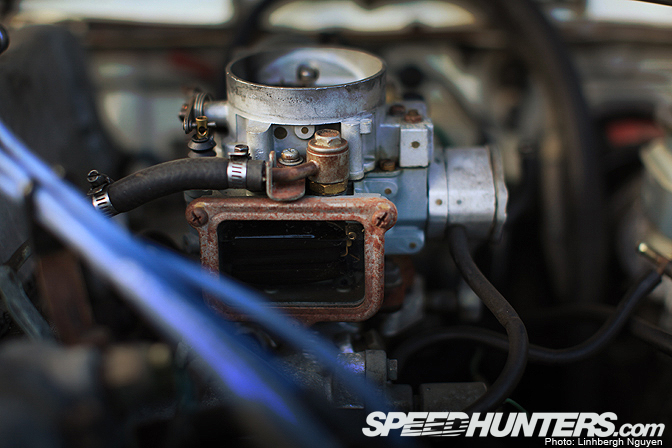 One of my favorite details of the engine is the stock carburetor which has little window so you can gauge the fuel level that is currently in the carb!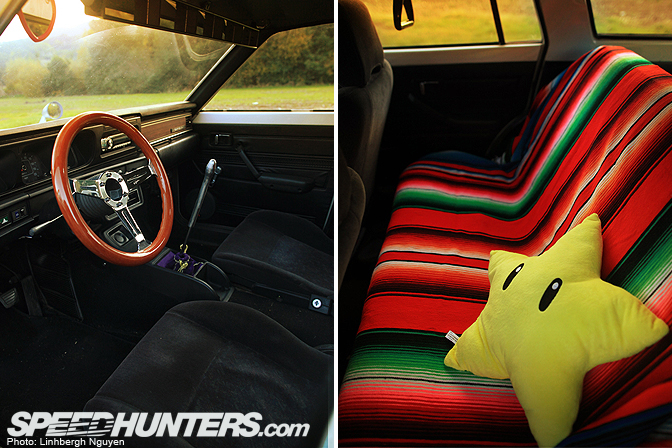 The interior of the car was kept relatively stock also. Key word: relativity. The front seats were replaced with seats form a kouki Nissan S14, the steering wheel is wood grain Payton wheel, wide race car style Wink mirror, the shift knob and extension was custom made, and the Crown Royal shift boot was also custom. There's a trend with Crown Royal shift boots isn't there? The last time we saw this was in the Zombie Rod from Bonneville!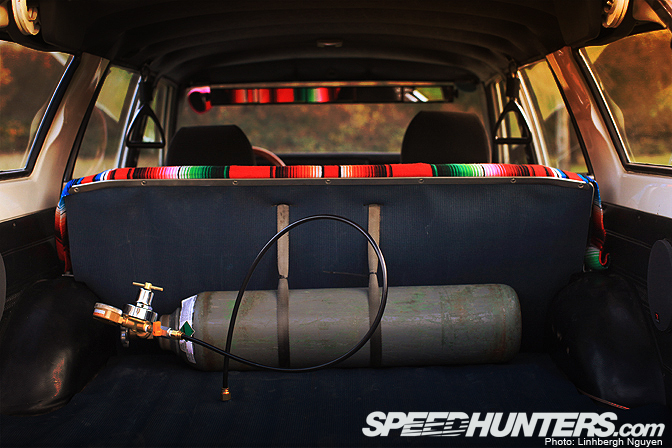 The air bag system runs from a nitrogen tank which is located in the trunk.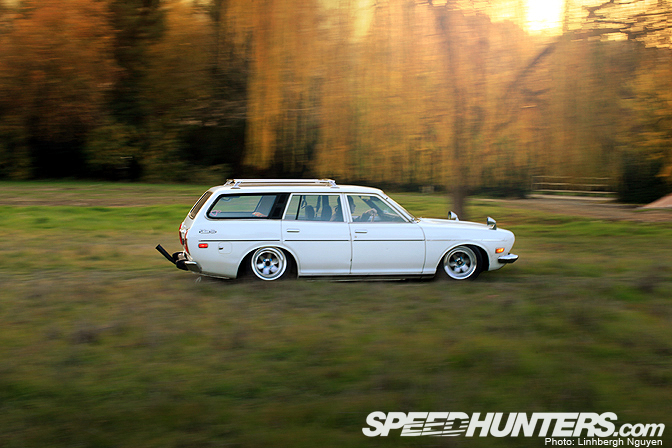 This 610 wagon may be bagged, but that does not stop the owner from driving as slammed as possible at all times. Grass and dirt? Dragging frame? Not a problem.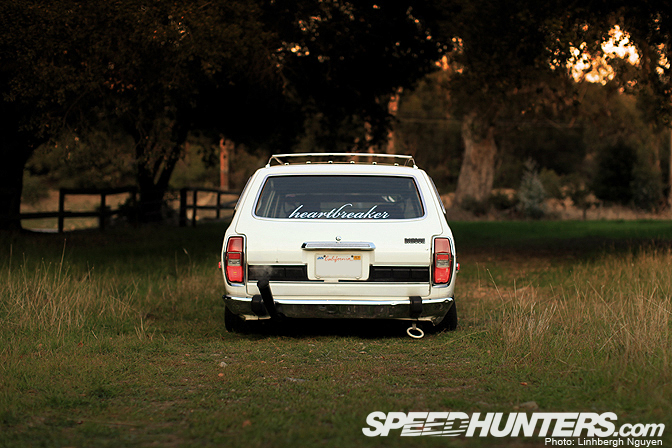 When you're looking at this car from the rear and the car is laying as low as it can low, you can't help but to think of it as a giant metallic caterpillar crawling about….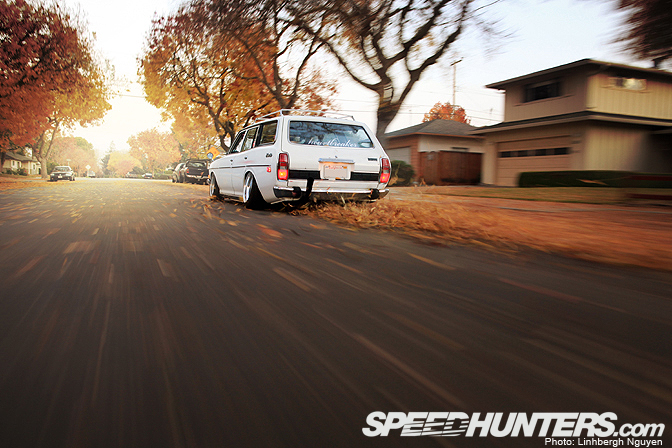 This car was chosen out of the many cars at Hellaflush III for a few good reasons:
1.) You rarely ever see this type of classic car especially when done up in this way.
2.) …and you rarely ever see this type of classic car especially when done up in this way.
3.) It stood out from the crowd of 350z, Evos, and S2Ks.
4.) You can tell there's so much of the owner's personality injected into every bit of the car.
5.) Oh, and you rarely ever see this type of classic car especially when done up in this way and executed with such excellent taste!
The type of people that modify their cars to have this "rat" look don't purposely do it. They get these cars looking ragged and beat up. But rather than fixing it up to be clean and hiding the wear, tear, and most importantly, it's history, they choose to keep all that exposed. Why hide history? History builds character. If you build from history, you'll find that you're always in a better place.
The chairman of the Federal Reserve, Ben Bernake, did just that and so did the owner of this Datsun 610 wagon.
-Linhbergh Nguyen