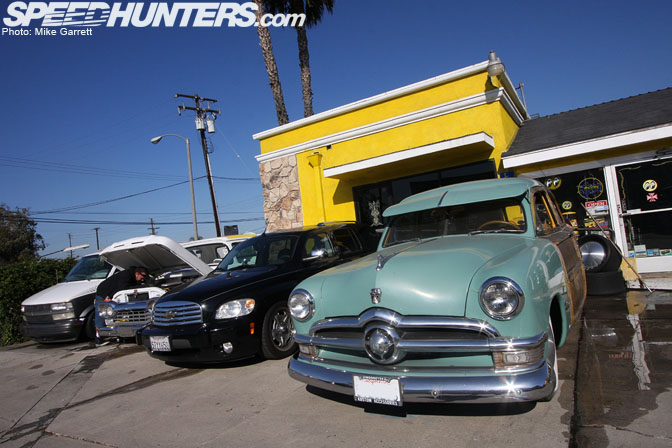 It's upon us. The 2009 Mooneyes USA X-Mas Party, which will be held tomorrow at Irwindale Speedway rain or shine. If you are in SoCal and looking for something to do tomorrow, I highly suggest you head out to Irwindale to check out some of the coolest custom cars, hot rods, and dragsters on the West Coast. As an appetizer to the event, I wanted to post some photos I took the other day when I dropped by the historic Mooneyes USA facility, located in Santa Fe Springs, California.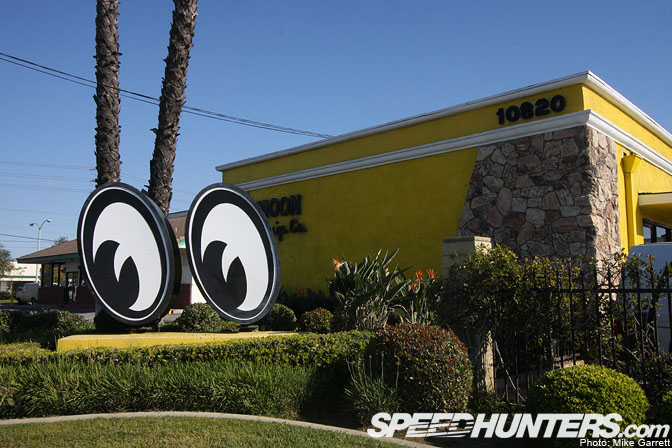 The place is pretty much impossible to miss. It's the one with the bright yellow buildings, and the big pair of eyes staring out onto Norwalk Boulevard.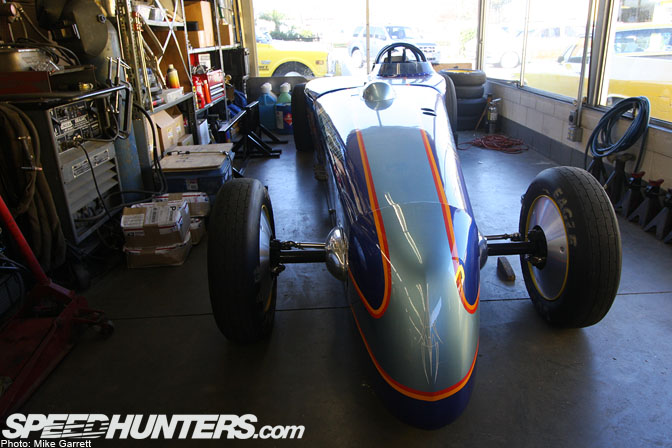 You won't find too many hot rods being put together at Mooneyes USA, but what you will find is a historic place in the history of hot rodding. Although founder Dean Moon passed away in 1987, every effort has been made to keep Mooneyes operating as he would have wanted it. Tucked away in one of corner of the shop is the Mooneyes Bonneville racer.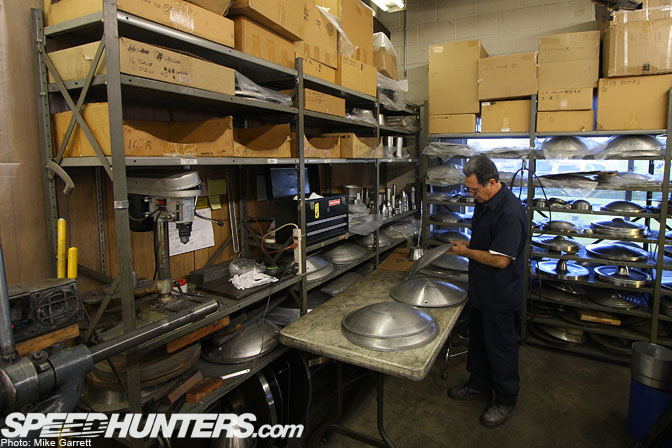 Here is the birthplace of the famous Moon discs, spun just as they were when Dean Moon started producing them in the golden age of hot rodding. To this day, the Moon Discs are still one of the most popular items Mooneyes makes.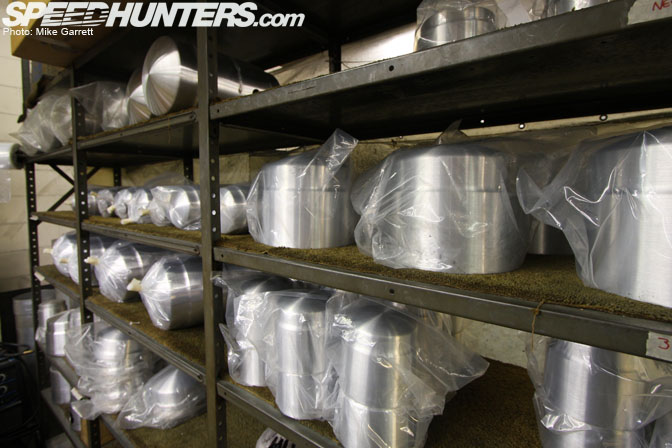 Equally as famous are the iconic "Moon Tanks" which are used on hot rods and race cars all over the world.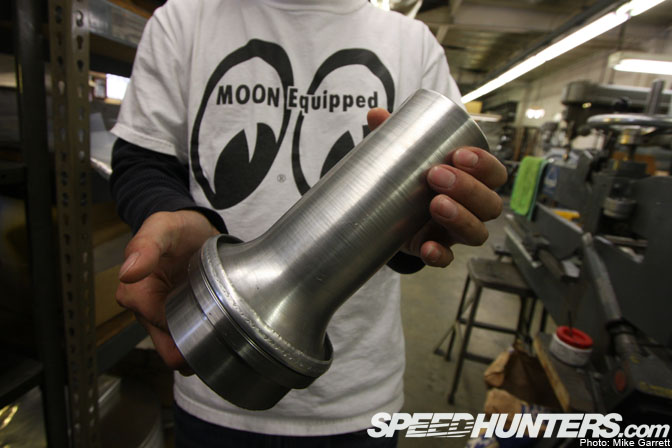 As you can see, this isn't one of those places that just slaps their logo on parts mass-produced in a big factory somewhere.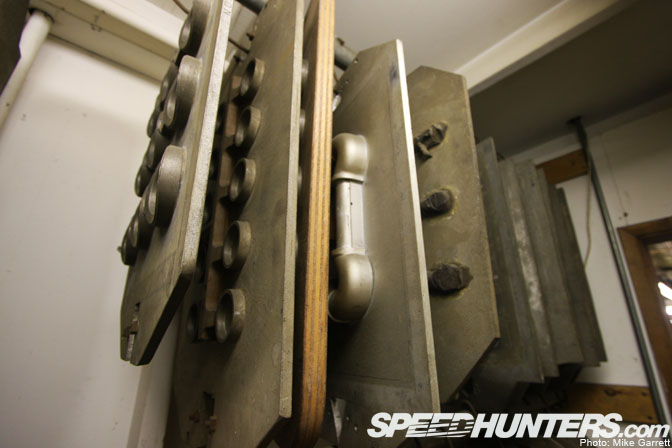 This is just a sampling of some of the molds used to make parts at Mooneyes. Many of these parts haven't been sold for years, so old school hot rodders will be foaming from the mouth when they see them.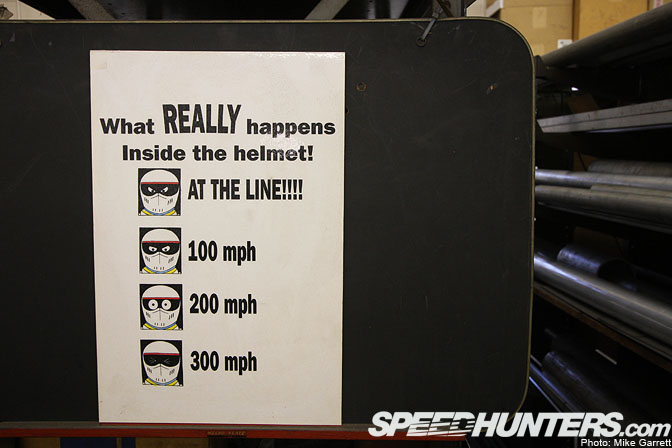 I thought this sign attached to one of the workbenches was pretty cool…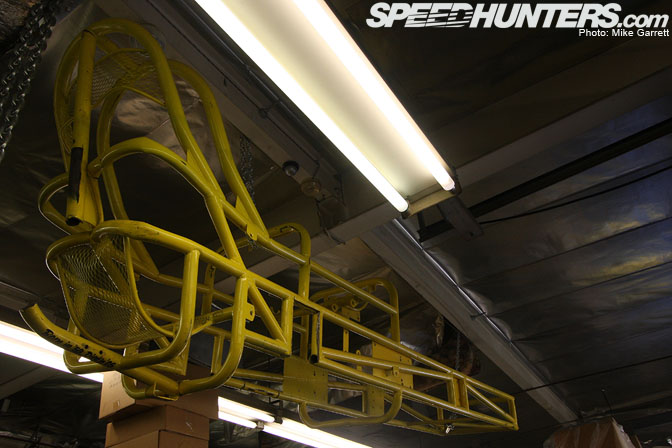 Meanwhile a bare drag chassis hangs overhead.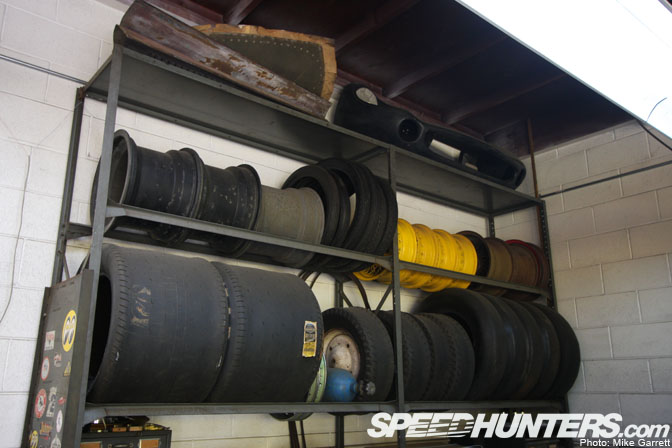 An interesting bit of history – it was actually in this very spot that Carroll Shelby ( a friend of Dean Moon) assembled the very first Shelby Cobra in 1962, mating a Ford V8 to an AC chassis shipped from England. Note the sports car front end resting on top of the shelf.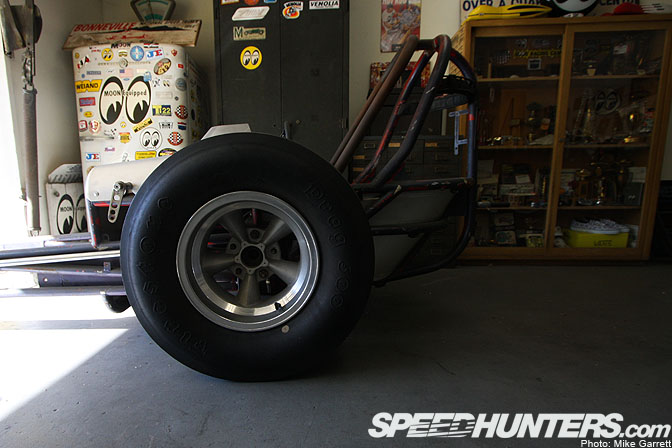 In one corner of the facility lies a small garage which serves as a small museum to the history of the Moon company.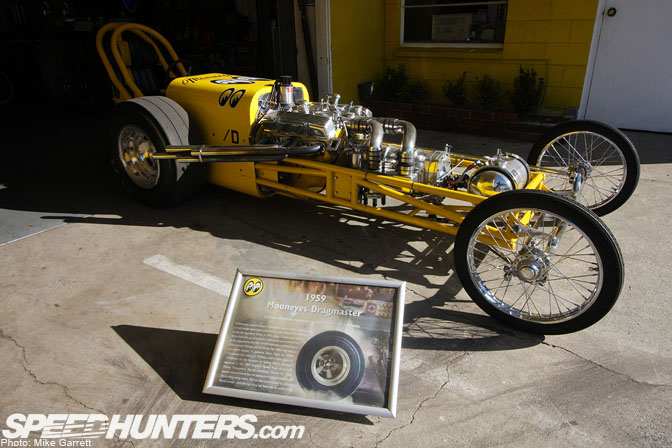 The centerpiece here is the original Mooneyes Dragster, which saw action all over the USA in the early '60s and even made a trip to the UK for the Brighton Speed Trials.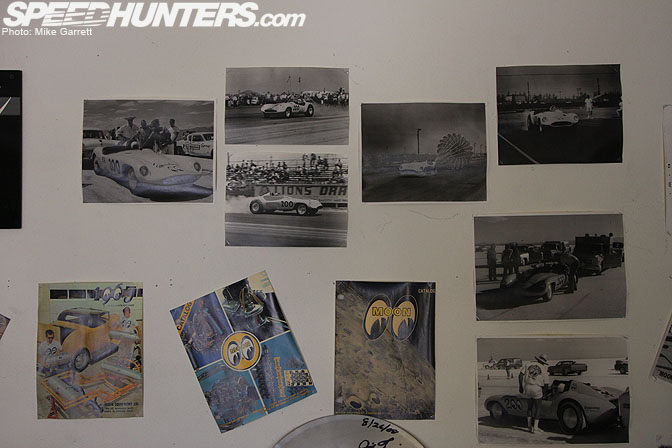 You'll also find photographs and catalogs that span the entire history of the company, going back to Dean Moon's days as a young hot rodder in Norwalk.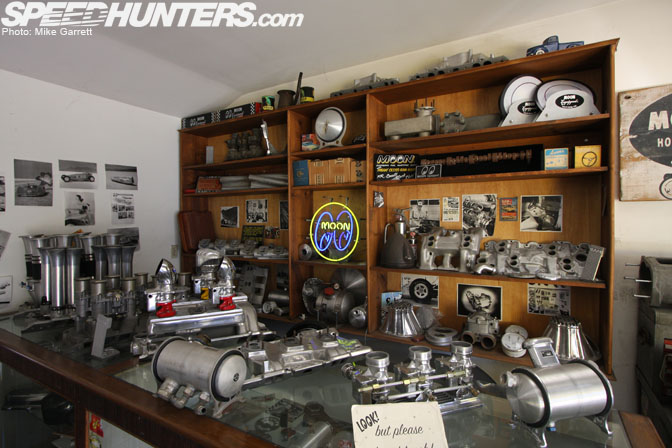 A historic collection of parts produced by Moon over the years.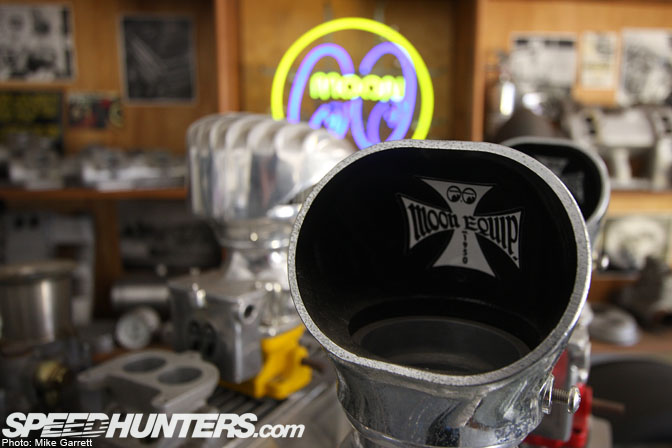 I never thought you could feel so much history being surrounded by small pieces of metal…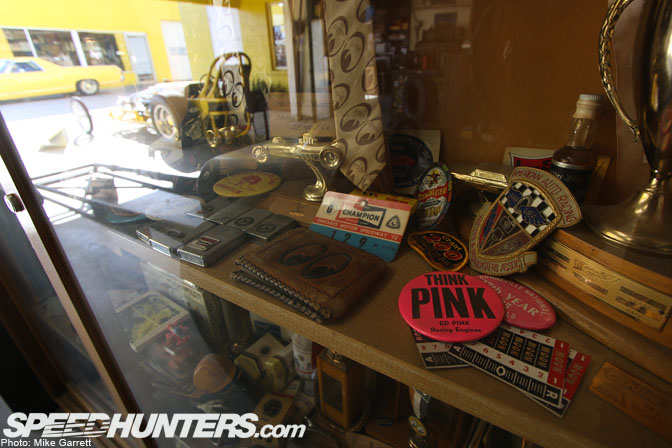 More display cases full of priceless memorabilia.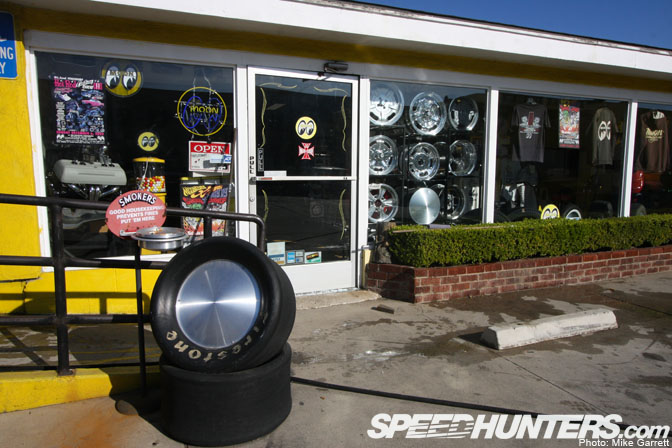 One of the largest parts of Mooneyes USA is the retail shop.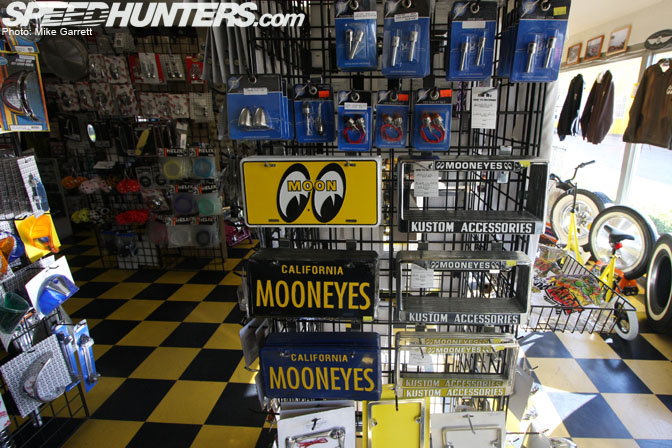 While Moon Discs, Moon Tanks and other car parts are a big part of the market, Mooneyes accessories are also extremely popular – and not just among hot rodders.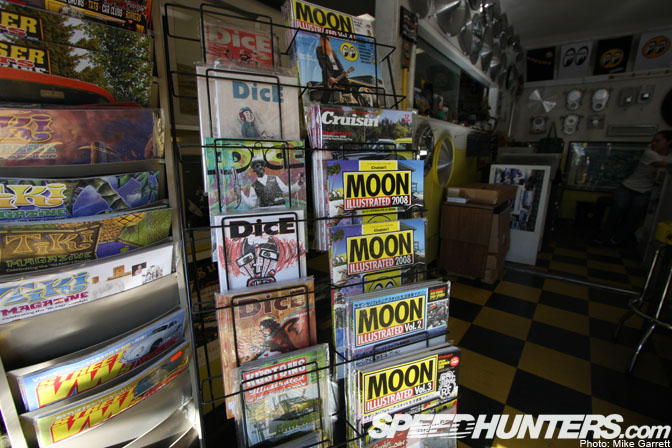 If you're a car magazine nerd like me, then you'll probably appreciate this selection of mags, including the excellent "Moon Illustrated" published in Japan.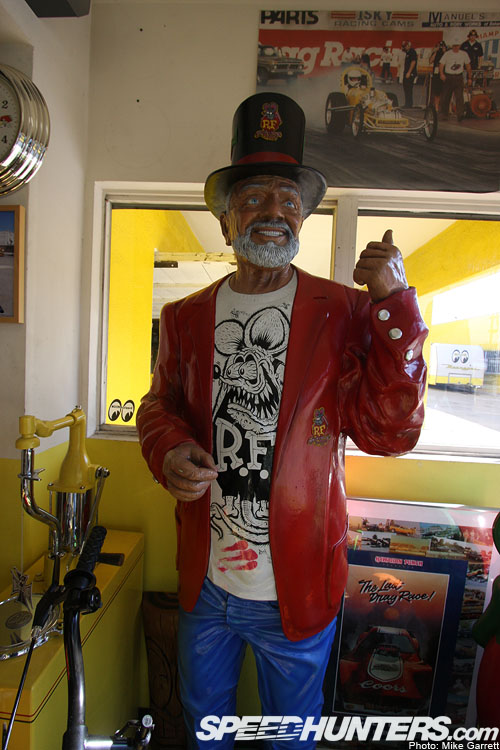 Hey look, it's Ed "Big Daddy" Roth!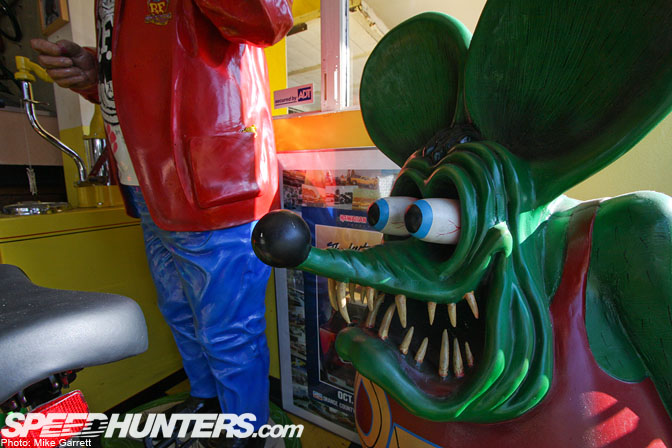 And his good friend Rat Fink…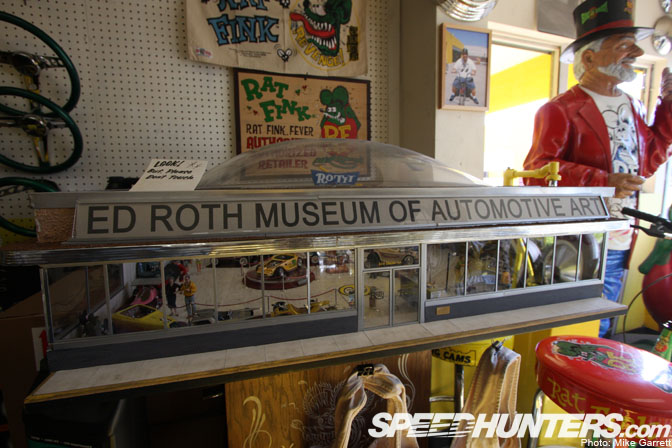 How about this incredible Ed Roth diorama?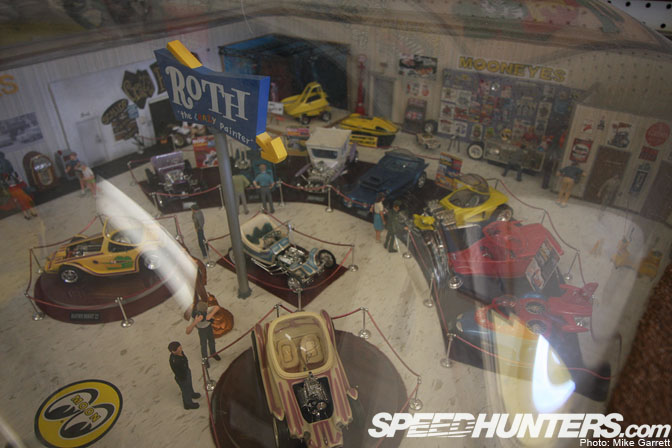 Roth's creations, all recreated in 1/24 scale.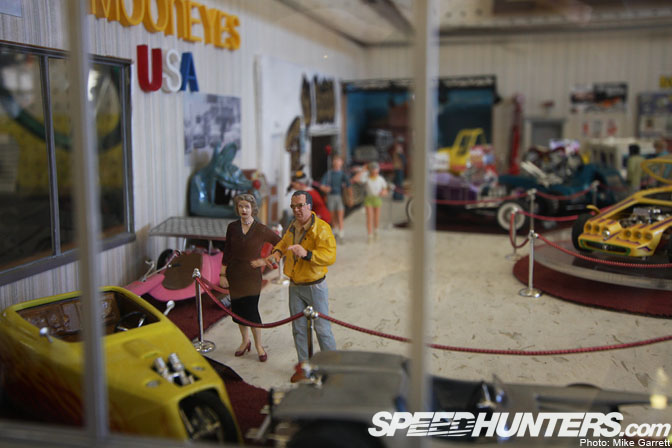 I spent quite a while gazing at the details on this display…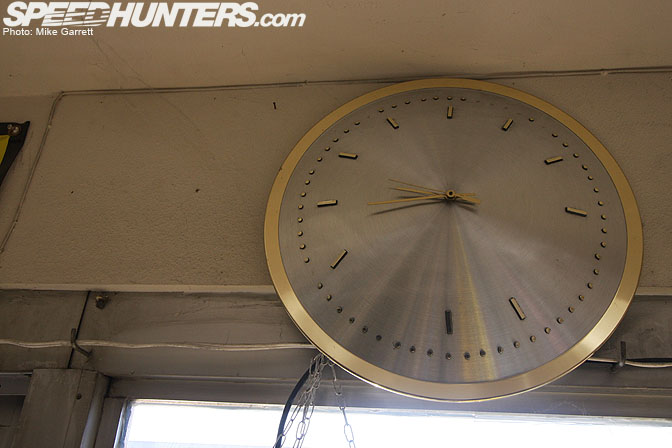 At Mooneyes, time is kept by this Moon Disc-turned clock. Cool.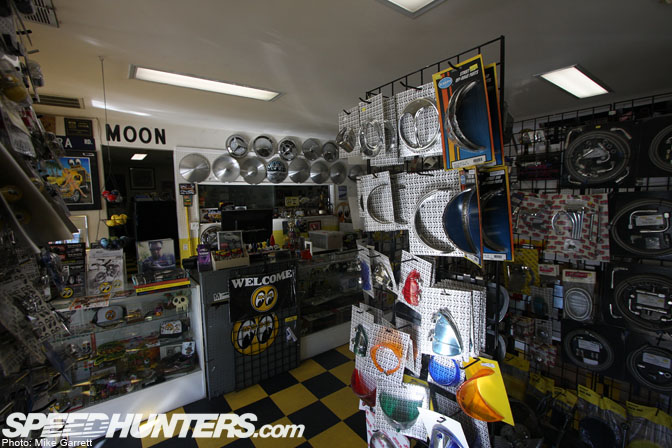 OK that does it for my trip to Mooneyes USA.
Again, if you can make it to the X-Mas Party this weekend, you won't regret it. If not, you can look forward to our extensive coverage coming next week.
Big thanks goes to the staff of Mooneyes USA for showing me around!
-Mike Garrett