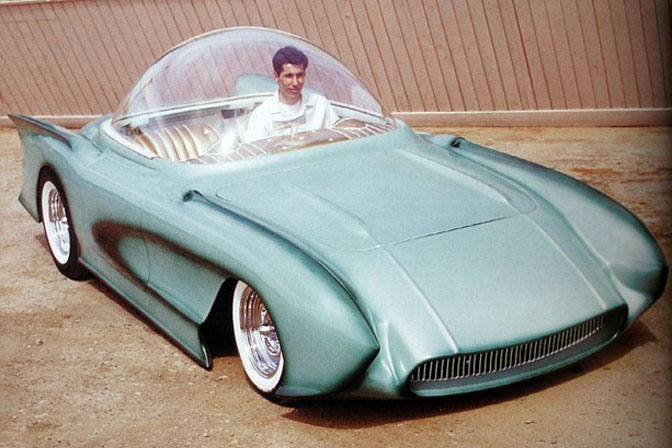 I know that some of you are not quite with us this month and for this we apologize. It's just that we just love to dive deep into different aspects of car culture as it's through doing this that we always learn something new about cars and the people that make them. Case-in-point with this story: I vaguely remember reading somewhere there was a Corvette custom which featured the first ever hydraulics suspension system and wanted to investigate further. So last night I started to research this story and discovered a wealth of information on the HAMB forum and the Kustomrama wiki site about this car.
And there is no way that I would have done this unless we were exploring "Slammed" month on Speedhunters.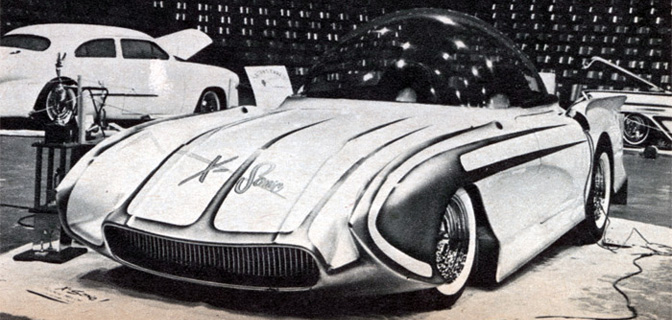 The customized Corvette in question was called the X-Sonic and was built by Ron Aguirre.
So here we have a car that started life as a GT machine, but was reworked as a crazy 1960s Dream Car… hey isn't that breaking a rule? Aren't GT always supposed to be performance modified? Can a Corvette really be the basis for a custom? Isn't that the same as asking if a 350Z can be the basis of a VIP Style car?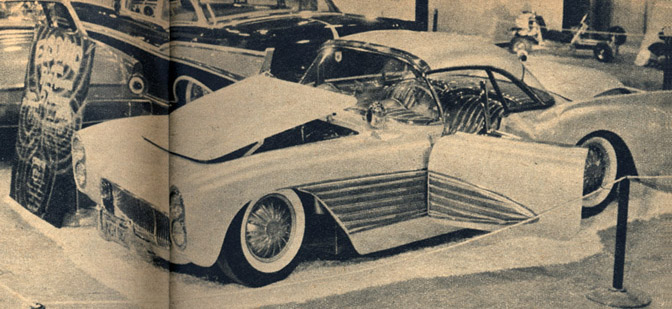 Anyway… the reason I want to show you this car is because it's widely regarded to be the FIRST ever car in the history of the automobile, to have a hydraulics suspension system installed. So in terms of ground scraping street machines, this makes the building of the X-Sonic a key moment in the history of slammed cars. The early version of the car you see in the above photo debuted in 1959 and was still street driven. It was during this time that Ron got to play with this new ride-height invention on the streets of Los Angeles.
Someone on the LayItLow forum managed to track down Ron Aguirre and exchanged some emails with him about the history of the car. Here are some quotes from Ron about the X-Sonic and its innovative suspension system:
"… a law was past by Gov. Brown in 1957 against lowered cars. I lived in Rialto CA. a suburb of San Bernardino (60 miles East of Los Angeles) and having the lowest car in the Berdo (San Bernardino) area and after the law was passed it wasn't until 58 that the law was really being enforced and I had one cop (Lester Groves, nicknamed "Sandy") and made it his #1 priority to give me tickets for being too low.
How I invented Hydraulics – In 1958 I was visiting a friends body shop and saw a bodyman pushing a dent out with a hydraulic Porto-power tool. I looked at the ram and instantly got the idea to put this little unit between the spring and the frame to lift my car. I explained my idea to my Dad and being a welder by trade he started to fabricate the cups I designed to hold the rams. I had hoses made that would extend into the car and I set the hand pump on the hump between the seats…
…But it wasn't until 1959 that I was able to raise a lot of Hell and with the system the way it was and I was going to drive "Sandy" THE COP crazy. We waited for him to ride his bike to his spot across the street from the local hangout in Berdo "Ruby's Drive-in". I was parked on the lot with my car lowered way down. There were about 100 of my school friends at the drive-in waiting to see what would happen."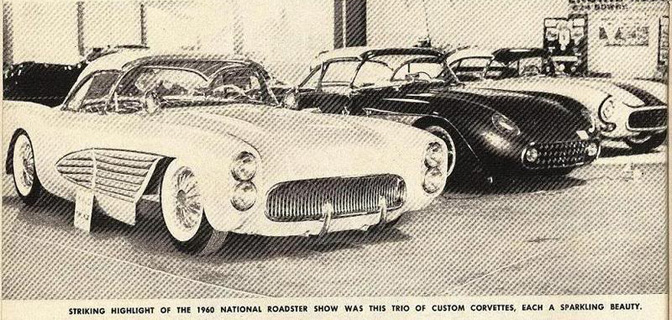 "I left the car down and started to drive out and the side pipes were scraping the pavement (It was way cool to have your car dragging on the pavement). I had my girlfriend get out and my buddy got in with the instructions to pump hard on the handle of the pump as soon as I gave him the word.
Well, knowing "Sandy" was across the street and waiting for me to leave the restaurant so he could give me a ticket in front of all my friends and teach them that this punk was not going to get away with breaking the law, again."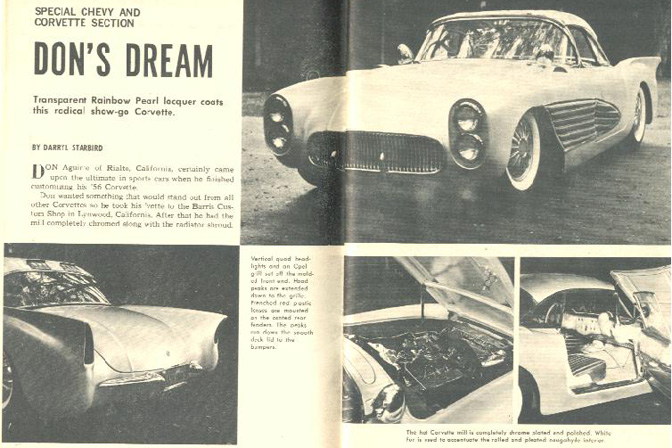 "I pulled out onto the street and watched Sandy start his bike, I told my buddy to start pumping. I didn't get twenty feet and Sandy had his red lights on me. I got out of the car and everyone from the drive-in was standing on the sidewalk. I greeted "Sandy" by name (as no one called him Sandy to his face) – "Hi, Lester what seems to be the problem"? He stated "You know your car's too low". "But Lester", I said," it isn't too low any more, I took your advise and raised it to legal height". He smiled at me and took his ticket book (Back then, this is how the cops checked cars if their ticket book did not pass freely under your car you would get a ticket) and he slid it under my car without hitting anything. Boy, was his face red and with all the witnesses yelling and screaming, he didn't say a word, he gave me a confused look and got on his bike and left. OH… revenge was so sweet….."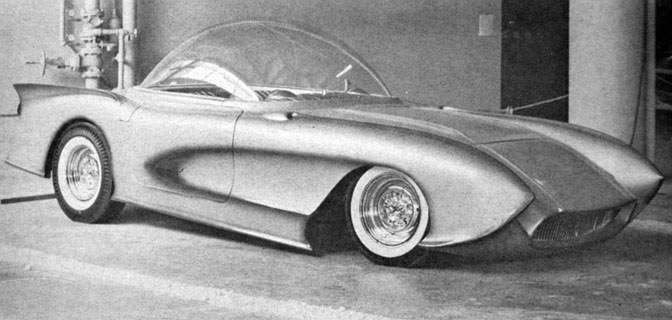 After a year or so on the show circuit, X-Sonic was then reinvented as a futuristic dream car complete with bubble top. You can see the hydraulics system at work with the extreme nose-down raked stance… Here's what Ron Aguirre has to say about ths history of "slammage" back in the 1950s:
"The term "Lowrider" did not exist in the 50's. I believe the term "Lowrider is truly a Chicano phrase that has been adopted by many cultures to refer to an extremely lowered car Custom cars were considered lead sleds and lower cars were simply lowered cars without any specific terminology attached. It was just a contest to see who had the lowest car and he was the coolest guy in town. But, back then it was the front of the car that was the lowest, no one lowered the rear to match the front . The rear was always a little bit higher."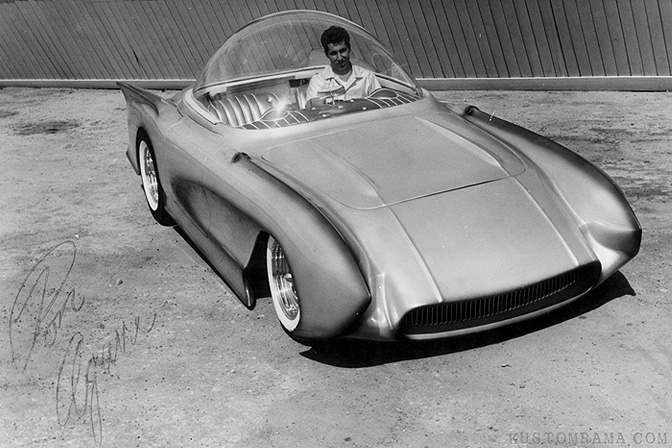 X-Sonic was a constantly evolving project and was repainted as many as six times its life as a show car. It's also reported to be one of the first machines to feature a fade style paint job.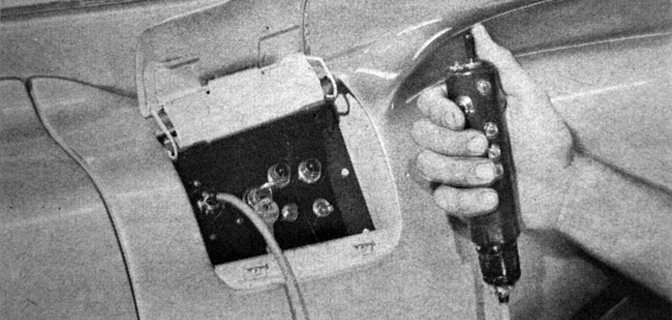 As the build was further developed into '62/63 the hydraulics systems were developed to it could be operated completely by remote control. This included the steering, doors, bubble top, ignition, lights, and front suspension height.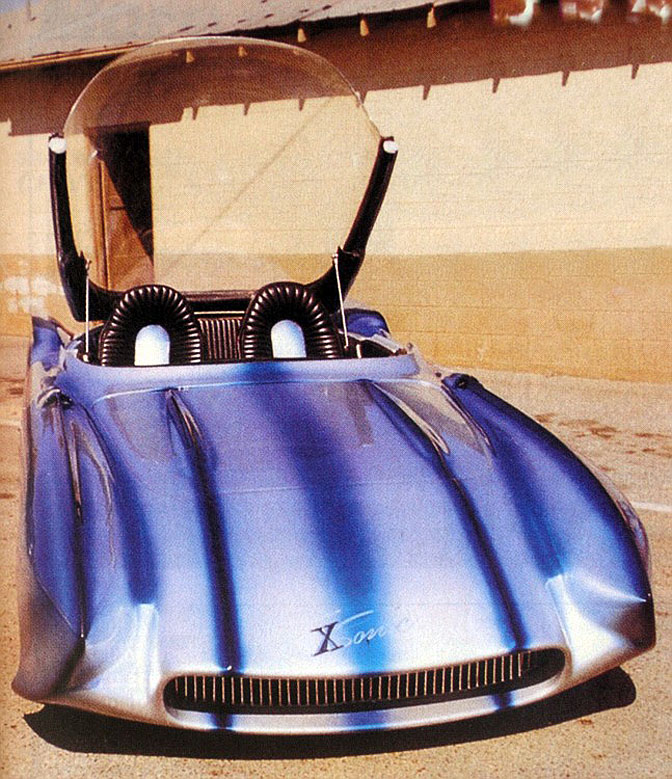 Later versions of the car didn't even had a steering wheel!..  Apparently the driver was meant to drive the car using two buttons on the center console…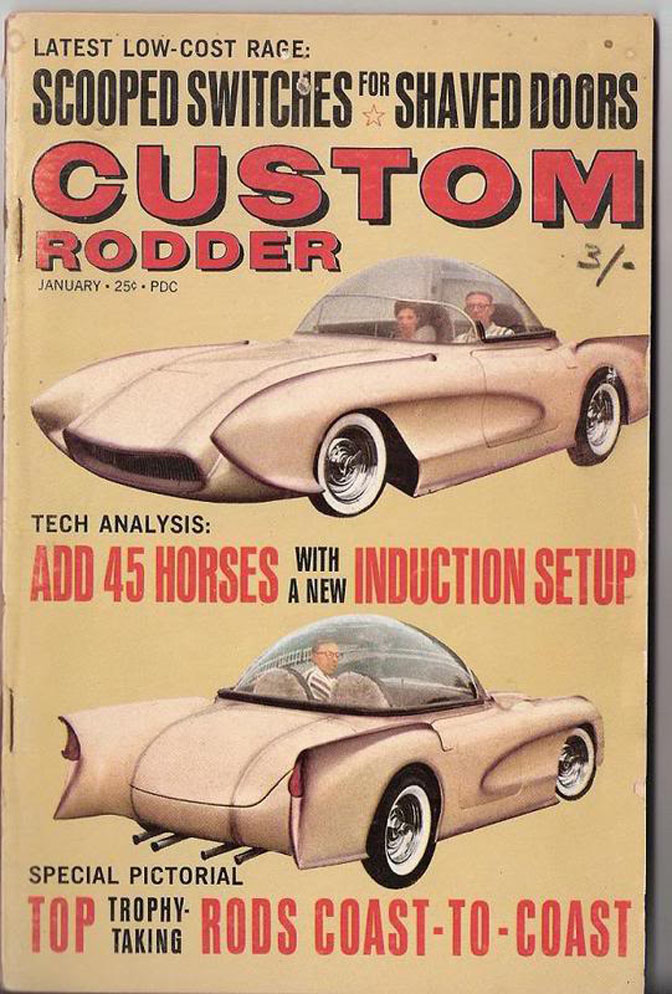 Here's how the car looked in January of 1963 as it appeared on the cover of Custom Rodder… one of many magazines which didn't survive the 1960s.
With the coming of the muscle car and street rod era, futuristic dream customs like the X-Sonic went out of fashion pretty quickly. It's a bit like how the extreme Spo-Com style show cars are now completely out of fashion (although they are still being built in some countries around the world).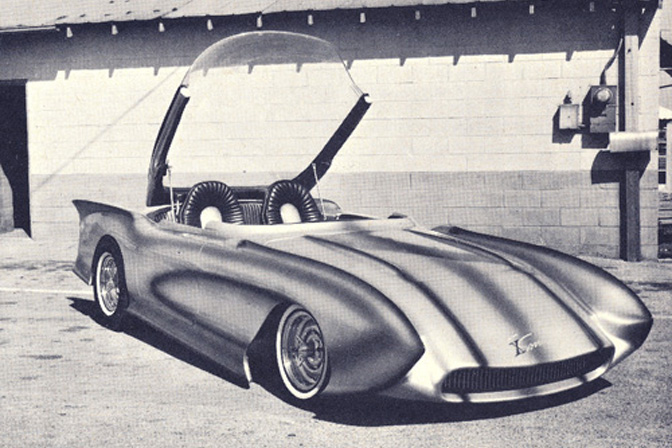 It's only in more recent times there's been a renewed interested in these bubble cars. Many of them have been found and restored or even recreated. There're also some people who have made completely original early '60s style dream rods/customs.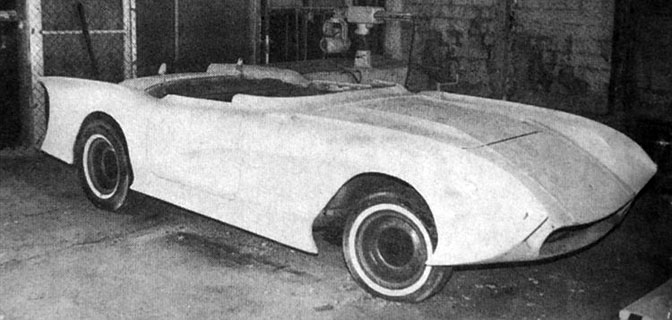 Here's how the X-Sonic looks today. Thankfully it hasn't been lost, but the car is now is a pretty decrepit state and is in dire need of a ground up restoration. I'm sure one day it will happen.
Some final thoughts from Ron Aguirre:
"Since it has been documented that my car was the very first car to be automatically raised and lowered doesn't mean that I take credit for the phenomenon of the Hydraulic Lift Culture that sprang from my invention. My father, brother and myself only did about six hydraulic lifts before I went on to do other things. I didn't mind that others were copying my idea. They improved the idea and went into directions that I never dreamed of. Remember all I wanted was to stop getting tickets for being too low and I was not going to raise my car to some stupid legal height."
It's funny how the more things change the more they stay the same!
:Rod
HAMB Forum discussion on the X-Sonic
Jalopy Journal Article on the X-Sonic
Kustomrama Article on the X-Sonic