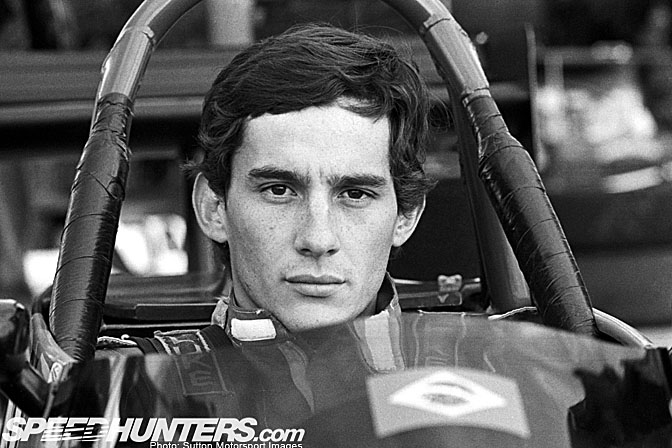 Was it really more than 25 years ago? That first time I met the quiet, slight Brazilian with the burning intensity in his eyes? Thruxton, a ex-WW2 fighter base in Hampshire and although it is close to Stonehenge it is not generally regarded as a place of dreams or magic. It is almost always windy and usually cold too, oh and don't forget the rain. Its main virtue as far as I was concerned was that it was around an hour from home. Back then I was a camp follower to the British Formula Three scene and 1982 had been my second year of getting media accreditation.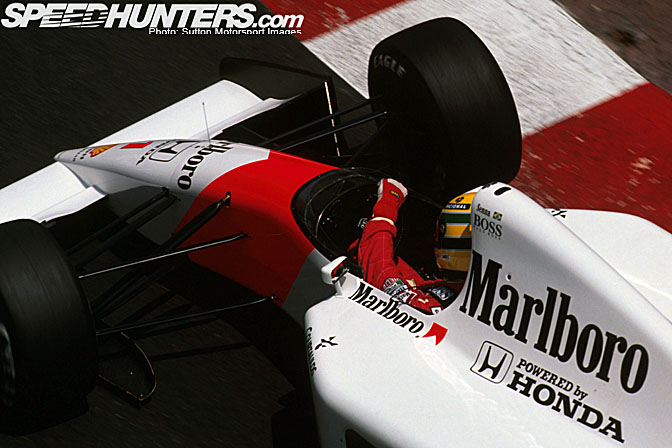 Like most fans with a pass, I was supporting the local team. For me that meant West Surrey Racing, run by the laconic Kiwi, Dickie Bennetts. There was a non-championship race to round off the season, so WSR took the opportunity to run a hot prospect for 1983, Ayrton Senna.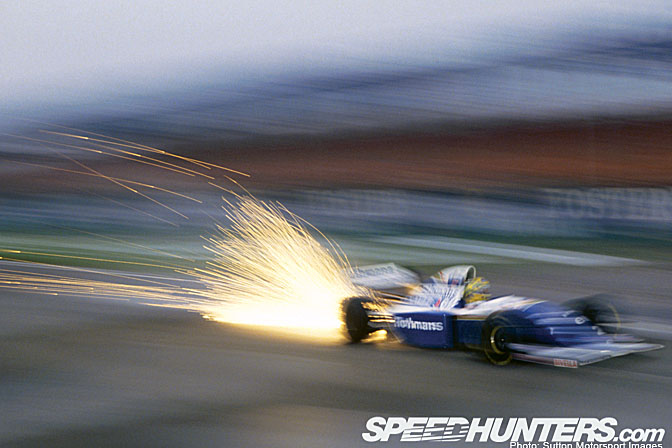 For me it began a legend that would end in tragedy some 12 years later at Imola's Tamburello corner.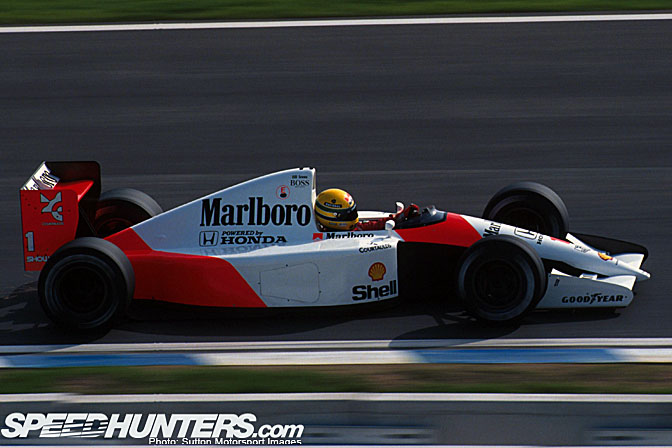 It is the chronicle of arguably the world's greatest driver. Some might dispute that assessment but not many who actually worked with the Brazilian.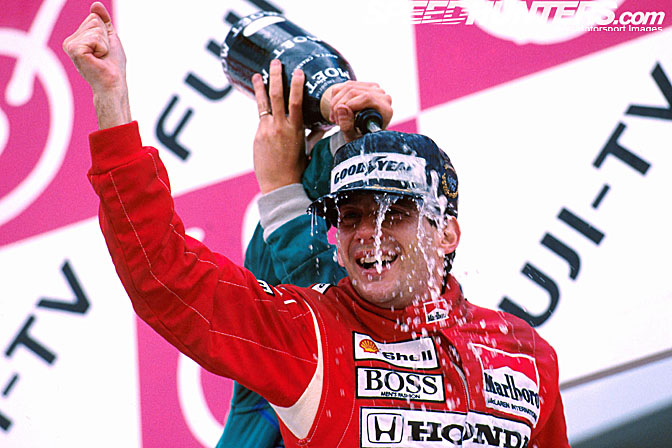 Numbers, like the money always follow the numbers.
As ever the bald statistics tell the tale. 
Grand Prix started 161.
Races won 41.
Podiums scored 80.
Fastest Laps 19.
Pole Positions 65
Unbelievable  but even these numbers only tell half the story, it was the manner of how he achieved his success that set him apart. Whenever he was behind the wheel there was magic in prospect.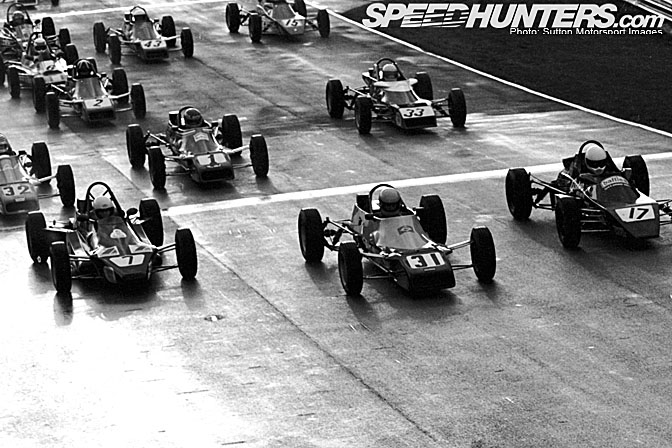 The story began, as is customary these days, with karts, Senna contesting this junior branch of the sport at the highest levels, being a multiple Champion in South America and also ending up twice, as runner up, in the Karting World Championship.
From those dizzy heights he did what so many aspiring drivers, before and since, have done, packed his bags and moved to England. He would join the staircase to Formula One by jumping on the first step, Formula Ford 1600. In only his third race, above at Brands Hatch, he scored his first single seater victory, he was on his way. Thereafter he was unstoppable winning both the RAC and Townsend Thoresen FF1600 titles.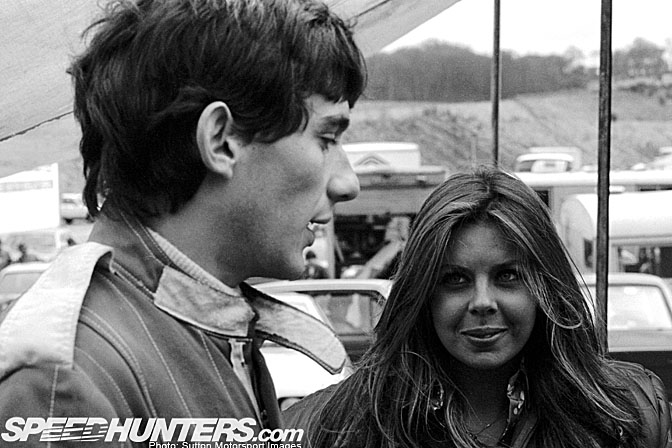 Even at that early point he had a good idea of his worth. He missed the Formula Ford Festival and flew back with his wife to Brazil and waited for the offers to come in from Formula Three teams. Nothing arrived and he was under pressure from his family and wife to pack in racing and concentrate on business in Brazil.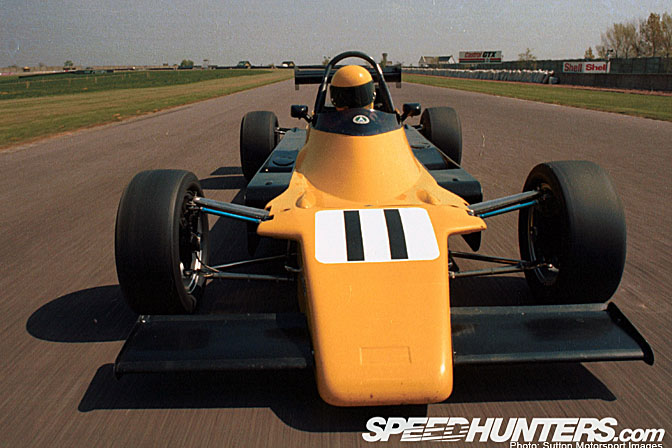 The one offer he did have was to race in FF2000 for Rushen Green Racing, a snip at £10,000 for both the British and European Championships. Senna decided that this was the way forward and in typically uncompromising style pursued his objective. "You have to understand that what I really care about is my career.I've given up a lot of important things for it, including my marriage, including living in Brazil with my family and friends. If I was going to establish myself, make it into Formula One, I knew I had to give it all my time and attention. I couldn't do that if I was married, so we parted." 
Not a man of self doubt then.
Whatever the personal cost, on track things worked as planned, he comfortably won both titles.
During that year Senna showed the kind of intelligence that would illustrate the difference between him and his contemporaries. He linked up with rising star photographer, Keith Sutton and got Keith to send out press releases to all the Formula One team bosses, detailing his successes in FF2000, completely unheard of at the time but a good example of his forward thinking.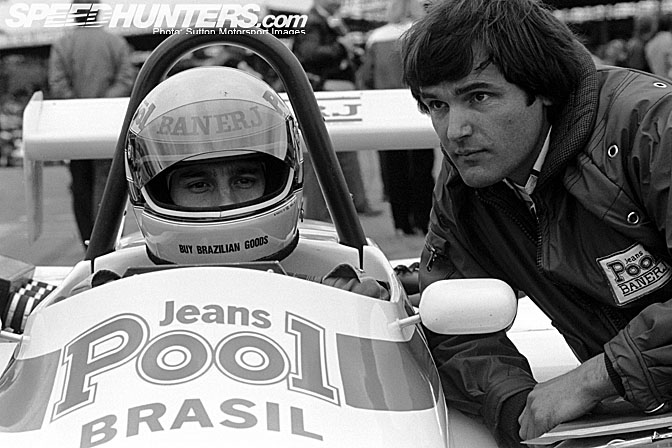 1983 saw Ayrton really hit the big time in the British Formula Three Championship. He joined West Surrey Racing and started the season as he had done in the Ford Championships, winning nine races in a row.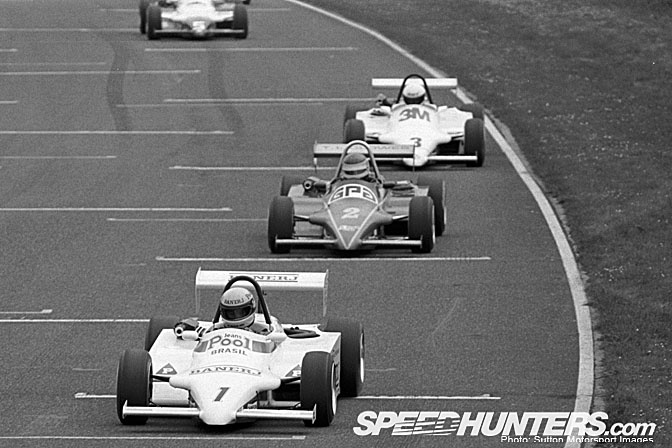 The opposition seemed to have no answer to the combination of Senna, Bennetts and the WSR Ralt RT3. For me there was a personal involvement, Dickie lived a few doors down the street from me, one of the WSR mechanics, Ian Paton, had a room in my house and we all drank at the same pub in Shepperton, The Kings Head. The pub was also a favourite haunt of various Brabham, McLaren and Ralt employees, it was like a modern version of the Steering Wheel Club.
To add to this I had met up with a young photographer who was obviously going places, Keith Sutton. Soon I was shooting for his agency, which I still do to this day.
I spoke with Ayrton at most races but he was intensely focused, although four years younger than me, he was light years ahead in the mental department (not difficult I hear you say), he spent every moment at the track thinking about how to make the car and himself perform to the optimum, so he had little time for idle chatter with a photographer.
Away from the track he was completely different, I remember the victory celebrations after the F3 Championship was won, held at a salubrious joint in Shepperton called The Riverview. All of us, including Ayrton, got very drunk while we partied into the night, heads were sore the next day.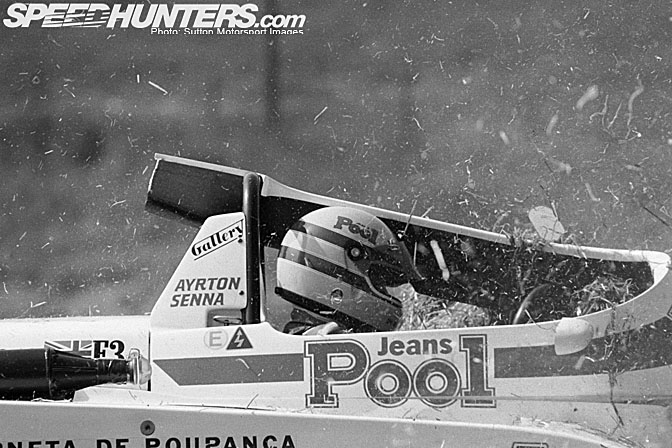 Senna's run of wins came to an end during a mid season wobble as Martin Brundle began to put pressure on him.
I was on The Mountain at Cadwell Park during Saturday Qualifying when Senna came barrelling in with the car unsettled, foot flat on the accelerator, next thing he was in the Armco, weekend finished. I would like to pretend that this is the moment of impact but actually my first reaction was to jump off the bank as the Ralt thumped it, then I steadied myself, focused the lens and snapped this frame….the straw is actually on the way down but hey!……and ran out of film……..manual re-wind, load up another 36 frames of Tri-X and get busy with the wreck.
Imagine that, film, manual focus and exposure, winding on by thumb…………it was all a right pain.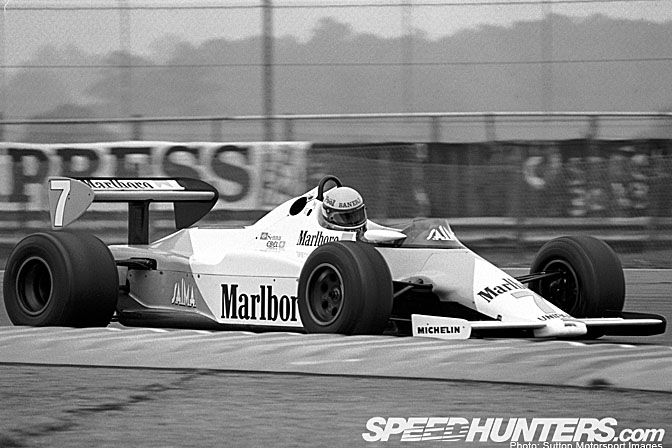 It was clear to all that this young man would be in Formula One the next year, during 1983 he tested for McLaren, Williams and was in talks with Brabham.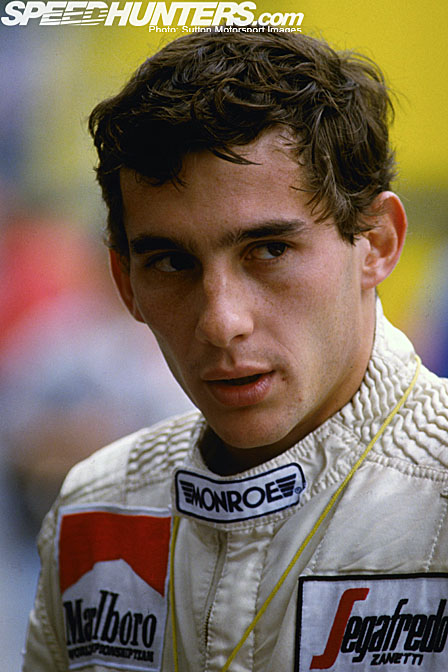 In the end he signed up with Toleman to drive their Hart turbo powered cars alongside Johnny Cecotto.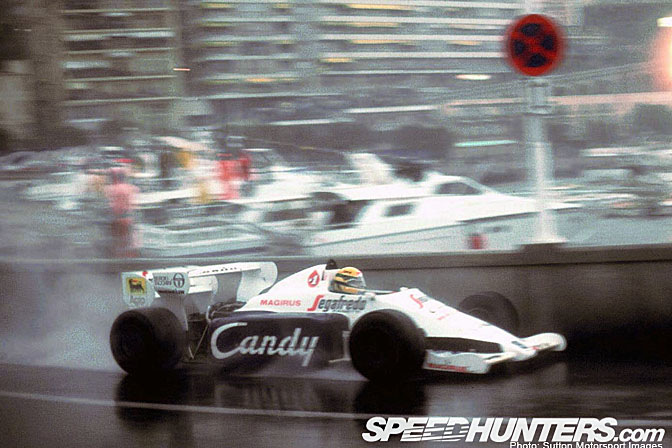 Senna struggled physically at the first races in Brazil and South Africa but still managed to score his first point at Kyalami. He hit the headlines at Monaco finishing second to Alain Prost in a race cut short due to torrential rain and standing water. There were complaints that the race had been stopped prematurely, that Senna was robbed as he was catching the Frenchman at a rate of four seconds a lap. However both of the leaders were being caught at a higher rate by Stefan Bellof's Tyrrell.
Senna had made his mark in Formula One.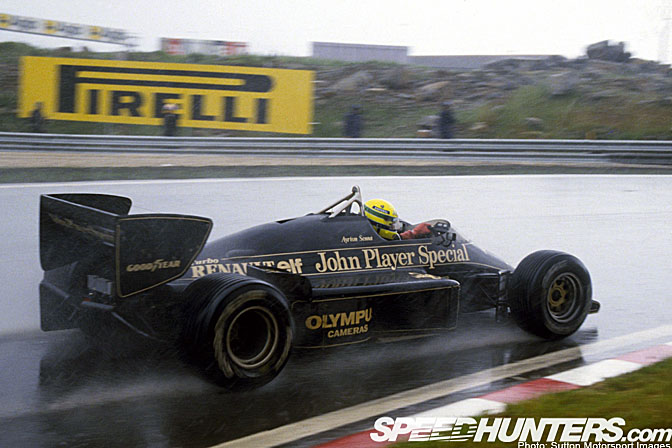 For 1985 he switched to the Lotus team and soon scored his first victory. Once again monsoon conditions prevailed, this time at the Portuguese Grand Prix held at Estoril.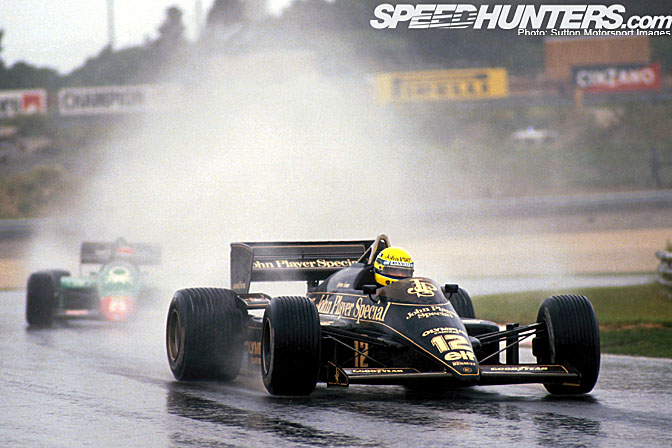 .
Like Stewart at the Nurburgring in 1968, Ayrton looked as if he was in a different race to the rest of the field. Starting from his first Pole Position he sailed off into the distance belying his experience at the top level to win by over a minute.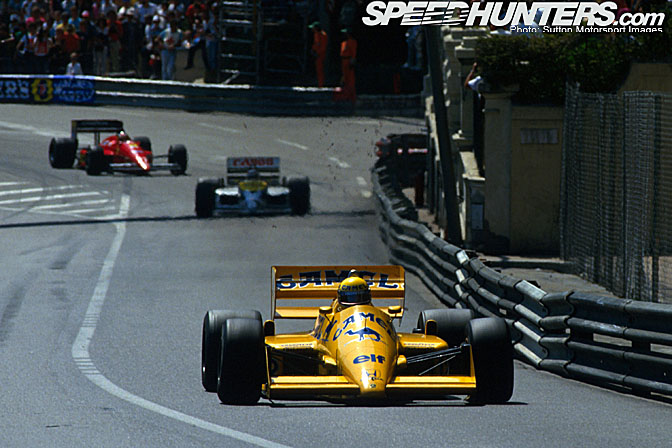 Senna stayed with Team Lotus for three seasons, scoring six wins but more significantly he took 16 poles, 7 in '85 and 8 in '86 both with Renault power. Although he was on the way to being the complete driver, his qualifying performances attracted everyone's attention. "Preparing for a lap like that, I concentrate as deeply as I can. I isolate all outside interference, whether it's photographers, fans, people around me. In that state I am somehow able to get to a level where I am ahead of myself – maybe a fifth of a second, who knows?"
"When my car goes into a corner, I am already at the apex, and so on. It's the same whether I am braking, changing gear, putting on the power, whatever. In effect, I'm predicting what I'm going to face, so I can correct it before it actually happens." 
"You need a lot of concentration for that, as well as instant reactions, so a lot of tension goes through the body – like electricity. In race conditions, though, you can't keep to that level. There's too much stress, both mental and physical, so you have to be content to come down a bit."
Also keep in mind that this was the era of 1400bhp engines and super sticky one lap qualifying tyres, the commitment of Senna was total and absolute. I remember being trackside during Formula One qualifying in 85 and 86, you would be buffeted physically as the cars sped past a few feet away, it was scary being so close to a wild animal, God knows what it was like trying to ride the thing.
Team Lotus, despite Senna's efforts, was not the power in F1 that it had been when founder Colin Chapman was at the helm and after his death went into a decline. In 1987 the engine to have was the Honda V8 turbo, Williams and Lotus were both so equipped, the former won nine races, the latter two, draw your own conclusions.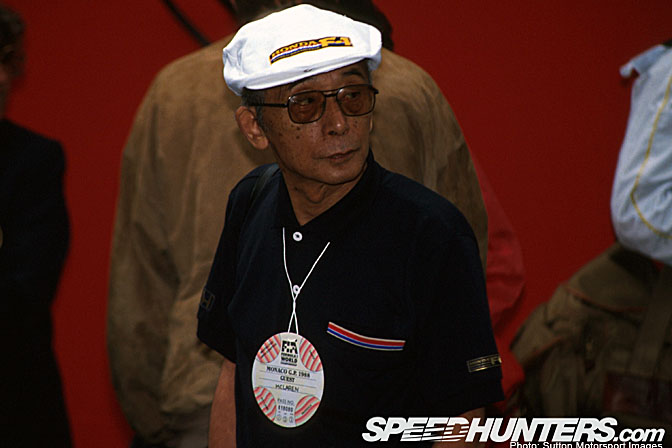 One man who did draw conclusions was Soichiro Honda. Williams were dropped by Honda for 1988 and Ayrton Senna followed the engines to McLaren to pair up with multiple Driver's Champion, Alain Prost.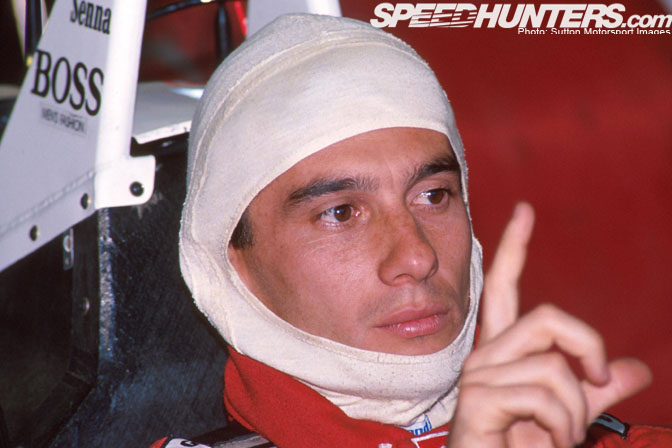 So McLaren, the best team, was going to be powered by Honda, the best engine, who out of the two drivers, Alain Prost and Ayrton Senna would come out on top? Some indication of the state of mind that Ayrton took into his battle with Alain can be summed up by his philosophy on winning, "Being second is to be the first of the ones who lose."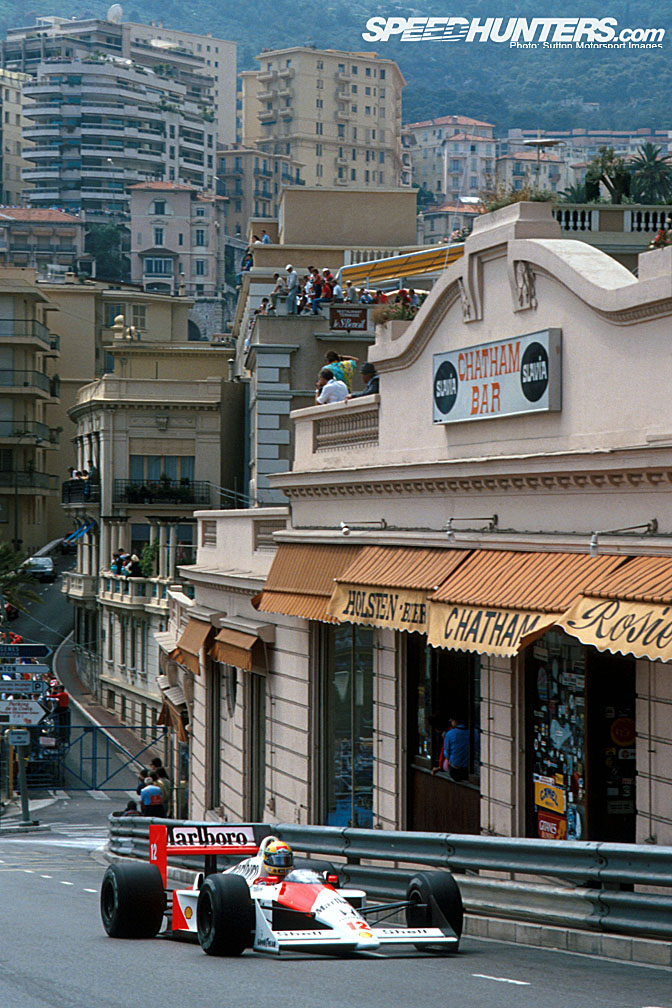 The race for the title in 1988 started with both parties holding a truce but just how far Senna was going to push himself was seen at Monte Carlo, a place where the grid is covered by a second or two and that two good team mates such as Senna and Prost can usually cancel each other out. Magic, something mystical, other worldly happened during qualifying…….as Ayrton later recalled, "I was already on pole, then by half a second and then one second and I just kept going. Suddenly I was nearly two seconds faster than anybody else, including my team mate with the same car. And suddenly I realised that I was no longer driving the car consciously. I was driving it by a kind of instinct, only I was in a different dimension. It was like I was in a tunnel. Not only the tunnel under the hotel but the whole circuit was a tunnel. I was just going and going, more and more and more and more. I was way over the limit but still able to find even more. 
Then suddenly something just kicked me. I kind of woke up and realised that I was in a different atmosphere than you normally are. My immediate reaction was to back off, slow down. I drove slowly back to the pits and I didn't want to go out any more that day. It frightened me because I was well beyond my conscious understanding. It happens rarely but I keep these experiences very much alive inside me because it is something that is important for self-preservation."
Clearly Ayrton Senna was not like other men, even racing drivers.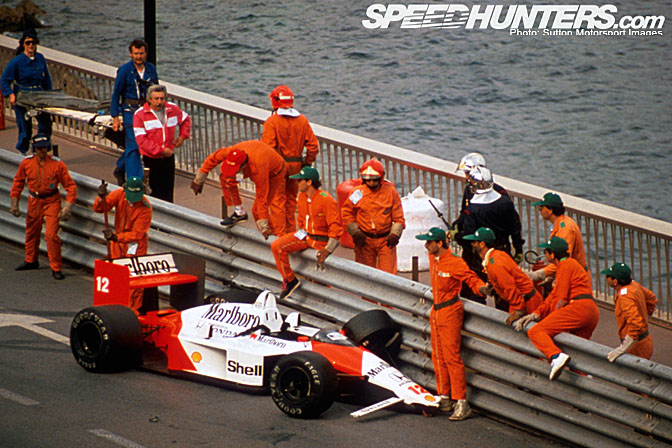 Perhaps, like Icarus, Senna had flown too close to the Sun, as next day, in the race, he was leading by nearly a lap but missed a braking point and clouted the wall, race done and dusted. Prost took the win, if not the victory.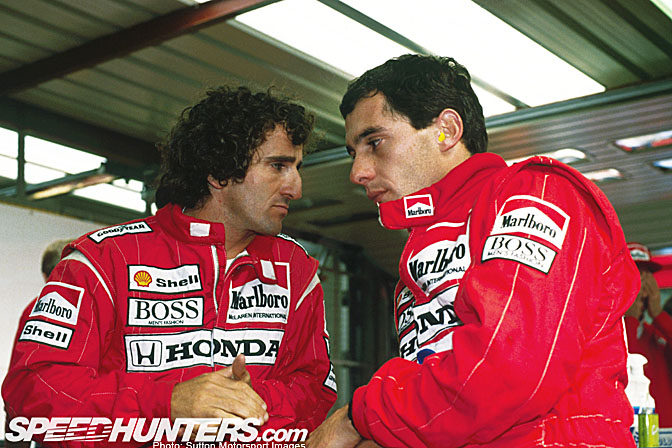 The McLaren Honda combo was absolutely dominant during 1988 winning all but one race but the atmosphere in the team grew increasingly acrimonious with the low point reached during the Portuguese Grand Prix when Senna blatently squeezed Prost into the pitwall as the Frenchman went past at over 160mph , "If that's how he wants to win the Championship, I'm not interested. I don't want any part of it and, yes, we will have words…………….." 
With some difficulty Ron Dennis restored the peace……………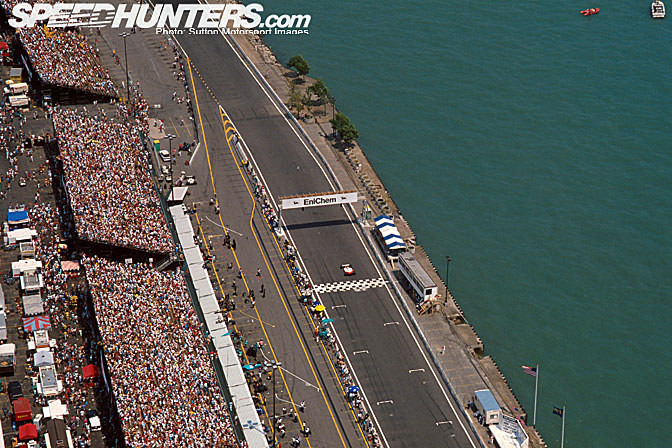 In the end Ayrton won eight races, Alain seven. In 1988 only the best 11 results counted toward the championship. Prost scored 105 points during the year, but only 87 points were counted toward the title. Senna scored 94 points, with 90 points that could be counted. Thus, Senna became the World Champion, although he did not score most points over the course of the year. A typically FIA-inspired muddle.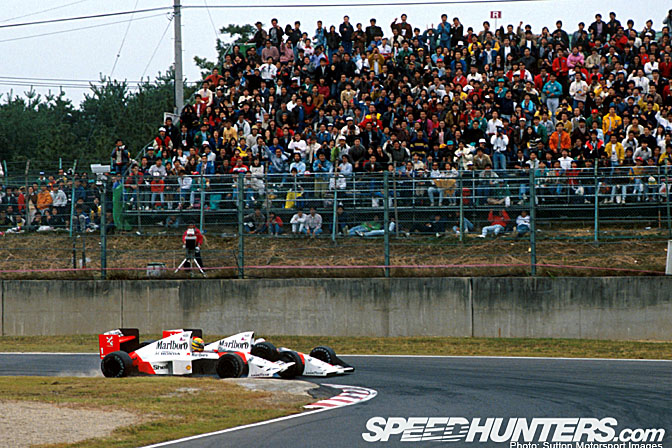 If Alain Prost and the rest of the Formula One community thought that winning the 1988 World Championship would mellow our Brazilian hero, they were in for a shock. If anything the war between the two McLaren drivers intensified to levels of insanity.
The real in-fighting began at Imola when Prost accused the winner Senna of breaking a pre-race agreement, echoes of Villeneuve and Pironi in 1982. Whatever the rights and wrongs the battle within the McLaren team escalated, to the point where Prost felt that he was being discriminated against by Honda. As one team member put it "I tended to think of Prost as a McLaren driver with a Honda engine, and Senna as a Honda driver with a McLaren chassis." 
Prost's view was "I never understood why Honda took his side so much. It wasn't that I thought it was a question of the Brazilian sales marked or the French market, or anything like that. It was more a human thing. I worked with Honda again last year – now as a team owner – and it struck me again: I think the Japanese just work differently. In a team, they always favour someone over the rest. I've heard it said about their motorcycle teams as well."
"By the time we got to Monza, I was ahead of him in the championship, by about 10 points. But that race. was the real low point between McLaren and me. Senna had two cars, with 20 people around him, and I had just one car, with maybe four or five mechanics working for me. I was absolutely alone, in one part of the garage, and that was perhaps the toughest weekend of my racing career. Honda was really hard against me by then, and it was difficult trying to fight for the championship in that situation."
Senna's close relationship with Honda led Prost to sign for Ferrari for the 1990 season, however there was still the 1989 crown to fight for and McLaren and Honda naturally wanted to have the coveted Number One on their car for 1990.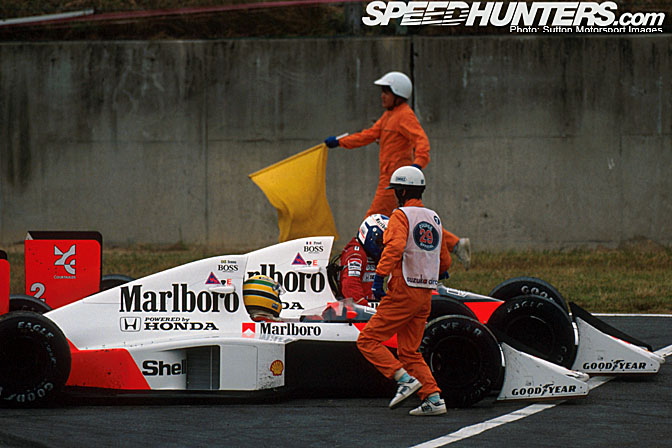 Everything came to the boil in Japan as Senna had to win the last two races to beat Prost to the title, given the Brazilian's uncompromising attitude and Prost's declaration to the media that he would not roll over and surrender it was bound to end in tears……..and it did.
Prost led for most of the race but with 7 laps to go Ayrton tried a move at the chicane that was either optimistic or desperate or both…..
Speaking at the post race press conference the Frenchman maintained, "I knew if I won the start it would come to this, I was sure I was going to win or have an accident, because I knew he wanted to win absolutely. He can't accept that somebody might resist one of his overtaking manoeuvres. " 
Prost later reflected, " I couldn't believe he tried it on that lap, because, as we came up to the chicane, he was so far back. When you look in your mirrors, and a guy is 20 metres behind you, it's impossible to judge, and I didn't even realise he was trying to overtake me. But at the same time I thought, 'There's no way I'm going to leave him even a one-metre gap. No way'. I came off the throttle braked – and turned in."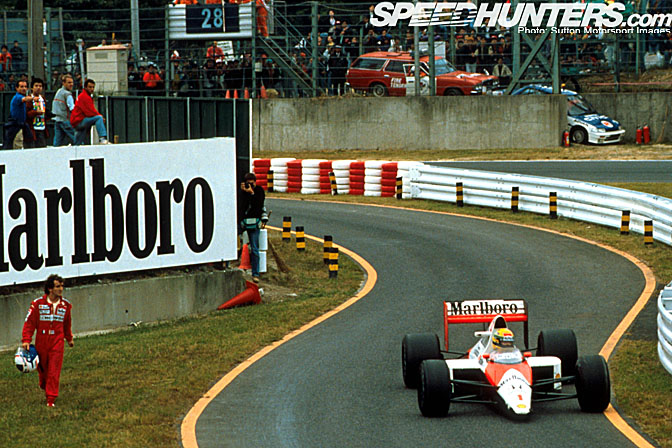 Both cars stalled with wheels locked together, Prost got out of his McLaren and walked back to the pits, convinced that he was going to be Champion. Senna persuaded the marshals to give him a push start and headed for the pits to make repairs. He then managed to close down the cars in front to take the chequered flag…………..and victory NOT!
The Stewards excluded the Brazilian on the basis that he had missed the chicane and as might be imagined this did not go down well with Ayrton who ranted and raved about conspiracies between the French President of the FIA, Jean-Marie Ballestre and Alain Prost.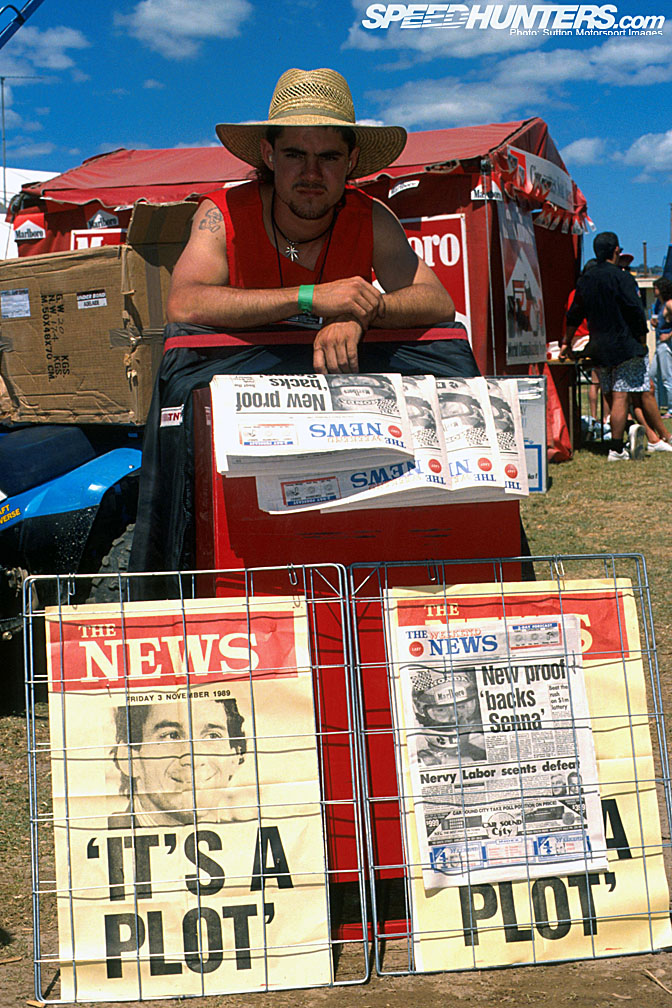 Well it sells tomorrow's fishwrap. The final race in Australia settled things in Prost's favour as Senna crashed into the back of Martin Brundle's Brabham and out of the race.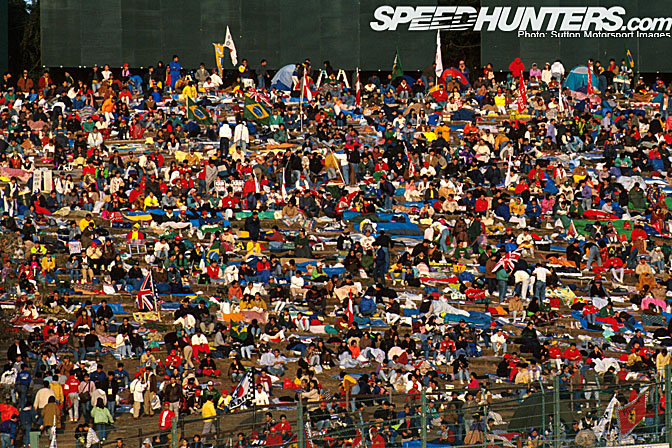 Although Prost had left McLaren the acrimony between himself and the angry Senna continued all through 1990. Once again it was Suzuka that would see the matter settled. Once again huge crowds turned out in Japan, Senna being the biggest sports star in the country.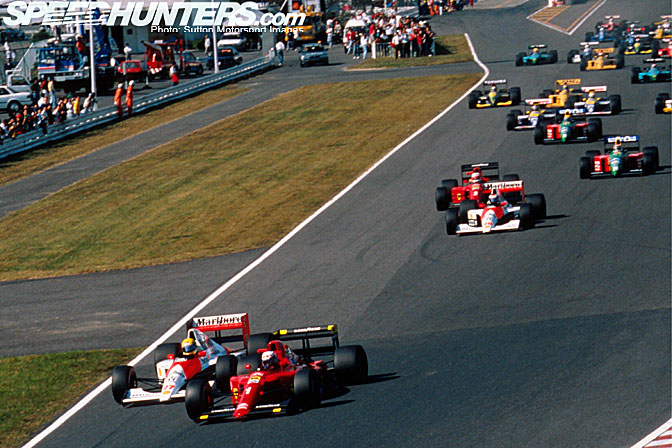 Simply put Prost had to win the race, Senna did not.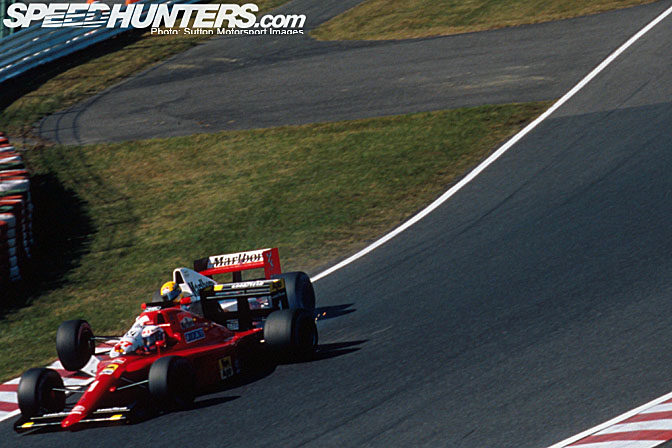 So deliberately he drove the Prost Ferrari off the road.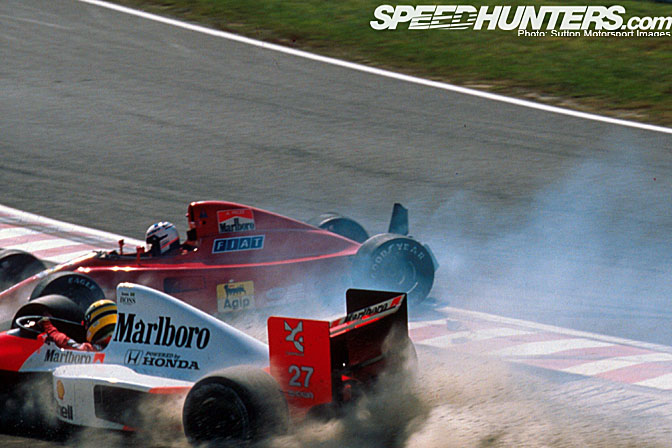 Proof for that came a year later when Senna openly admitted his behaviour at the Winner's Press Conference at Suzuka, this was beyond rational.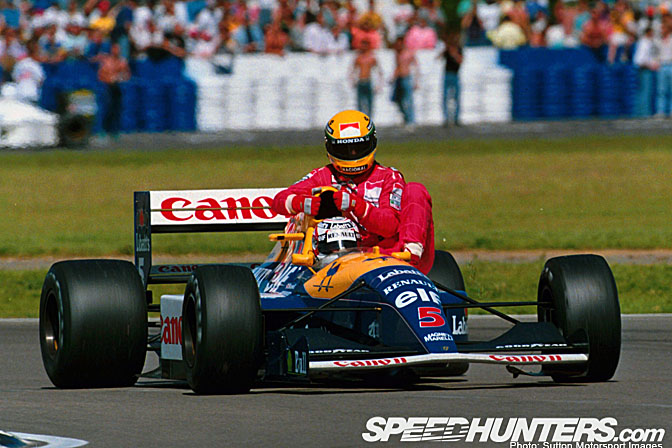 1991 was another Championship Year for Ayrton Senna, aided in part by the poor reliability of his main challenger, Nigel Mansell's Williams in the early part of the season.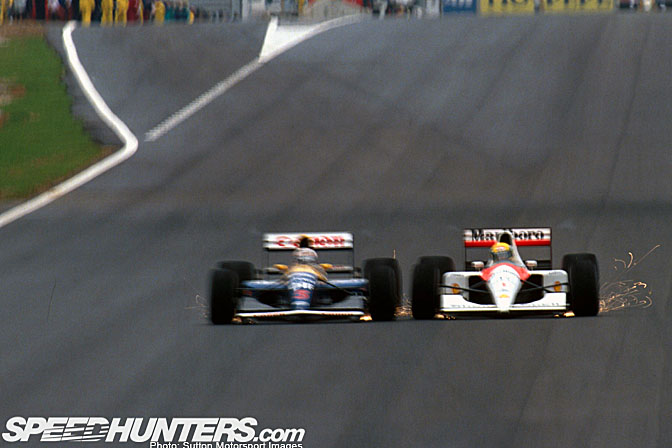 Who can forget the two locked in combat down the main straight at Barcelona, 200mph and inches apart…………….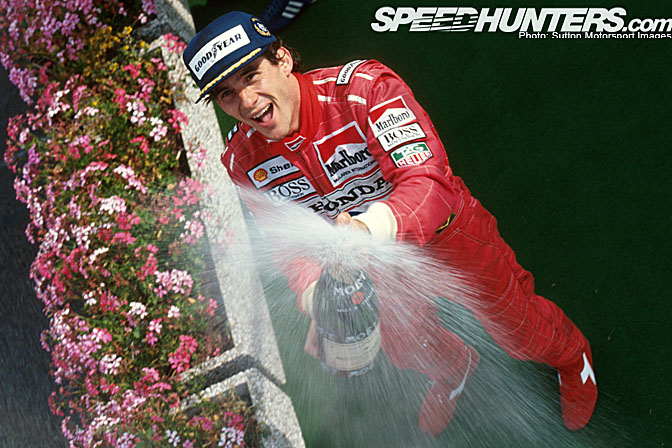 But it was Senna's year and Senna's title, with seven wins to Mansell's five. His old foe Prost had a terrible year with Ferrari, finally getting sacked for describing the Red Machine as a "Truck".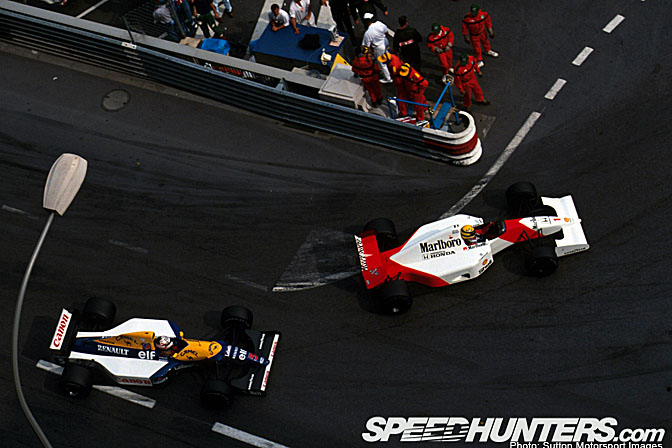 1992 saw the roles reversed as Williams and Mansell destroyed the opposition, taking nine wins to Senna's three. Of course Ayrton managed to conjure up some magic at Monaco and halted Mansell's march to the title briefly but it was all in vain.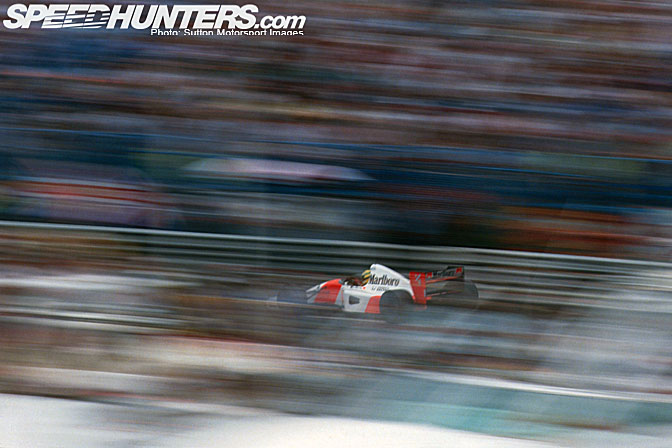 Senna was not even runner up to Mansell in the title chase, the other Williams driver, Riccardo Patrese, took that honour. Senna ended up fourth in the points table behind a young German who had burst on to the scene, Michael Schumacher……………..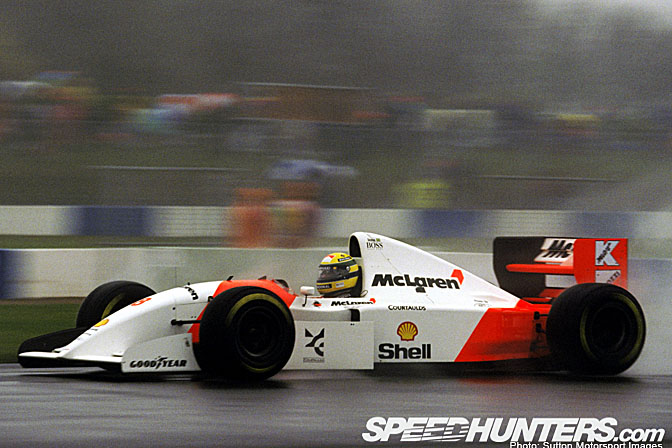 It was all change for 1993. Honda left Formula One condemning McLaren to use customer Ford engines. The reigning Champion Nigel Mansell headed for North America and the CART series, not wanting to team up with Williams' new recruit, Alain Prost. The Frenchman repaid the confidence of the team by taking the title easily with seven wins but Senna's Juju still was potent, he scrambled five top spots on the podium.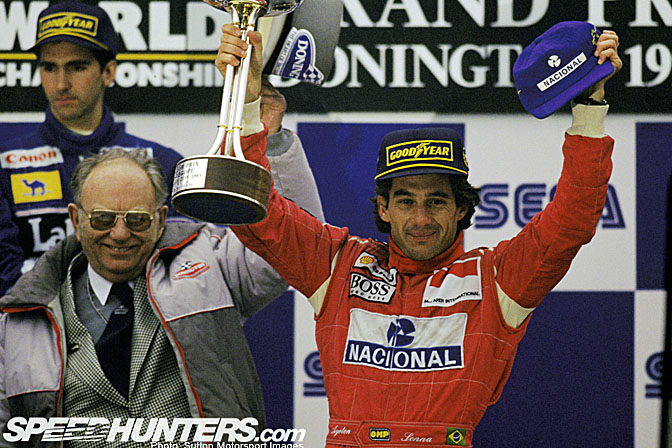 Senna took to the role of underdog well and it inspired him to give one of the greatest ever one lap performances even seen in Grand Prix racing. During the European Grand Prix held at Donington, he passed six other cars on the first lap to grab a lead that he would not surrender. Senna was simply in a different league to the rest of the field. One observer commented that it made the rest of the field look as if they were still on their warm-up lap.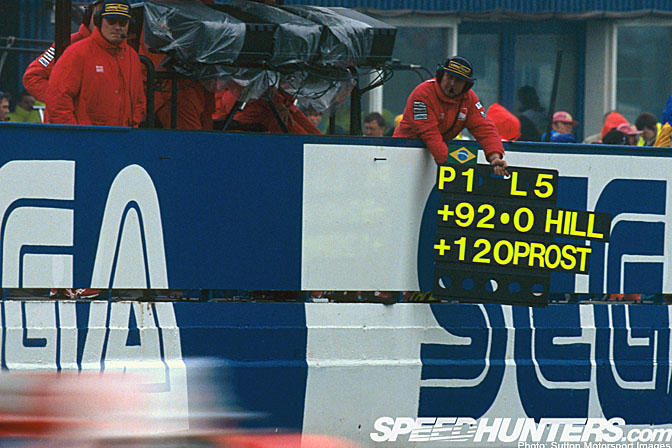 No one in the field had any answer for this Bravura performance, it was Senna magic.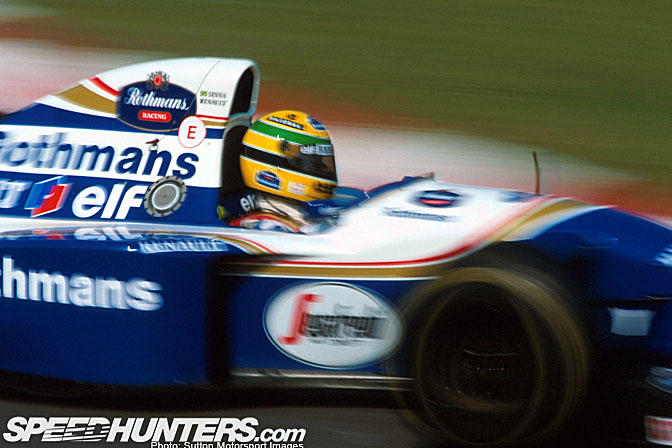 The following year, 1994, saw Senna leave McLaren and join the team that had given him his first taste of Formula One by testing him at Donington in July 1983. Much was expected of the partnership, Senna was by common consent the leader of the pack especially now that Prost had retired and Mansell was still running CART in North America. The Williams team had scored 27 wins in the past 3 seasons and looked set to continue the run. However there was now emerging a new challenger for the top spot, Michael Schumacher and his Benetton Ford. 
In fact the Benetton was more than just a challenger in the first two races of the season it, and its young German charger Schumacher took wins in both. It looked as if Senna would face perhaps his strongest opponents yet.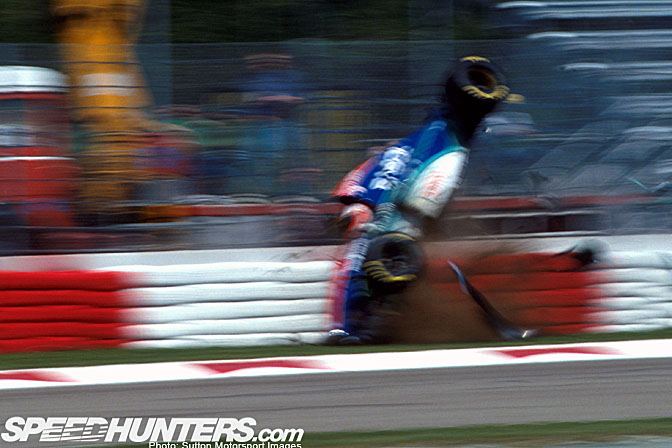 Insiders were confident the the early season form of Williams would be just a blip and that the status quo would be restored at Imola. Quite the contrary, nothing would ever be the same in Formula One after that race.
There had been concerns amongst the drivers about various rule changes over the winter that would cut costs and reduce reliance on technology in particular, anti-lock brakes, active suspension, launch control and traction control were all outlawed. While most drivers agreed with this general direction, there were fears that without other measures to control speeds that there would be plenty of accidents. To give this assertion substance there were several major accidents in pre-season testing, notably hospitalising JJ Lehto and Jean Alesi.
On the Friday afternoon the first bullet of the weekend was dodged when Rubens Barrichello barrel-rolled his Jordan into the the wall at the Variante Bassa, knocking himself unconscious. It looked really bad at first but everyone breathed a sigh of relief when it was clear that the Brazilian was OK.
As Damon Hill later put it, "We all brushed ourselves off and carried on qualifying, reassured that our cars were tough as tanks and we could be shaken but not hurt."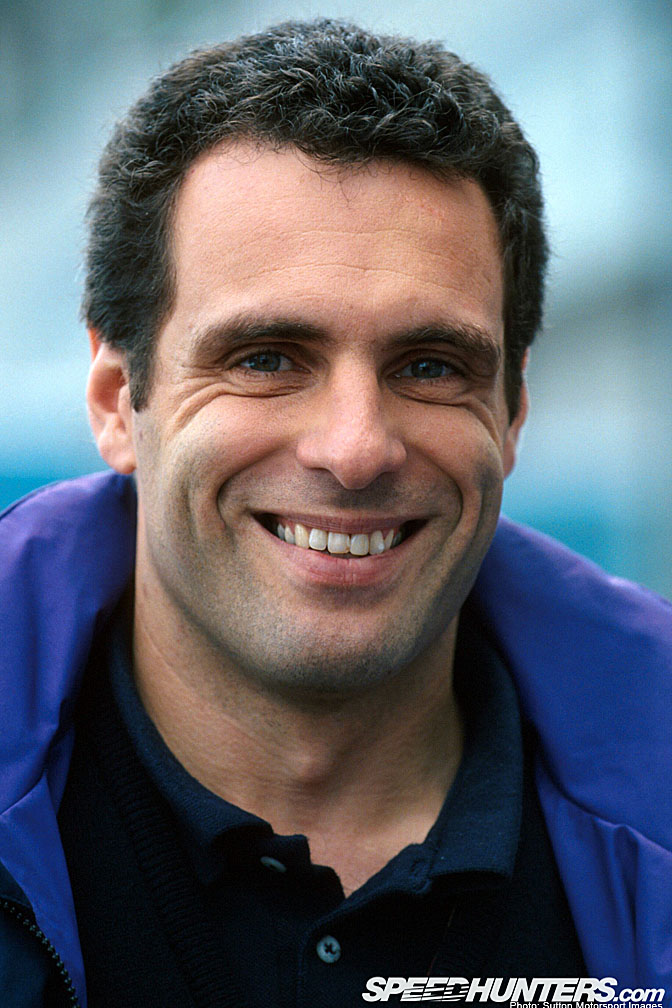 Then Saturday came………….
During Qualifying Roland Ratzenberger damaged the front wing of his Simtek Ford after running over a kerb. Instead of coming into the pits to check for damage he carried on and in the fastest part of the circuit and at almost 200mph the wing failed and the car was pitched into the wall approaching the Curva Villeneuve. His neck was broken in the impact, Formula One had suffered its first fatality at a race meeting in 12 years.
While Ratzenberger was a novice in Grand Prix racing, he was much liked and the whole paddock went into shock and mourning, perhaps no one was affected more than Senna.
The Chief Medical Officer for Formula One was Professor Sid Watkins. He was very close to Senna and wrote later "Ayrton broke down and cried on my shoulder". Watkins tried to persuade Senna not to race the following day, asking "What else do you need to do? You have been World Champion three times, you are obviously the quickest driver. Give it up and let's go fishing", but Ayrton was insistent, saying, "Sid, there are certain things over which we have no control. I cannot quit, I have to go on."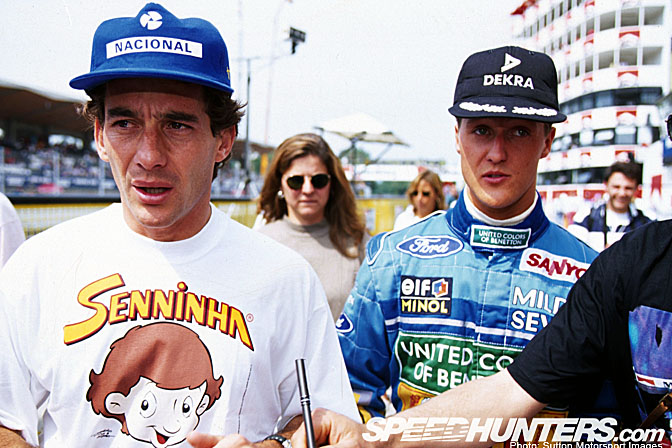 Everyone was jumpy after the terrible events of Saturday but even at the start there were more problems. JJ Lehto stalled his Benetton on the grid and was hit from behind by Pedro Lamy's Lotus. Although shaken both drivers were unhurt but debris flew into the crowd causing injuries to several spectators.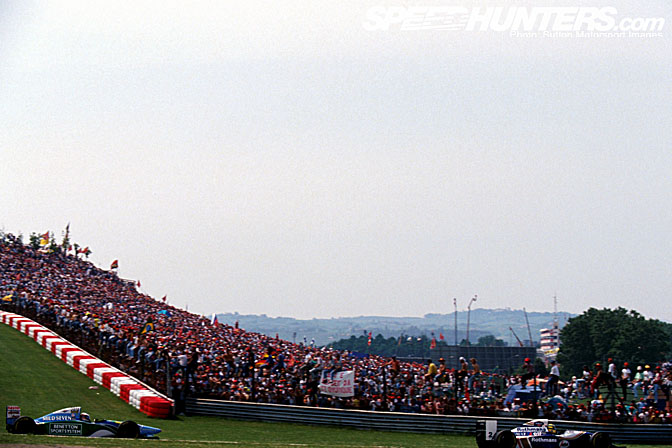 A safety car was deployed so that the track could be cleared up but it is thought that this allowed the tyres on the cars running behind it to drop in temperature to marginal levels.
After 5 laps the field was released to race once more with Senna just holding off Schumacher. Starting the seventh lap and approaching the Tamburello Senna's Williams speared off right and hit a concrete wall at around 135mph according to the telemetry. Senna was hit by the right front wheel and by other pieces of suspension, any or all might have proved fatal. Despite the best efforts of Professor Watkins it was clear that Senna's injuries would prove to be mortal and he was helicoptered to a local trauma unit where he was declared dead.
Watkins later recalled, "He looked serene. I raised his eyelids and it was clear from his pupils that he had a massive brain injury. We lifted him from the cockpit and laid him on the ground. As we did, he sighed and, although I am totally agnostic, I felt his soul depart at that moment."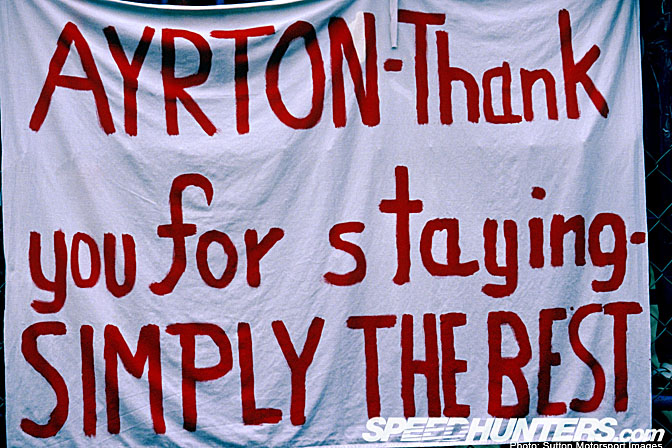 The race continued but by now no one had any stomach for it. The recriminations began even before Senna was flown home to Brazil for a State Funeral followed by over a million people. 
What caused the accident? Well that was the subject of many years of Court Cases in Italy as Manslaughter proceedings were brought against several parties. There were several schools of thought. Had the tyres cooled down during the safety car period? A lot of attention was paid to the steering column which had been modified, did that break?
Did Ayrton simply make a mistake?
In the press conference after the race Michael Schumacher had this to say "I saw that his car was already touching quite a lot at the back on the lap before, the car was very nervous in this corner, and he nearly lost it. On the next lap he did lose it. The car touched with the rear skids, went a bit sideways, and he just lost it."
Damon Hill, Senna's team mate that day later stated:
"I am convinced that he made a mistake, but many people will never believe that he could. Why not? He made many mistakes in his career. I have listened to and read endless theories about why, or how, he could have crashed on such a 'simple' corner like Tamburello. No-one other than Ayrton Senna and I know what it was like to drive that car, through that corner, in that race, on that day, on cold tyres. He was identified with pushing to the limit and beyond. It was not the fault of anyone else that he kept his foot flat when he could have lifted."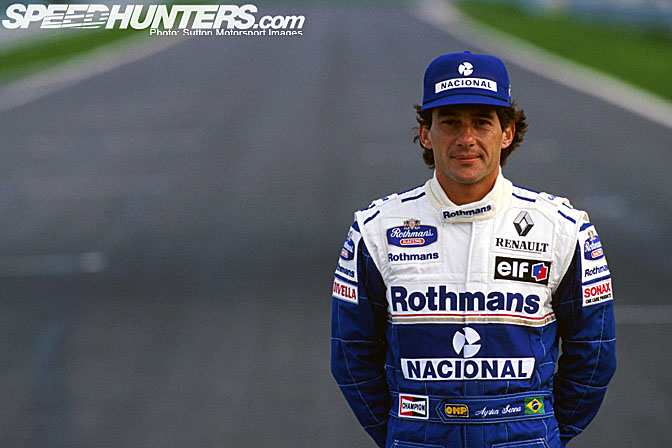 The truth may never be known. The greatest driver of his time had died, that much we could all agree on. An ironic footnote was that after the crash, race officials found a furled Austrian flag in the cockpit of Senna's car. It seems that Senna had intended to dedicate his 42nd victory to the memory of Roland Ratzenberger.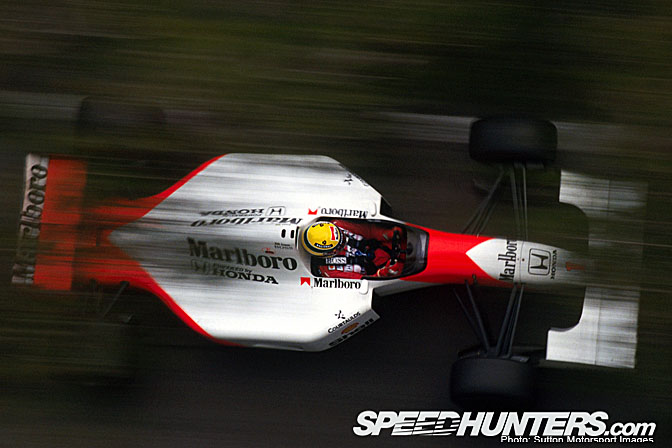 Ayrton Senna was mourned by many, he was not perfect, none of us are, his genius was flawed, particularly when he allowed his aggression for victory to undermine his artistry.
He had become a wealthy man in his career, apparently worth some $400 million by the time of his death. What was not known until that point was that he had made substantial donations totalling many millions of Dollars to charity. The Ayrton Senna Foundation has spent over $80 million since his death promoting schemes to help the under privileged achieve their potential. Perhaps this, more than his exploits on track will be his lasting monument. 
As he put himself, "And so you touch this limit, something happens and you suddenly can go a little bit further. With your mind power, your determination, your instinct, and the experience as well, you can fly very high."
John Brooks
photos courtesy of and copyright Sutton Motorsport Images  www.sutton-images.com