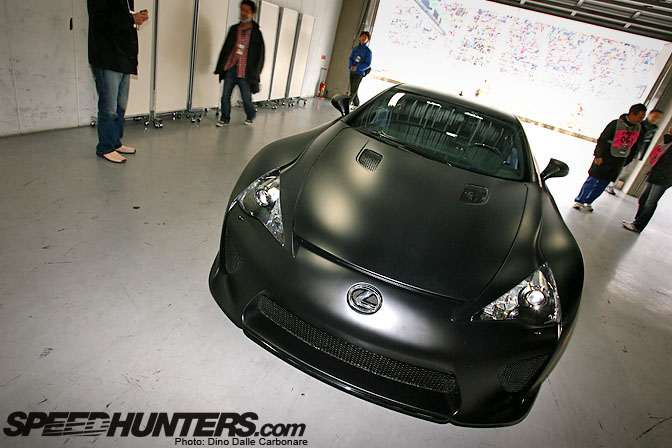 Toyota's efforts in Formula 1 may have ended but the final run of their F1 cars sure didn't hold up the rest of the action during the Toyota Motorsports Festival. Joining the race versions of the LFA, Toyota had a nice surprise for everyone, in the form of a production version of the LFA, sporting a rather catching shade of matte black. Next to the race cars it sounded much quieter and refined but it didn't look any slower when it shot by the main straight. There is no doubt Toyota's most expensive supercar will become one of the rarest exotics in the world with only 500 cars being built.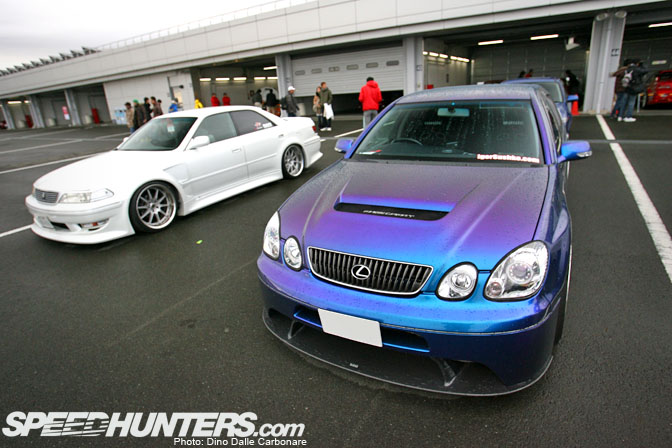 On the far side of the main paddock I spotted the infamous Ridox Aristo, Orido's daily driver powered by a 600 HP 2JZ and wearing the same kit as his D1 NATS JZS161. You have got to love that custom paint-job!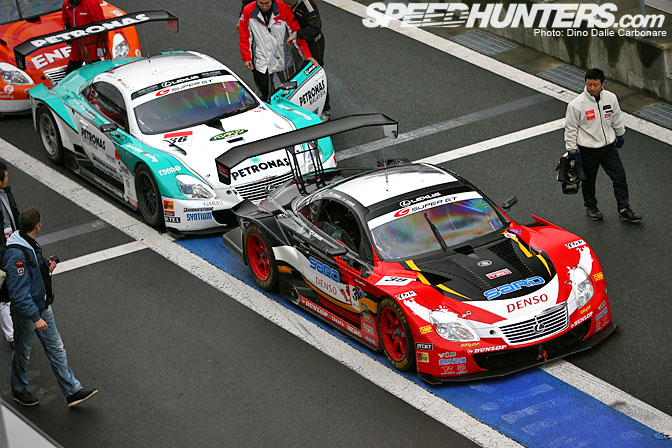 The Super GT SC430s were out on track most of the day but managed to get this picture as they were waiting to return to the pits for a quick tire change.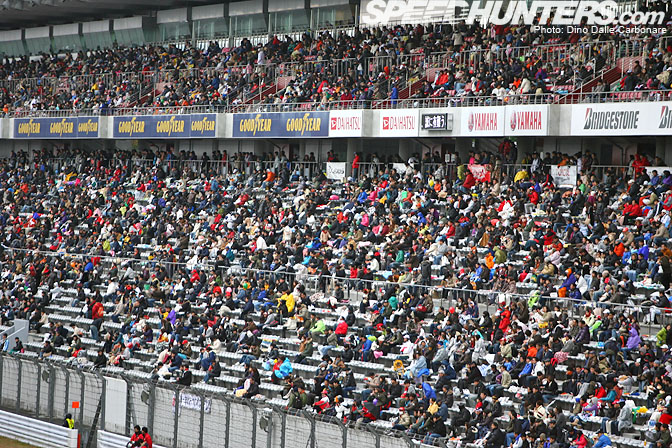 Toyota sure has a lot of fans in Japan, something that was obvious when looking at the grandstands. I wonder if events like this would work in other countries. I bet if Ferrari came up with the "Ferrari Festival" at say Monza the whole country would grind to a halt! LOL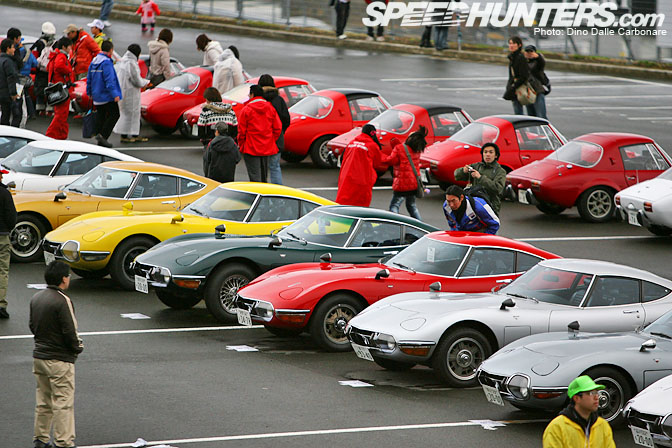 It is always very important not to forget history and the lines of 2000GTs and Sport 800s were a reminder to us all of the great cars Toyota has built in the past. More to come we hope starting with the FT86!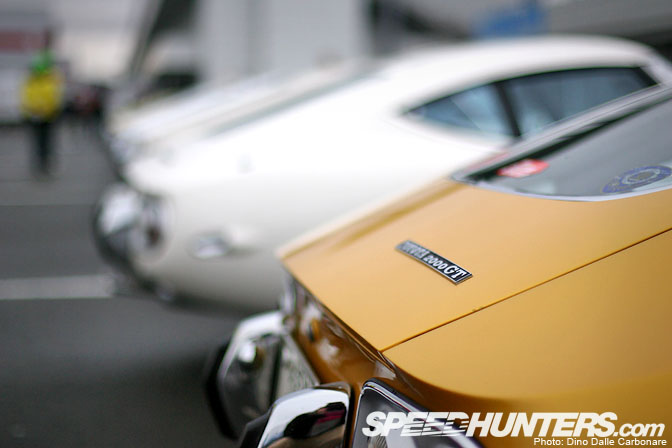 It's not that often that one sees such a rare classic sports car…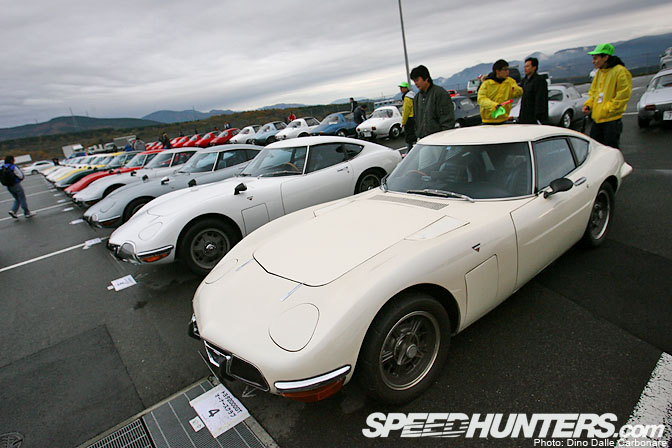 …but to see so many 2000GTs lined up like this is simply an unbelievable sight, especially when you think that only 337 were ever produced.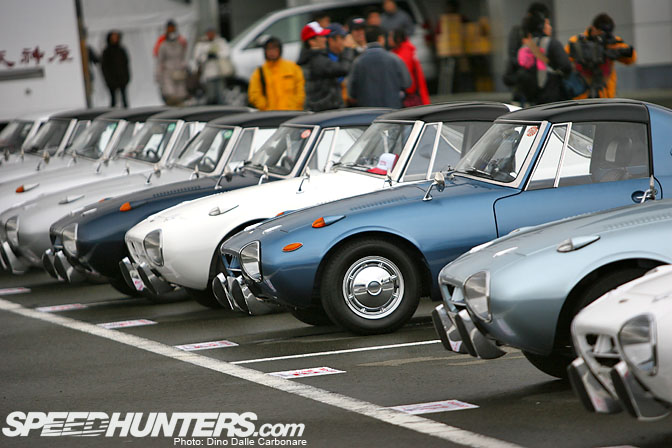 The Sport 800 is in my opinion the car next year's FT86 has more obvious links to, not the AE86.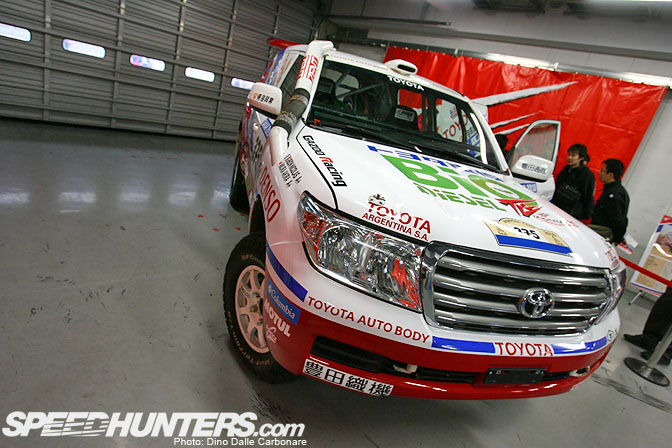 It's always so nice to see crazy racing versions of vehicles you would never otherwise see, like this massive Land Cruiser VDJ200 that raced in the Paris-Dakar Rally.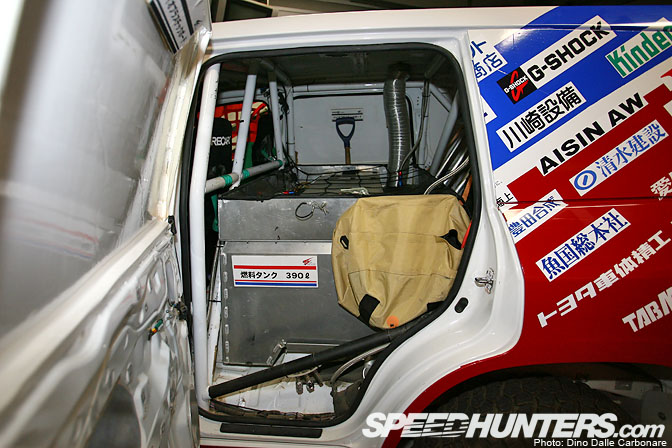 I always wondered how these things can run for so long through the desert stages. The 390 L fuel tank in the back kind of explained it!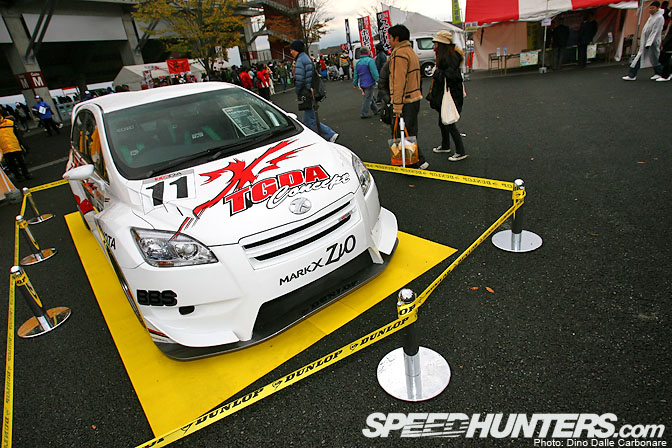 This MarkX Zio race car concept was one of the most memorable cars from the show for me, it looked so menacing with that widened body…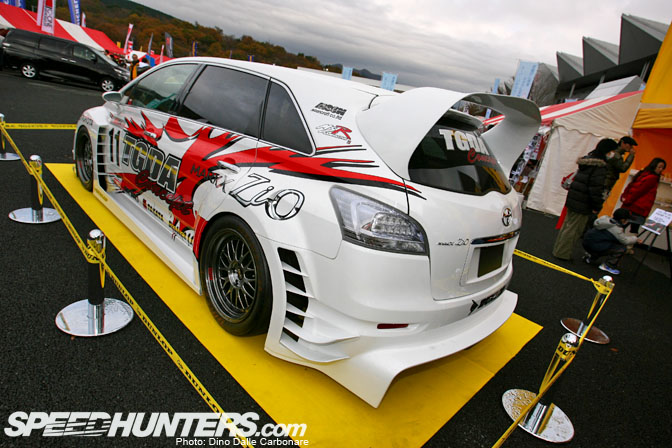 …and those exaggerated aerodynamic additions like the spoiler and diffuser. Would be great to see a one-make race series based on this!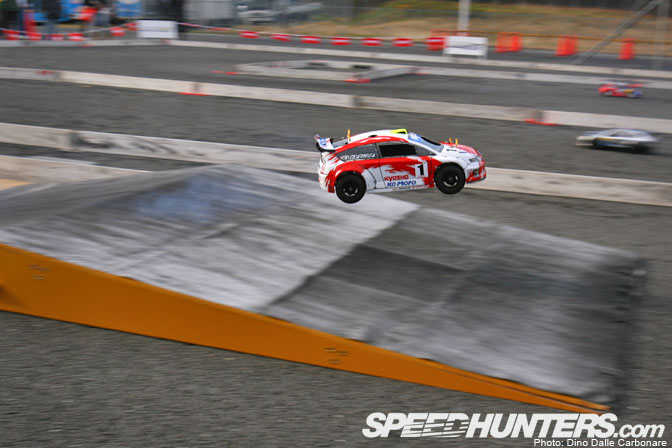 Seems that every event I go to now in Japan there is some RC Drifting going on somewhere in the paddock. However this time round I was pleasantly surprised to see some more extreme nitro-powered RC cars jumping around a special track set up by the guys from Kyosho. These things really grabbed some air!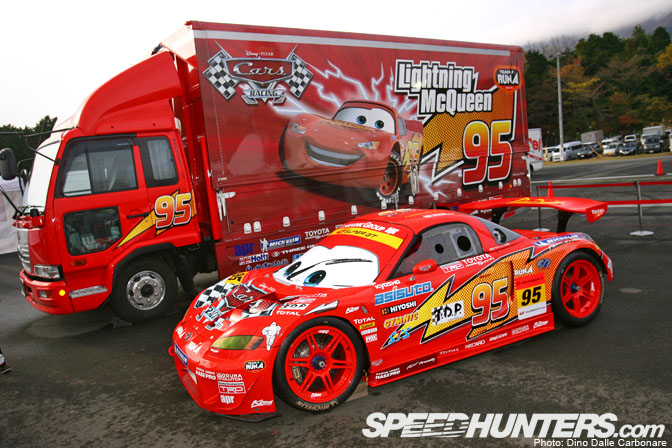 Seeing the old MR-S GT300 car made me sad that Toyota no longer builds such a cool, little fun sports car, but its replacement, the weird and cool looking Corolla make up for it. However what I want to see starting from 2011 is an FT86 GT300 car!!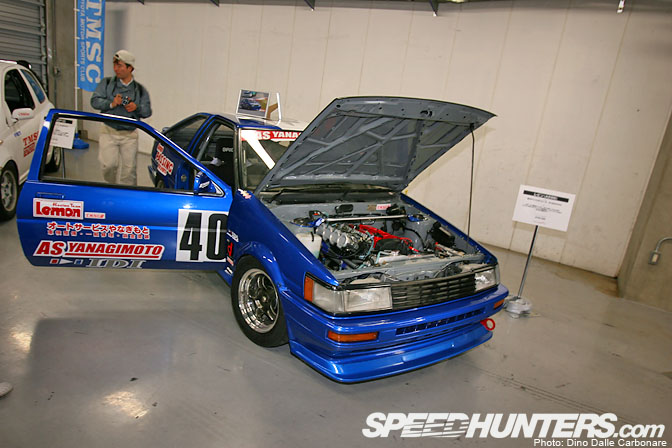 And talking of 86's this was the only one I saw on display, a clean Levin N2 racer running a 5-valve motor.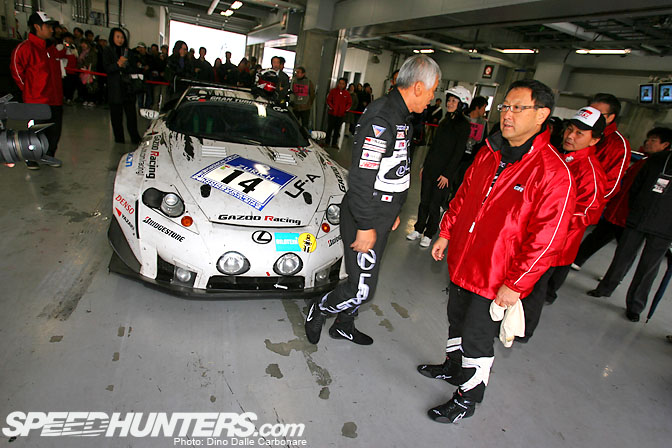 Here is Toyoda-san getting ready to take the menacing LFA racer for a few fast laps around Fuji. Before getting into the car he got a bunch of advice from pro-driver Takayuki Kinoshita, who probably told him to be careful as there were still a few wet patches out on the track.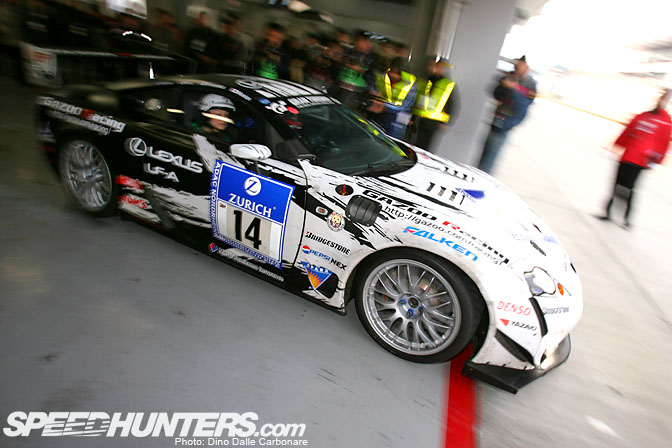 Here he is shooting out of the pits.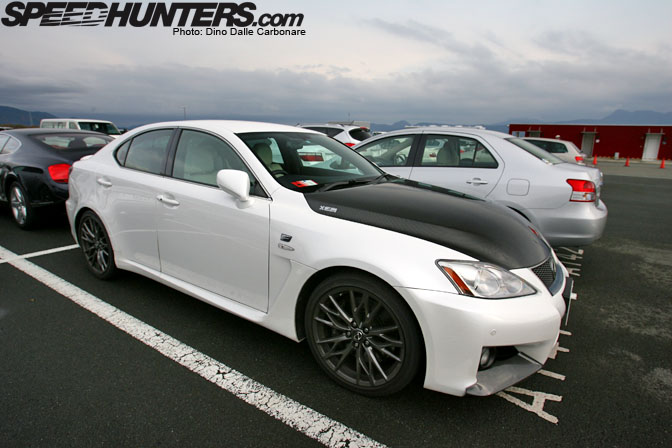 The car parks are always a nice place to check out cars at these events and on the main one in the paddock I run across this ISF wearing tons of carbon bits.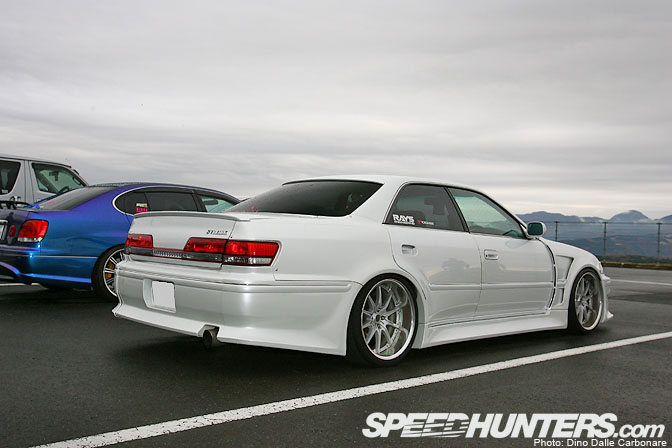 Check this Vertex JZX100 riding on 19-inch GT-Fs!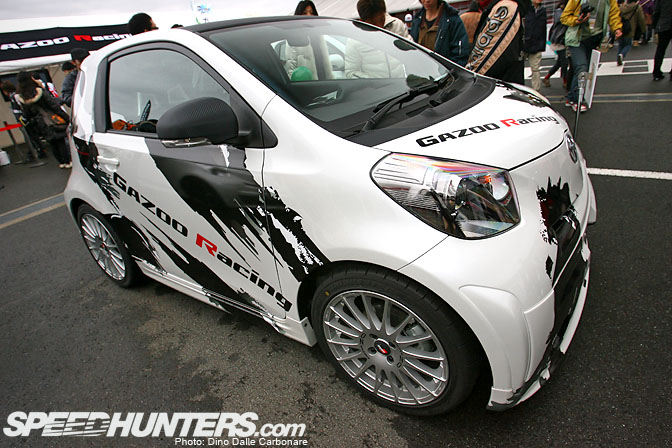 Gazoo Racing, which is affiliated directly with Toyota, has some very nicely tuned up iQ's…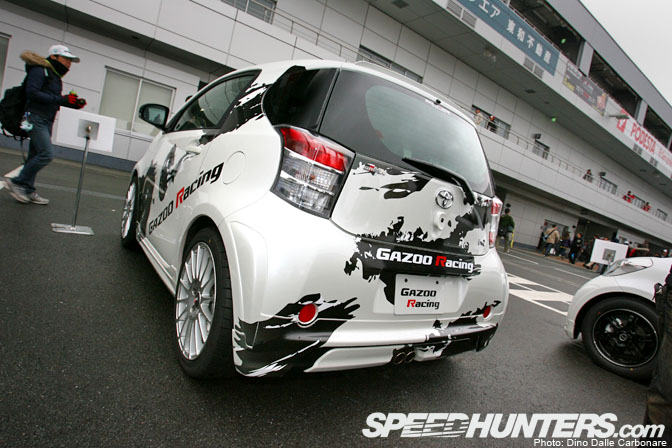 …I particularly liked this one with the zebra-like livery and tiny twin exit exhaust. I think we will need to take a little look at tuned iQ's soon as they are becoming more and more popular for tuners in Japan.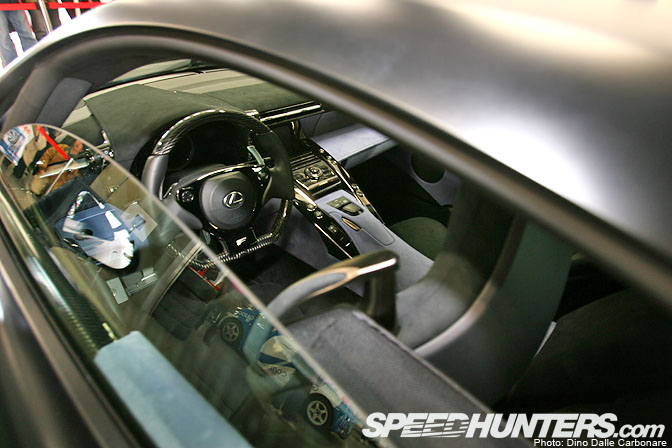 The nice thing about the LFA is that every owner will be able to customize the interiors down to the color of the stitching which will mean no one car will be the same as the next. Not too sure about the light violet suede choice for this one, but that cockpit certainly looks like a very nice place to be in!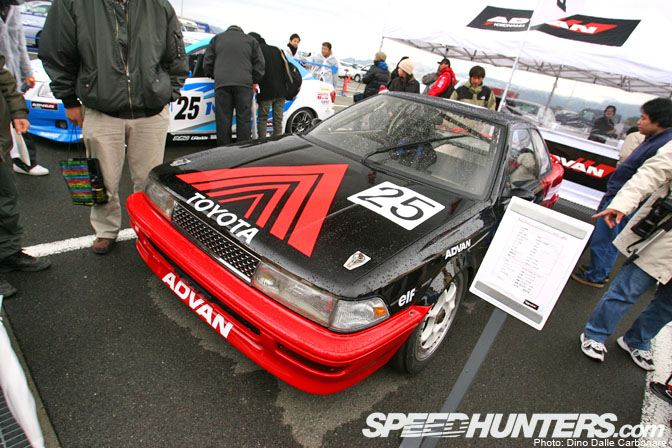 Yokohama had this Advan sponsored AE92 Corolla powered by Tsuchiya Engineering built 4A-GE cranking out 220HP.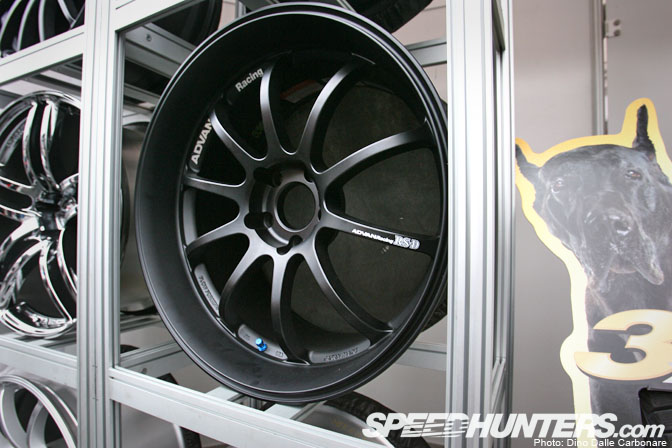 I fell in love with these semi-gloss black Advan RS-D, these would look so hot on my Legacy Wagon! I'll take a set in 19-inch please Yokohama.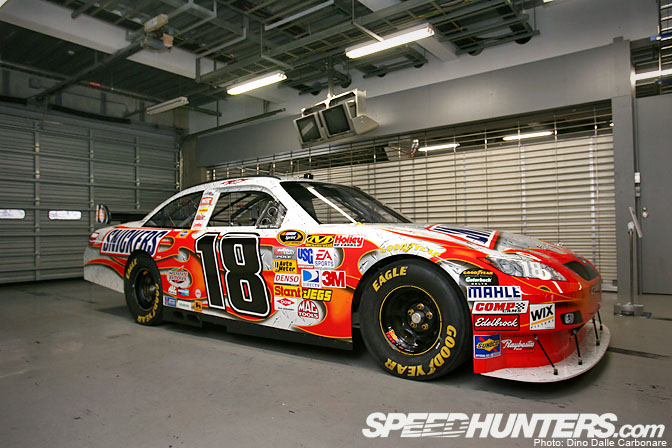 The Nascar Camry in one of the pits reminded me of the news I had heard a few days before the event that Jarno Trulli may be heading to the US for a season of Nascar next year. Wonder if the rumors are true…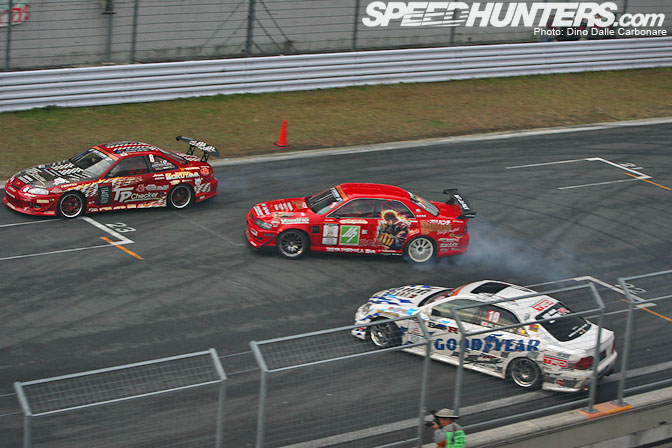 Like previous years the drift exhibition was run along the main straight with Ueno, Saito, Tokita, Takahashi and Orido doing some tight formation drifts around each other as well as some high speed passes. It didn't take long for the 2JZ powered cars to go through their rear tires!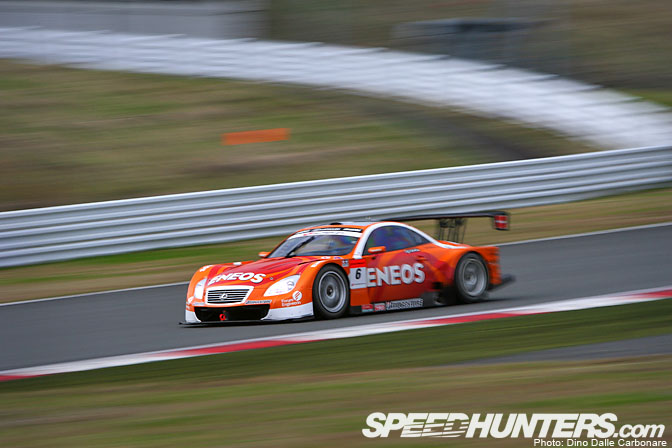 The Eneos SC430 in action exiting the first corner at Fuji.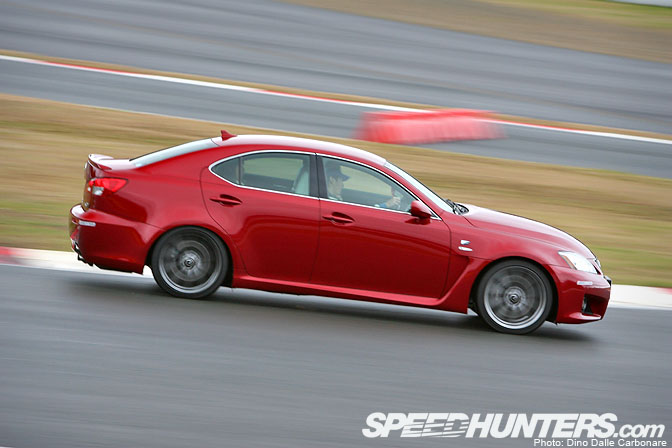 I think Toyota, or Lexus in this case, produces some of the best sounding engines in the world. After hearing the LFA in action, in both road and race spec, it was the ISF with its burbly refined V8 that took the second best sound of the day award. I wish more manufacturers made an effort to make their cars sound good!
More to follow from the Toyota Motorsports Festival in Part 3.
-Dino Dalle Carbonare