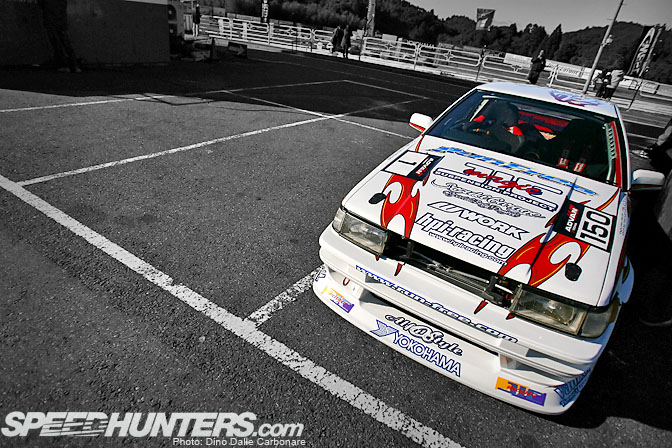 I thought that for this second post from the MSC final it would be cool to take a walk through the paddock at Mobara's circuit, a great way to get a closer look at some of the cars that compete in this drift championship.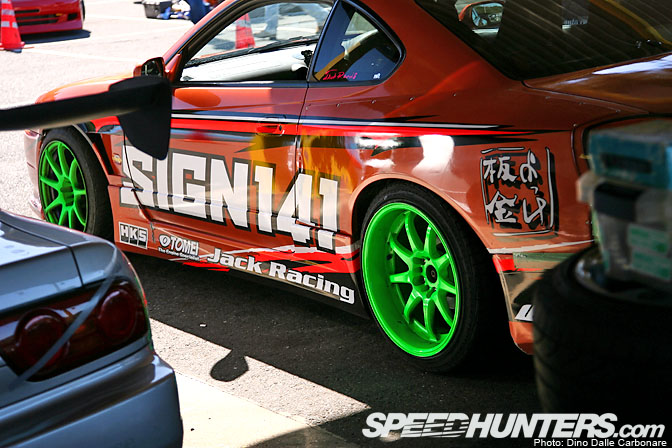 There is always a nice mix of cars at MSC, all the way from the pro-looking machinery that competes in the Expert and Super classes like this Sign 141 Silvia all the way to more low-budget projects driven by amateur drifters in the Beginner class. Needless to say they each have their own charm, even the more beaten up and zip-tied of the bunch.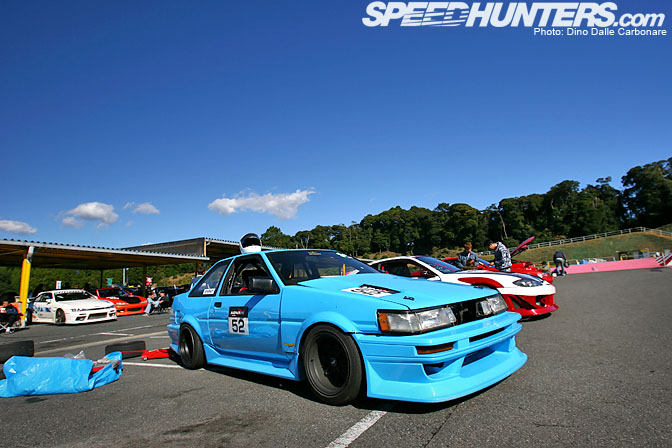 What never seizes to amaze me is how unique each owner can make his or her car look, because at the end of the day we are always pretty much talking about the same cars. Take this Levin for example, it's sporting a shade of blue I have never seen on an 86, and it just looks so hot dropped on matte black Equips.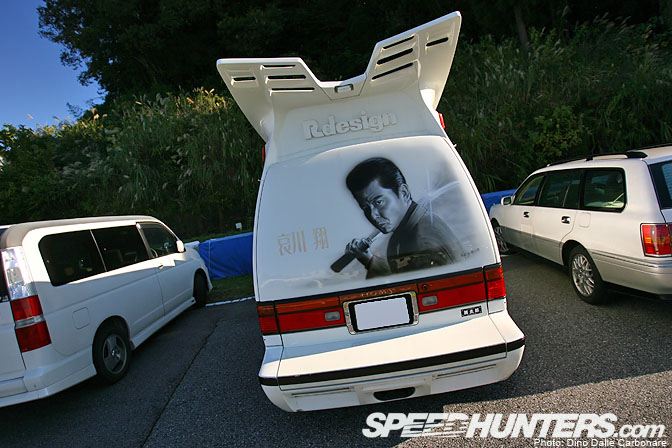 I spotted this Nissan Homy from a distance, parked down in the go-kart track that Mobara also has to offer, and I knew I had to walk over and get a few shots. These bosozoku vans are becoming more of a rarity but they are the best example of how crazy this scene can get! This one is actually pretty sedate compared to some others that I've seen! In case you are wondering the guy airbrushed into the rear is Aikawa Sho, a well known Japanese actor famous for playing yakuza roles.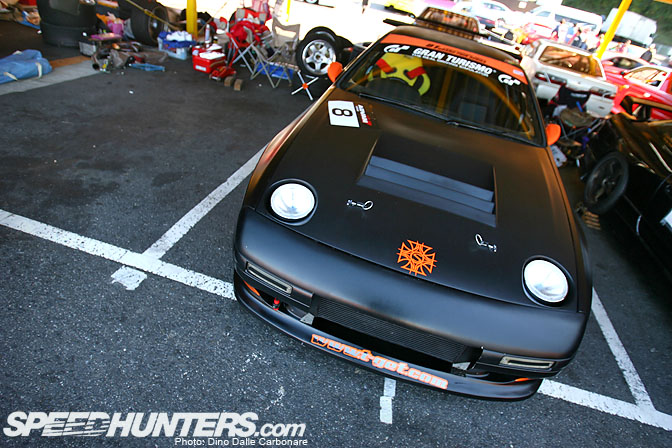 I couldn't pass up posting another shot of the Sexy Knights with T-Get FC, I just can't get over how mean this thing looks.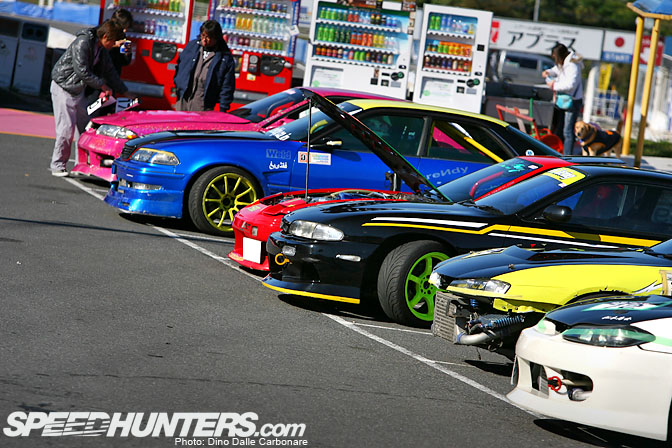 Lunchtime is a great opportunity to let the cars cool and head into the restaurant or various food stalls for some quick grub before hitting the track again.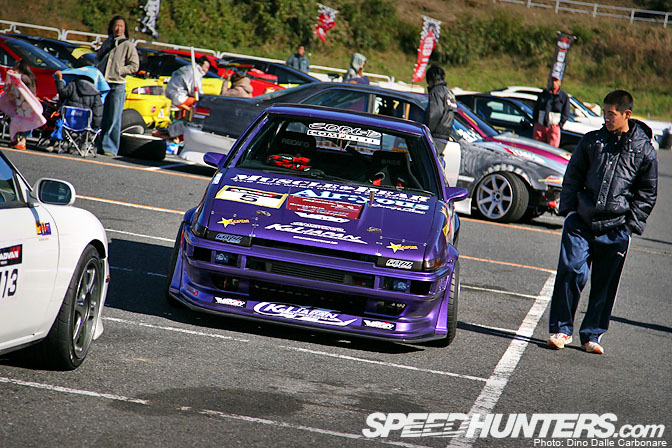 Check out Tomo's parking! His turbocharged AE86 is always getting a lot of looks, probably due to that wastegate screamer pipe sticking through the hood!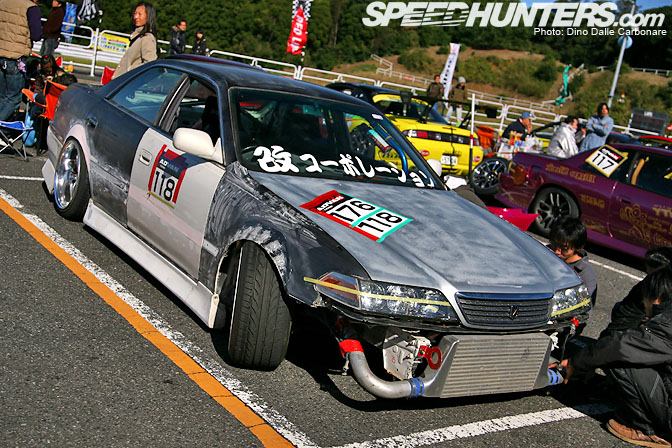 This JZX100 was recently fixed up by the looks of it, but not quite finished yet. Still, can't miss any drift events, right!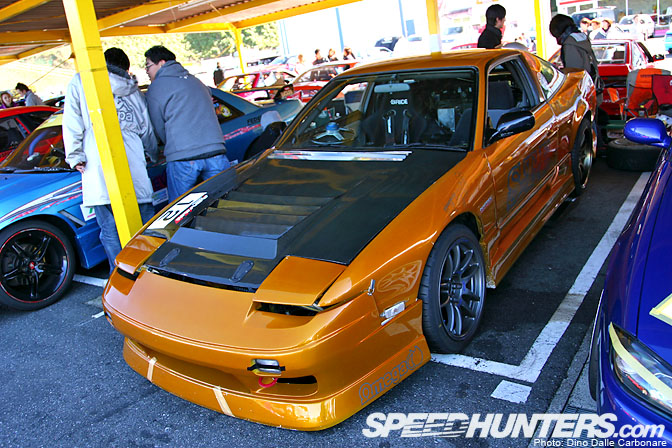 The owner of this STF 180SX spent a lot of time working on his diff prior to the Best 8 battles, but he managed to get things sorted out as he did pretty good up against pro drivers like Matsui in his Supra.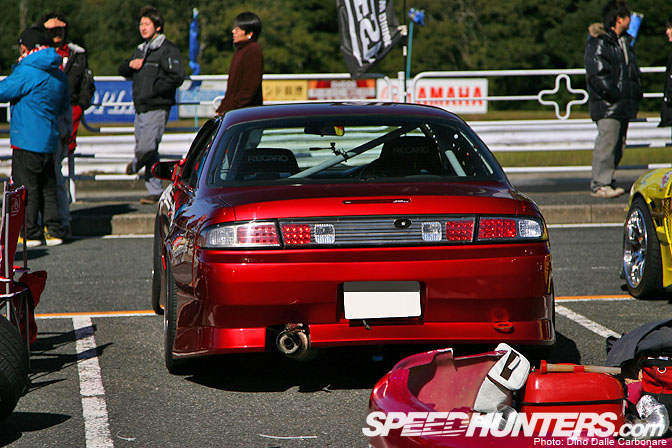 Candy anyone? This deep metallic orange-red S14 really popped under the autumn sun…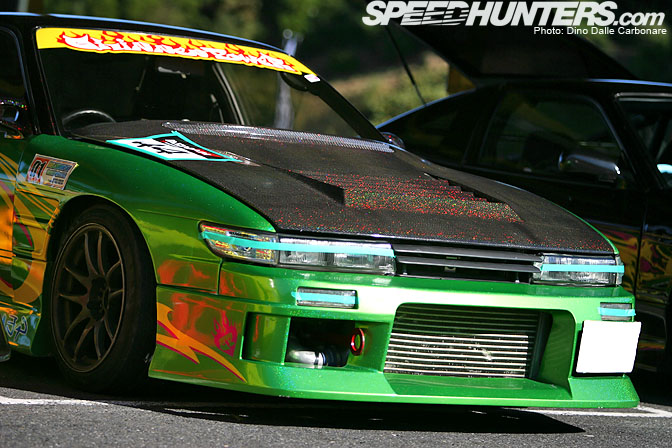 …as did this S13…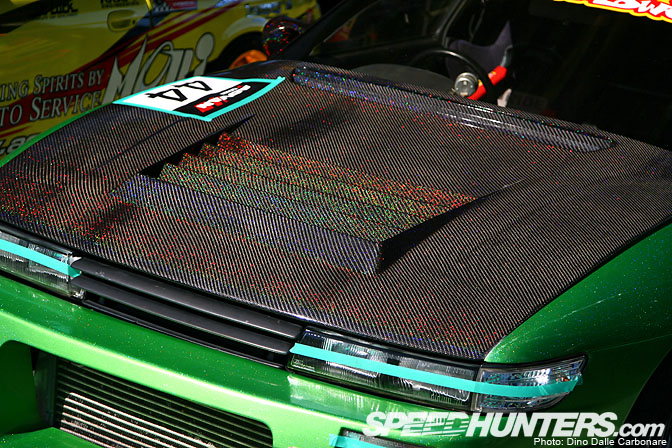 …but in particular its vented carbon hood protected by a coat of clear with a bit of flake mixed in for extra sparkle.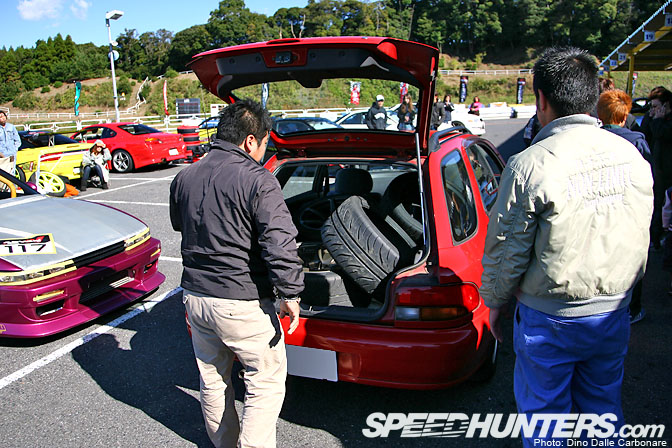 Friends with spacious cars always come in handy for carrying spare tires, demonstrated here by this Impreza wagon.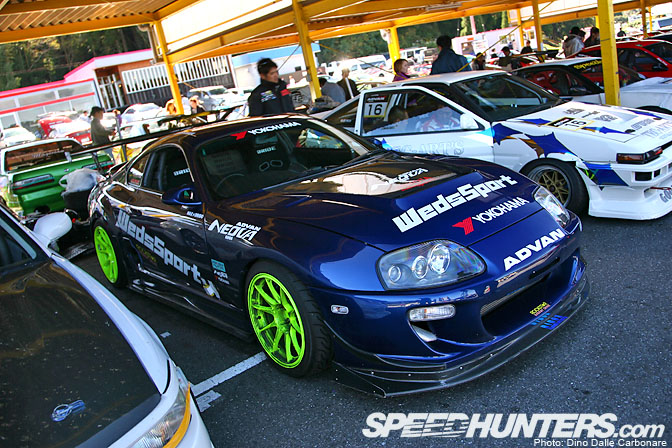 Yep this is the Ridox Supra and Orido himself in the background, like everyone else parked up in the paddock. He wasn't the only personality around either, I spotted Taniguchi and Tokita walking around as well!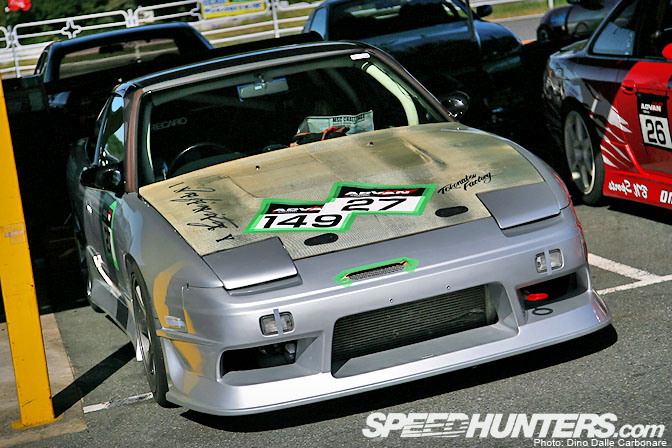 In case you are wondering, the extra number was given out to those participating in the Grip class.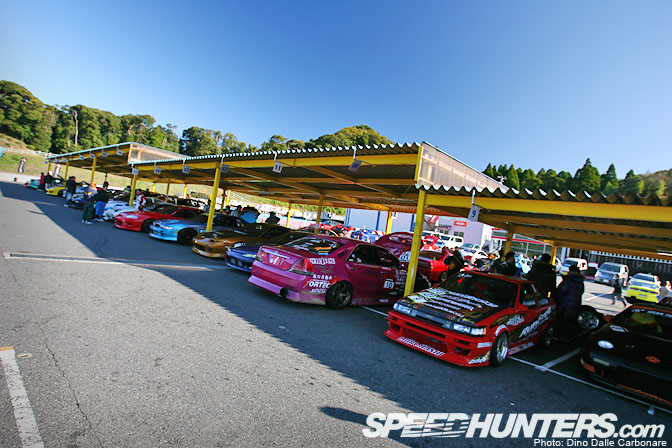 That is one of the Run Free AE86 next to the black FC3S, I expect to see it back up at Ebisu next week-end for the last Drift Matsuri of the year.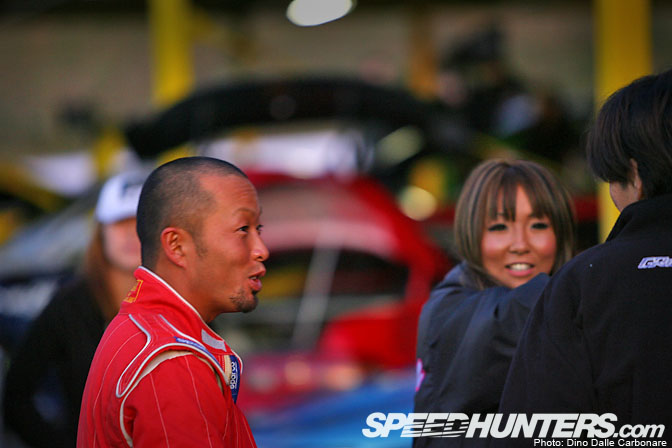 Here is Takamiya the "Magician," looking rather pleased with himself after grabbing the top spot in the Expert class.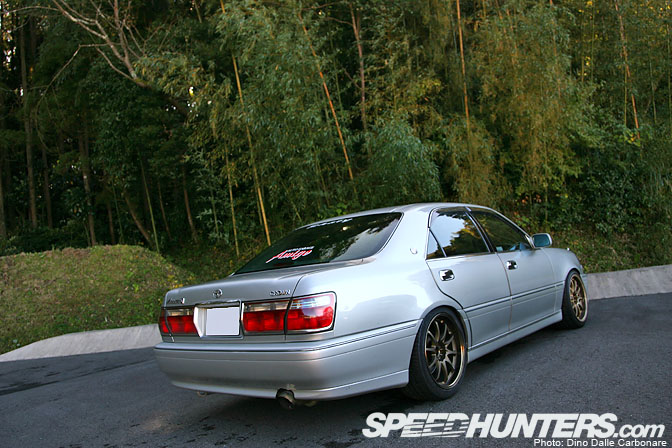 Remember the Auto Garage Amigo Crown from the yesterday's post, I spotted it parked up next to my car behind the restaurant and was able to grab one shot before the driver took off for the day. Gotta love the choice of wheels, can't beat a nice set of bronze CE28Ns! (Yes I run the same on my car, and no I'm not biased!)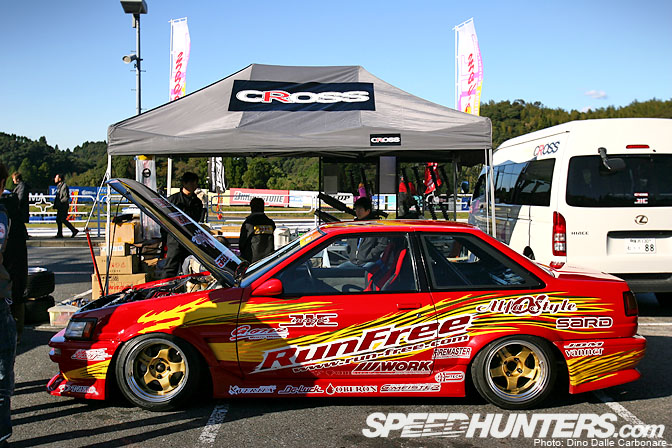 Now here is some stance!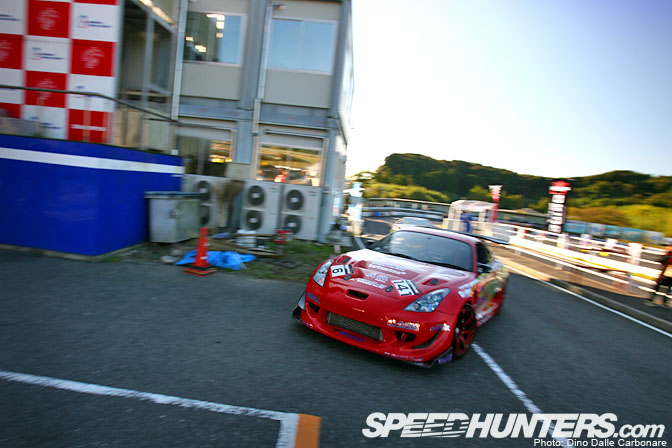 Soon after the cars participating in the Grip race, like Matsui here in the Guild Supra, came in I headed back out to the track to get ready for some more drifting action. Make sure you check back for the final post from Mobara!!
-Dino Dalle Carbonare