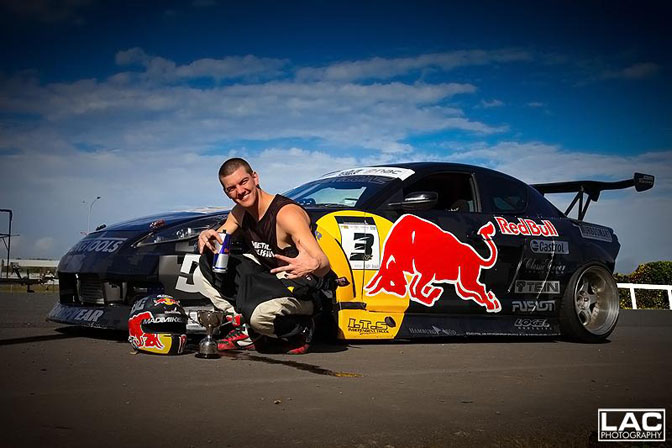 Heading into the final round of the NZ Drift Series I was sitting in
2nd place and there was only 22 points separating me from the
championship leader Gaz Whiter. For me to take the title it meant I
needed to finish one spot ahead of Gaz and qualify 2 spots ahead to
claim the championship. My sights were set high to qualify 1st and
finish 1st and I was super confident to make this happen. Pukekohe
being my favorite track with the infamous entry "widow maker" sweeper
which is a 5th gear full throttle 200+kmh corner! The judges had really
asked for carnage when they announced they want us to run a new line,
and made it an outside clipping zone around the entire sweeper.
The team had been hard at work preparing the RX8 for this final,
firstly with P.P.R.E re-tuning the 20b monster Bridgeport HKS T51R
turbo set-up to 666.6hp @ the wheels on a reliable 13psi of boost
through the Turbosmart eboost 2. Thanks to the help of Rotorek we then
custom built a new diff using FD RX7 internals and a 3.9 crown wheel to
insure I would have enough top end speed for the widow maker. A few
exhaust mods had to be made to keep the residents of Pukekohe and the
council happy with the noise issues we have. We need to keep them happy
as I feel Pukekohe Raceway is the only track in New Zealand that can
prepare up coming drivers for international events. Without it drivers
are unable to become confident with drifting at high speed which will
make it near impossible to be competitive overseas.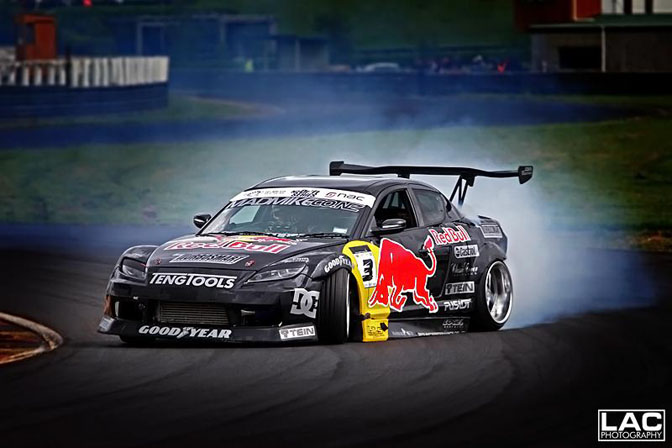 Friday Testing:
With a day of testing on hand and hot sunshine beaming down on Auckland, we headed down to Pukekohe on Friday to get a few sessions in to find the line they wanted us to run the following day for the Finals. After only a couple of laps I found the new line real comfortable in the RX8. I now wanted to concentrate on pulling off a real aggressive entry. This is the hardest part of the judged section and is the best way to get the judges and crowd on their feet because the entry is so fast and very unforgiving if you screw it up, with a solid wall only meters from the tarmac. I have gone into this wall before and believe me it gets very messy, others that have committed themselves here have ended up with written off chassis and rolling end over end.
By the last session I had been told by a couple of the judges that had
been out watching to see if their new line was going to work, that if I
pulled of a lap like I had been running this day in qualifying I would probably
grab the number 1 spot. I was stoked to hear that, as knew I could go
even faster and initiate my drift even earlier. I just wanted to wait
for the BIG day.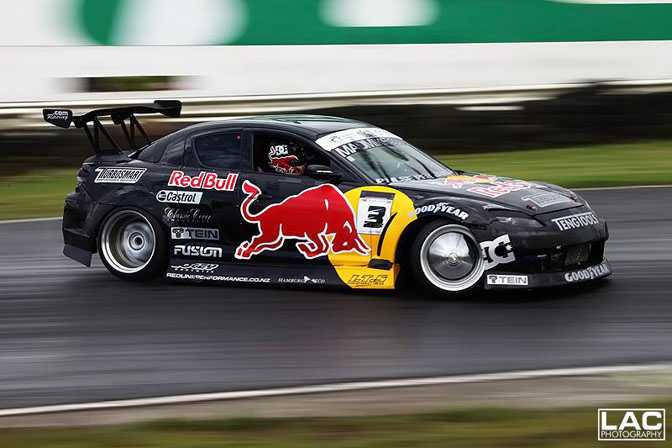 Saturday Finals
Wow what a season, This is now my 3rd year in the sport of drifting and 2009 is the first year I have actually competed in every round of the New Zealand series as we have previously missed rounds with our escapades over the globe. Me and Gaz Whiter have been battling with each other all year and myself only missing the podium 2 out of 9 rounds this season. With more sunshine we hauled the rig to the track early Saturday morning, setting up our pit bay and next to fellow drift buddy Gaz Whiter with his new BIG BEN pies sponsorship.
I was 110% focused on what I needed to pull off this day. After the drivers briefing the team had my FURSTY RX8 warming up at the dummy grid with a fresh tank of race gas mixed with Castrol TTS 2stroke and a new pair of 265 Goodyear Asymmetrics, I flew out for the testing sessions to now really start pushing myself. Feeling right in the groove of things I was confident for qualifying.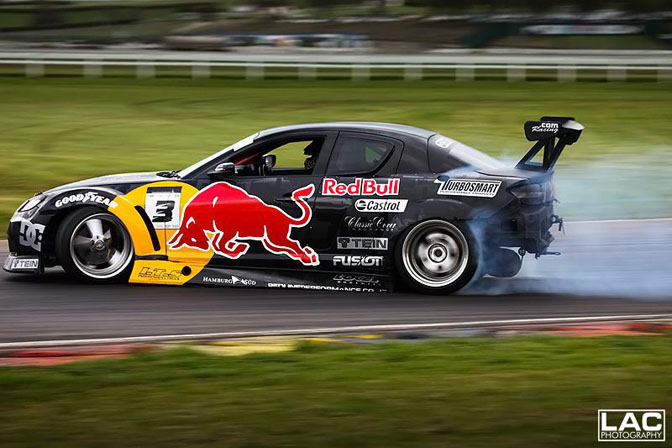 Qualifying:
The qualifying goes in order of the least points in the series starting first and with some gloomy looking grey clouds rolling over conditions could flip. All this testing we had done it had been bone dry. 95% of the field got to run qualifying in the dry and the weather had only drizzled down for a few minutes not really affecting the track conditions too much. Andrew Redwood, Carl Ruiterman, Gaz and I were the final group. Sticking to my usual tactic to just get a clean run in for my first pass of 3 then really push the boundaries to get that number 1 spot as only the best pass of the 3 counts.
First run was as planned and felt perfect, I did take it a little cautious to also use this pass to inspect the track conditions as the track temperatures were down from the weather but the track was still dry. Now with our communication gear down my only communication with my team was through text messages by mobile phone!
My second pass I took off full throttle and felt the phone vibrate on my leg, obviously too late to check I flew down the front straight. With the track conditions as they were, competitors were slower than usual but still averaging speeds around 190kmh mark. I threw the car hard with a big feint entry so hard I hit the lock stops whilst facing that big solid wall. I stabbed the clutch again full throttle in 5th gear and made the switch thanks to the huge steering angle this car now has, now sliding with the rear very close to the wall I near shat my pants as the track all of a sudden turned wet! Trying to hold the car on the track, in a drift with the outside tyre in the mud whilst turning my wipers on so I could actually see I somehow managed to keep it together and then just glided through the rest of the very slippery section using very little throttle, but lots of angle to complete that run. Once I straightened up down the back straight I was like "Holy crap" I reached down to read my phone and yep it said these exact words "Careful it's real wet now!!!" Hahaa I cracked up to myself OMG that was scary. Stoked!
The funny thing was as I rolled back to the dummy grid for my final run it was still dry at the top of the hill. I jumped out to let a heap of air out of the rear tyres to try and get some grip. I took this entry slower and pulled off another clean run.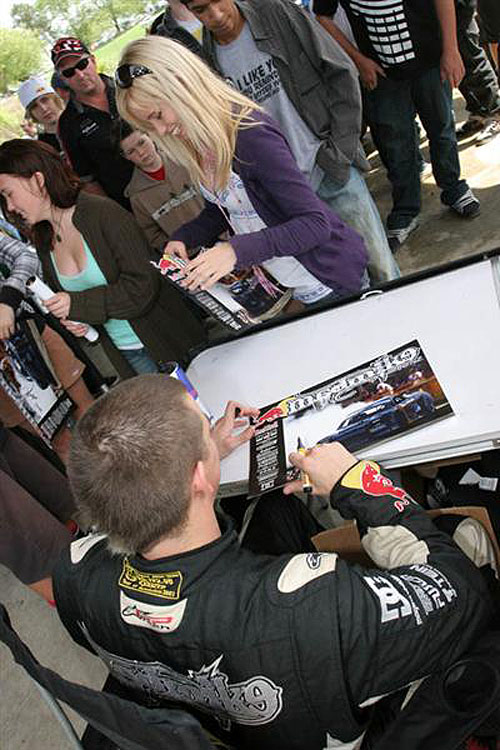 Pitwalk:
Again signing and greeting the public with my crew answering the many questions that get thrown at them about the car. It's great to be able to see the support I get from the fans in New Zealand. I appreciate it a lot. Half way through lunch/pitwalk the officials announced the top16. Absolutely estatic to hear I qualified number 1 and also fortunate for me Gaz qualified 7th meaning all I had to do was finish overall 1 spot ahead.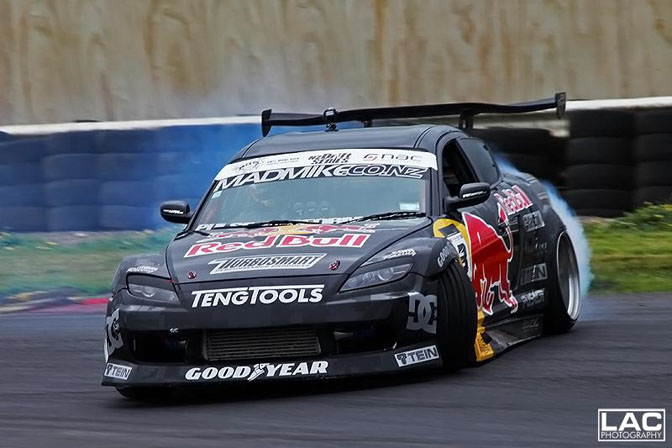 Top16:
My first battle I would come up against Jock Bennett in the turbo Honda powered Toyota AE86. A talented driver I sponsor personally with graphics through my company CRE8GRAFX Ltd. The track was now dry and the sun was shining again. I would lead the first pass with full aggression no holds barred style. I attack the sweeper full throttle with Jock hard on my rear. I pulled a gap between us with a clean line gaining the advantage.
Now with Jocks car slower through the section than my RX8 I would adjust the TEIN EDFC to full hard in the rear to lose grip and make it easier for myself to chase. Jock powered full throttle down the front straight and I was surprised to see he started heading over to the left hand side of the track taking the same line as myself, however this screwed me up as when he turned to head back over to the outside line I initiated my drift at the same time. But once he was clear of my line I then realized I had started my drift too early as I seen my skid marks another 20m closer to the corner.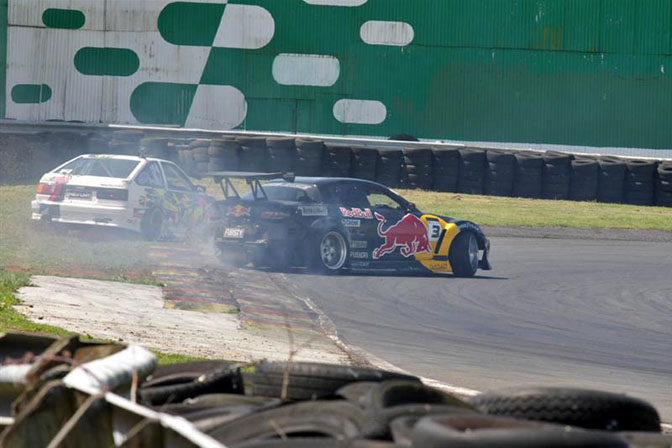 I had to clutch kick hard and try power up and to the out side line then hand brake in to keep my drift, then limiter clutch drop in 5th to carry my drift around the sweeper I lost a couple of car lengths on Jock so had to really push hard to close the gap. Jock's car was surprisingly fast. We both came flying into Castrol corner and I had made back my ground, unfortunately for Jock my Goodyears proved to have more traction and held me on the track whilst he drifted wide and bounced off the track. A tough battle and I advanced with the win.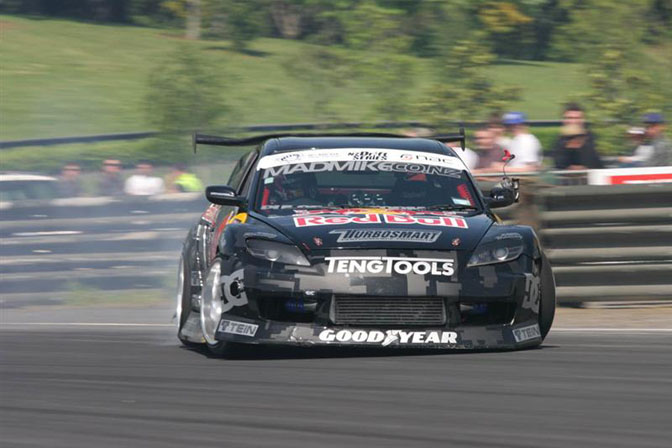 Top 8:
A few people said they would let me know how Gaz was getting on. I said I'm not worried I know he will be hot on my tail, and I knew I needed to stay focused and take each competitor as they came. Here I would meet Dave Steedman in his Nissan Cefiro. Our first battle was called for a re-run I pulled a good gap between us but on my chase run the slower speed of the Cefiro caught me out and I had to come in off line to keep my drift although I was super close the judges wanted both the lead and chase car to stay on our qualifying line.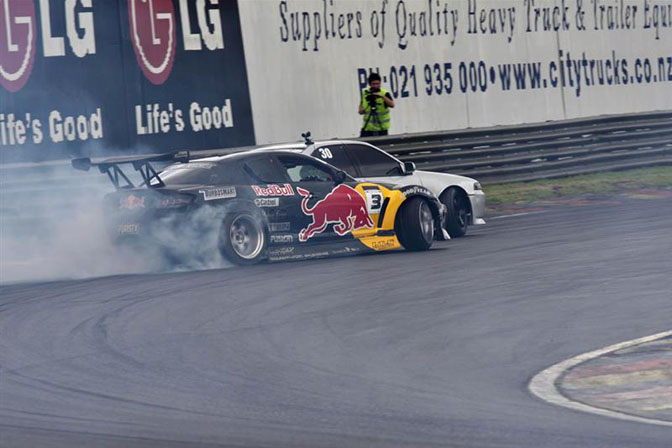 Next battle I would ensure I didn't trip over myself doing the same mistake, giving Dave a gap I could power up to him around the sweeper then keep it tight through the rest of the section. That I did, and I advanced with the win.

Top4:
I couldn't believe it There was no Gaz Whiter on the dummy grid for top4! I knew right then I had claimed the 2009 championship! Here I would meet Carl Ruiterman 2008 NZDRIFT champ who was sitting 3rd in points for the series. Although I knew I had done what I needed to do, I still wanted to put on a show for the crowd and take it all the way to the top spot on the podium.
This battle also went into a re-run it was that close. Carl qualified in 3rd and was looking fast all day. A quick stop in the pits for a re-fuel and another set of Goodyears and we were back at it, this time leading. I could still hear Carl right there on my door through the last section I just couldn't pull away from him. My chase would prove to be better as I did exactly the same mirroring all his movements hard on his side and staying on the judged line. I was that close I could only just see his driver window through his smoke and had to trust him that he wasn't running wide then "BANG" as we were tapped over the finish. I crept the car back into pit lane and took my 5minute time out for the team to check over the car, unable to find anything broken I drove back to the dummy grid. I gained the advantage with my aggressive entry sending me into the finals. Woohoo.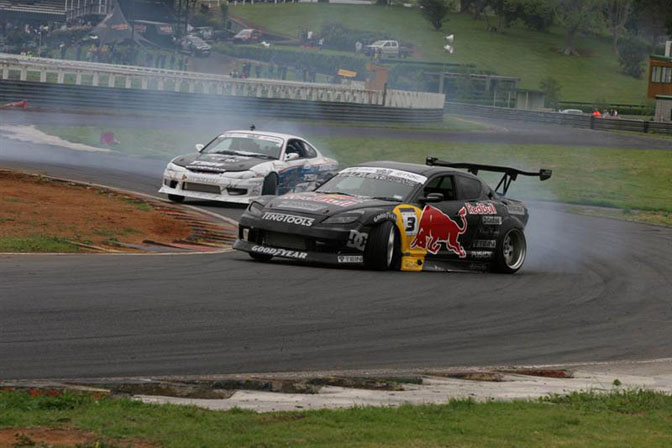 Finals:
I would now find myself pulling up beside "Fanga Dan" Woolhouse in his Dunlop Tyres S15. This was sure going to be the spectacle of the day with Fanga qualifying in 2nd and always one who's not afraid to exchange a bit of paint during battle. That's what I have so much passion for in this sport, putting on a show and wowing crowds with crazy car control and keeping them on their toes. It suits my style from when I use to compete in Freestyle MX and the transition into drifting came easily carrying my style over to 4 wheels. With another set of fresh tyres on both vehicles myself and Fanga were having a few jokes as we watched on to the battle for 3rd and 4th between Carl and Sellers.
The track official came over and said "time to gear up boys!" Fanga and I wished each other the best of luck and Fanga said "right lets go put on a show bro!" I replied "Hell yeah". After a big burnout in front of the stands from both of us to scrub up our new rubber we drove back up the track to the grid. I would lead first. We were both pinned full throttle snapping through the gears as we came down the front straight, I would cross over to the other side of the track for my big entry and Fanga would come flying in down the outside and initiate in behind me after my switch. I could hear the induction noise sucking through his turbo right on my door around the sweeper. I managed to pull a car length on him through the last 2 corners giving me the slightest advantage.
Now my turn to chase we came flying down the front straight faster then ever, man Fanga was really pushing the limits. I set my car up into its slide just before Fangas weight transfer But I was going so fast when Dan initiated his drift I slammed into the back of him, on the point of impact "BANG" and the car started shaking to pieces, I had to whack the HKS sequential back down a gear to 4th, and with the car under power the intense shaking would stop, but as soon as I lifted from the throttle the car would rattle my teeth out and I could hear well over the exhaust note the sound of steel dragging and smashing on the ground! I still managed to drift and gain the ground I had lost, but my straight line was enough of a mistake for Fanga Dan to take honors of the Final round.
After a slow drive back to park next to the podium I jumped out the car to find the entire power frame that holds the diff, gearbox and drive shaft in tact to the car had snapped clean in half and my diff and gearbox were dragging on the ground! Yikes lucky that happened in the Final. I was overwhelmed to have made it to the podium again meaning I have stood on the podium a 7 of 9 rounds in NZ this season. Now as the NZDRIFT champion I can't wait to get to Thailand for the 7th – 8th of November to represent my country and team at the Formula D Asia Pacific Drift Champs in Wonderworld Bangkok where I will be contesting in my favorite MADBUL quad rotor FD RX7.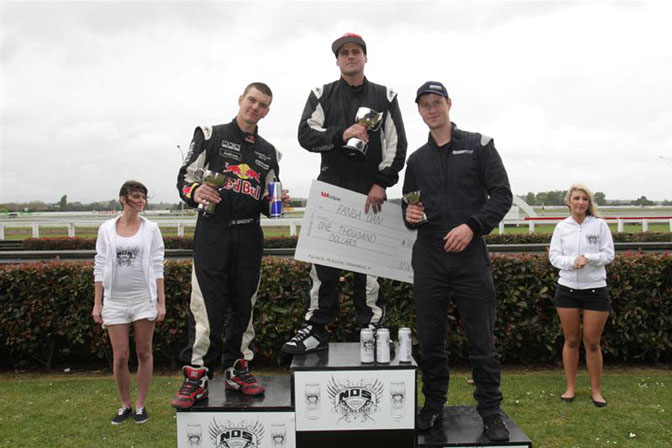 Huge thanks to all my fans and supporters, all the marshals, media, officials who put the effort in to stand out there in all weather conditions this season to ensure the event runs safe, smooth and gets great media.
Thanks to my sponsors Red Bull, Goodyear, Castrol, DC clothing, Redline Performance, Tein, Lokey bodykits, HKS,Turbosmart, TengTools, FUSION, PPRE, Magwarehouse, Independent Truck Spraypainters, Classic Cover Insurance, Any Mazz Spares, My team Chromie, Damion, Cookie and Big Ted for your time, knowledge, and support, Family and most importantly my girlfriend Toni for the massive effort put into managing the team and looking after our great son Lincoln whilst I'm working on the cars. You all make my dreams become reality and without the support I wouldn't have come this far. Being a professional driver is only 50% in creating a winning team.
-Mad Mike