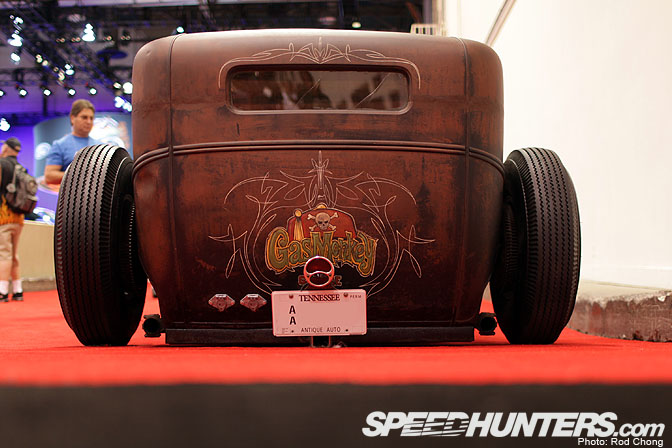 The spirit of the scene that some people are calling "Rat Rodding" is a counter culture against the smoothster style million dollar "cheque book" Rods which are still dominating the big Hot Rod awards. A true Rat Rod normally looks like it's been built with period specific components, which give the impression of being found in the open desert, river beds, swap meets and junkyards.
This style of car started out with machines that were inspired by the original jalopy street machines from the birth of Hot Rodding in the 1940s.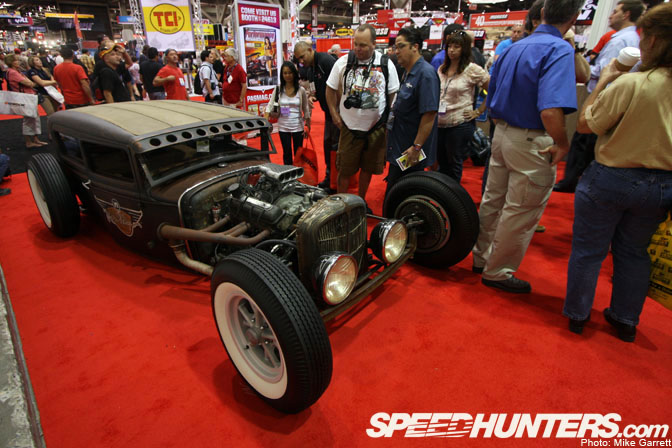 However styles have evolved over the years and we are seeing a new breed of Rods which are pushing this style into new directions. The traditionalists don't necessarily like these machines as they are no longer accurate to the history of Rodding, but then again, that's what rules exist for right? They're there to be broken.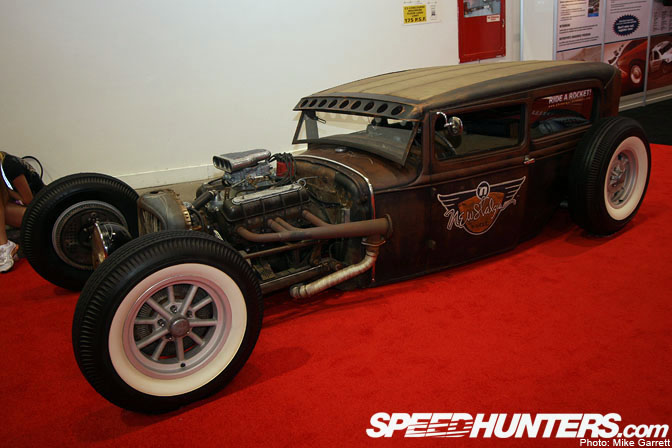 The Newstalgia Wheel 1931 Model A is a machine which breaks many rules of traditional Rodding. First of all there's the stance. This car sits right on the ground, which is something that is a relatively new style. I can assure you that air ride never existed "back in the day" but this machine is fully outfitted with bags on both the front and rear suspension… In fact, under the skin, the car has many new, custom fabricated components.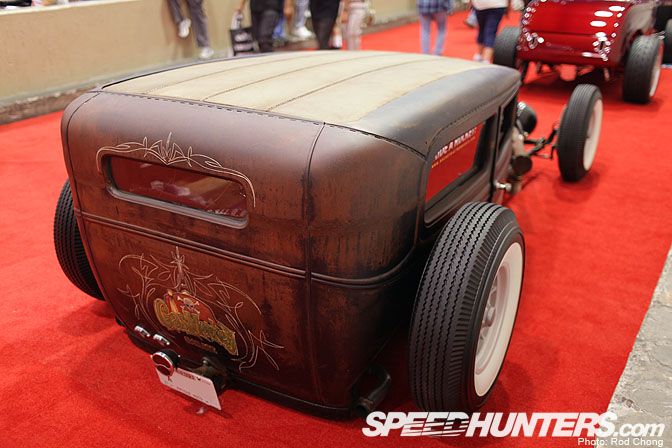 If you look at the rear of the car you'll see the Gas Monkey Garage logo, this is the shop which built the car.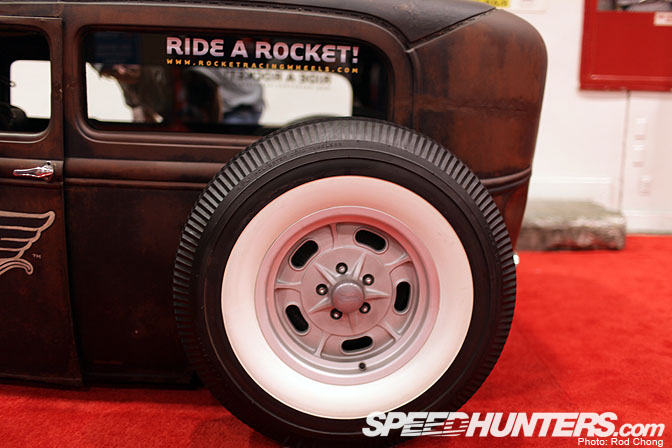 The Ford Model A also features a custom fabricated tube chassis to house the air ride system. The 2×4 tubular frame is Z'd 6" in front and 12" in the back get the extreme stance.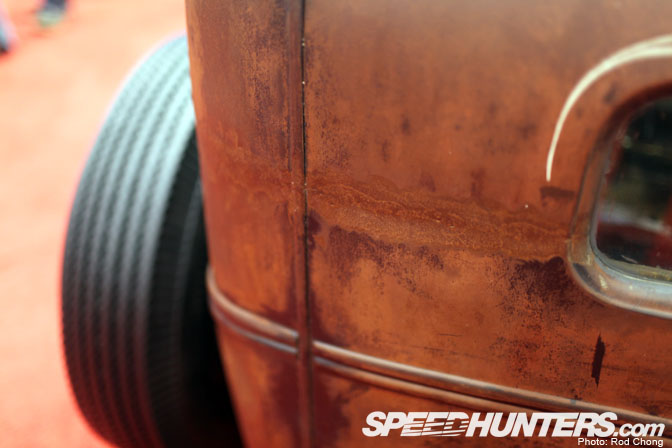 I've been looking at info about the car at The Hub Garage. It states "The body was a bone stock Colorado car with the perfect untouched blend of patina."… you can see where the roof was chopped and welded back up.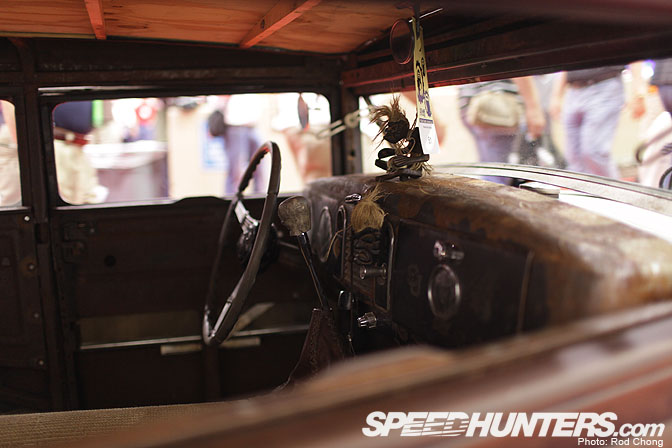 The dash is from a 1938 Ford and has been grafted in place of the original unit.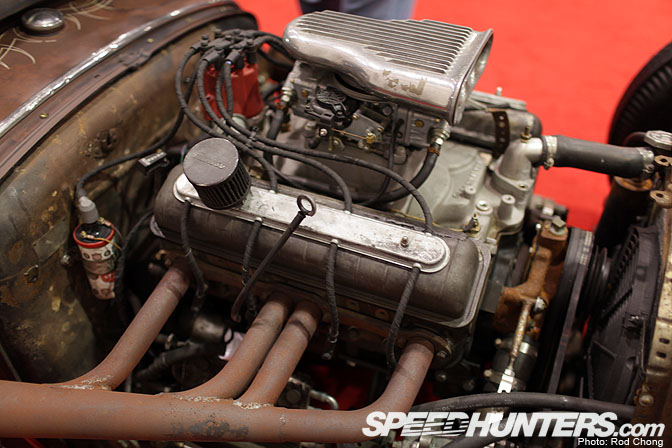 Like the chassis, the engine is modern and new. It's a 400 HP ZZ4 small block crate engine which has been visually aged to match the look of the car. Vintage Oldsmobile Rocket valve covers have been adapted to the block.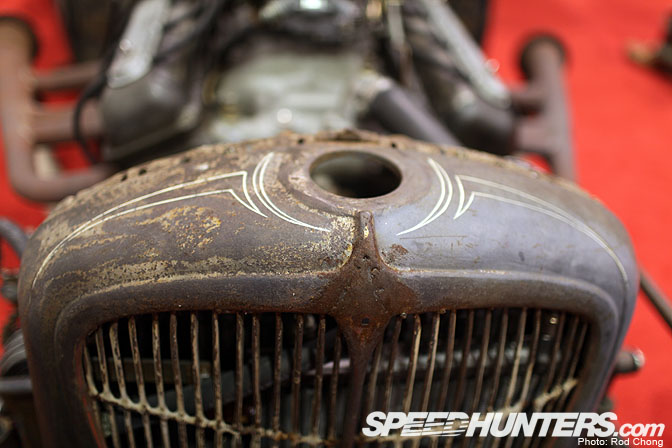 The front grill certainly looks like it was dug out of a river bed!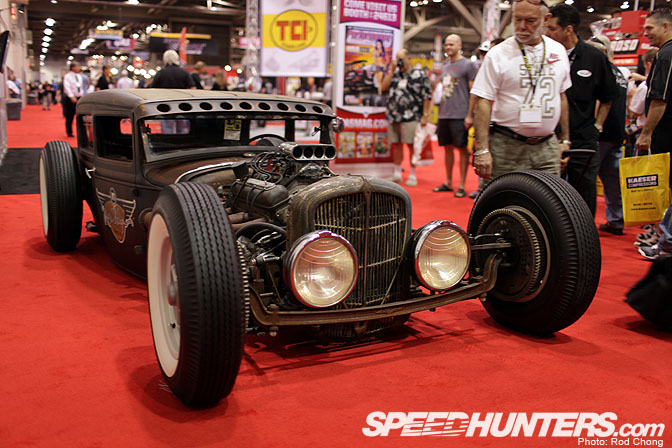 The large headlights have been sourced from a 1920s Packard. I'm not sure how much light these 90 year old items cast at night though!
We'll be back soon with another dropped Hot Rod which Linhbergh shot earlier in the year for slammed month.
:Rod
SEMA 2009 Coverage on Speedhunters