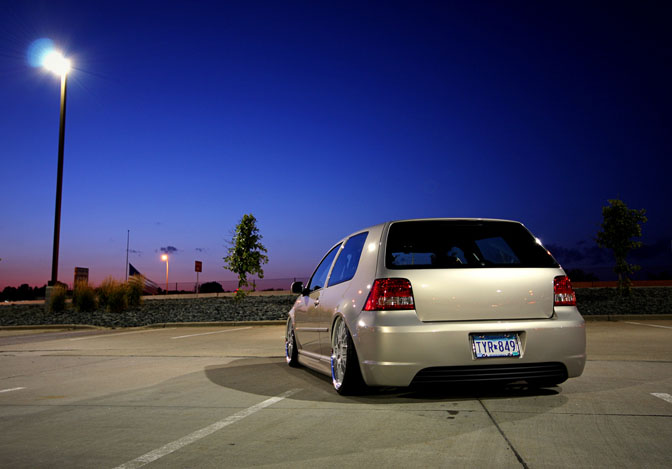 After doing some research for this month's "slammed" theme, I have come to the conclusion that the VW community are definitely ahead of the game. They produce some amazing looking vehicles with minimum effort… Well at least at first sight; when you delve in deeper, you start to appreciate what it takes to keep building these show winning cars.
This Golf is a perfect example, at a quick glance it looks like a standard R32 with a healthy drop and stunning wheels. But when we take a closer look we can find a plethora of parts that have been carefully chosen by the owner to enhance the look and power of this car.
We'll start in the rear with a R-line rear bumper that has the license plate holder molded into it. The trunk has been shaved and its wiper deleted. The R32 comes with a spoiler but that has also been removed to achieve a much cleaner look. Last but not least are the LED rear lights.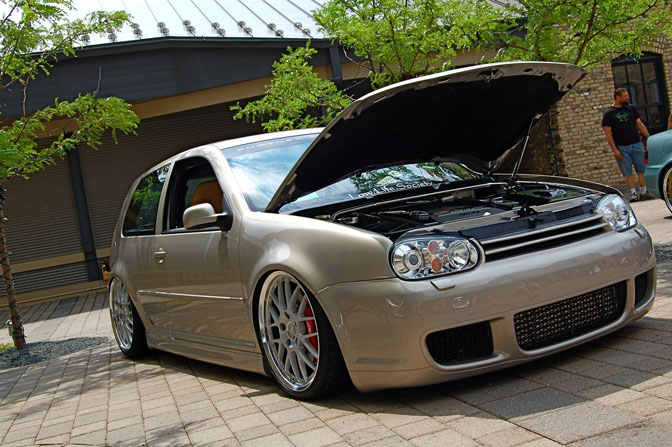 The front is dominated by the Euro spec R front bumper. The look has been further improved by the Bonrath badgeless grill. These grills can be found at almost any tuning shop in Holland but I'm guessing they are much harder to get when you live in America. The front fenders have lost their indicator lights and the headlights are OEM HID xenons. After all the shaving and cleaning was finished the owner decided to spray the car in Audi Melange Metallic.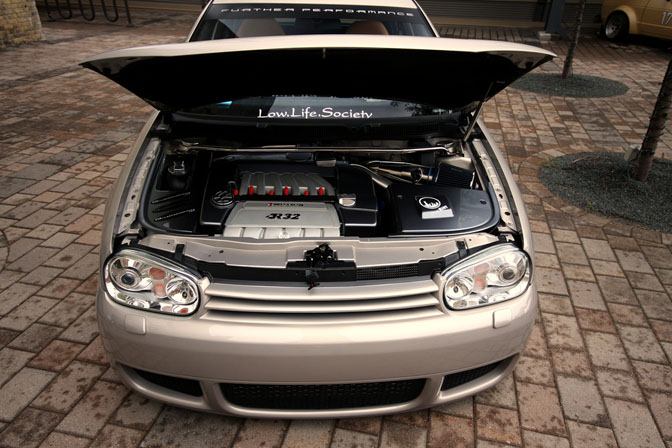 A clean engine bay seems mandatory in the VW community so it's no different with this R32. The engine itself has been modified with a stage II C2 Motorsports turbo kit. The kit consist of the following parts and upgrades
Stage II C2.500 Turbo kit
PT6142 E housing with .81 AR 35R
580cc fuel injectors
SS Tubular Turbo Header
Tial 38mm Wastegate
SS 3.00 Downpipe: V-band equipped
SS 3.00 Mid-pipe
3.00 High Flow Cat * SS intake pipe
The "Bat" 4.00 SS Intake with MAF- custom polished
Forge Diverter Valve
C2.500 Tuned ECU
Custom sized C2 Motorsports Intercooler with Custom End tanks
Snow Performance Stage II water/methanol kit
Painted Audi S3 and .:R32 Engine covers
Polished Billet caps
SouthBend OFE SS Clutch with OEM Flywheel
Custom forged specd 9:1 JE pistons
Forged wossner rods
topline bearings
VF engineering Motor mounts
The owner also included some parts of his own to further enhance the capabilities of the engine.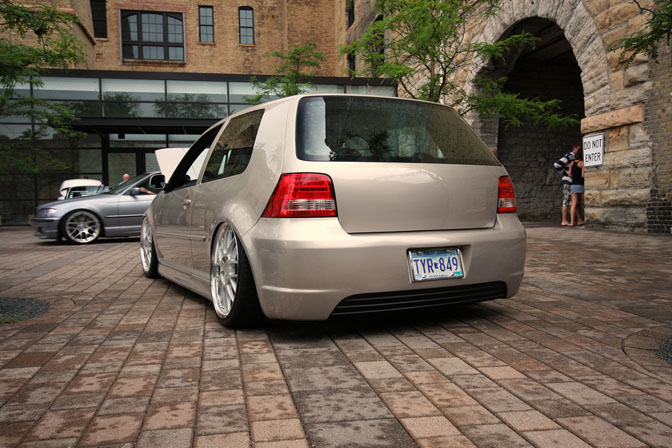 Let's have a look at what we are here for, the stance. The car has been dropped using an Air House II single Bellow rear bags with Koni Yellow shocks. The airbags work together with a 5 gallon polished tank and a Viair compressor that is being controlled using a Easystreet Auto-pilot digital air management system. The wheels are made by Champion Motorsport and they called them RG5B. They come in size 19"x8 with ET46 and are wrapped with Falken FK452s. For stopping power, the owner opted for Brembo 4-piston brakes with 332mm slotted rotors.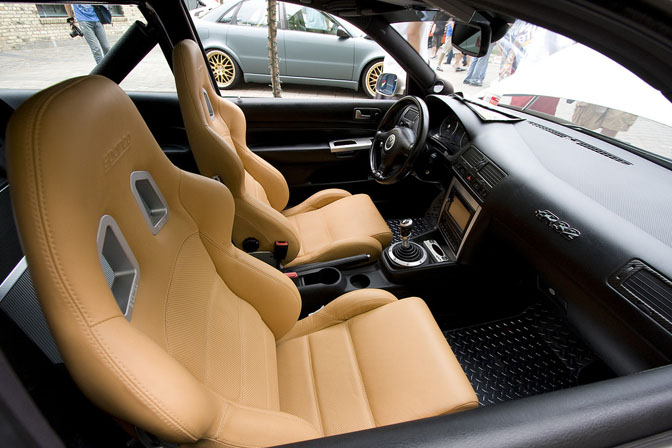 Inside we see a very clean interior with Sparco Millano II seats wrapped in Italian leather. A built in Pioneer Avic D-3 produces some beats on the go.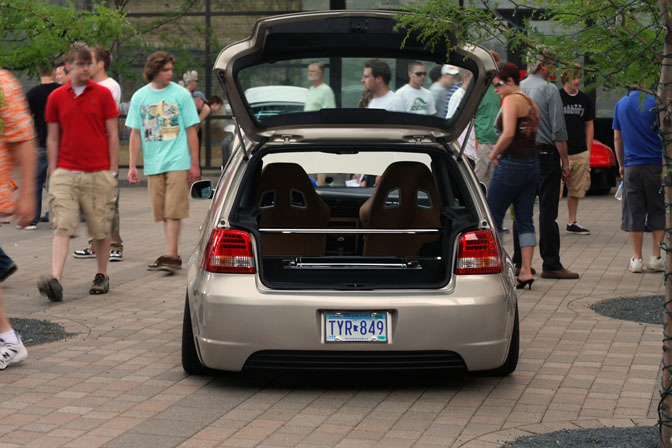 You can spot the 5 gallon polished air tank mounted in the rear, to accommodate this large tank the rear seats have been removed. To give the car more sturdiness the owner chose a AutoPower Street Roll Bar and had it powder coated black.
To me this car is the epitome of Volkswagen tuning: clean looks, power and vision. It isn't a car that had some parts thrown at it but rather it is a car that has been thought out and perfected.
-Jeroen Willemsen