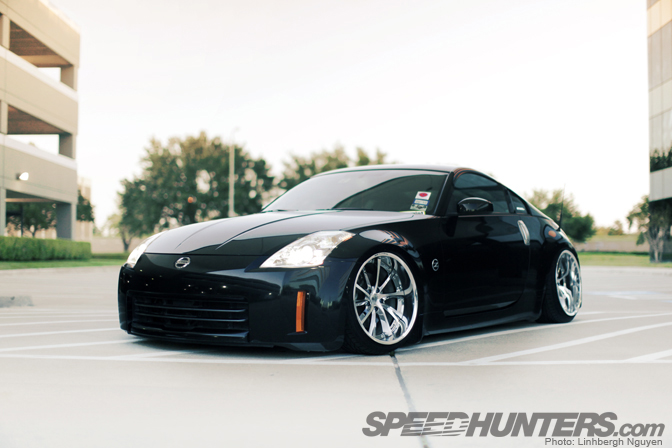 We are beginning to come to the close of a month which many of you have aptly named "stancehunters," "flushhunters," or "ricehunters." This month, we've seen a divide between what Rod has called the automotive athletes (the performance-minded) and the fashionistas (the style-centric folk). This is a car that could split the camps even further. What we have here is a sports car with air ride suspension. Some may say that car this is sacrilegious, but the aesthetic appeal of it sitting static cannot be ignored. This Nissan 350z definitely has a menacing presence.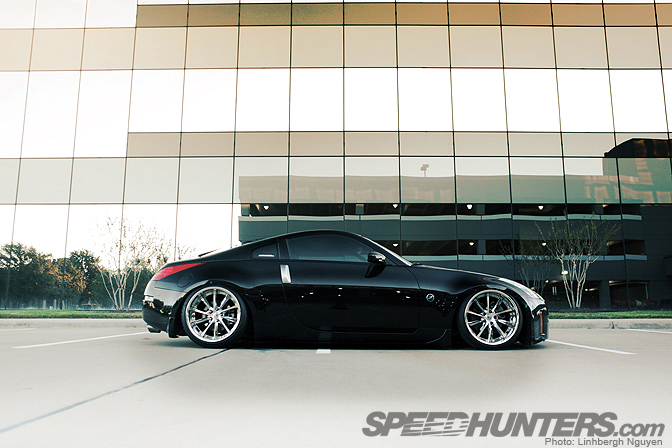 I've always maintained that no matter what car we're talking about, character is the number one aspect that determines whether or not you love the car. You performance-oriented folk can nod your head with me when I say this. You may have a car that can lap a course in record time, or it may pull a lot of G's in a straight line, but at the end of the day, if you're not giggling or laughing at the top of your lungs, it is just a hunk of metal. The owner of this car, John Giggles, has a name to live up to. But, I bet you, when John rolls home after a long day and then lays the car down, he will look back and smile. On a good day, a small giggle WILL escape.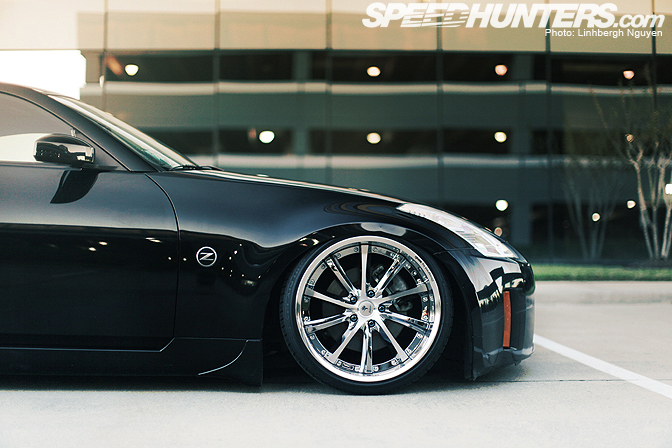 To be as ridiculously low as this, the car is running on Universal Air Suspension, which is controlled by a digital air controller from East Street.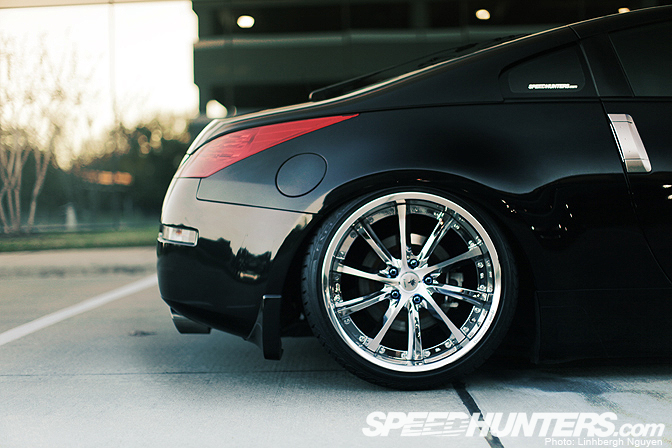 There's also a 5 gallon tank and dual 480cc air compressors to complete the bagged setup.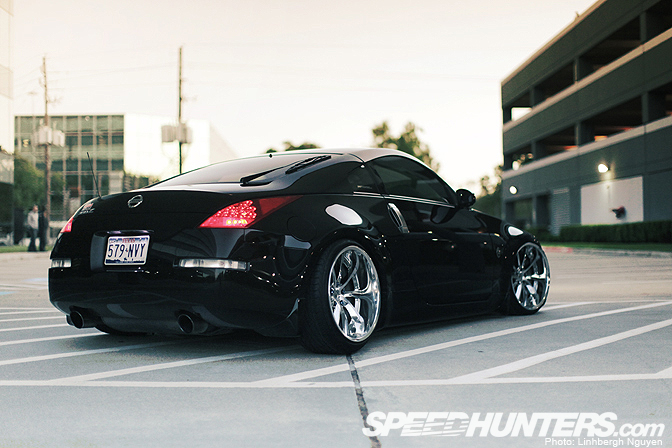 Is it still a sports car when air ride suspension is applied to a rear wheel drive sports car? Totally not, but you just cannot ignore the overall effect it gives; it's visually impressive.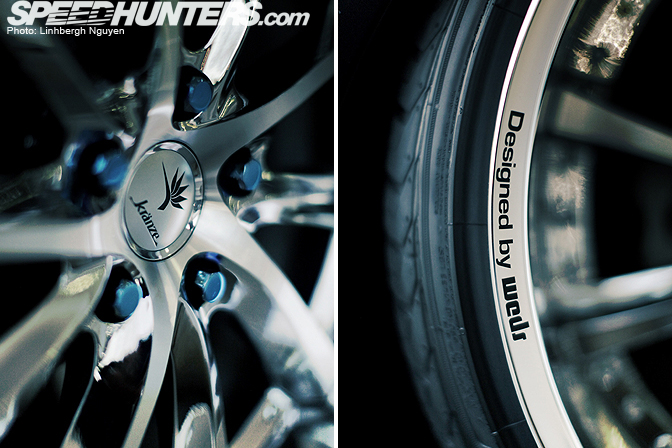 If you want to show off, or "floss," then you should show off properly. John flosses around with a set of Wed Kranze Vishunu with SBC finish. They're 19"x10" up front with a 225/35/19 tire and 19"x11" with 245/35/19 tires in the rear. These wheels are the most important aspect of this car's character. Without it, it would just be like any other low 350z with stock trim!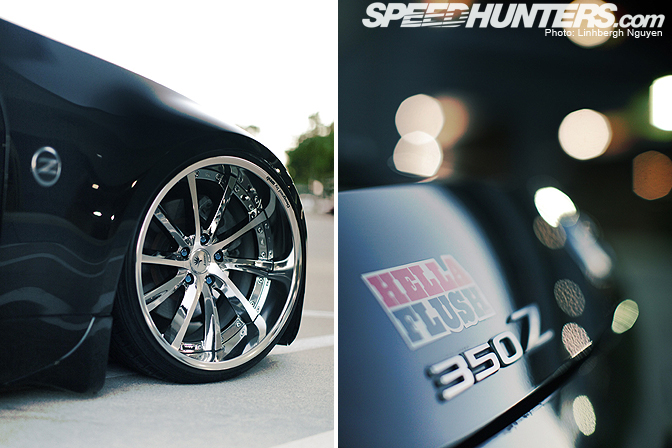 The way these wheels fit when it is dropped all the way on the air suspension is really amazing. The guys at Hellaflush approve.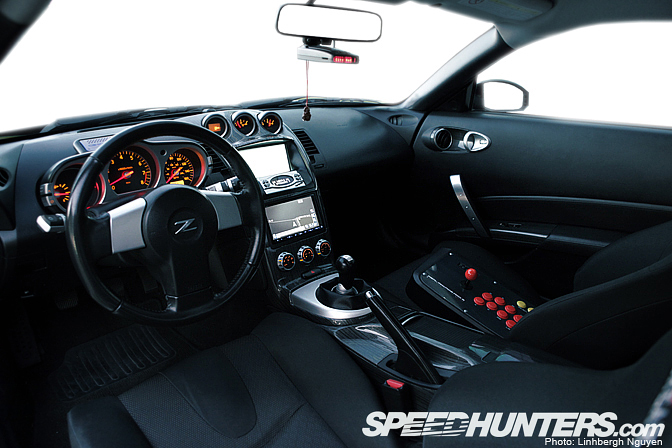 The interior has been kept fairly stock except for a few things: the entire dashboard, center console, armrests and door trims have been customized with black wood with a grey finish. The overall effect of such a treatment is a look of class.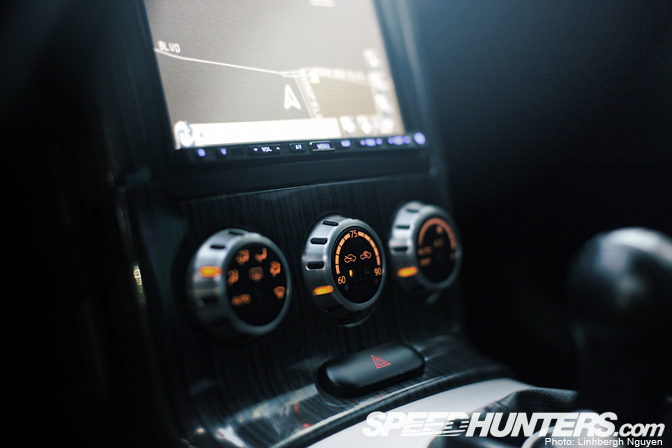 Here, you can see the wood treatment with what used to be Nissan's interior plastic pieces.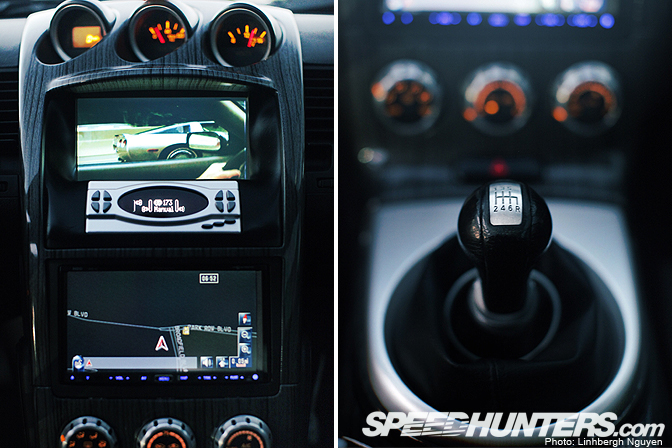 A car this ridiculous and sacrilegious can't get away without an interior to match its exterior. John Giggles turned up the rice cooker on high and added a 7" monitor with DVD player and a 7" double-din Avic Z1 audio system.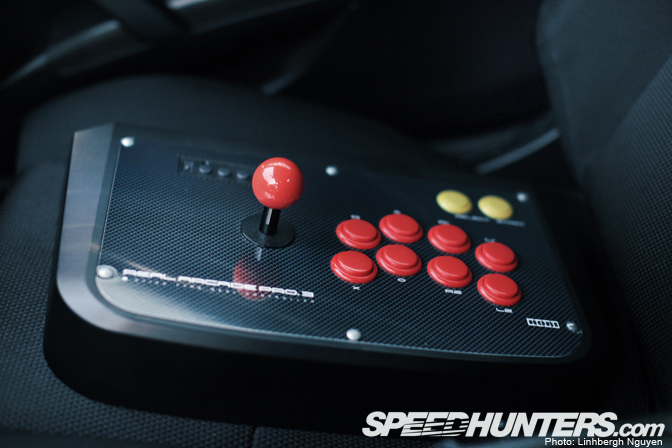 No, John did not forget to take this Street Fighter 4 joystick out of his car; he has an actual Sony Playstation 3 installed for some mobile SF4 action anytime! With a combination of the dual 7" screens, a PS3 and an SF4 joystick, the rice cooker went from cooking just regular rice straight into porridge!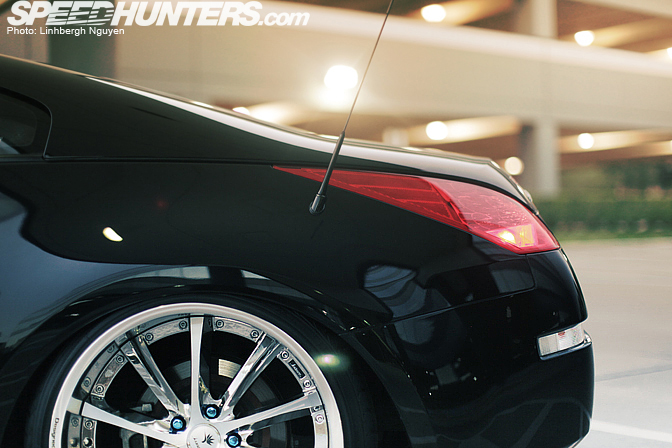 The lines of a 350z ask to be this slammed.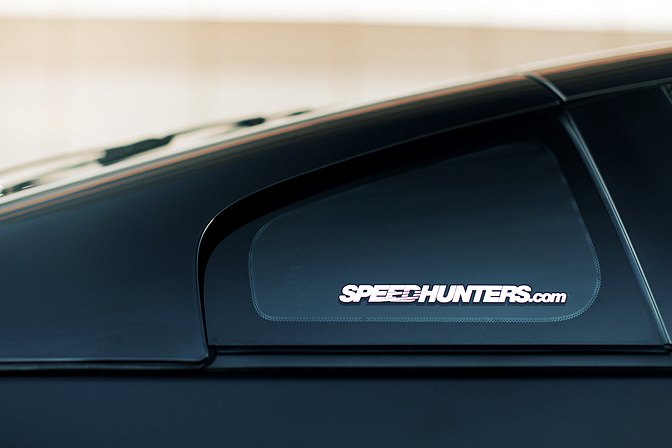 Having a Speedhunters sticker on a car that does anything but go fast? Total blasphemy–but that does not mean we don't approve of it!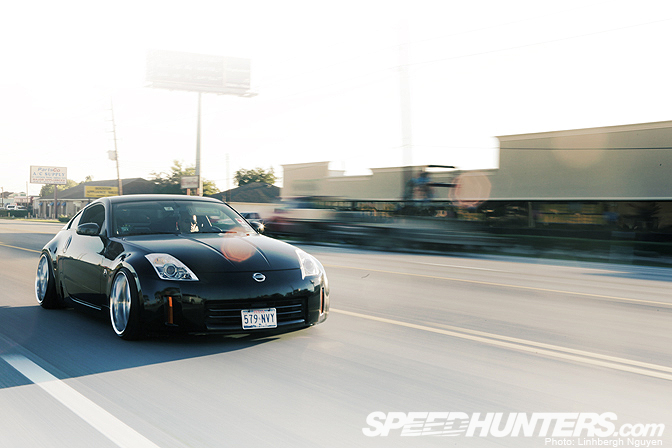 It may not sit as slammed as if it would be standing still, but when rolling, it still holds the same magic. I would definitely turn my head every time this car passed by….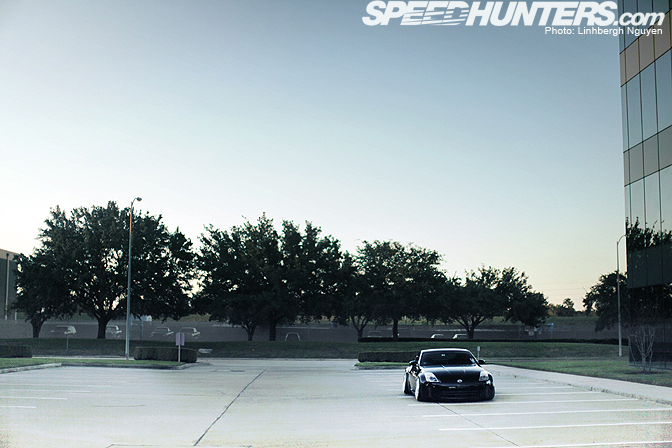 This is a car that you cannot ignore.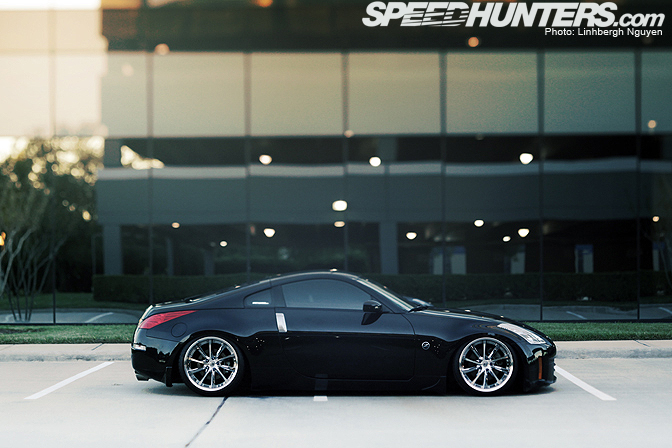 Hate all you want, but cars that are part of the whole "hellaflush" movement is something that is here, and it will definitely stay for a while longer. Remember when the 1990s came, and people started wearing super colorful clothes, and then sagged their pants lower than humanly possible? Think of the "hellaflush" movement as the same thing. It's a trend that will pass, but those that "get it" will remember that they were part of a generation that defined future automotive styling. Remember, it wasn't too long ago when we started to see new cars from the manufacturers begin to have lower offset wheels with a somewhat "flush" wheel fitment.
John Giggles is a person that enjoys his car entirely differently from how Nissan envisioned it. It's no longer a sports car, but a luxury cruiser with sports car qualities. Some of you may not like such backwards thinking with cars, but we're into what we do because it's such a personal hobby. Every aspect of a car represents its owner, as we've seen in a very literal example with the zombie rod. John has a very relaxed and chilled persona, and this 350z reflects that. But, as relaxed and chilled as he may be, John still gets his giggles out of owning this car because it's so ridiculous.
If I owned this car and drove it every day, I would not be able to stop myself from laughing uncontrollably. This car has so much humor, and I love it because of that.
Linhbergh Nguyen