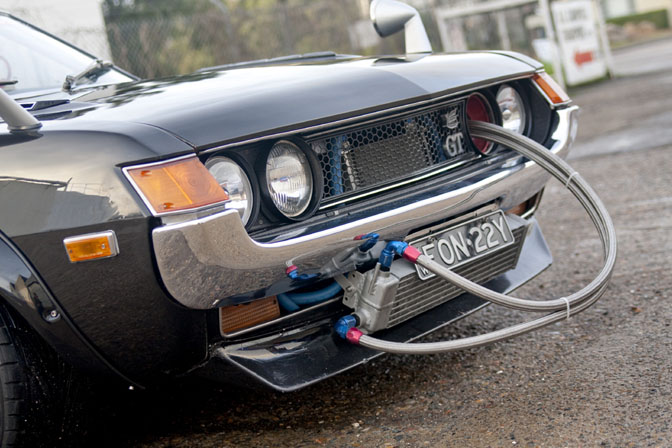 After all the new school cars we've been featuring on Speedhunters, I found this Toyota Celica in true Bosozoku style. This car caught my attention a while ago, but I knew it would be a great addition to this month's theme. This Celica was build in 1975 for the Australian market but after Alfonzo, the owner, picked it up back in 2006 he transformed the car into this midnight crawler. It wouldn't be out of place during one of the many midnight meetings at Daikoku Futo.
He bought the car as a bare shell for a mere 100 Australian dollars because he was looking for a shell for a 2jzgte engine conversion. After some research he decided to stick with the 2T-G engine. He began to rebuild the engine with parts sourced from Japan.
In the opening picture you can see  two oil coolers, at first I thought "why" too but Alfonzo explained to me that the one on the outside isn't allowed in Australia. So for daily driving he has the one behind the grill and for shows he installs the other one for that true Bosozoku style.
The plan was to restore the car to its former glory, so Alfonzo send the shell together with new body panels to get them sandblasted. After they returned it was time to choose a color, at first he was thinking yellow but soon changed his mind and went with black. As time went by it became more than just a restoration. The car slowly started to look more like a Bosozoku style car from the 1970's.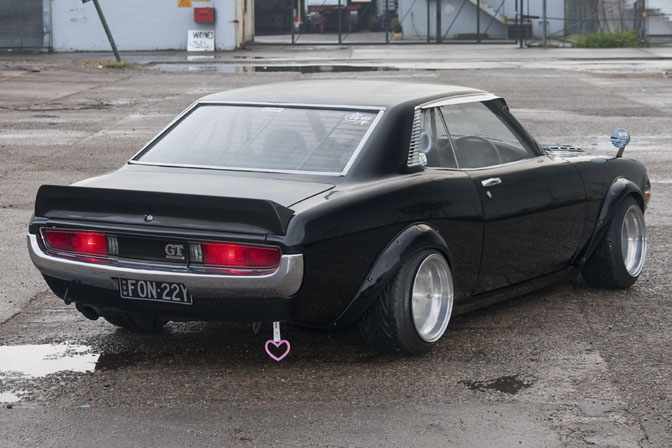 Sometimes it's hard to explain to somebody why a certain car fits into a style. With Bosozoku style cars it's much easier, they all have enlarged fenders and extra wide wheels. The arch extensions came from Toycool have a hard time covering the SSR wheels.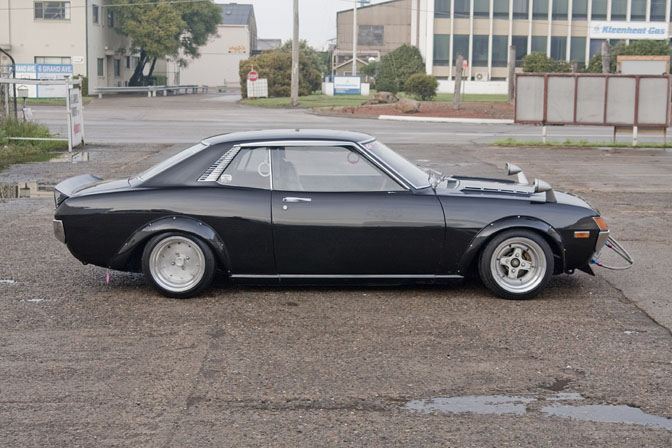 I really like the look of the mismatched wheels, they add a lot of character to the car. At the front, we have a set of SSR MK2 14"x10 -38 with 5mm spacers and in the back we have SSR MK1 14"x11 -38. The wheels are wrapped in Toyo T1R 225/40 tires all round. But we all know it doesn't stop with a good set of wheels, you also need a serious drop.
Alfonzo modified Toyota corona XT130 front struts and used them with SW20 KYB AGX rear shocks and a Koni coilover kit to achieve the perfect stance.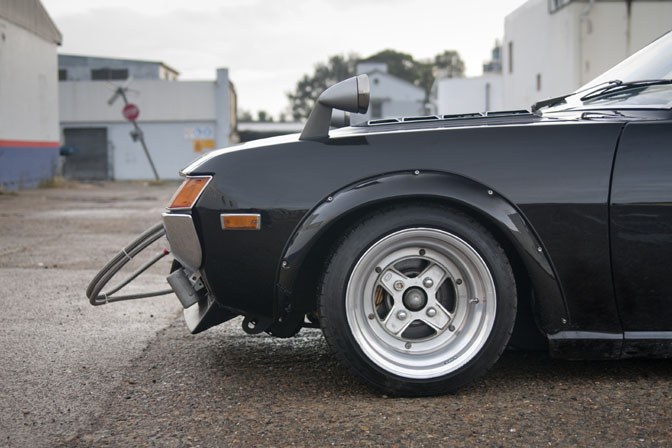 The brakes have also been upgraded with Peugeot 604 vented front discs and Hilux 4 pot calipers. That's a combination I would have never thought off!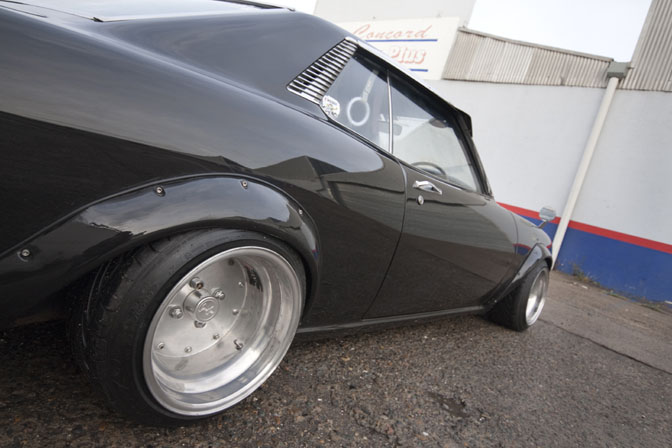 I love this shot taken by Mitchell Mathieson. Check out the tram holding device inside the car.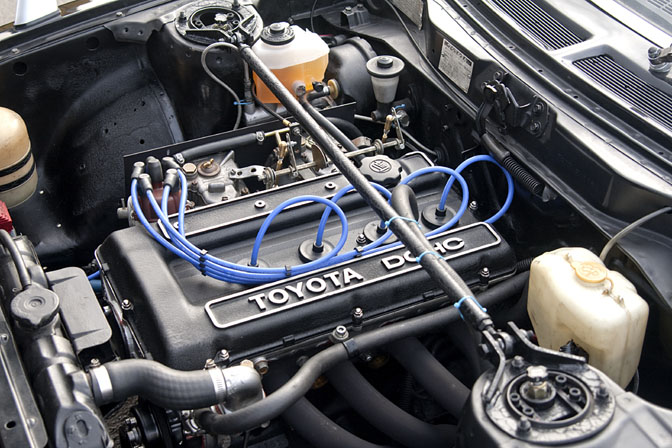 The engine has been fully restored and modified with a plethora of parts. I will share the complete spec list with you guys.
2T-G
88260 Yamaha Head
Match ported
Redline manifold ported
45mm Webers x 2
Ram tubes
Custom 4-2-1 headers
RR4 double valve springs
Dokuro Japanese in/ex valves
255 degree @ 0.050" Wade intake camshaft
255 degree @ 0.050" Wade exhaust camshaft
Thundercords 8.5mm ignition leads
Kameari adjustable sliding cam sprockets in/ex
Kameari timing chain idle sprocket
Kameari Gear Drive
Kameari 90mm bore 0.8mm 3 layer metal head gasket
Kameari oil filter sandwich plate
Decked block 0.010"
Shaved head 0.010"
2T 8101751 block
89mm Arias Forged pistons 10.5:1 compression
Eagle rods
3T-GTE 78mm stroke crankshaft.
BRD high volume oil pump
Baffled sump
Moroso windage tray
Facet electric fuel pump
regulated 2.5psi of fuel
heat separator
triple core radiator
MSD 6AL-2 two step rev limit
MSD Blaster SS coil
4.2kg Agawa Engineering Racing flywheel.
BRD 4 puck clutch plate
BRD pressure plate
This wasn't just a simple overhaul. Some serious work has been done to the engine. The 2T-G engine came from his other Celica, he also bought one for spare parts but that engine was also in a very good condition. So he decided to rebuild them both. So now he has two perfectly working 2T-G engines.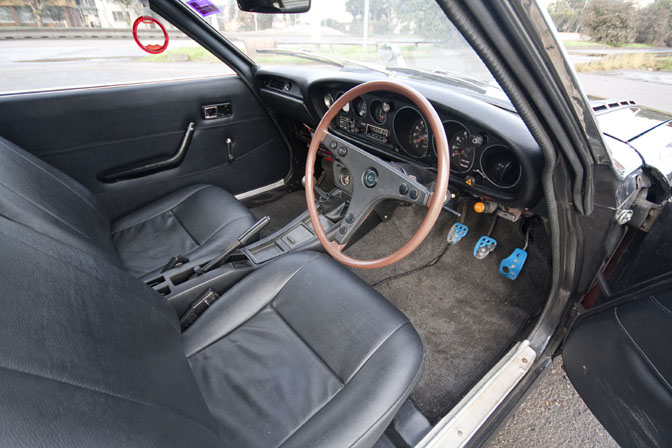 Inside we see a more or less standard interior. The typical creature comforts are still in place, although Alfonzo did replace the stock dash with one from a GT version.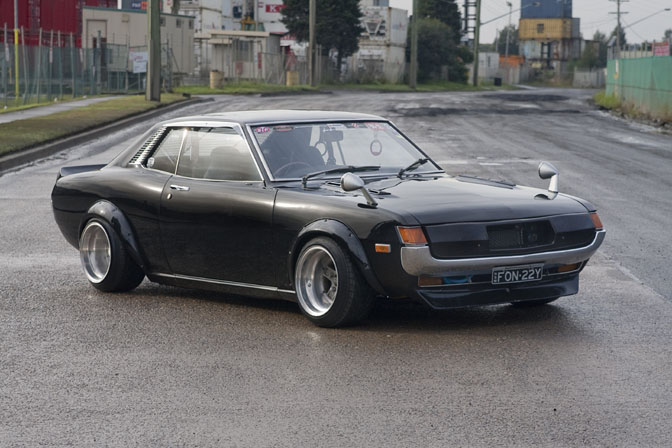 This is how the car looks when Alfonzo drives the car. He even got the exclusive racing jacket installed, in fact he has three. They come transparent but one of them is painted black as you can see in the picture. The real TRD items can be found for around 1000 dollar on Yahoo auctions.
-Jeroen Willemsen
Thanks to Modena Photography for the use of his pictures