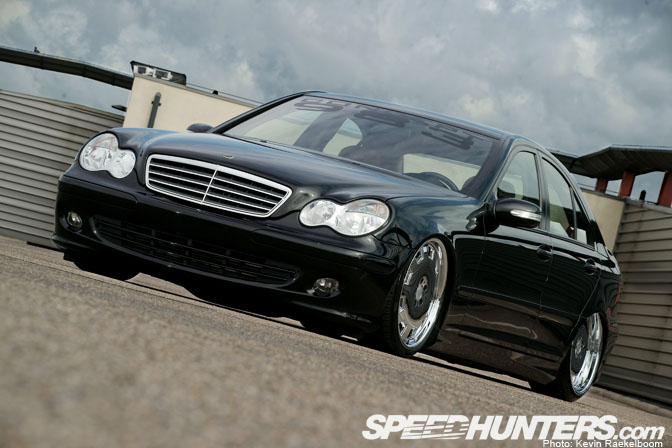 Yes, people in Europe do fit airbags on cars besides VW's and Audis – case in point, Mike Neirinck's 2006 Mercedes W203. In case you aren't too familiar with Mercedes chassis codes, a W203 is second generation C-Class sedan. Mike is actually a master of all things air ride. Together with his cousins he owns a small company in Belgium dedicated to custom air ride kits. Being a fan of Mercedes cars, it was only natural that Mike chose one to serve as the company's demo car.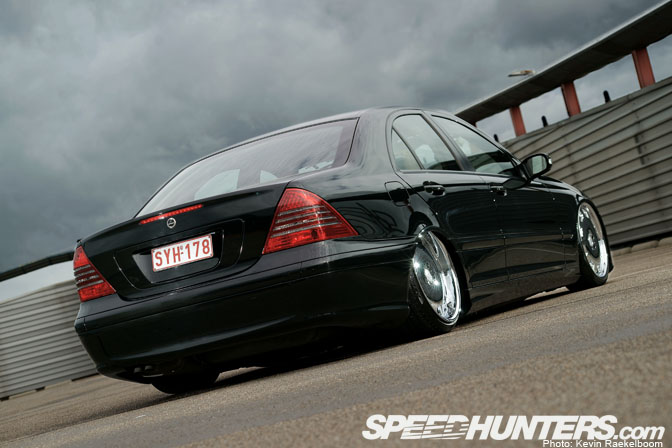 Before we get to the car's footwork, let's look at the body. As we've seen with a lot of the bagged cars coming out of Europe, exterior modifications were kept to a minimum here. The front and rear bumpers were cleaned, along with the keyholes – easy work for Mike he used to work as a body and paint guy. A USDM trunklid (always greener on the other side) and LED taillights complete the body modifications.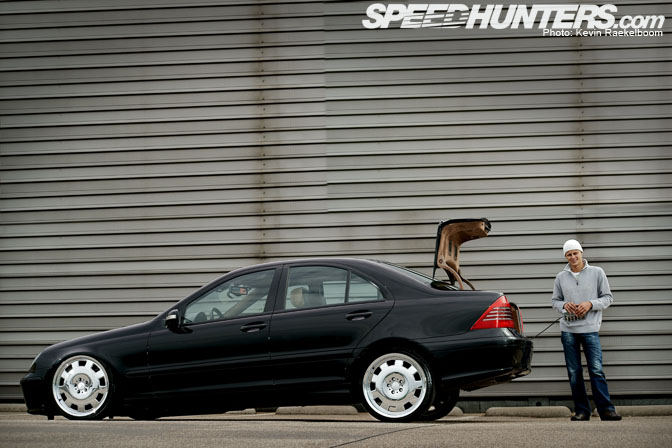 And now for the brains of the operation, the air ride kit done by Mike's company, KEAN Suspensions.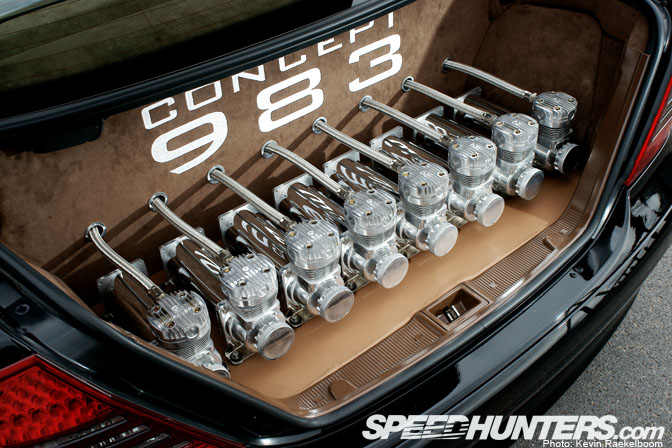 Using a base of KW Variant 2 coilovers, the kit is powered by eight VIAIR 480 compressors, with 14mm lines feeding to each airbag. The car has two air tanks, with the main one holding 63 liters, and the secondary holding 20 liters. While some guys open their hoods to crowds of people, Mike opens his trunk.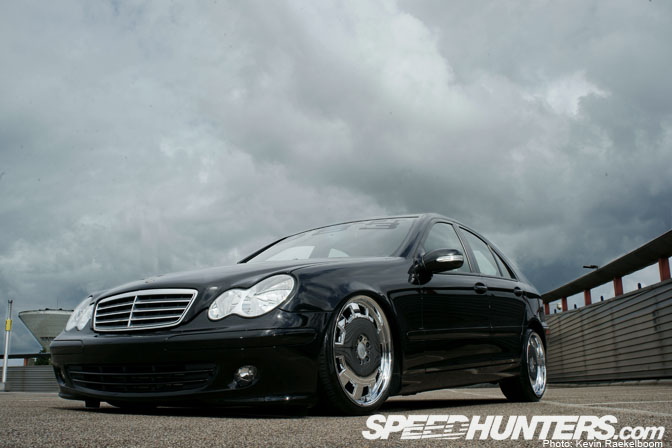 Completing the cars exterior is a set of chromed Mandrus wheels, sized 19×8.5 in the front and 19×9.5 in the rear. Tires are 215/35 Pirellis all around. The chrome might not be everyone's taste, but they work well against the black bodywork.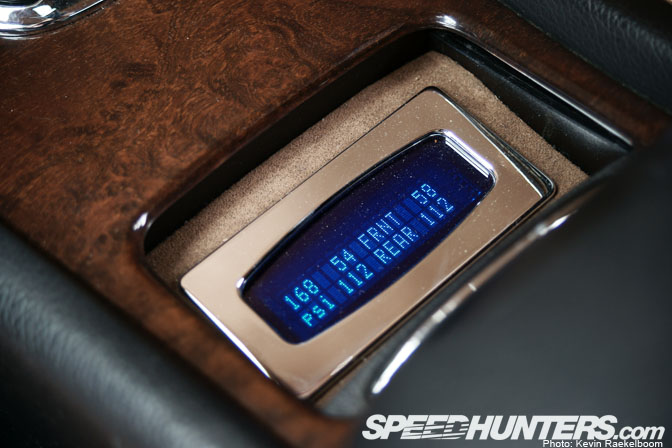 This digital readout mounted in the car's center console is another touch done by KEAN Suspensions.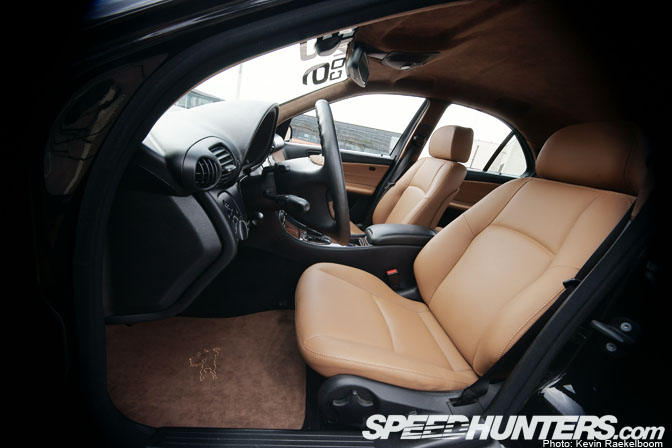 Completing the luxury feel is a full re-upholstered interior with tan leather, and alcantara headliners and floor mats. Of course it wouldn't be complete without some LCD monitors, four of them in this case.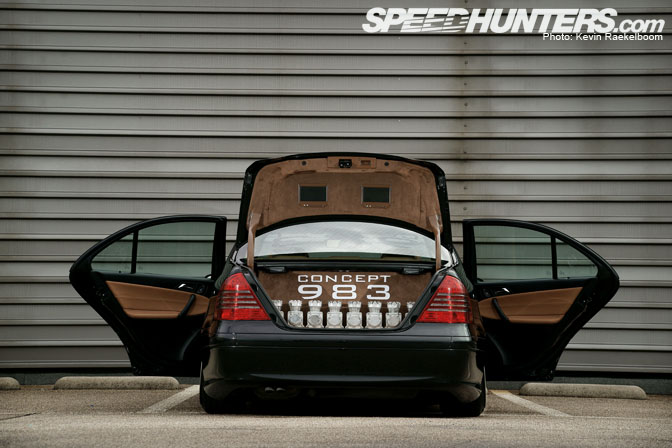 Here's a better view of the custom door panels, along with the recovered trunk.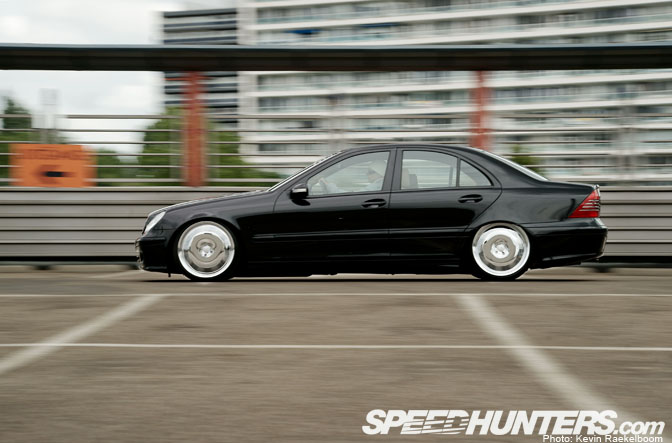 I have a feeling this car is going to generate some mixed responses, but for sure a black Benz tucking 19's has a certain appeal to it, right?
Let's see what you guys think…
-Mike Garrett
Photos by Kevin Raekelboom