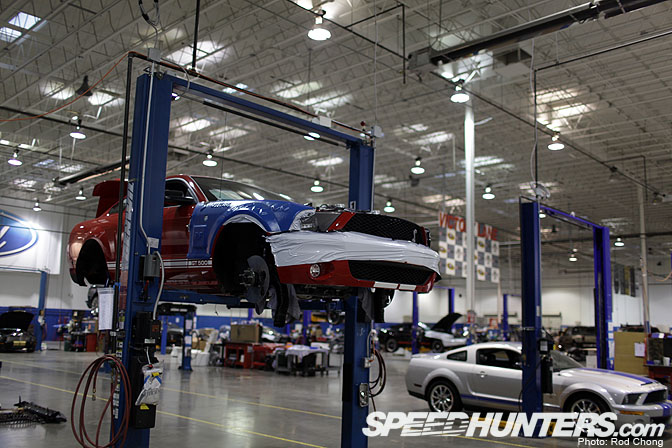 With the Mustang, Ford is in possession of a very valuable property: a modern car with soul and character. Think about it: the vast majority of car companies these days make all of their models with uniform styling features. It's even hard to distinguish between different cars of the same class these days.
It's for this reason I've developed a bit of a soft spot for this retro macho machine, especially the hotted up versions that companies like Shelby and now RTR are putting out. The Mustang is a car that hasn't forgotten what it's about and is the only pony car in the US which has had a continuous production line back to the 1960s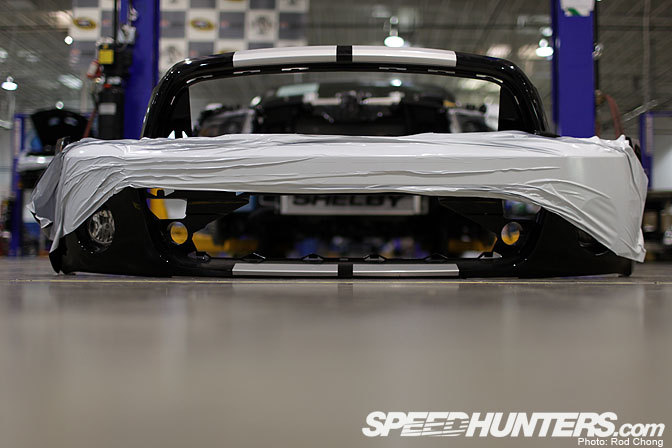 I also love driving Mustangs… I have to admit it. The raw experience appeals to the masculine side of my personality.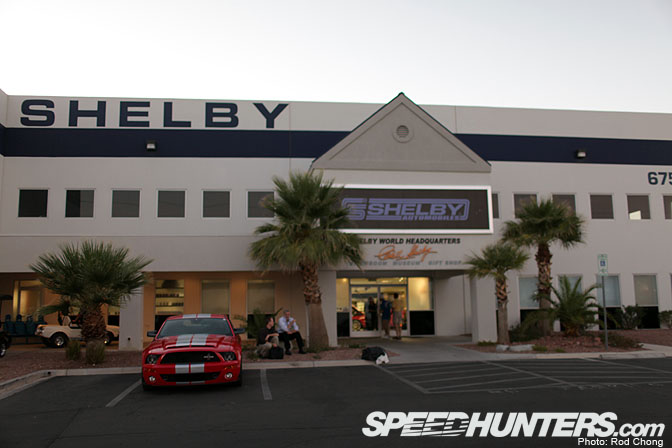 So when the invitation came in from Shelby for Speedhunters to visit their Las Vegas HQ, I jumped at the chance.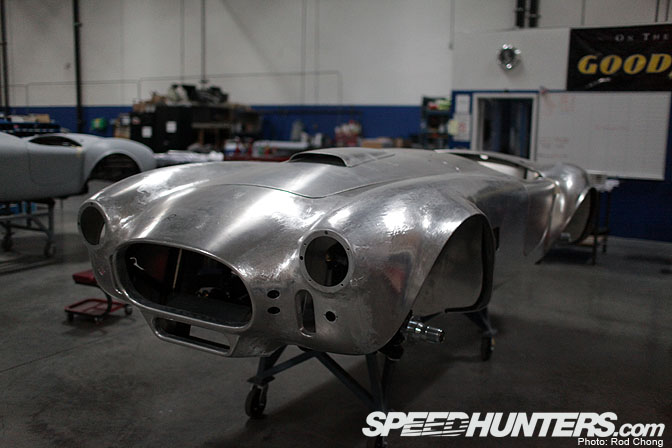 This facility was initially founded in 1995 right on site at Las Vegas Speedway to restart the production of real Shelby Cobras.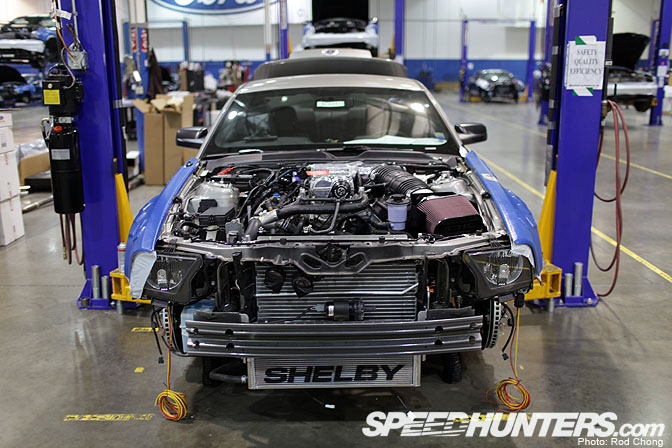 And in 2004 the production of special edition Shelby Mustangs also restarted.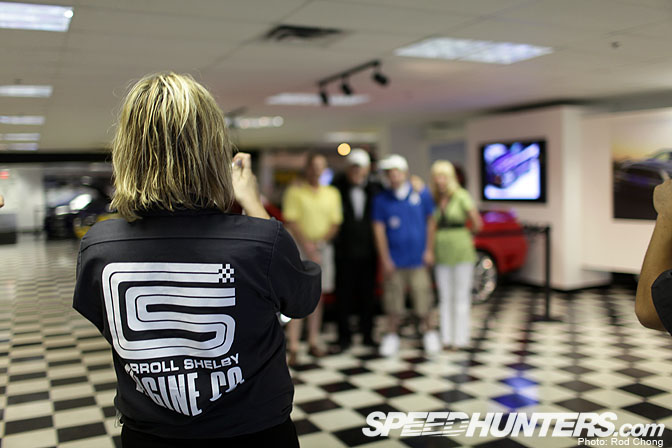 So last Tuesday, Speedhunters' business dev director Rachel Kelly and I arrived at Shelby Automotives Las Vegas HQ, to find Carrol himself posing for some photos with some awe struck visitors to the facility.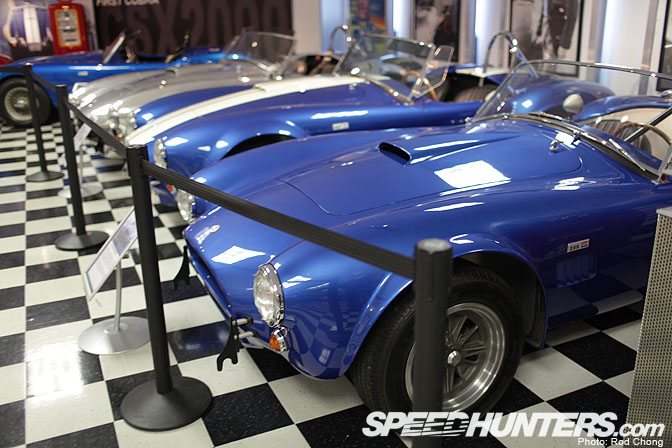 The museum itself is packed up with historically important cars from Shelby's production and racing history.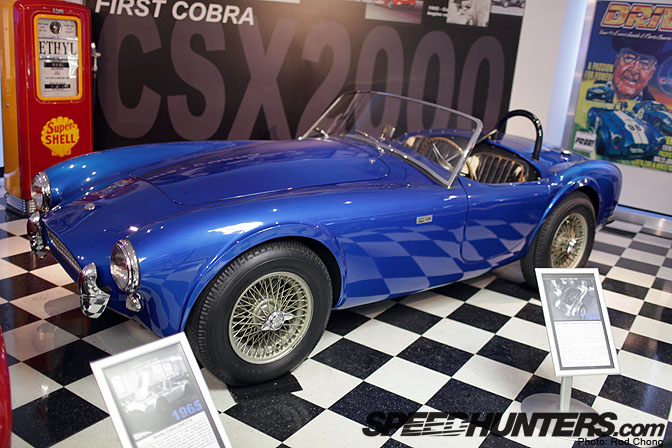 … Including this mint CSX2000 289 small block Cobra.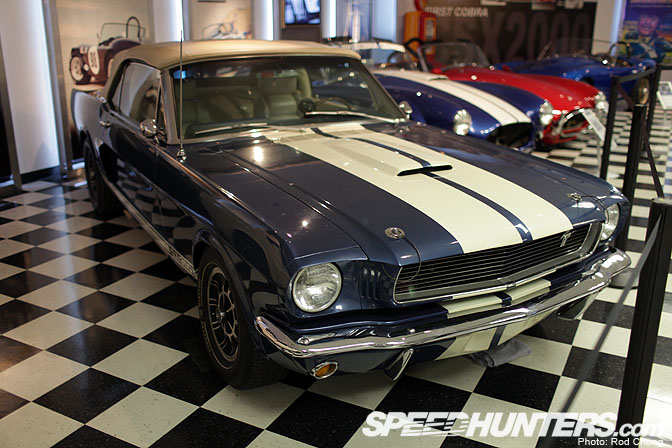 Check out this all original GT350 Convertible. What a priceless machine!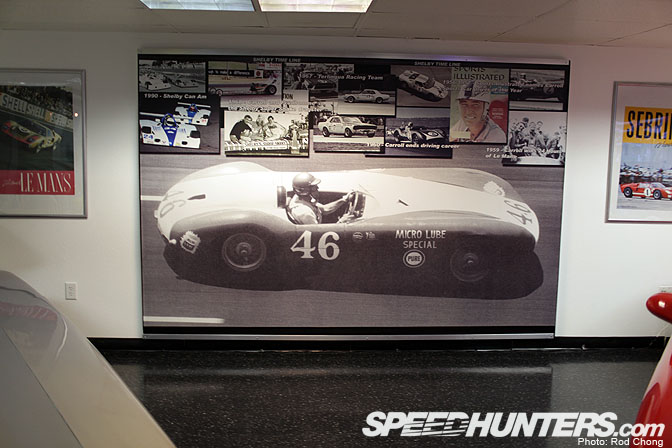 I had to do a bit of digging to find out what this photo was. It's a Maserati 300S Corvette (?) that Carrol drove at the 1000 kms of Daytona in 1959; his last active year as a racing driver. Unusually, the race was run counter clockwise around the oval section of the track. You can even see this in the photo.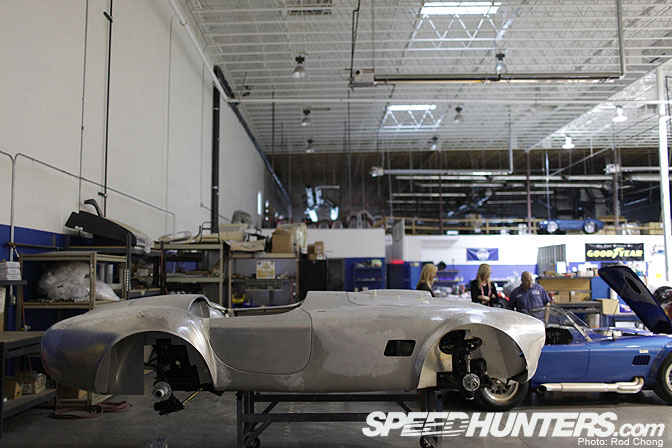 We then moved on to check out the facility where the continuation production Shelby Cobras are built.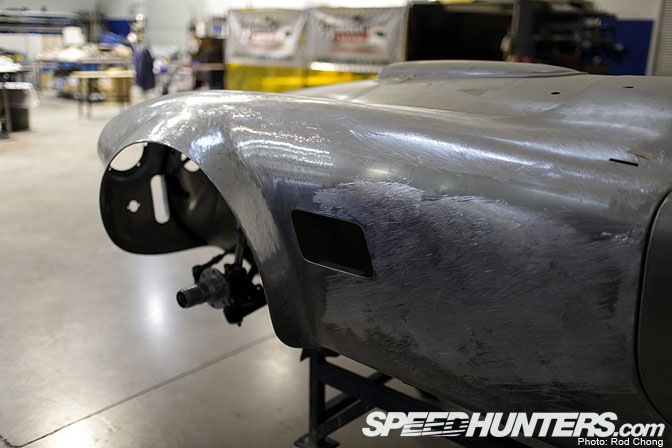 The aluminum bodies are handmade in the UK…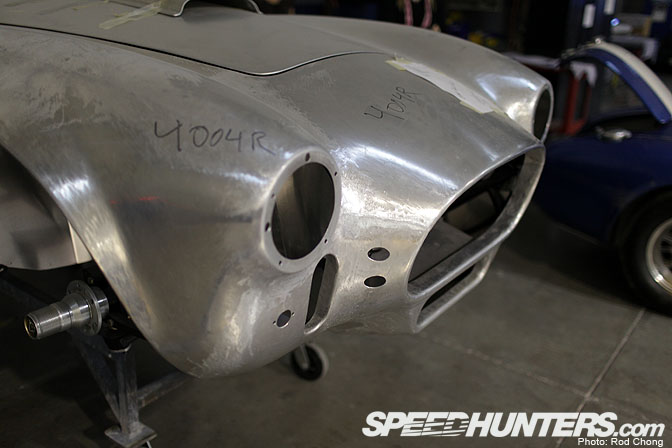 … and are then shipped to the states for finishing.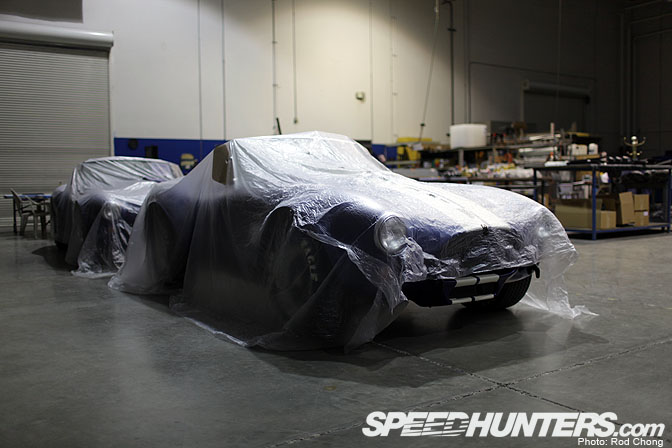 In order to stay defined as "kit cars" the Cobras are delivered to customers sans engines. Here are two finished machines.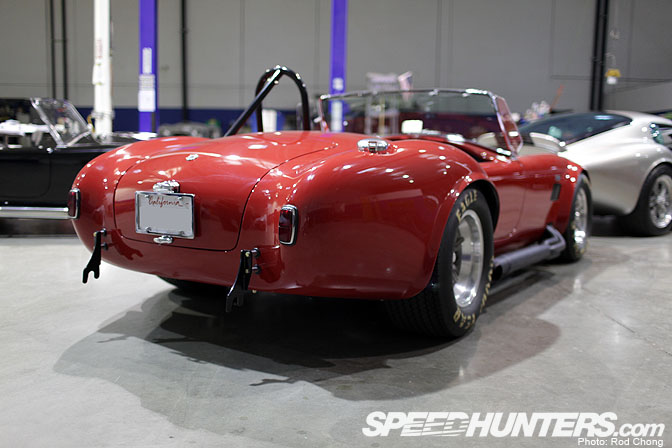 There's no fiberglass here!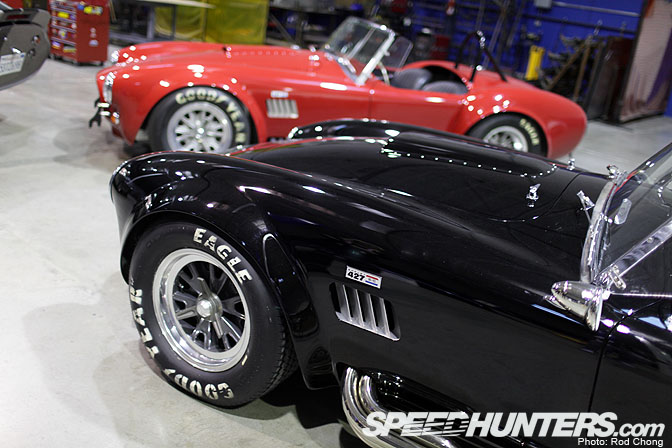 I love the idea of owning a continuation/recreation vehicle. You get the full raw vintage muscle experience without the headache of owning a priceless museum piece.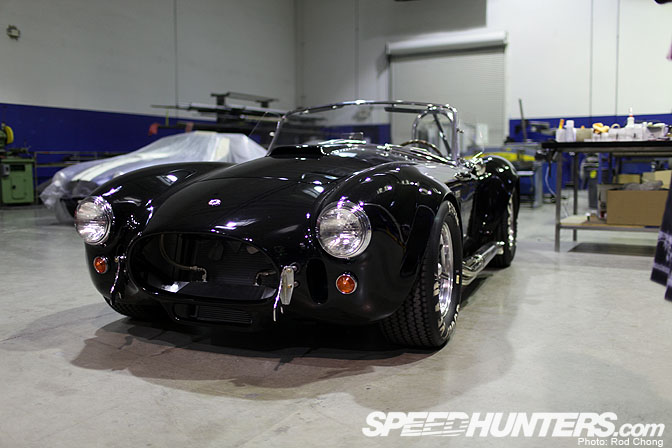 Hmmm we'll have to see if Shelby will loan us one of these cars for a day ;>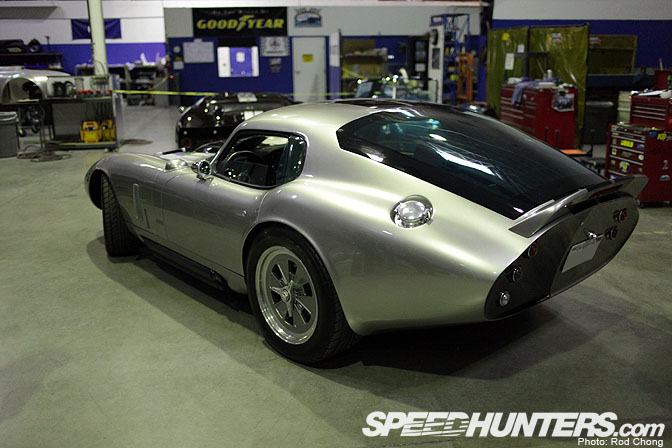 Shelby also licenses its name out to several partner companies…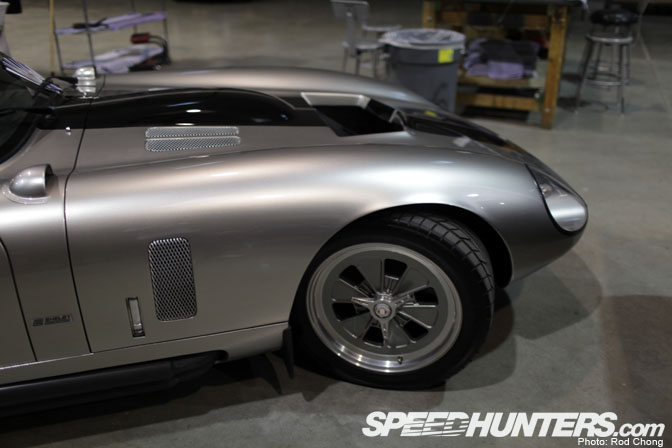 … Including this Daytona Coupe. Wow what a car. It's no wonder the original Daytona Coupes are some of the most desirable cars on the planet.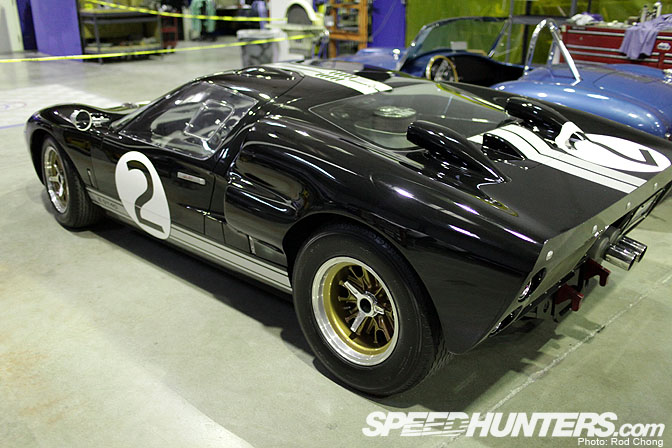 This GT40 MKII is also a recreation machine. I believe it's a Superformance officially licensed product.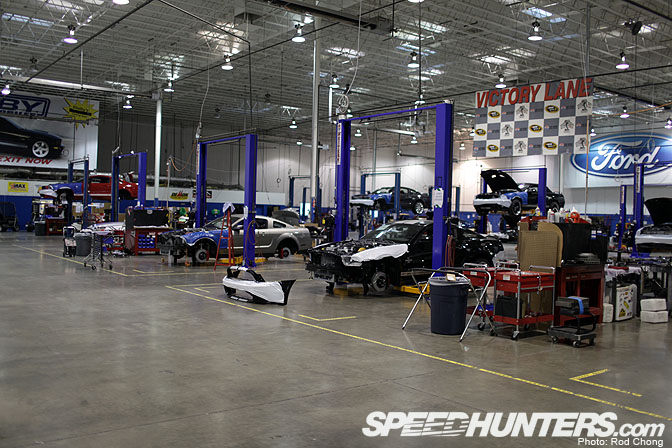 Our tour then turned to the Mustang production area.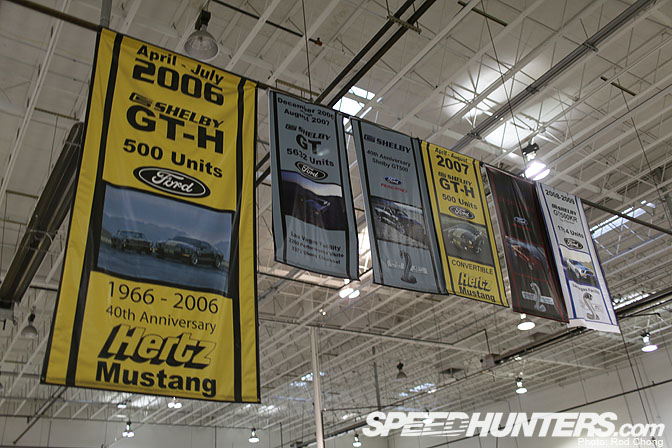 You can see by the production numbers being advertised on these banners, that Shelby has the ability to churn out runs of several thousand cars at a time. Our host told us that they literally have fields of Mustangs sometimes taking up all the lots around Las Vegas Speedway.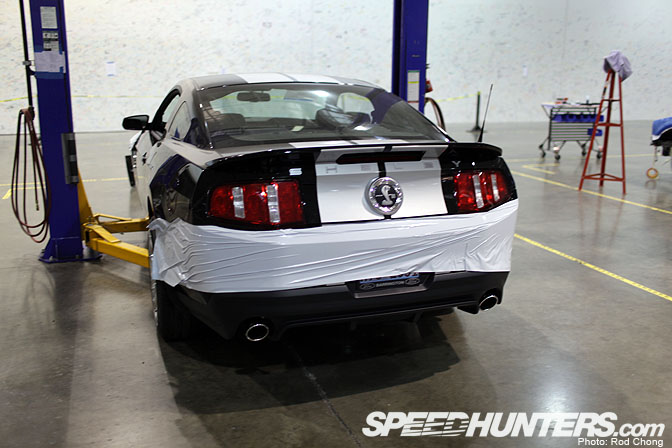 This 2010 GT500 was in the midst of being converted into a Super Snake.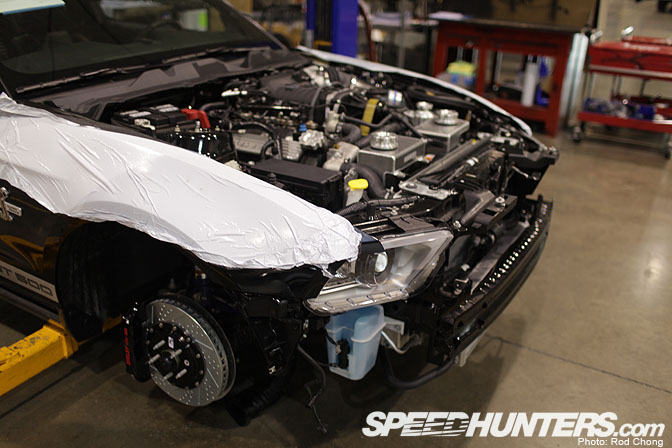 It's a procedure which will see the car's power output pushed up to a heady 725 bhp.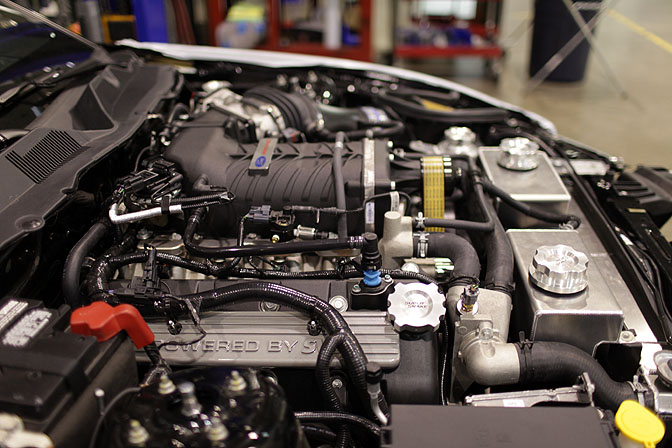 That's pretty terrifying… I'm going to have to try and sample one of these cars soon -for me the 400 bhp NFS Terlingua is a pretty exciting car to drive, but the Super Snake is in a whole other league.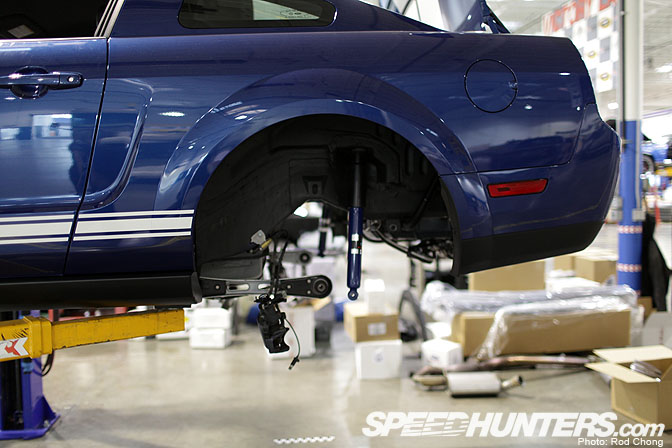 There were a mix of 2010 and the previous 5th gen Mustangs in various states of disassembly on the factory floor.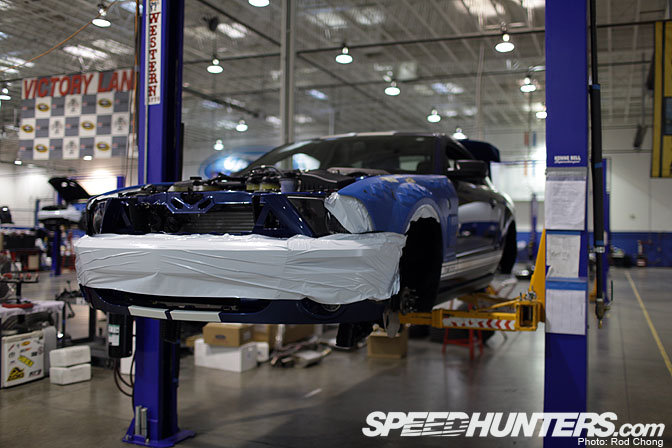 The Super Snake program is a post-title project. Meaning that you bring your car to Shelby and they do the work after your purchase is complete. It makes a lot of sense, as the upgrade will no doubt add value and rarity to any existing GT500 'Stang… including the new 2010 models.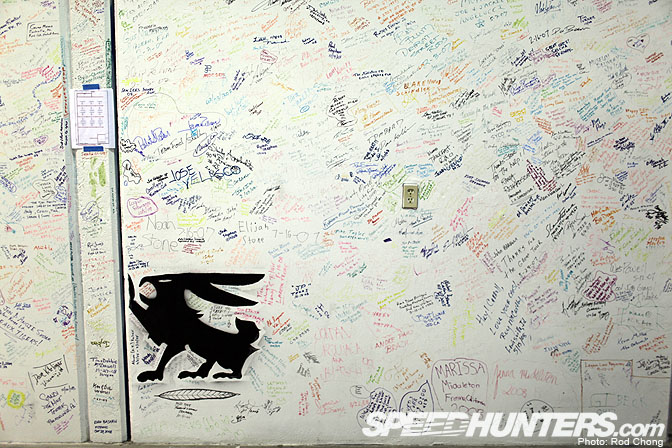 Here's a curiosity: the walls of the facility were lined with messages from Shelby fans around the world who've visited Shelby in Las Vegas.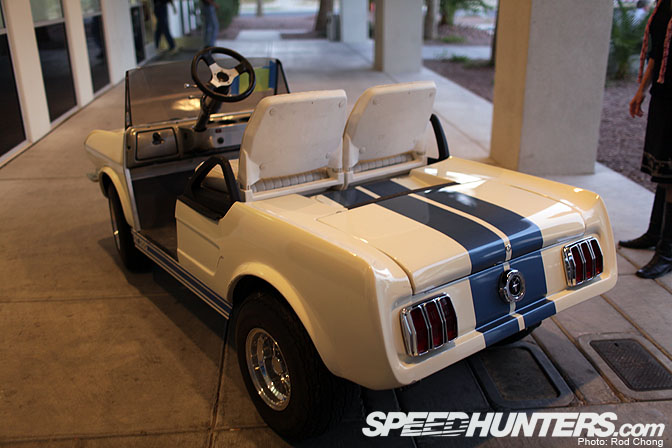 It was then time to leave the factory to check out a Shelby press event being held at the Speedway. On the way out we spotted this cool GT350 themed golf cart.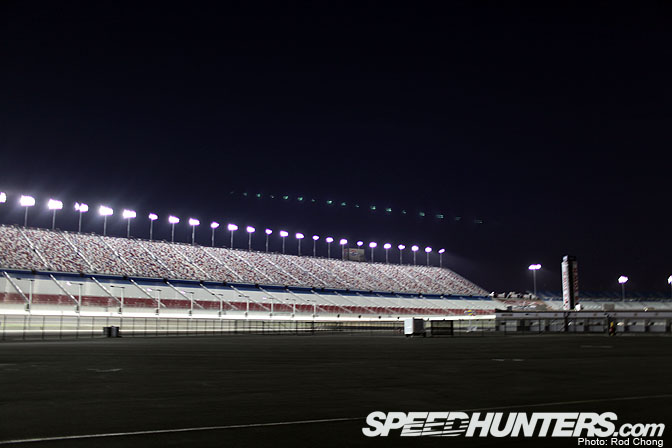 It looked like some NASCAR teams were practicing on the Speedway as we drove up to the media center. I've never seen stock cars running in person previously and it was mighty impressive, especially seeing them at speed under the spotlights.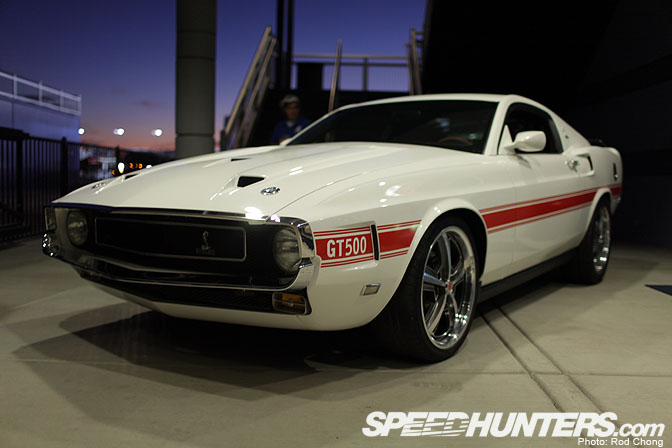 Believe it or not, this is a brand new, modern Mustang. A company called Retrobuilt is rebodying new Mustang chassis with these retro inspired bodies and was launching the GT500CS that night… in this case the car is based on the look of a 1969 GT500 and is an official Shelby licensed product.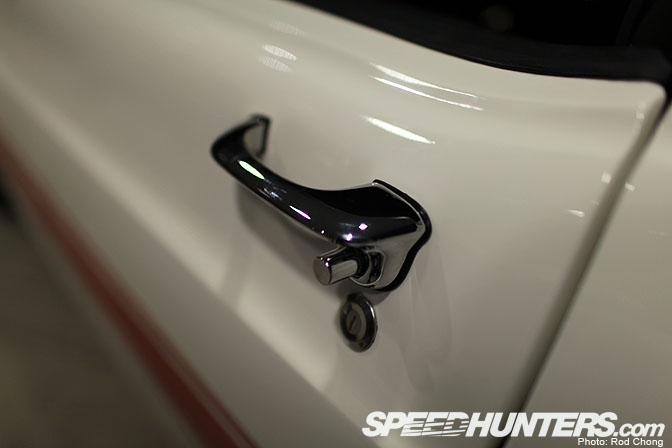 It's for people who want the look of a classic car with the convenience of a modern machine. Personally speaking I loved the retro door handles!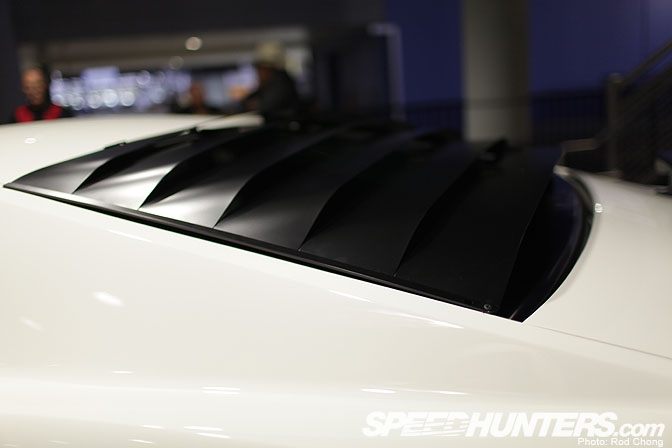 The window louvers were also extremely cool! Someone should put these onto a S13!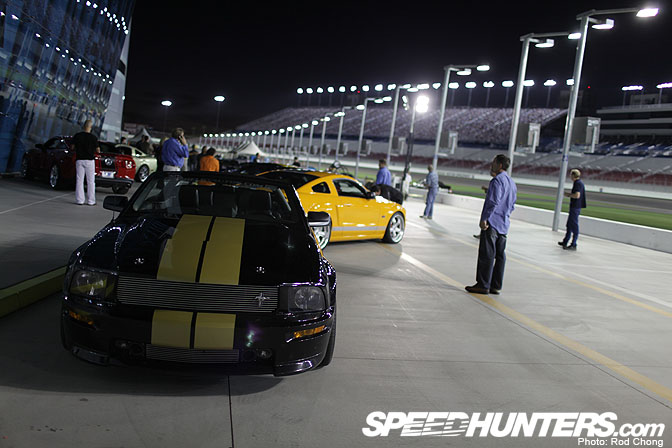 Shelby was about to announce a new Turbo Mustang program and had their entire lineup of Mustangs parked up for the media to see.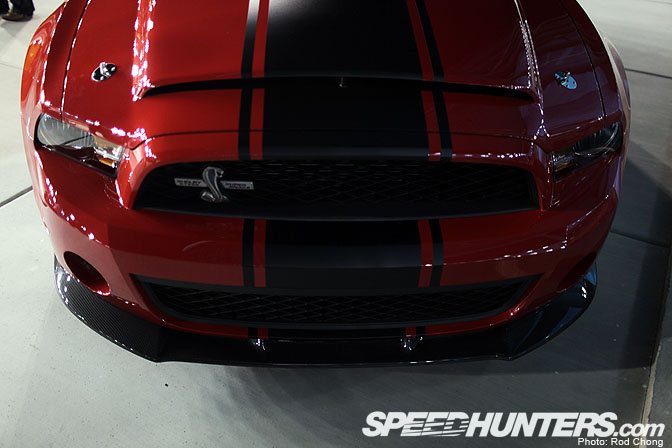 I liked the aggressive looks of this 2010 Super Snake.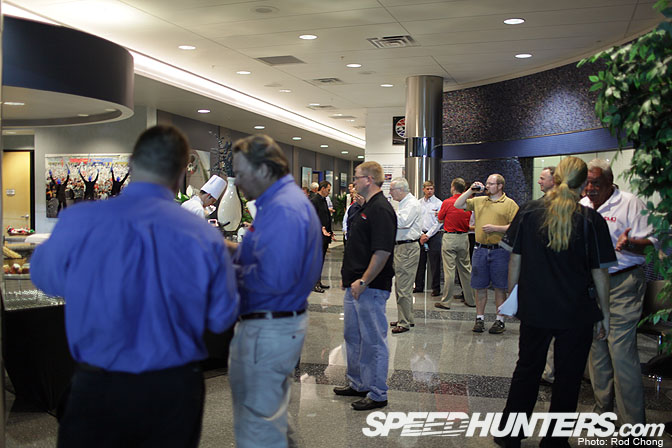 Members of the auto industry and media were starting to trickle in, but alas we had a dinner date, so had to skip out and drive back to downtown Las Vegas.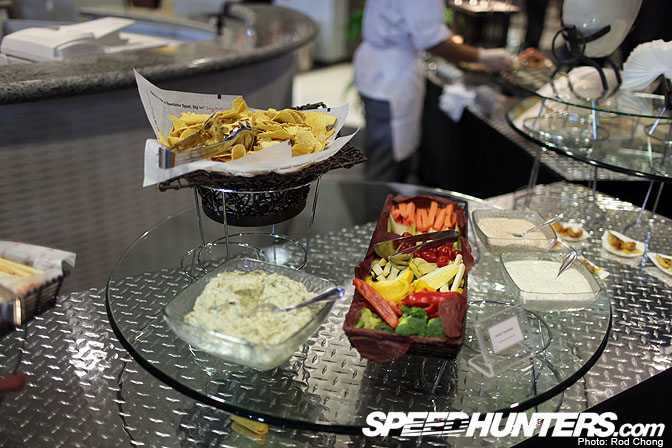 But not before I grabbed some food…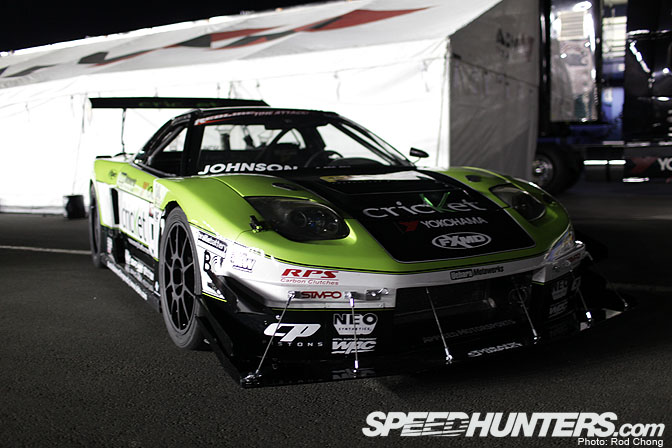 On the way out of Las Vegas Speedway, I spotted the Factor X NSX sitting in the paddock area.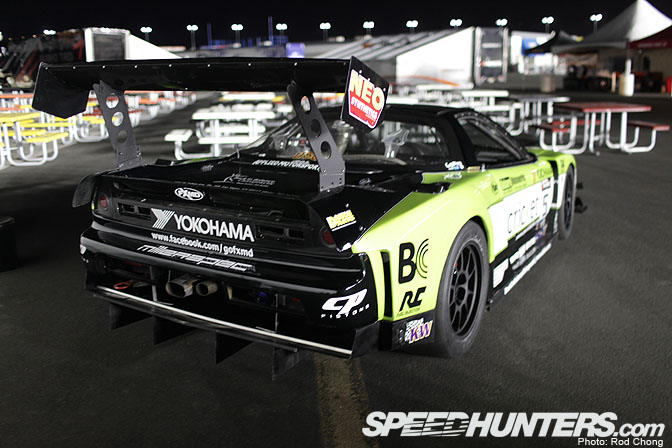 I'm not sure what it was doing there, but I had to jump out of the car to take a few pictures!
Ok that's it for me for my SEMA 2009 reporting. I'll get back to writing up about more slammed car special features next week.
Tx to Shelby for their hospitality!
Cheers!
:Rod