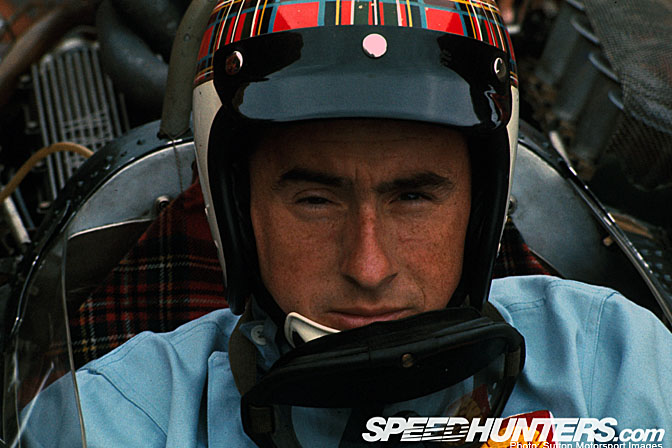 1968 was a year of revolution; politically, socially, culturally, even down to something as trivial as sport. Nothing was ever the same again, it was, perhaps, the End of Innocence.
Politically, students and workers had taken to the streets in Paris during May nearly toppling the government.
In the "Prague Spring" a Soviet satellite made a bid for freedom, bloody and brutal repression by the Russians was the final outcome.
In the USA a presidential election year saw LBJ resign and Richard Nixon elected. The 1967 Summer of Love became the Summer of Hate; Martin Luther King Jnr. and Robert Kennedy were murdered, riots in support of the Civil Rights movement and against the continuing Vietnam War blighted America's cities all through the Summer and throughout the Presidential Campaign.
Socially old barriers of respect for authority and "one's betters" were collapsing under the movement of social mobility, freedom for women, those of other races and colours seemed within grasp. Everyone wanted their rights.
Culturally there was an explosion in music, cinema, theatre with barriers being pushed all the time.
Sport, as ever, was a reflection of society's turbulence, from Black Power Protests at the 1968 Olympics to Muhammad Ali being on trial for Draft Evasion, it made headline news.
Even a conservative backwater such a Grand Prix racing was not immune to the events that surrounded it. Things were going to change.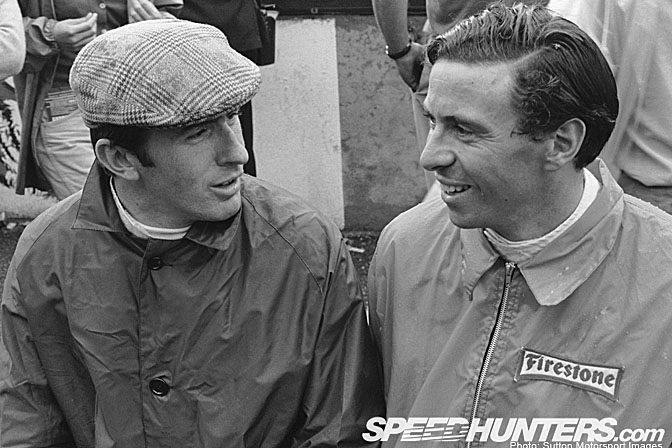 My previous feature described how Jim Clark, the MAN for the 60's F1, was killed in a meaningless race in early 1968, the sport was in shock and a new leader was needed to pull it into the new age of enlightenment. The most complete talent on the grid once Clark had departed was undoubtedly Jackie Stewart. In the way the way that Fangio had recognised the talent of new kid Stirling Moss and helped him selflessly, Clark did the same for Stewart. It has to be said the Stewart's original team leader, the grizzled old pro, Graham Hill, was similarly generous to the young Scot. It says a lot about the character of men such as Clark and Hill that they displayed such generosity to a young pretender.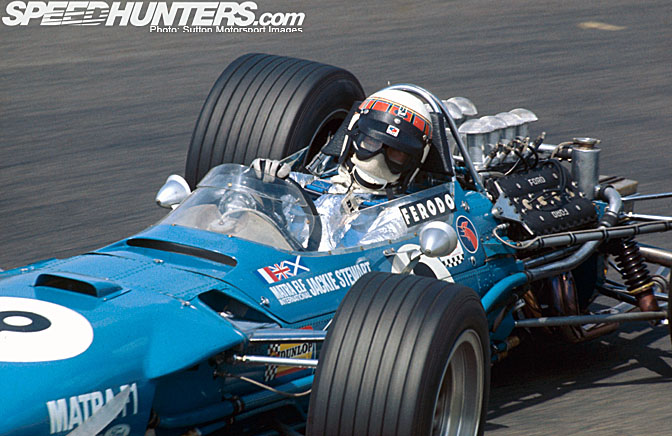 1968 saw several major changes to Formula One that would shape it towards the business that we find today. The first really modern engine, the Cosworth DFV, was made available to customers. It would provide reliable power at a reasonable cost, mated to a Hewland gearbox it provided the base power and transmission elements of most F1 cars for the next 10 years.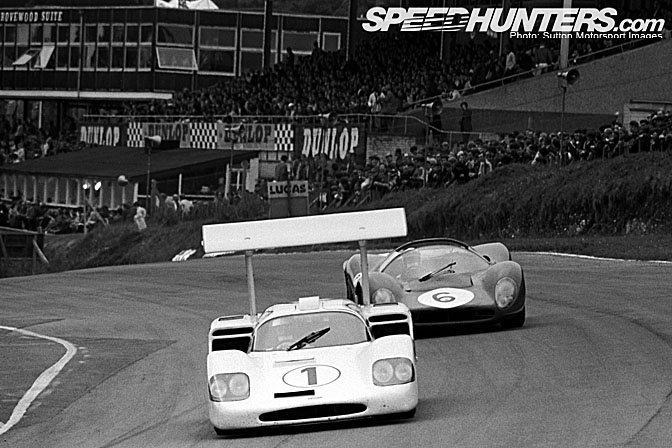 Another factor that was assuming a greater importance in racing was the development of aerodynamics. Wing and spoiler technology had been pioneered by Jim Hall on his Chaparral sportscars. Here at the 1967 Brands Hatch 500 miles the Chaparral 2F of Mike Spence and Phil Hill beat a top class field including Jackie Stewart in the pursuing Ferrari 330P4. The race to put a Man on the Moon was about to be won by the Americans and many of the advances in science and technology would soon find their way into motorsport.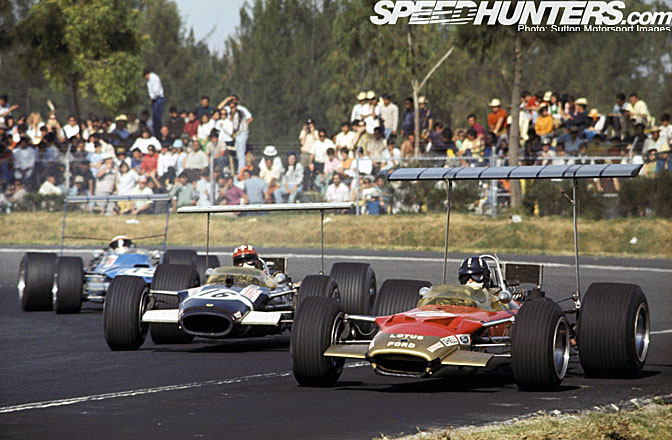 Perhaps the biggest change that happened in 1968 was the introduction of commercial sponsorship. The financing of Grand Prix racing until that point was a precarious arrangement of starting money and funds from tyre and oil companies, plus for the likes of Lotus and Ferrari selling road cars. The first Formula One sponsorship deal was with Team Lotus and the cigarette brand Gold Leaf. This infusion of cash did much to accelerate the development of the cars during the following years.
Tobacco companies have always been amongst the most inventive when trying to market their products. There was a consensus in the medical profession during the early 60s about the health risks posed by smoking, such as lung cancer and heart disease. This led to legislation with restrictions on TV and press advertising which posed a problem for those trying to sell cigarettes. One solution was to sponsor sports and other "halo" activities that were both popular and had the right brand values. The message would be broadcast on TV and the association with exciting activities such as motor sport would further reinforce the message that the Tobacco Industry wanted to get across.
In a parallel development some impetus for this form of sponsorship marketing came from the growing television audience, now becoming global. In 1967 the first live satellite television link up happened with a programme called "Our World" which had 19 countries participating and an audience of 400 million. It is only remembered now for Britain's contribution, the Beatles recording "All You Need is Love" live. Watching it at the time it felt a pretty big deal, that so many of us could share the experience, even if we all agreed that the Fab Four's efforts were pretty dire……………..too much Bob Hope was the general verdict.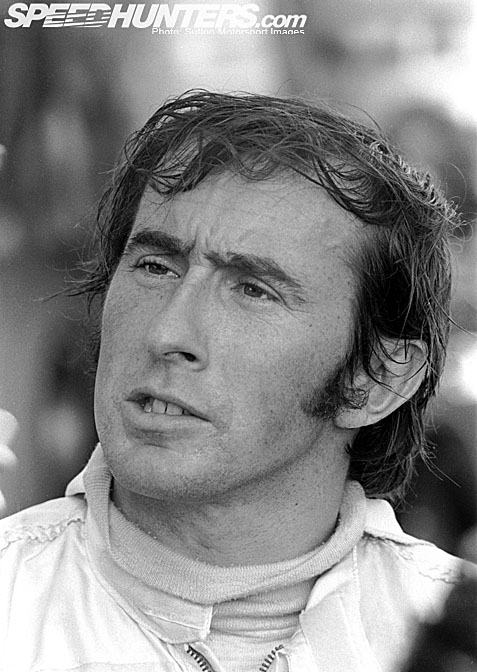 1968 also saw a change in the image of Jackie Stewart, he became the first "pop star" driver with an appropriate hair style and fashion sense. He was more culturally attuned to the times than opponents such as Jack Brabham, Graham Hill or John Surtees. He was George Best to their Bobby Charlton, the Beatles to their Frank Sinatra.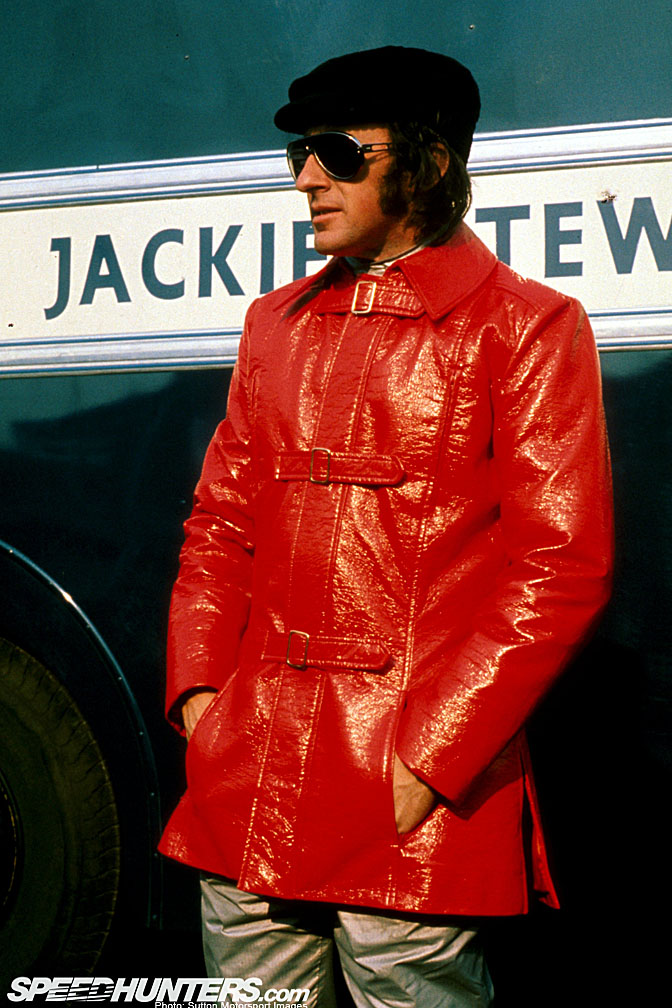 Stewart became a fashion icon too with his trademark hat and sunglasses, not too sure about the coat though……………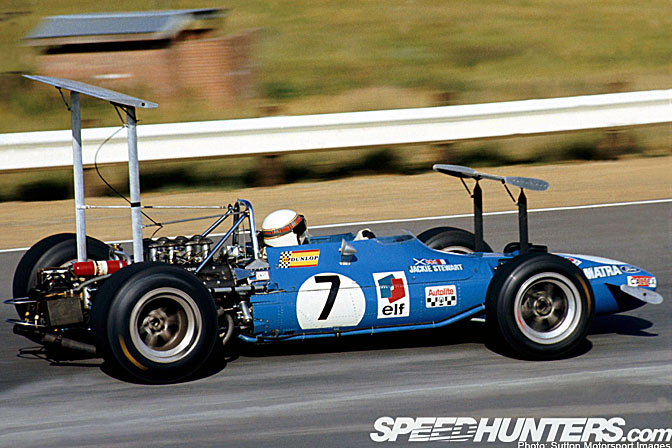 Stewart's profile off the track was matched by his performances on it. He broke his wrist early in 1968 and so missed two races but he recovered to win three times.
Jackie raced for Ken Tyrrell's team running Matra Cosworths in 1968. Matra was a department of a French aeronautics and defence contractor. It was another sign of the increasing technological development that would dominate Formula One in the following years.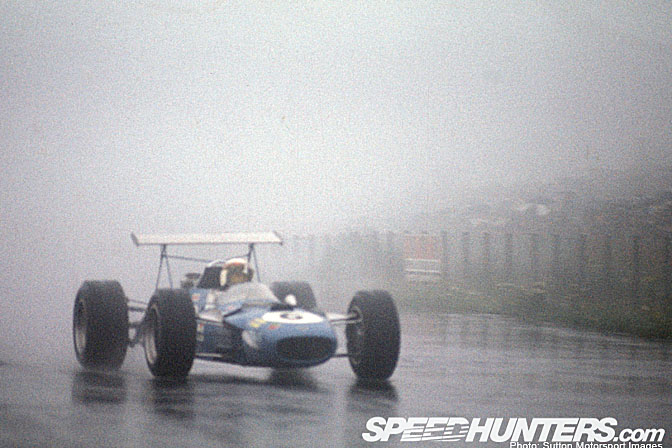 As befits a driver of Stewart's stature, he gave a performance at the 1968 German Grand Prix that is still recognised as one of the finest wet weather drives ever seen. The Nordschleife is a terrifying place at the best of times but in monsoon conditions and in 3 litre Formula One cars it is borderline insane. Also remember the context of the number of top line drivers that had been killed racing in 1968…………….it took real courage to go out and race in those circumstances.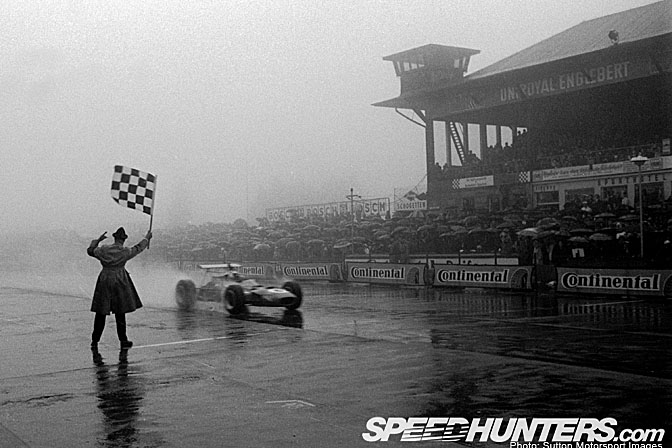 And race they did…………..but a combination of Stewart's talent and really effective Dunlop tyres meant that it was two class race…….the #6 Matra Cosworth and the rest. He finished over 4 minutes in front of the next car after over 2 hours of racing in water and fog……….as a reporter put it at the time "It was miserable but magnificent".  And by the way his wrist was still in a cast from his earlier injury.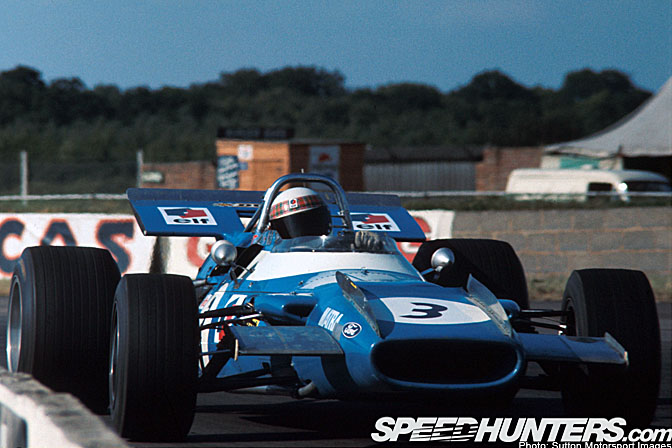 After finishing second in the Driver's Championship in 1968, Stewart, Tyrrell and Matra absorbed the lessons to emerge triumphant in 1969. The Matra MS80 was the class of the field and with JYS at the wheel took victory in 6 out of 10 races.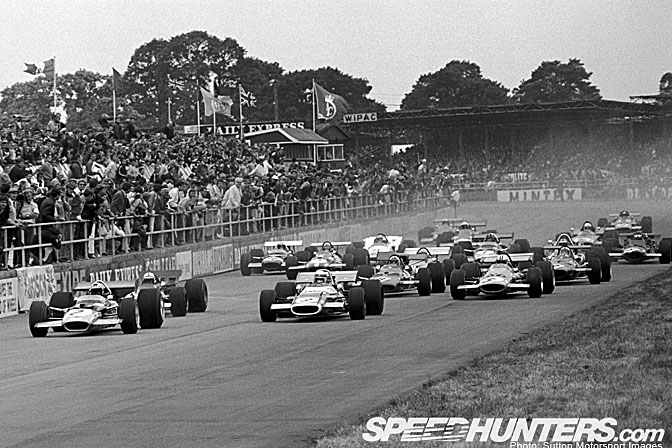 Perhaps the best win of the year came at Silverstone and the British Grand Prix. Right from the start the contest was reduced to a two horse race with Stewart's Matra and the Lotus 49B of Jochen Rindt swapping the lead time and time again. As might be imagined this had the crowd on their feet for the whole race but as always all good things come to an end. Lap 51 saw Rindt head for the pits, the endplate on his rear wing had become dislodged and was snagging the left rear tyre. The mechanics tore off the offending metal with their bare hands………and some 35 seconds adrift Rindt resumed his chase. However a champion's drive did not even get the reward of second place, he ran out of petrol on the last lap………………………..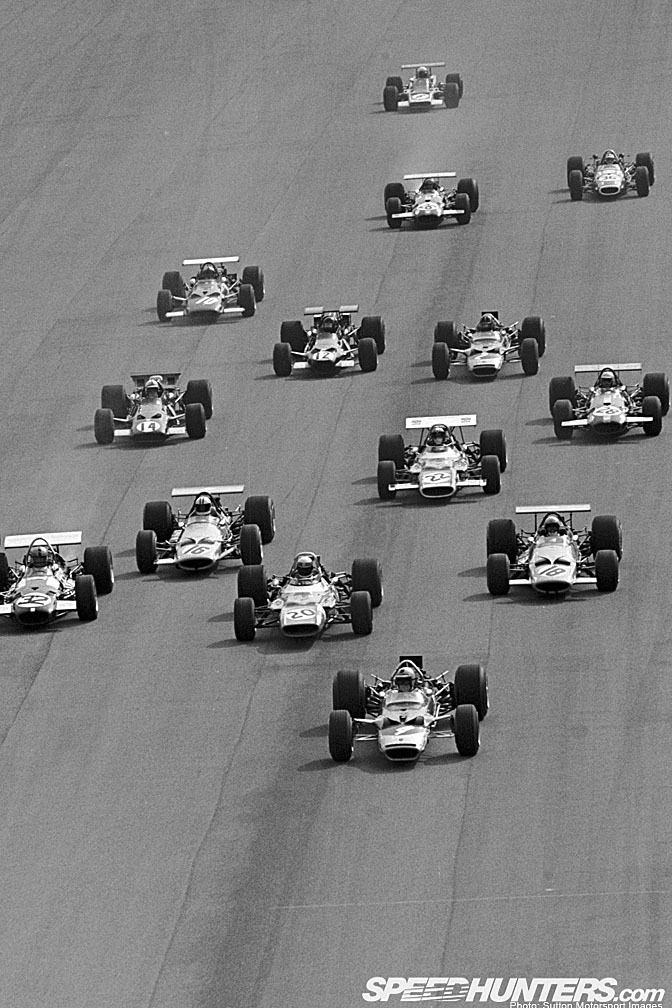 Monza in September and the Italian Grand Prix……..Stewart took win number 6 and wrapped up his first World Driver's Championship. It was a good time for Jackie…….
Later he reflected, "It was the height of all the good times, really. After the year before, when we'd had so many accidents and deaths. 1969 was a relatively clean year, a breath of air very badly needed. Then, in 1970, it all started again and by 1973 I was going off the whole idea………."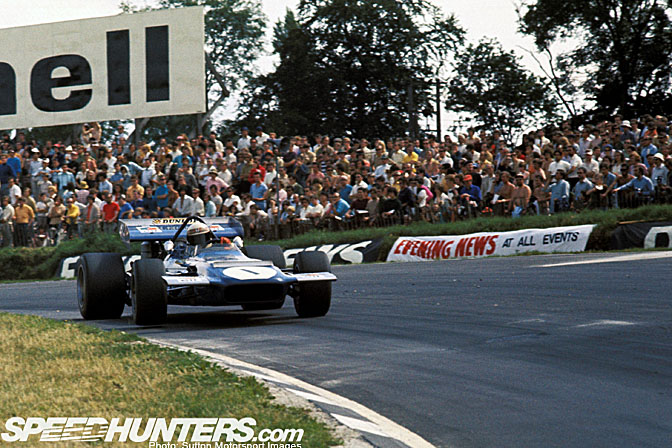 For 1970 Matra decided to only run their own 12 cylinder engine in Formula One, so Tyrrell and Stewart, contracted to Ford, had to find another chassis solution. In the short term they acquired a March 701 but it really was not up to the job.
That year I went to my first race meeting, the British Grand Prix at Brands Hatch. I was sitting on the other side of the track at Clearways where this photo was taken.
At the time I was not sure about Stewart who was being vilified in certain sections of the motoring press and establishment for his outspoken campaign on safety issues. However seeing him wrestle the dog that was the 701 into the top six, when talented guys like Mario Andretti and Chris Amon struggled to get into the top dozen, convinced even this wet behind the ears teenager that he was the real deal. If I could see it so could everyone else.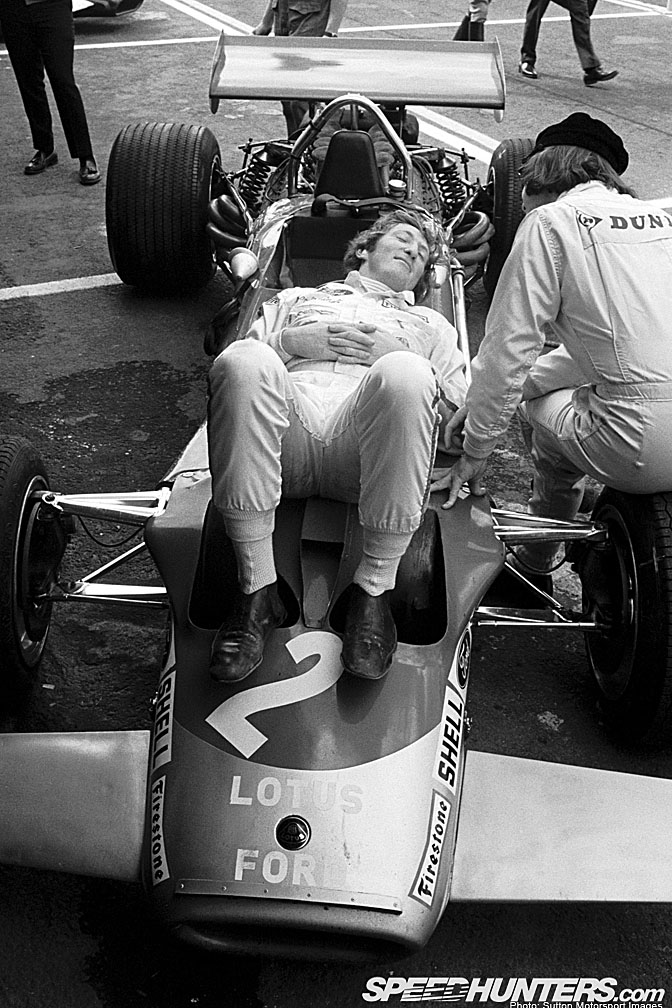 1970 was not a good year for Jackie Stewart, the March 701 was, as already mentioned, a dog, cobbled together in a hurry by a new constructor headed up by Max Mosley. After a relatively benign season in 1969 the spectre of death returned to top line racing. Bruce McLaren was killed at Goodwood testing his Can-Am car. Piers Courage, a close friend of both Stewart and Rindt, was burned to death following an accident at the Dutch Grand Prix.
The two positive things for the Scotsman that year was firstly Tyrrell were building their own car in secret, it would be ready towards the end of the year, anything had to be an improvement on the March. The other thing that pleased him was the success of Jochen Rindt who won five races in the mid-season period and was looking a certainty to take Stewart's crown.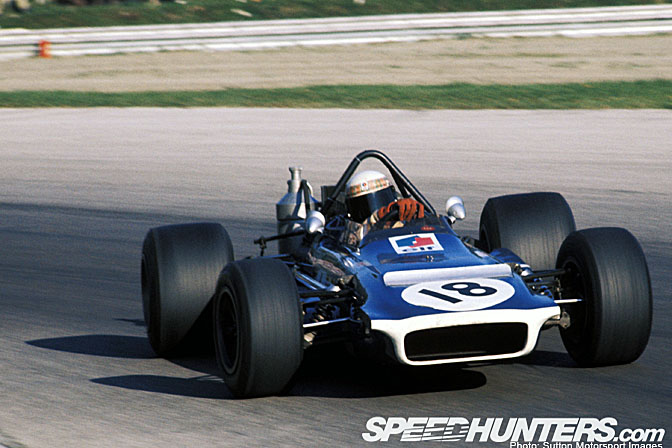 Until Monza that is………….
Running flat out approaching the Parabolica during Saturday practice Rindt's Lotus snapped sideways under braking and hit the Armco very hard. Rindt sustained mortal injuries and died on his way to hospital. For Stewart the loss of his friend was a hard blow to take. Yet the professional in Stewart rose to the top, through the tears in the cockpit he set off on the trimmed out March setting his fastest time and followed that up with second place the next day.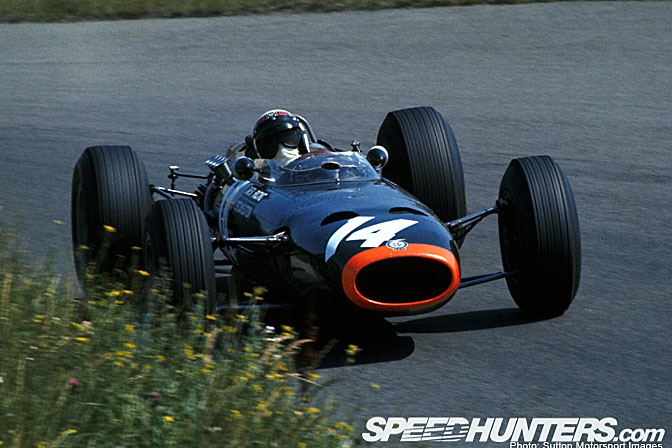 Improvements in Safety and Stewart went hand in glove, although he was severely criticised in certain establishment quarters for voicing concerns. He had first hand knowledge of the dangers and the potential consequences of retaining the status quo. In 1966 he aquaplaned off the road at around 160mph during a deluge on the Spa circuit. His BRM hit a telegraph pole and ended up in a farm building. He was trapped in the car while the leaking fuel tanks deposited their contents over him………………
As he later put it ""I lay trapped in the car for twenty-five minutes, unable to be moved. Graham Hill and Bob Bondurant got me out using the spanners from a spectator's toolkit. There were no doctors and there was nowhere to put me. They in fact put me in the back of a van. Eventually an ambulance took me to a first aid spot near the control tower and I was left on a stretcher, on the floor, surrounded by cigarette ends. I was put into an ambulance with a police escort and the police escort lost the ambulance, and the ambulance didn't know how to get to Liège. At the time they thought I had a spinal injury. As it turned out, I wasn't seriously injured, but they didn't know that."
"I realised that if this was the best we had there was something sadly wrong: things wrong with the race track, the cars, the medical side, the fire-fighting, and the emergency crews. There were also grass banks that were launch pads, things you went straight into, trees that were unprotected and so on. Young people today just wouldn't understand it. It was ridiculous."
As World Champion Jackie Stewart had the authority to speak out on such matters but it still took moral courage to do so but as he said, " A lot of people criticized me personally, saying I was trying to wrap everyone in cotton wool. Dreamers, all of them. Christ Almighty, when did they ever hit an Armco barrier at 150mph? They talked about barriers as if they were candy floss! Motor racing will never be safe. There will always be accidents and there will always be fatalities. But at least people now accept there's no room for unnecessary hazards. People with half a brain anyway…………..
He was vilified in sections of the media, described as "milk and water"………..yes a guy who won Grand Prix and wanted to stay alive, imagine the cheek of that.
He has the final word…………"I would have been a much more popular World Champion if I had always said what people wanted to hear. I might have been dead, but definitely more popular."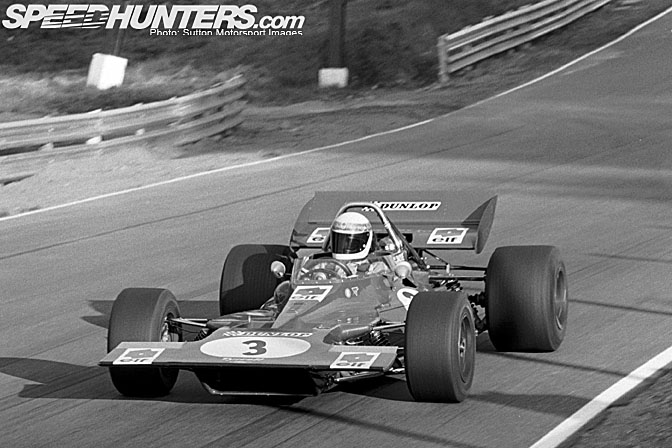 Finally the Tyrrell 001 Cosworth was ready and was quick out of the box, 1971 would be a better year in every way.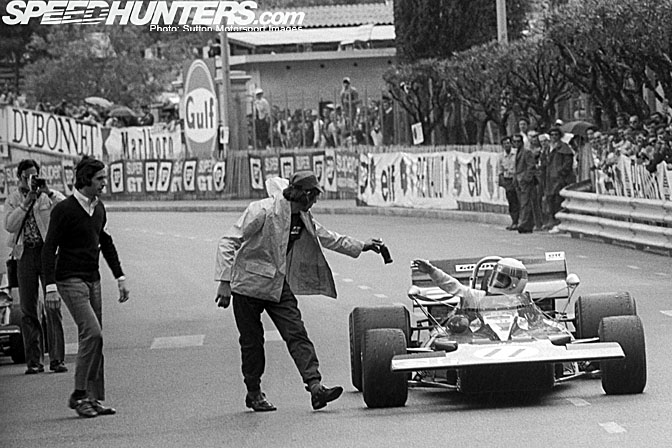 So it proved, another six wins, another World Championship. Here he celebrates at Monaco.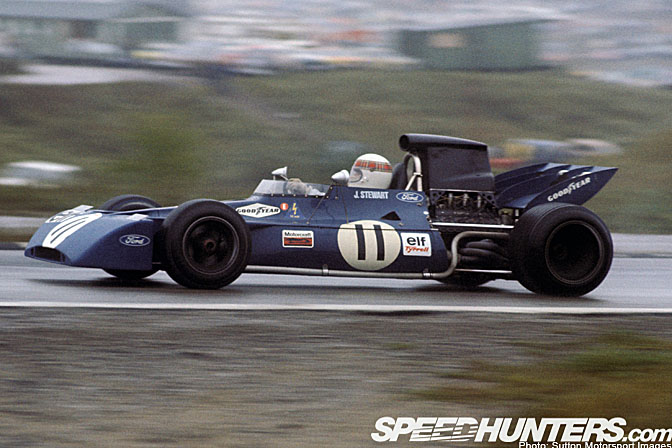 Final win of the year in Canada with the Tyrrell 003.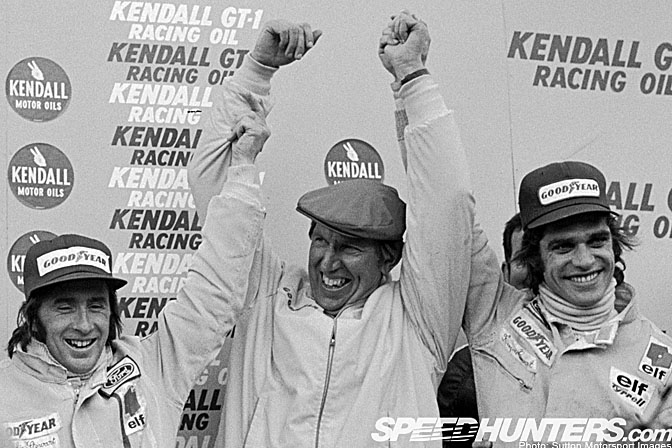 Aside from the campaign in Formula One Stewart also raced in Can-Am as well as Touring Car events for Ford in the RS2600 Capri. He was even scheduled to race at Le Mans with Steve McQueen in 1970 in Porsche 917 but the star could not get insurance so that scheme fell through.
The almost endless travelling and the stresses of the sport told on Stewart's health and in 1972 he was forced to miss some races with gastritis but still managed to win four times and finished second in the Championship. Here he celebrates a Tyrrell 1-2 at the 1972 Canadian Grand Prix with team boss, Ken Tyrrell and protegy Francois Cevert.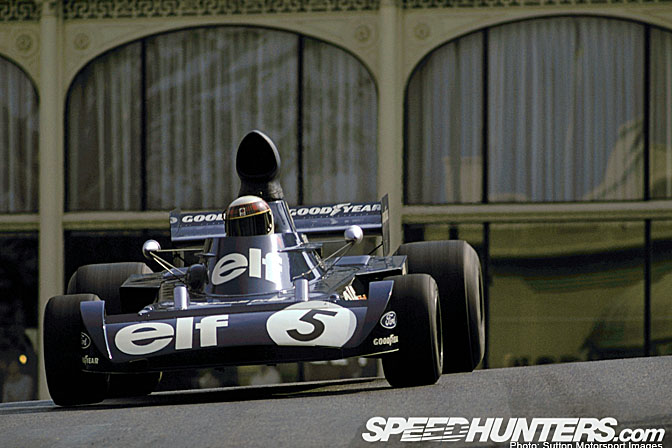 1973 saw another victorious year, Stewart's third title and five more wins, once again Monaco in the tricky short wheel base Tyrrell 006.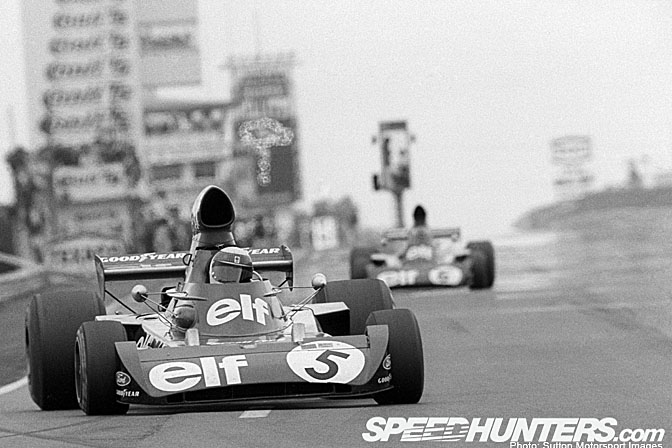 Jackie Stewart was at the height of his powers and just 34 years old but in 1973 he had made up his mind that this would be his final season, he would retire after the last Grand Prix. His timing was to be impeccable, the US Grand Prix held at Watkins Glen would be his 100th, a perfect way to finish his Championship. Except of course it did not happen like that. His young team mate Francois Cevert was killed in practice after a very violent accident. Stewart was one of the first on the scene and then along with the Tyrrell team decided not to race. It was a bad way to end such a glittering career.
His 27th and final Grand Prix victory came a few months earlier at Nurburgring, as shown above. He later said of the Nordschleife "I felt more satisfied winning at the Nürburgring than on any other race track. Before going there, I would take one last look down my driveway, because I wasn't sure if I would come back."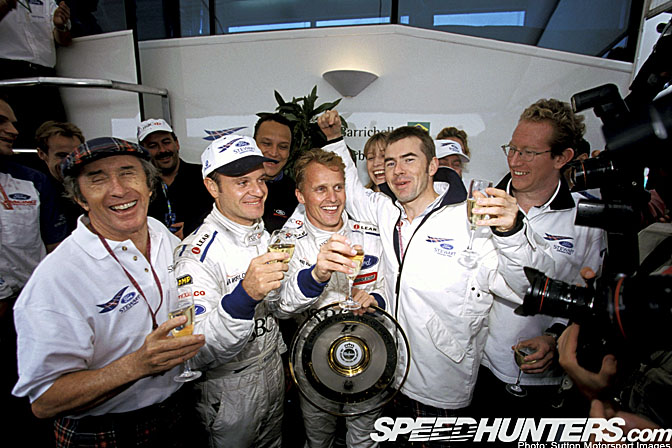 So early retirement from the sport. Pipe and slippers? Beach and tequila sunrise? Not a bit of it.
If anything JYS became busier than ever acting a a corporate ambassador for the sport. Clients such as Ford, Rolex, Royal Bank of Scotland queued up to hire him and from personal experience I can attest to his charisma, he has it in spades. He was knighted in 2001 for "services to motorsport".
Perhaps the project that gave him the greatest pleasure was helping his son set up Stewart Grand Prix and then scoring a win at the Nurburgring in 1999. Johnny Herbert looks suitably pleased.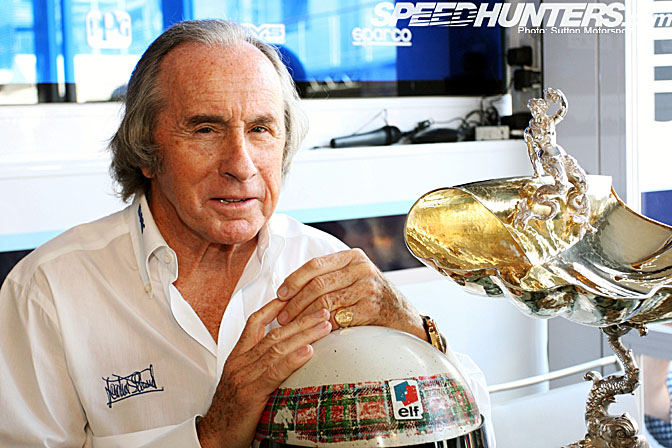 Sir John Young Stewart has, like Sir Stirling Moss become a National Treasure, welcome in Boardrooms at the highest level and Palaces with Royalty in equal measure.
If he is ridiculed by the likes of Max Mosley, then that says more about Max, than Sir Jackie, the fans would concur.
Amongst all his achievements I suspect that his campaign to make the sport a safer place and eliminate unnecessary risk will be the one that he will be most proud of. He is modest about his contribution but many of the drivers who followed in his tyre tracks owe him more than they know.
Essentially though he was a great Champion and fantastic racer……..salut!
-John Brooks