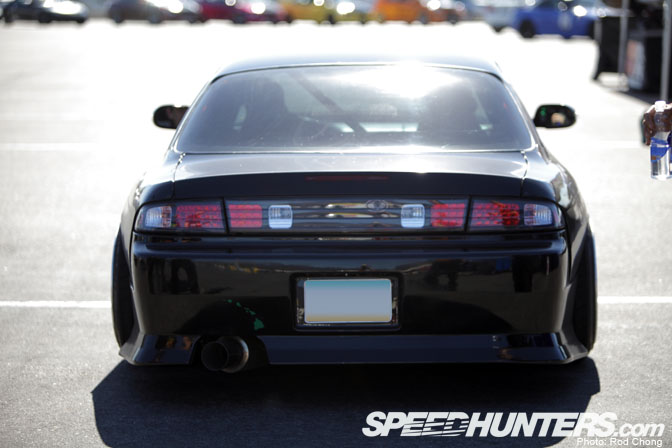 Conventional wisdom says that time starts to slow down as you get older, but for me I'd say the opposite is true. Each year seems to be more action packed and high paced than the last. Exactly one week ago I was getting ready to fly from Vancouver to Los Angeles to attend the Formula D finals at Irwindale Speedway… but tonight I'm already getting set to fly to Houston, Texas tomorrow for two days of shooting the state's finest slammed cars.
But before I get too far ahead of myself, and disappear into another vortex of on-the-road Speedhunting, I need to do some blogging about my recent trip to LA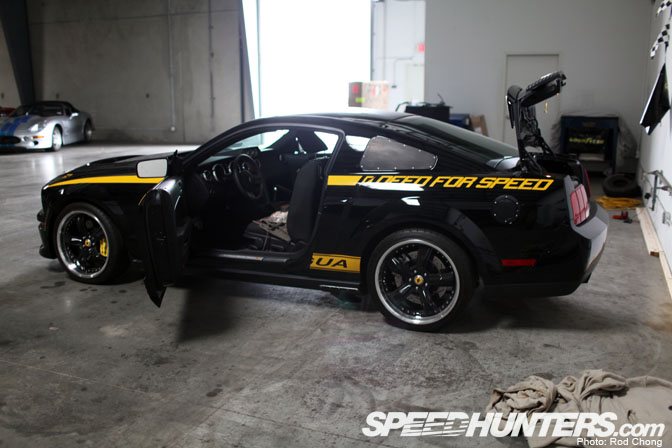 The first todo item when we arrived in the City of Angels, was to take a short cab ride to Shelby's office and warehouse to pick up the Need for Speed Terlingua. This car normally lives at the Shelby museum in Las Vegas but they shipped it over for us to use last weekend. I must have done something right in my previous life to deserve such good treatment!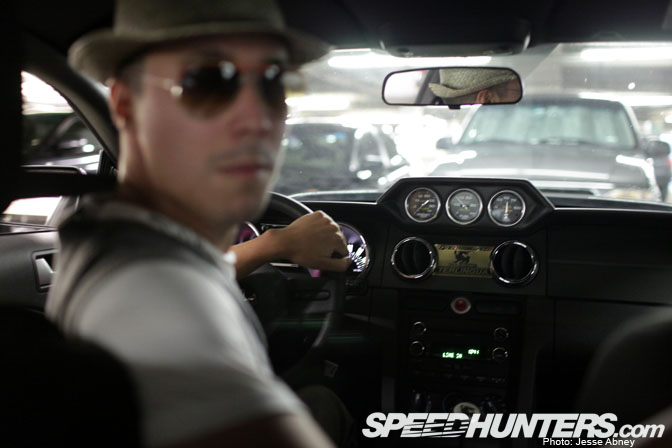 The raw experience of this muscle car immediately imposes itself on you the moment you touch the accelerator pedal. This machine really goes like a bat out of hell!… Parking it is another matter though. Easy on the clutch there!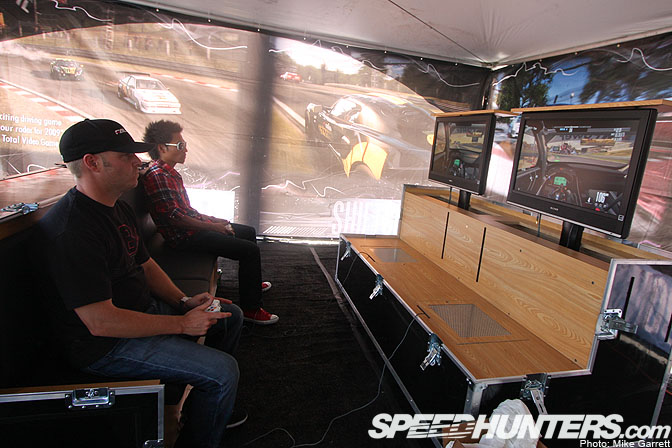 Our main purpose for being at Irwindale last Thursday, was to round up the FD drivers to qualify for the Royal Purple sponsored video game contest we were putting on.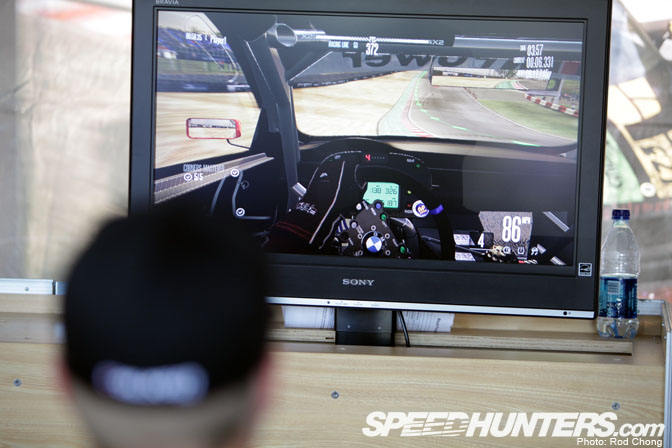 A group of drivers immediately set about doing time attack sessions in the BMW M3 GT2 at Brands Hatch. It was their chance to win a cool $5000 bucks.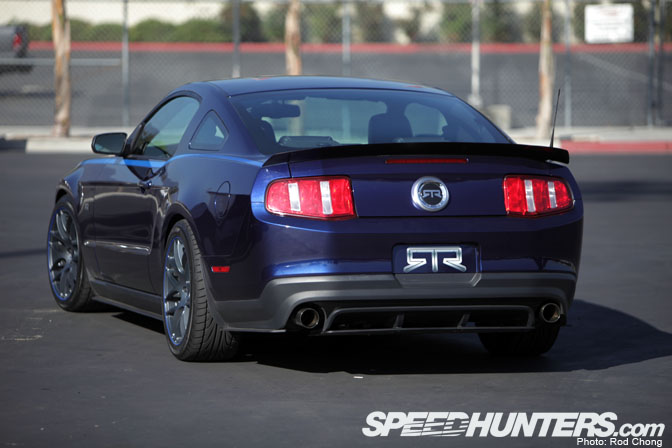 Rather than walk over from the Falken rig to the Need for Speed booth, Vaughn Gittin JR couldn't resist but to drive across the paddock to show me his new RTR spec Mustang.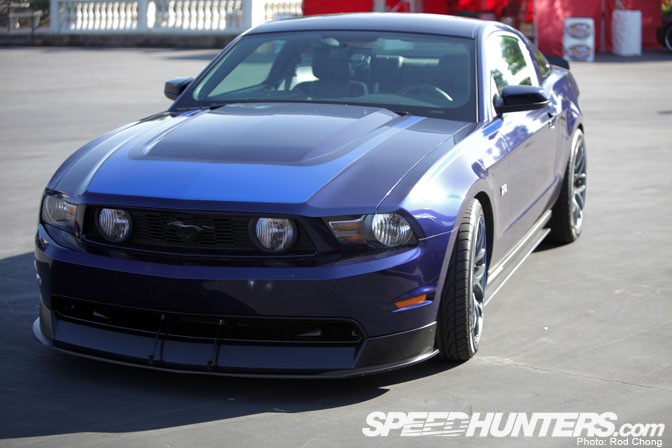 The launch of this Ford dealer installed tuning package, is the start of a new chapter for JR. He's been a spokesman for Mustang for a while, but now he's setting himself up as a modern day, new school Mustang tuner. It's all very interesting to see unfold.
I'm pretty impressed with the look of the car, especially as he took the trouble to push the wheels outward in the wheel-wells…. this makes all the difference in the world to me.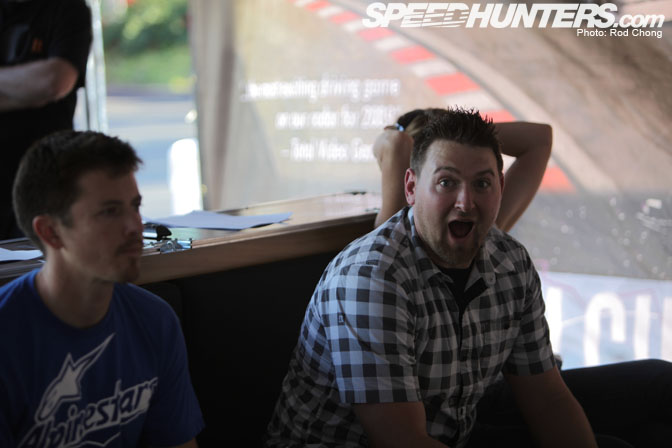 Of course JR was more focused on putting down some laptimes in our video game… Notice Tanner's new manly look.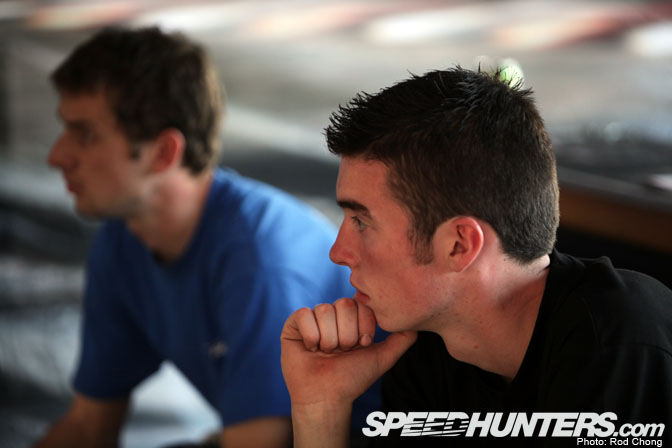 Darren McNamara was someone I thought had a pretty big chance of winning the contest… and he was pretty determined to set a strong laptime; breaking into the 45 second range around Brands Hatch with all driving aides disabled. To his left is 2008 Prodrift Champion, James Deane, who was at his side all weekend.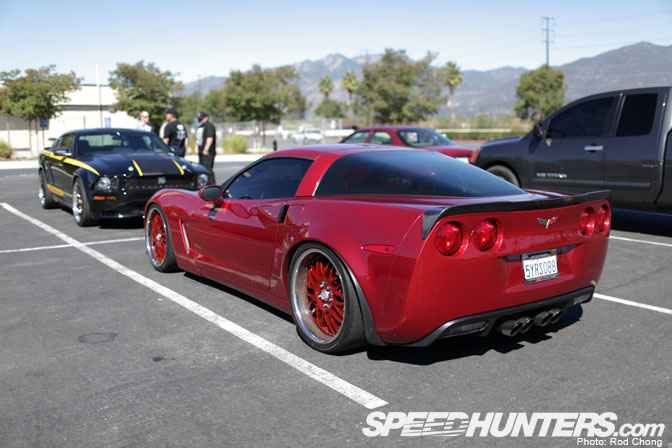 The next day, we clocked this low riding Vette on the freeway on the way to Irwindale. In chatting to the owner, we found out it was putting down 600 hp to the flywheel… wow.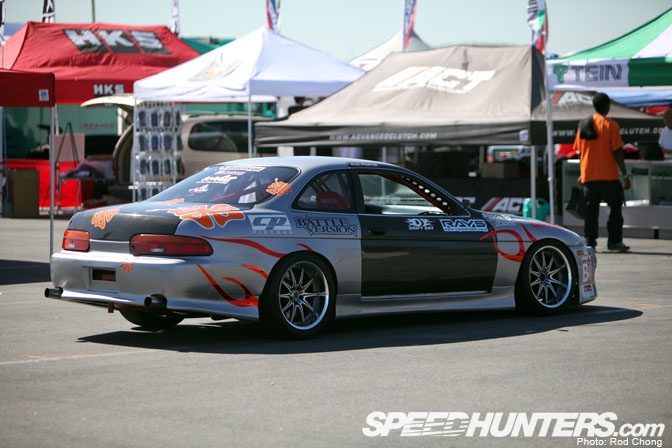 I do believe this is Alex Pfeiffer's new SC300 drift car which we previewed this past March.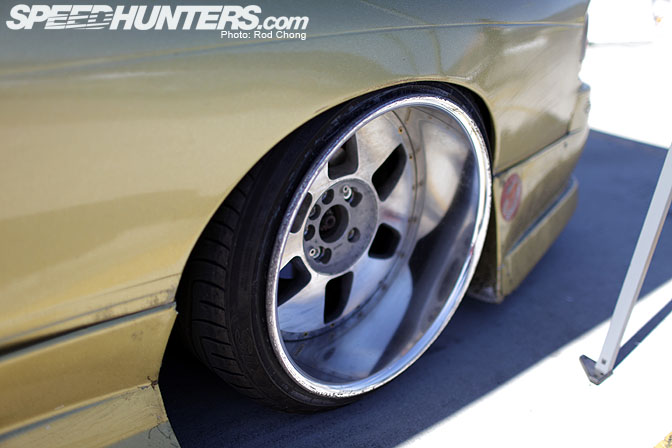 This is how things are done!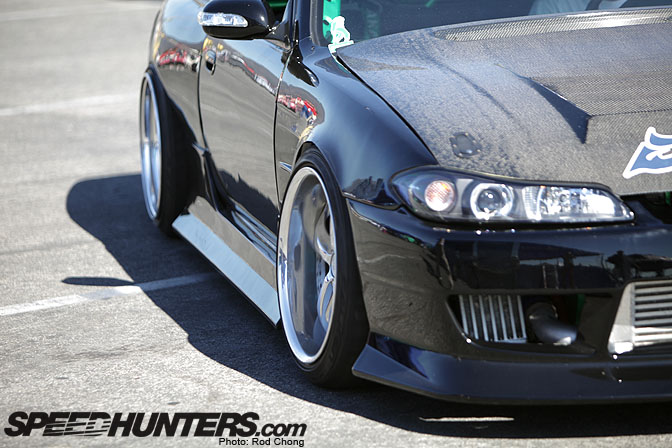 And err… here too! I was walking along with Ross Petty's Garage Boso crew when this low slung S14.5 crawled past looking oh so badass… The guys got very excited let me tell you…
Unfortunately I didn't get a chance to go and find it again. Too bad…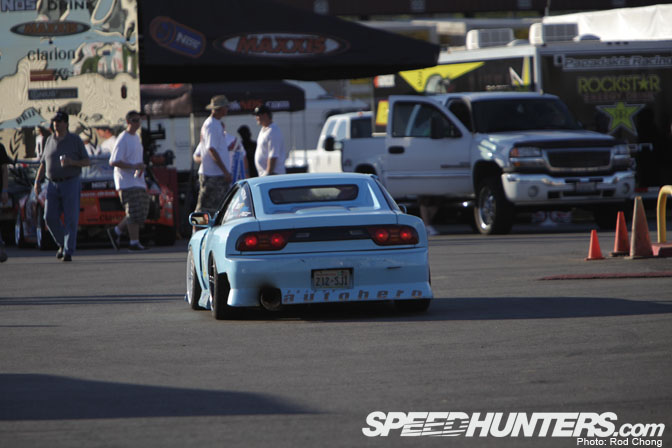 Interesting rear deck on this S13.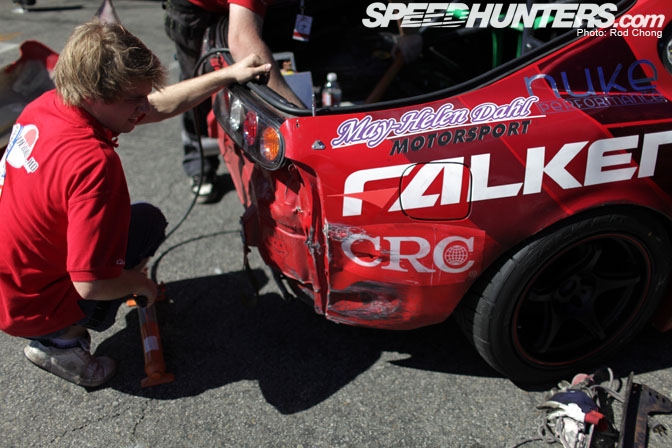 I later saw that Fredric Aasbo's team was working on his Supra in the Falken team area. Looks like he had dragged the car along one of Irwindale's many walls a bit, so the team had some repair work to do and were using Falken's equipment.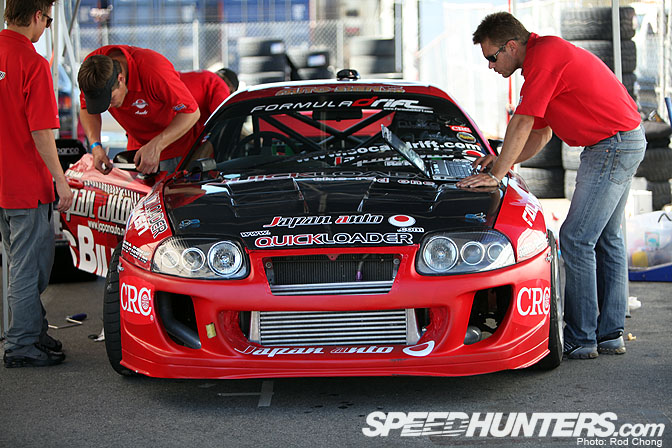 As Fredric had previously sent us photos for our site, I introduced myself to him and had a chat.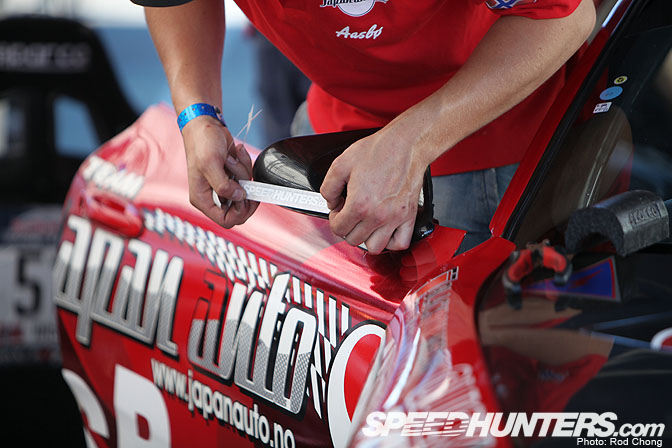 And of course gave him a set of Speedhunters stickers for his wing mirrors!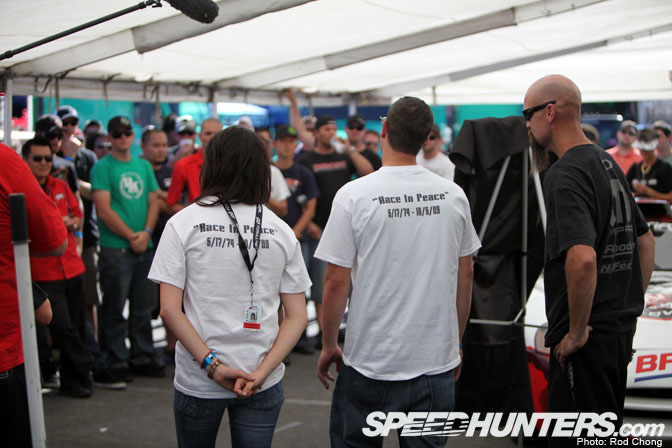 Later on that afternoon, the photographer Jay Canter was giving a presentation dedicated to the late Shaun Carlson in Samuel Hubinette's pit area.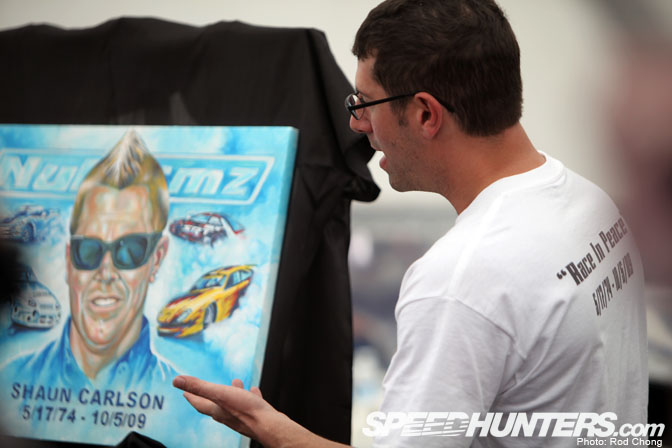 He had commissioned an artist to do a painting of Shaun and was presenting the piece to the Carlson family.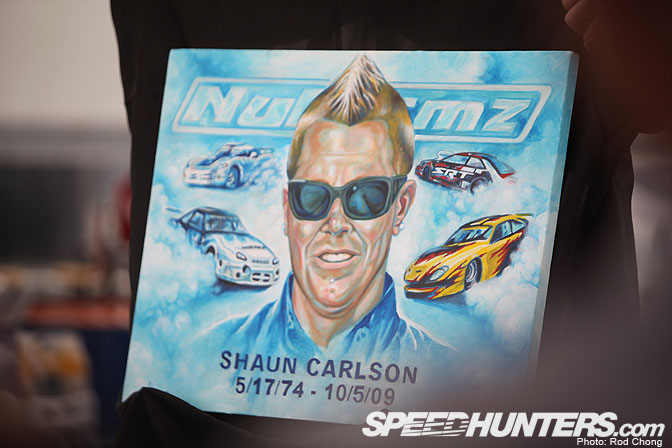 The painting depicts Shaun along with four of what Jay felt where his most iconic and influential builds.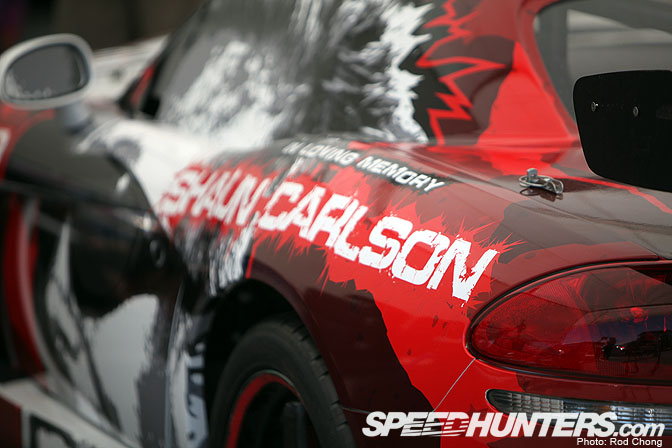 I personally, didn't know Shaun very well, but his presence over the paddock at Irwindale was very strong and you couldn't help but be affected.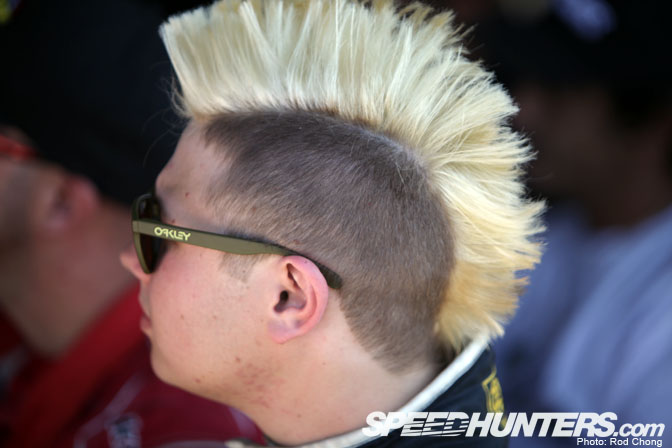 A few people were also rocking some Carlson mohawks including Patrick Mourdaunt.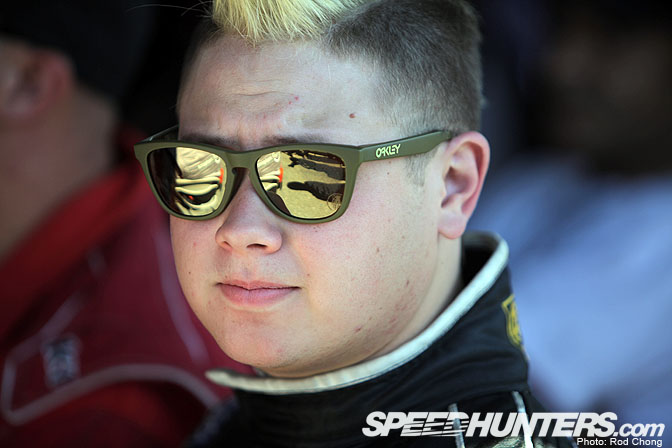 I like the glasses m8!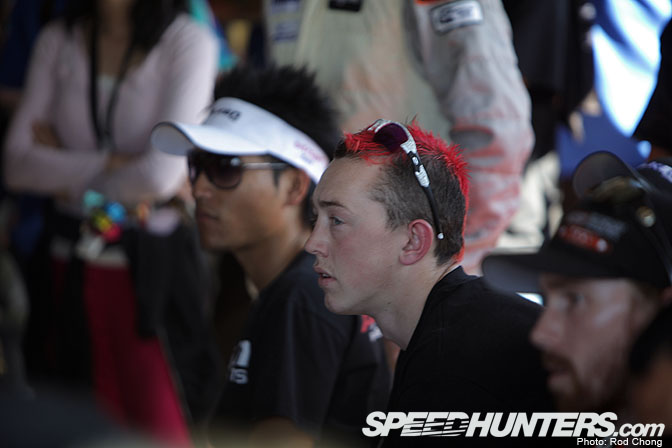 I'm less approving of Dean Kearney sunglasses but the red mohawk is a nice touch…. To my eye, he's looking a little pensive as he sits and listens to the Formula D judges spelling out their scoring criteria. Sadly for him, his weekend would soon be over as he failed to qualify for the event.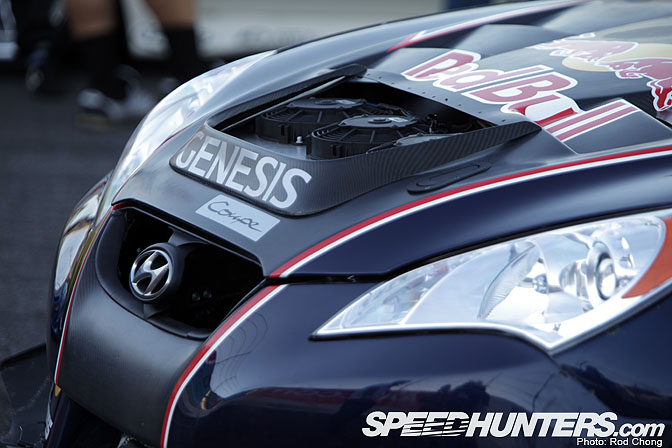 Later on, it was time to do a bit of shooting -both video and photos. I thought you guys would like to see the triple fans mounted on Rhys Millen's Hyundai. Interesting detail.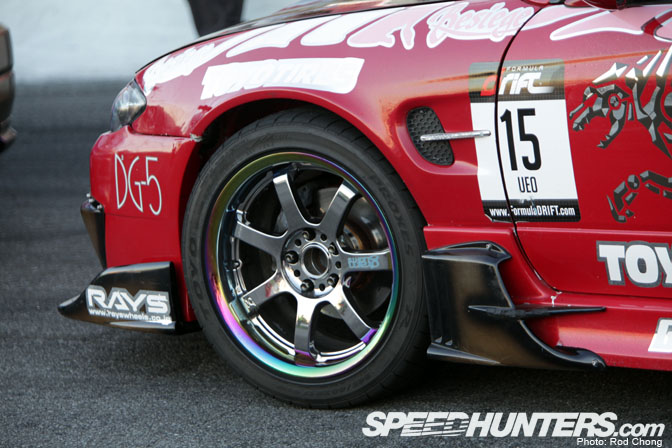 Ueo's S15 is always one of the cleanest looking S15s in the paddock, but it's rather high up isn't it? Unfortunatley for him, the promise shown at the Red Bull Drift Championships last year hasn't really reached a point of fruition in Formula D. I thought he's do better this year than he has.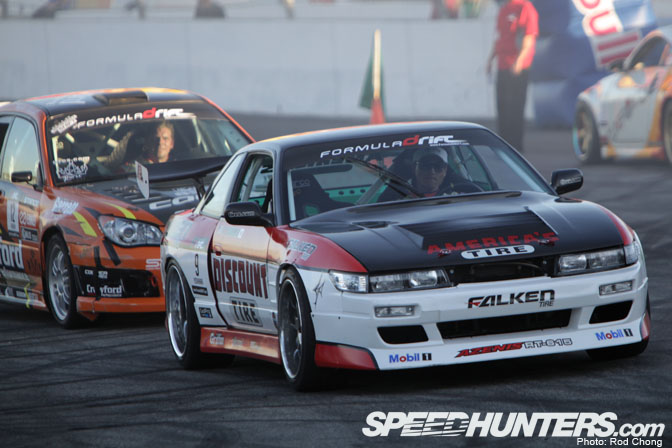 Speaking of ride height, Daijiro Yoshihara's Silvia has definitely been dropped to the ground some. I verified this with the Falken team for those of you who were distraught by its 4×4 looks at Sonoma.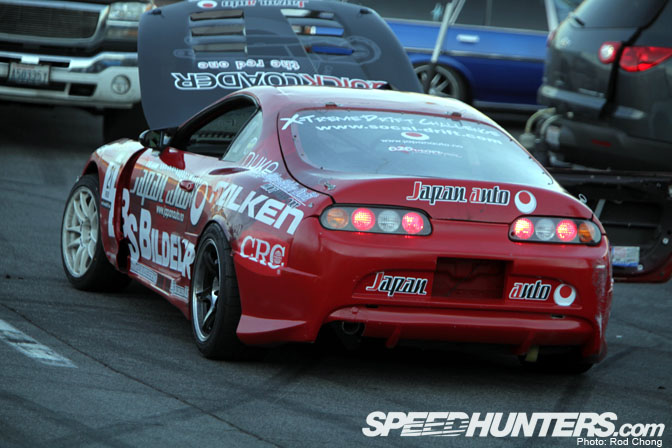 Curiously, Aasbo's Supra looks like its front end has been jacked up. I assume this is for some kind of weight transfer effect?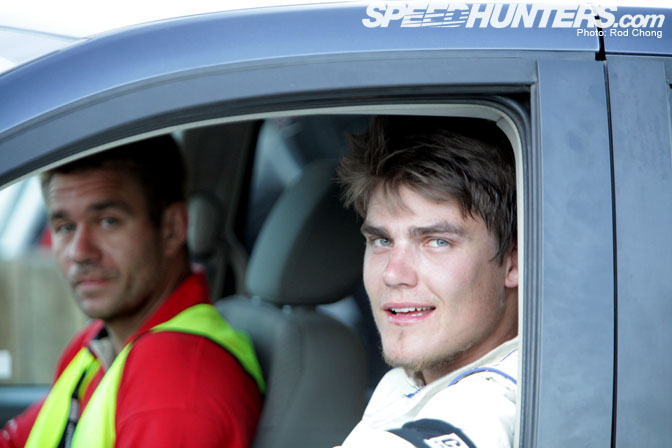 That's Fredric on the right BTW. He seemed pretty relaxed as he didn't have any problems qualifying for the event.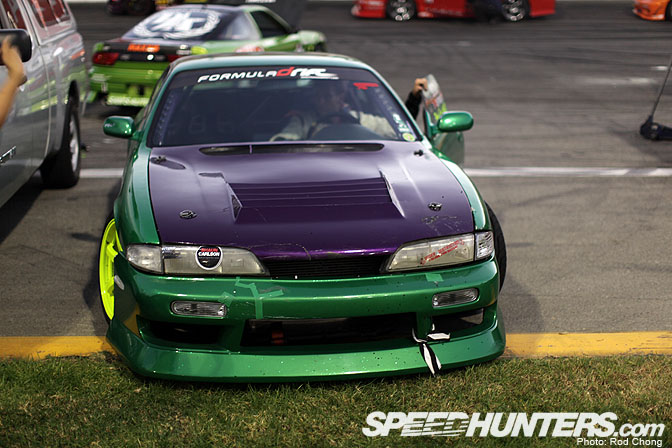 I got introduced to Matt Powers for the first time. Very cool chap although I was saddened by the lack of wheel dish this weekend. Oh well…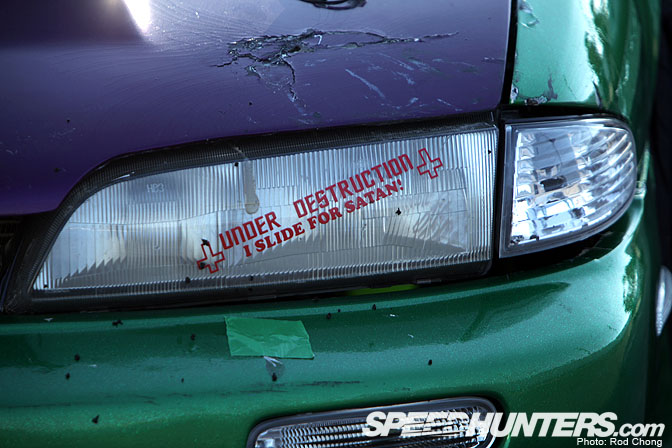 His sense of flair and panache is certainly why he's quickly becoming the diety of all things rice, even at such a young age. It seems the boy can do no wrong! Let's hope he gets some sponsorship to do a full season of Formula D next year.
Ok into the next time warp….
:Rod