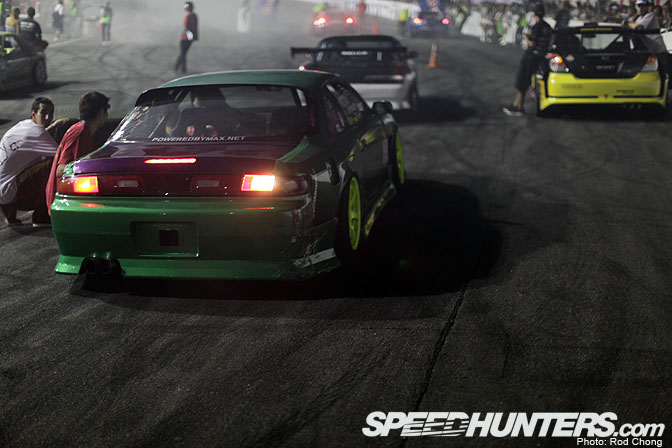 I suppose some people might call me a bit of a workaholic as I very rarely stop working. This past weekend though I had a little too much on my plate. I had two camera operators shooting 2 different drift films, was collaborating with our team of Speedhunters photographers, was helping to organize the Royal Purple video game contest and was also following five different drifters around for their Speedhunters guest blogs. Ack!… So the weekend was perhaps a bit pressurized for my own taste, but that's how things are sometimes… you just have to roll with it.
So let's carry on looking back at my time at Formula D Irwindale Speedway 2009.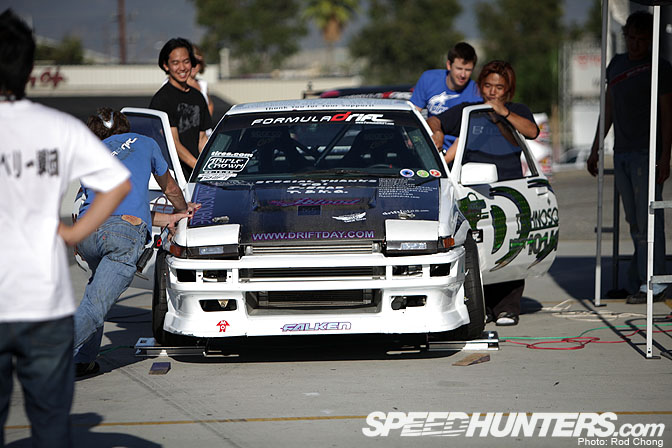 The above photo was taken during Thursday's technical scrutineering and shows the man who eventually was given the "Spirit of Formula D" award at Sunday night's Formula D banquet: Taka Aono.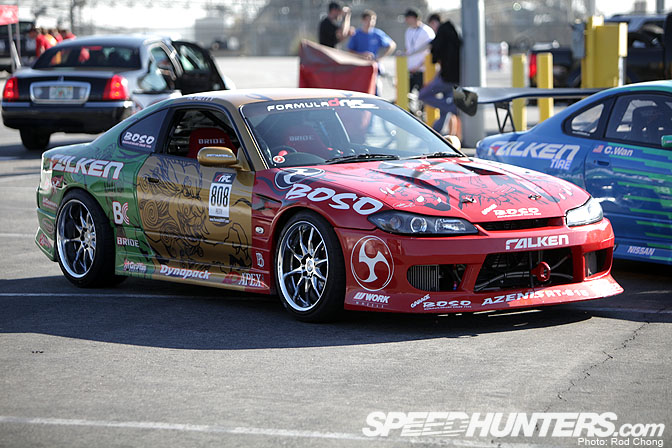 While we are talking about Formula D awards, this was the car that won "Best Car" at the banquet. I'm sure you'll agree Ross Petty's Garage Boso S15 is one of the nicest looking machines in the paddock and fully deserved the accolade.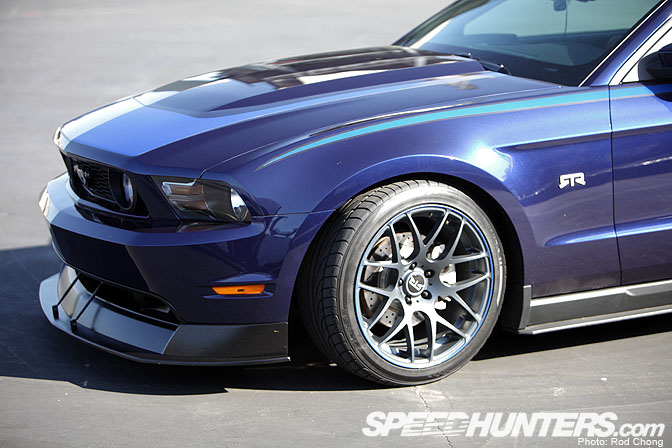 The other day, my wife and I were discussing if we should replace our Lexus with something a bit newer and she asked  me what would be a car I'd want to get… Images of the new Toyota FT86 flashed through my mind's eye… but the next car was a blue Mustang!
Hmmm…. Maybe I'm spending too much time with Vaughn these days…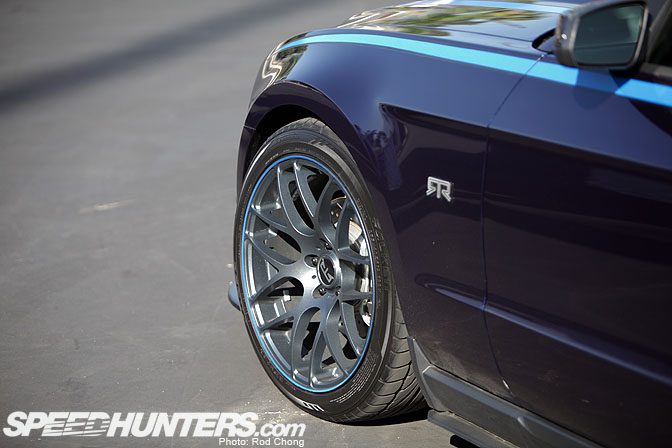 I think JR's done a great job with his new project so couldn't resist the temptation to post a few more snaps.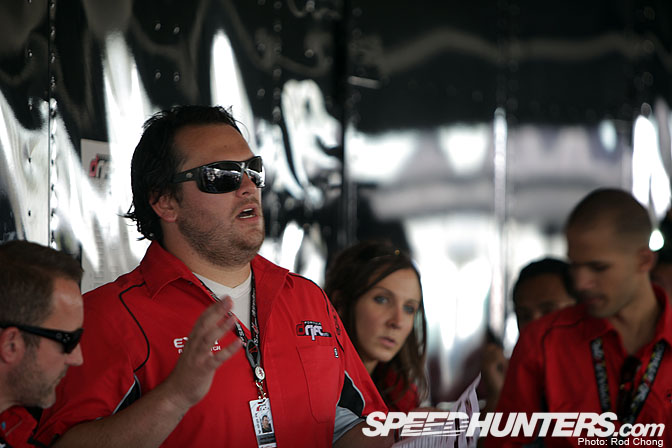 This picture will be interesting for any video gamers out there. I took it at the Friday afternoon driver's meeting when Formula D announcer Jarrod DeAnda was reading out the top 5 qualifiers for the Royal Purple  – Need for Speed SHIFT Time Attack Challenge.
Driving the BMW M3 GT2 around Brands Hatch Indy circuit, the qualifying times netted out like so:
1    Quoc Ly  45.300
2    Carl Rydquist    45.500
3    Darren McNamara   45.830
4    Tony Brakohiapa   45.930
5    Tyler McQuarrie   46.620
6    Vaughn Gittin Jr.   46.660
7    Chris Forsberg   47.850
8    Daijiro Yoshihara   48.310
9    Michael Essa   48.340
10    Tanner Foust   49.790
The best I could muster up was a 49 second run BTW…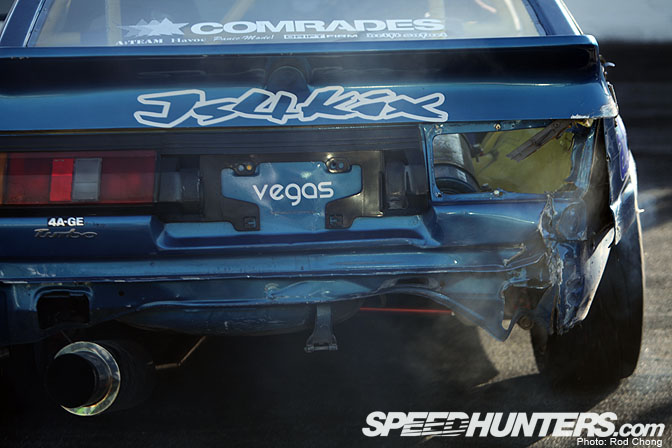 When I see abused drift chassis like this, I do wonder just how many times a rear corner can be mashed in and repaired before the whole unibody becomes totally useless. Anyone have any insight about this? Can you keep repairing these chassis year in and year out?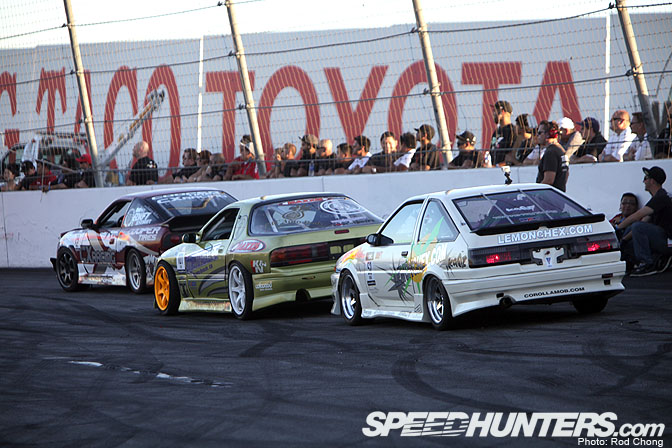 Of the Formula D events I've had the pleasure to attend, I've noticed that it's only at Irwindale where drift fans have the opportunity to get up close to the pre-grid area. Many of the hardcore prefer to watch the entire event from this vantage point, as it allows them to get close to the teams, drivers, cars and … uh… umbrella girls.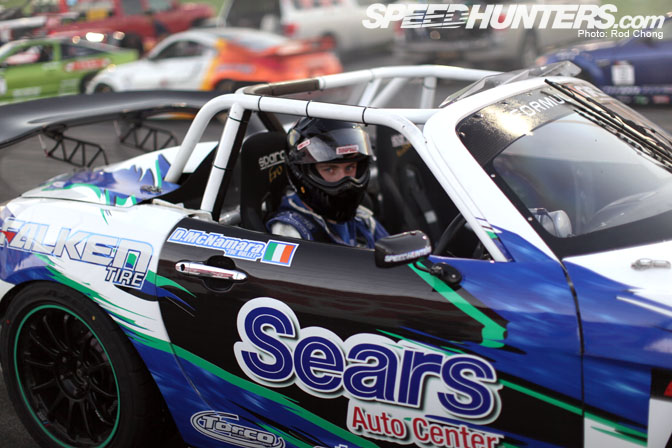 Darren was pretty excited to have qualified for our little video game contest, but on Friday afternoon he had bigger things on his mind, like keeping his Saturn Sky off  of Irwindale's walls!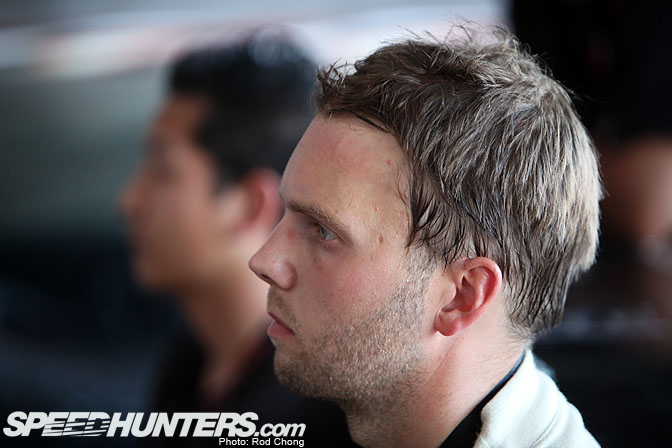 Meanwhile Carl Rydquist was busy practicing the Maserati MC12 around the Nordschleife in Need for Speed SHIFT. Carl has raced at the last three Nurburgring 24Hs so had the whole track memorized. Would this give him an advantage come race day?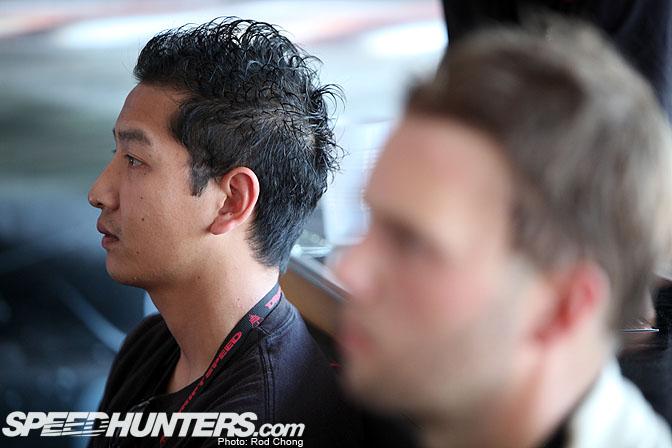 Number one qualifier Quoc Ly was also practicing away. Both of these guys were getting practice times UNDER the 7 minute mark which is pretty scary. That's almost 45 seconds faster that what I'm able to do!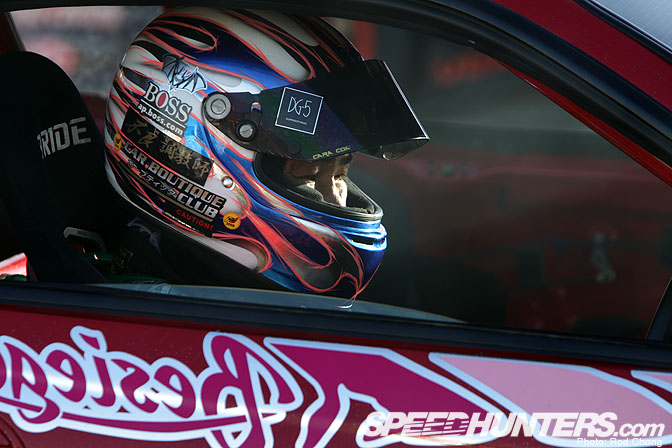 We were talking about former D1GP champion Ueo yesterday so I thought I'd post this picture up. I took this snap immediately after he had crashed the Drift Speed S15 while doing tandem against Robbie Nishida.
Although his trip into the wall only netted cosmetic damage to the car, he would have known he was about to be eliminated from the competition. The look in the eye says it all.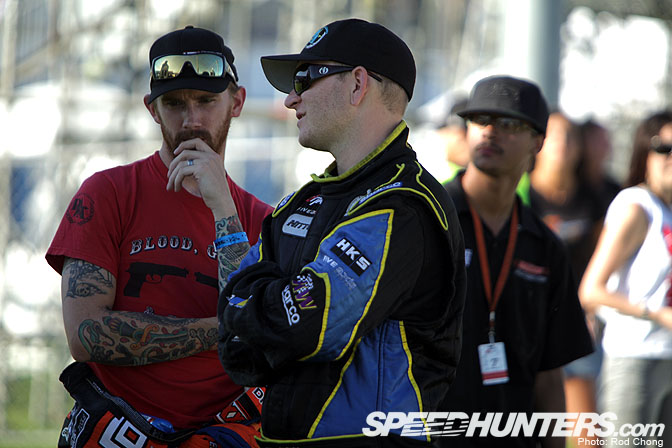 I was hanging around a few of the drivers, taking photos for their Speedhunters' guest blogs, but was steering clear of Chris Forsberg. He was looking just a wee bit edgy as the countdown started to his Top 32 battle.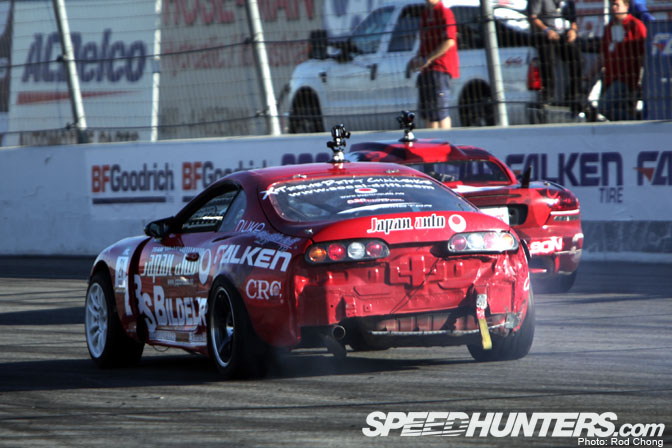 I seem to be on Fredric Aasbo's mailing lists so receive press releases every once and a while from him. In his latest report, he called the tandem bout against Samuel Hubinette, the "Battle of the Vikings"…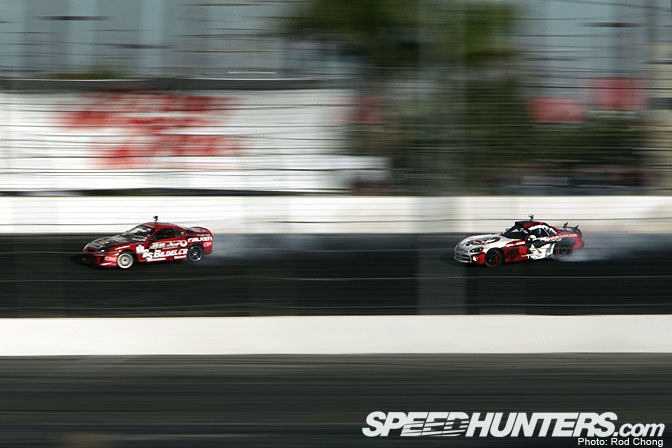 I suppose it's a fitting title as they're both Scandiavians…. I don't think the Supra was really up to the task of taking on the Viper though.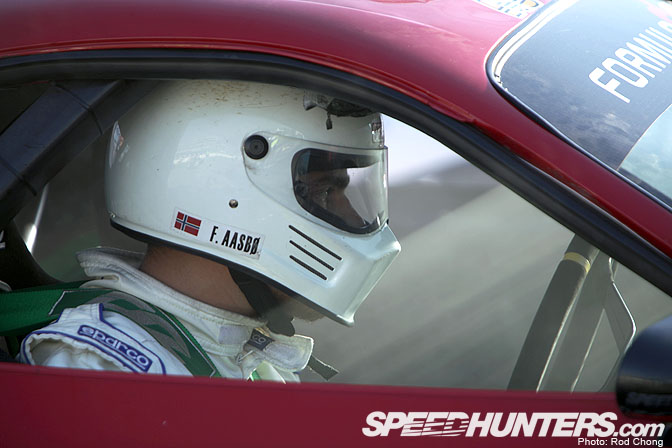 This photo shows Fredric waiting to hear is he is going to advance against Samuel. Unfortunately, the judges ruled against him. Still, it wasn't a bad showing.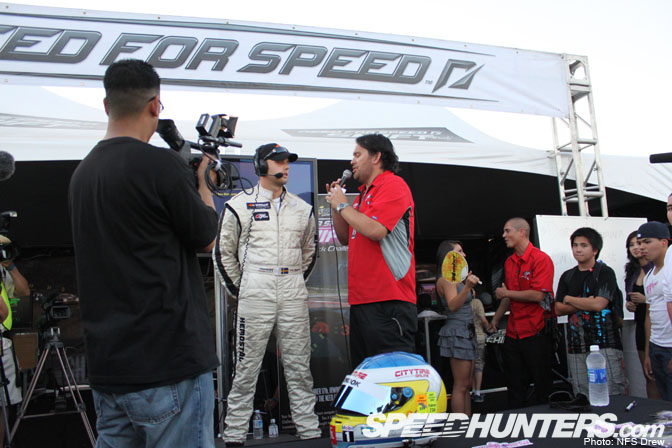 After the Top 32 rounds were complete, it was time for our own Royal Purple NFS SHIFT gaming competition. First up was Carl Rydquist who was looking a little jittery.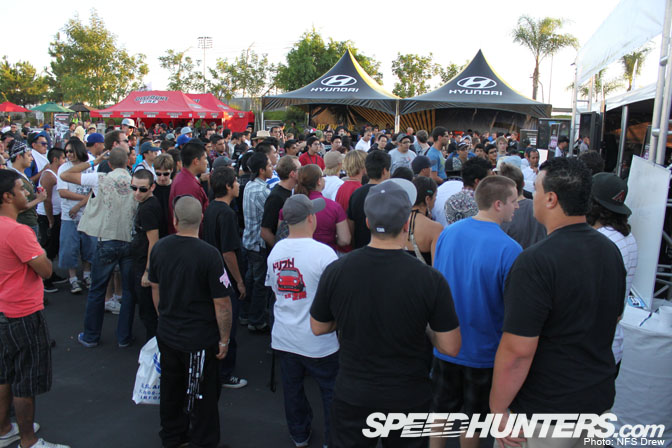 Perhaps the assembled crowd was giving him a set of nerves? Or was it Jarod's heckling? Carl was a bit off form unfortunately and "only" managed a time of 7:05:468.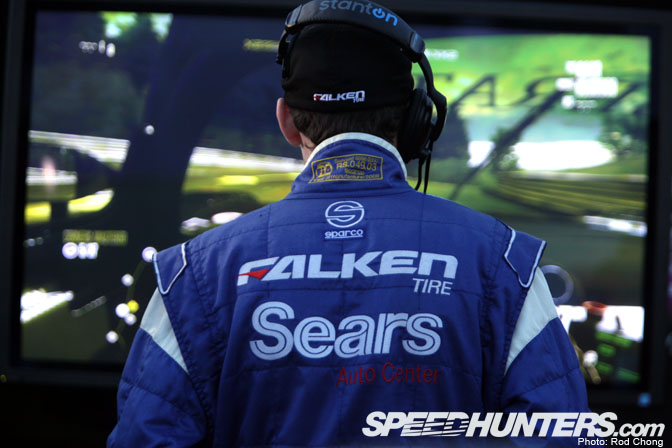 Next up was Darren McNamara. This guy is a pretty awesome gamer.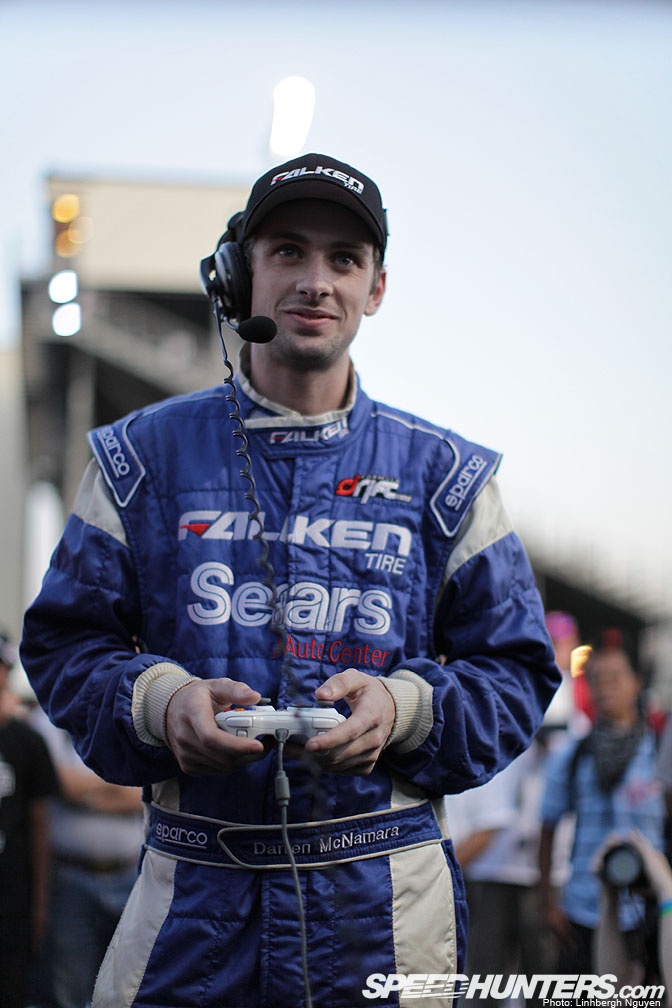 But his concentration was thrown a bit by his co-pilot, Jarod…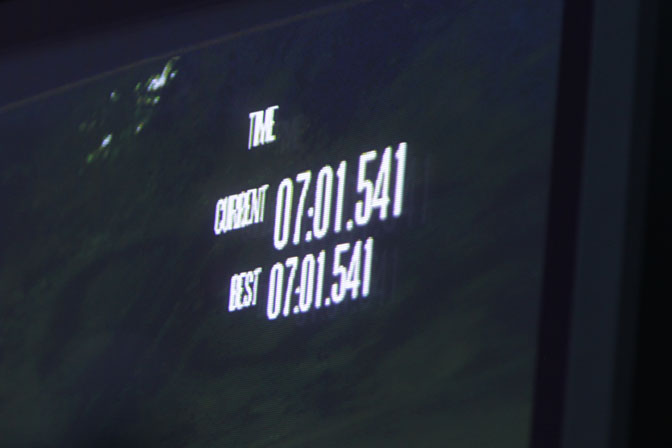 But still… look at that time! Remember, this is without ABS, stability or traction control enabled.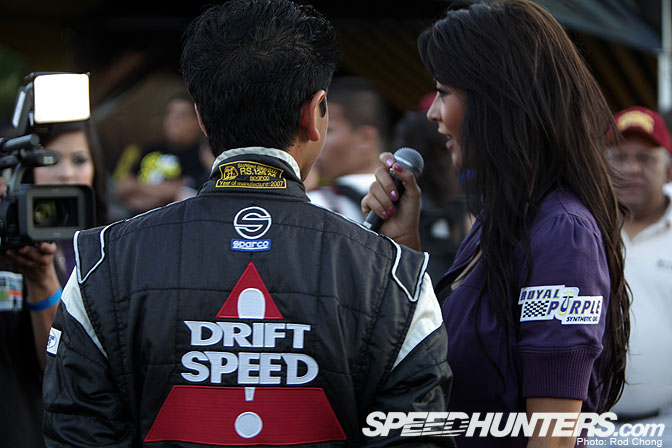 And the last person to take the stand was number one qualifier Quoc Ly. Here he's getting interviewed by one of the Royal Purple girls.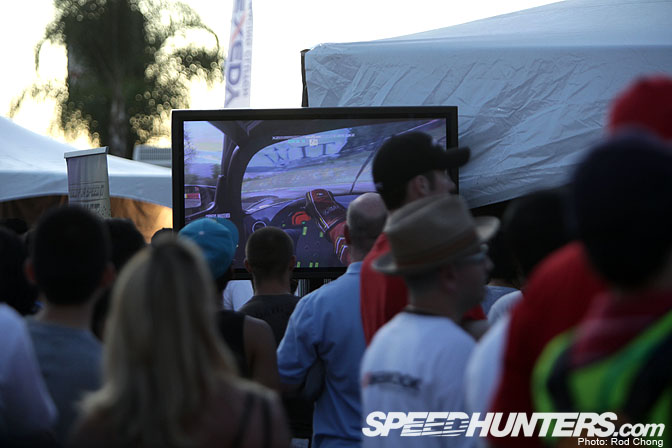 The assembled crowd got treated to a pure master class of video gaming. Quoc was cool and collected as he powered the Maserati MC12 around the world's more fearsome race track, the Nurburgring Nordschleife.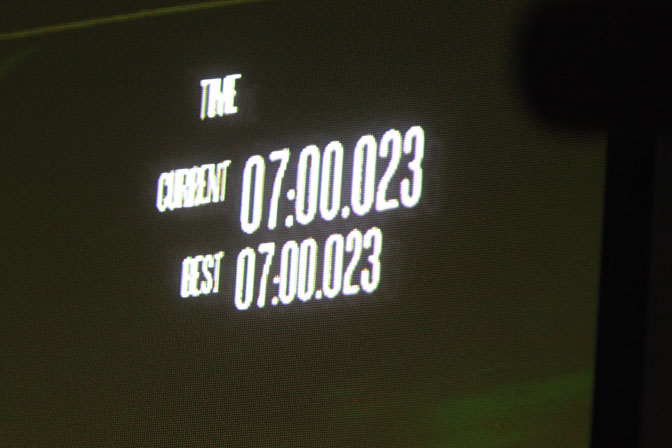 We knew the time was going to be close, but the winning margin was insanely small. Less than 2 seconds after a full seven minute lap. Wow!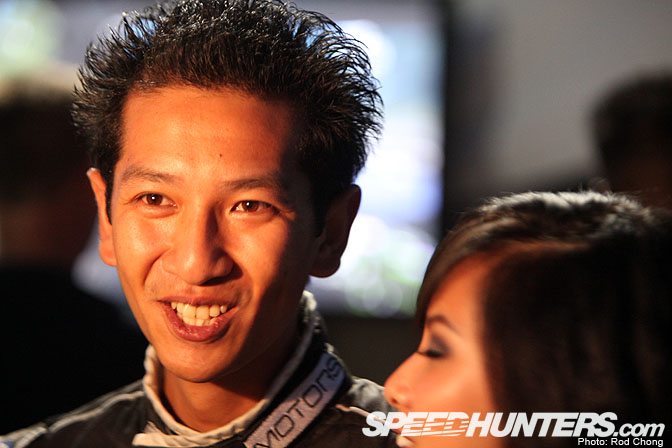 Quoc was pretty chuffed!… now let's see if he can bring this type of mature performance to next year's Formula D season!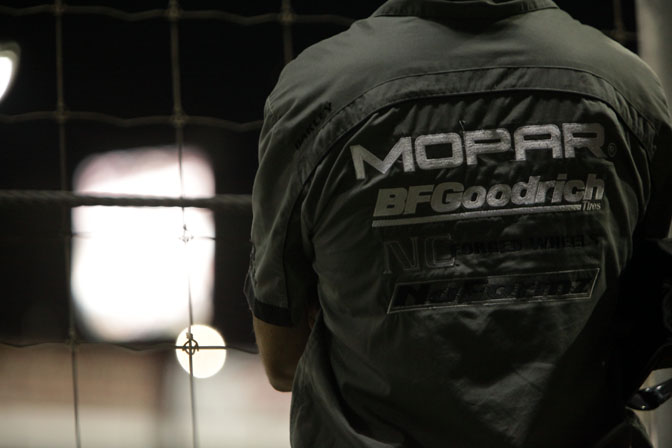 The Top 32 ceremony started out with a a moment of silence for the recently departed Shaun Carlson. May he rest in peace.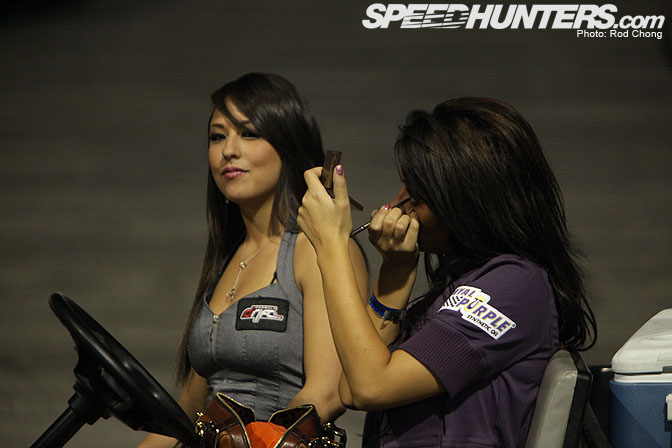 This is Miss Fomula D, Miki Taka who held a DJ set at out NFS booth earlier in the day. Too bad we didn't see her more times at FD events this season.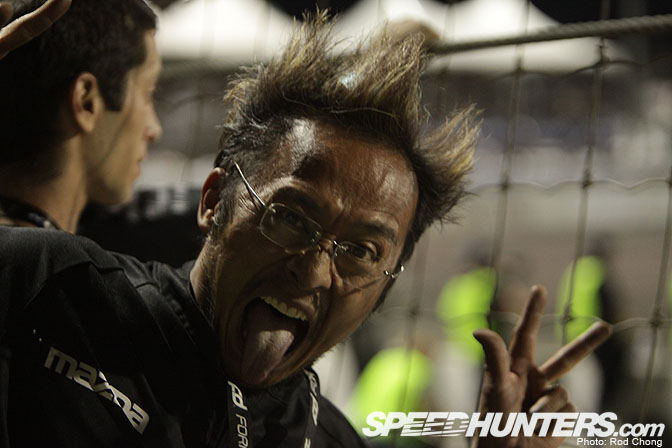 The hair is back! Run!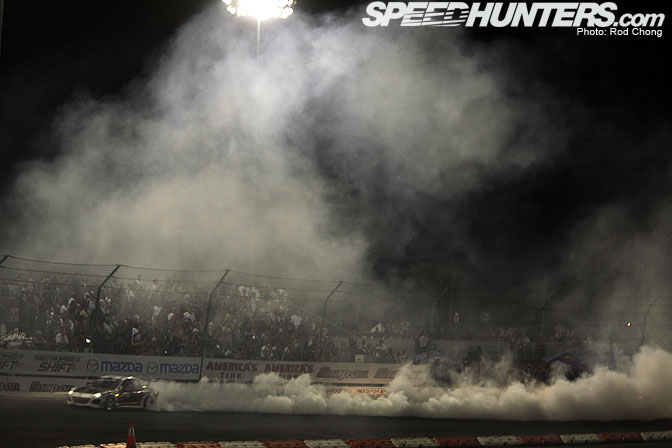 Here's Kyle Mohan  putting on a little smoke show for the VIP guests. I wonder how many of them brought face masks to combat the fumes… for those of you who've never been to a drift event, the smell is not so nice…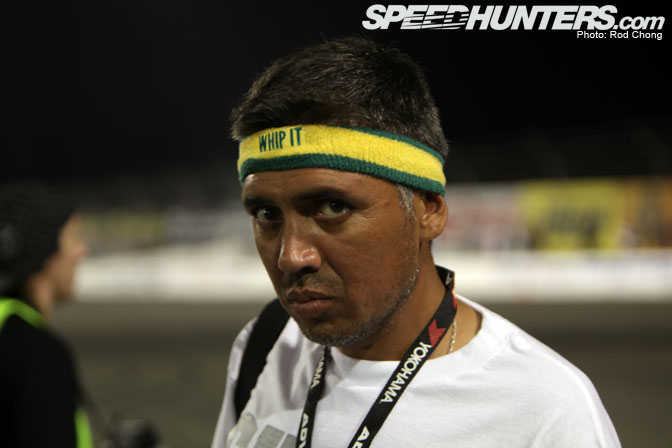 No comment.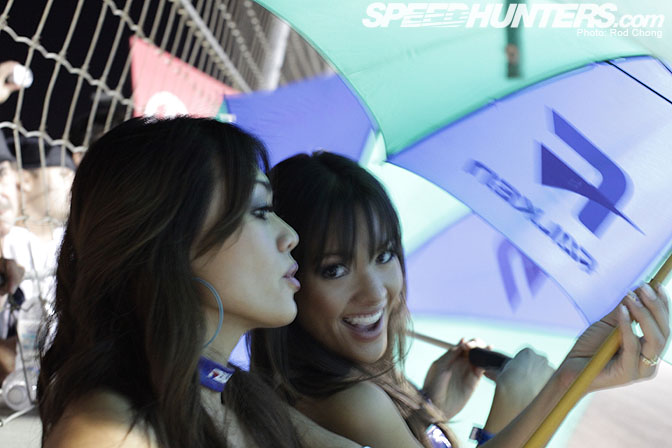 I'll let the picture do the talking here.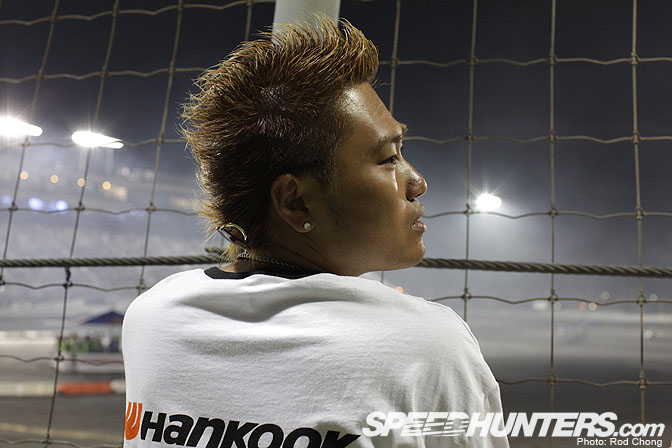 The presense of 2008 D1GP Champion Saito in the FD Paddock was probably raising a few eyebrows. Perhaps we'll be seeing him stateside next year… We have a few older D1GP champions in the field, but if Saito comes across I think it will symbolize a further shift of balance in the world of drifting.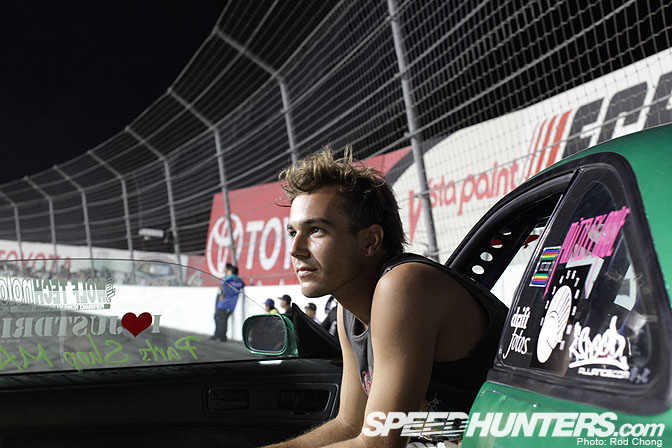 Fourth place at Irwindale! I'm sure Matt Powers must be walking on clouds right now. The only driver without a proper pitcrew in the top16; he seemed to be really enjoying himself and wasn't getting to worked up or stressed out.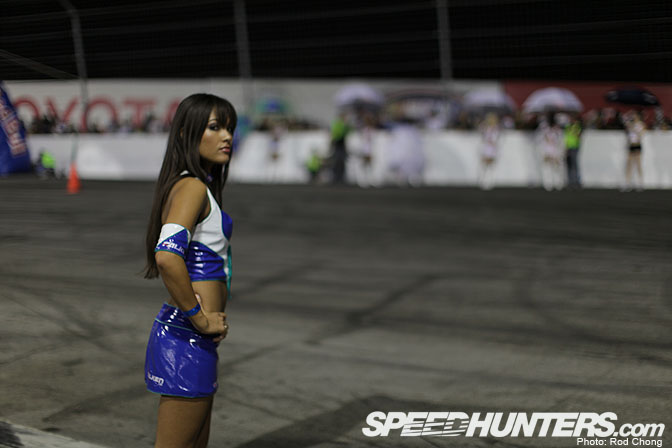 As we tend to show a lot of Falken content on Speedhunters I was really trying not to shoot too much of the Falken girls … but this shot just had to be published!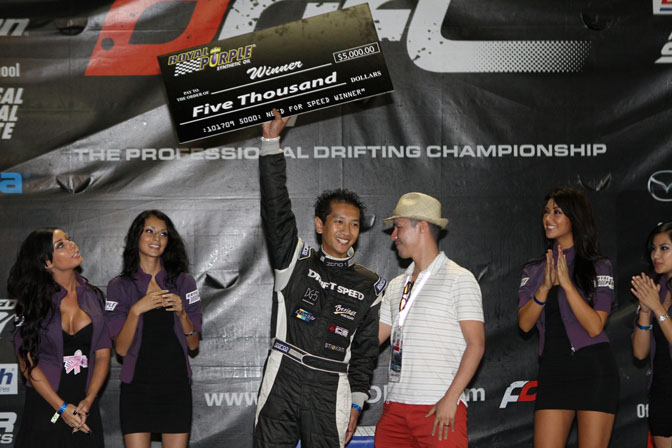 I was very pleased to present Quoc Ly with this cheque for $5000 dollars. Not only because he's an ace video gamer, but more that it will hopefully have positive effect on his career. Cheers Quoc and congratulations on winning our gaming event! I also need to thank Royal Purple for sponsoring the contest and supporting the concept.
BTW we still have a lot of Irwindale materials to come as all the guest driver blogs are yet to come in, not to mention further stories from Mike Garret and Linhbergh Nguyen. Stay tuned for more Formula D Irwindale 2009 coverage on Speedhunters!
:Rod Chong