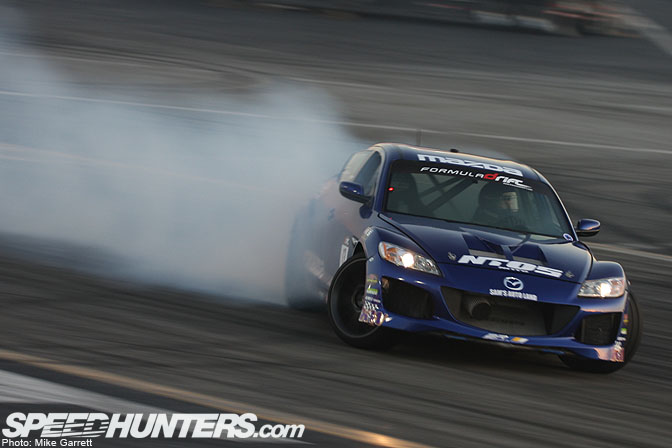 What's up Speedhunters, my name is Justin Pawlak, or better known as "JTP".  I'm the Formula D driver of the Bergenholtz Racing/Nitto Tires Mazda RX8.  I would say most people know me from my ever changing FC RX7.  I got into drifting in late 2005 at the Drift Day Industry Drift 1.  I had recently moved to California to work at AEM and had bought my FC in hopes of becoming a professional drifter.  Surprisingly enough I had driven that same car until this past year when I stepped into the 2009 Mazda RX8.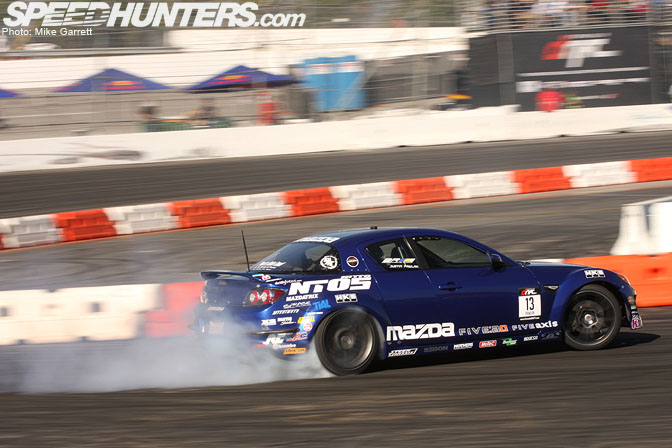 Coming into Irwindale I had a very positive outlook on the weekend.  I knew I had a chance to jump up in the standings with a good finish, and I had my sights set at the top.  It's always good to end the year on a positive note, something to reflect on for the long months ahead.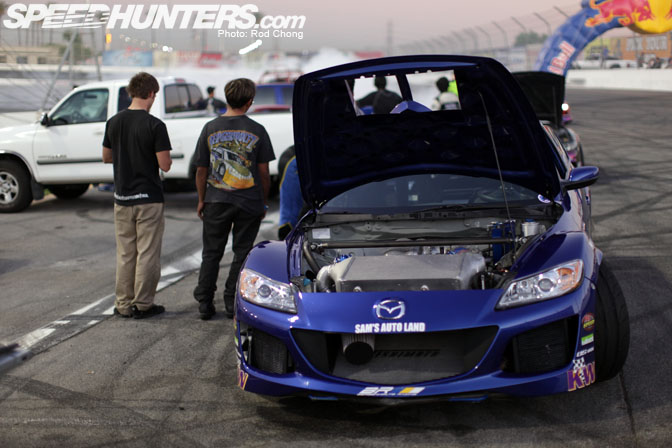 The 2009 Mazda RX8 started life as a bare shell "chassis in white" in a crate from Mazda.  Although it may look like a very stock car, almost rolling right off the lot with some added stickers it's far, so very far from stock. 
The first thing you'll notice once you get closer to the car would be the paint job that looks like it came stock.  That's because we chose the stock Mazda RX8 R3 blue, which Sam's Auto Land in Gardena, CA matched perfectly to the stock R3 blue spoiler we received from Mazda.  After admiring the paint and body work you might notice the amazing chassis work inside the car performed by Steen Chassis in Signal Hill, CA.  These guys are top notch fabricators, and their work speaks for itself.  If you ever have a chance to check out the car in person you'll see what I mean.  From the perfectly fit cage, to the extravagant bracing and front suspension this car has a ton of thought into it.  Not to forget the whammy bars on the rear bumpers specifically designed for "wall rides".  This was a collaboration of Ron Bergenholtz and Gary Steen.  I definitely tested them at this event, and let me tell you, they work awesome.. haha. 
Not only the chassis was prepped very well, but the choice for the power-train was second to none.  Going with a Mazda 3-rotor, Tial Turbocharged, Motec controlled power plant putting down nearly 600hp to the wheels, matched to a HKS sequential gearbox, OS Giken clutch and diff, Driveshaft Shop axles and driveshaft.  Now that's only the stuff you might notice if you were crawling around the car.  Did I mention this was a Bergenholtz Racing car?  If you didn't catch that, then let me tell you about Ed Bergenholtz, the "other brother".  He's not a nerd, he's not a geek, I don't really know what to call him, but he makes sure the car is running top notch, and monitors everything "live" as it does.  He's got the car linked up to the moon and back, with "real time" data analysis and mapping through some crazy telemetry.  Although I understand most of what's going on with his crazy gadgets, sometimes when he's explaining things I just nod and smile.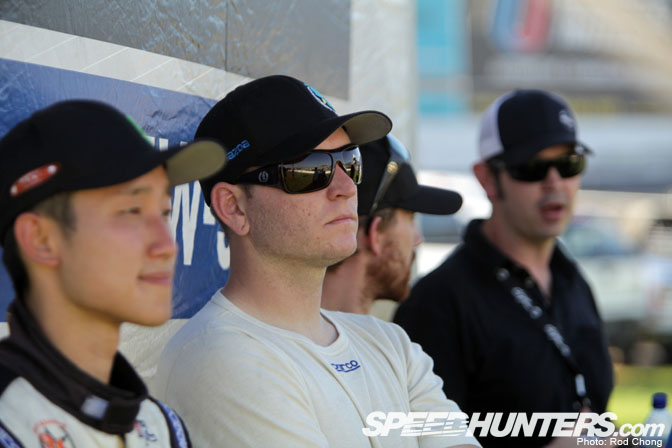 Becoming a professional drifter has been a crazy experience.  Although I received my first "pro" license in 2007, I feel like 2009 was actually my 1st "professional" year as a driver.  Many have said I "came up quick" in the drifting world, with only starting my drifting career in late 2005.  In 2006 I won the JustDrift series, in 2007 I received my Formula D, D1GP, and Nopi drift licenses, along with winning my 1st professional event, Nopi Drift Los Angeles.  In 2008 I competed in the Formula D series, following the entire schedule, but only actually competing in 3 events due to mechanical failure.  So therefore, making every event this 2009 season, it finally feels like I've become a "professional" drifter.
In this picture I'm looking on during the event.  As you can tell I'm very focused on the competition, as I had been all weekend, taking mental notes on all the other drivers.  The people around me in this picture are my fellow Drift alliance bro's Joon Maeng and Chris Forsberg.  Blair Stopnik from MMI is also pictured at the far right.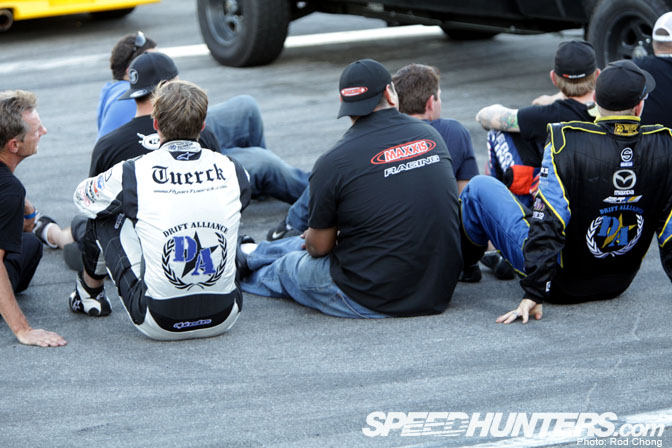 Pictured here are a few of the Drift Alliance guys.  Drift Alliance is the best drift team in the United States, and maybe even the world.  Although teams may try to be better with tons of money and top name drivers, you can't beat the pure talent, drive, and dedication which each and every Drift Alliance member has.  Hanging out together, watching the competition, sharing info and discussing runs is what we do at most every competition.  In almost every gallery you'll find at least one picture of Drift Alliance grouped up and looking on as we all get ready for our chance at the track.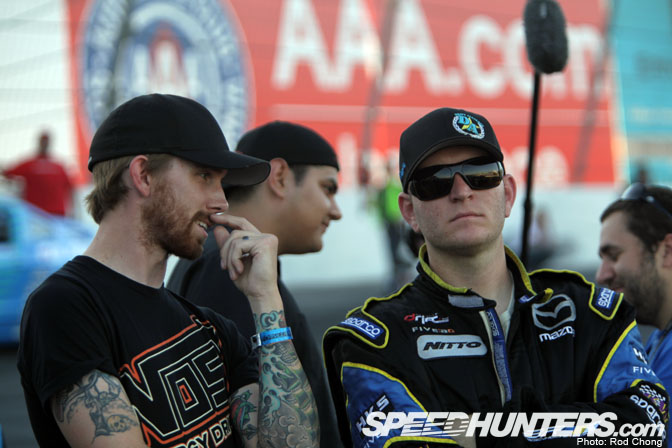 Beside me is Chris Forsberg, the 2009 Formula D series champion.  Although it looks like Chris is relaxed in the picture, he was a nervous wreck until he made it to Top 16 on Saturday.  I don't think it helped that I kept asking him "What are you gonna do with ALL THAT MONEY?"  I kinda felt bad for stressing him out more than he already was, but I was absolutely confident that he was going to win the championship, so why not mess with him a bit….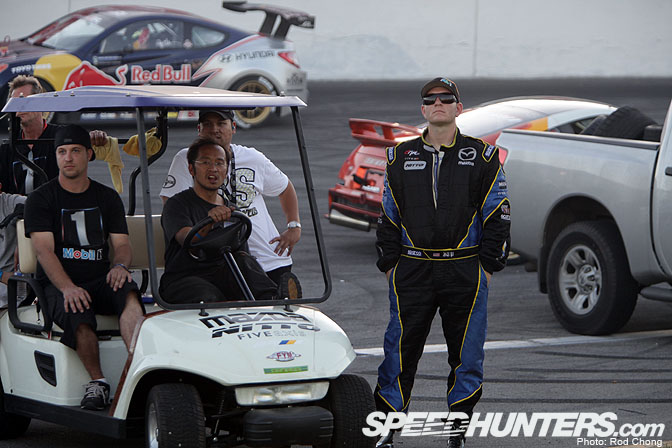 Although the beginning of the year started out rocky with the new RX8 not being completed until Rd. 3 in New Jersey, working with the Bergenholtz brothers has been a great experience.  Ron is crazy as hell, and he sure knows how to get *** done!  Ed on the other hand is the "normal" brother but looking at all the crazy stuff he does with the car's electronics, you'd think he was the crazy one.  Overall I'm very blessed to be driving for these guys, and have them as teammates.  Actually with all that we've been through this year, they seem more like brothers.  Here's a little unknown fact…. both Ron and I share the same Birthday… not year.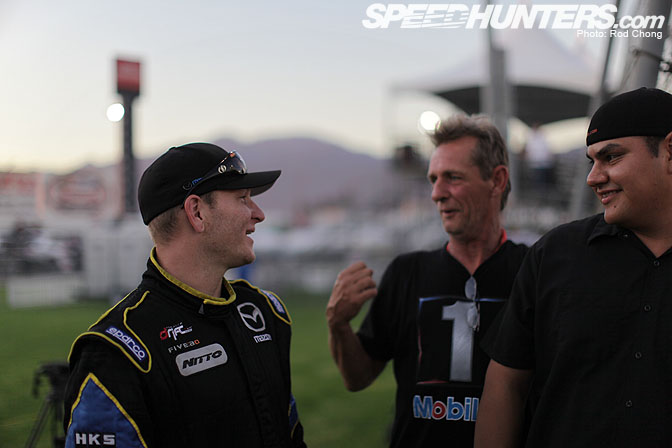 The guys in this picture are Bruce from Gardella racing and Sergio from Chris Forsberg Racing.  These guys are always very supportive and helpful.  They've helped out countless times with numerous things.  Without guys like these, it would be impossible to accomplish the achievements that both Gardella Racing and Chris Forsberg Racing have done this year.  Not to mention Bruce makes one hell of a grilled chicken in the pits!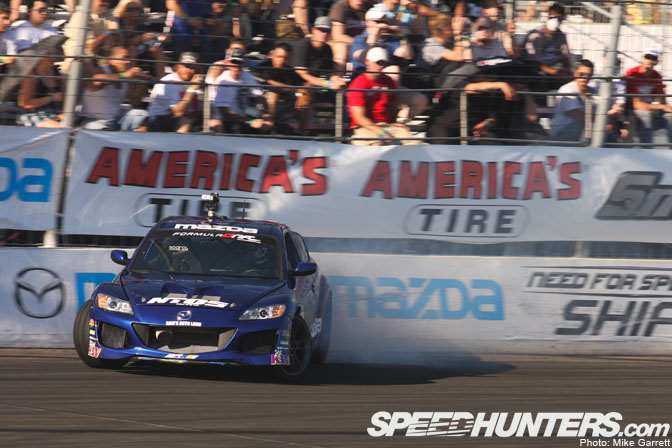 Qualifying was awesome.  With scoring a 96.8 on my first run, outscoring everyone else by nearly 8 points, I knew I was on my game and had done what I came to do Friday.  I had been running the high line all day in practice, but I put down one of, if not my best run of the day when it counted the most.  I tapped the rear bumper on the big bank and came screaming into the inside oval.  For a second I thought I was going to put the Rx8 into the wall pretty hard, but it was the same feeling I had all day when I would just push the whammy bar in a bit and ride the banking, taking a little paint off the wall, and giving Ron something to clean when I got back to the grid.  I'm pretty sure I scraped the wall about 10 times or more during the weekend, with the longest wall ride being over 2.5 seconds according to Ed's data.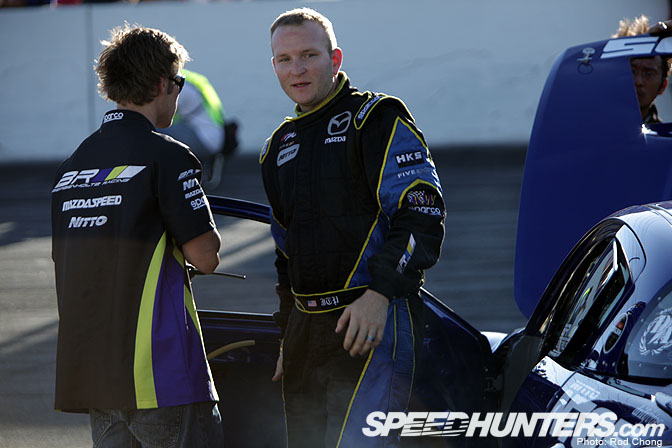 Pictured here is Brian Benson, my crew chief and good friend.  He's been with my program since late 2007, and has been my right hand man.  He always seems to keep me in check, even if I'm running good he lets me know what I need to improve on.  It's always good to have someone that doesn't get excited but instead keeps it real, and has the best interest of the team and making sure we're always improving.  Even after just running a 96.8 he let me know where I could improve to get those extra few points.  I'm pretty sure our conversation went like this:  Me:  "How was that run?  Pretty good"?!  Brian:  "Well you didn't suck"!  Thanks Brian for keeping me from getting a "fat head" lol.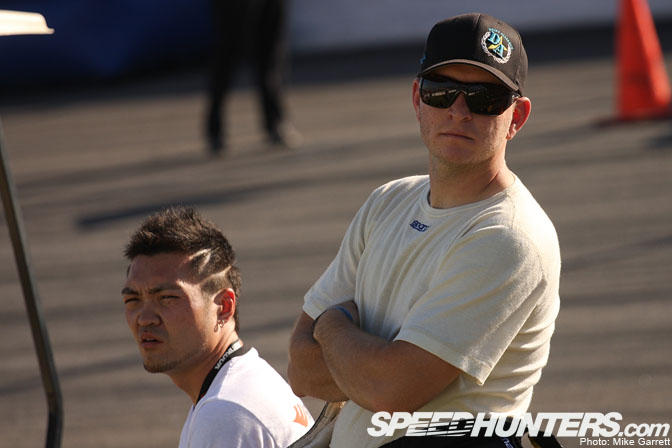 As I watched the tandem runs on Saturday I noticed several people were running very well.  Tyler, Joon, Tommy Suell, Robbie (pictured), Ryan all were running awesome.  I obviously knew I had to step up my game in the following rounds.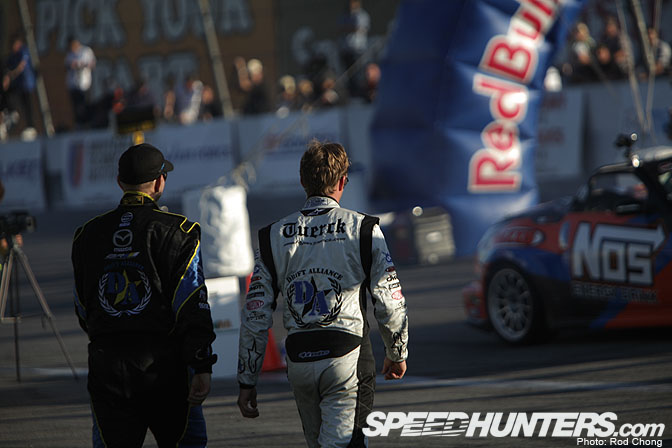 Ryan and I watched as he lost the chance at winning the championship, but also as we saw our good friend Chris, clinch the championship.  As we saw his final run, we knew he had done it, finally.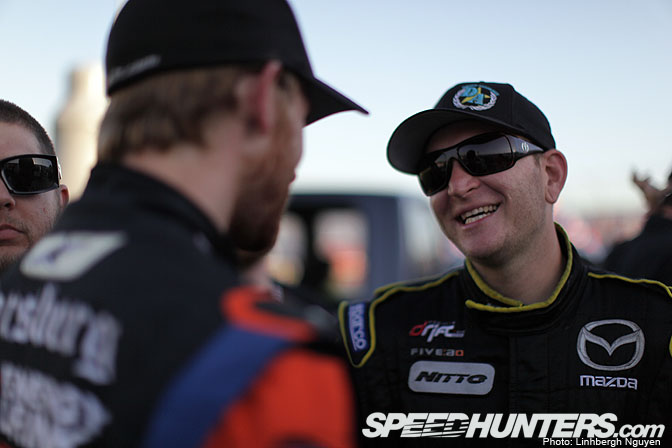 I was so proud of Chris after he had finally sealed the deal.  I congratulated him and finally asked him without him getting mad.  What are you gonna do with ALL THAT MONEY?!!!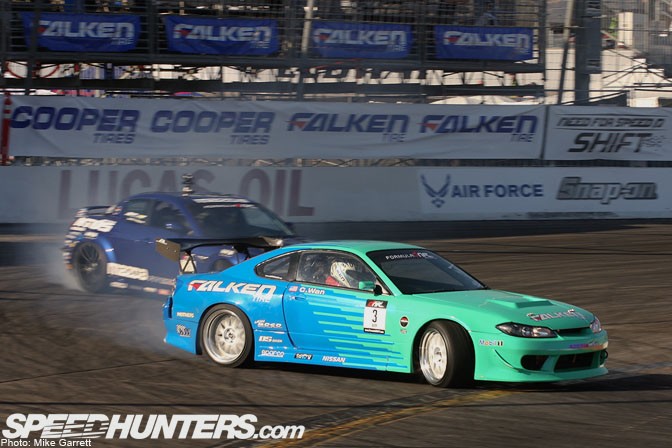 Going up against Calvin in the first round, I had many thoughts going through my mind.  First there's the nervousness of going against the 32nd qualifier when you've just qualified 1st.  Knowing that the line that you need to follow isn't going to be the line you're use to running.  Although I've ran against Calvin in the past and at demos you never know what's gonna happen in tandem.  My game plan was to put down a solid first run, running high on the bank and making it hard to follow.  That plan ended up working out great, with him spinning on the first of two runs.  On my following run I played it safe and ran a clean run behind advancing to the next round.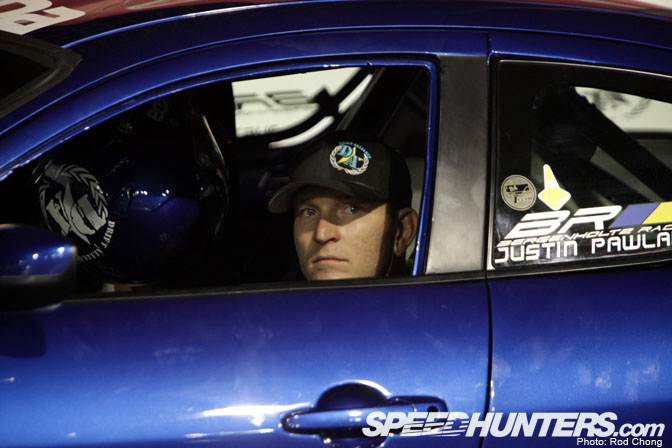 Although my seat position may look low, It feels comfortable to sit low to the ground to get that seat of the pants feel on the track.  My pensive look before the opening ceremony was probably due to the moment of silence for Shaun Carlson's passing.  Although I didn't know Shaun as well as many others, he and the NuFormz crew were always very helpful, helped me out several times in the past.  Drift Alliance had also lost one of our brothers earlier in the year, so at this time in the opening ceremony I was reflecting on those lost times with old friends, kinda just getting lost in memories.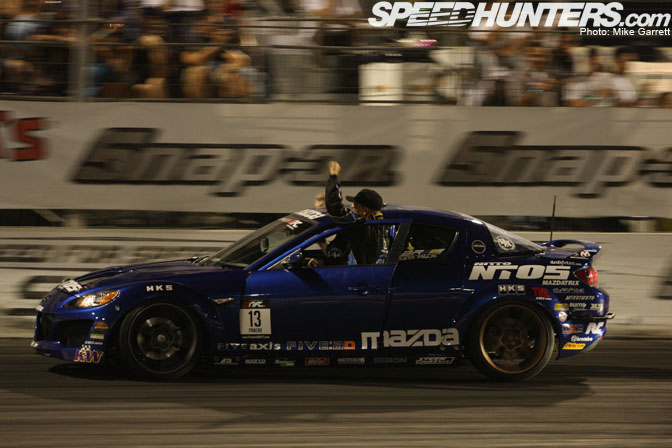 Heading to Top 16 I felt great, confident and wanted to put on a good show for the fans.  I knew I was going against a good driver, so I knew I had to be on point.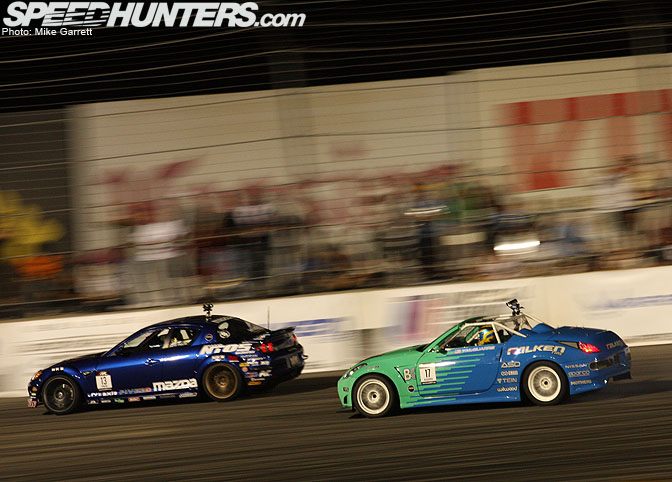 Going up against Tyler, I knew I could beat him.  I had been watching his runs and although he was faster than me through the course, I knew I was running a better line.  It was funny that we met up in competition because we had been messing with each other the entire week, spawning from some heated battles at the K1 go-cart meet in Anaheim earlier in the week.  My plan was to run a high line on the lead and try to stay as close as possible on the follow.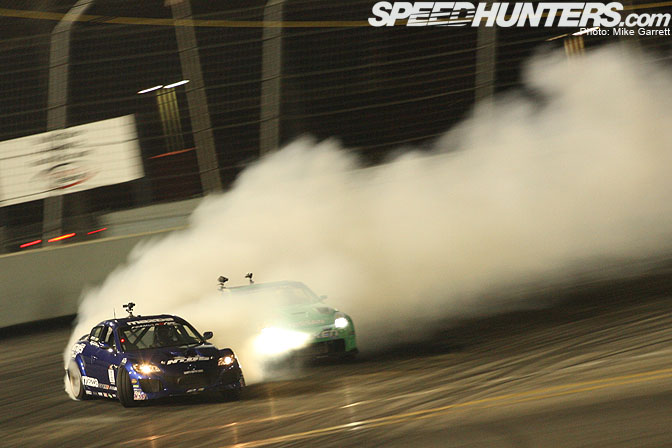 The First half of the run was going perfect, probably the best run I had put down the entire weekend, running super high with good angle and smoke through the entire bank.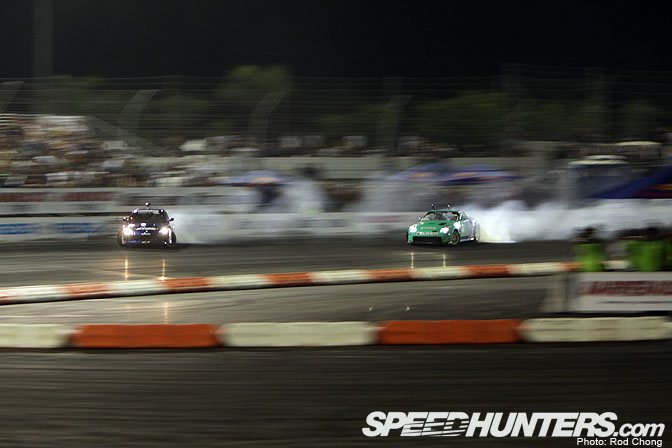 I came flying into the inner bank almost at lock and thinking I was about to slam into the wall.  It was a super rush, but I knew I was putting down the run I had planned in my head.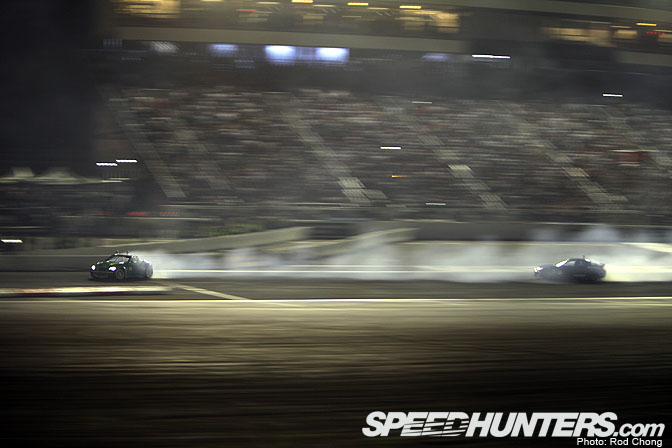 The rest of the battle didn't go as planned.  Right off the line Tyler pulled a couple cars on me.  On the initiation I entered high with a lot of angle, Tyler pulled another car or so on the bank with a slightly shallower line, half way through the bank I tried to dial out angle to catch up, but it was too late.  With him pulling several cars on the start and through the big bank I had little to no chance of catching his rocket ship, especially with him being a couple mph faster through the middle section.  Although I had a slight advantage from the first of two runs, his consistently fast runs would award him the win.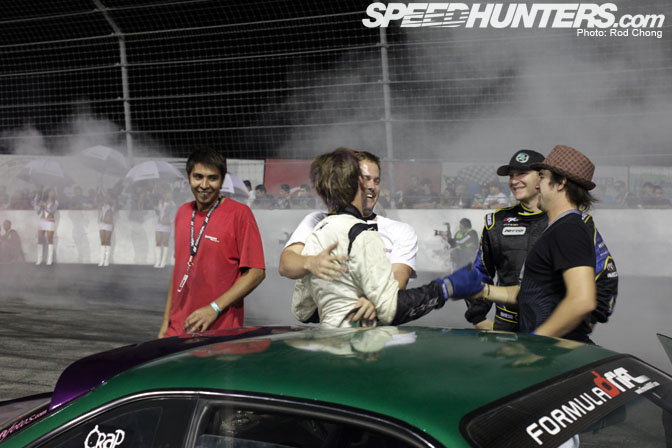 Who's Matt Powers?  I don't know the guy. Wait, I think I've seen him on the internet.
Matt's one of those guys to look out for.  He has a purist style for drift car's and despite what anyone tells him, he sticks to his guns about keeping his car to his specs… that is "Matt Powers spec low".  He was running consistent at Irwindale and that's what moved him into the top 4 position.  With some more power and a commitment to a full schedule with the right financial backing he'll be a contender in the coming seasons of Formula D.
When I get eliminated from the tandem battles I try and stick around and support my friends that are still running.  Either cheering them on, giving them feedback on their runs, or just giving them a high five after a good run.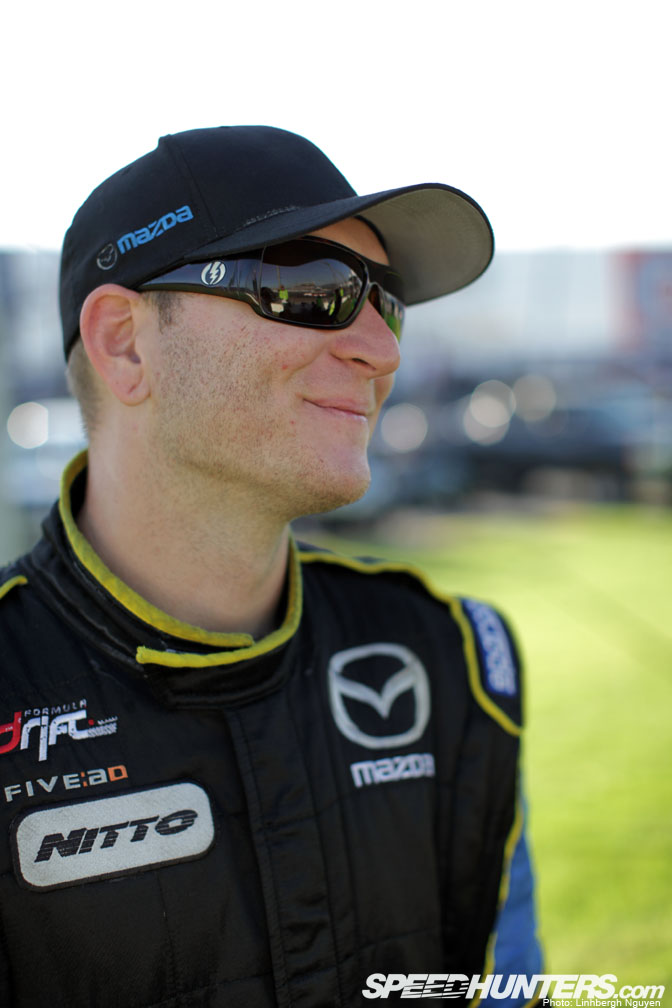 This final event at Irwindale shed some major light on my flaws as a driver.  Although I was able to lay down some solid qualifying and lead runs, I need to work on following different drivers and making changes to my driving style to advance in the tandem rounds.  I was disappointed in my finish at Rd. 7, because I had my sights set on the top podium position.  Although I do walk away from the event with my head held high from qualifying 1st with my best qualifying score to date, and a solid finish in the season standings, finishing 9th overall.  I'm very lucky to have a great team behind me, to be the top Mazda Driver in Formula D, to have a supportive wife and  family, and to be apart of the best drift series in the world, Formula D.
-Justin Pawlak