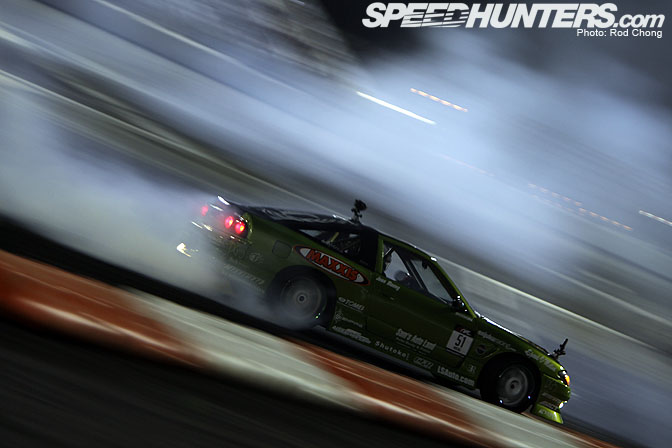 Hi. I'm Joon Maeng. I was born in Seoul, S. Korea in 1982 and immigrated to the US of A when I was nine years old. Ever since I can remember, I have had a fascination with cars. Not just any cars, of course, but import performance cars. After obtaining my driver's license, somehow I came across drift competition clips from Japan and I got hooked. It felt like my calling, like I had an epiphany. I began physically experimenting with the concept of drifting shortly thereafter with my 85 Corolla anywhere there was unoccupied space. Definitely, it wasn't the wisest choice to date but it got the ball rolling.
All in all, I have legitimately and illegitimately drifted for almost a decade, and been active with the Formula Drift Series since 2007. Currently, I am a privateer, which means that I have no major sponsorship, which also means that I fund my program from my pocket and do all the manual labor involved in getting the car ready: transporting it along with hundreds of tools and parts for it, setting up and clearing the pit area, updating each sponsor after every event, KIT with fans, etc. I had to maintain three jobs to finance this year's program. However, I am fortunate to have had product sponsorships with Maxxis Tires, Genius Tools, and Sam's Auto Land to name a few and also very fortunate and blessed to be under the guidance of LS Auto and CFR.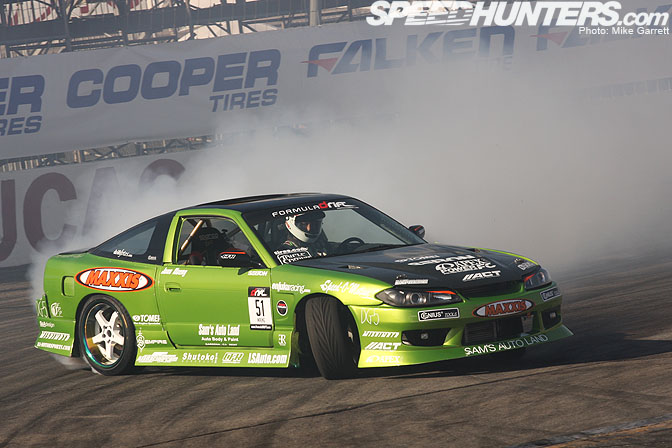 My car had been initially built by me and S-Empire in 2007 in preparation for Road Atlanta. It's been renovated earlier this year with the help of Kevin Wells, Chris Forsberg, and Sergio Ramirez, to name a few. The car has been corner-balanced and lightened, has a new DG-5 suspension and alignment setting along with custom rewiring by Kevin Wells, APEXi Power FC computer, TOMEI ARMS Turbo, relocated MISHIMOTO Cooling set-up, MA-Motorsport knuckles, and a custom LS Automotive 4spd transmission and throttle body. As a result of these changes, this is the first time having a car that allows me to manifest my drifting style.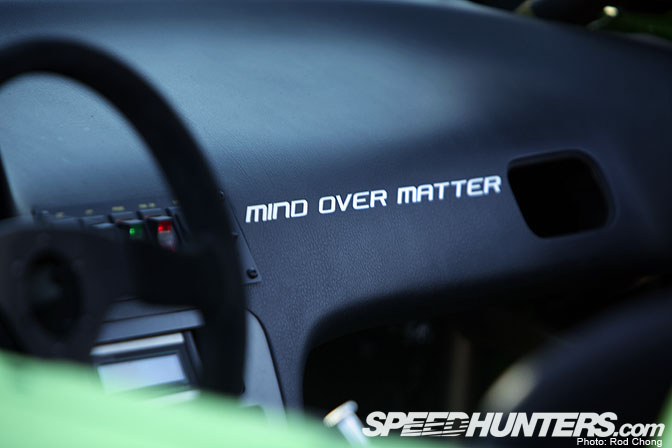 In the beginning of the year, I asked my girlfriend to help me find an adage that represented me. After a couple of hours of intense pondering, she said, "Eureka! Mind over matter!" I totally agreed. The adage not only represented me but also what I endured thus far and how I got here.  It signifies persistence, diligence, dedication, and determination, where all of it begins with your mind. So whenever I'm working on the car and find myself stumped, the dash reminds me of my struggles, how I overcame them, and motivates me to rise above the momentary problem and think positively. Also, it serves as a positive message. If others can see this and they are consciously/unconsciously affected, then I'm happy.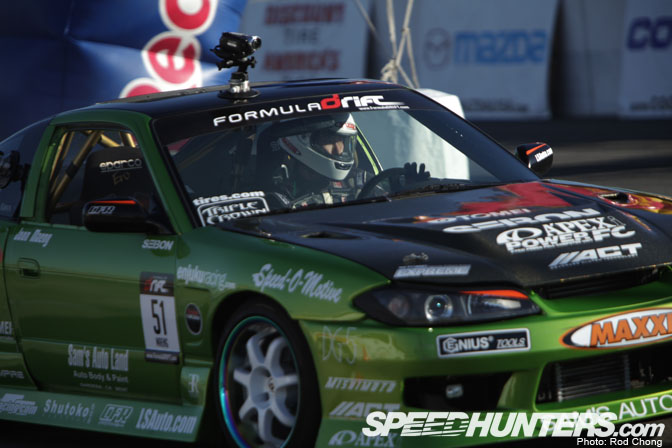 Truthfully, I put pressure on myself at Irwindale because it was the last event of the series and I wanted to do well. Months' worth of preparation was coming down to this moment and I was preparing myself for battle; I was mentally drifting and mimicking the drifting moves I'd be executing. The car felt great, I felt great, so all I had to do, ideally, was let that feeling manifest through my performance.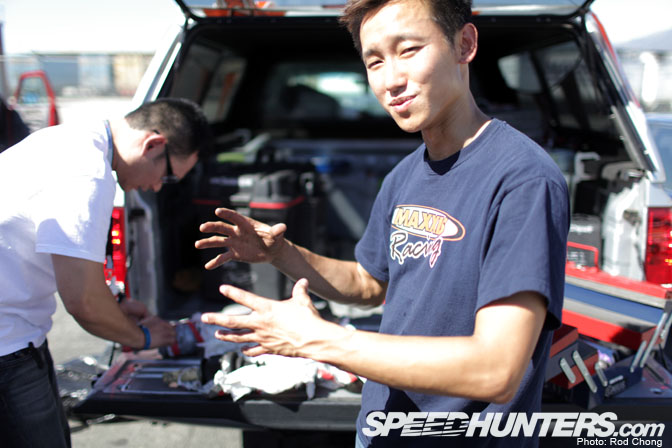 Being a privateer means I have to work ten times harder and, literally, expect the worst and hope for the best. In doing so, everything (boxes, parts, tools, etc.) is labeled in order to minimize search time and maximize repair efficiency and efficacy when needed. The bed of my truck serves as the storage area for everything and anything that is and will be needed for each event. I utilize every space so my equipment has to be strategically placed within it because, if not, I run the risk of emptying the content of the bed to reorganize everything again. This is a long and tedious process, especially at the end of the day when, after a full day of practice and/or qualifying, I have to physically and mentally reenergize myself to haul everything back into the truck. Once that's done, you realize that you have one box full of tools that you just can't fit anywhere and you refuse to leave it behind or burden a friend by asking him to hold it… what do you do? Yes, you take everything out just to make room for that one box of tools. Man, I hate it when that happens. However, there are people willing to lend a helping hand whenever I need it. Really, it's awesome.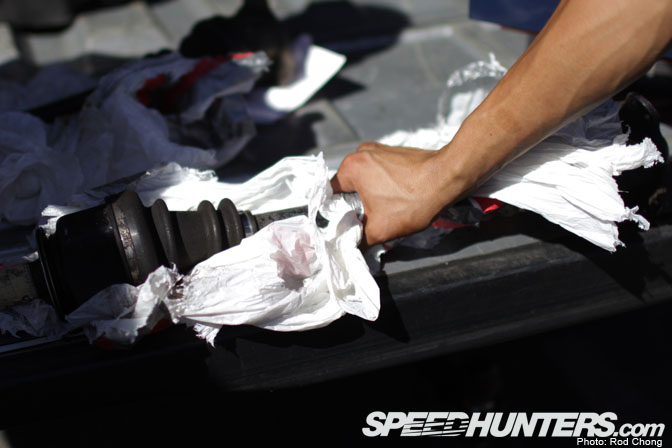 This is an axle held in reserve as a substitute if needed. Just in case the one in the car breaks during qualifying or the main competition, there needs to be a spare in full view for easy access so that it can be replaced within five minutes. Fortunately, it didn't break but there is one in my hand. Hmmm… this shot must have been taken while I was placing it in the truck where I would have easy access to it just in case it needed to be had.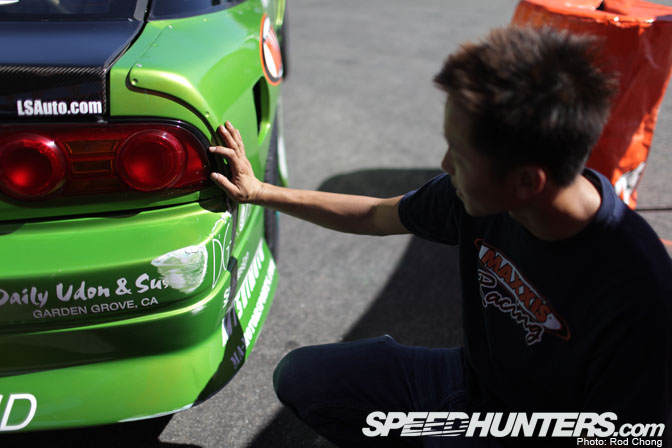 I scraped the rear bumper on the wall coming out of the infield clipping zone during Thursday's practice. This is what happens when you use the wall for a reference point; the closer you are to the wall, the more exciting it is. Actually, it could've been worse. I had a phenomenal time during the practice session though. It felt real good to drive a car that was in sync with me.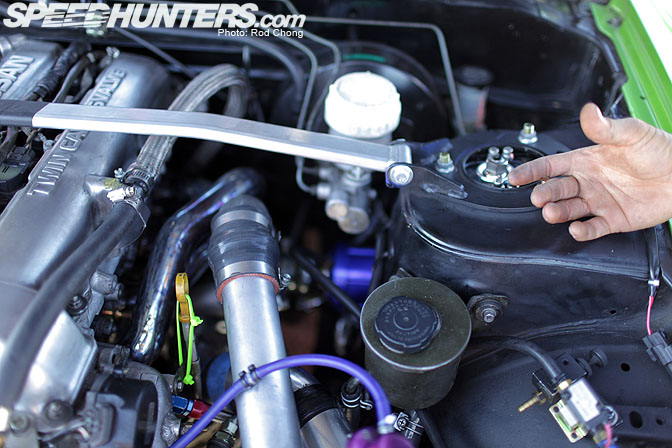 This special intercooler piping/ blow off set up was designed by CFR and welded together by Justin Pawlak. On the S13.5, the blow-off valves release excessive boost pressure trapped inside the intake pipe when the throttle is released. This release of pressure is important because, as the vehicle accelerates, the turbo builds pressure through the throttle body and into the motor. When I release the accelerator and close the throttle body, the trapped air begins to travel back towards the b.o.v., thus, releasing the pressure into the atmosphere.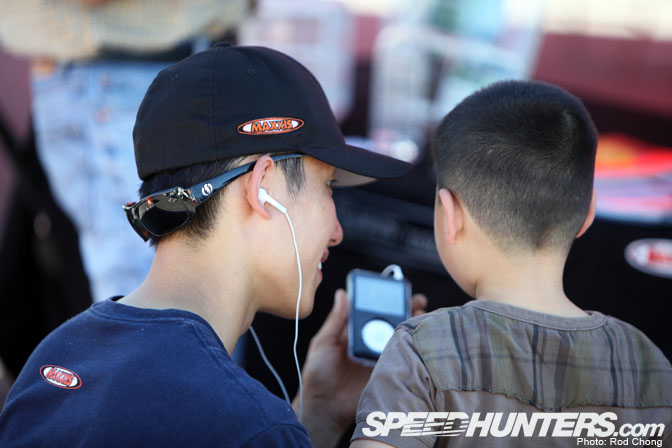 This young kid saw my car for the first time at Round 6 in Sonoma and, since then, he became my fan. I had no idea he was coming to the last event, but, lo and behold, he came on Friday and surprised me. His mother told me that he tries to buy all his toys in green to match my car. We hanged out for a bit and I ask him to join me in watching the clip made by Kyu Kwon. From beginning to end, he was engaged. He is around 3 years old and I can totally tell that we had a future drifter in our hands.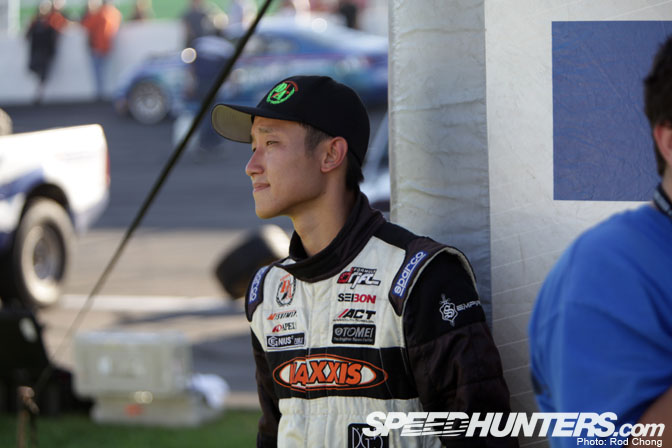 By watching fellow drifters, I have the opportunity to learn another dimension of their personality. It's amazing to see how their personality and drifting styles match to a tee. Of course, there are times when I'm completely taken aback because I know what to expect from a driver, yet he comes out of nowhere and performs an amazing run that exceeds conjecture; I'm like, "Wow! Wow! That was great!"  To actually witness the growth of a driver on track, especially a privateer, is a humbling experience.
On a competitive note, I observe the runs of fellow drifters to see what I'm up against. I'm taking mental notes to prepare myself. But, in general, I watch to support them and show appreciation and respect.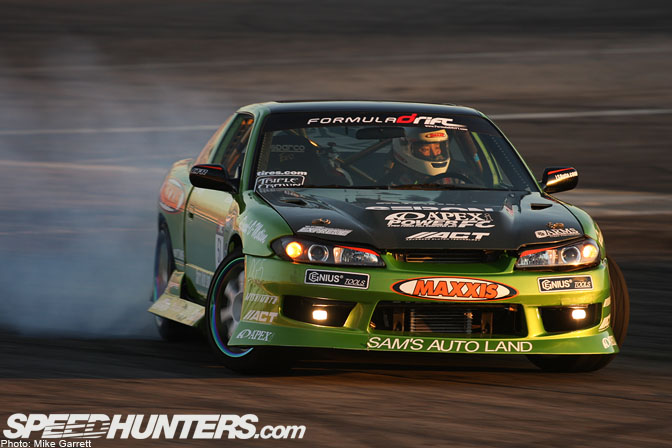 My first run during qualifying went great. I put the pedal to the metal entering the bank in 4th gear, aggressively kicked the ACT clutch on initiation, choose to ride the high line on the bank, thus, smoking up the MAXXIS tires, maintained as much angle and speed off the bank and through the transition, split the rear bumper in half on the clipping zone without correction, and finished off the run by hitting the last two clip points. My first run earned me a score of 80.6.
My second run wasn't as promising. I mimicked the movements of my first run but I fell short of my expectation. With that, I received a score of 77.1 but still felt relieved afterwards because I felt confident that my first score was high enough to earn me a position for the top 16 battle.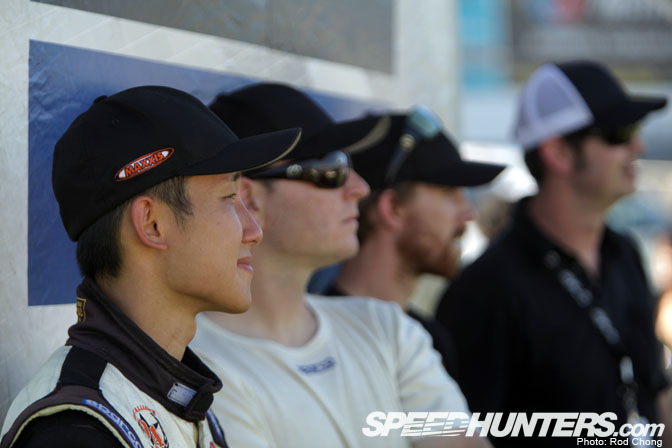 (Starting from the far right) Blair Stopnik, Chris Forsberg and Justin Pawlak are good buddies of mine; they are my Drift Alliance brothers (as well as Ryan Tuerck, Tony Angelo, Vaughn Gitten JR, Matthew Petty, Michael Edwards, Kenji Yamanaka, Lindsay Ross, Brian Wilkerson, Aaron Suarez, Ameen Rizvi, Andy Laputka, Sergio Ramirez, and Kevin Wells). I was invited to be a member in 2007 at SEMA and we are a brotherhood that shares a passion for drifting. Although each and every member has his own history, comes from various places in the world, and possesses a unique quality about himself that differentiates him from other members of the brotherhood, we are united by the love and respect we have for this sport. As such, we are each others' support system on and off the track.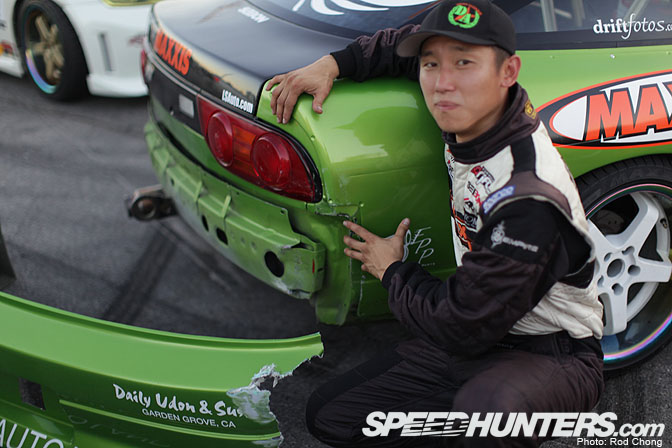 This is what happens when you get too close to the inner clipping zone. Banging, scraping, dinging, scratching, battering, and jolting up the car a little here and there are a part of drifting. If this is what results after I give it my all, then, it's worth it. I don't and won't half-ass anything and I'm not the type to resort to such manners. If I fear scarring the car in any way, then I don't belong on the track. It's unforgiveable to hold myself back because of the fear of damaging the S13.5.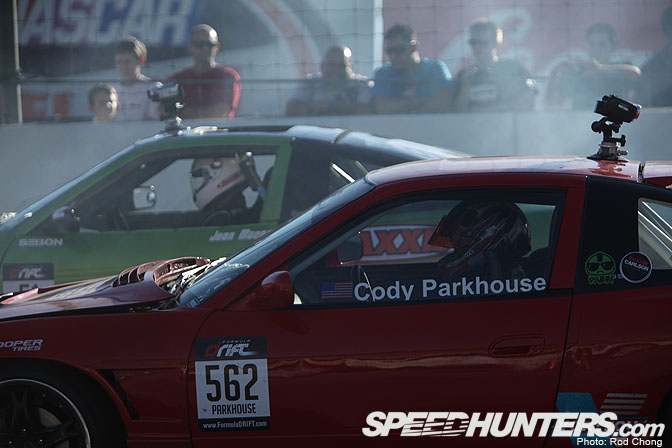 I was on grid to take lead against Cody Parkhouse. I knew he had a VQ supercharged engine that produced more power than my current SR setup. My plan was to repeat what I did during my first qualifying run. I figured that if I hit all the clipping zones and points, and maintained speed and angle it should be fine. Also, I believed that I had the advantage of having an appreciable amount of traction to make this decision final.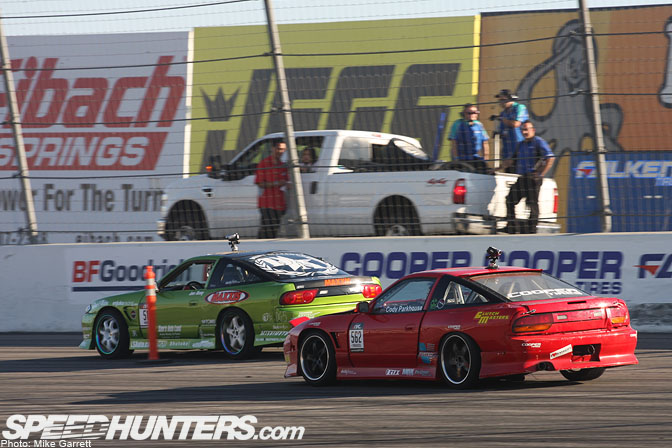 This was our first time driving tandem together, so I didn't know what to expect. I watched him during practice and I remember him making me feel nervous because he was good and it was evident that he was dialing in his 240sx. My plan as a leader was to go as fast as I can and hit all the clipping points and zones while having crazy angle and, as chaser, to  catch up to him and stay on him without messing up my drift. I knew it wasn't going to be easy but I always tell myself that it shouldn't be a problem. But, in the end, he was a hard competitor to beat; he made me fight for that victory. Thank you Cody for an awesome run!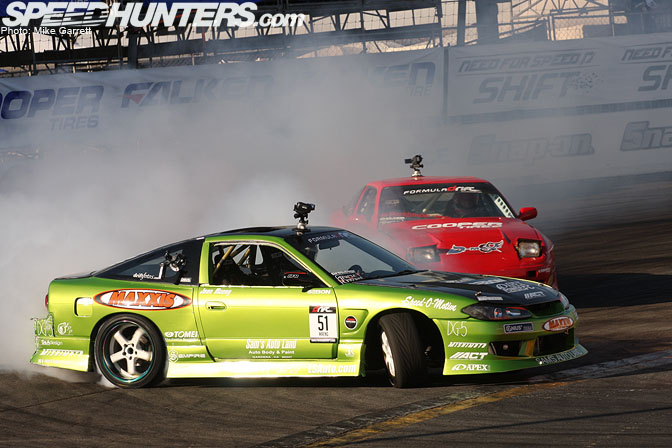 See how Cody is on me and making me fight for it?! He's awesome.
At this point, I wasn't focused on his distance from me. Simply, my goal was to get as much angle and throttle power out of the car as possible.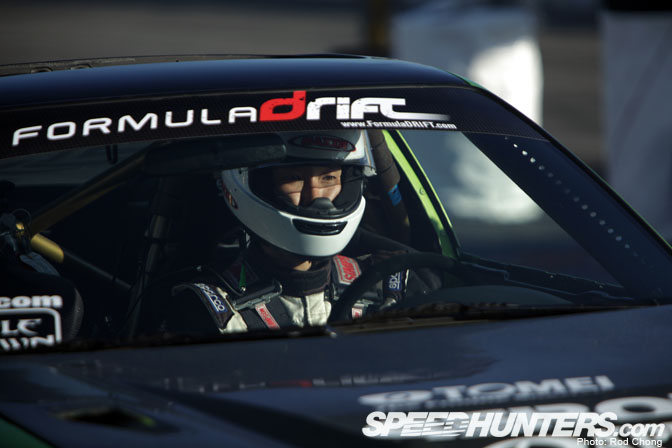 While waiting for the results, I replay in my mind what I just did out there on the track in order to screen for mistakes and make improvements. You know, just in case there were to be a one-more-time. Then, I read the APEXi gauges which informs me of the condition of the car.  At this point, my spotter informs me via Belle-1 radio of the results by saying either "Congratulations!" or "It's OK. Next time."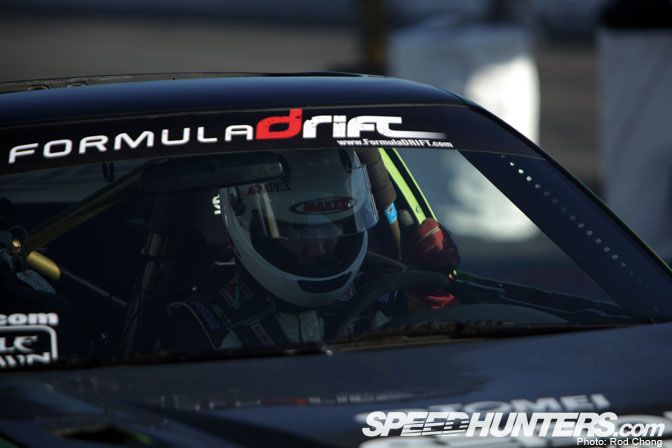 It's good news; I advance to top16. A huge sense of relief pervades me, my burden feels lighter, and there's thankfulness in my heart.
Right after the winner is announced, and if that winner happens to be me, it's a bittersweet moment. I'm thrilled that I advanced but I empathize with my opponent as well. After all that was endured to get to this point and hinging your sanity to this moment only to find out after ~5minutes from the start of the first run that you will be left behind is a feeling that is all too familiar and draining. How do I engage in my celebratory mood when I can feel his pain and disappointment? It truly is a moment of mixed feelings… really bittersweet.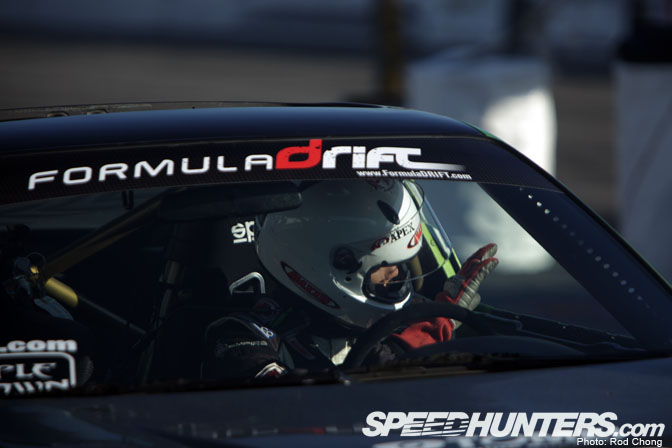 I make it my duty, whether I win or lose, to thank my opponent for an awesome fight. Because of him, I learned something new and he allowed me to push myself further to the brink of stamina, limitations, and even enlightenment. The adrenaline that pervades my body when I'm competing is that of an indescribable euphoria and I wouldn't be able to experience that without my opponent. Therefore, in acknowledgement of all that I described, I show my appreciation by thanking him.
 I realized that, although manners are important, you aren't required to use it. However, it's always a plus to have good sportsmanship. It shows that there's depth to your character and personality. So, why not?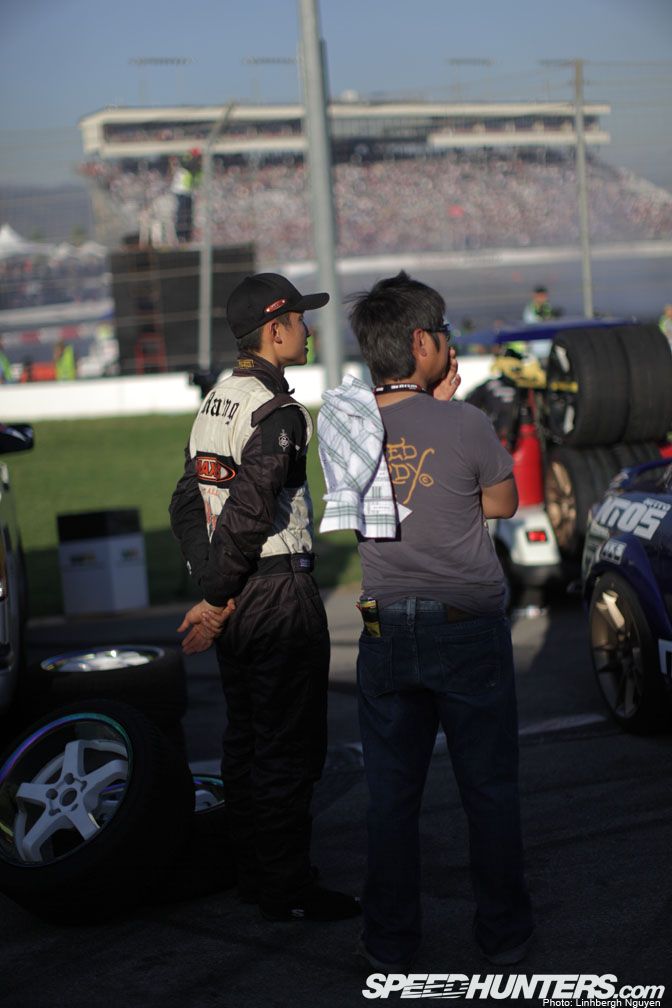 I keep track of other competitors by observing their runs and discussing them with other drivers. It's really insightful to hear their opinion because the perspective from which they see it is completely different from mine. So, unintentionally, there's a lot of learning going on. Well, at least for me.  Also, my spotter informs me of which driver is dialed in. We compare out notes together and highlight which driver's technique needs to be remembered.
Overall, everyone looked good and drove well, especially Justin Pawlak. He was nailing every single run. Every time he ran the track, it seemed like he scraped his car off of every clipping zone. He was on fire and I seriously thought that he was going to take first place. Also, Kyle Mohan did an awesome job. During qualifying, he came out of nowhere with his speed and angles. I was amazed.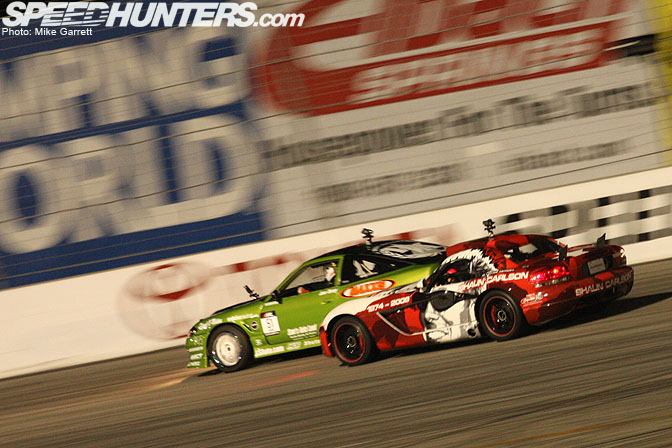 Sam has a crazy fast car thanks to his 750 HP, V10 engine. Right off the bat, I knew that I had to bone out from the beginning and be very intentional with shifting through the gears on the straight-away. Even with my accelerator floored to the metal, I can hear Sam's car right next to me. At this point, as a leader, I knew that I had no other choice but to drive a stellar run error-free and, as a chaser, mirror his exact moves without trailing too far behind.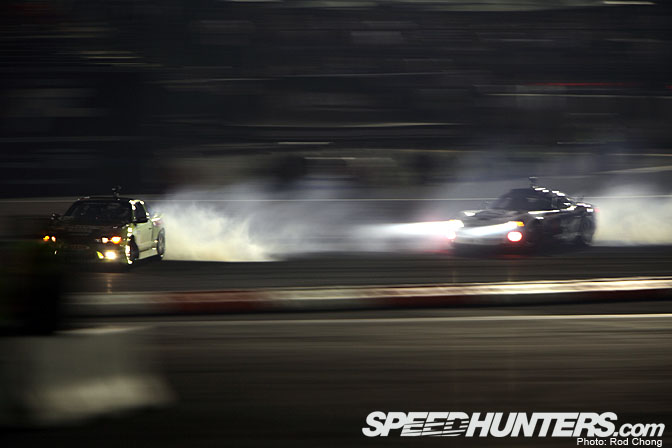 While flooring the MAXXIS S13.5 in 4th gear going towards the infield wall, I ran as close as I could to the outer zone and to the last two clipping points. I knew Sam would be right on with his line and near my rear end, so the key was to make no mistakes whatsoever. Any minor mistakes would pretty much take me out of the battle. At the end of the 1st battle, the fans were all chanting, "One more time! One more time!" and the judges concurred.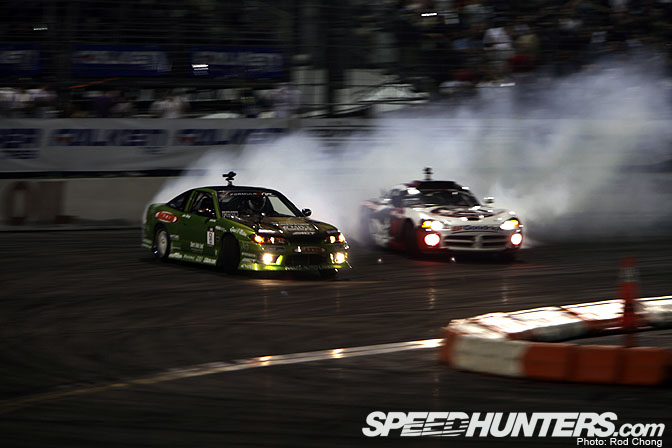 Running against Sam was a big challenge for me because I'm currently running on 380 H.P. SR20det.  I noticed Sam's team member, Chip, was very experienced with the sport of drifting; He would change the tire pressure whenever Sam was chasing. With the power I'm running on my vehicle, I'm limited to lowering the MAXXIS tire pressure (because it will take more H.P. to spin the high traction tires).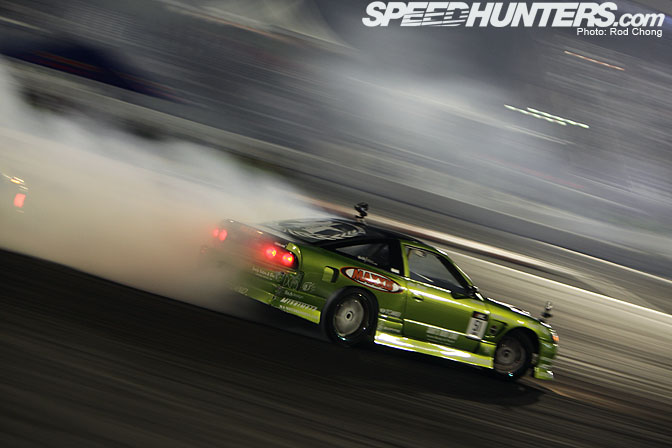 I felt great at the end of the first run! I didn't make any mistakes or corrections so I knew it was going to be a close battle. But, simultaneously, I was wondering what I needed to do in order to keep up with Sam and his V10 monster! It took a few seconds of pondering but it came to me that this battle wasn't going to be mine by last minute strategy. Instead, I trusted my instincts and allowed "the force" to control me naturally! So, I can't really describe what I did, only that there were a lot of arm and leg movements according to what was in my field of vision.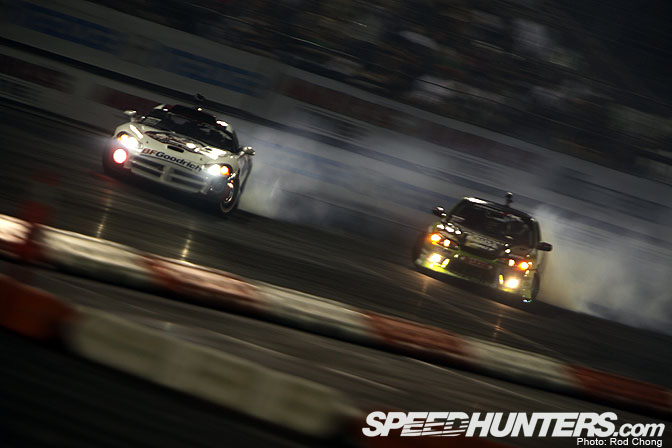 During the second half of the O.M.T., I knew Sam had the advantage because my S13.5 wasn't performing as well as the previous runs; it was heating up and I felt it dragging, like it was tired and wanted rest, especially after driving it hard in the first run. I felt the car's pain but I had no choice but to exert every drop of juice it had to drift the remainder of the run.
When my spotter informed me that Sam advanced, it didn't come to me as a surprise. Also, Sam's car was redesigned in honor of Sean Carlson's memory, so, I was happy to have it compete out there on the track for as long as possible.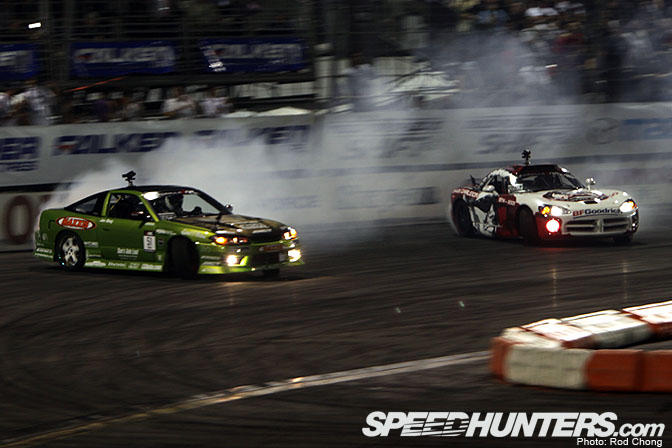 My car was on the verge of spinning but I saved it and corrected my line. Because my car was heating up and creating this drag-effect, I didn't have as much of a tight control as I did previously. It became particularly difficult when I had to maneuver the car at that speed against gravity. I'm not exactly sure why Sam spun but I hope it wasn't due to me. I wasn't aware of that fact until our battle was over. But, it was a great battle running with Sam Hubinette! I'm looking forward to driving with him next year.
Formula Drift's Final Round was an amazing experience for me. It always is. I'm thrilled that my DA brothers Ryan Tuerck placed 1st in the last event and Chris Forsberg won the series.
I came across various obstacles throughout the series, some of which seemed, at that moment, to offer nothing but a premature withdrawal from F.D. but, somehow, inexplicably, I made it through the series with the generous and undeserved help of awesome people, specifically Kevin Wells, Sergio Ramirez, and Chris Forsberg. There are no words to describe how thankful and indebted I am to them. I owe them so much and I hope that in the near future I would be able to repay them in more than just words for their support, guidance, and time. I would also like to thank my sponsors MAXXIS Tires, SAM'S Auto land, GENIUS Tools, APEXi, ACT, ER, MISHIMOTO, TOMEI, SEIBON, DG-5, ENJUKU RACING , AIT and of course my family/friends/fans for their support.
Next year I'll be coming out stronger thanks to the empowering knowledge I've gained this year. Also, I'm looking forward to acquiring a bigger budget to run my ideal drifting program, which I've already created! Then it's on for serious competition! Feel free to keep in touch at www.JoonMaeng.com. Thank you very much for the support Speed Hunters!
-Joon Maeng